For a quick President's Day Weekend getaway, I decided to head up to our state's capitol, Sacramento, and the Napa Valley wine region! Both have been on my bucket list for quite some time. It was a power trip, but I got a lot of tourist spots in that short amount of time.
The cost breakdown:
Flight: $197 through Delta.
Airport Parking: $25 at Fox Valet at LAX.
Car: $90 through Dollar.
Airbnb: $104.92 for 2 nights.
Woo hoo!
Day 1 – Saturday, February 16
My flight out of LAX to SMF was at 8am, so I woke up super early to get down to the airport. I landed in Sacramento a little before 10 a.m. and walked downstairs to get my luggage when I came across this Samson luggage art. Can you say lost luggage anyone? 🙂
After I got my rental car, I made my way to Old Sacramento, with 53 historic buildings dating back to the 1800s during the Gold Rush era and home of the first California railroad.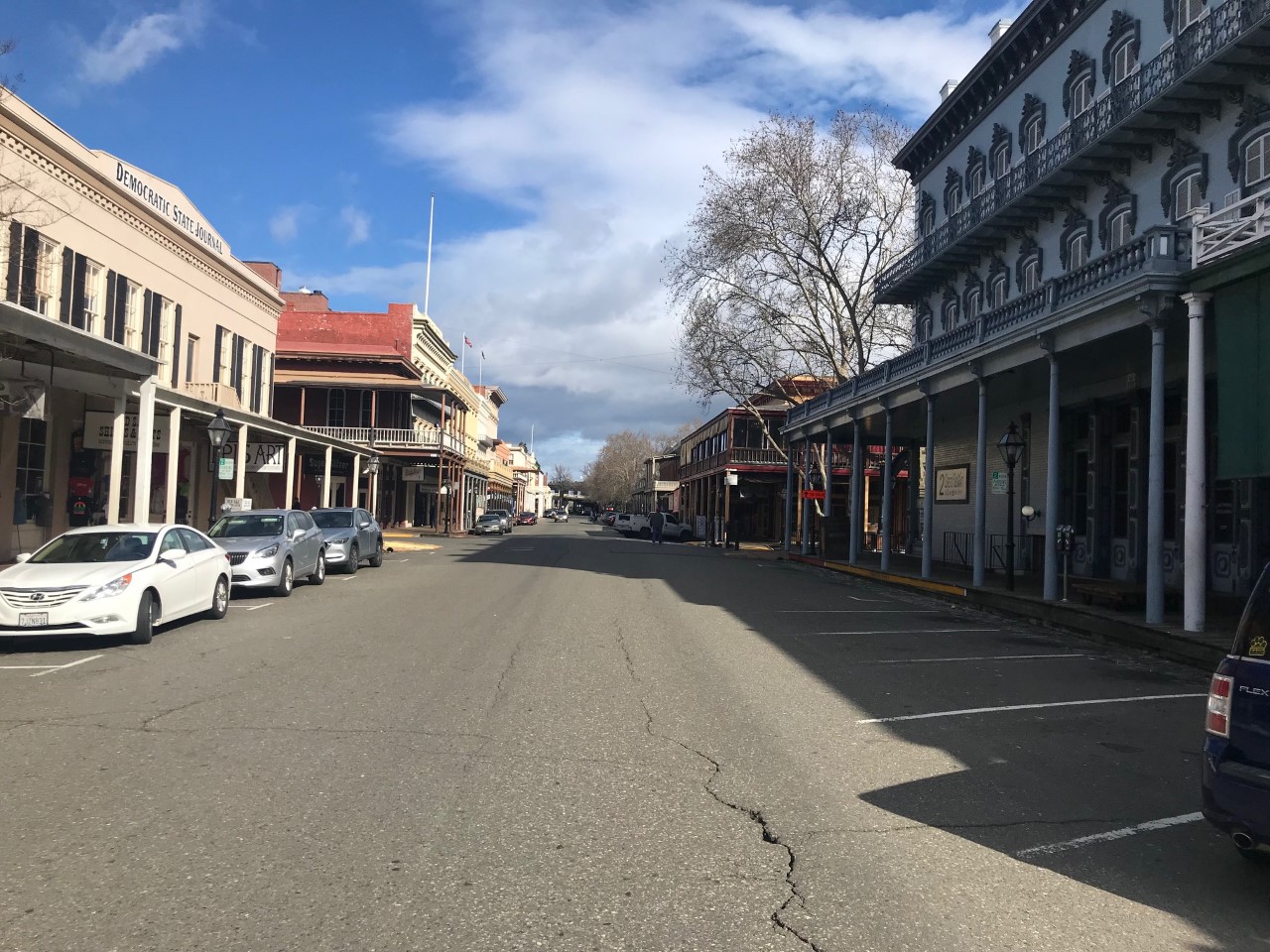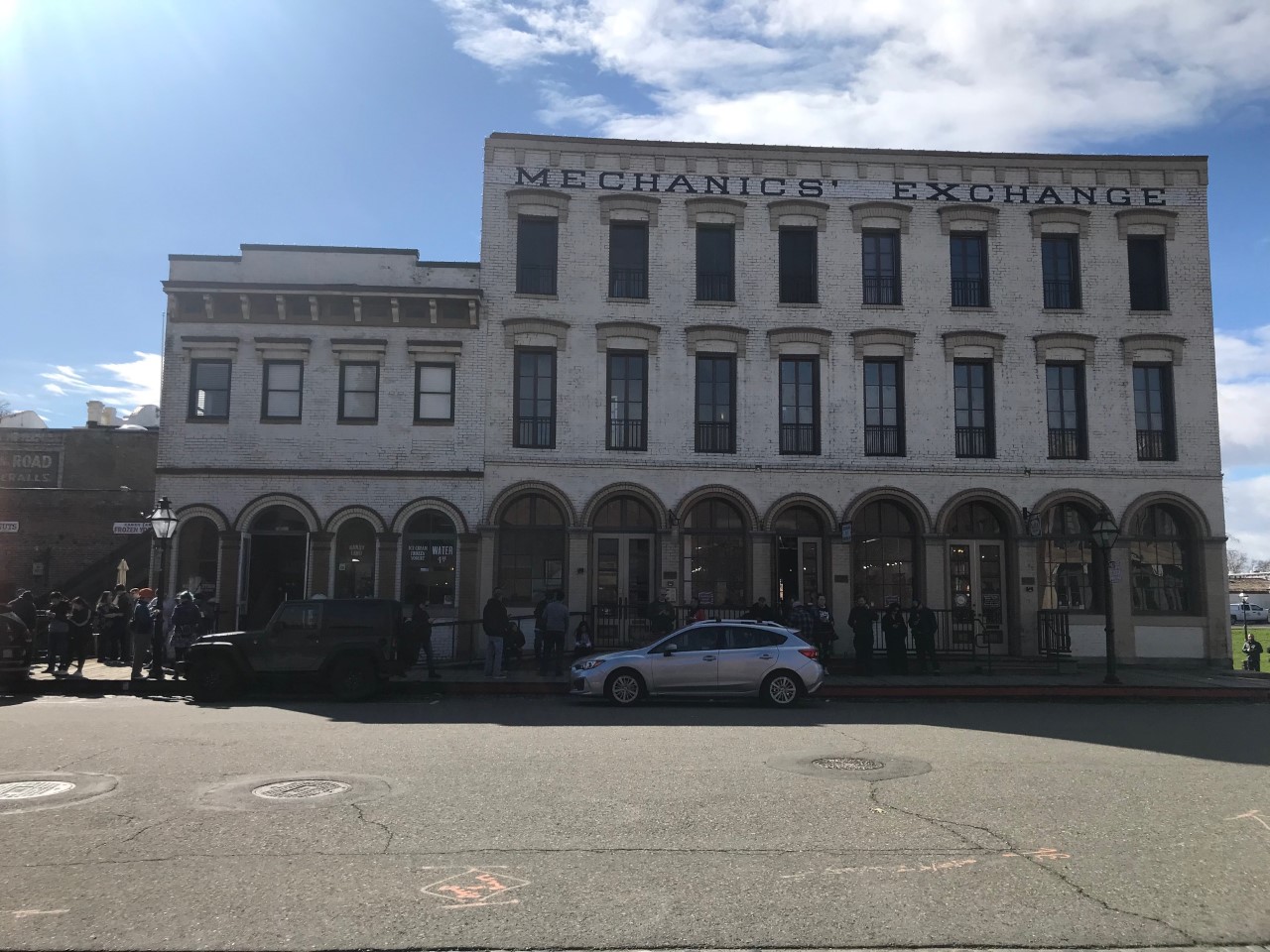 I stopped inside the Wells Fargo Museum (free admission) and viewed an authentic stagecoach, artifacts, gold and postal covers. The cashier told me that there are only 11 Wells Fargo museums in the nation.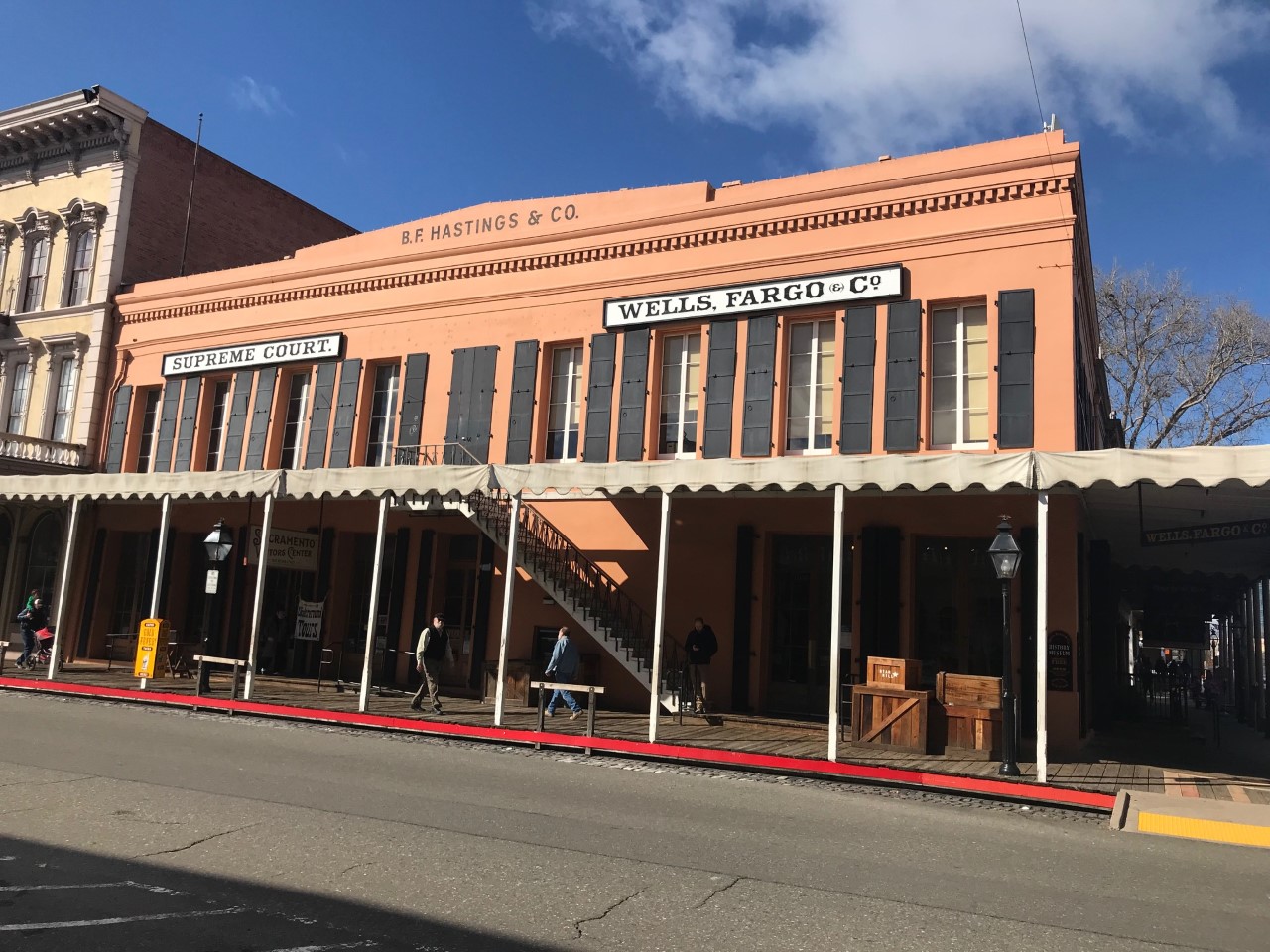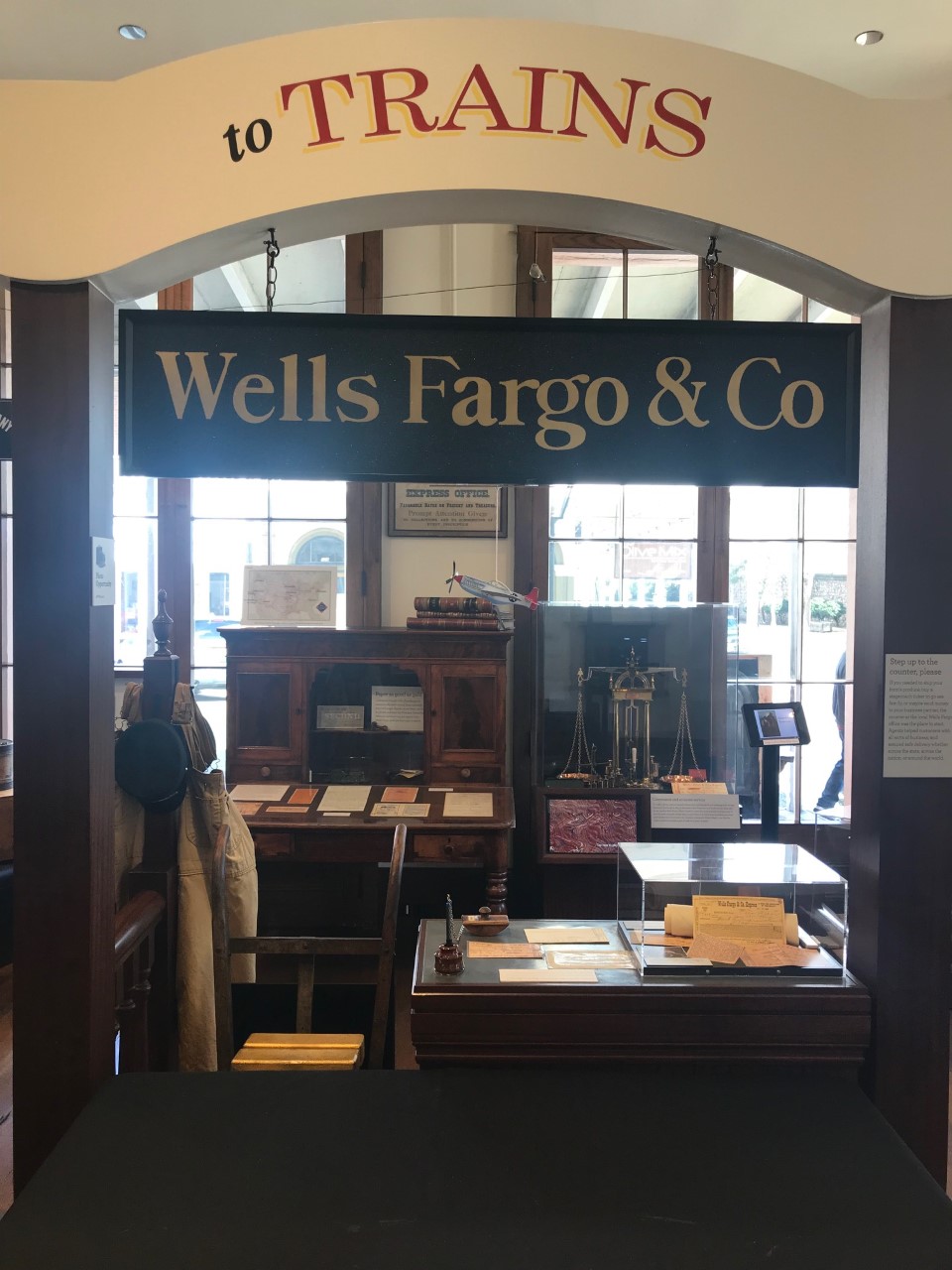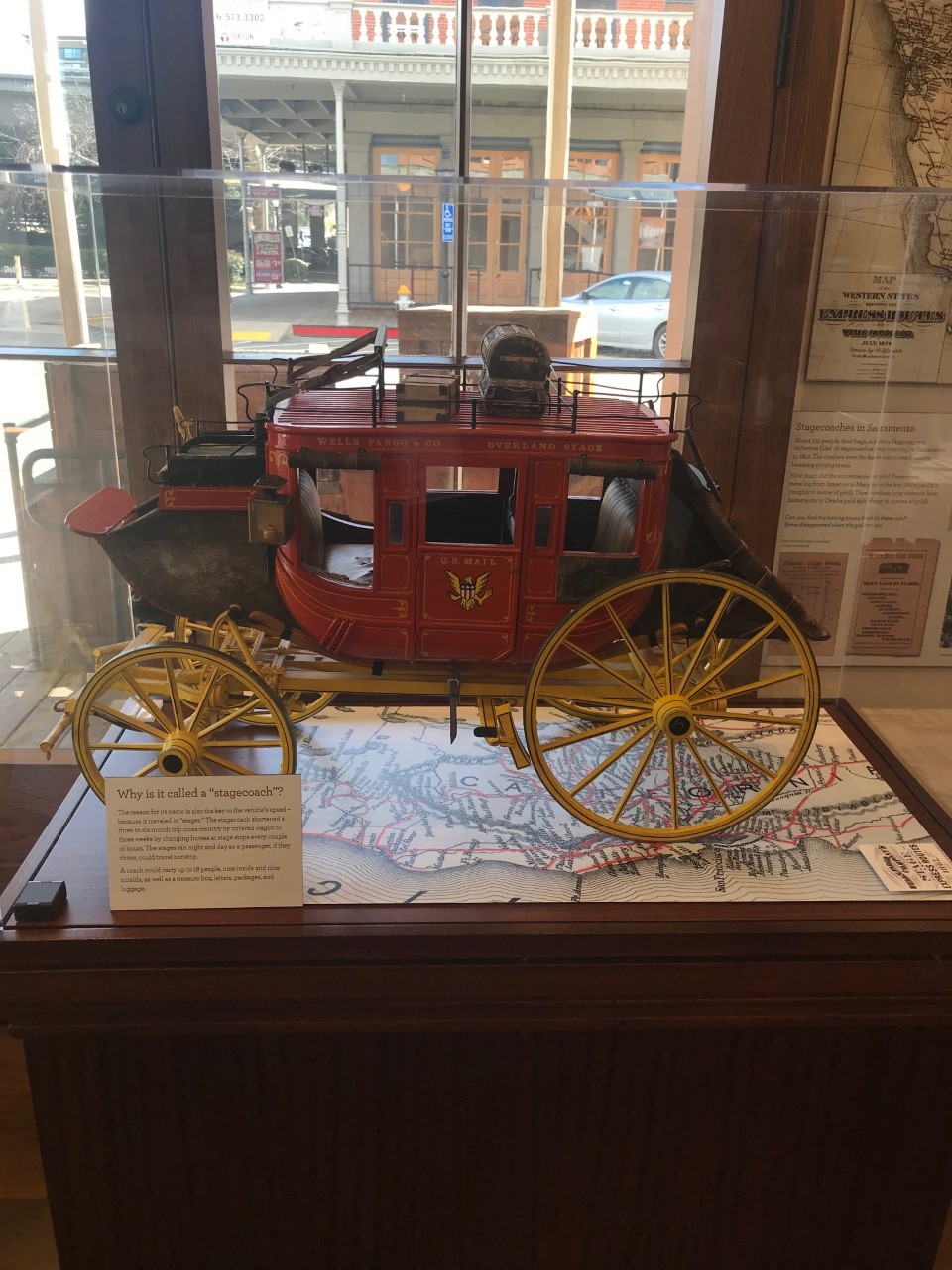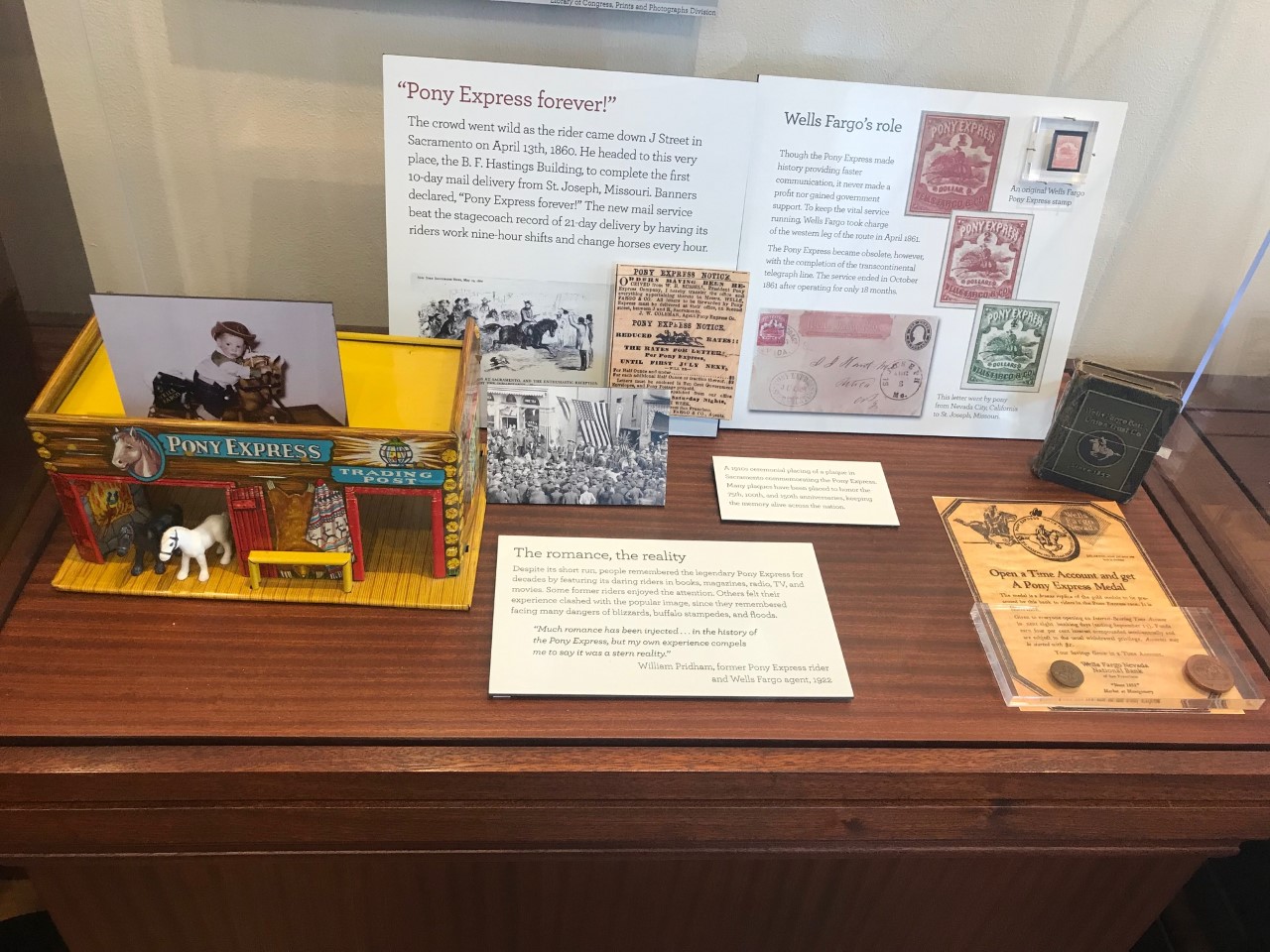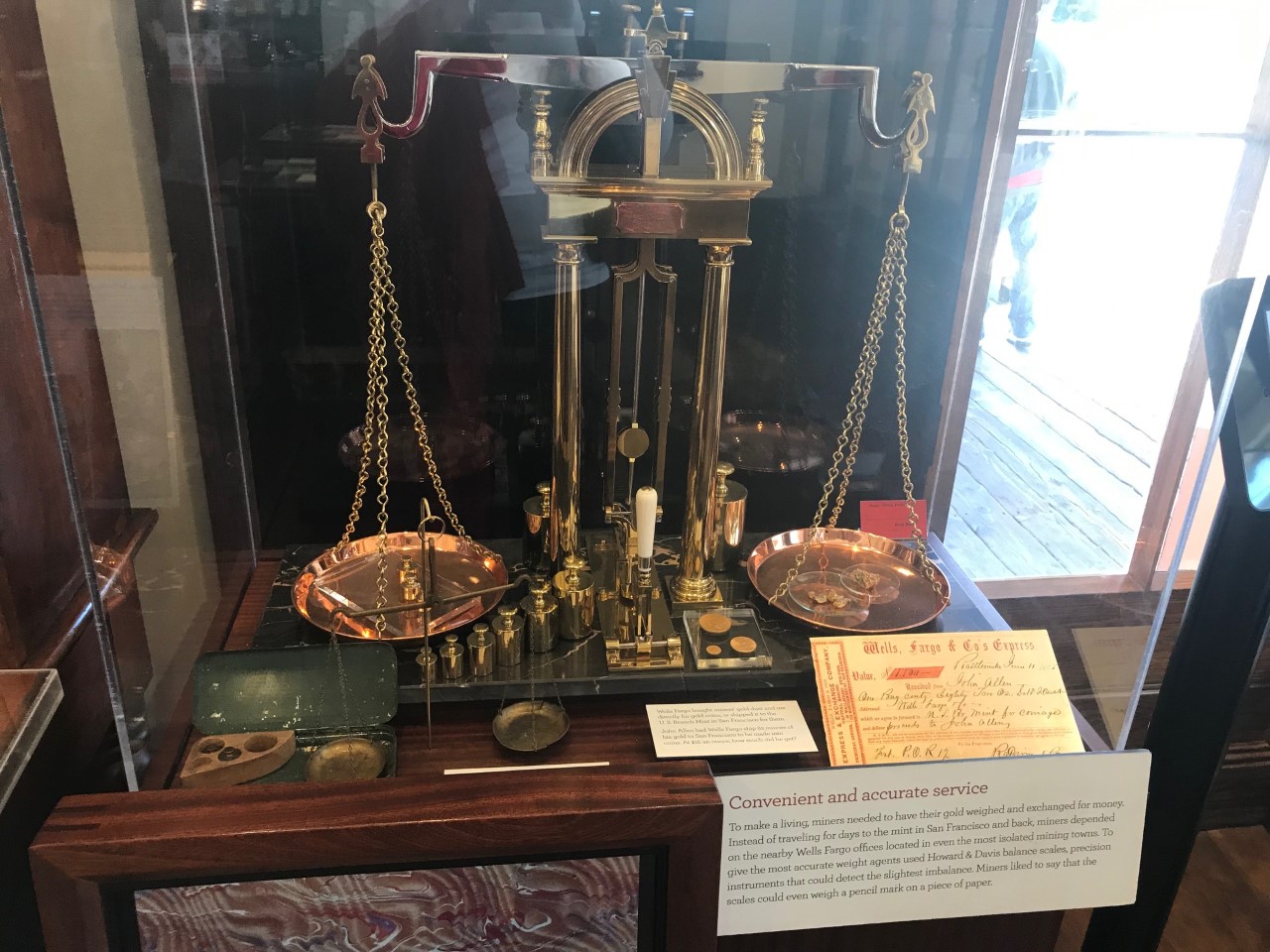 I had someone snap a photo of me with my "boyfriend" outside of the River City Saloon.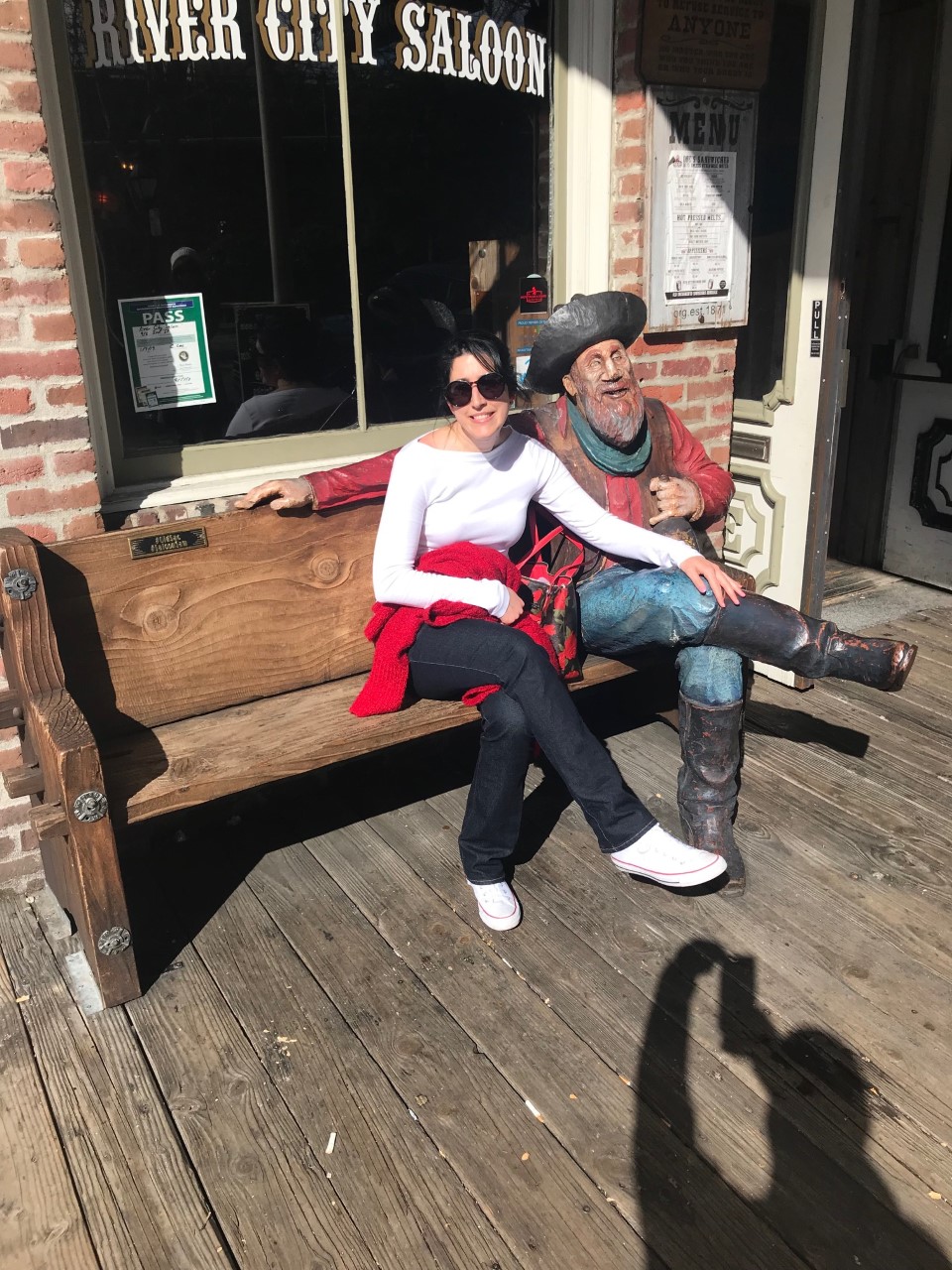 Next I walked down the waterfront and viewed the Sacramento River, a Union Pacific train and the famous Tower Bridge, which is a historic lift bridge dating back to the 1930s. You can view my Instagram page and watch me drive over it!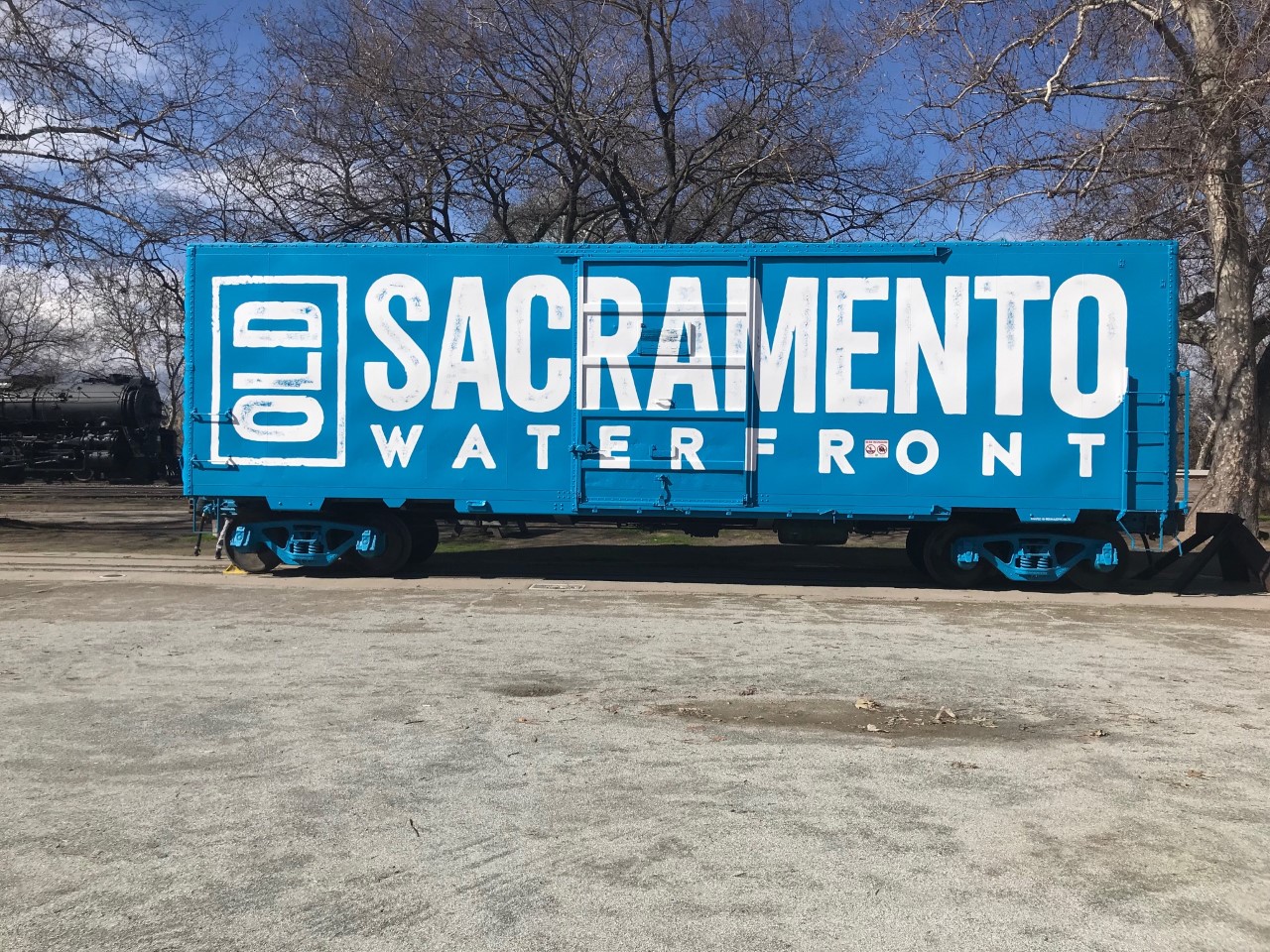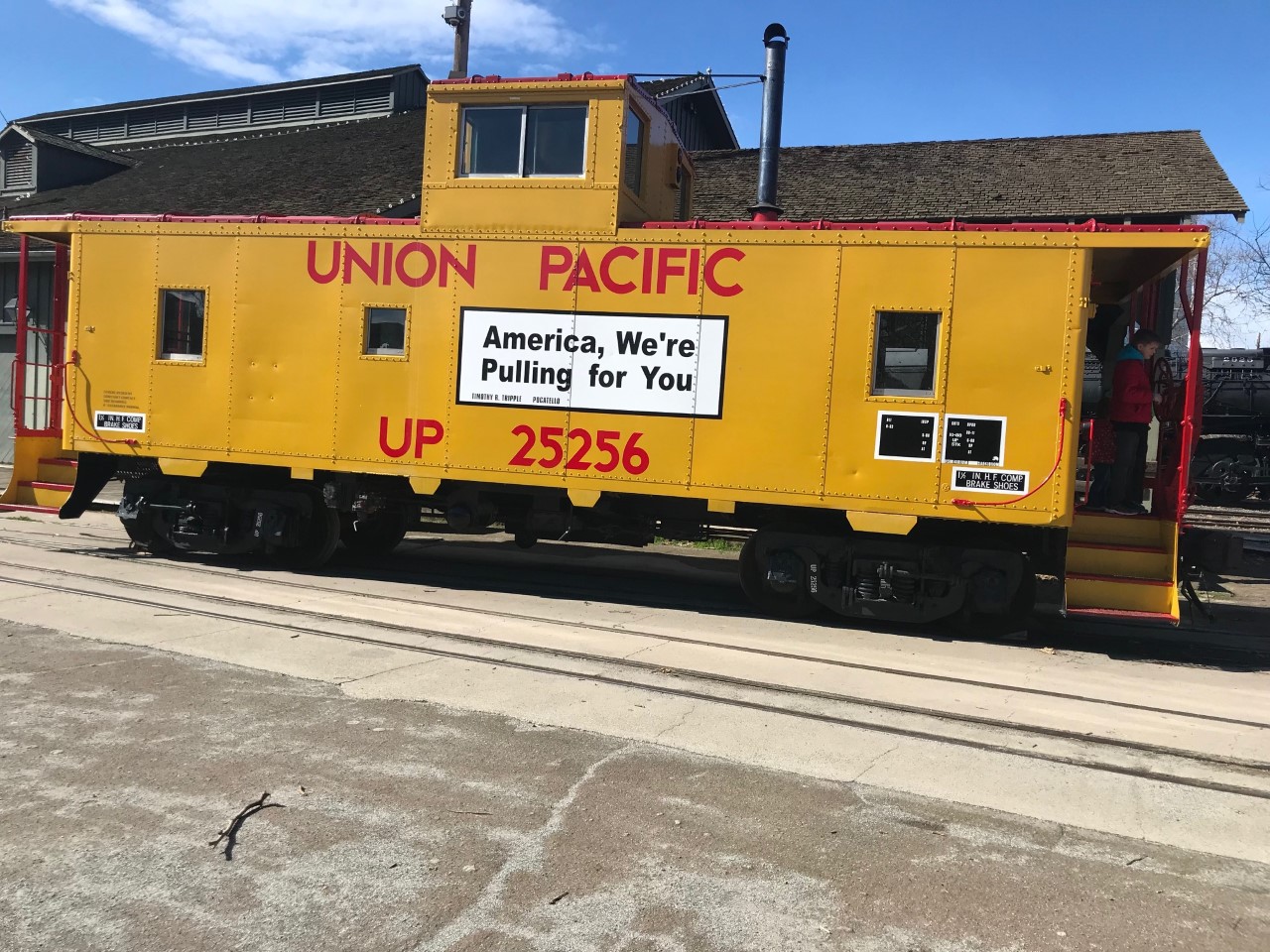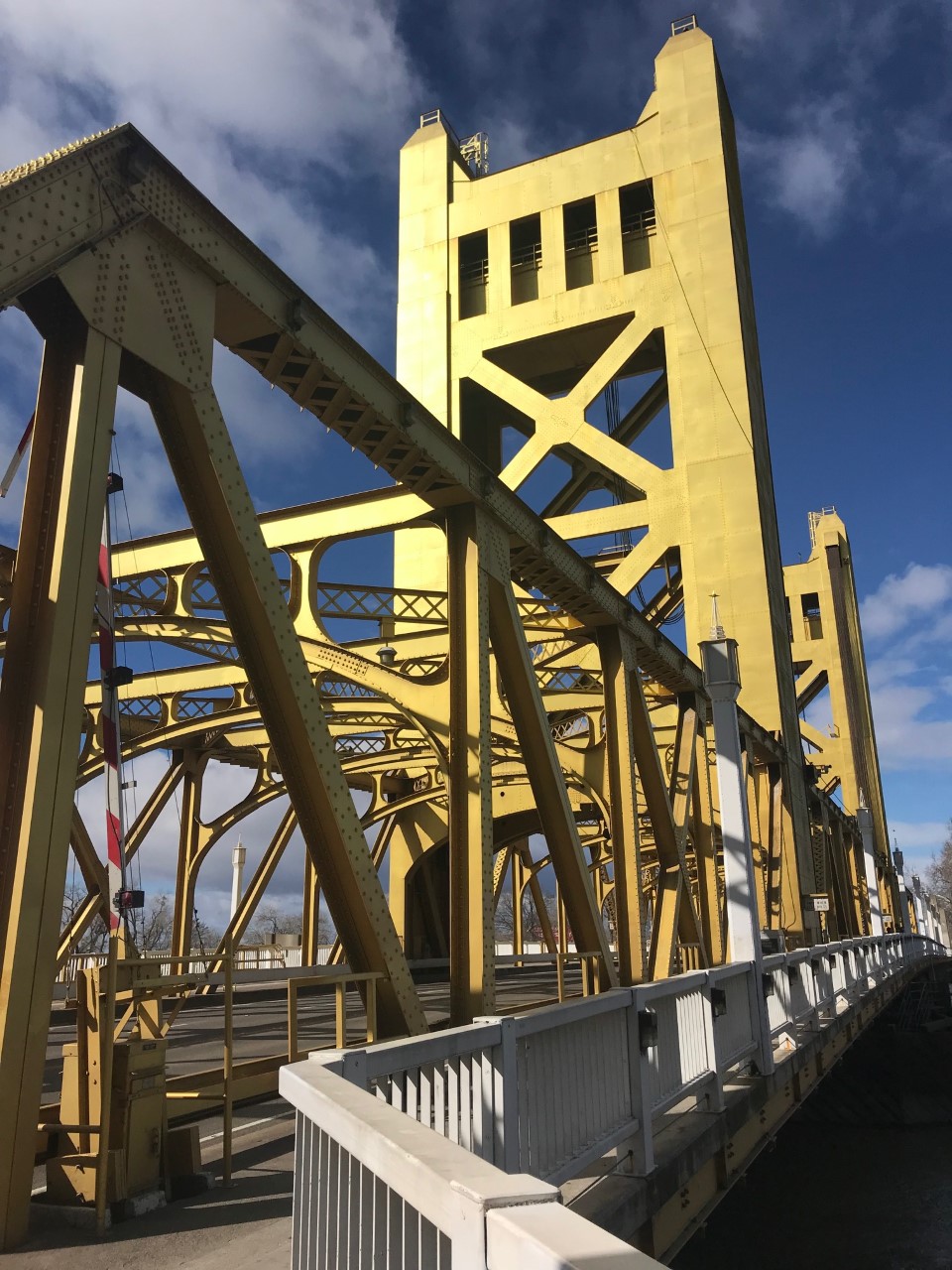 Next in Old Sacramento I visited the California State Railroad Museum ($12), which is home to 225,000 square-feet of exhibits and beautifully restored railroad cars and locomotives which illustrate railroad history in California and the West. This is a must stop if you visit Old Sacramento.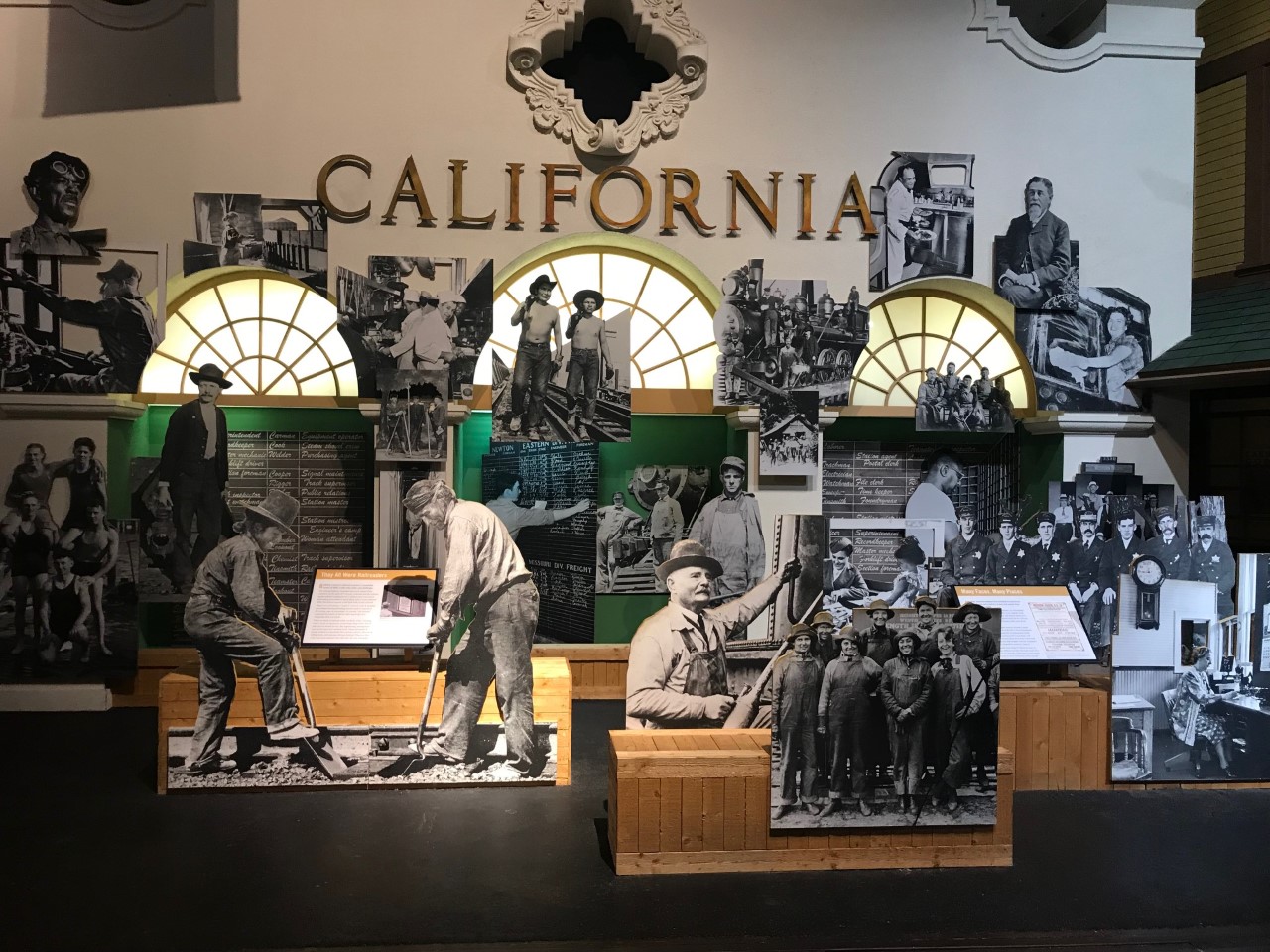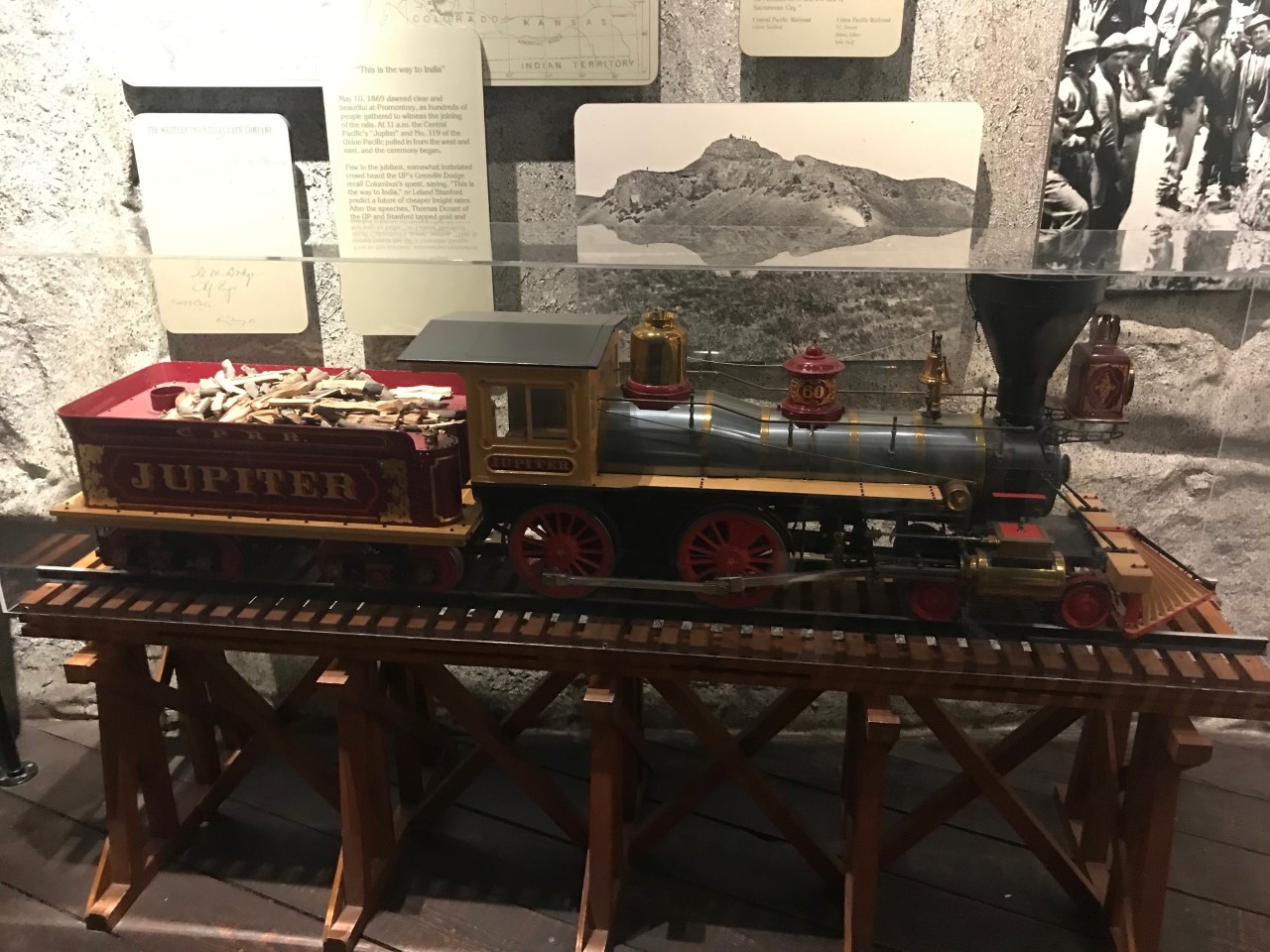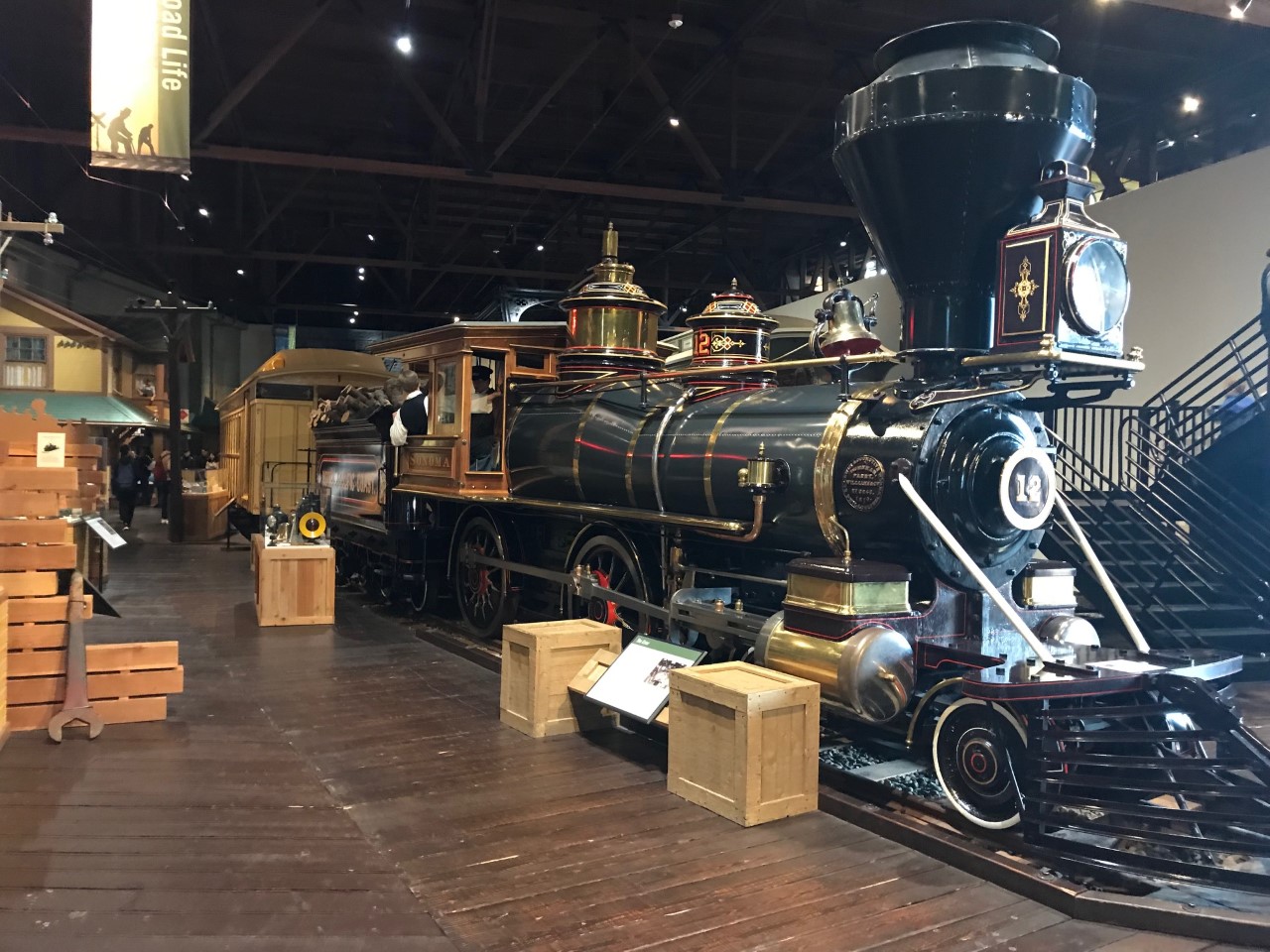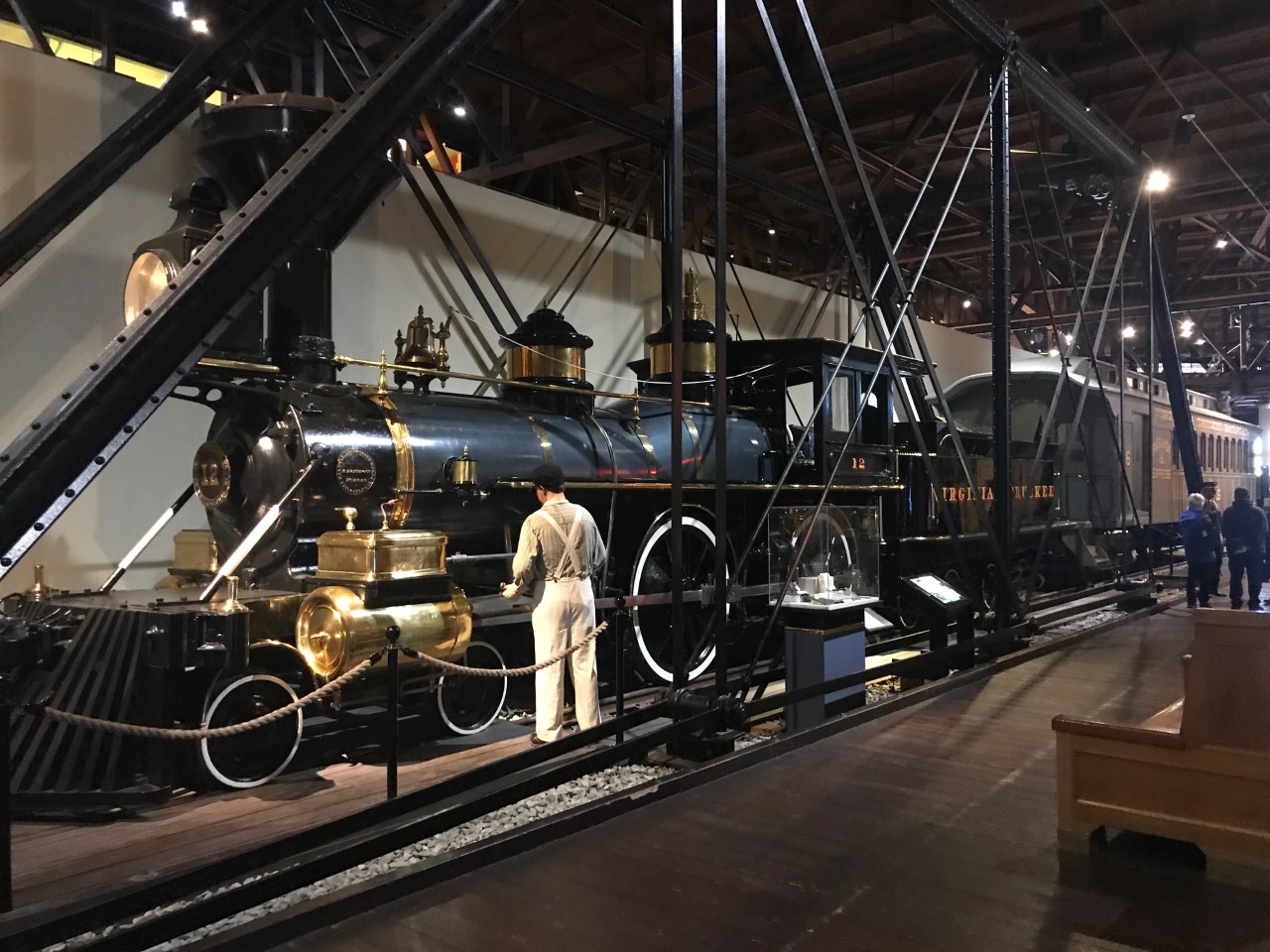 The train below was heading into a large cave. It was hard to get a full shot, but you can view my Instagram page to see a video of it!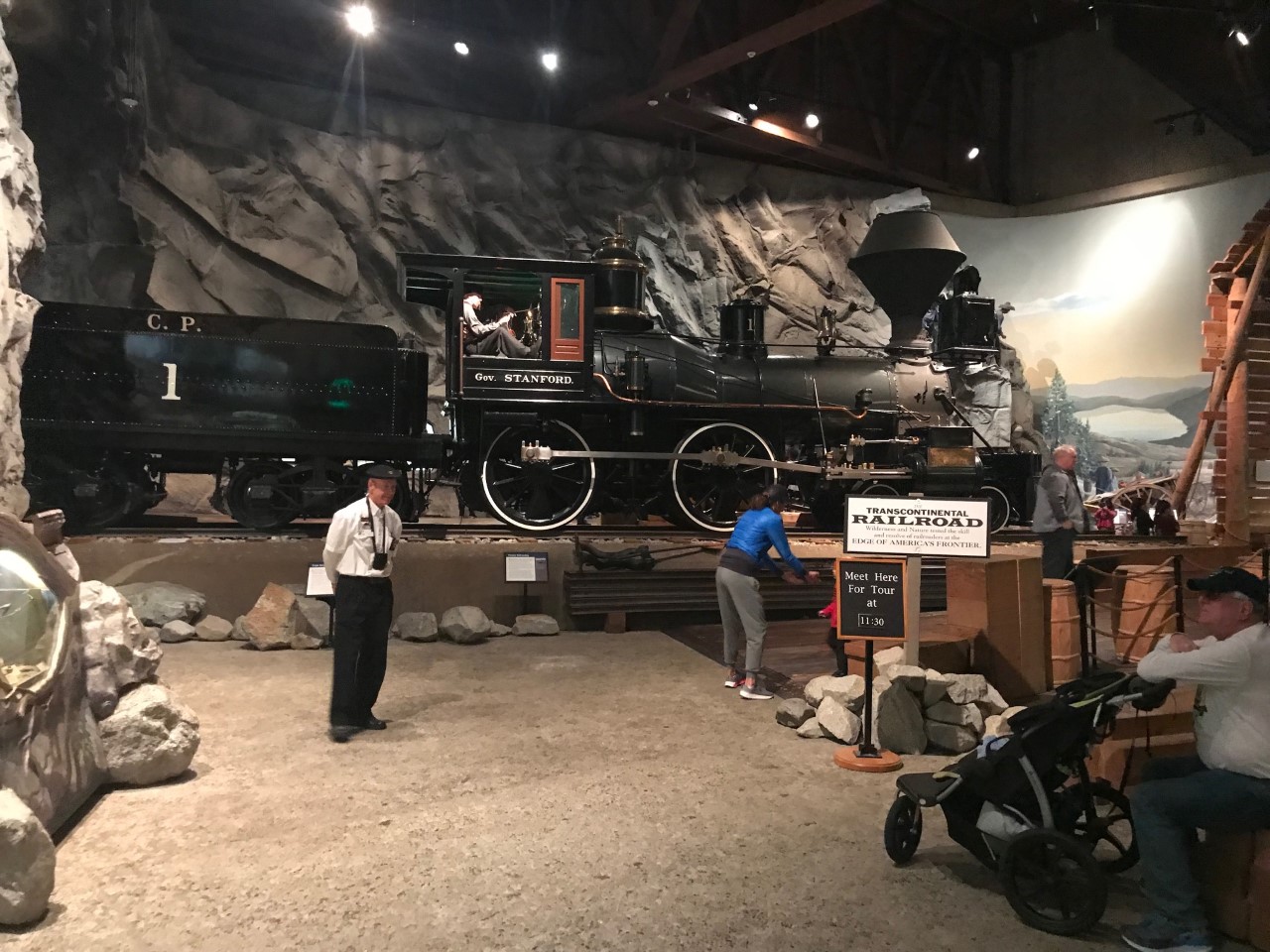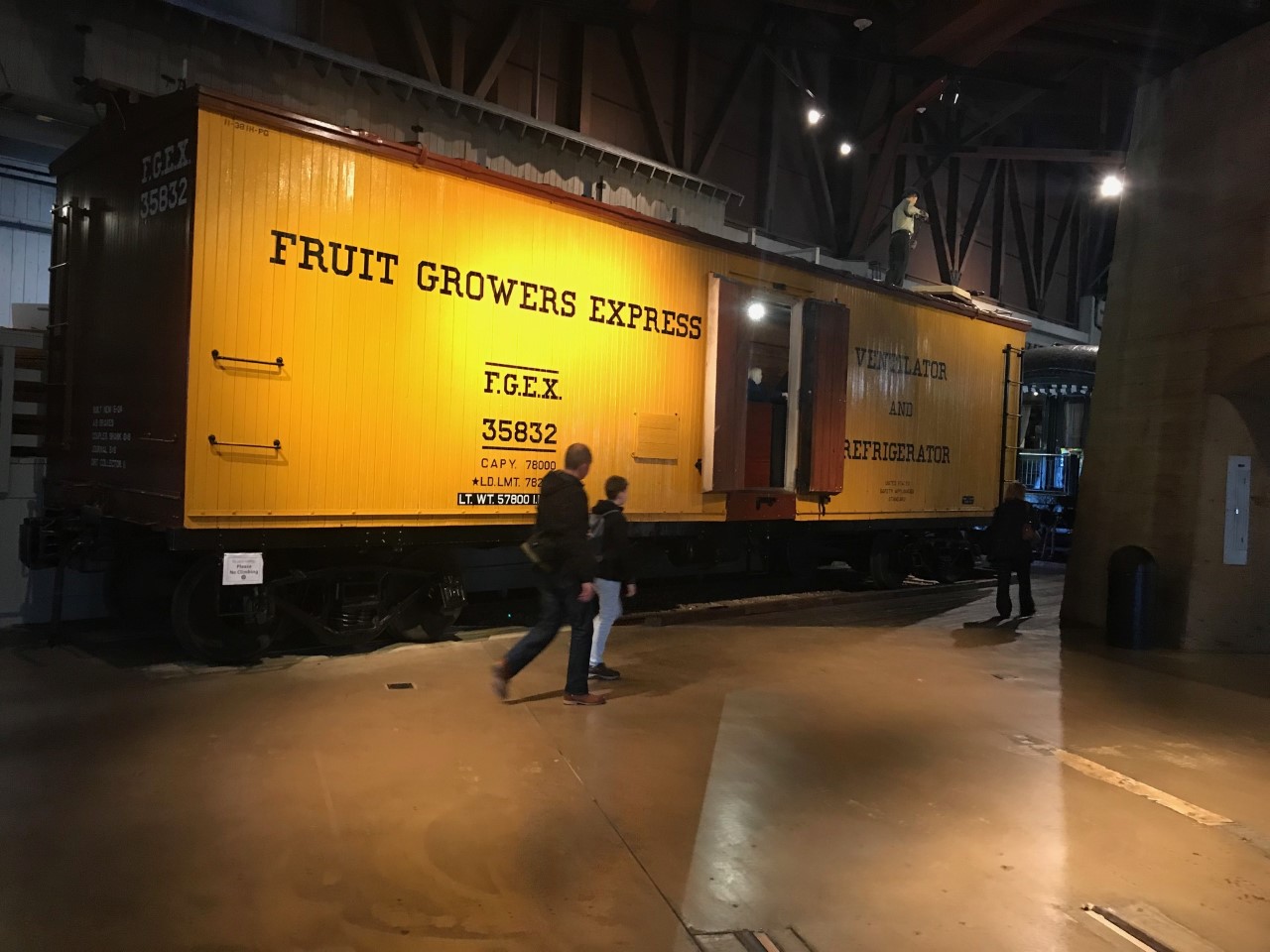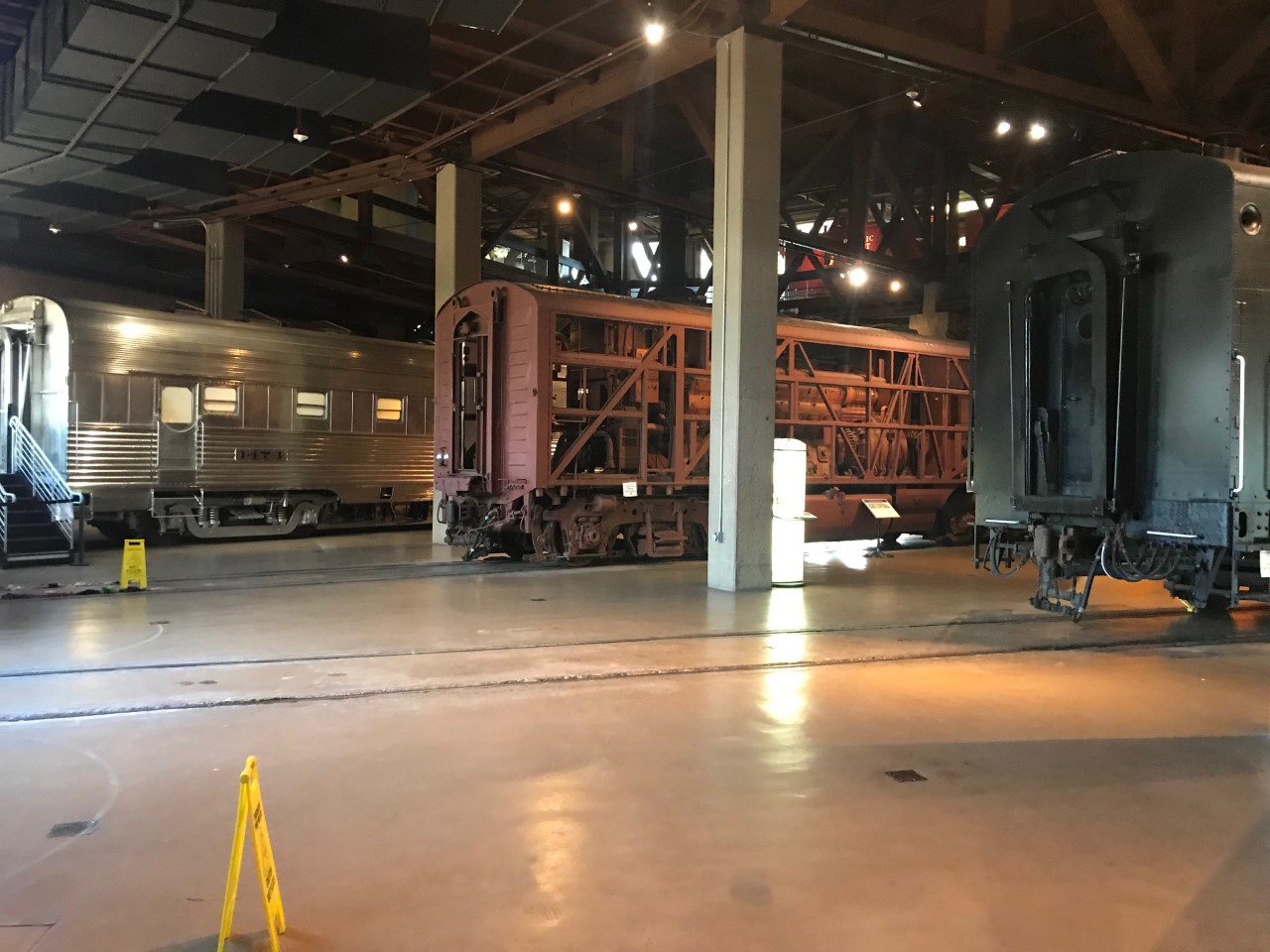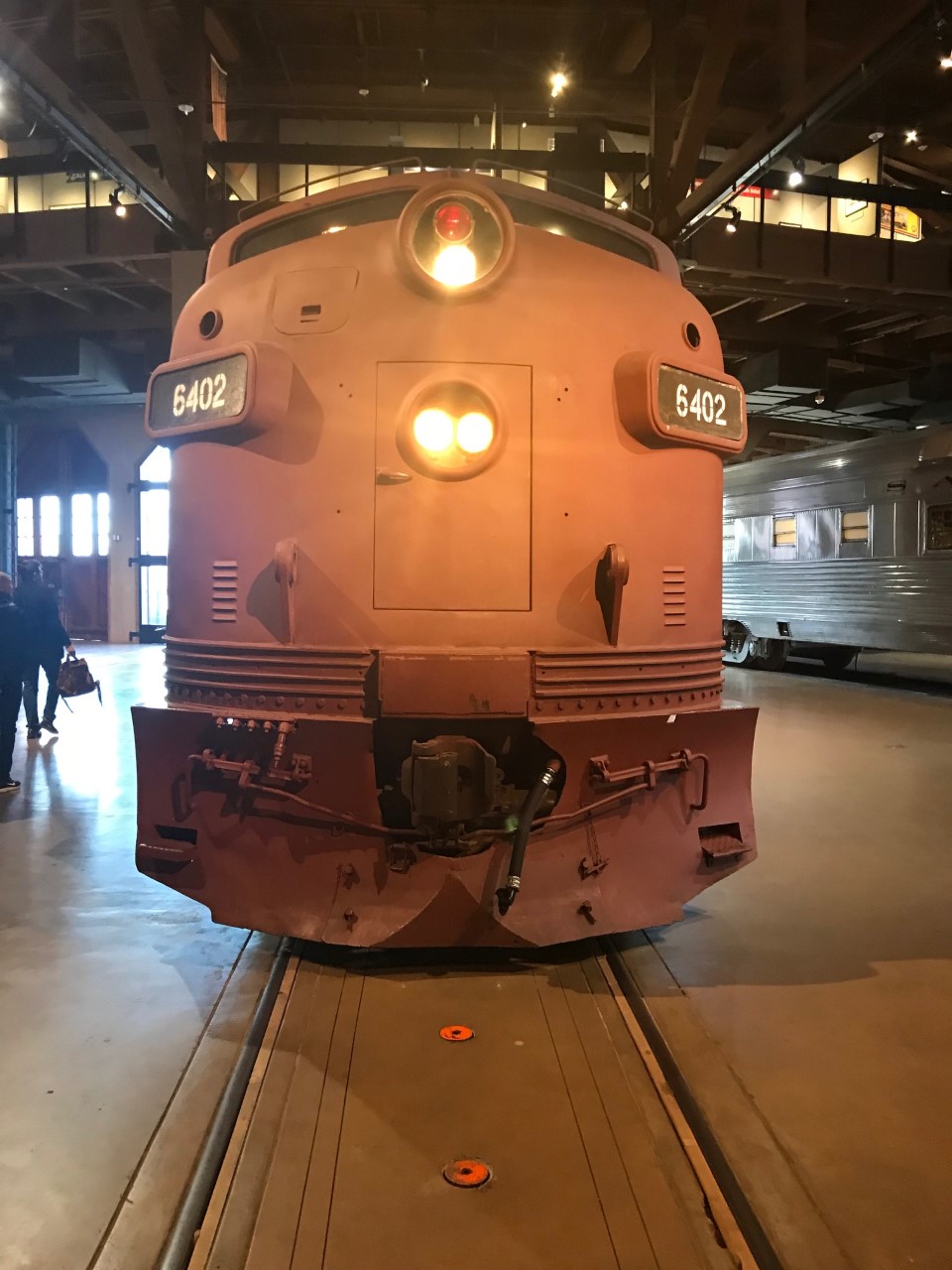 There were also plenty of train cars to take tours through. The one below is from a postal carrier train car.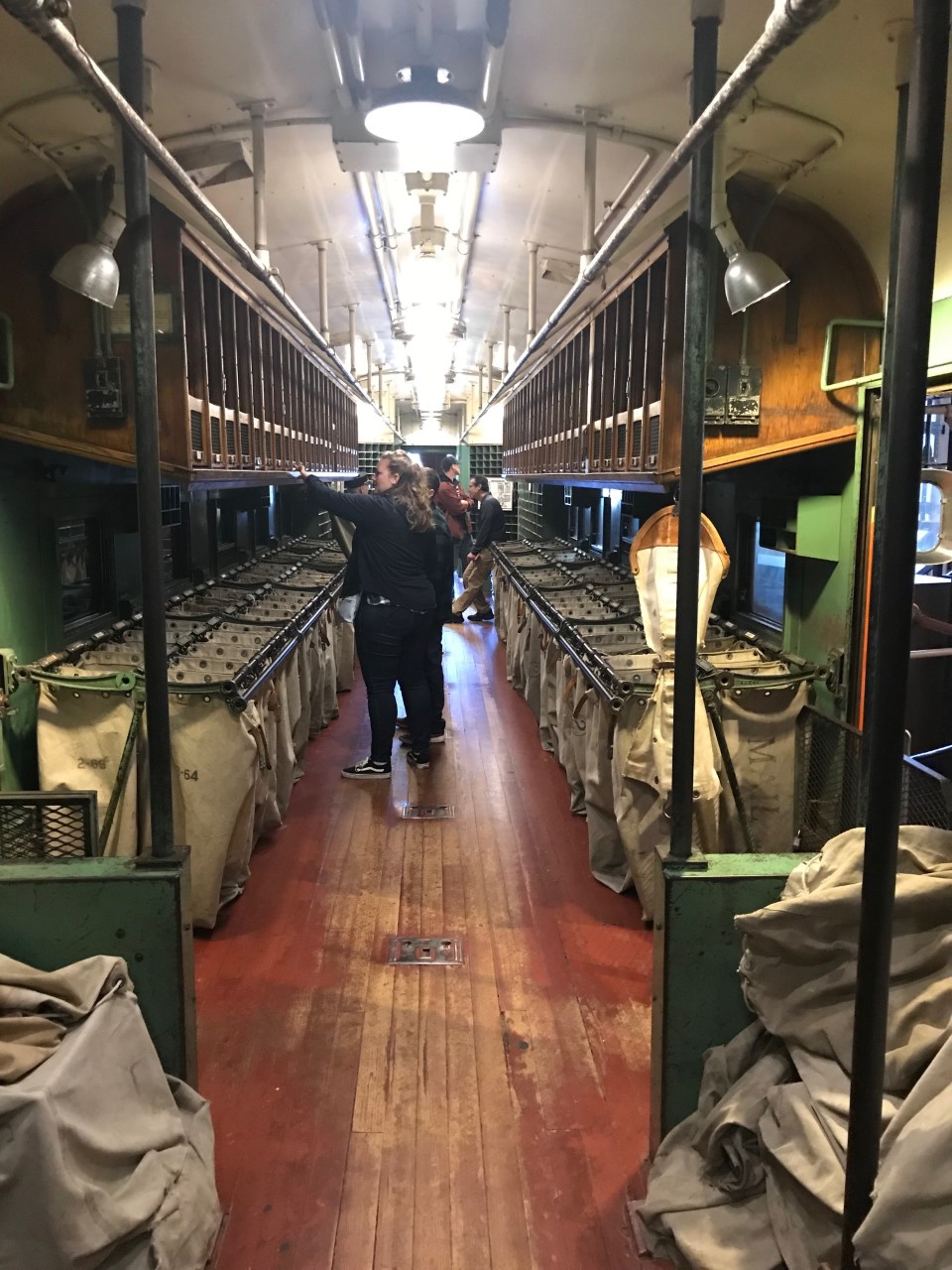 After the railroad museum, I headed to the California State Capitol Museum (free admission) downtown. The Roman architecture was built in the 1860s and had a gorgeous rotunda area along with statues, governor painting portraits, historic rooms, a garden, a bronze statue of the California bear and wall displays representing each county in the state. I even watched a mock Senate hearing from students in the Senate Room.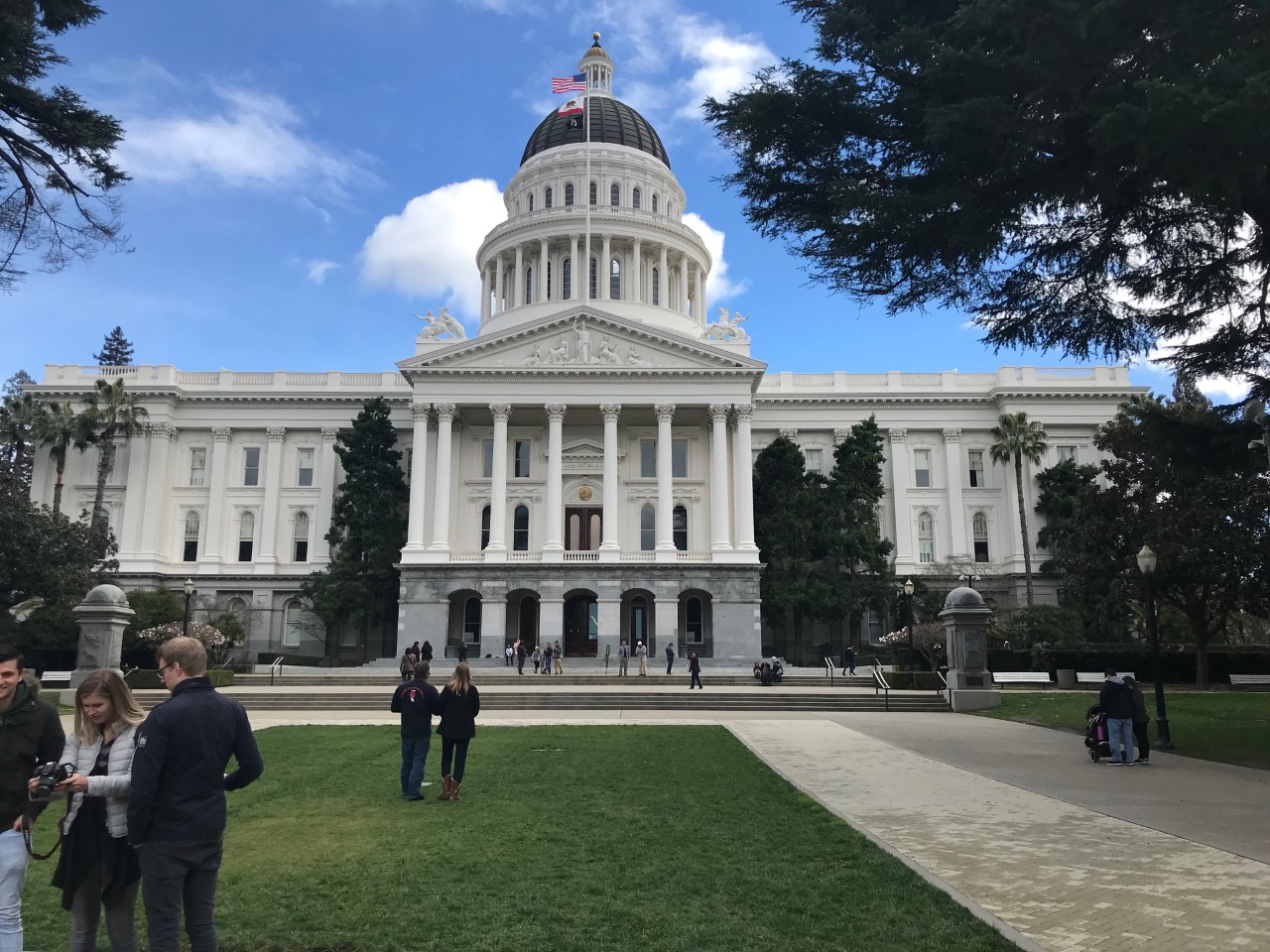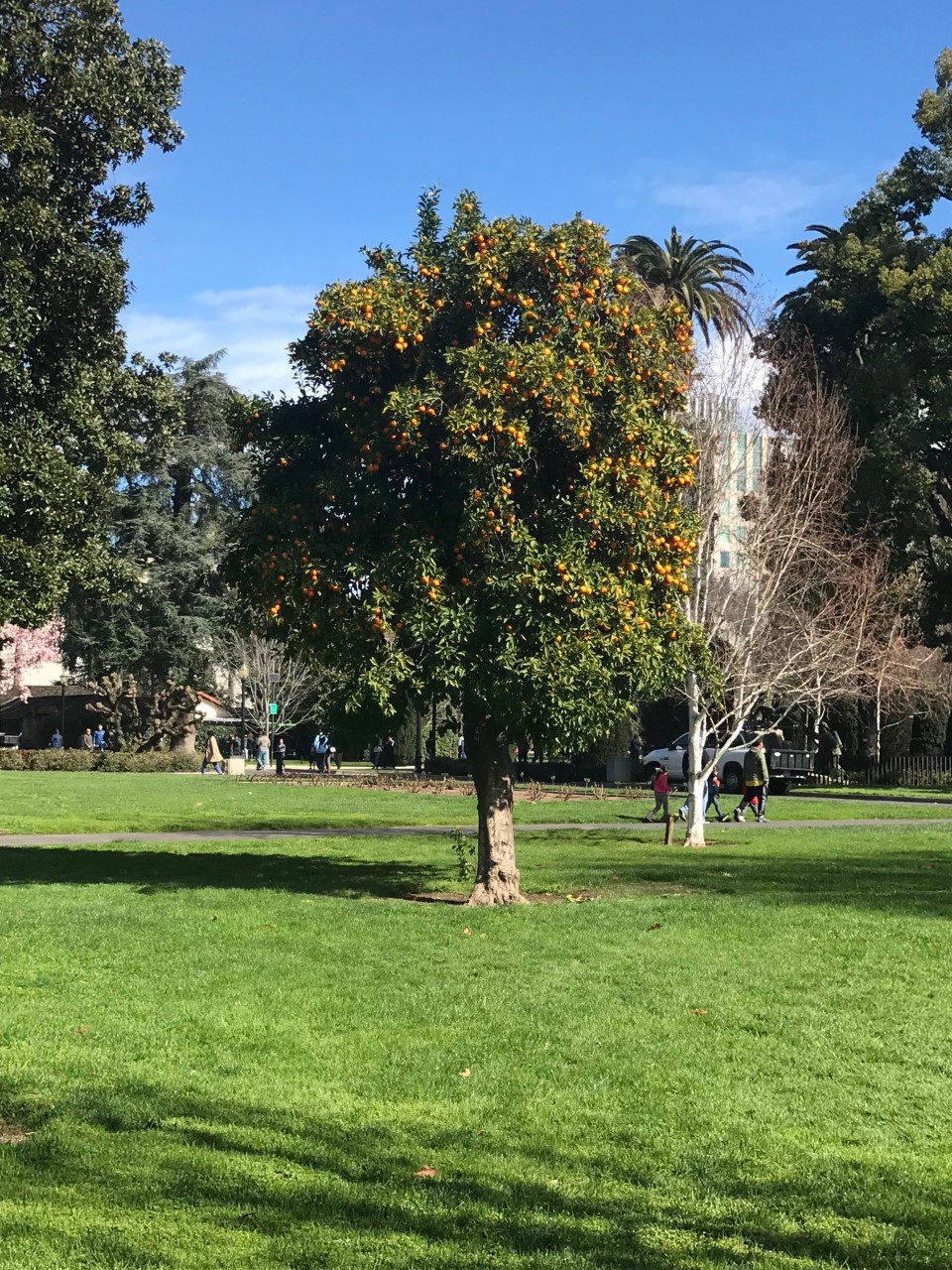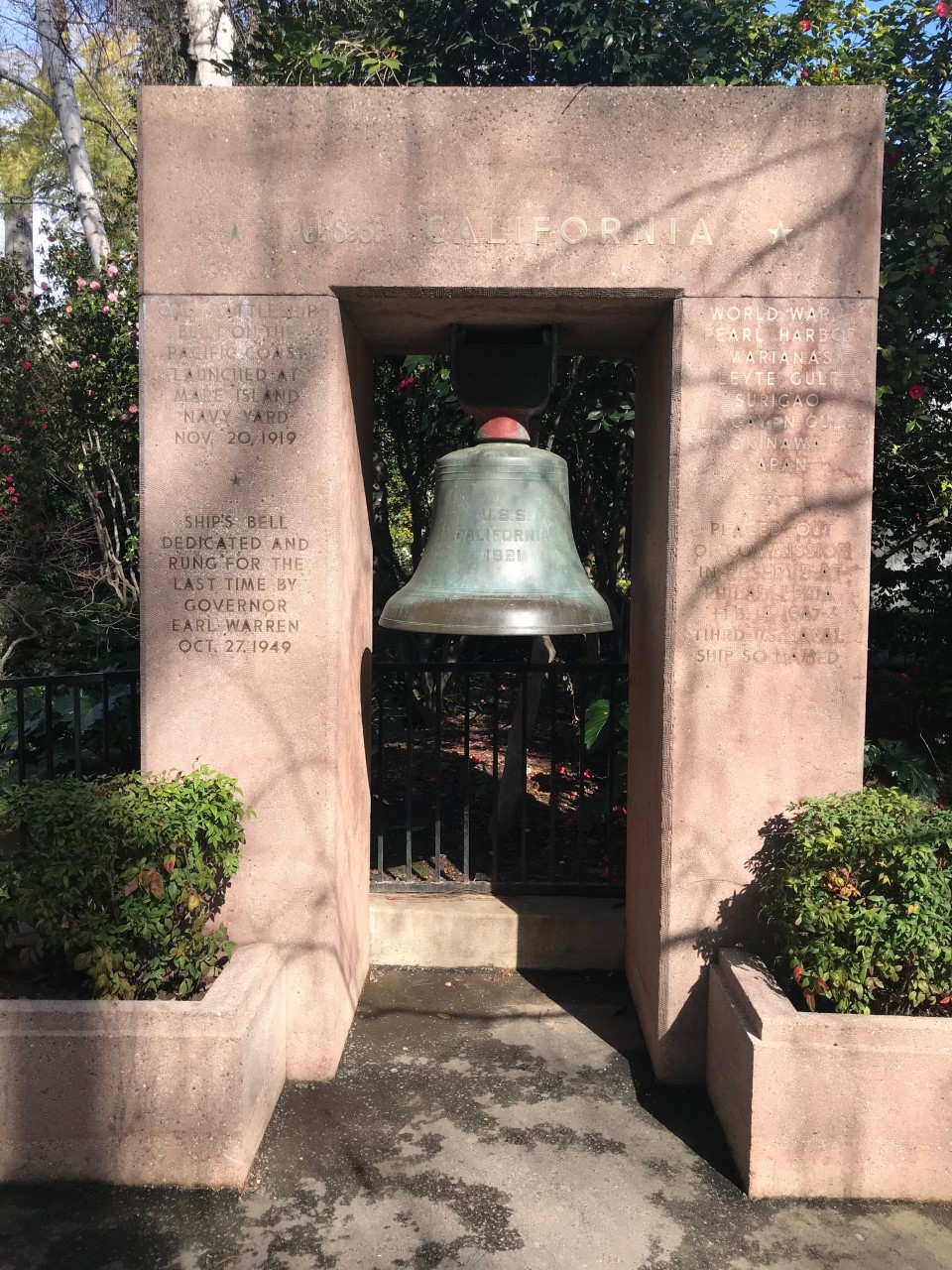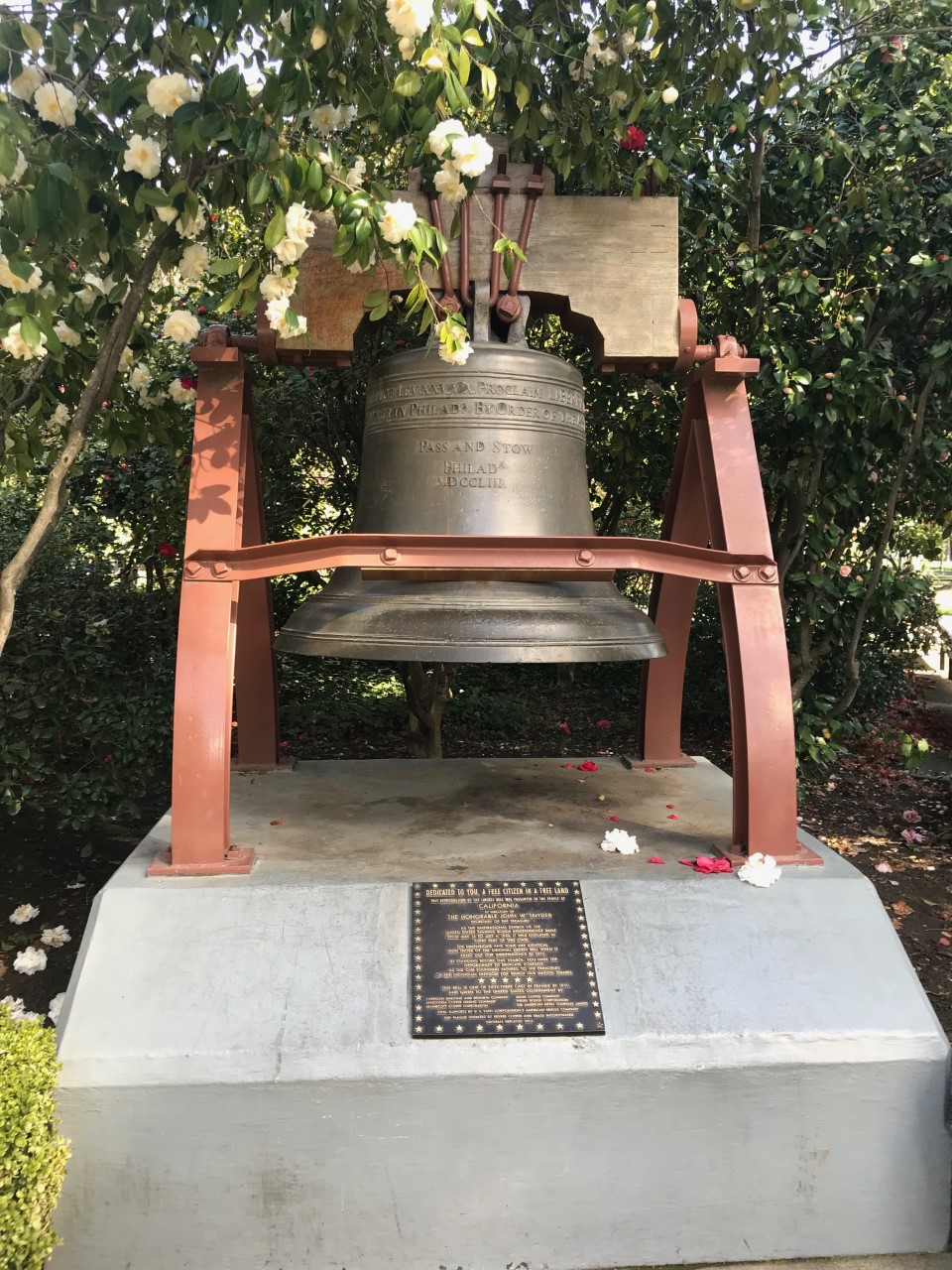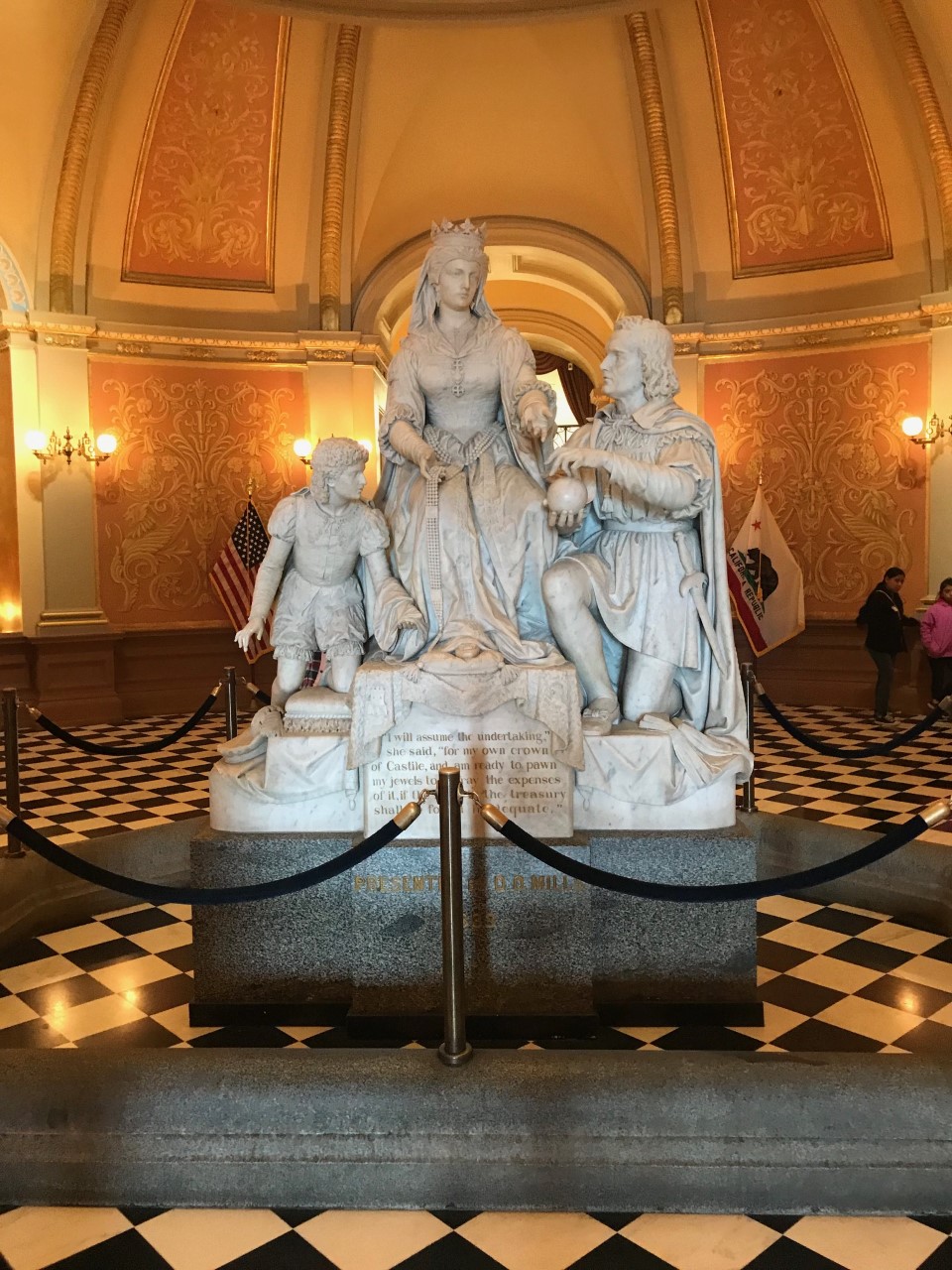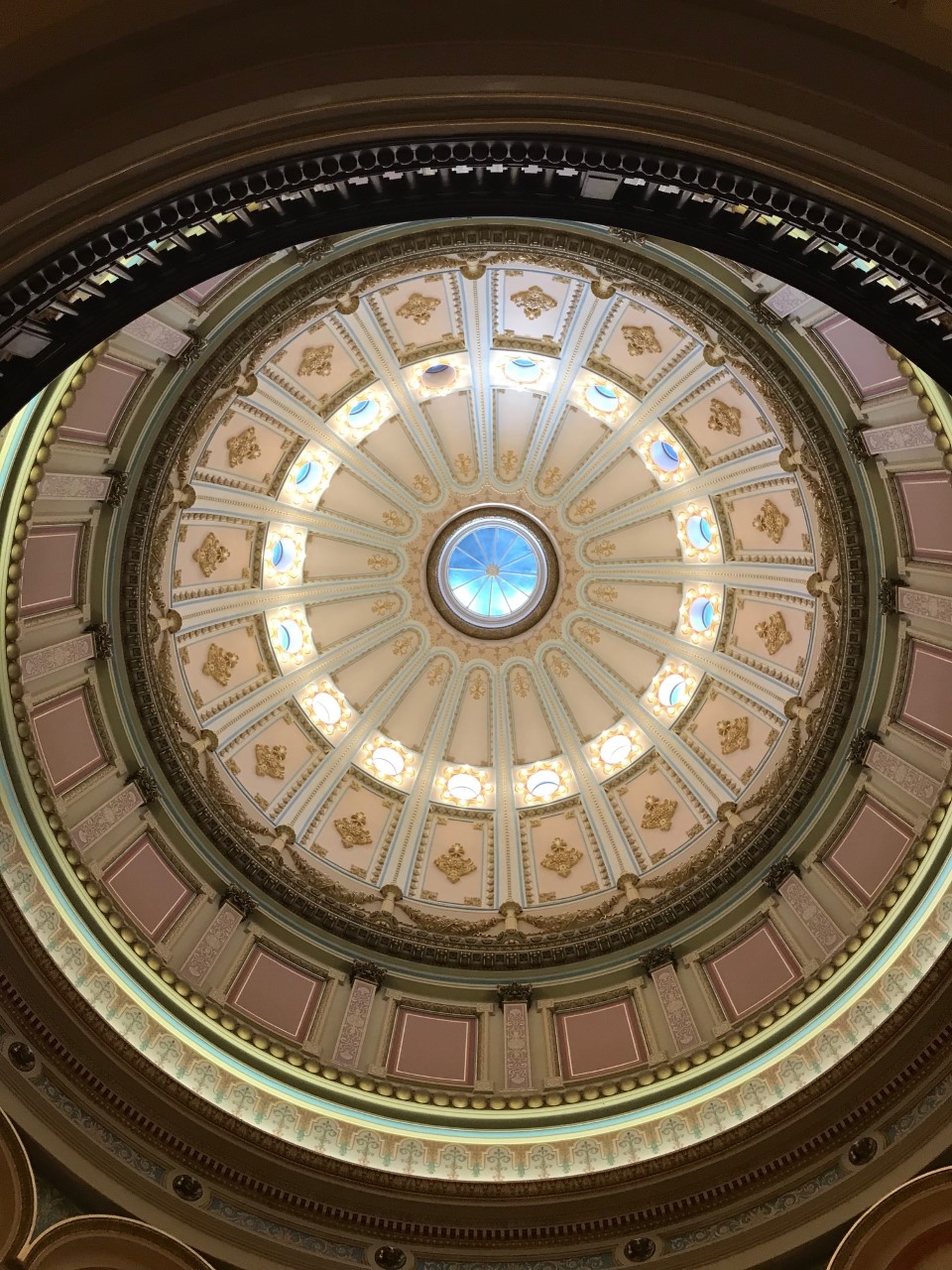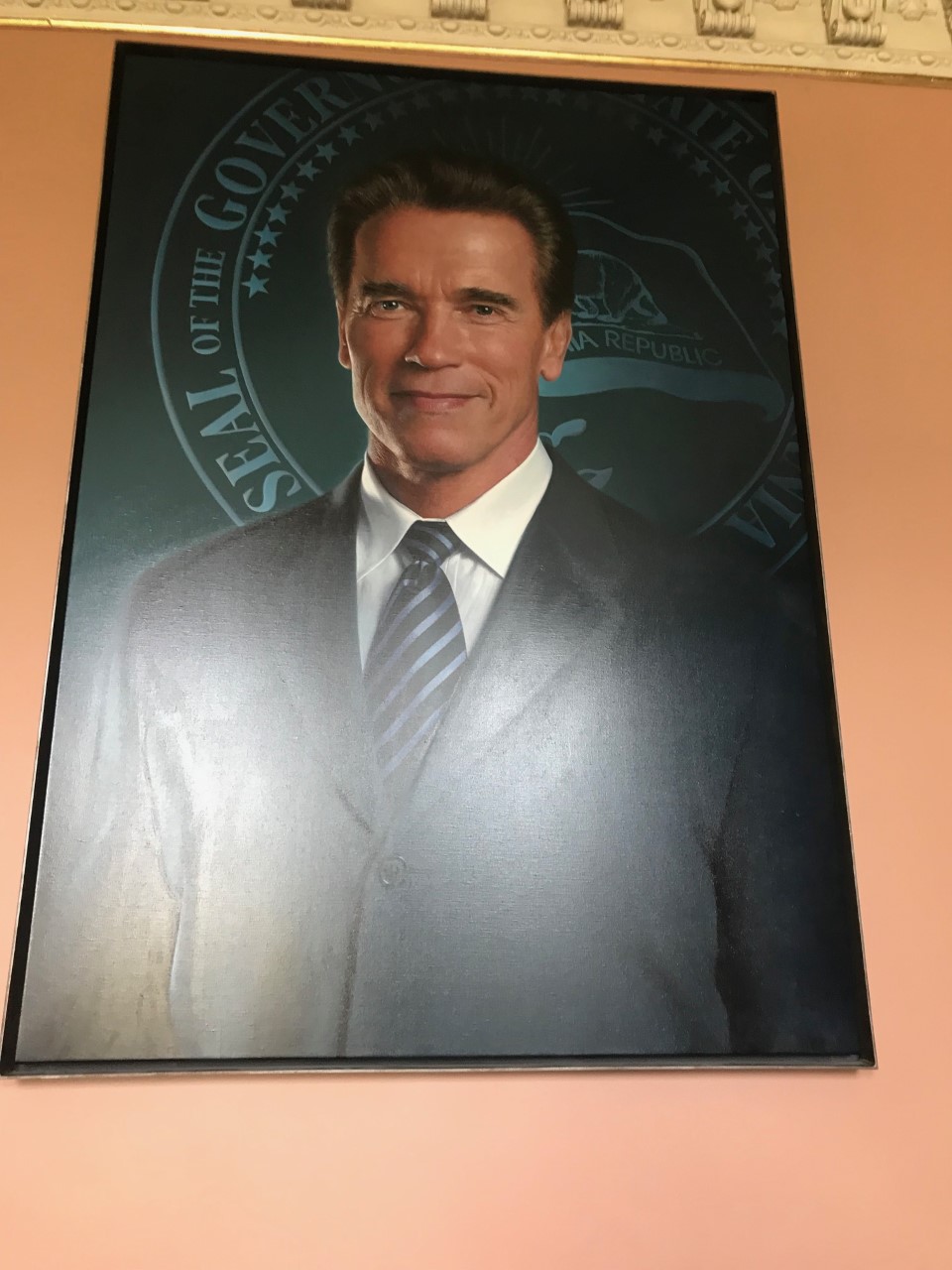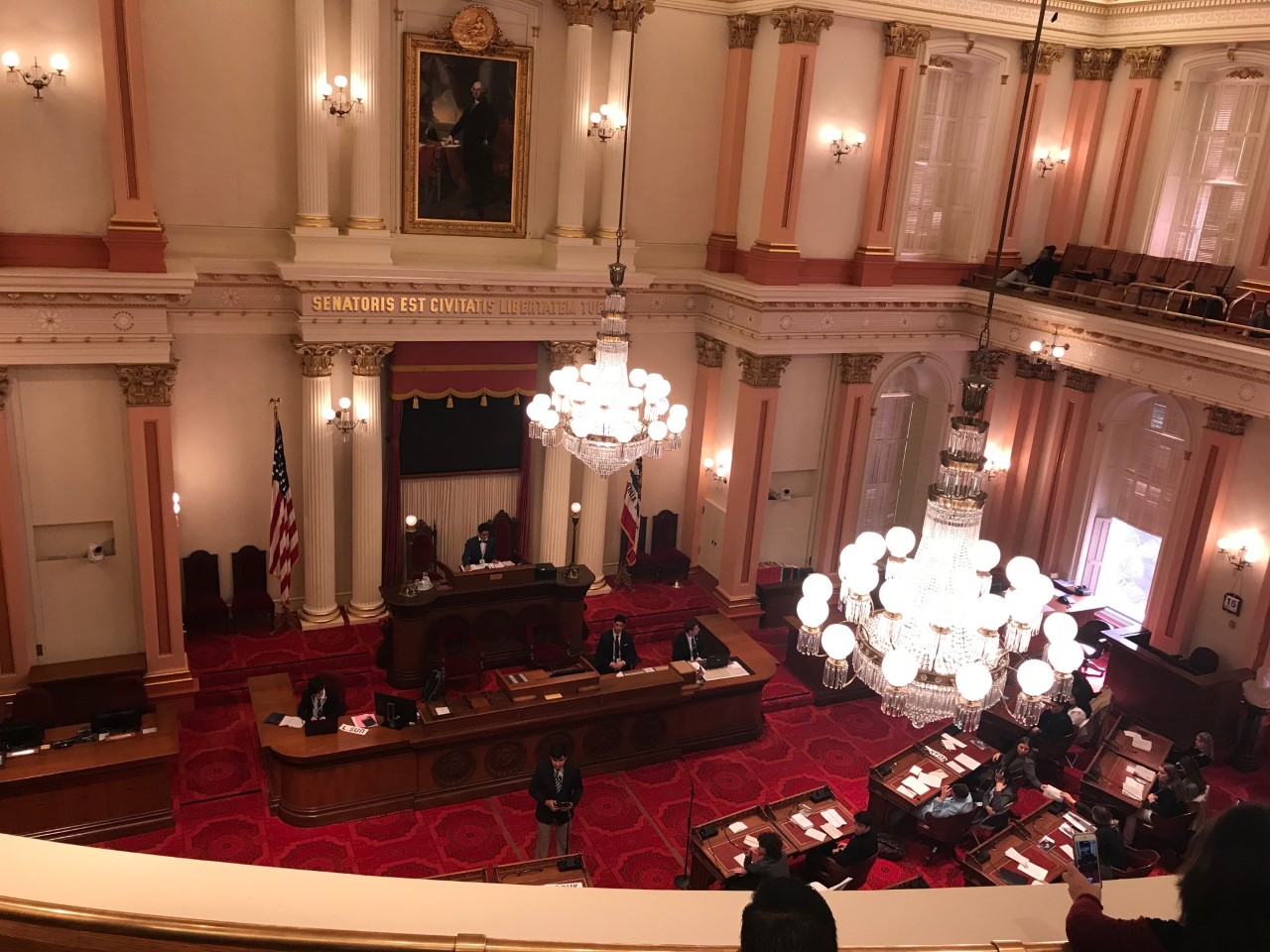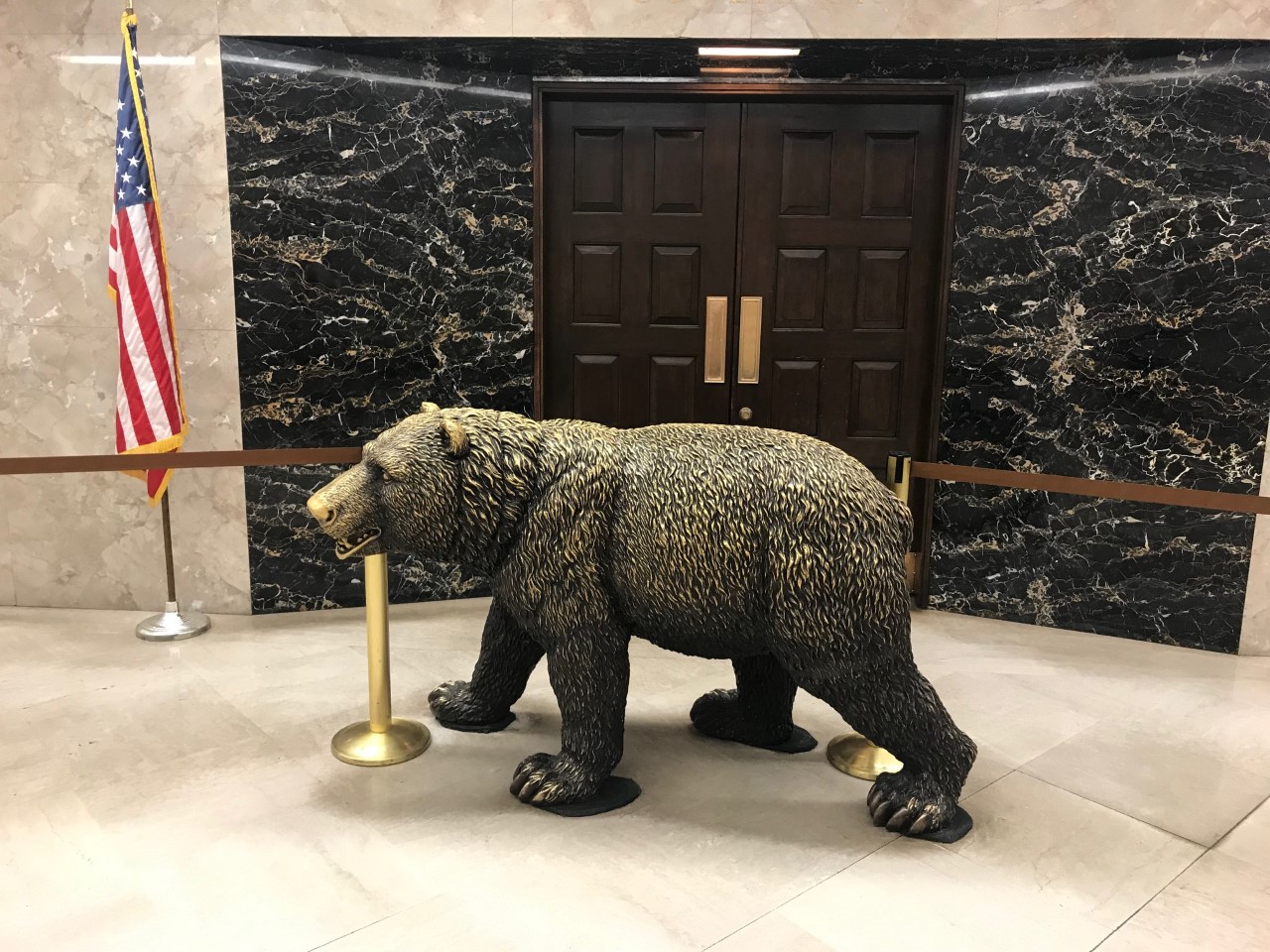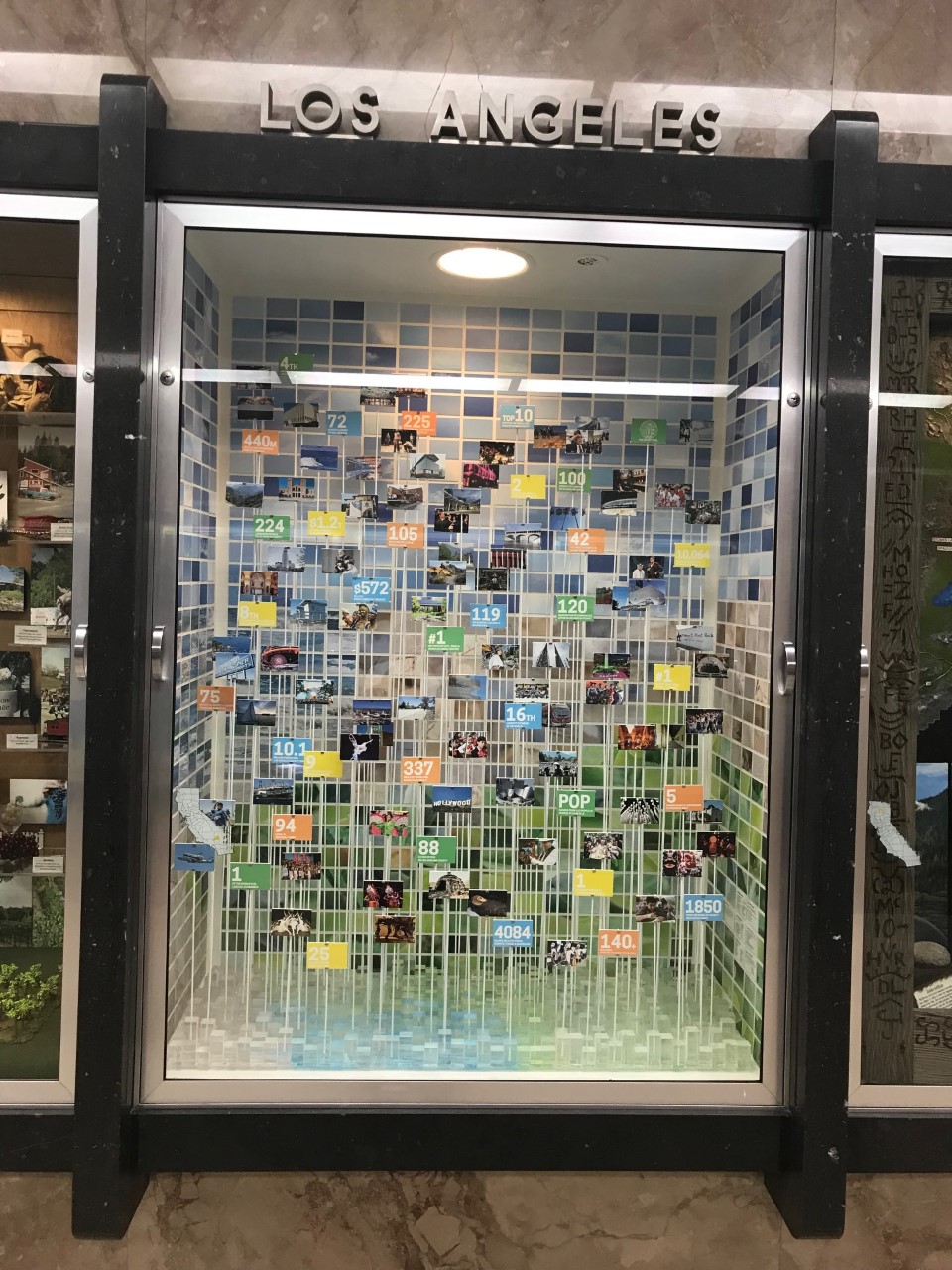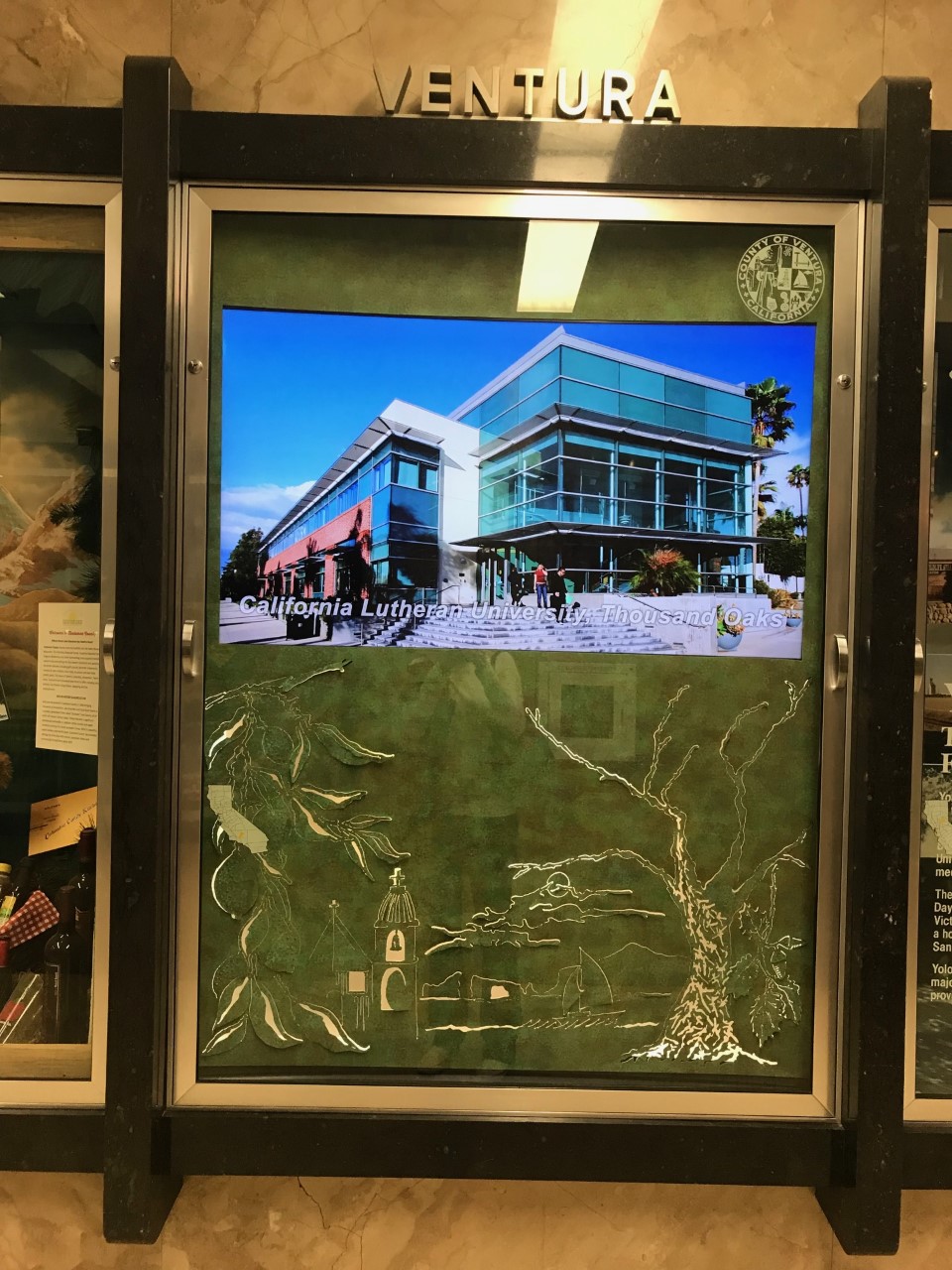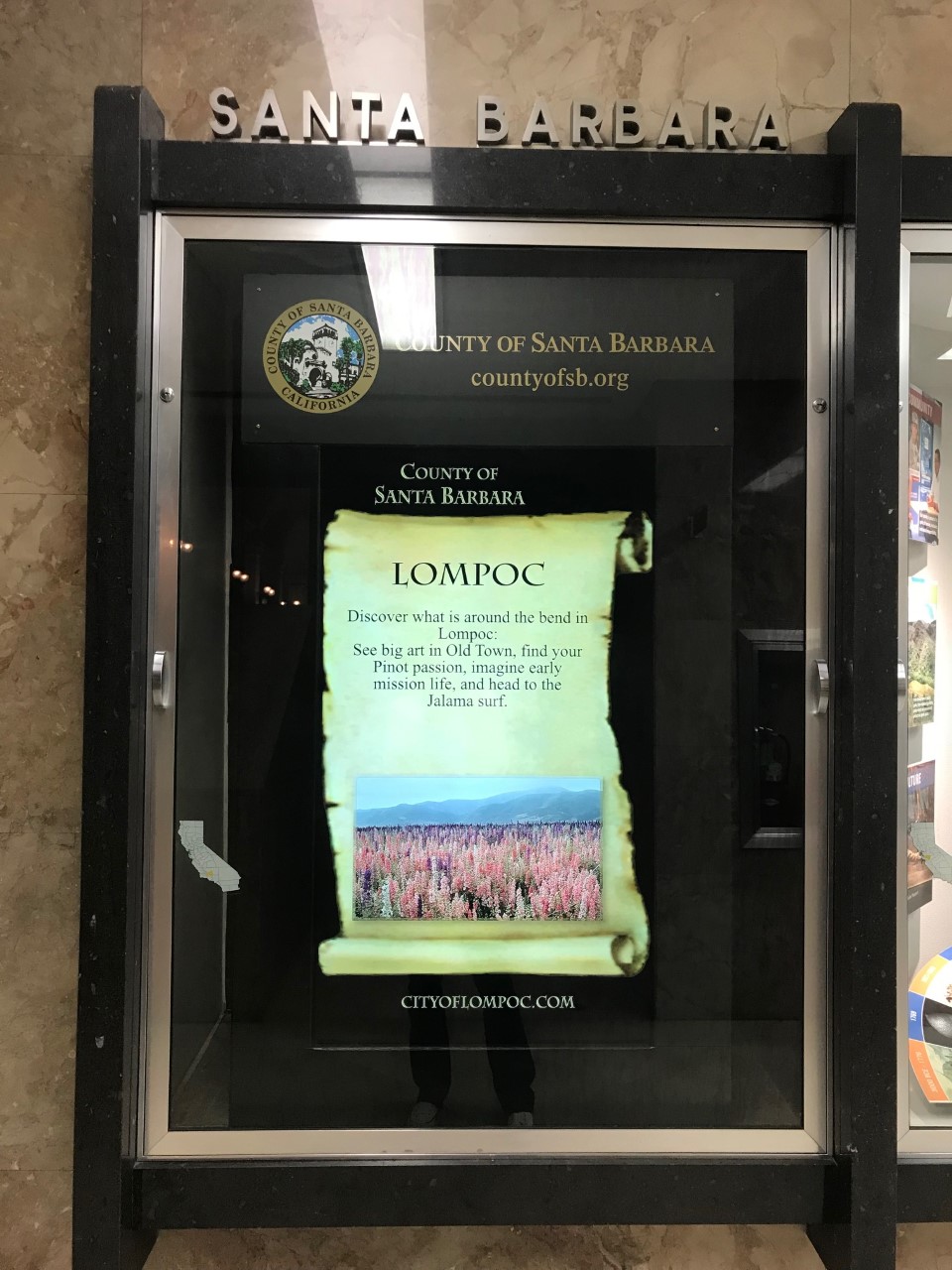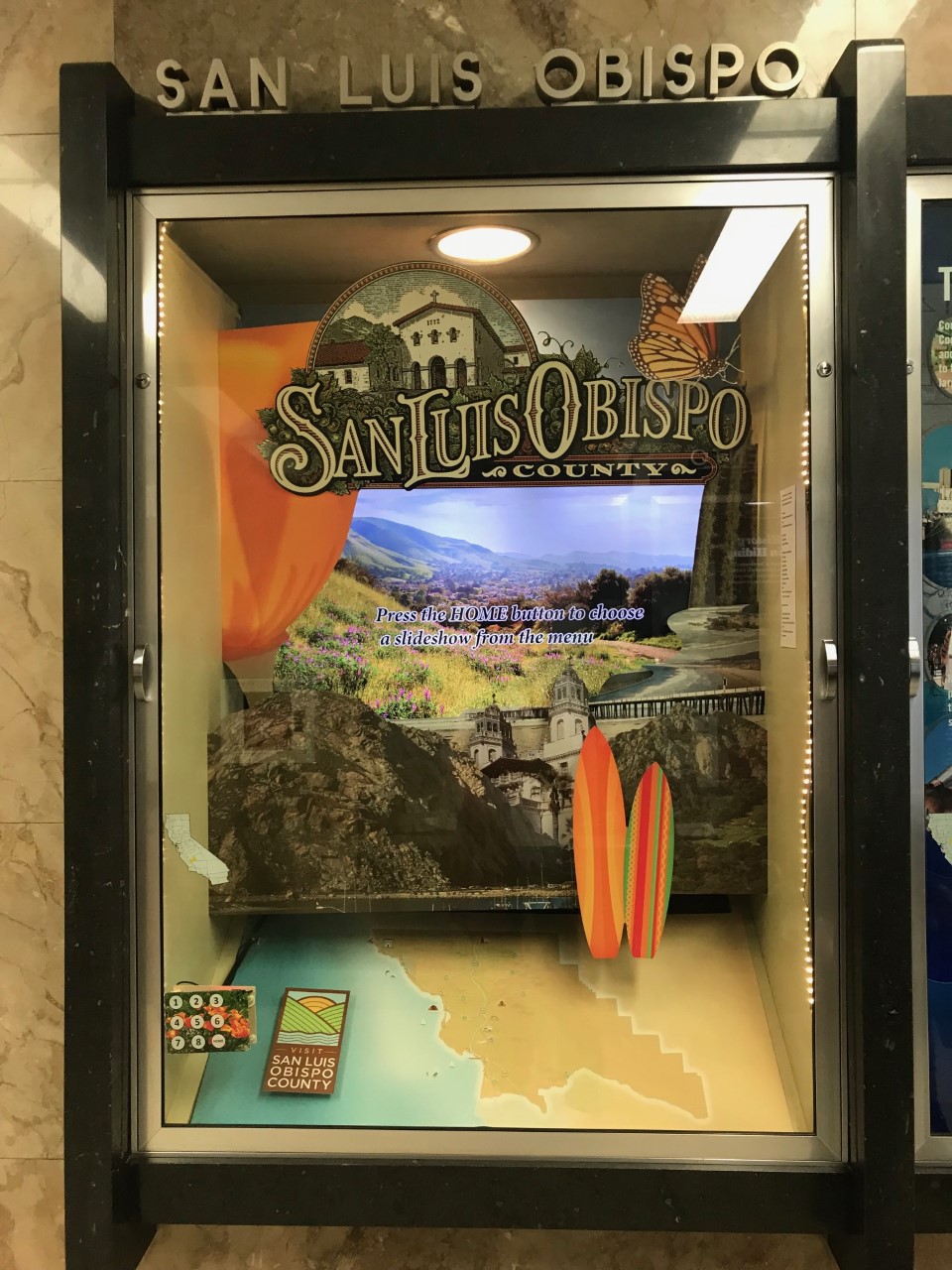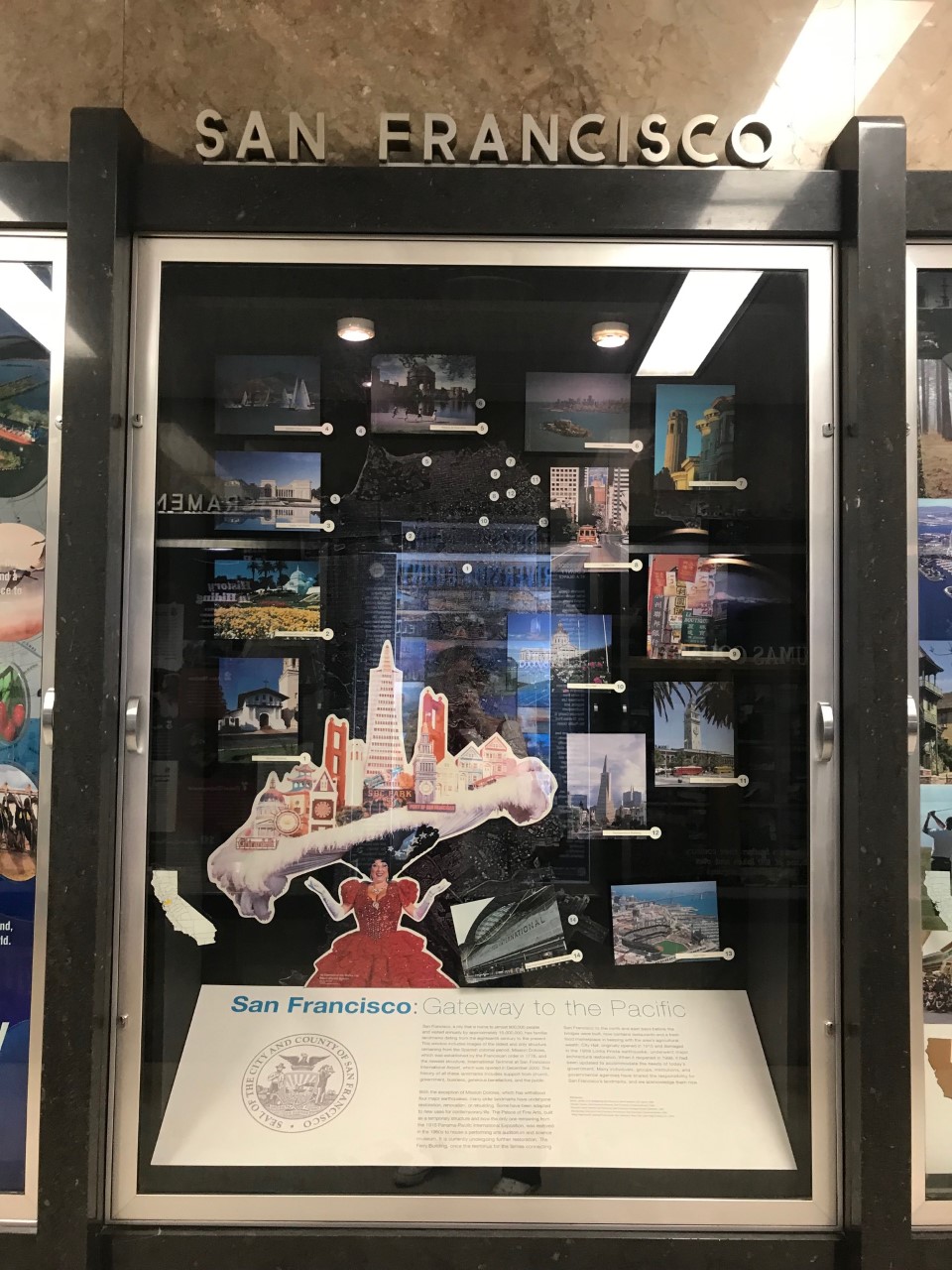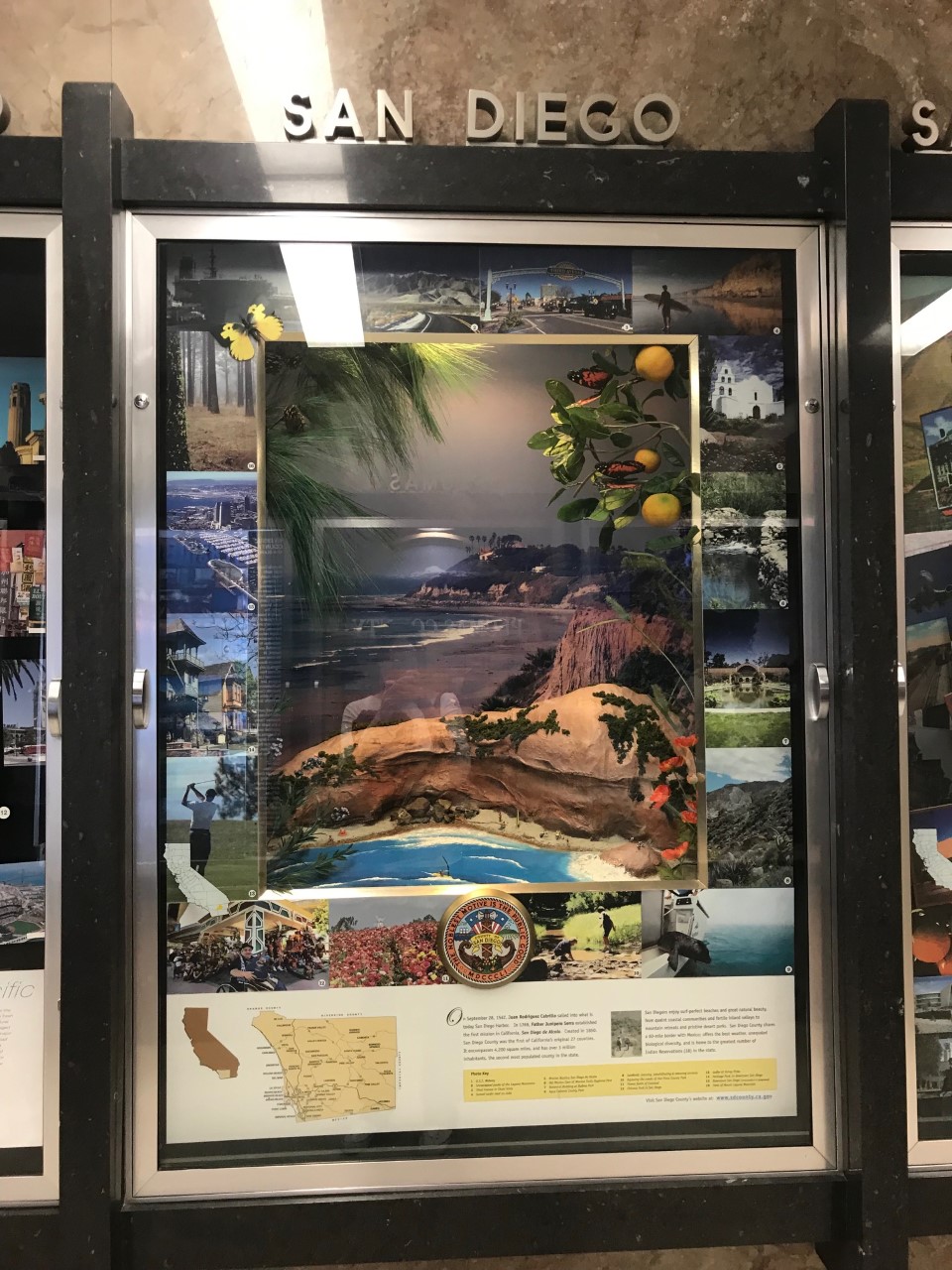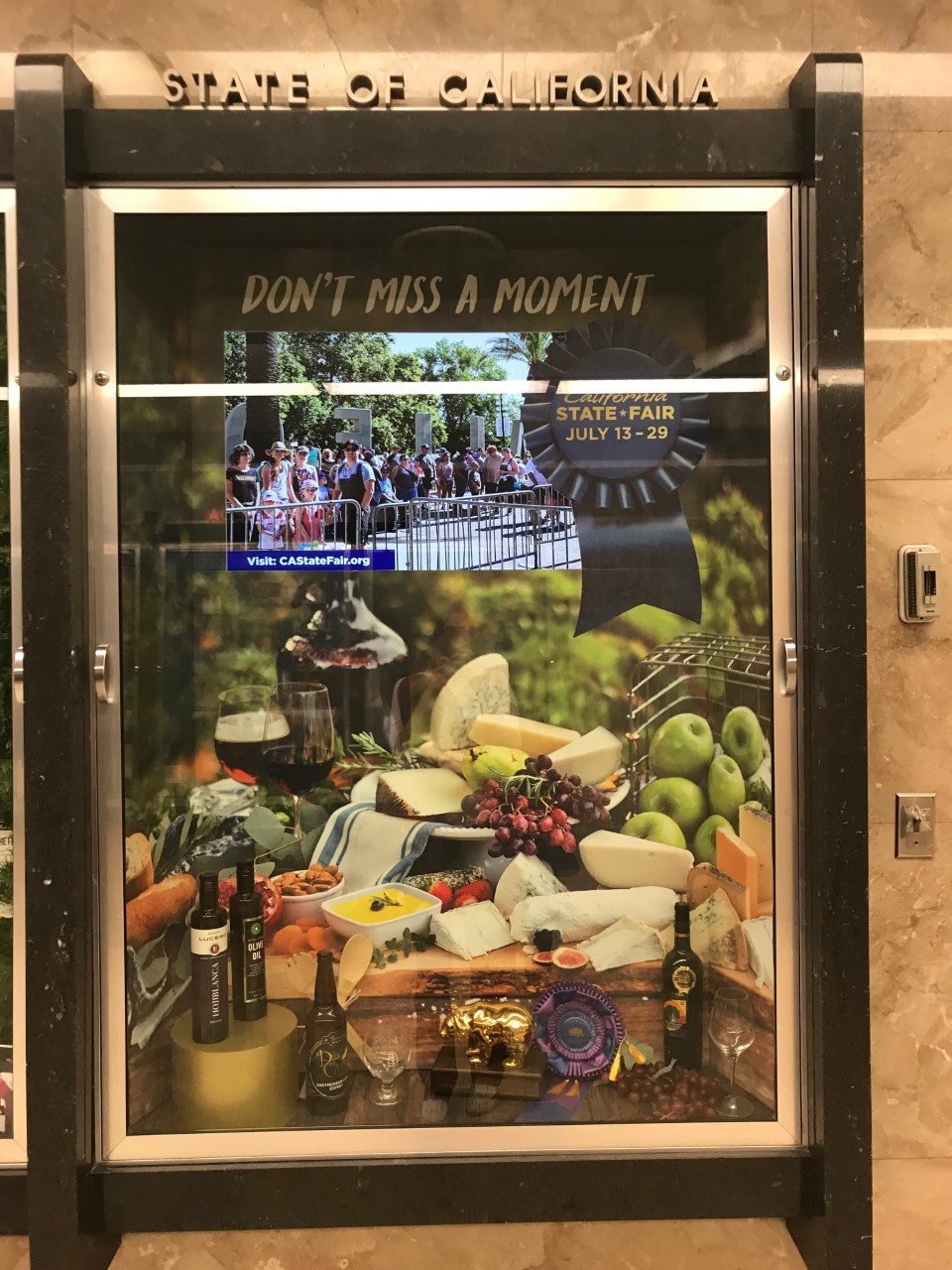 Afterwards I was starving, so I took a brisk walk not far from the capitol to Cafeteria 15L, where I ordered a White Peach Bellini ($9) and Farm Skillet ($13.25) with eggs, spinach, tomatoes, roasted yellow corn, sharp cheddar cheese, tater tots and toast. It really hit the spot!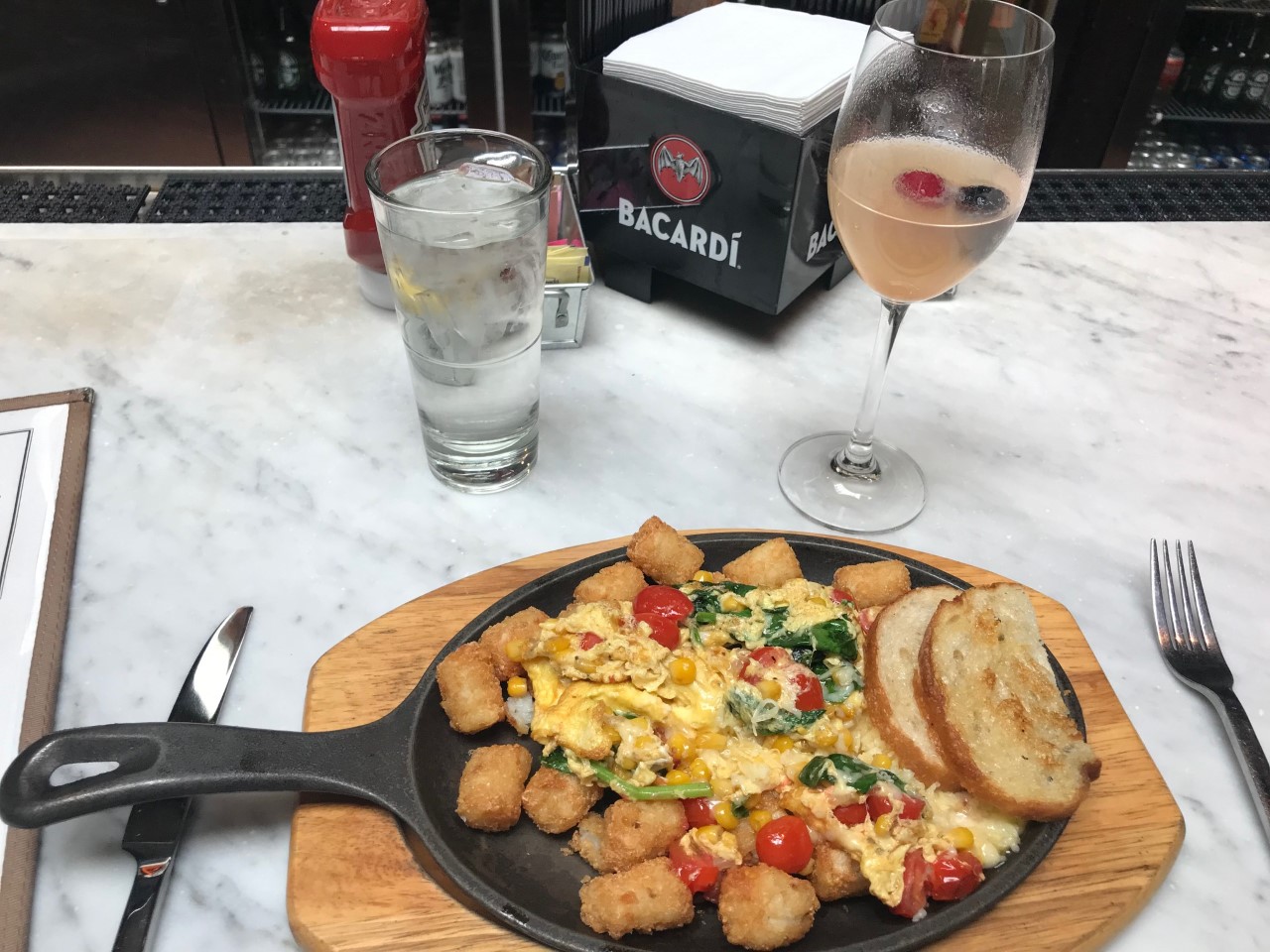 You know me, I needed to try a brewery or 2 while I was in town, so I did another long walk over to Fieldwork Brewing for a sampler ($11). The White Mocha (middle beer below) was my favorite, it wasn't too heavy or too light.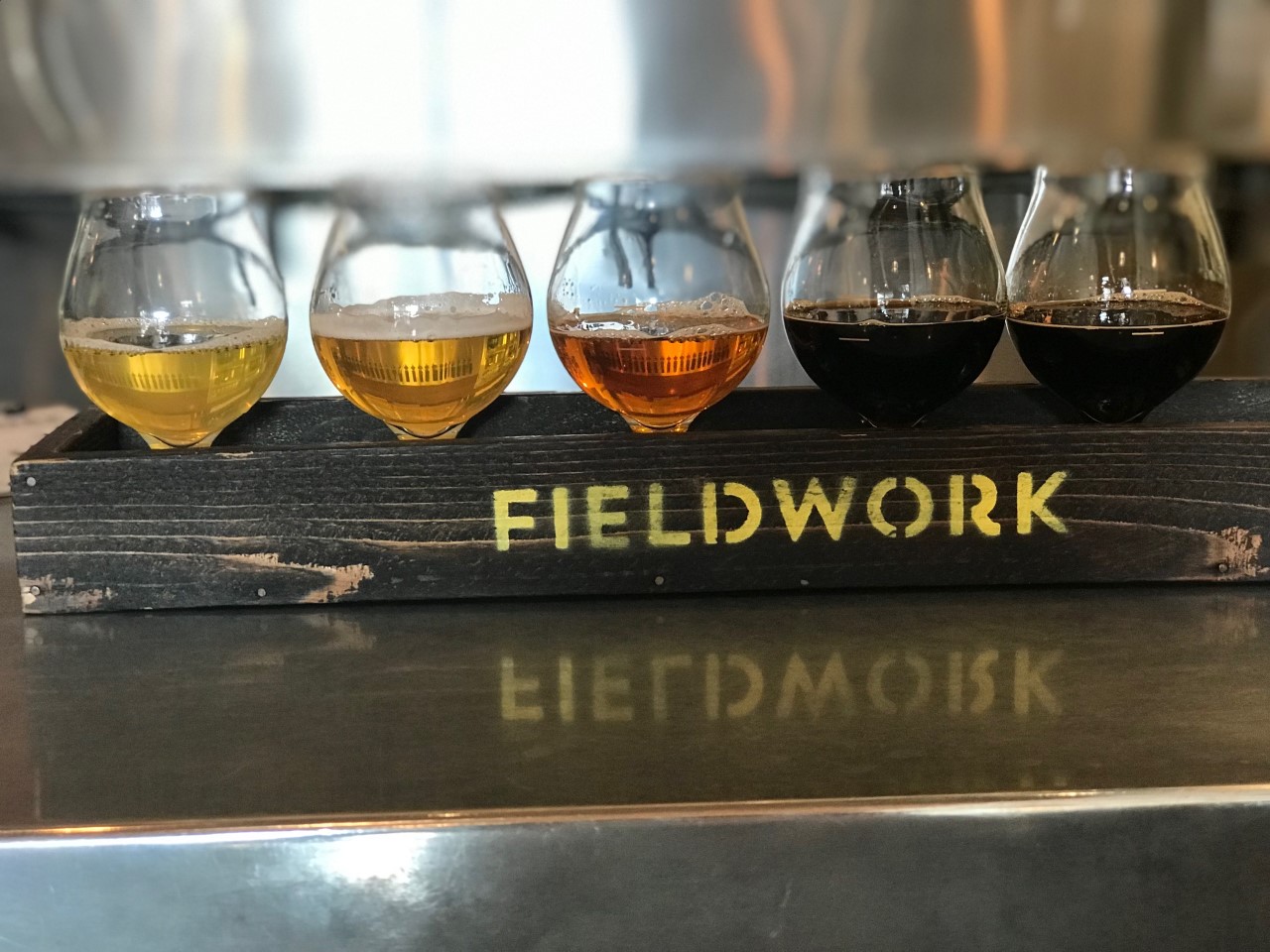 After a long walk back to my car, I headed over towards the north end of town and snapped a photo of the iconic blue house used in the Ladybird movie. It's located at 1224 44th St.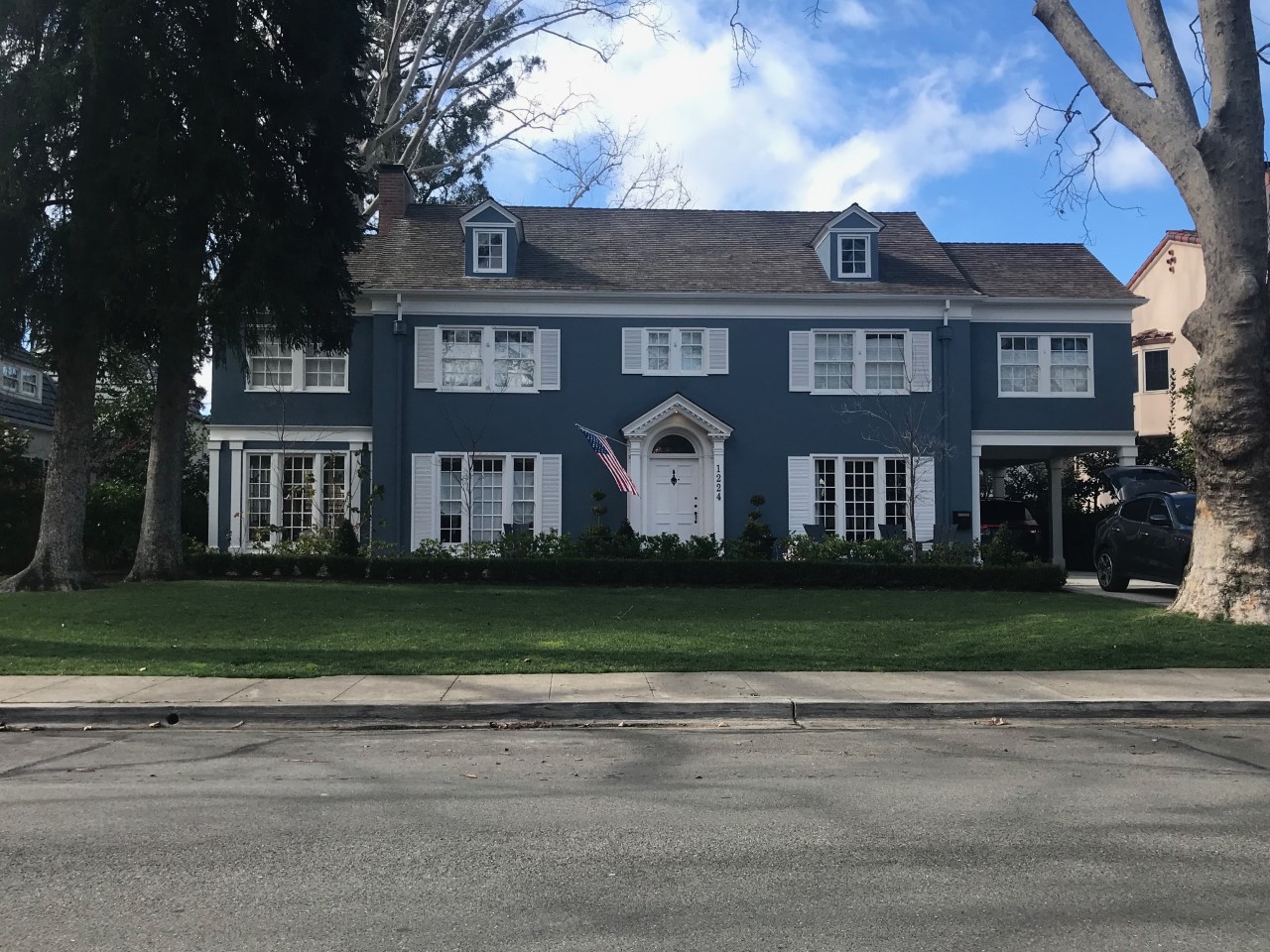 A block away was the house Ronald Reagan resided in during his years as governor in 1967 – 1975. The address is 1341 45th St.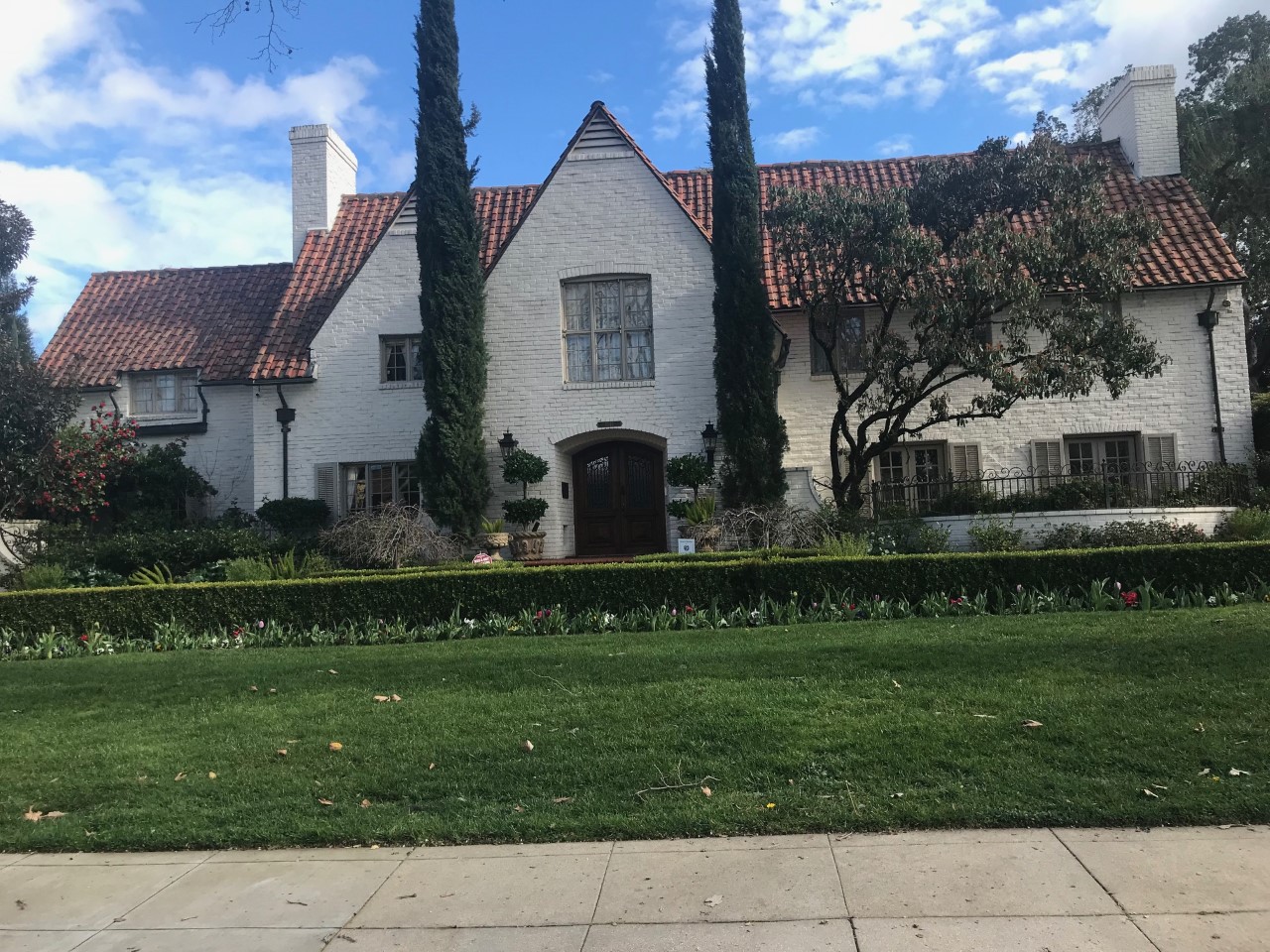 Next I drove north abut 25 minutes and headed towards to historic Folsom Prison to view the museum ($2). I am a huge fan of Johnny Cash and wanted to see the photographs and artifacts that were inside.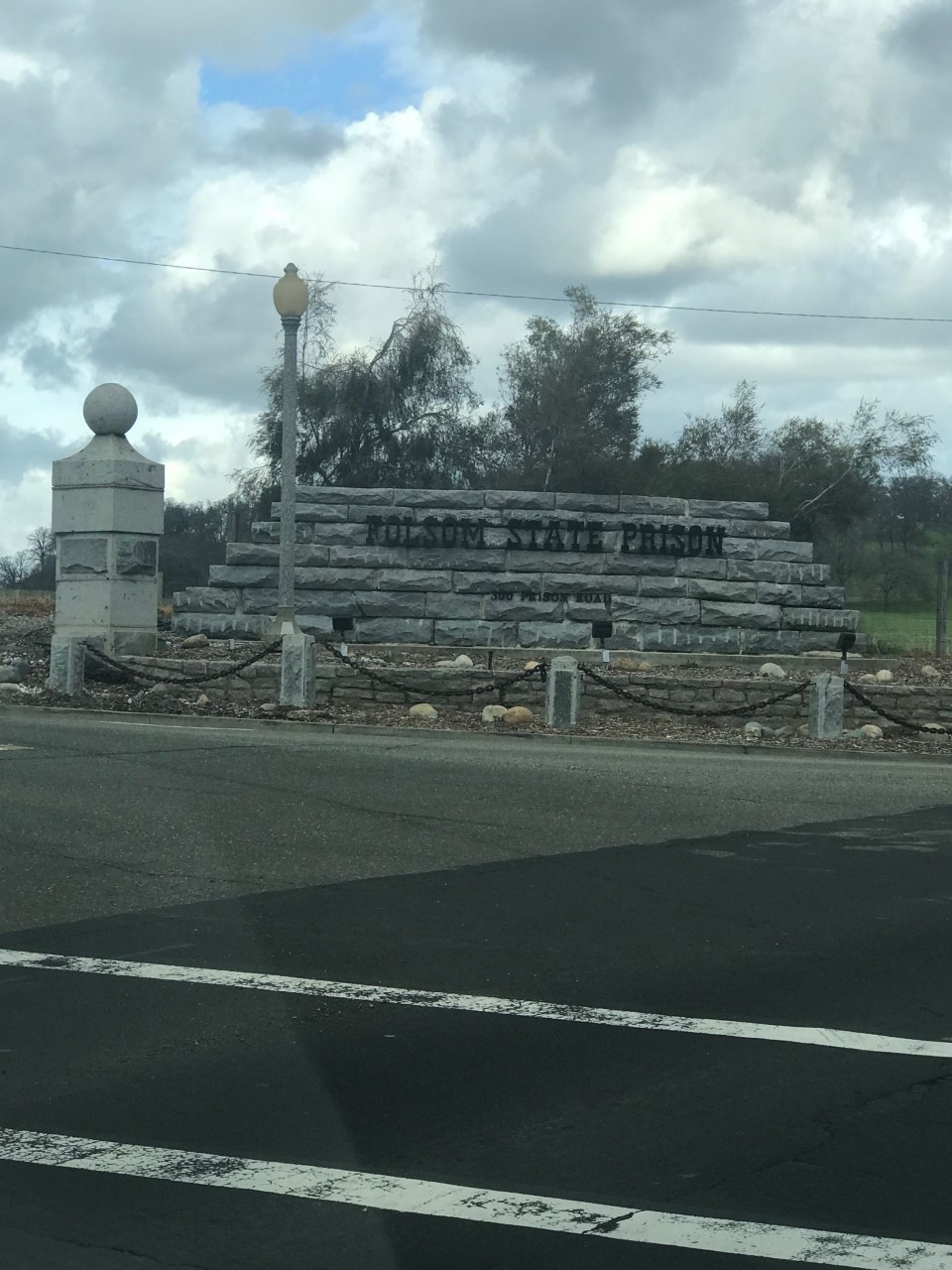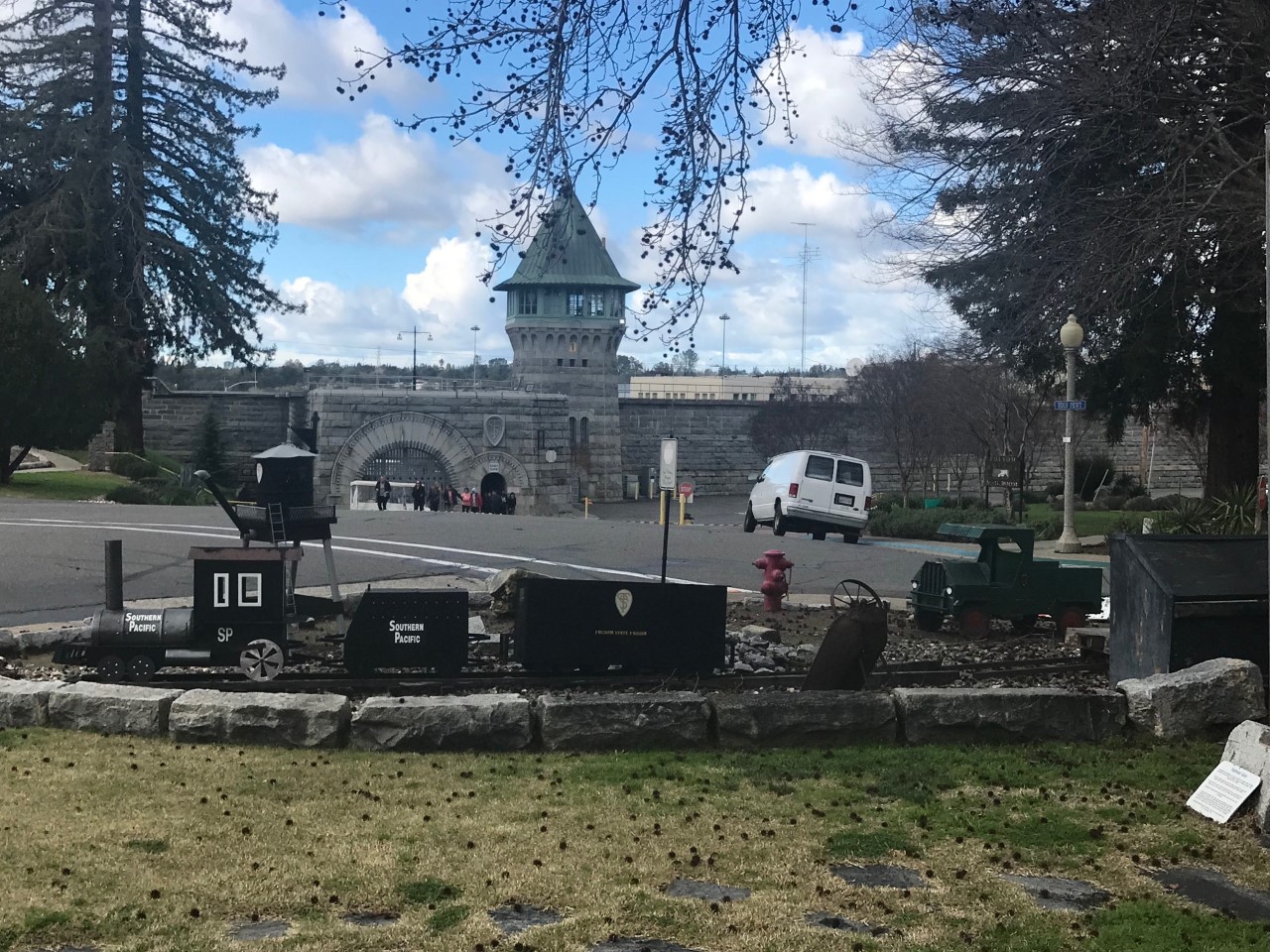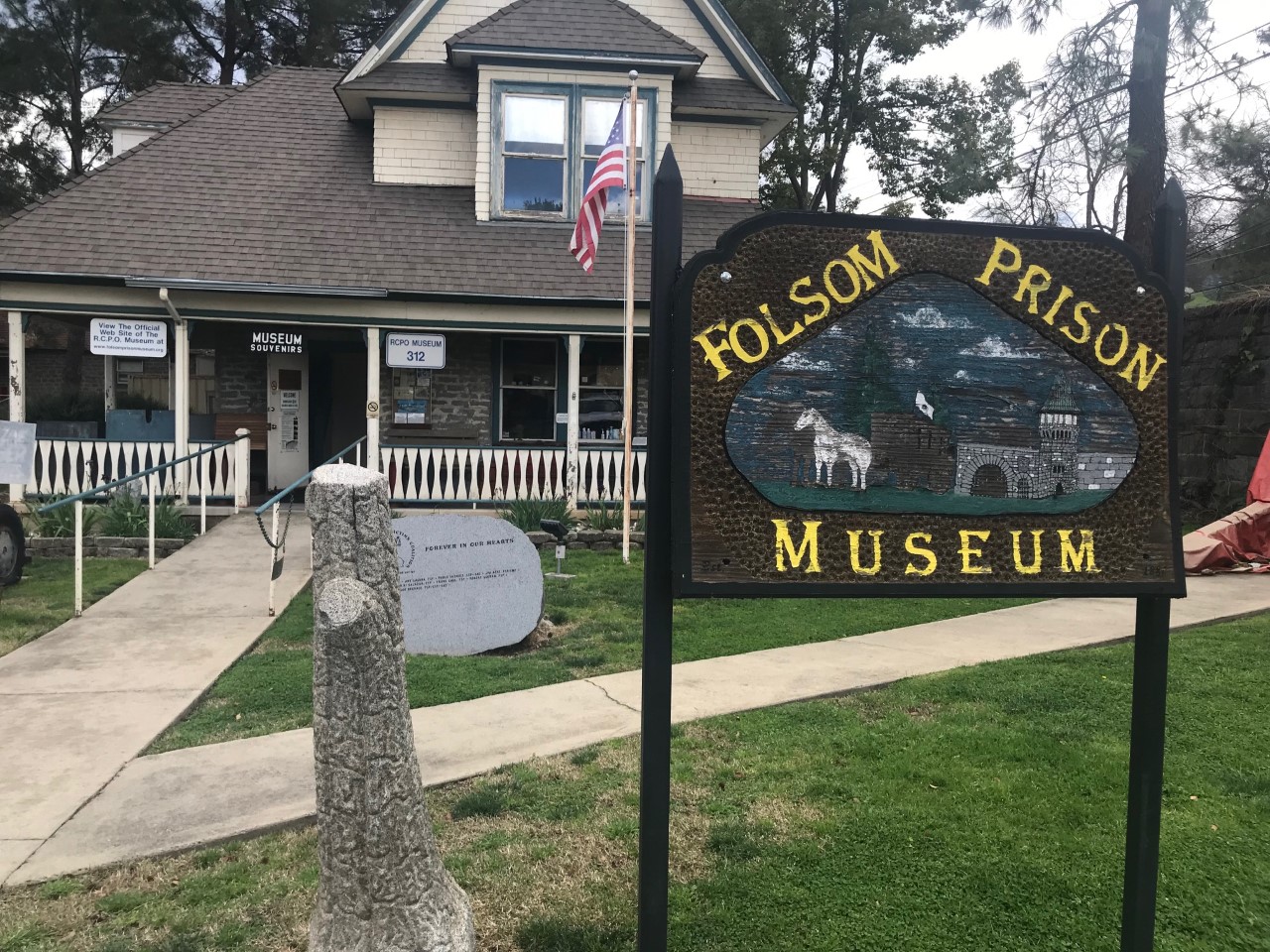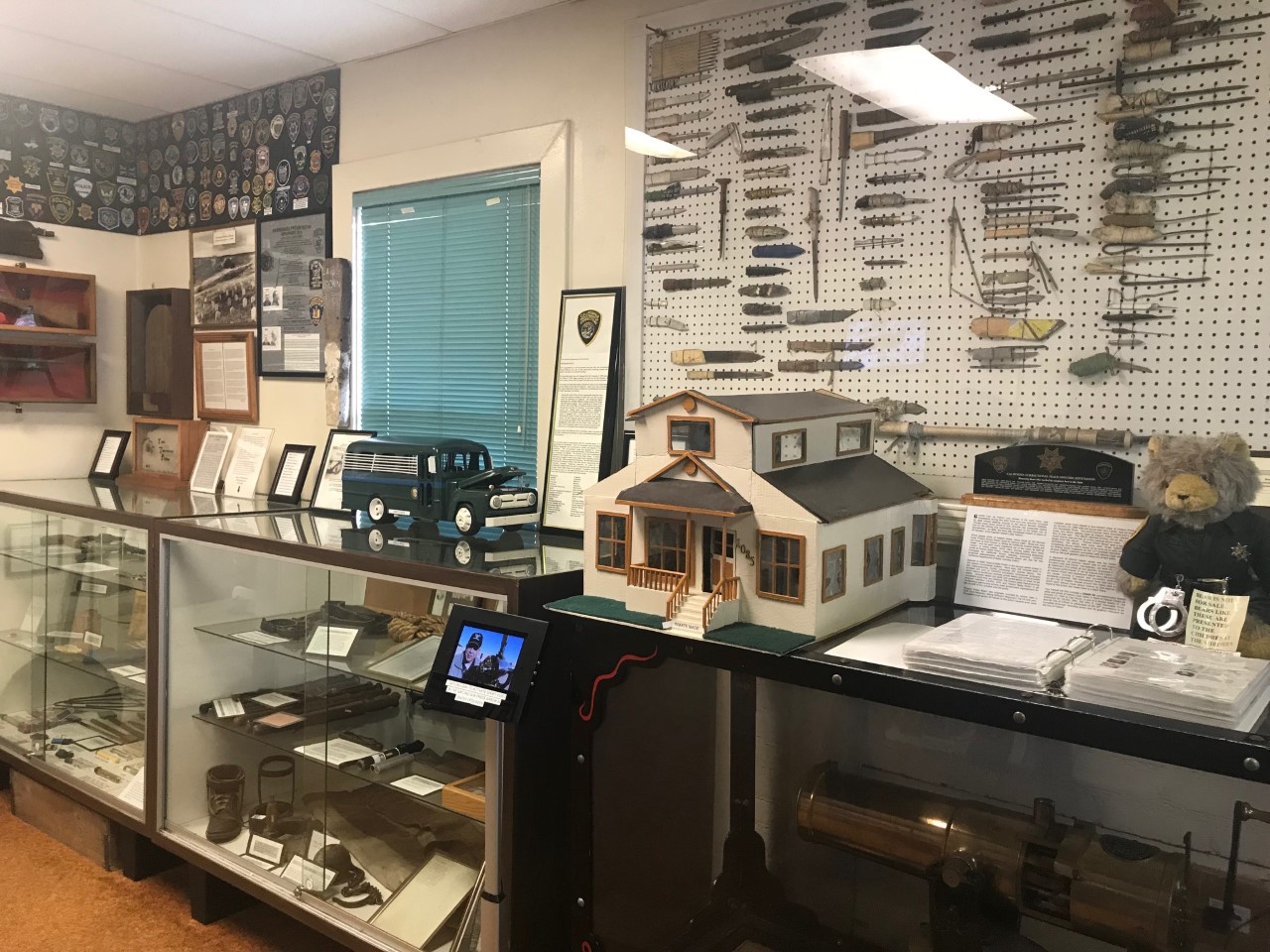 This human size ferris wheel was placed inside the museum, I do not know what it symbolizes.
Rocker Rick James once did time at Folsom and his iconic guitar was in a glass case.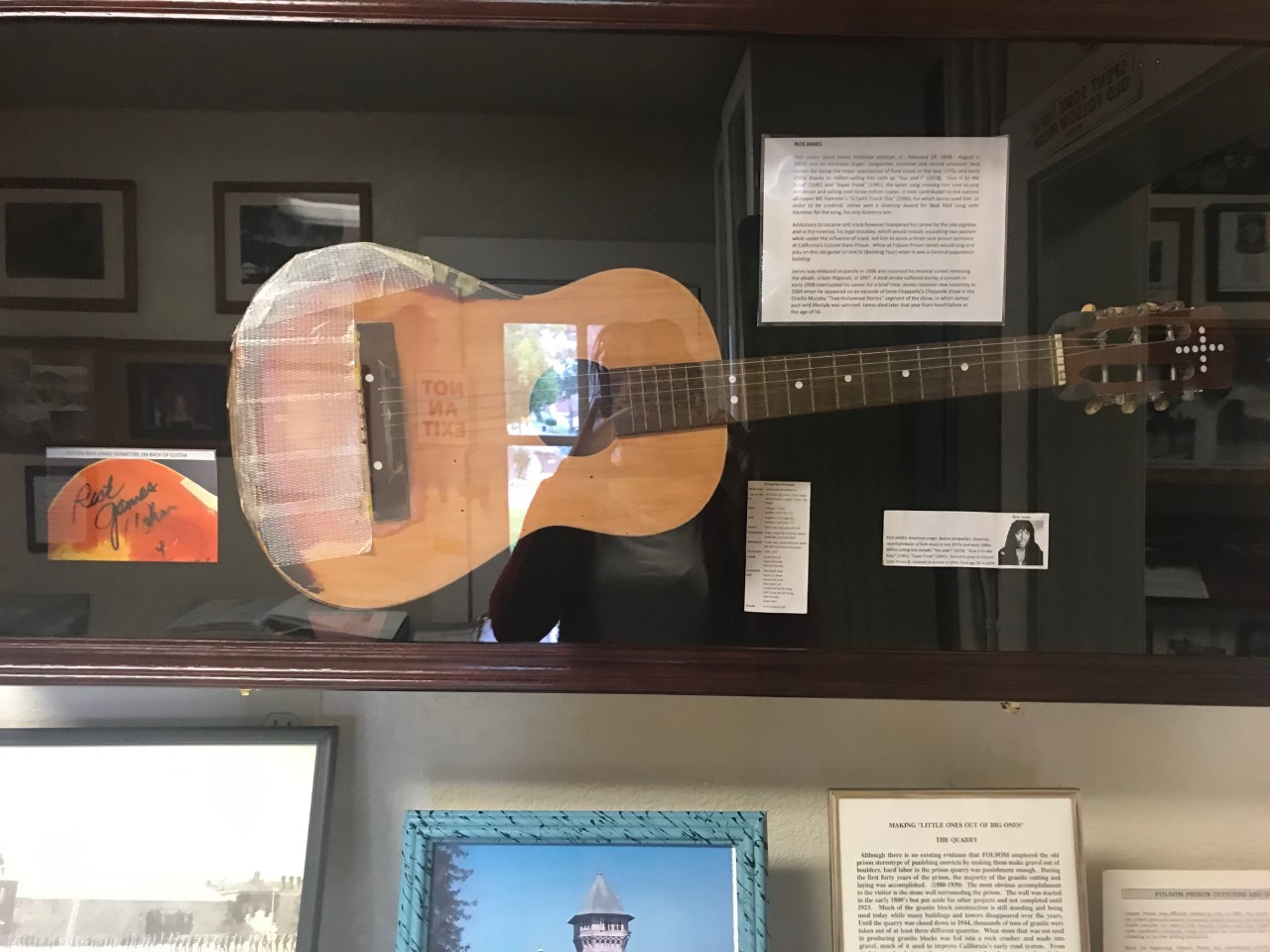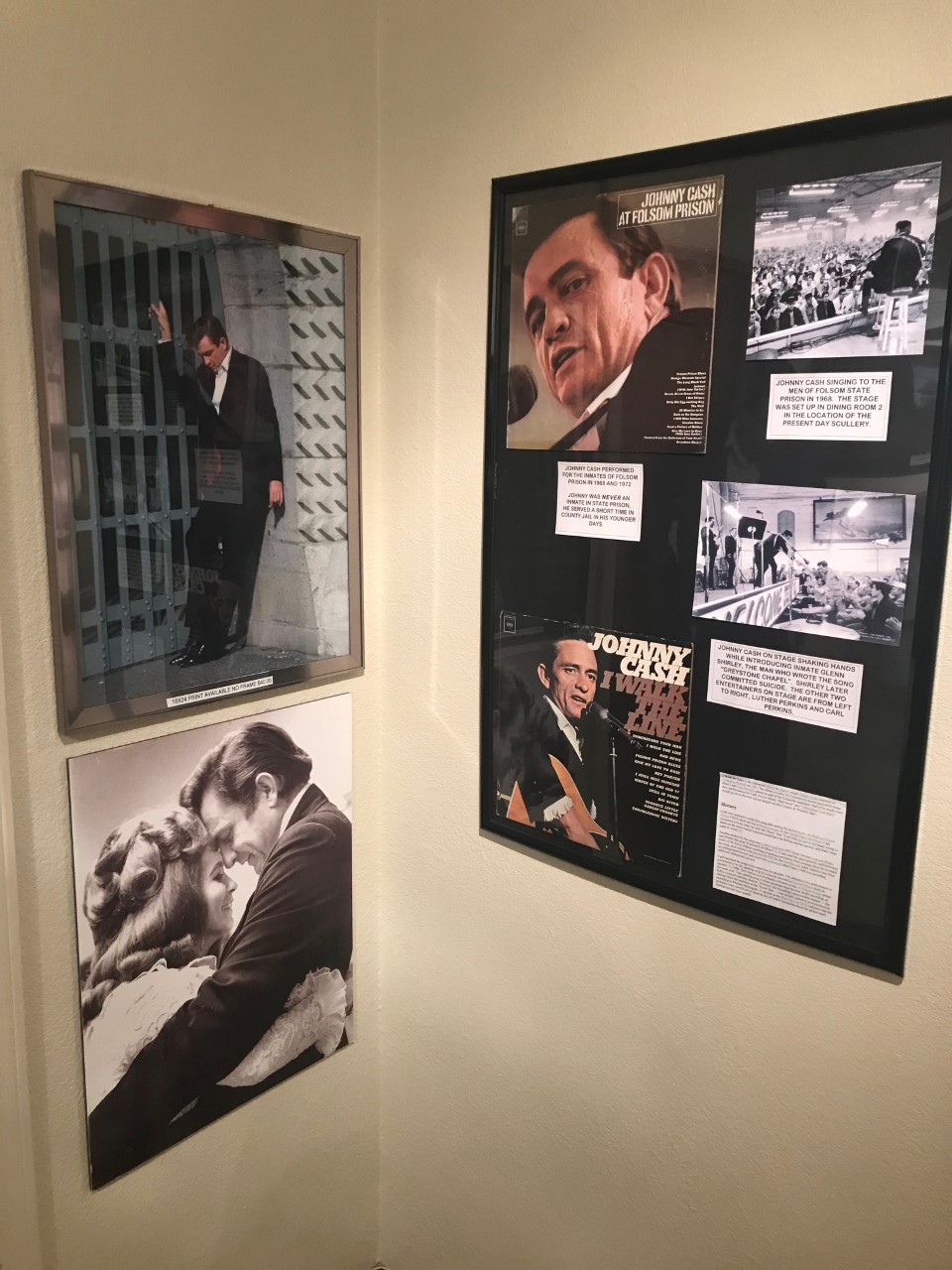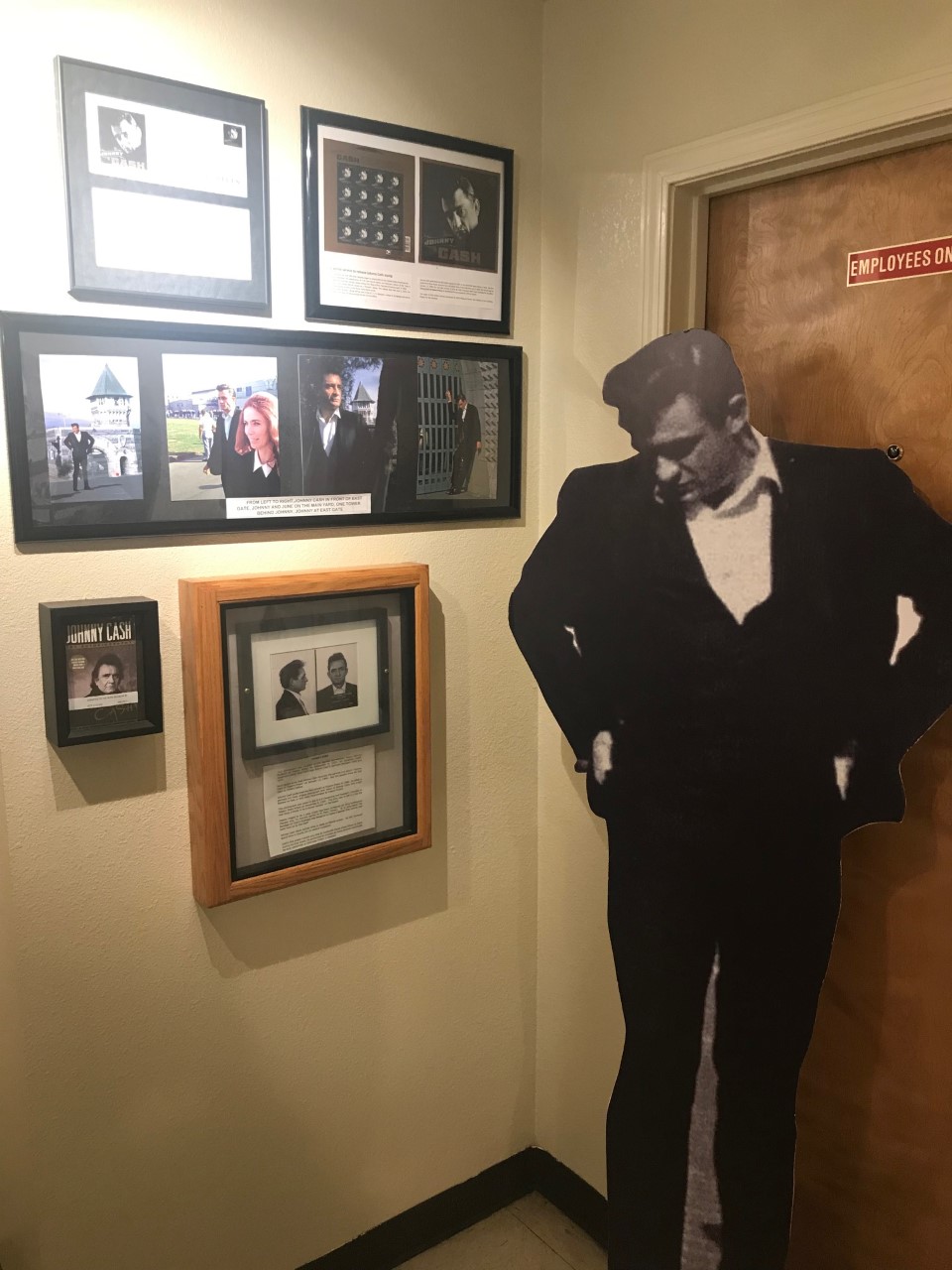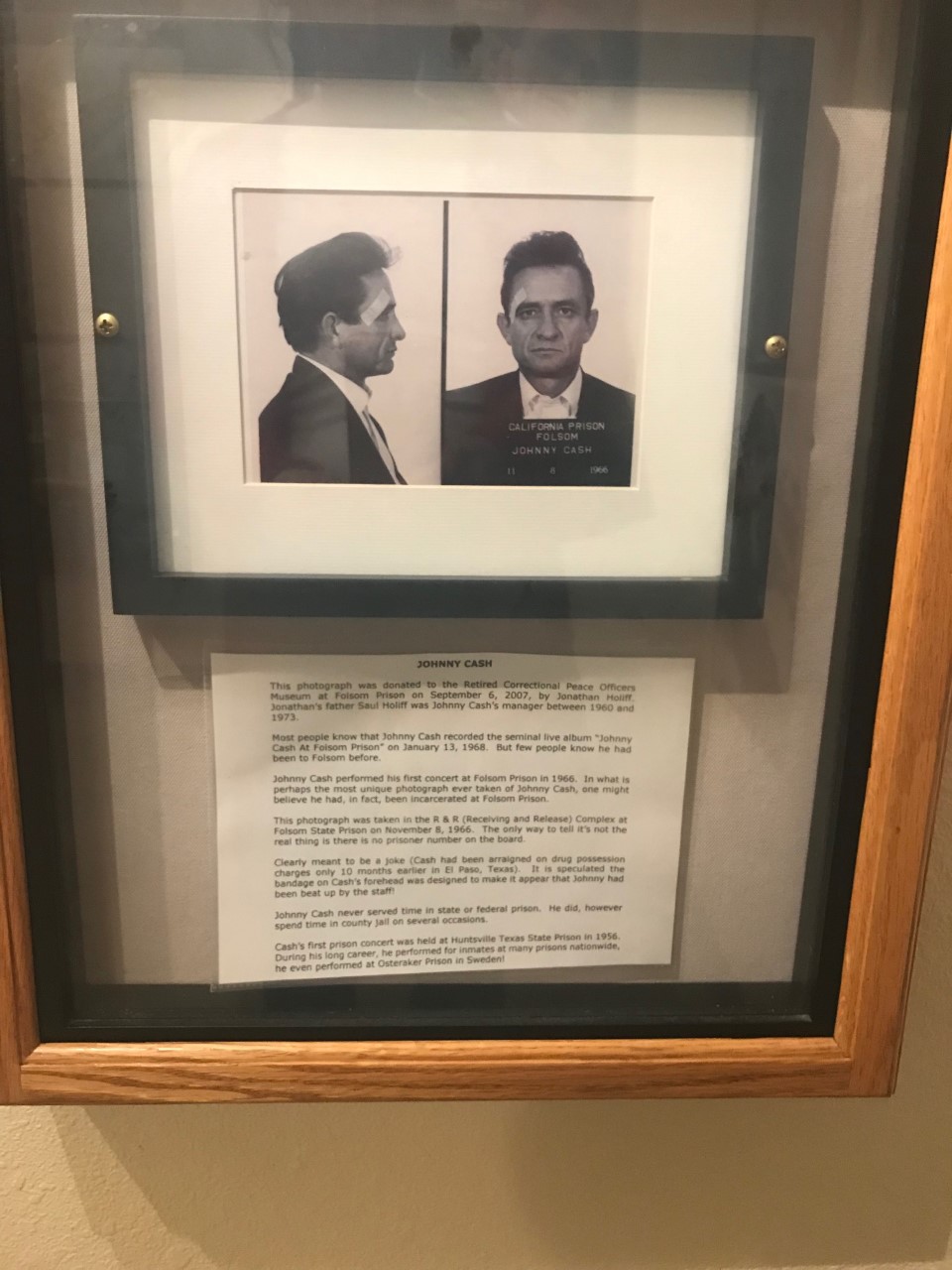 On my way out I headed towards Downtown Folsom and came across the Johnny Cash Trail bridge and the Folsom Dam, which was created in 1955 and is 340 feet high. With all of the rain the state has gotten lately, it was flowing pretty well!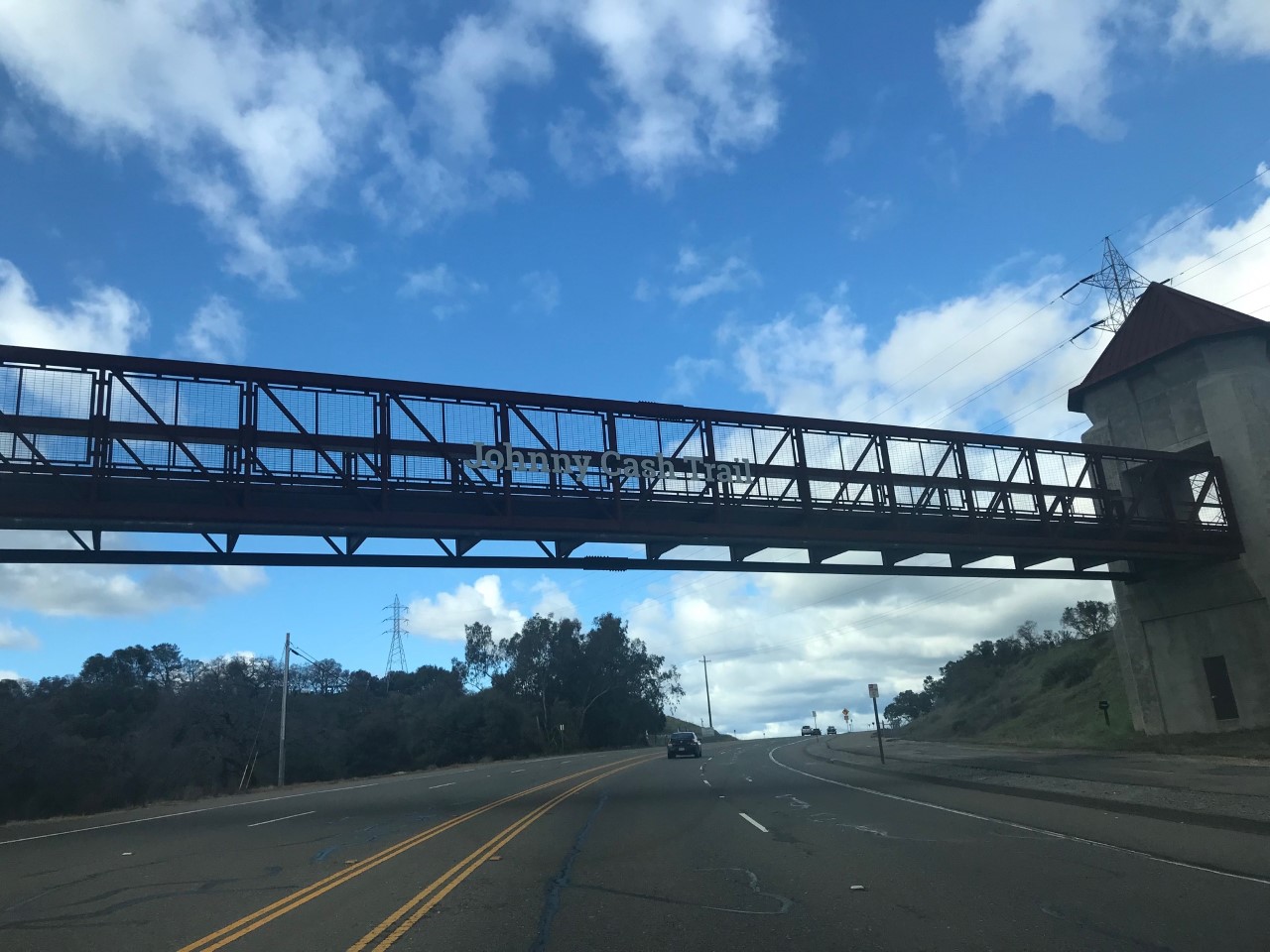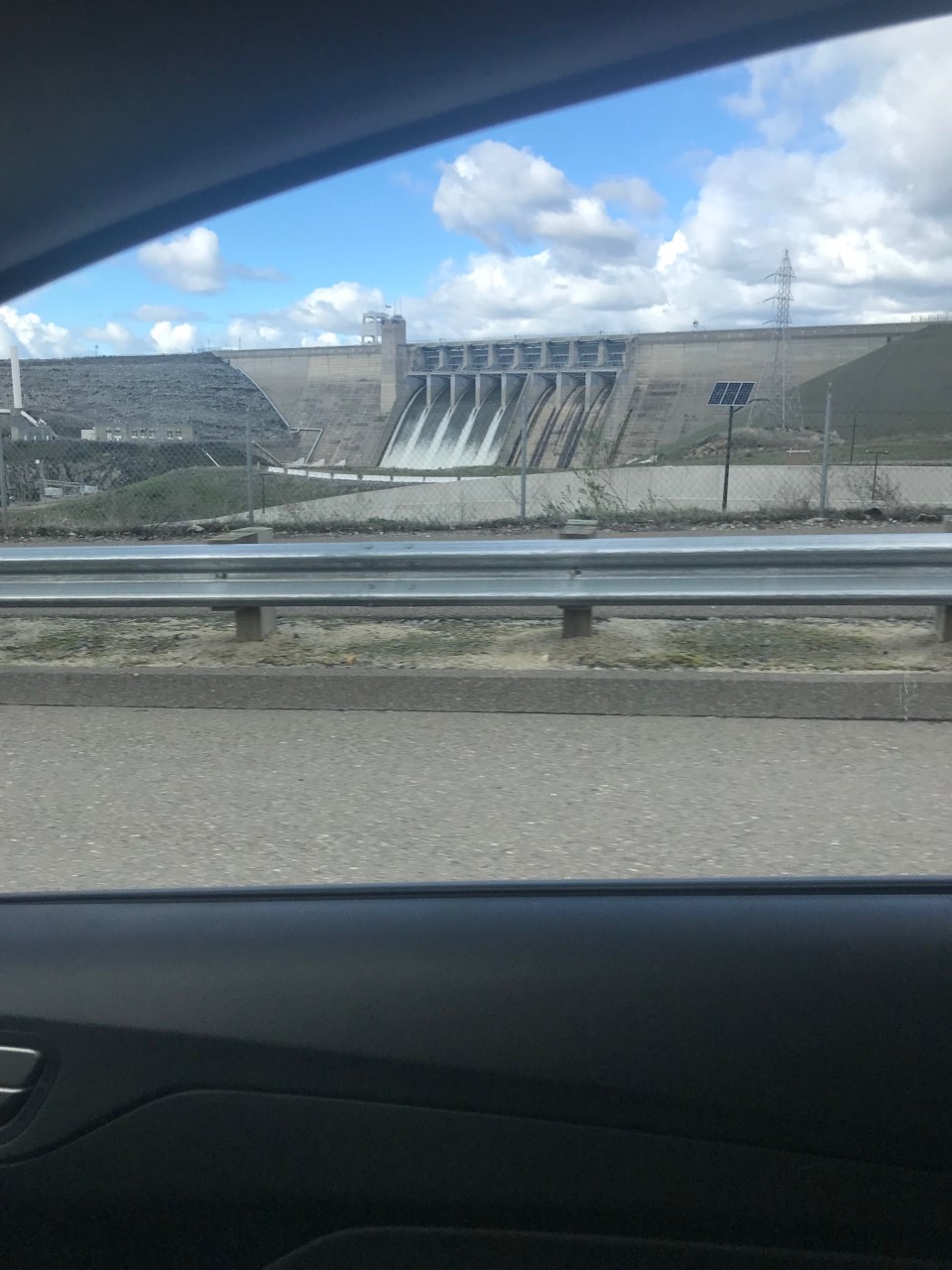 On my way to my Airbnb in North Sacramento, I stopped at another brewery called Track 7 Brewing for another sampler ($9). I wasn't a huge fan of this brewery as most of their beers were dry, but it had an amazing place to sit and enjoy a beer!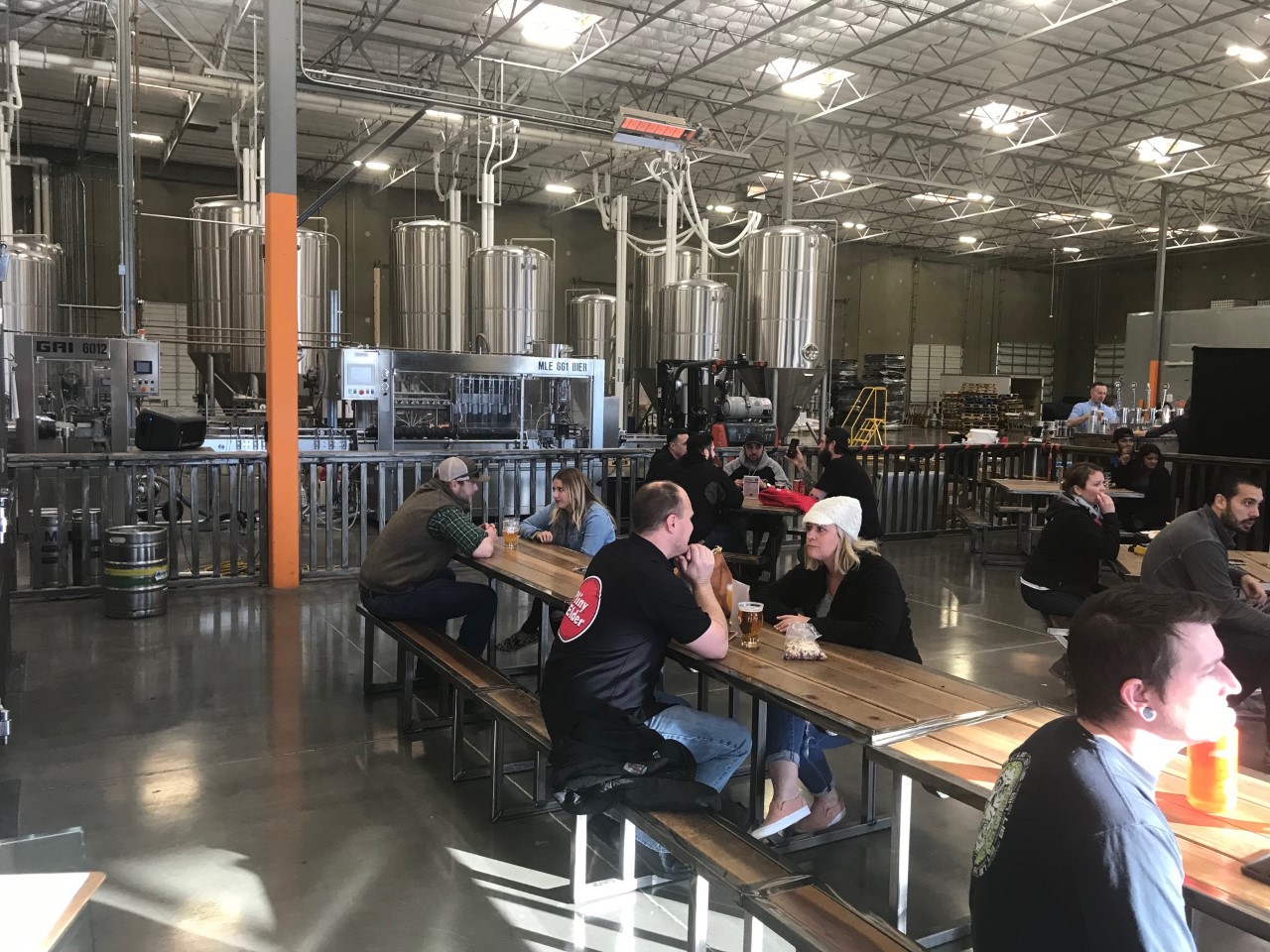 After a short nap at my Airbnb, I freshened up made my way downtown to a place called Tres Hermanas. My friend who lives in Sacramento, Michael, had recommended it because it has some of the best Mexican food. Upon my arrival, it was packed, and the hostess told me there was a 2 1/2 hour wait! You are reading that correctly, I was so shocked!
I then headed over a few blocks to a place called Tapa the World for some Spanish cuisine. I had some Croquetas ($10), Grilled Chicken Strips ($8), Mediterranean Salad ($8), a glass of Spanish wine and some Bread Pudding. They have amazing tapas. The total bill came out to about $44.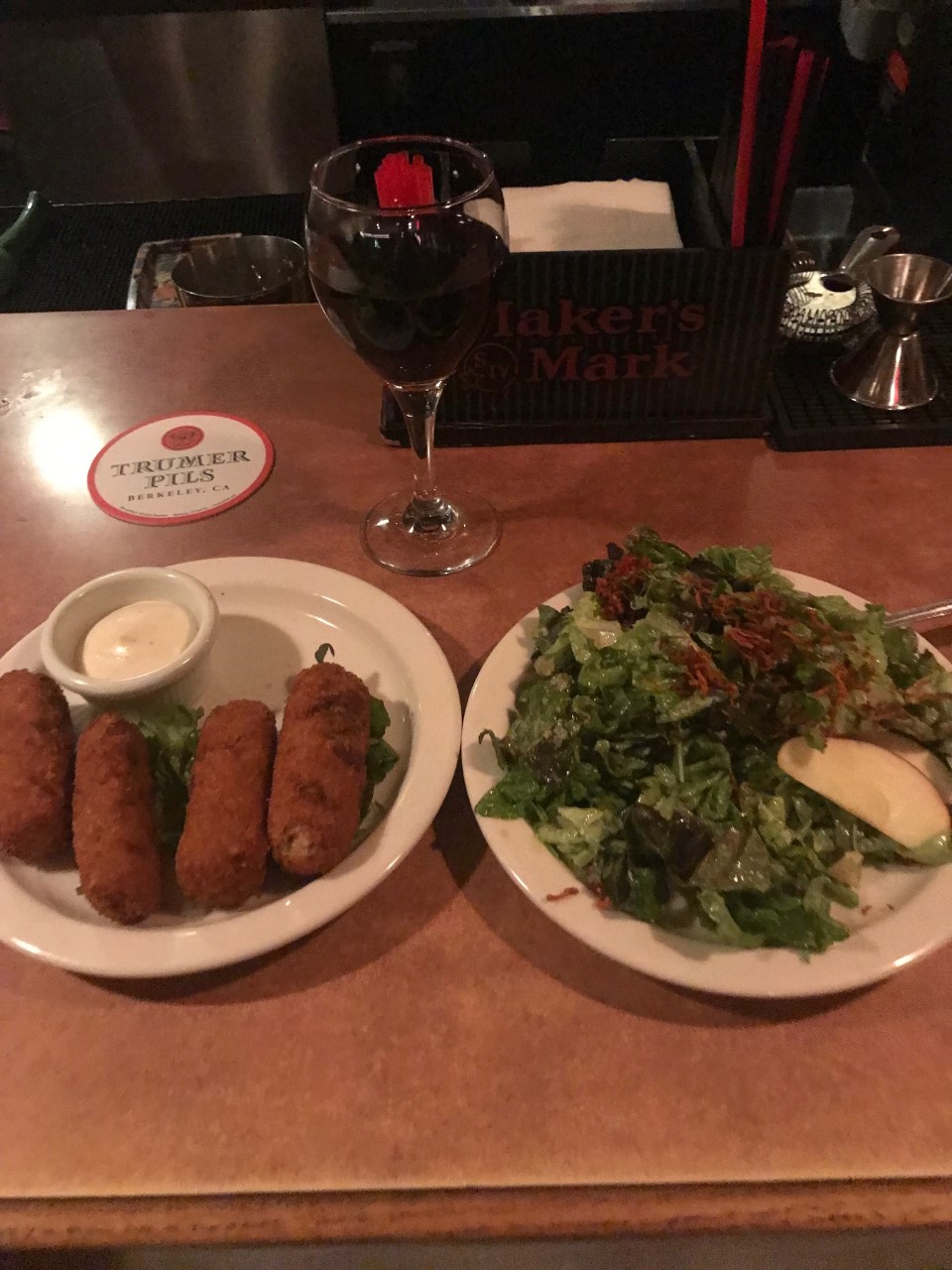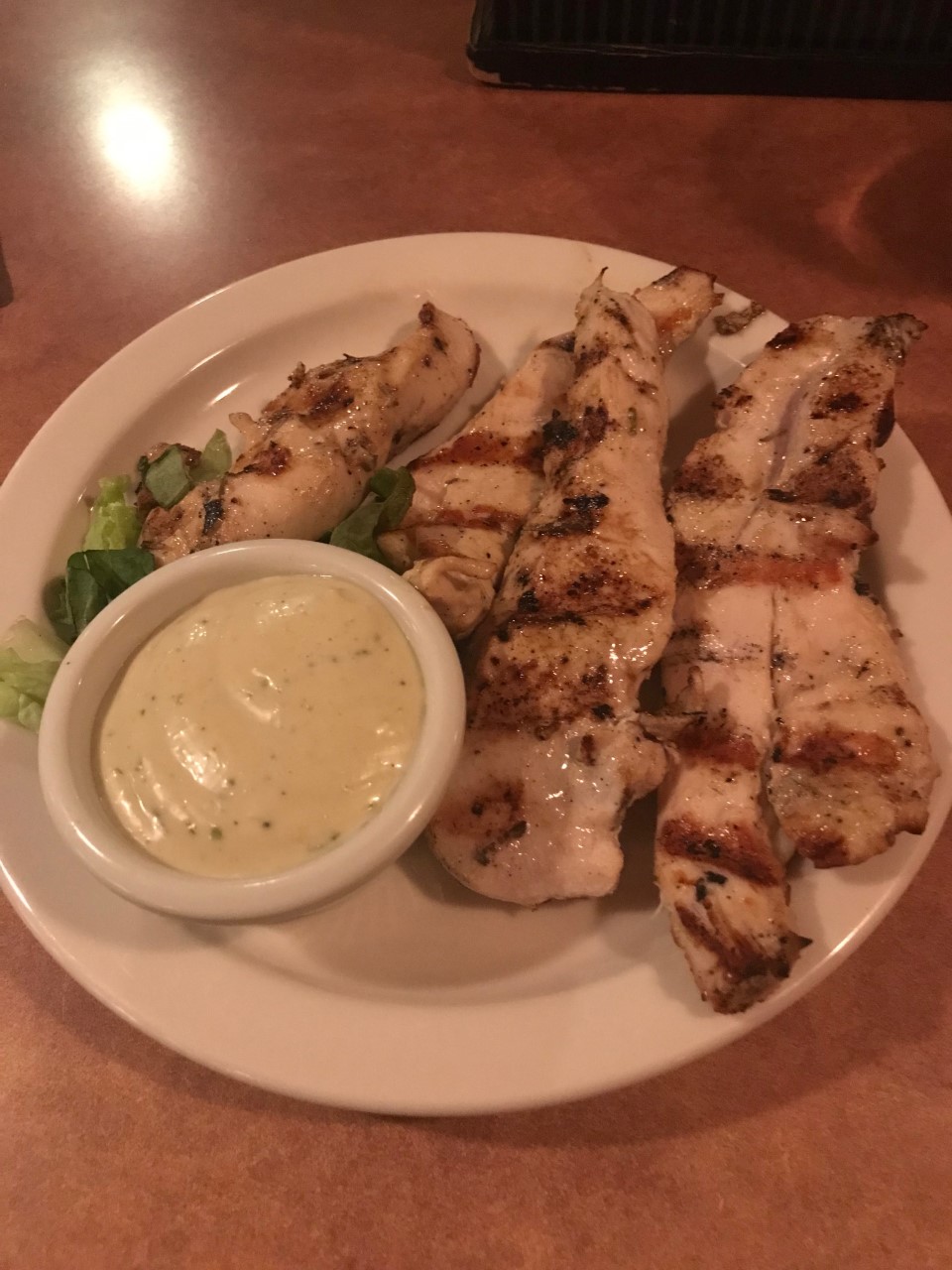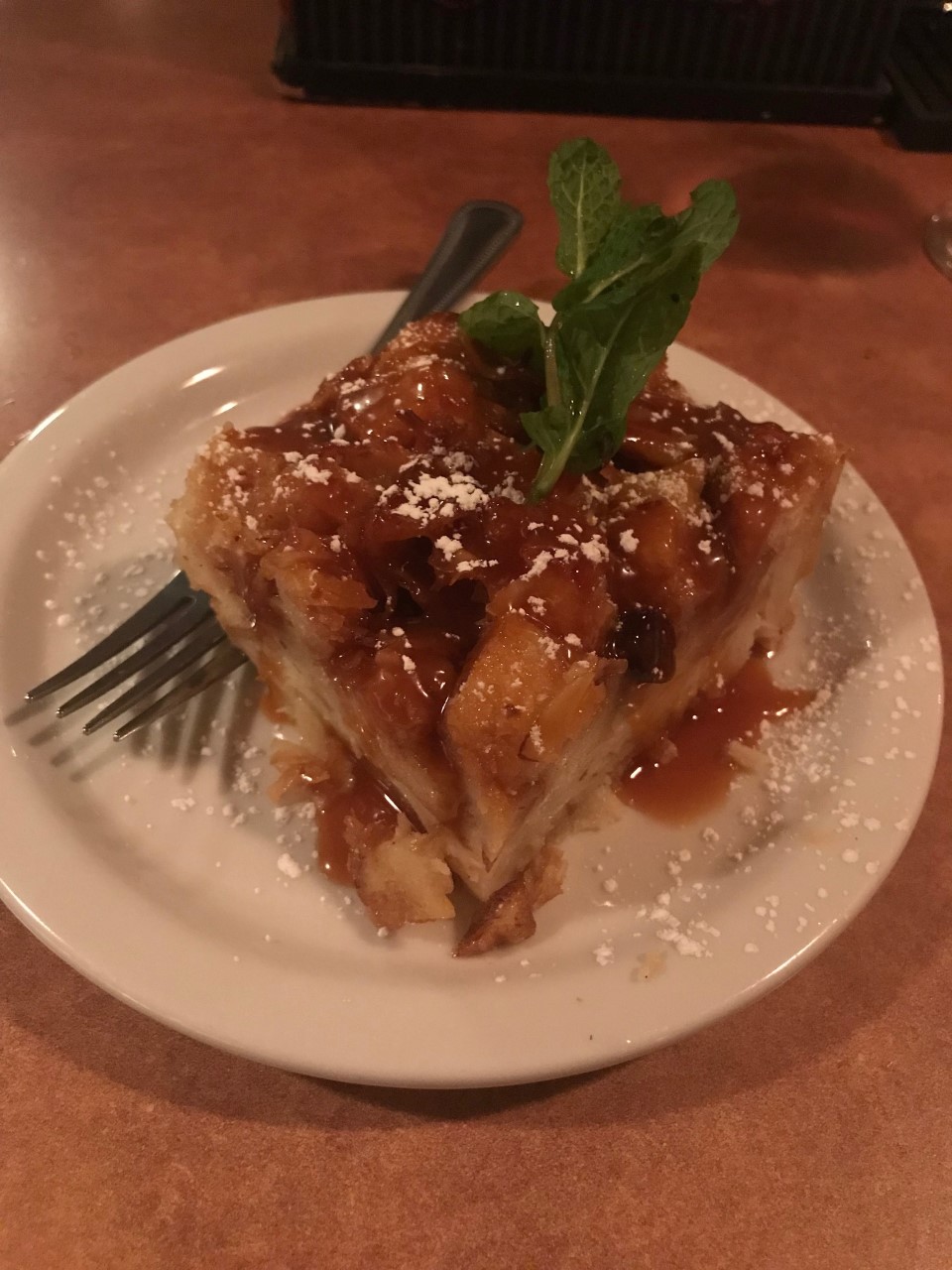 Afterwards I made my way back to my Airbnb and got to bed at 9:30 p.m. I needed to get up early for my trip to Napa the next day.
Day 2 – Sunday, February 17
I mapped Sacramento to Napa and found that it was only 1 hour away, so I decided to take a day trip out there. I have been dying to see that wine region since I moved here and it was finally coming true! This was the day where I covered a lot of territory, so keep up! 🙂
Something you should know about Napa before visiting: the tasting fees are expensive. I have been to Temecula, Paso Robles, Carmel Valley and Santa Barbara for wine tastings and this region by far was the most expensive. I googled a list of Napa wineries and narrowed it down to 3: Beringer, Sterling and Castello di Amorosa. These are more of the classic wineries and some of the most popular to taste at and visit. I also visited a boutique winery that was named Best Winery in 2018 called Imagery Winery in Sonoma.
On my way into Napa, I kept wondering where the famous Welcome to Napa Valley sign was. When I saw it pop out of the blue, I never steered my car off the road so fast to get a photo with it. There are actually 2 of them I learned, one on the south end of town and one on the north end.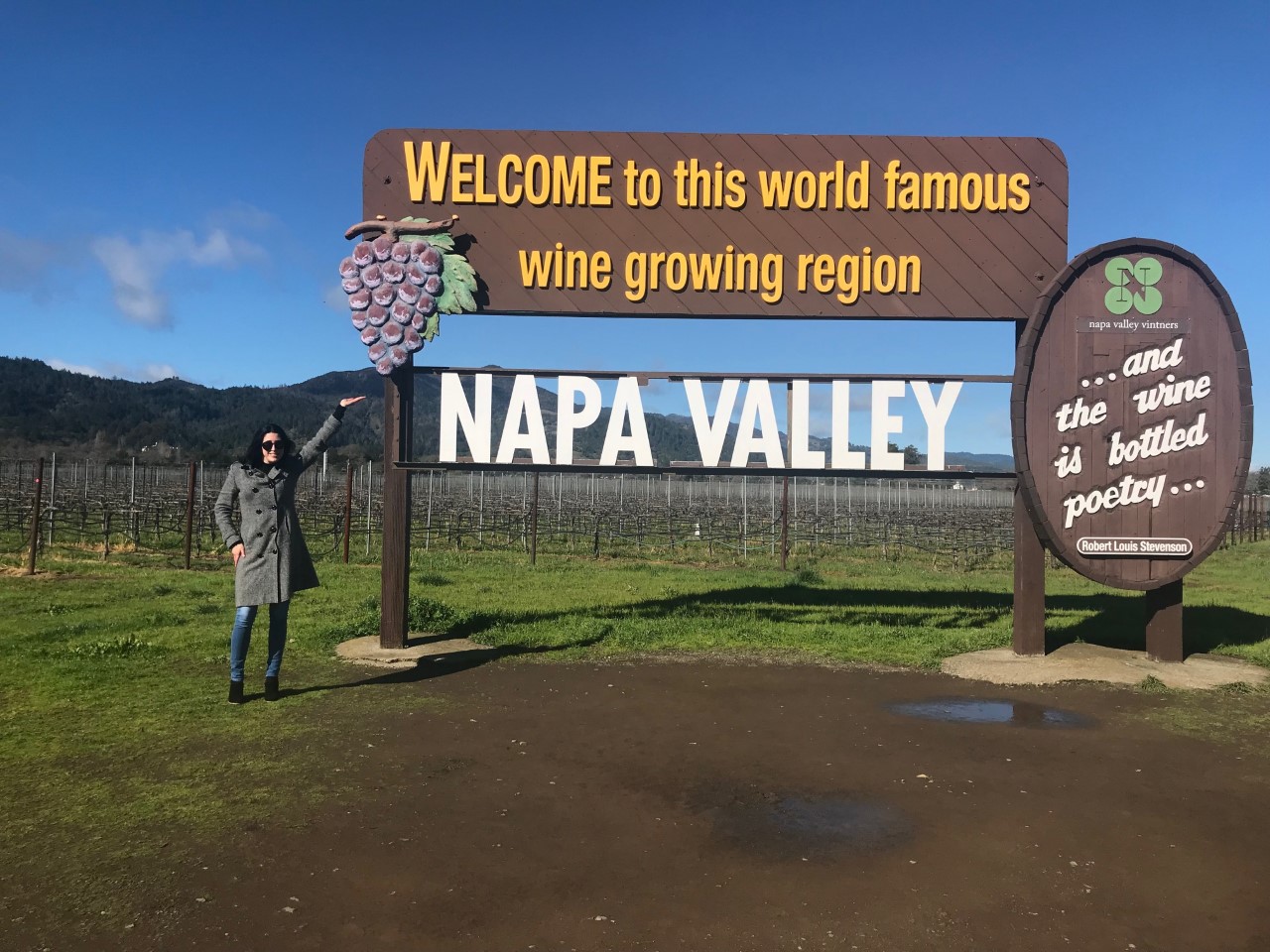 I started out at Castello di Amorosa in Calistoga, which is known for its 13th century Tuscan style, 8,000 stone castle and gorgeous landscape. It a moat, drawbridge, five towers, high defensive ramparts, courtyards and loggias, a chapel, stables, an armory and even a torture chamber. There are 107 rooms in total, no rooms alike. Wow.
I decided to do the General Admission & Wine Tasting ($30) and self-guided tour that allowed me to roam 2 levels of the castle and 5 wine tastings. Even the pourers were from Italy and were incredibly kind and knowledgable. I have to admit, I tried 3 different red varietals and although they were smooth, they didn't have enough flavor for me. The two sweet wines I tried were amazing, with the La Fantasia Frizzante-style Rose being my favorite. Everyone's palette is different I guess.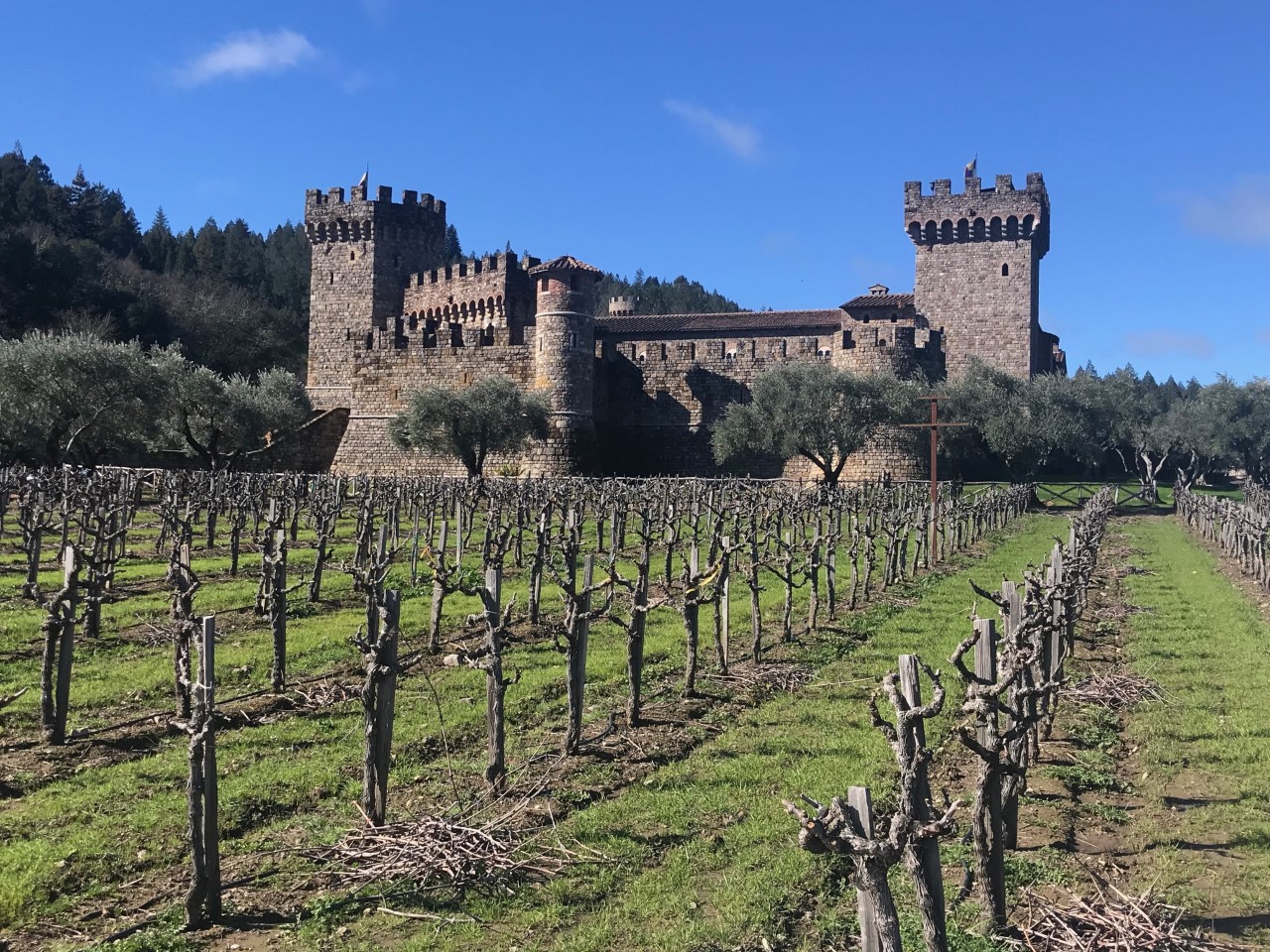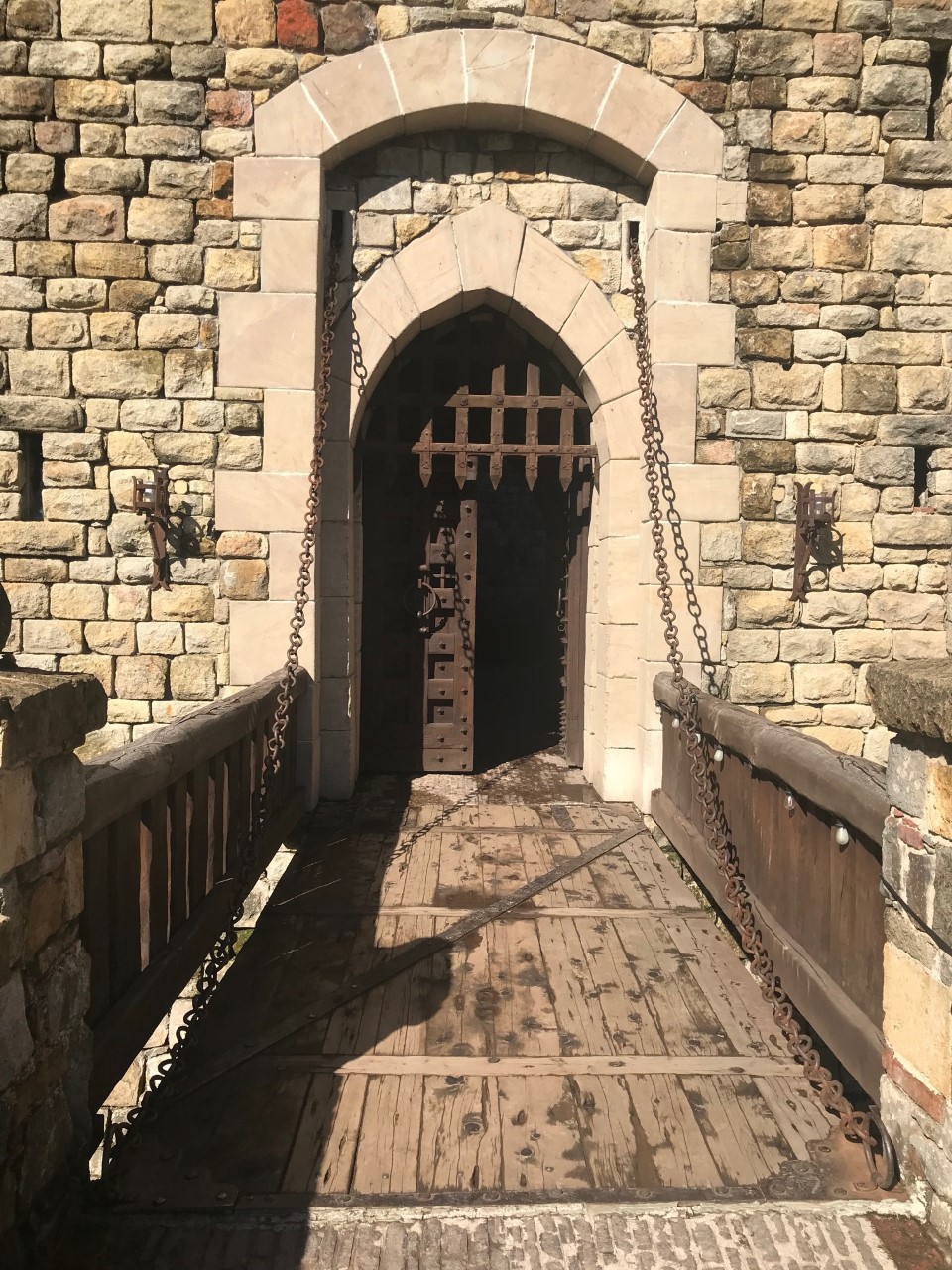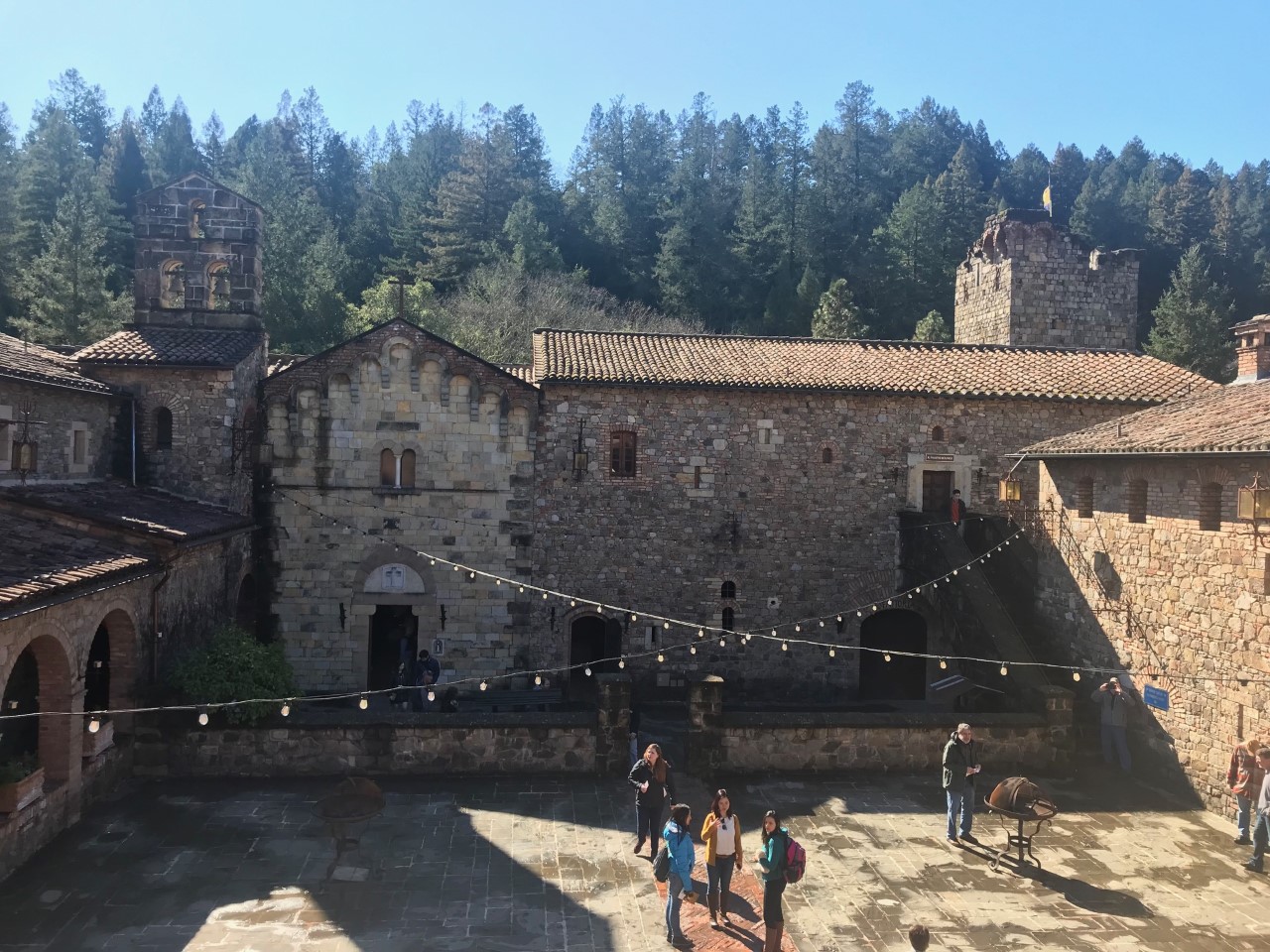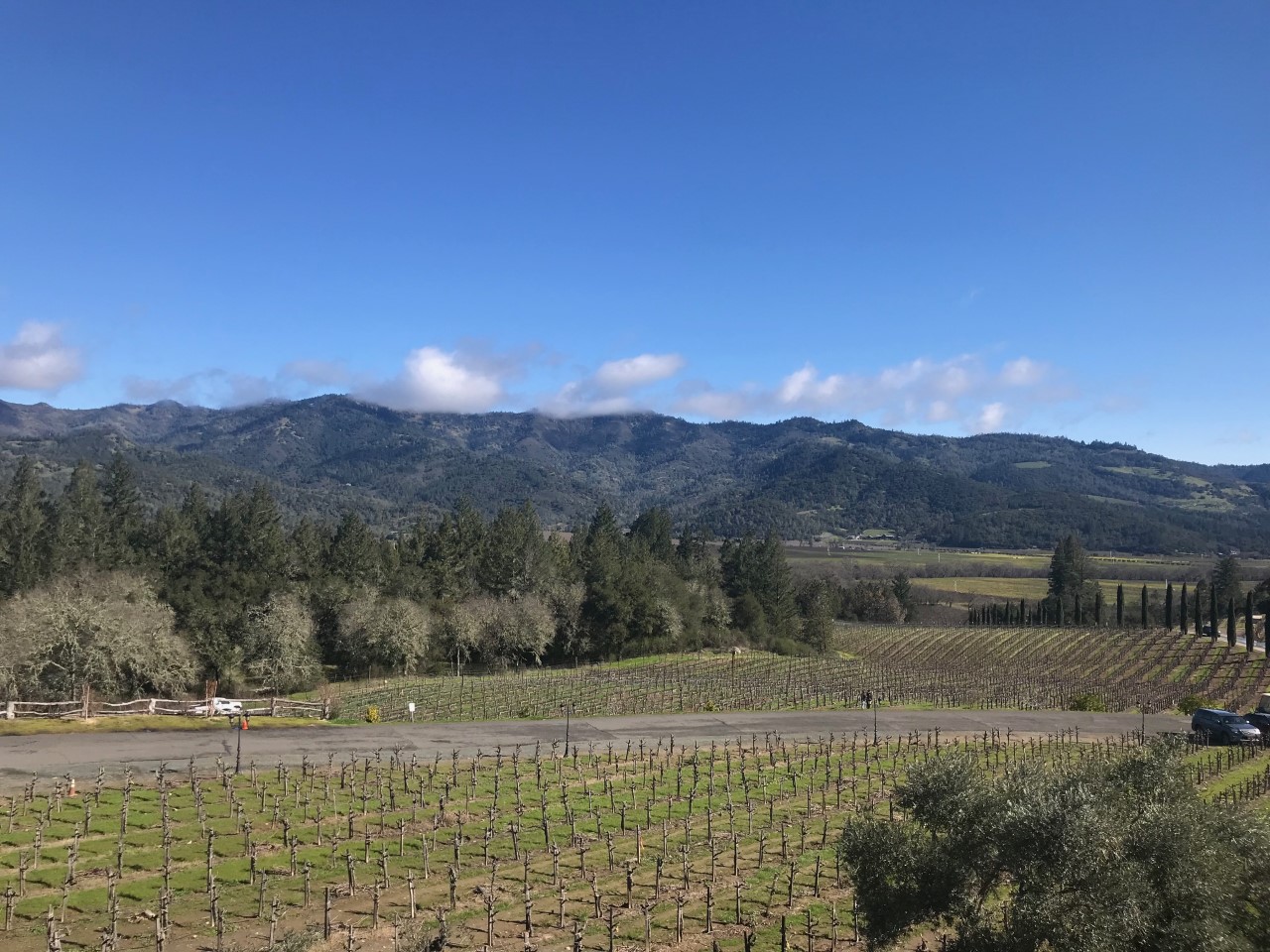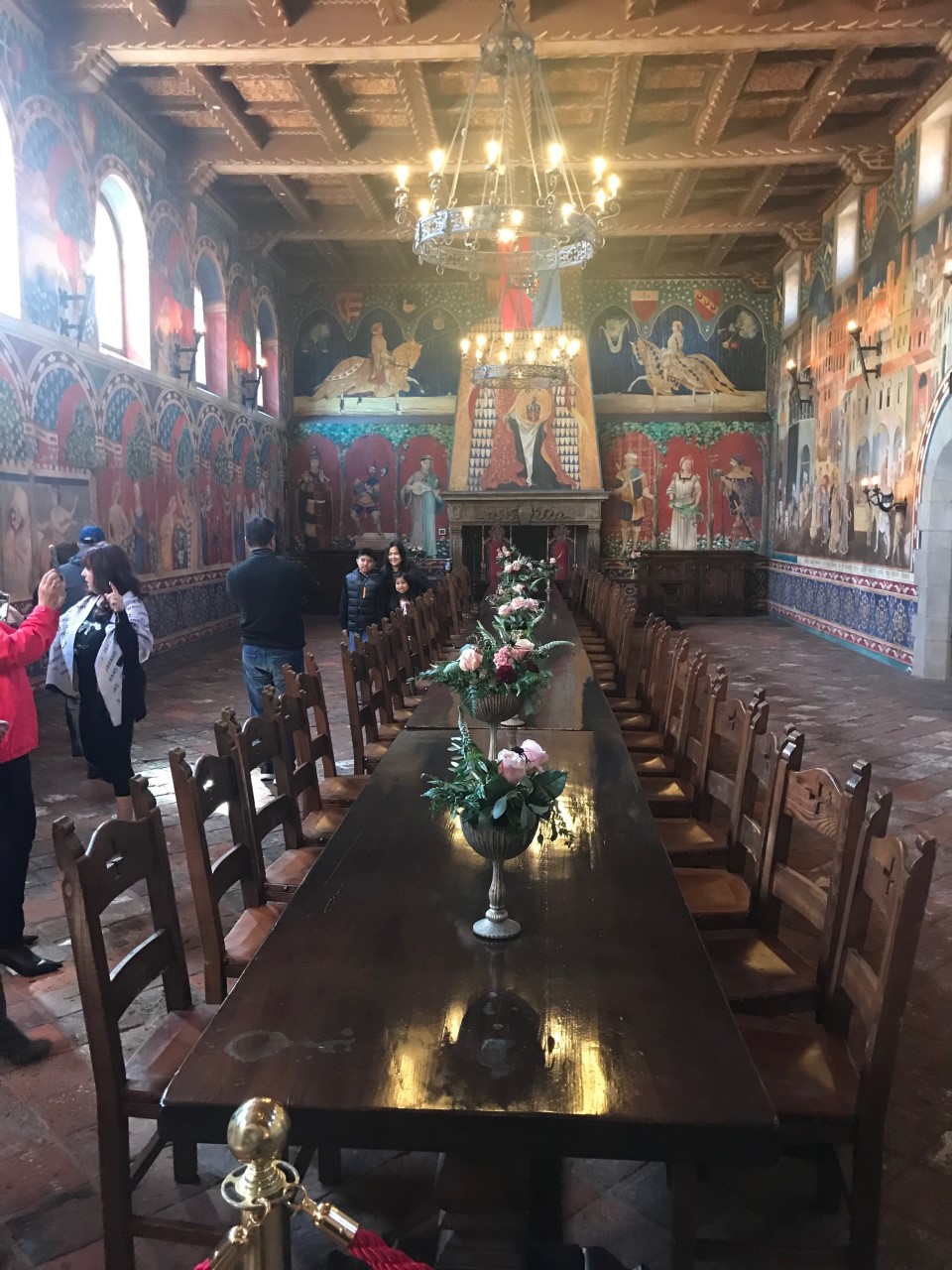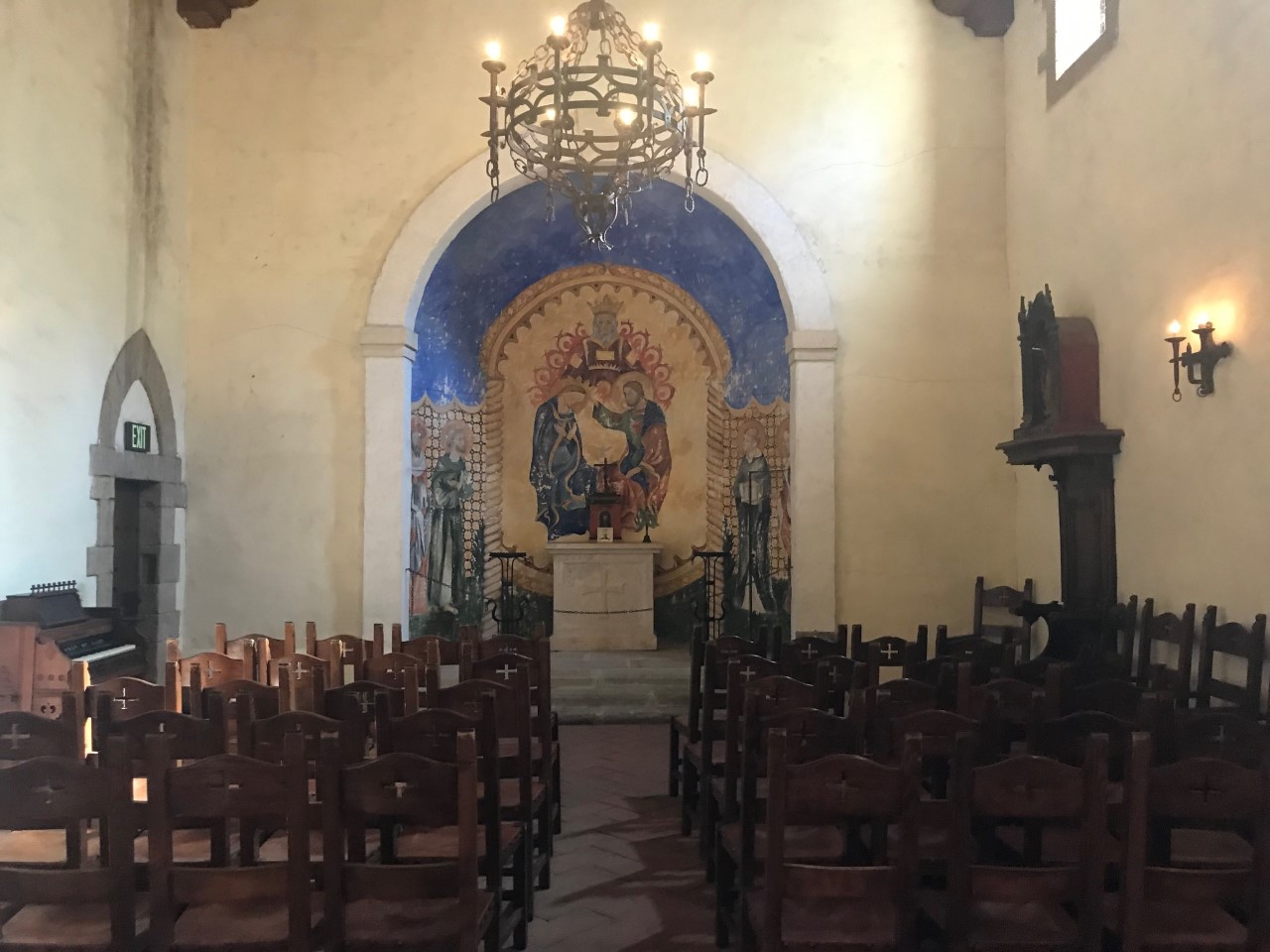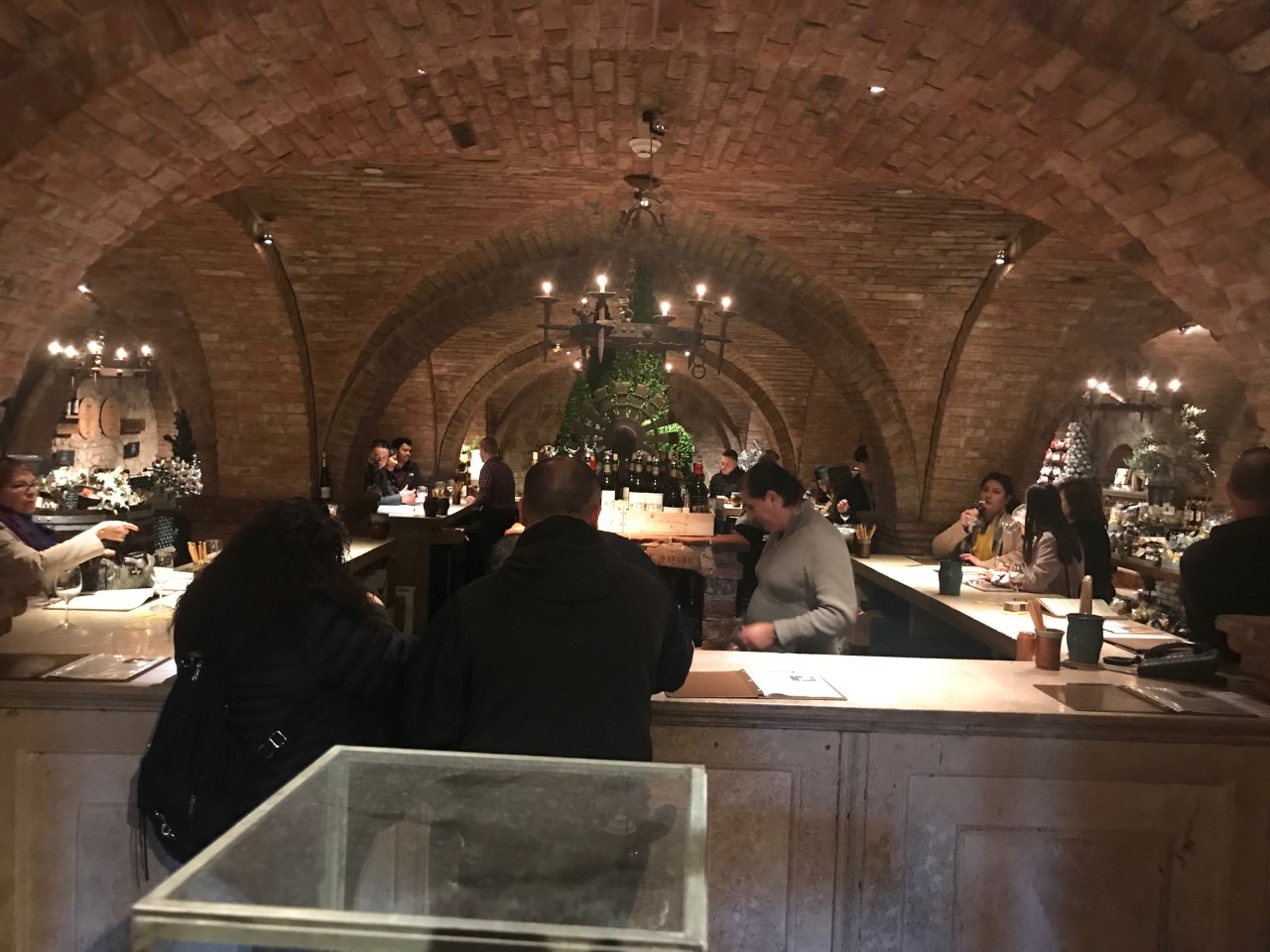 Next I hopped across the street to Sterling Vineyards. I wanted to visit this one because they have a tram ride that takes you to the top of the tasting room. The Winery Tour ($35) included the aerial tram, self-guided tour of the lower portion of the winery, scenic views from the terraces and a tasting of 4 current release wines.
The tram ride lasted about 7 minutes and I took some gorgeous scenic shots. At the top, you walked around the winery and toured the different rooms while a pourer poured a different varietal. My favorite was the Cabernet (I can't remember which kind it was, sorry guys!).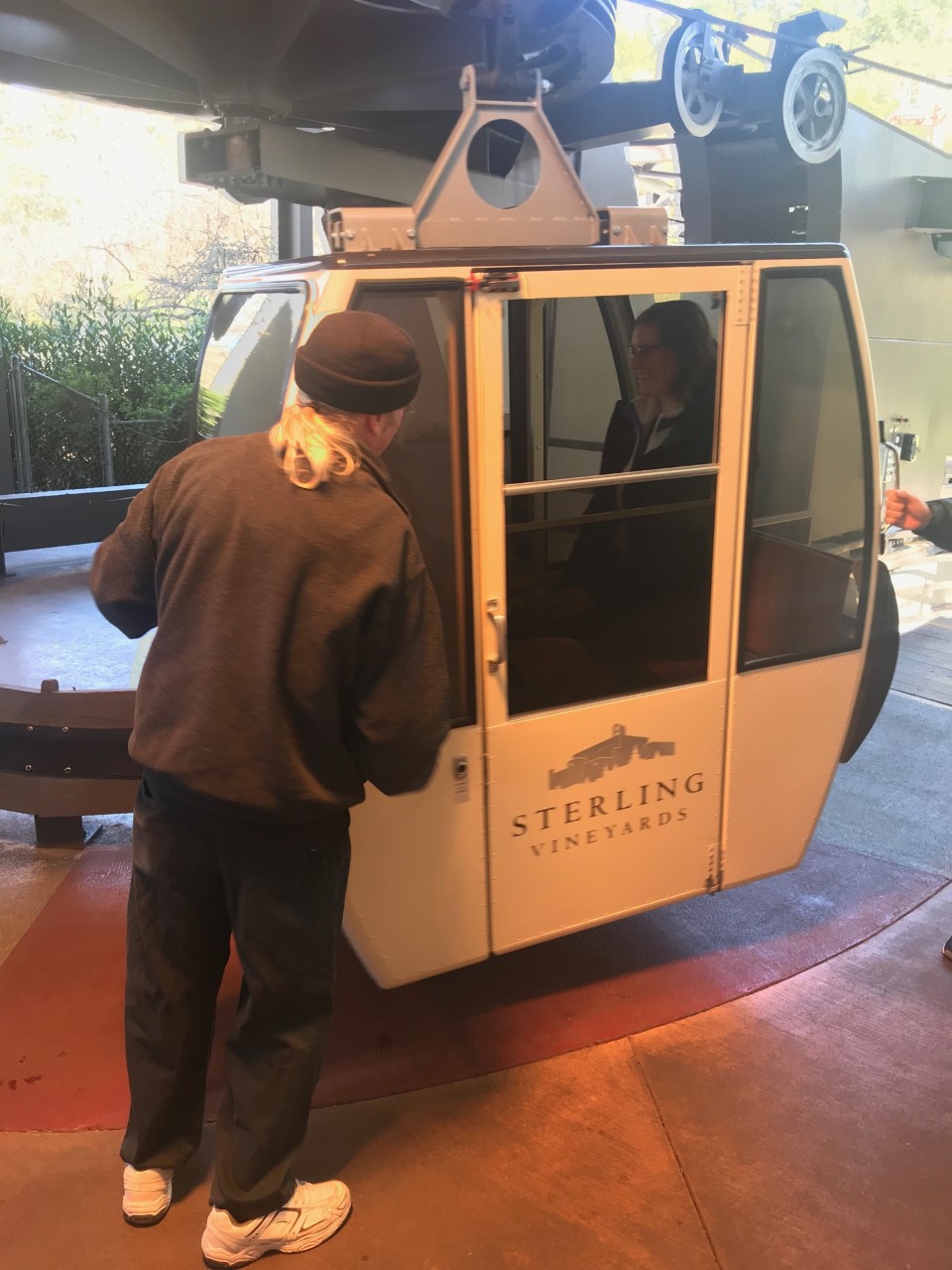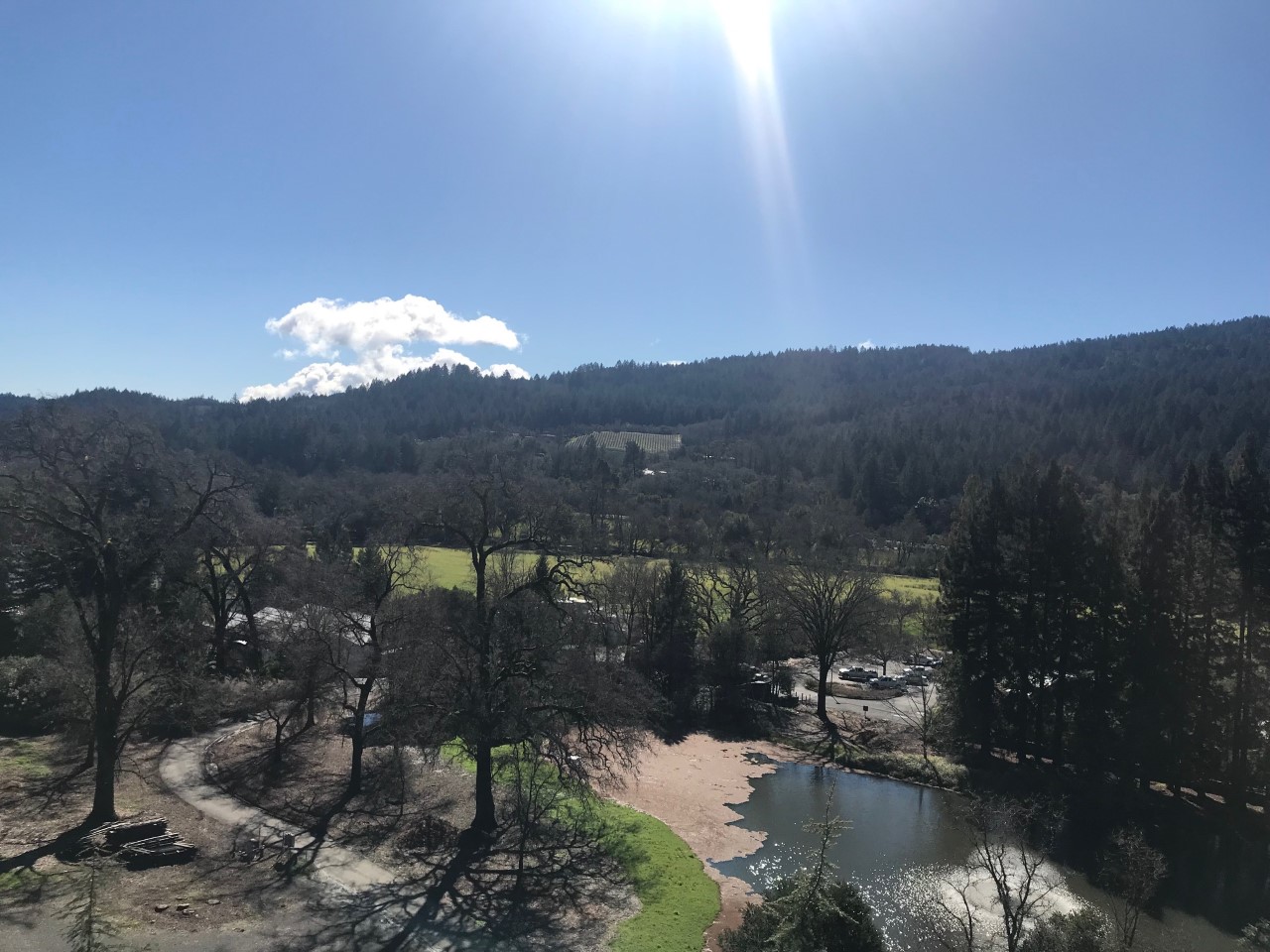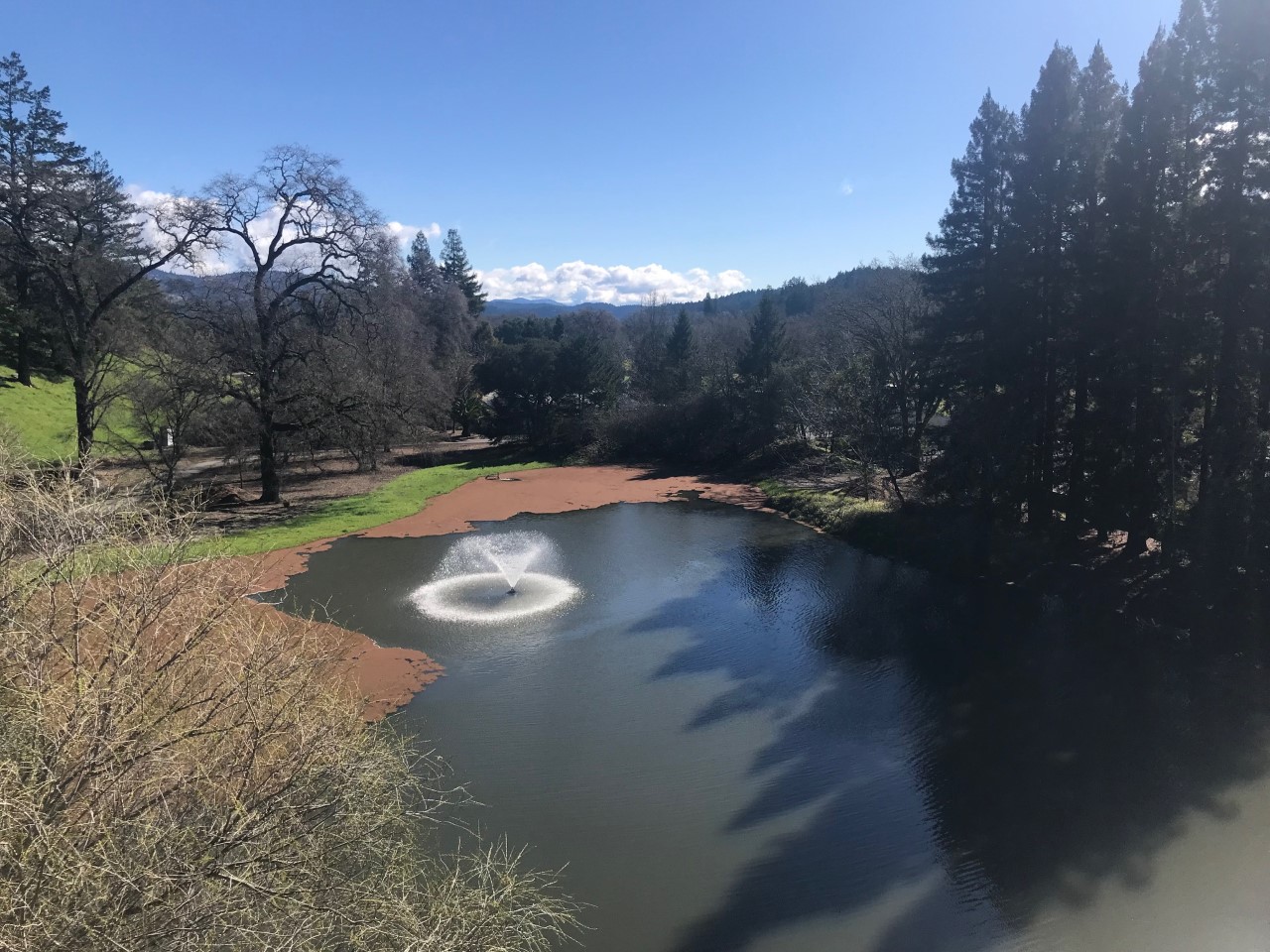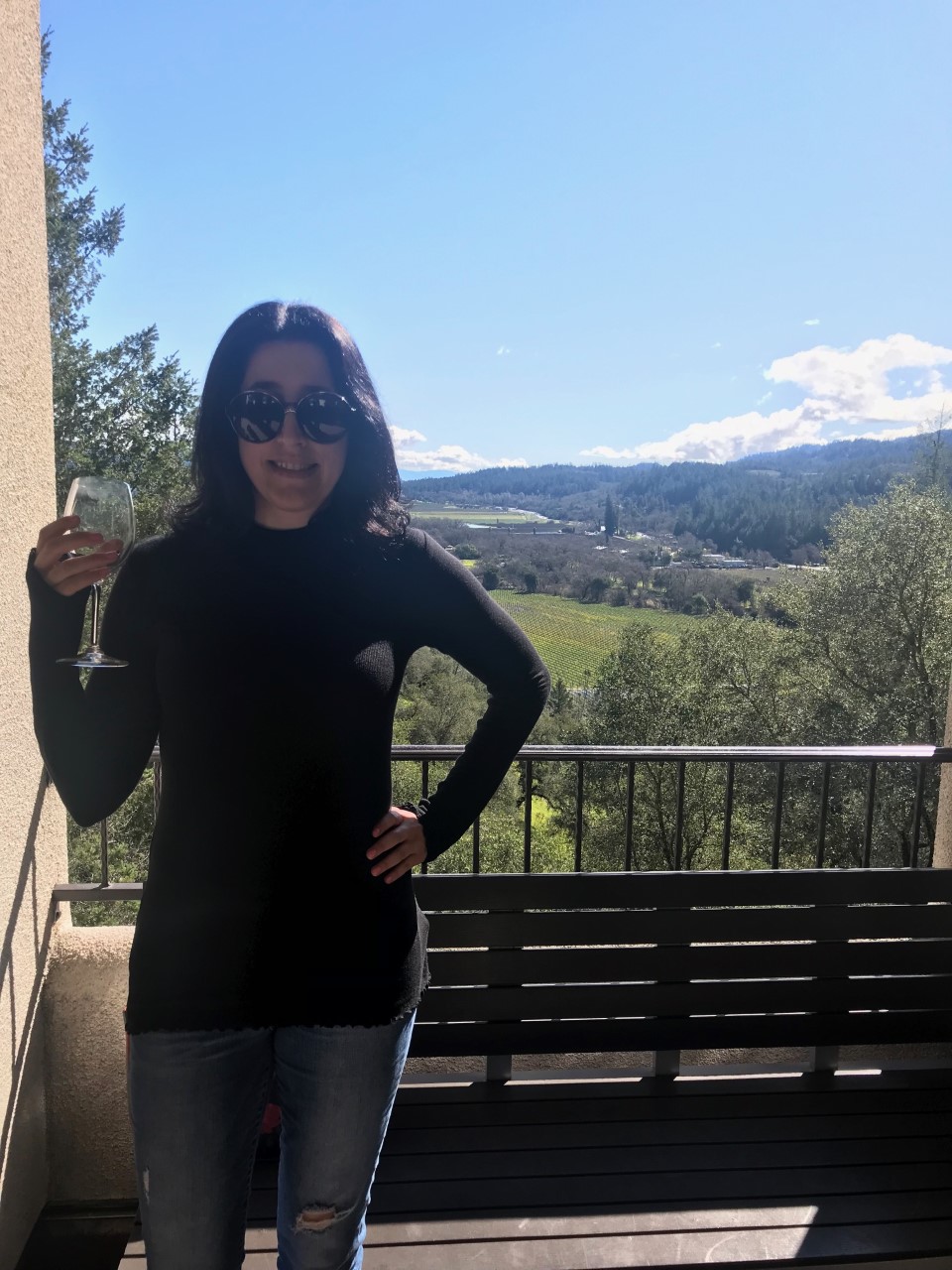 Next I went to Beringer Vineyards, which has a mansion (the Rhine House) dating back to the 1800s. I decided to do the Old Winery Tasting Room experience ($25, but the cashier found out I was traveling solo and gave it to me for $13, which was nice considering I just spent about $70 total at the previous 2 places!), which I did in the older tasting room just a minute away from the mansion, and had 6 different wine varietals, all of which I loved I might add!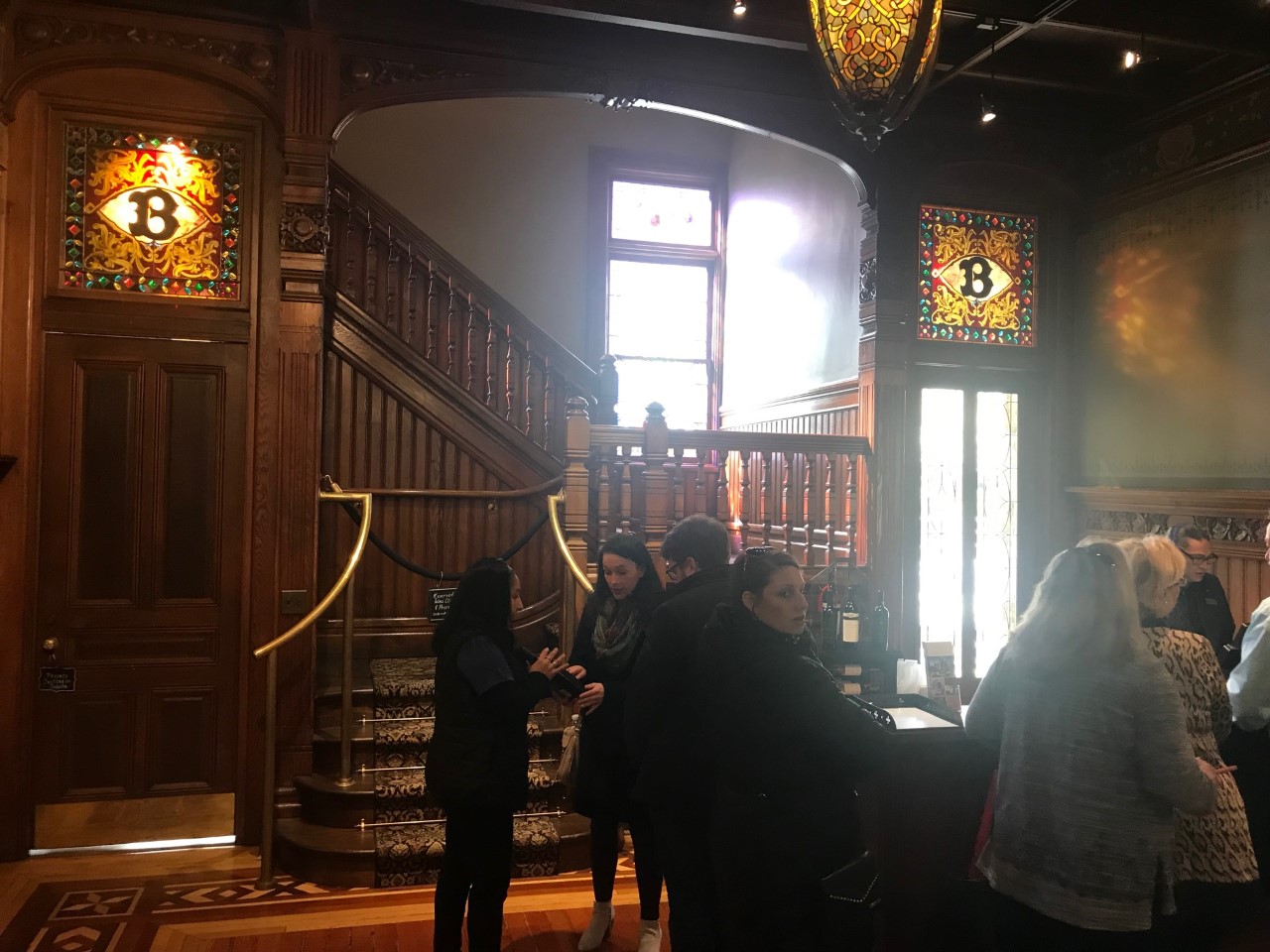 By this time, I was starving. Three wineries in a row will do that to ya. I made my way to Downtown Napa and stopped at a restaurant called Tarla Mediterranean Bar + Grill. I just wanted a quick bite to eat because I had to keep moving, so I ordered myself a Greek Salad with Gyro Meat ($21.50…I know). Gyro meat on a Greek salad is my absolute favorite though!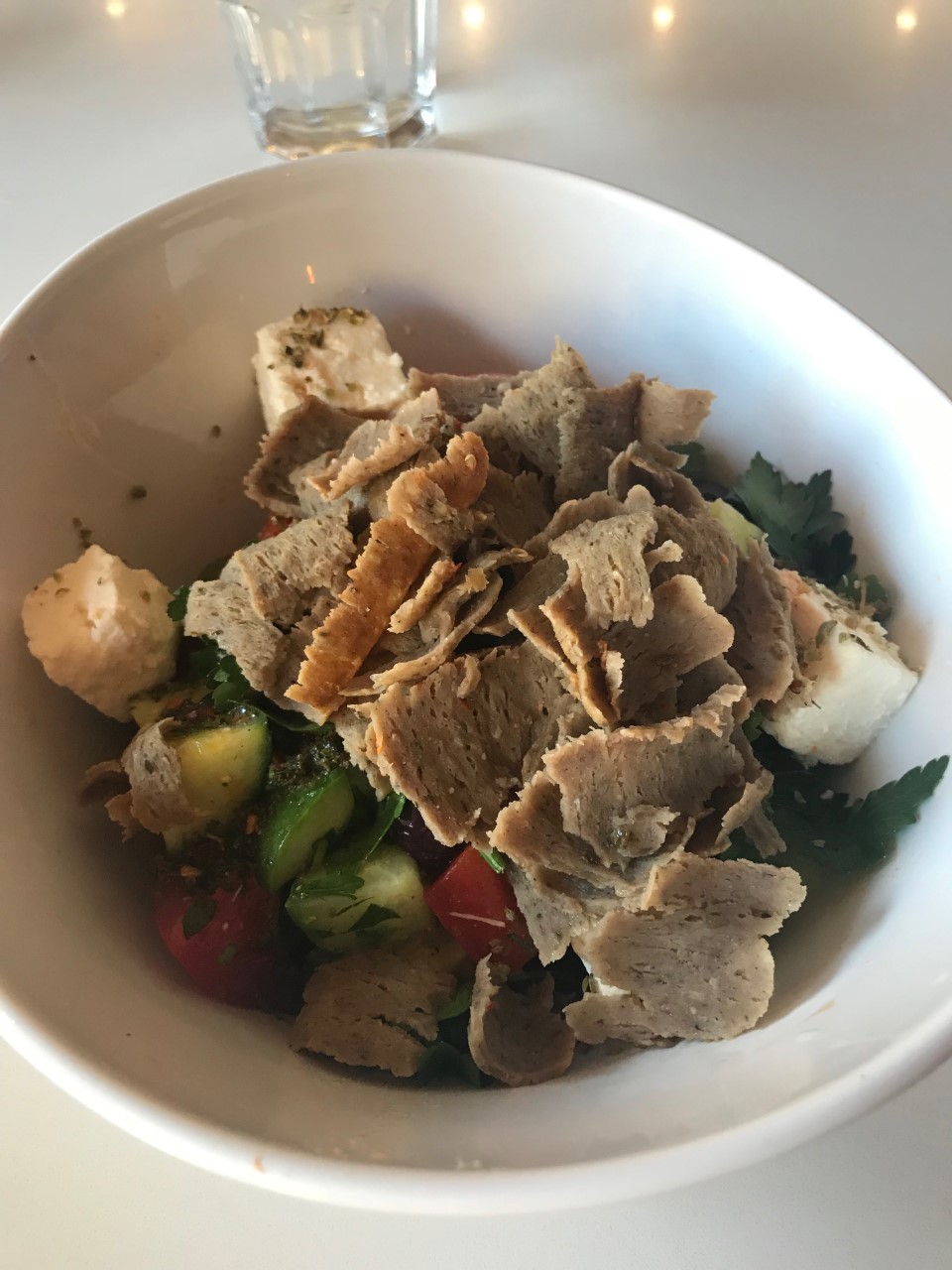 Next I drove about 20 minutes west to Sonoma Valley and drove through downtown. There was literally no parking, but I managed to snap a photo of city hall! It's so quaint and darling.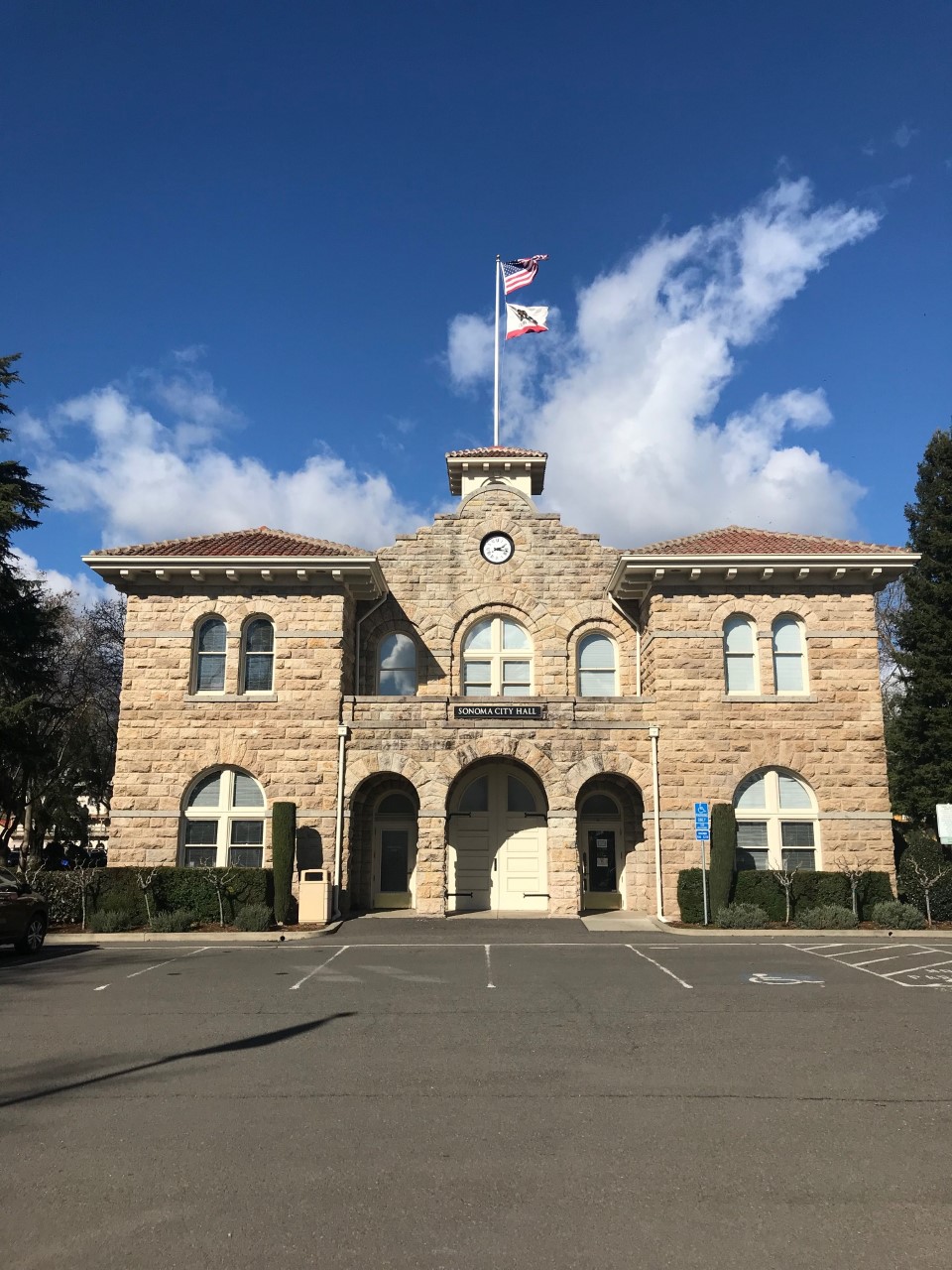 My last winery of the trip was at Imagery. They have exclusive wines that you can't find in stores. My god, it was amazing. First, the basic tasting fee was only $15 for 5 wine varietals. Second, this was the first winery where I loved all of the whites. The whole atmosphere was nice. I have to order my bottles and have them shipped to my place soon!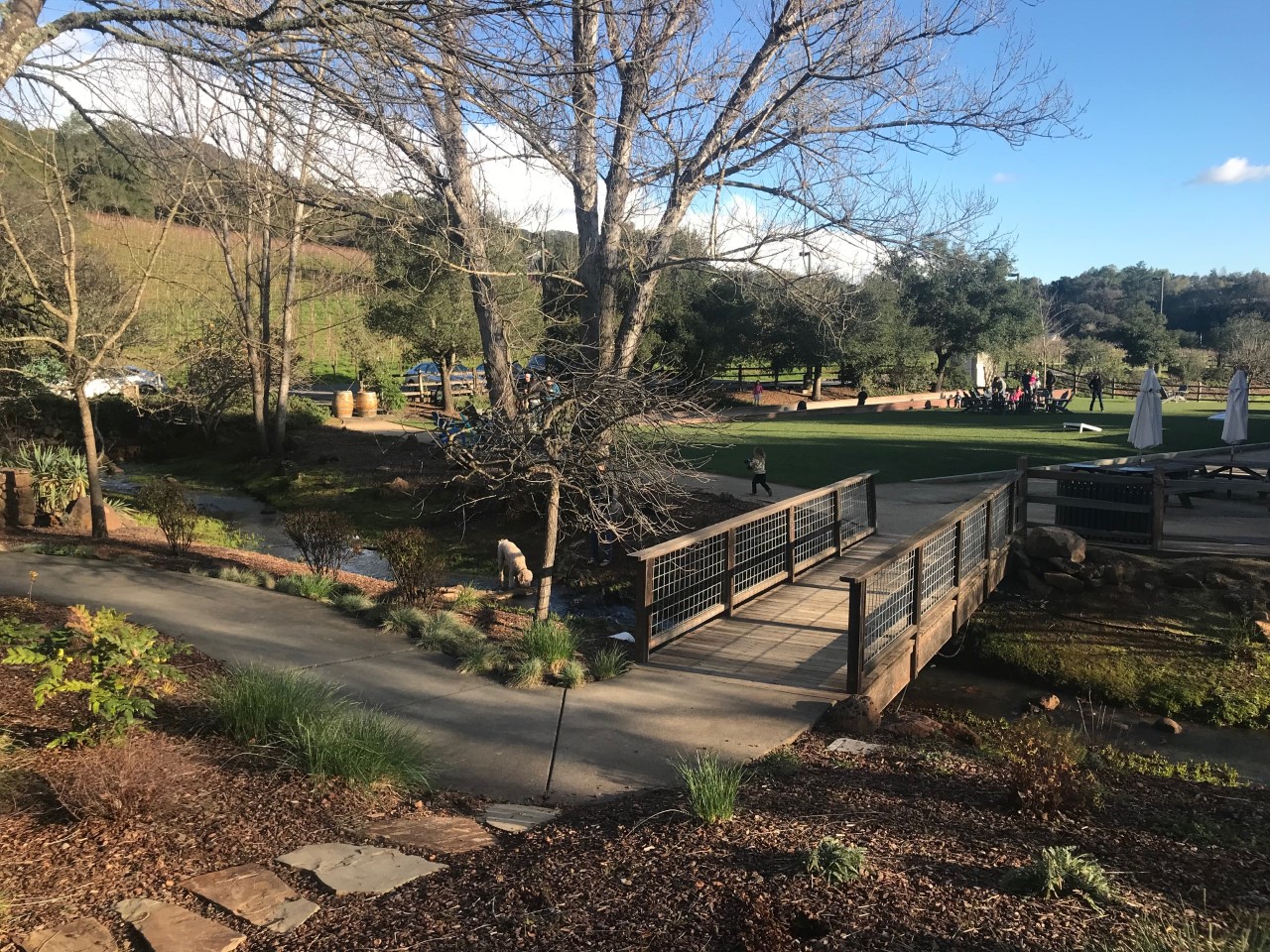 After Sonoma, I made my way 30 minutes north (I know, I just seem to keep going, right?) to Santa Rosa to view the Charles M. Schulz Museum ($12), the cartoonist who created the Peanuts comic strip. He originally grew up in St. Paul, MN, but after he met his wife, she complained it was too cold, so he moved to Santa Rosa and built his own hockey rink because he loved ice skating. The rink is literally next door to the museum.
I am telling you guys, if you ever go to the Sonoma or Napa wine country, this drive is an absolute must, I mean who doesn't love Charlie Brown, Snoopy and and the gang?! I have a ton of photos below, so browse through and read along the way if you can. You can also go to my Instagram page and check out the animated Snoopy shadow jumping onto his doghouse.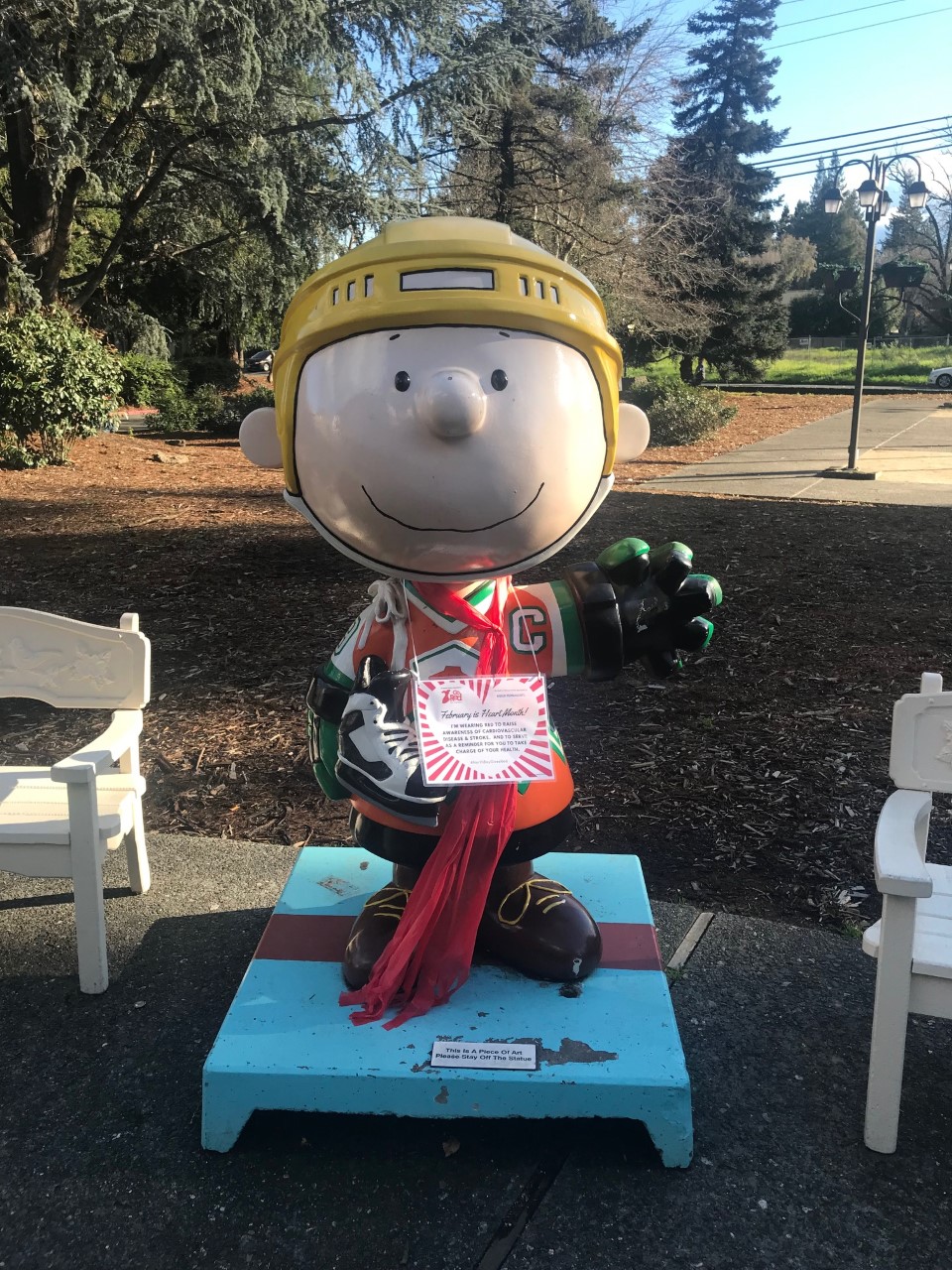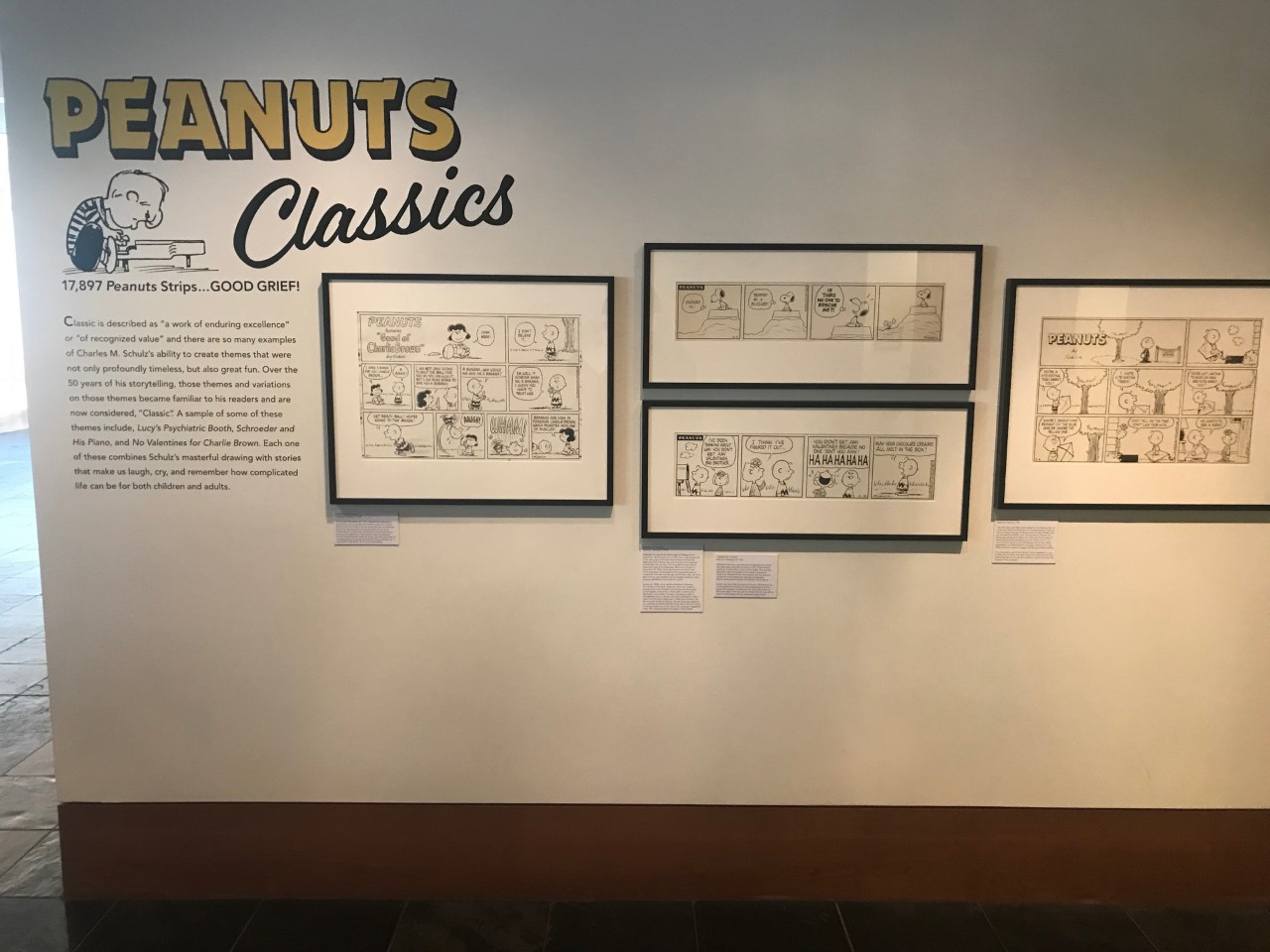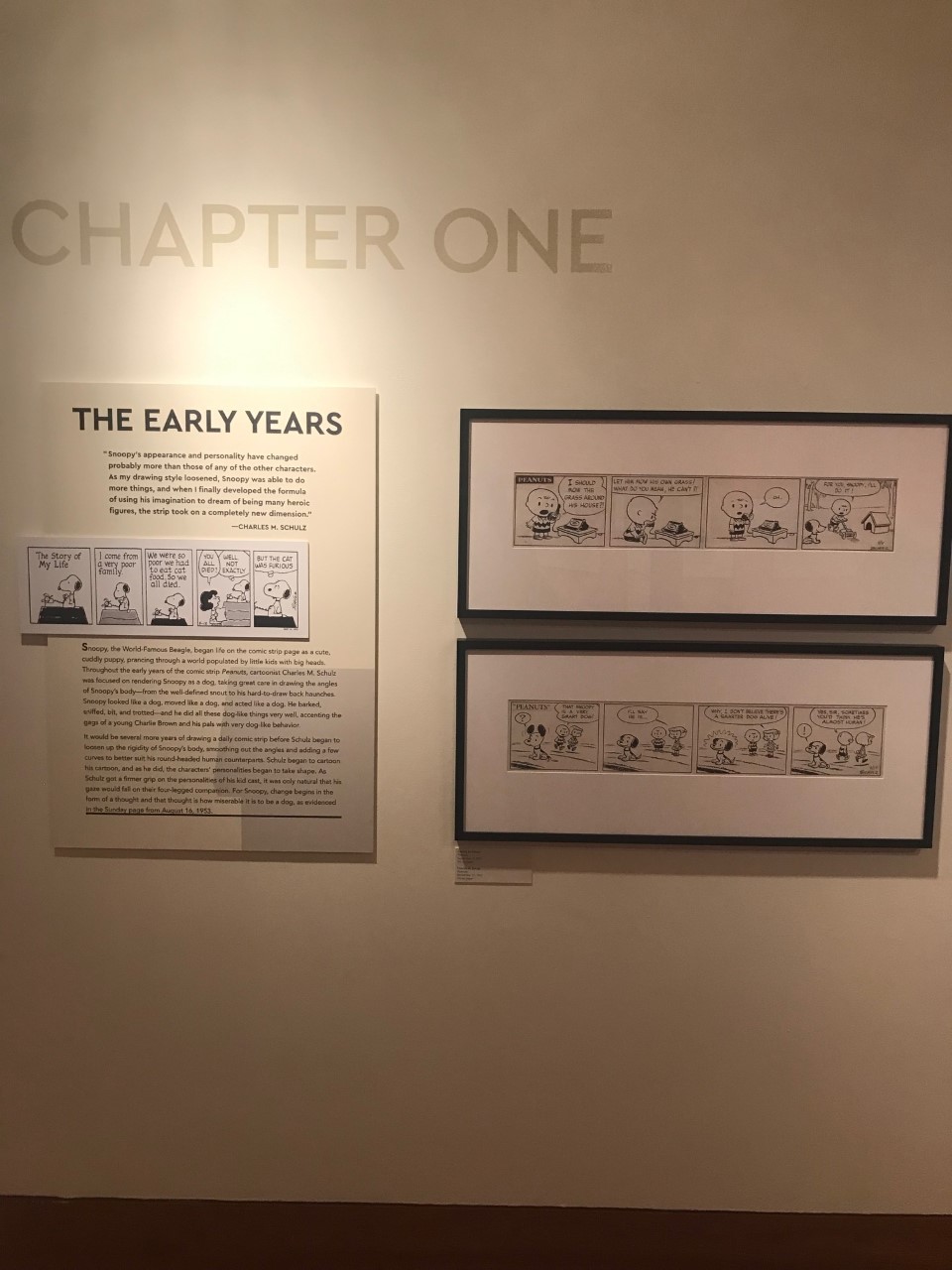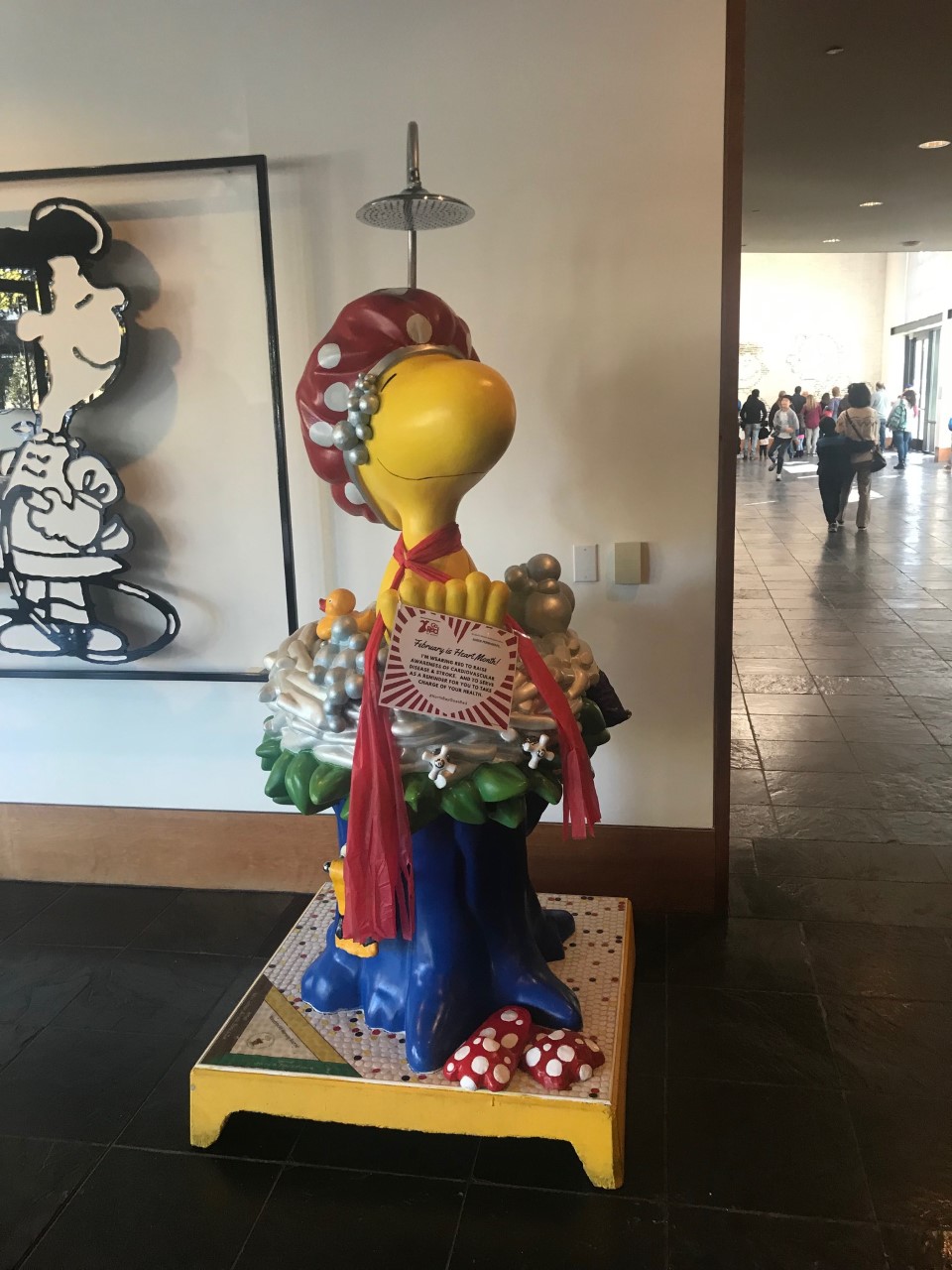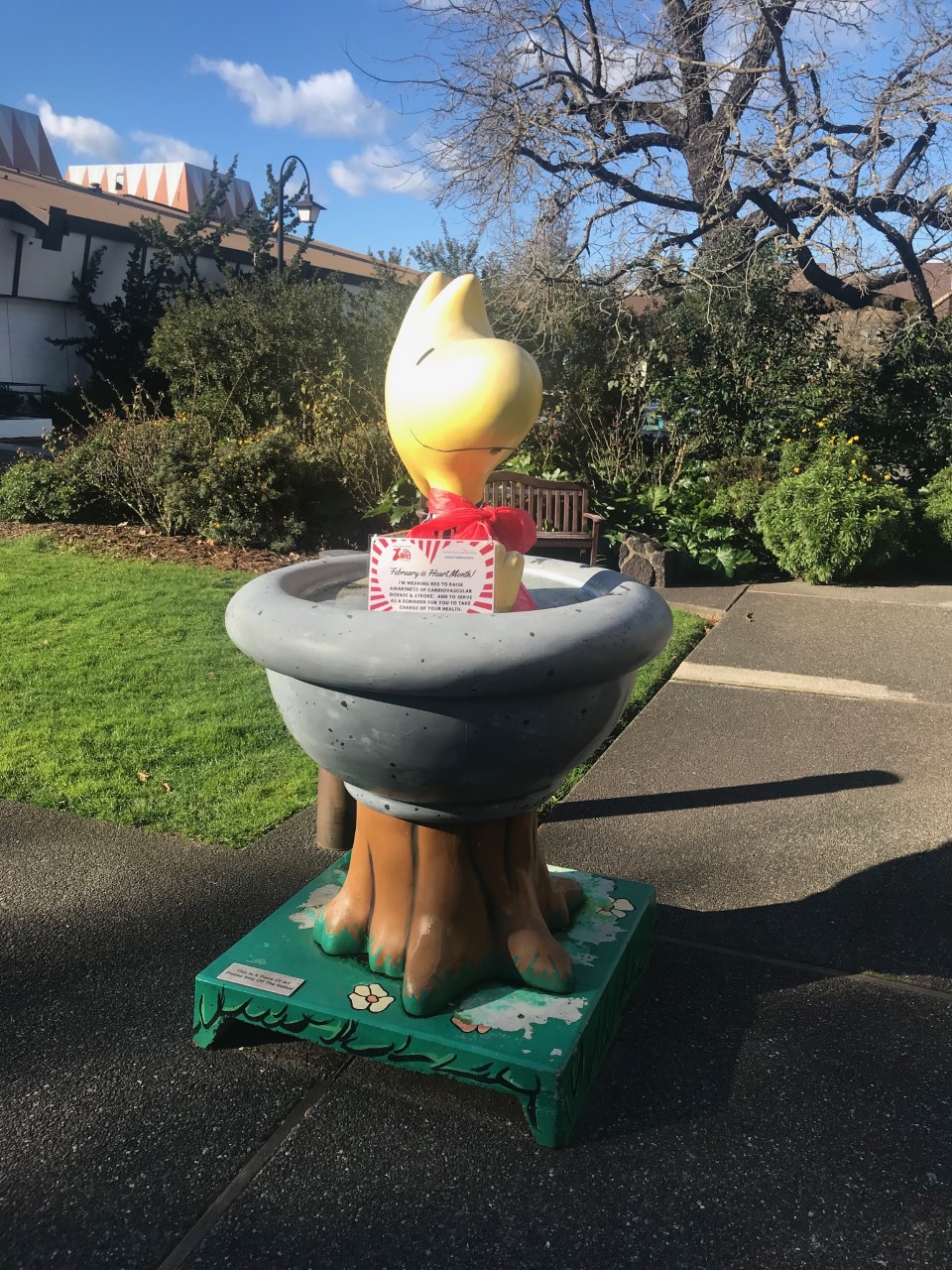 This mural was made out of tiny Peanuts comic strips! It was absolutely amazing.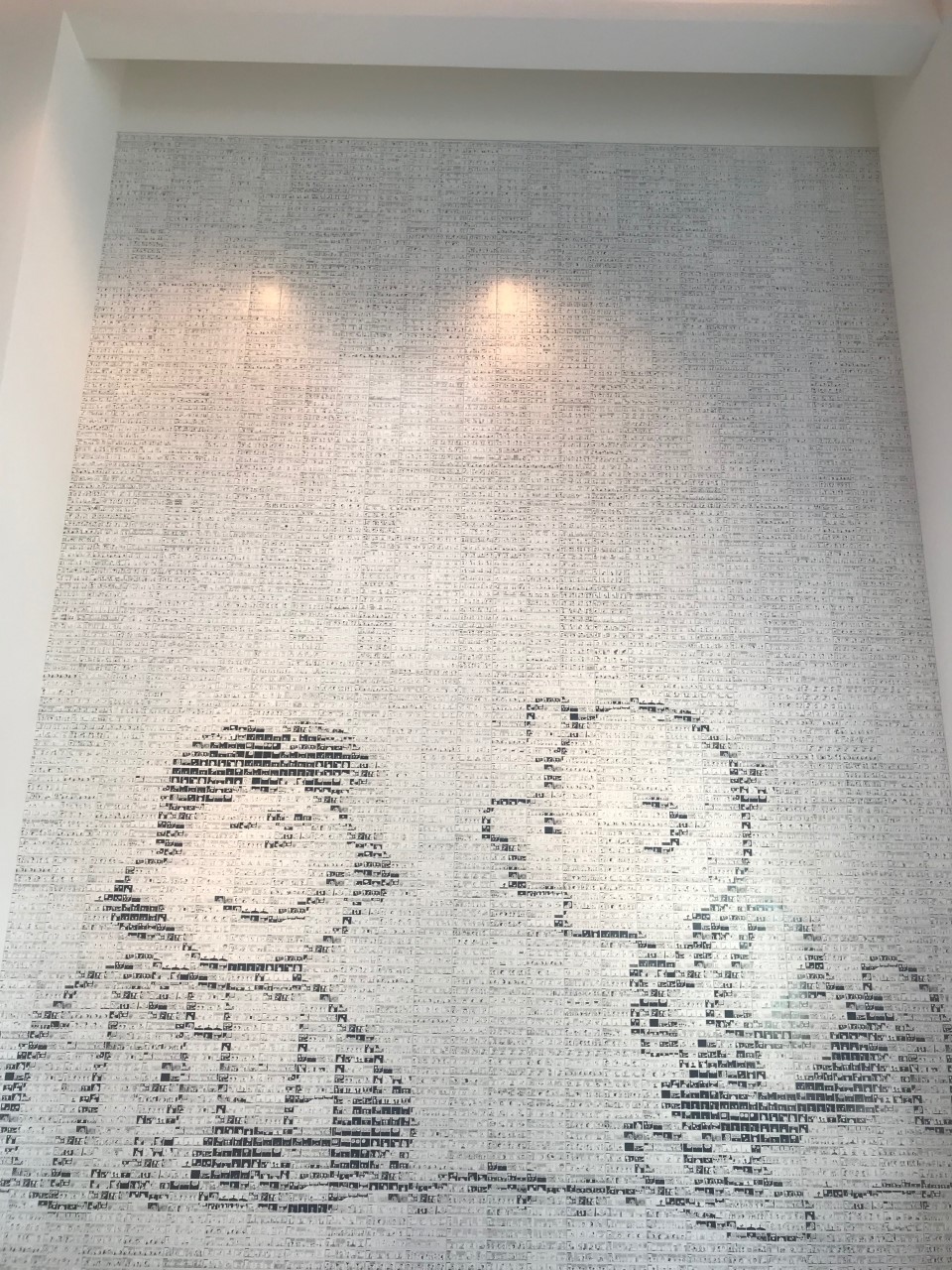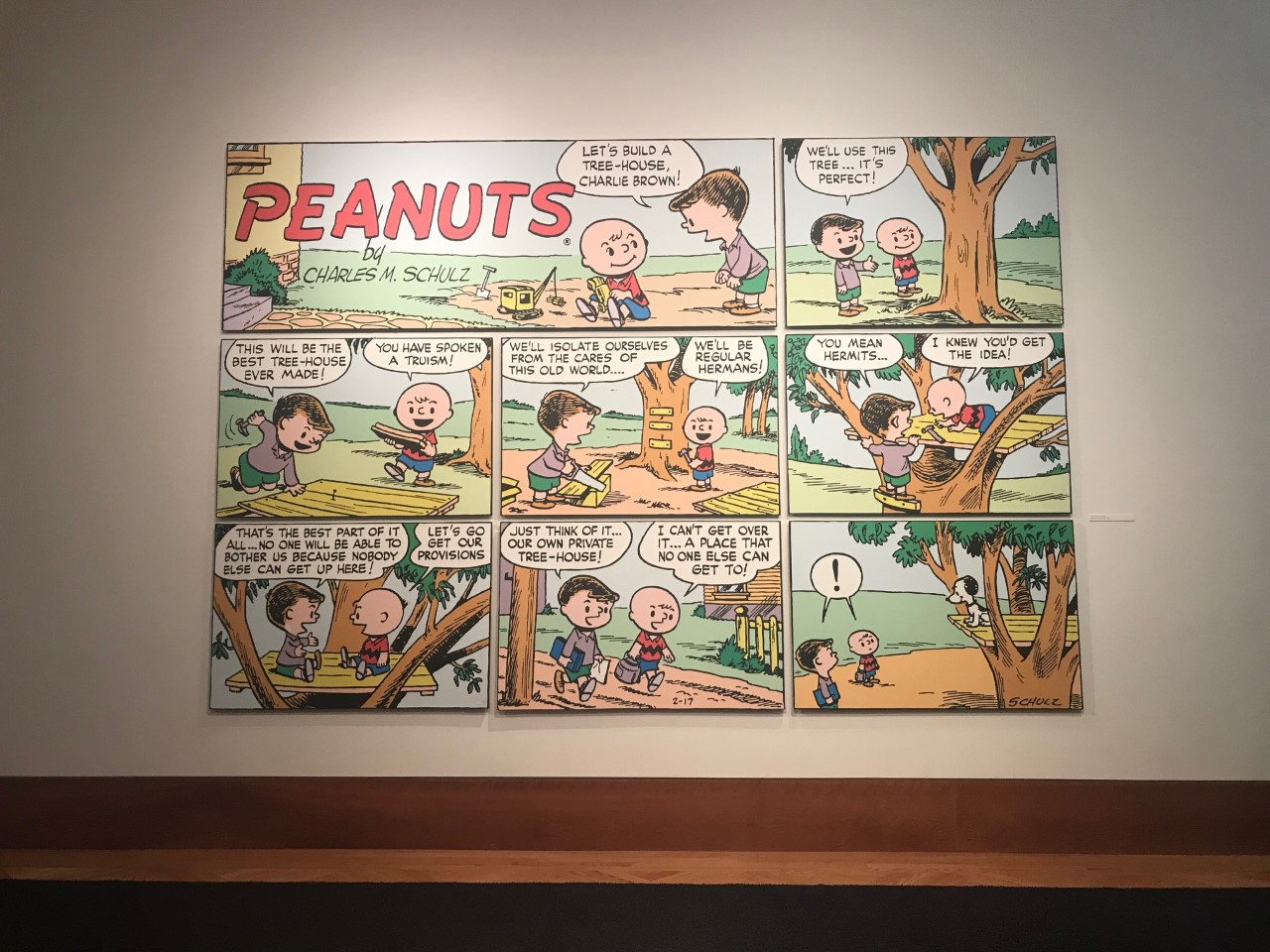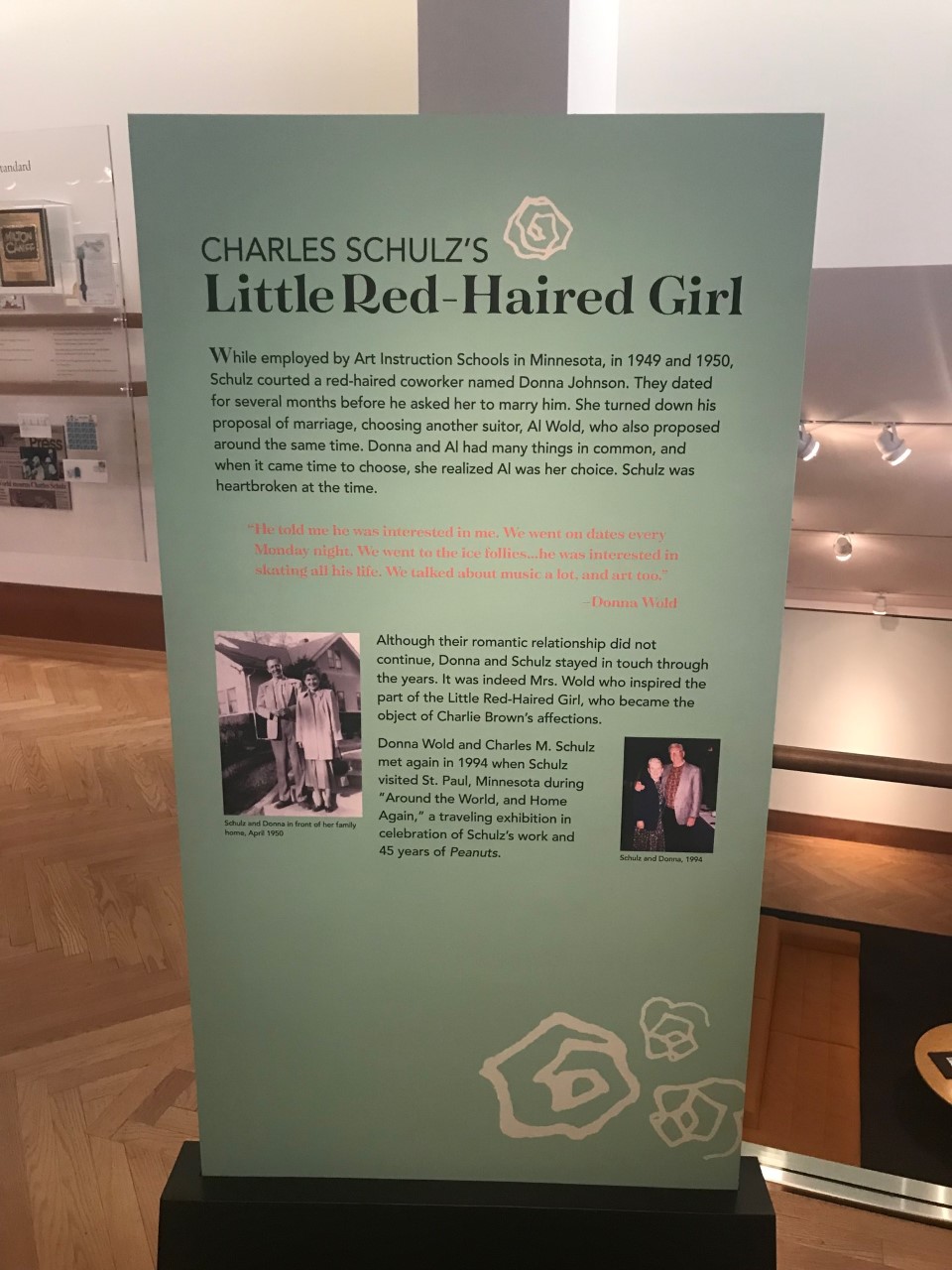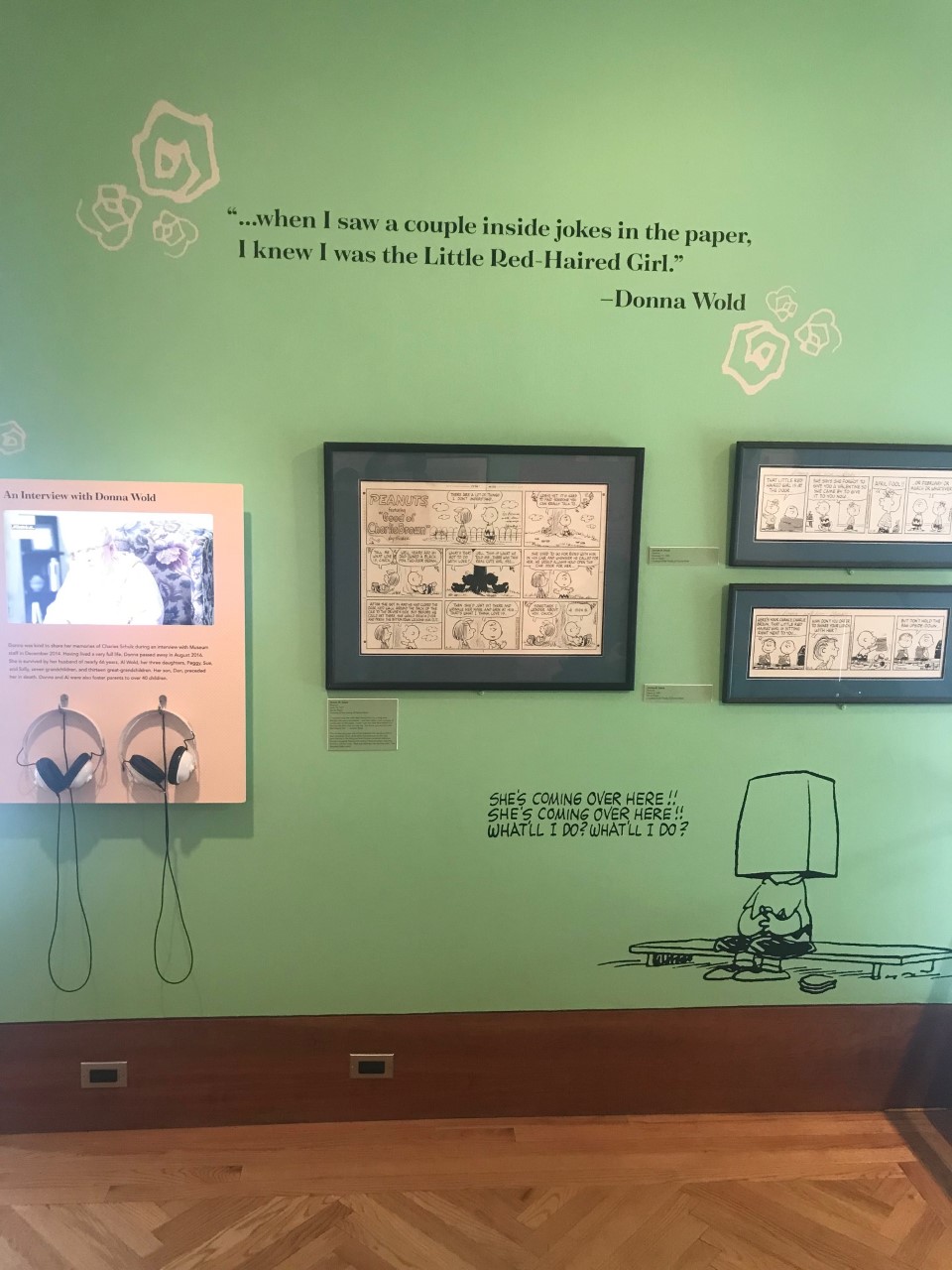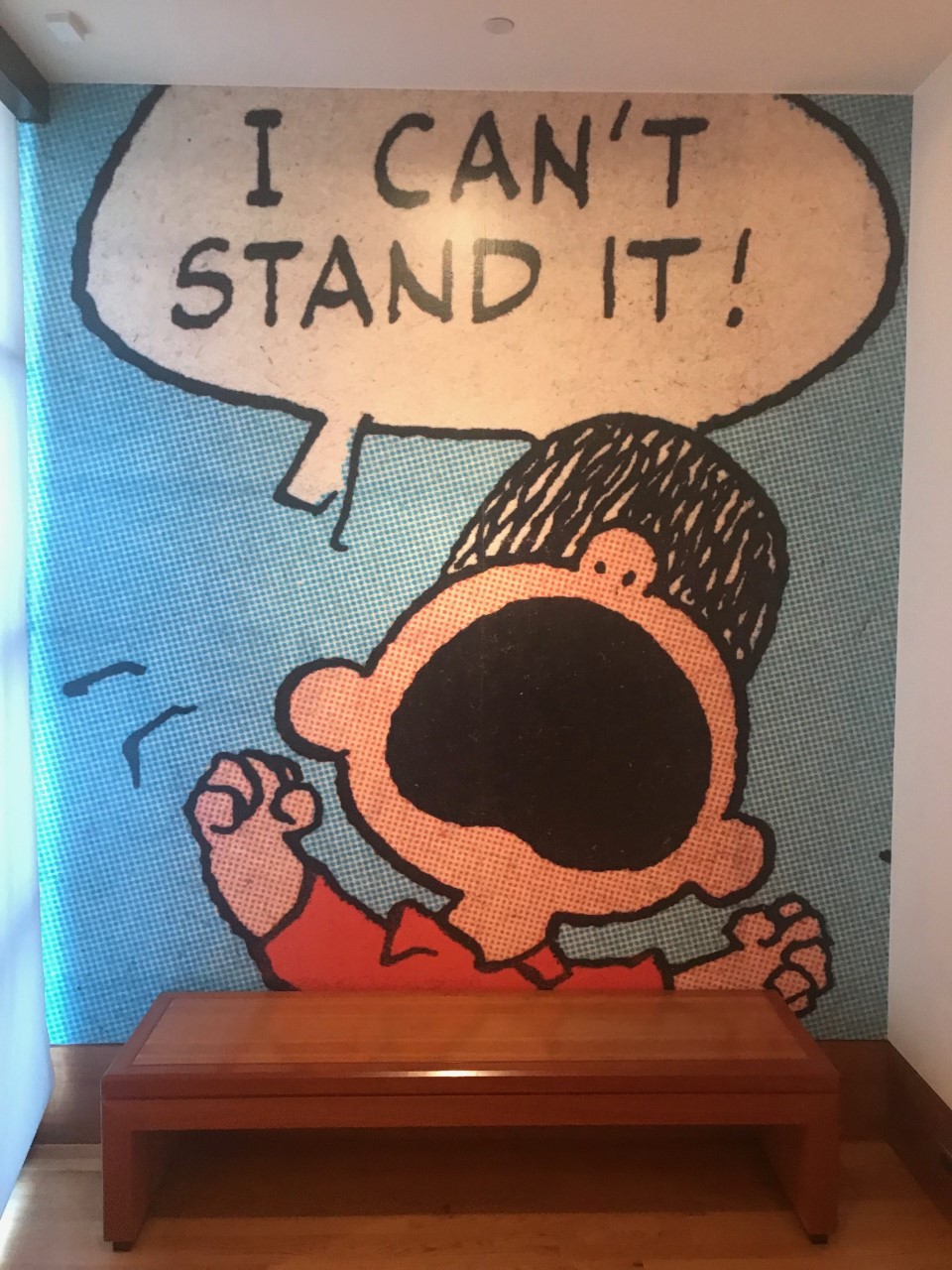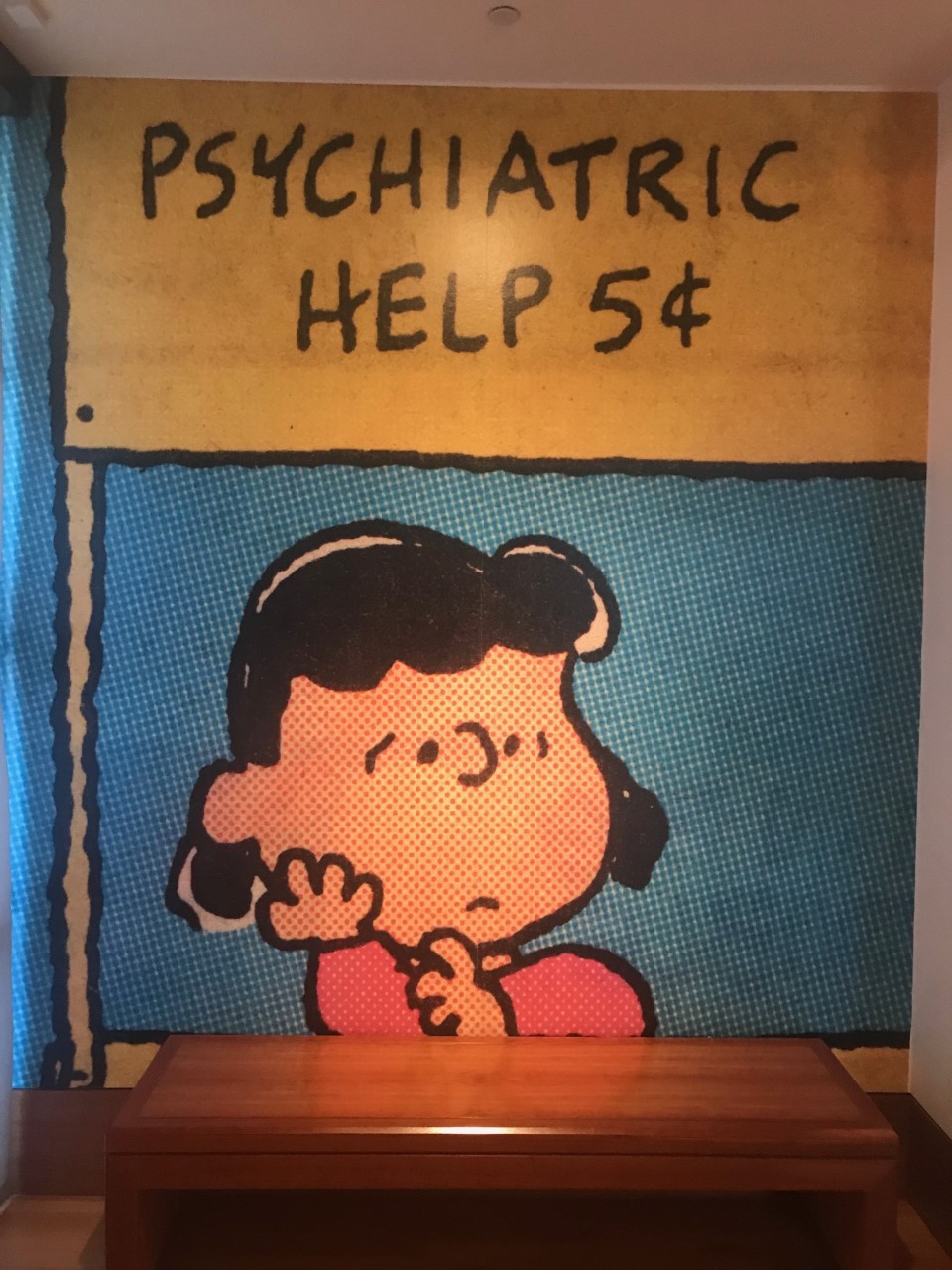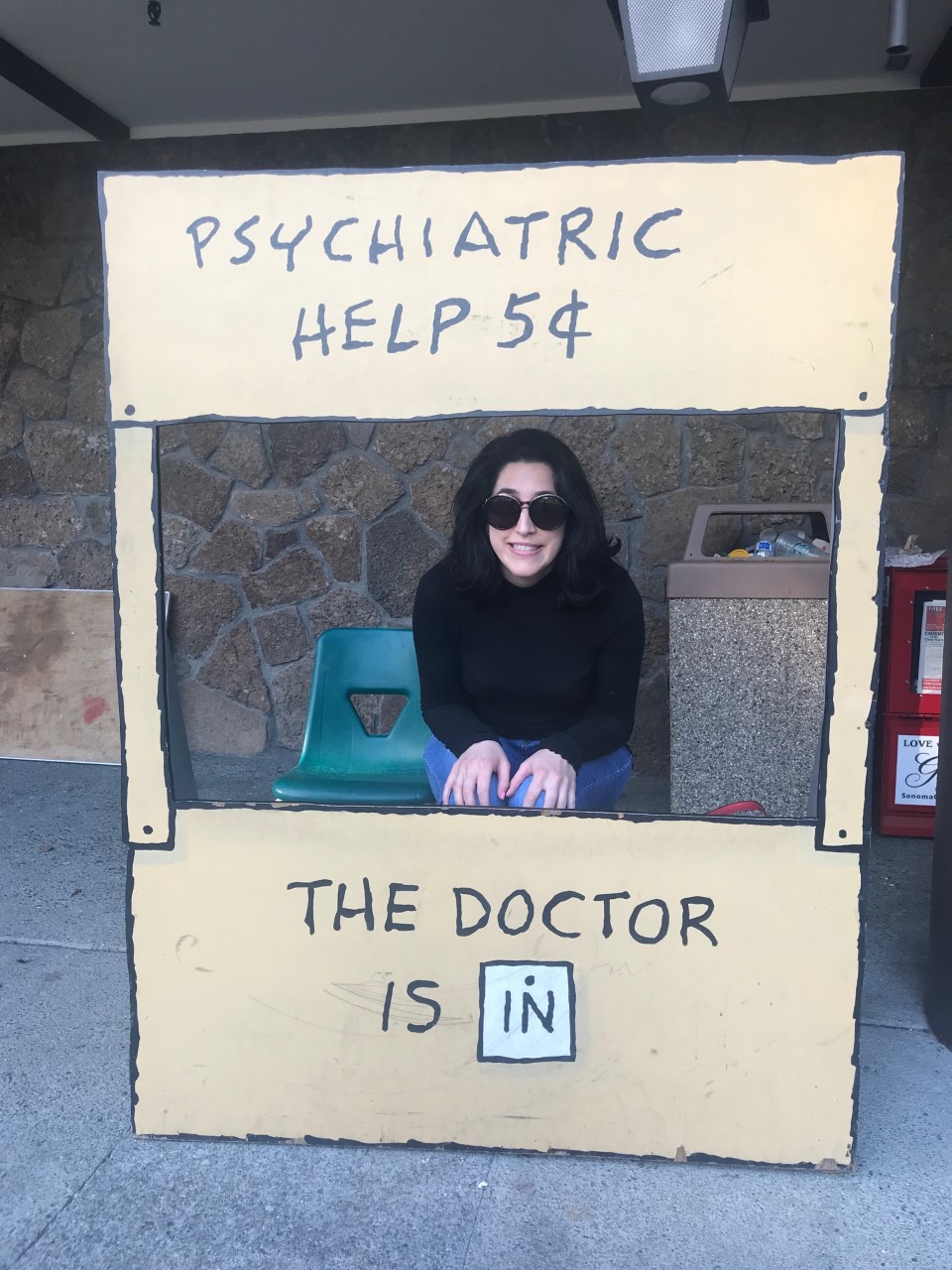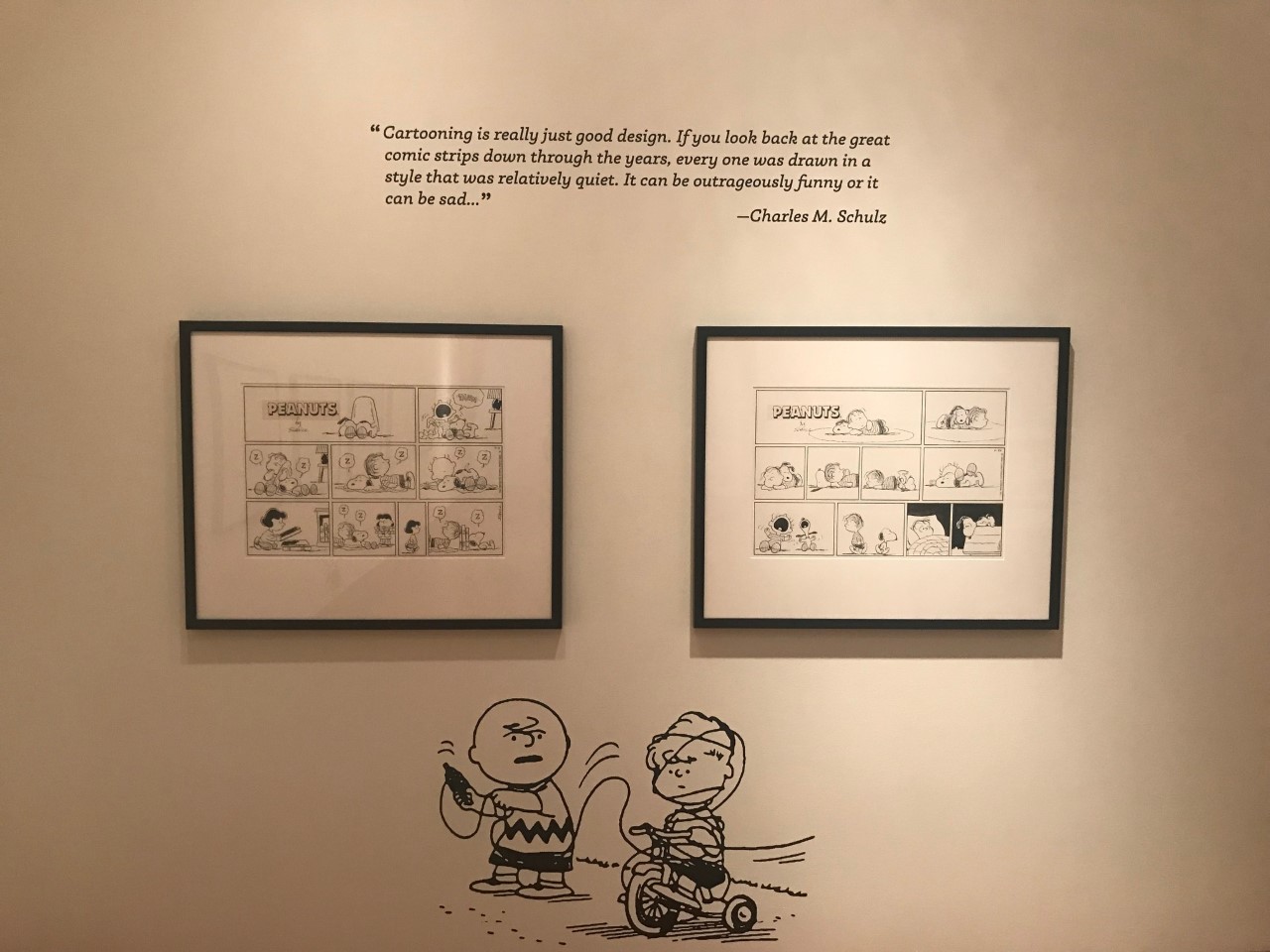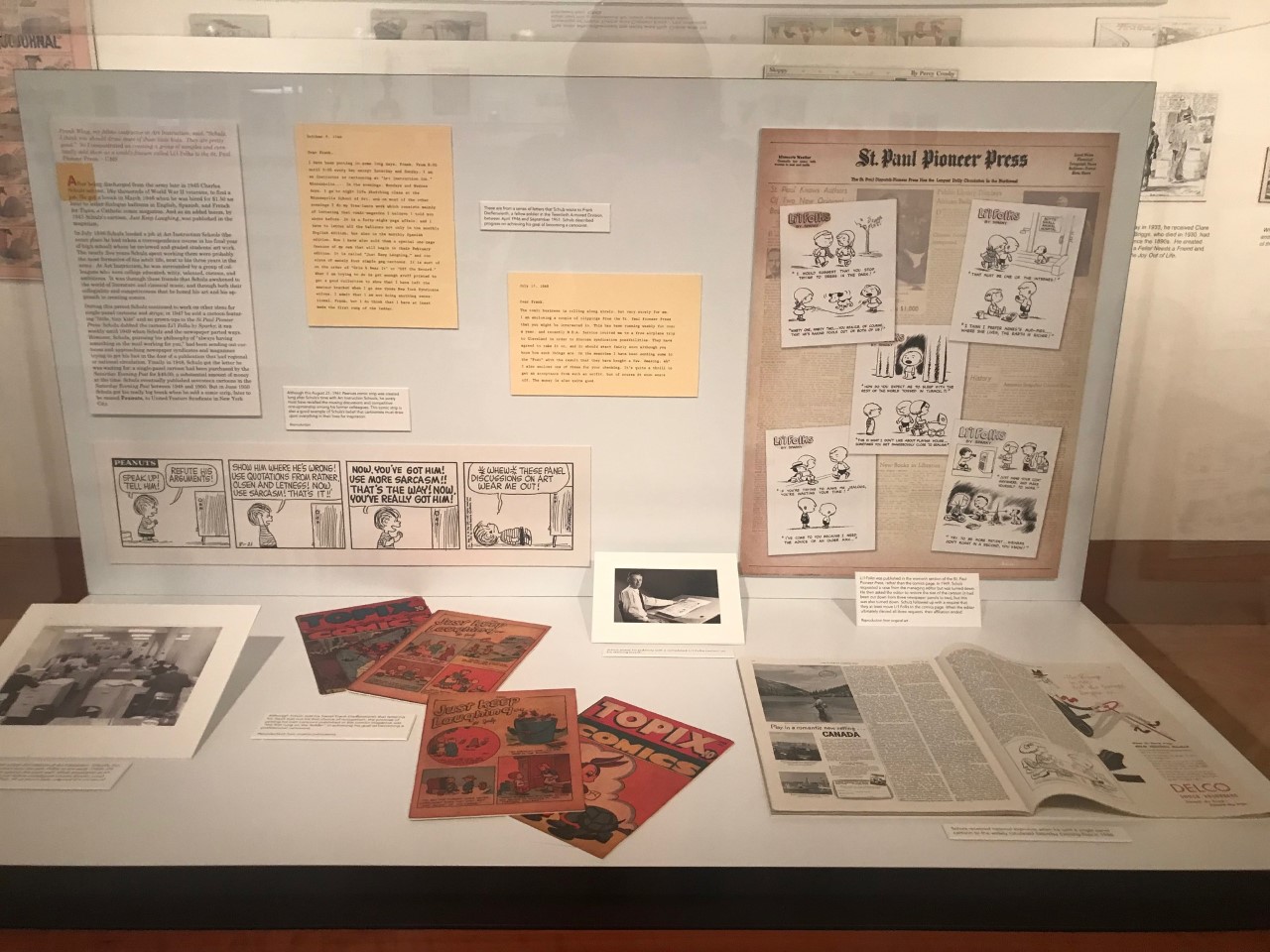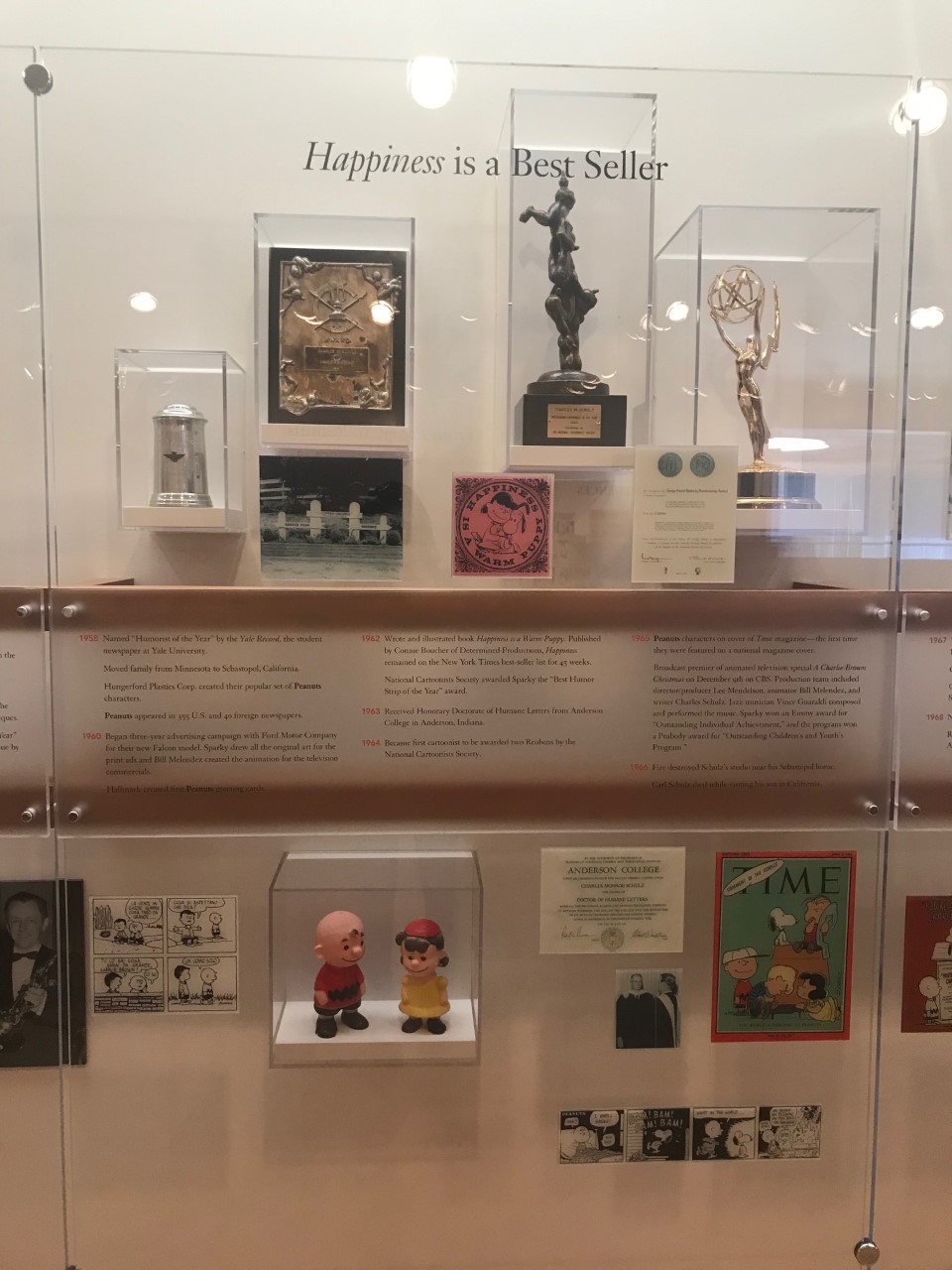 This was actual furniture from Schulz's studio.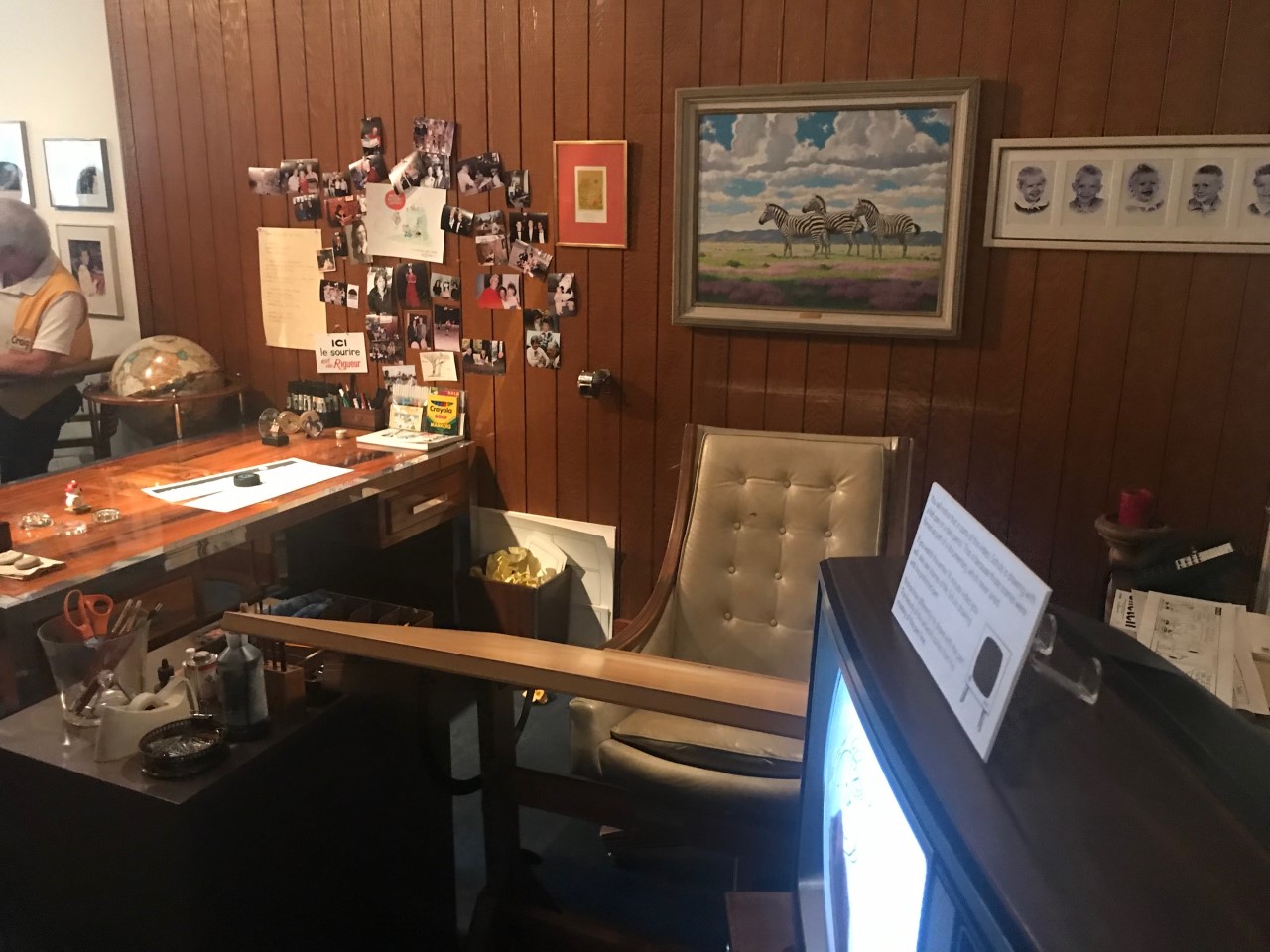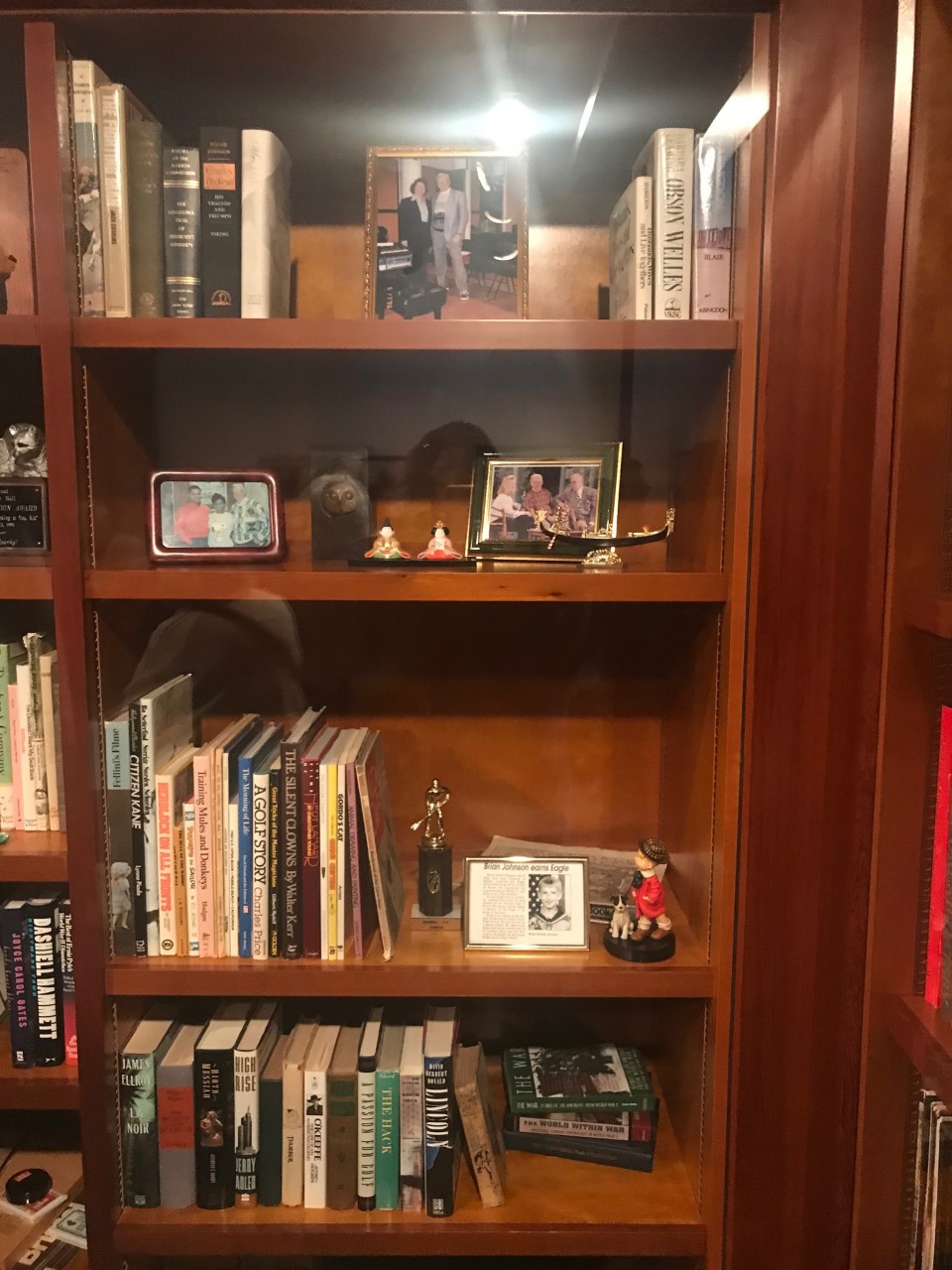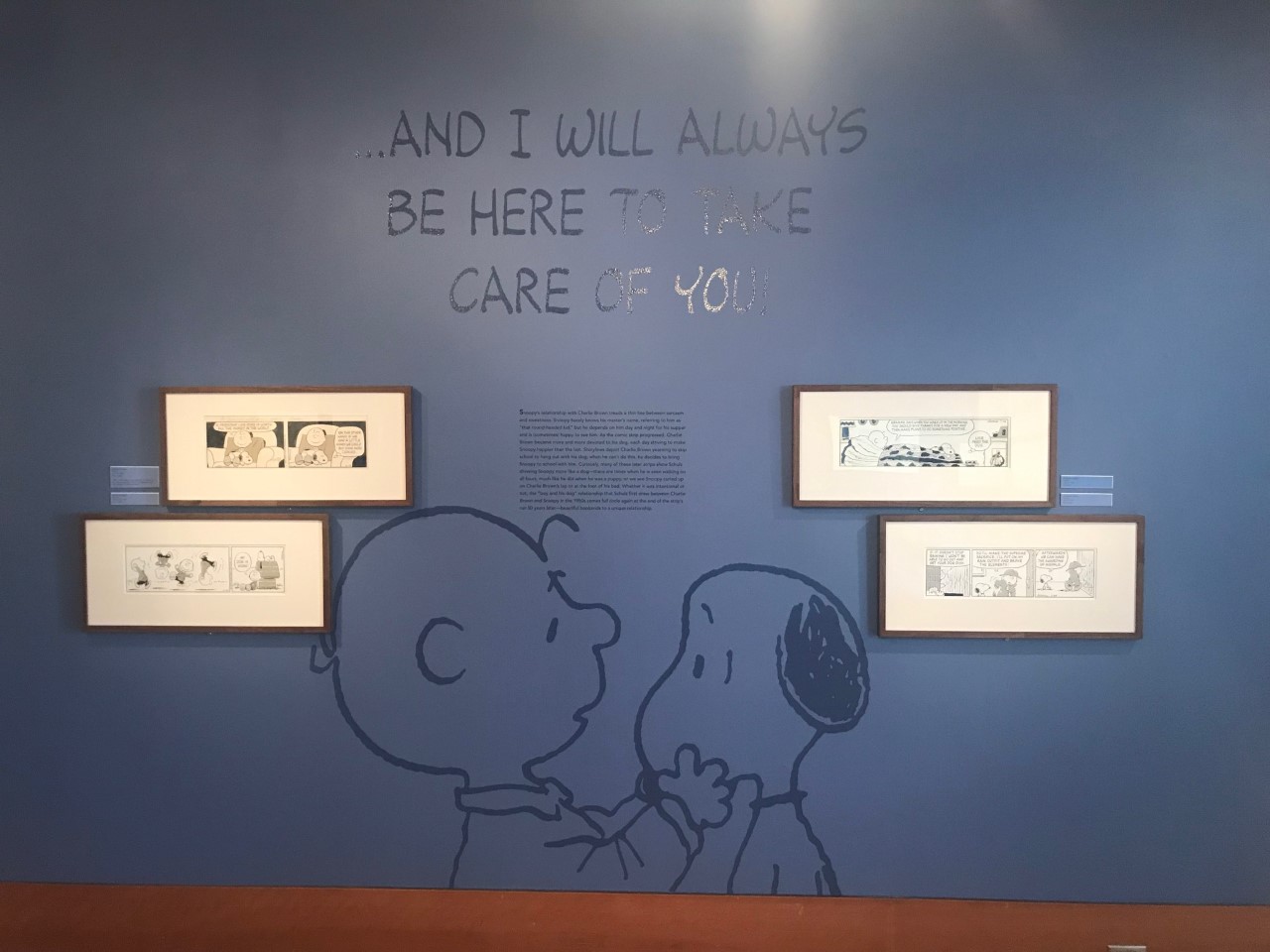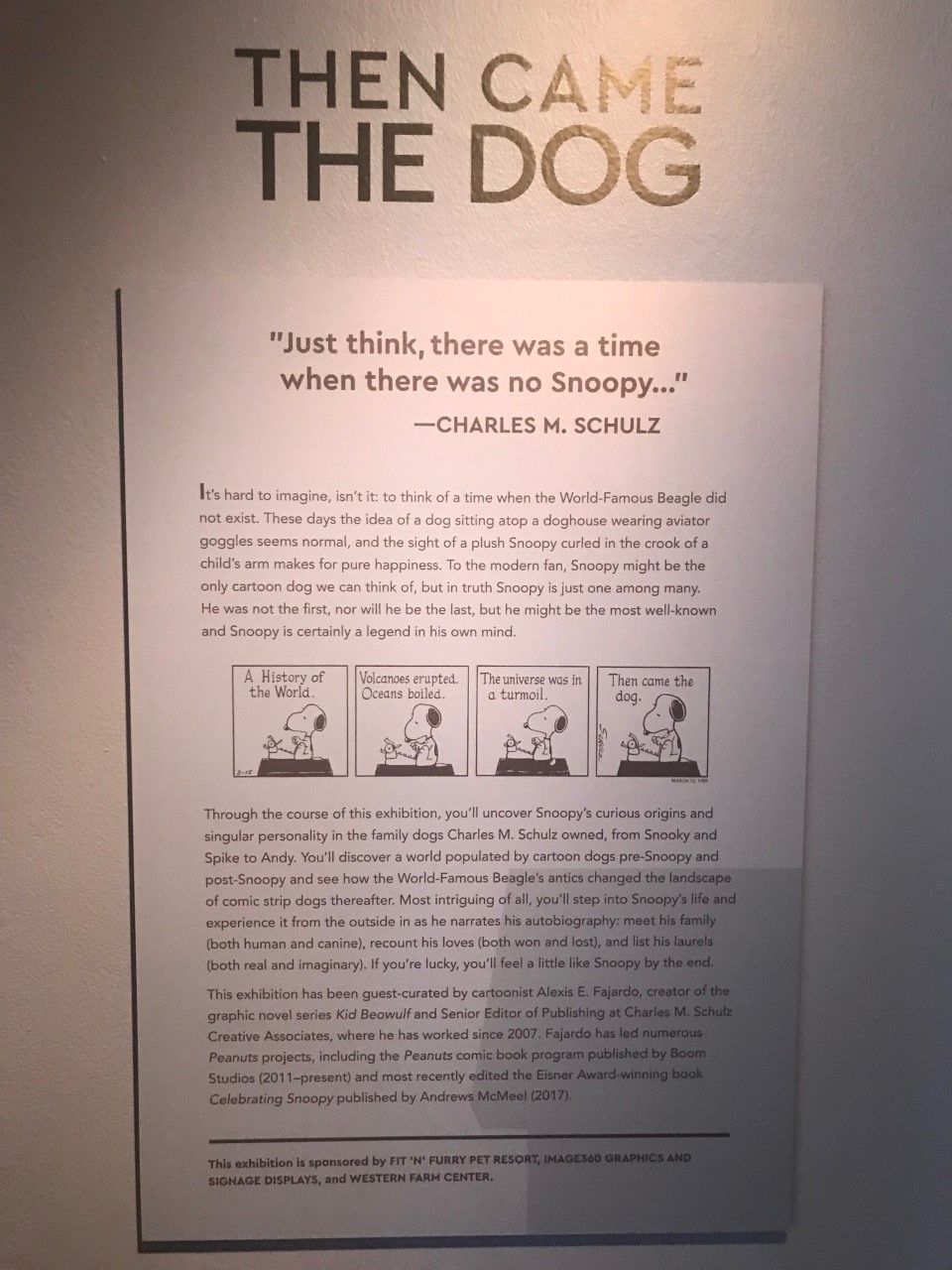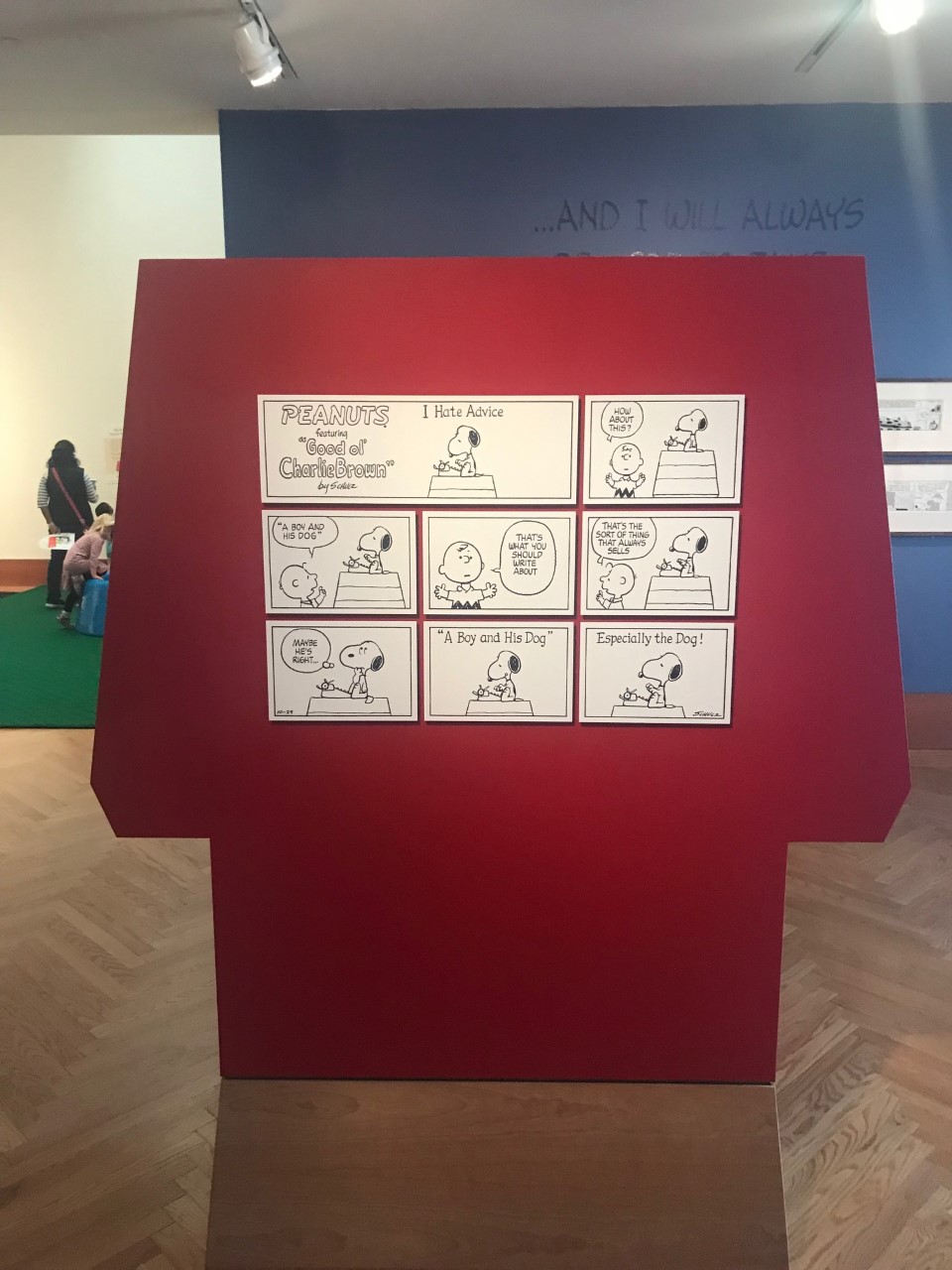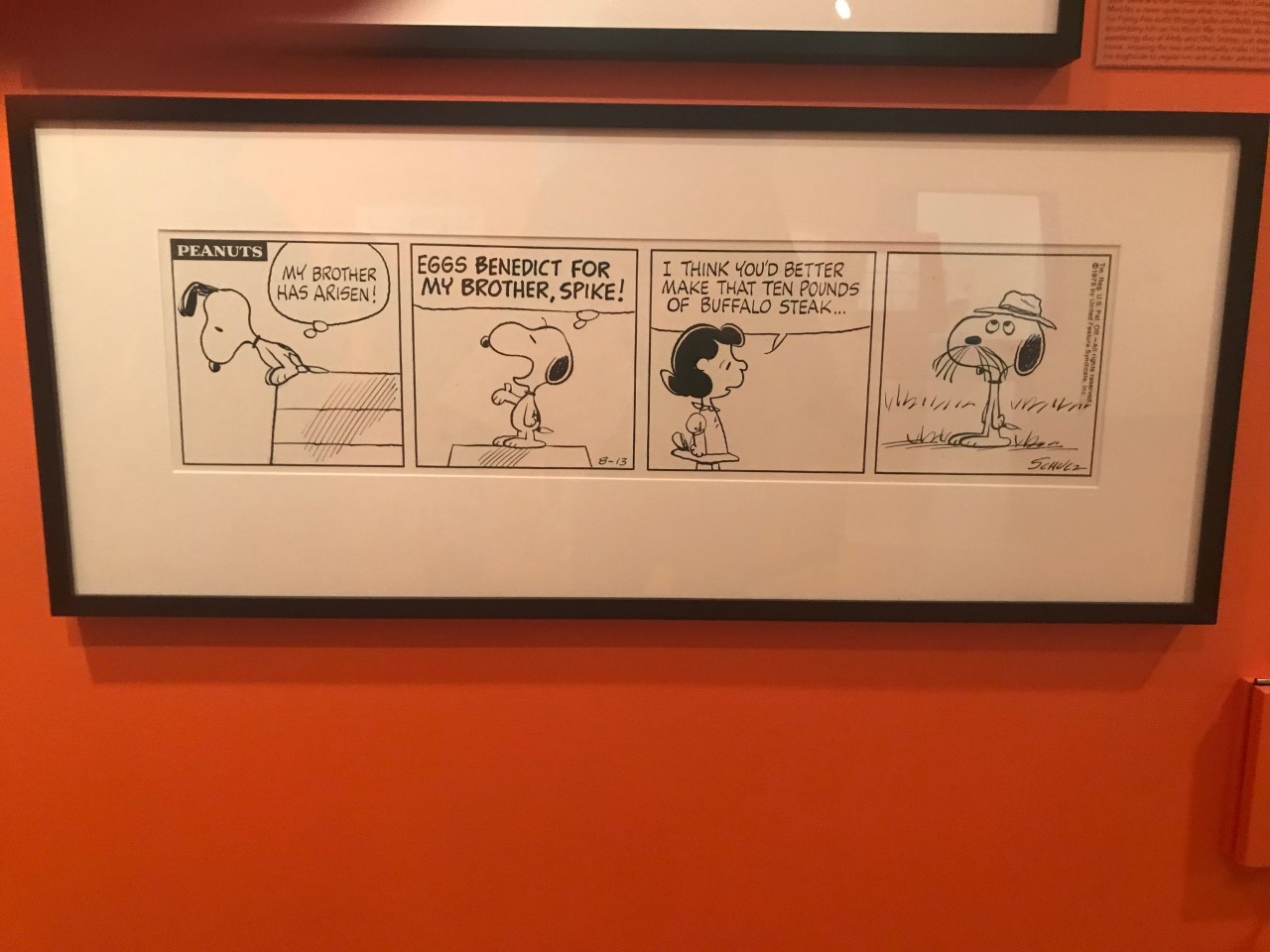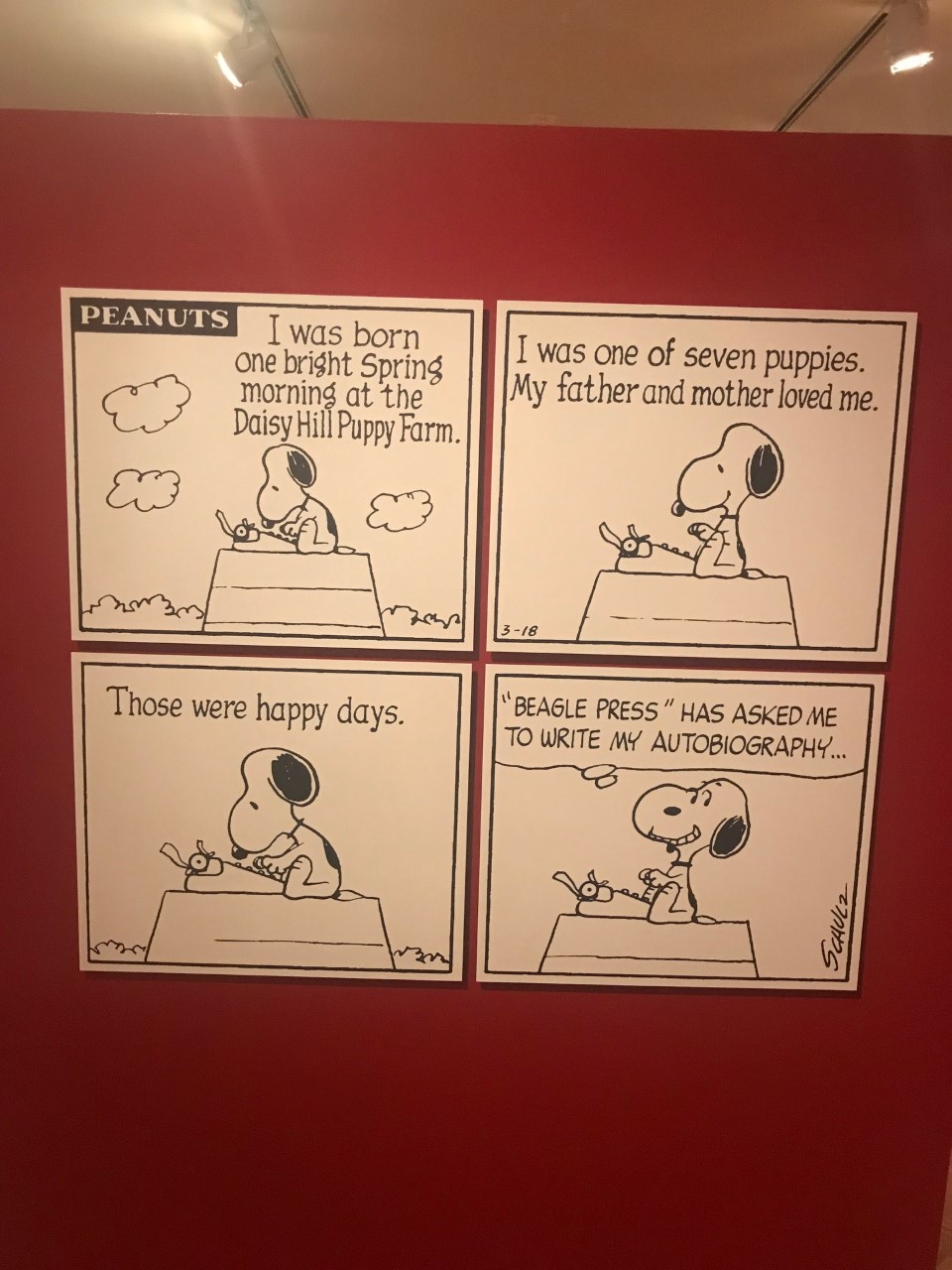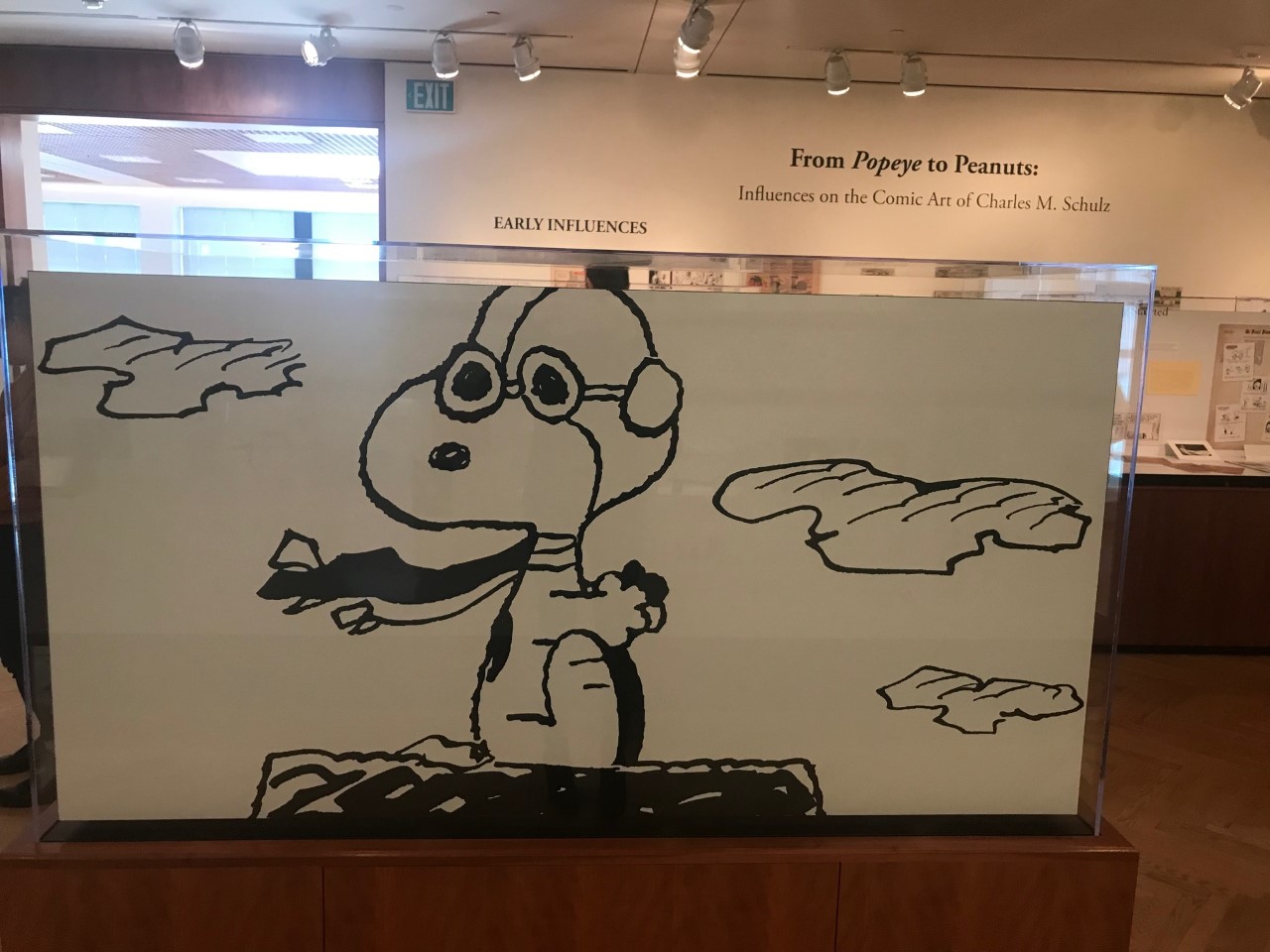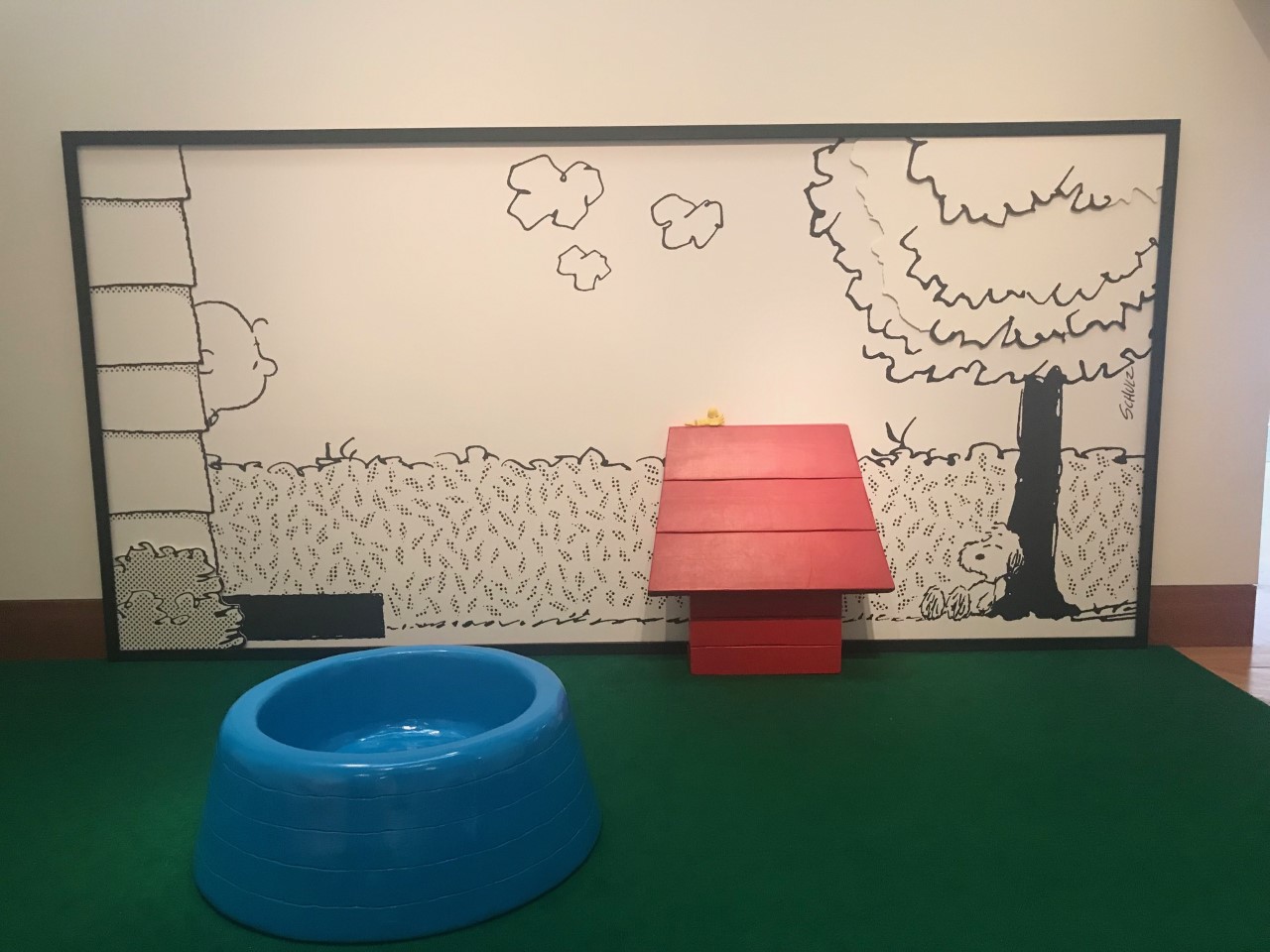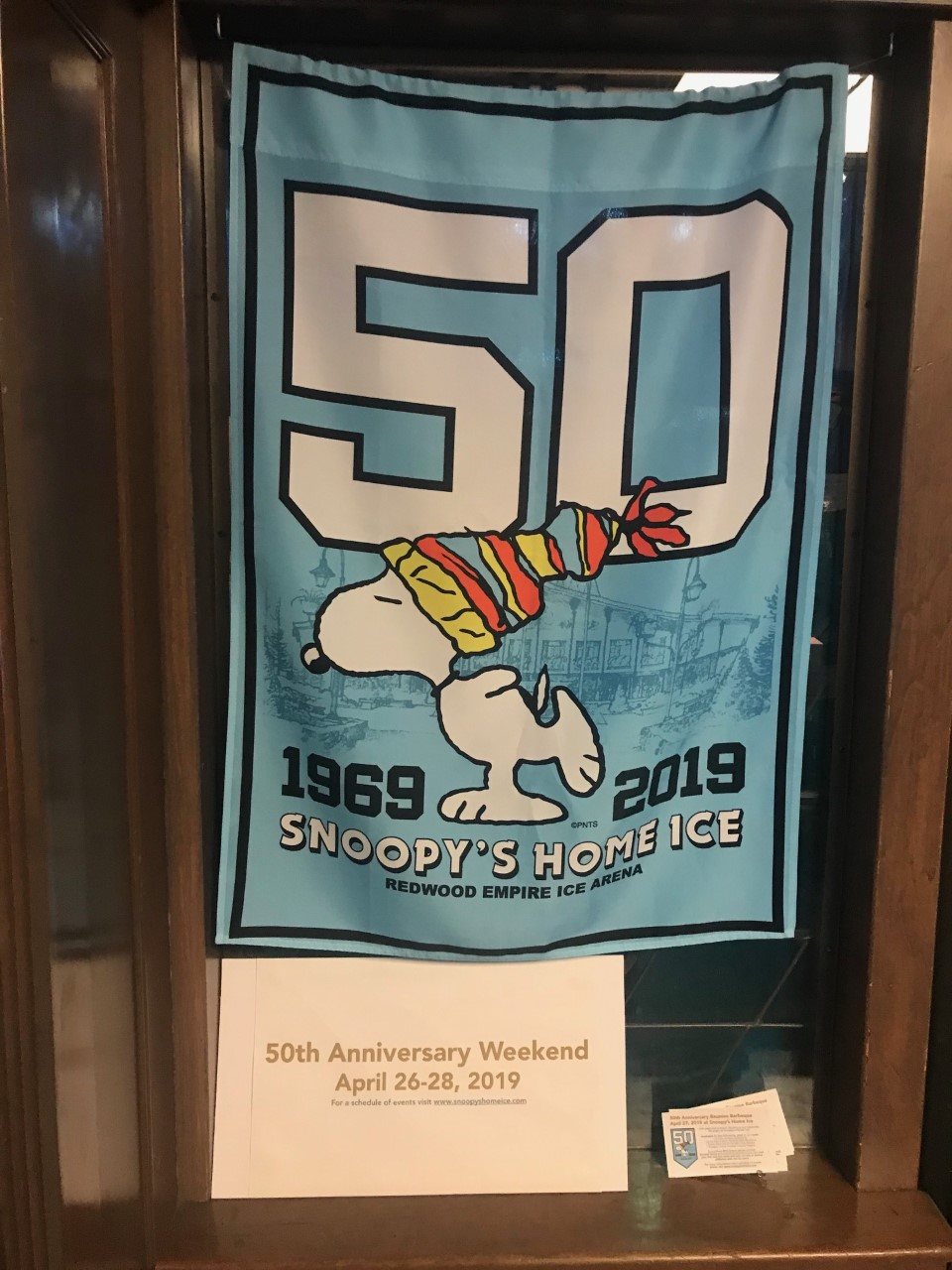 So now I had to make almost an hour and a half drive back towards Sacramento…well Davis actually, the city before Sacramento, because I was going to try stopping at Tres Hermanas at that location since I failed at the Downtown Sacramento one the night before. On the way out of Napa, I hit a bit of traffic, but for a good reason. This photo was the perfect way to end my wine tasting experience.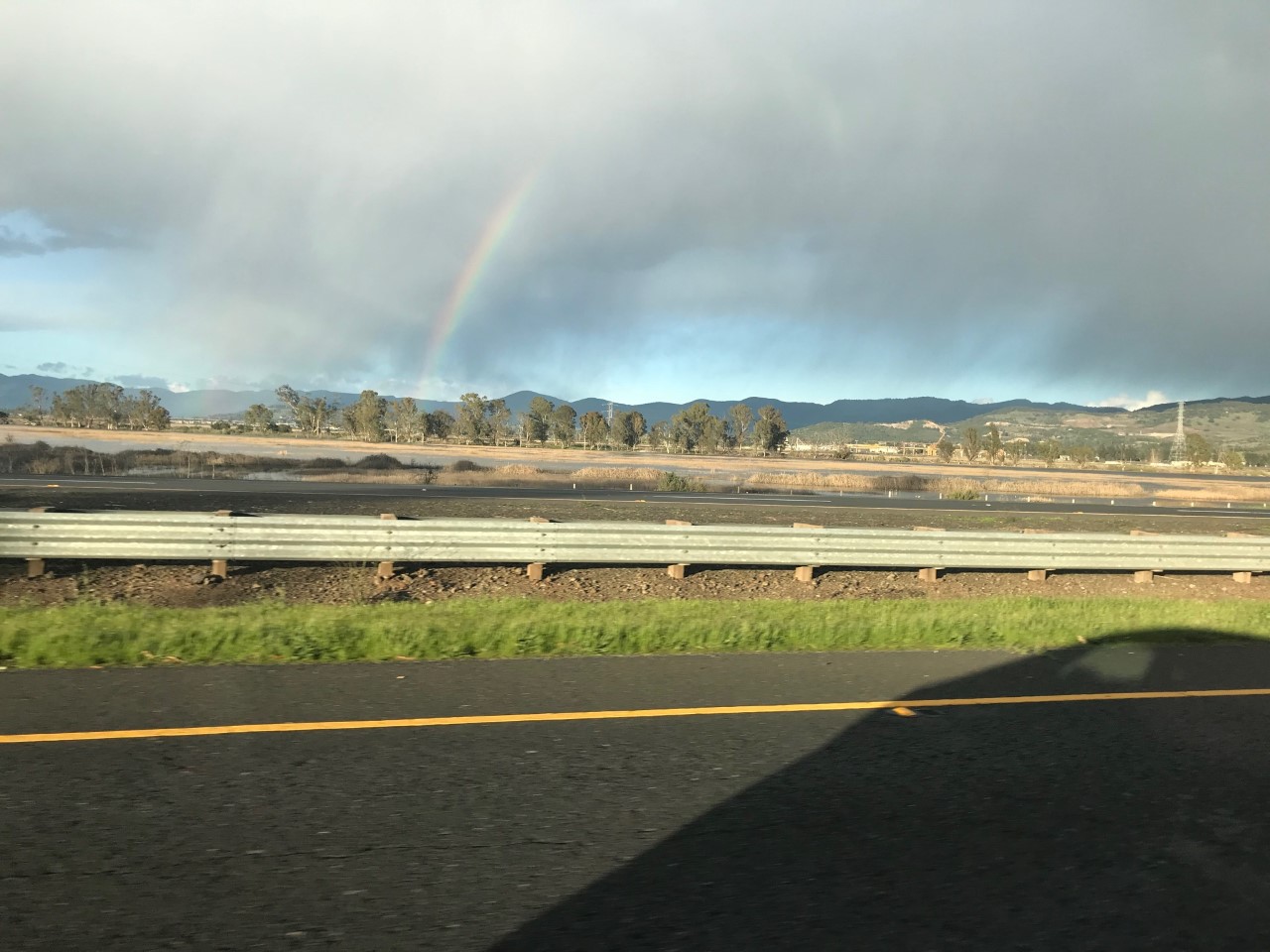 Once I got to Davis, I got into Tres Hermanas right away. Success! I ordered myself a House Margarita and Dos Tacos de Pescado (grilled Mahi Mahi) with came with a house salad with cilantro dressing and black beans and rice ($13.99). Yummy, best Mexican food I have had in awhile!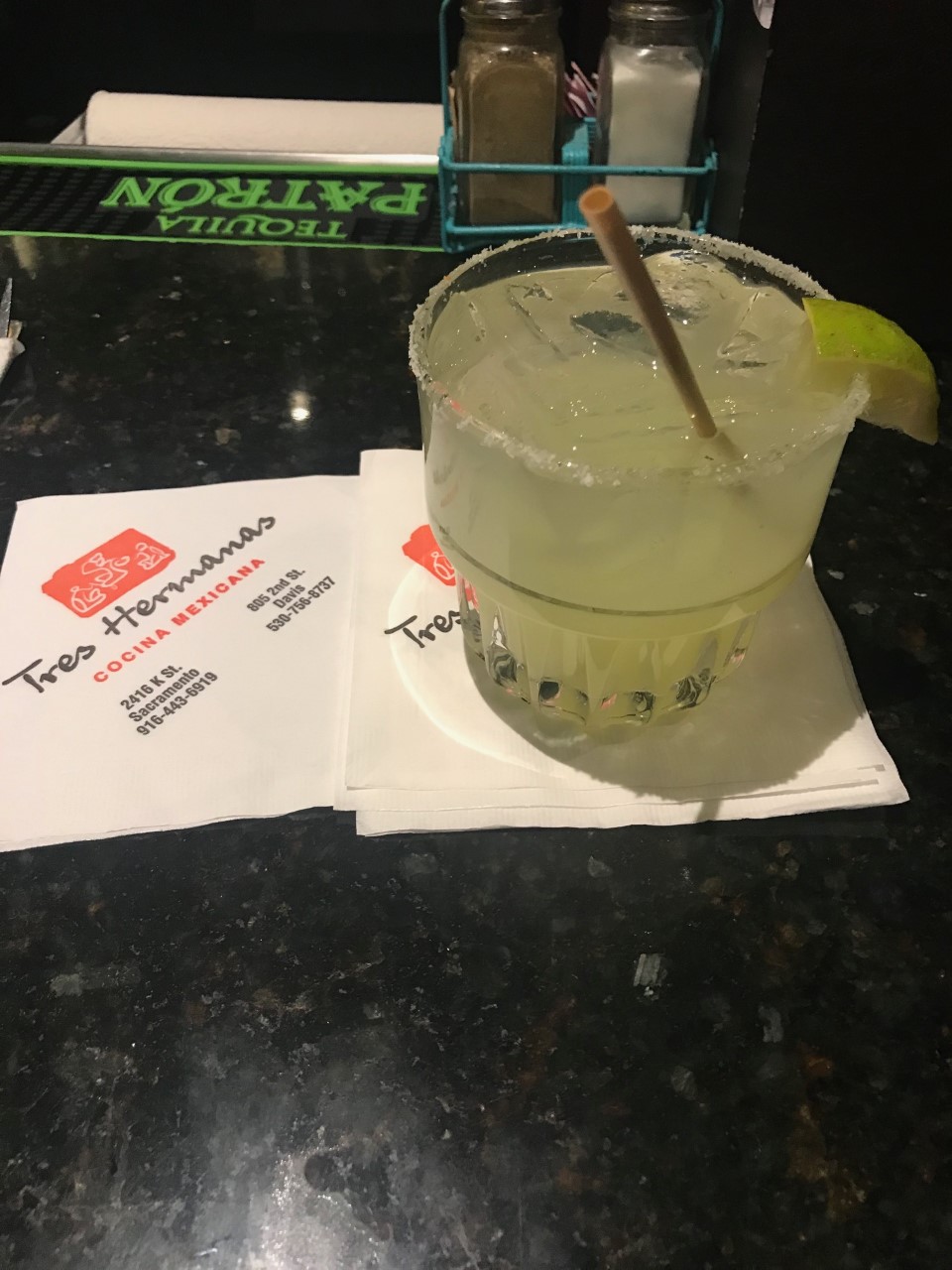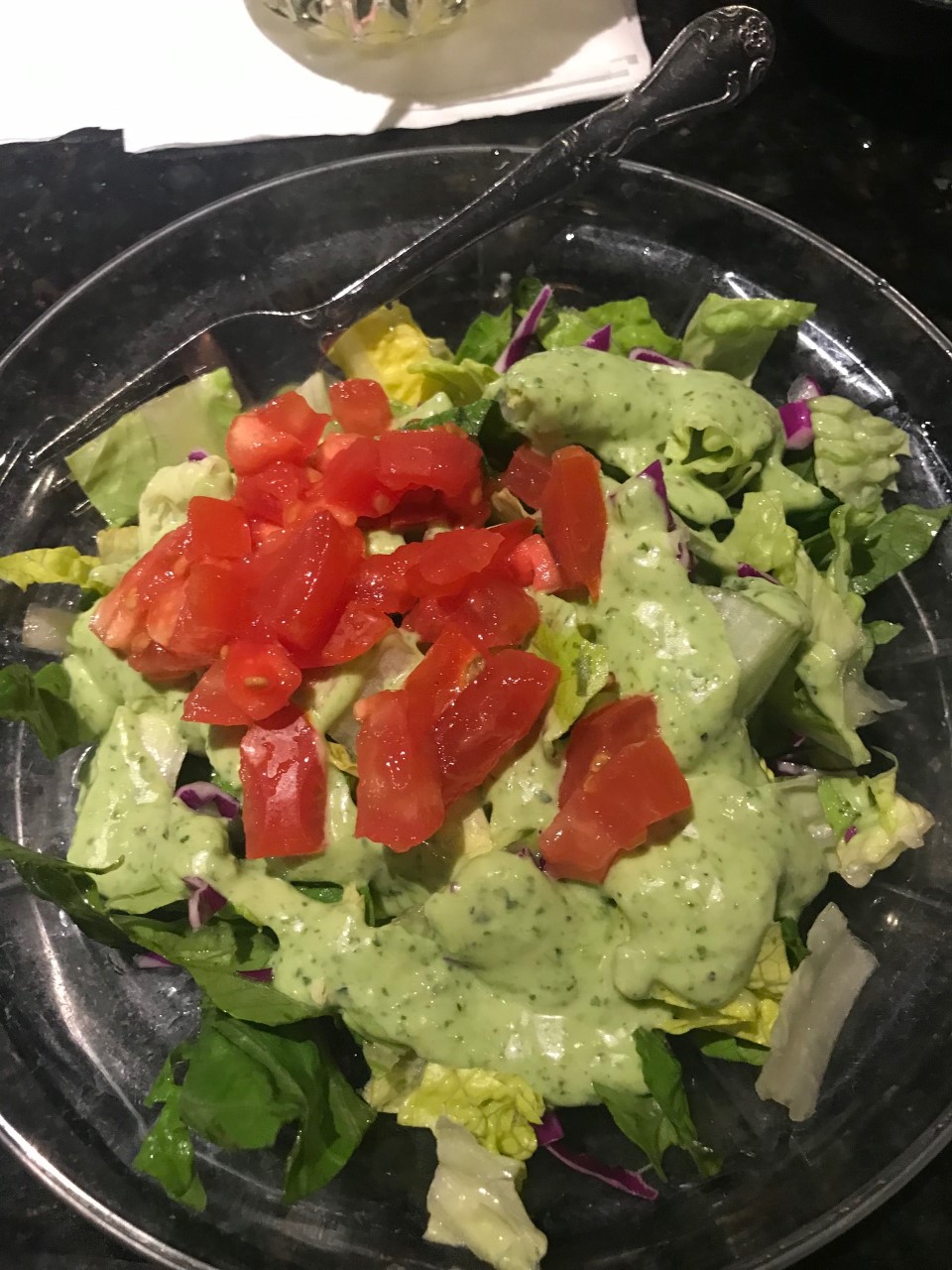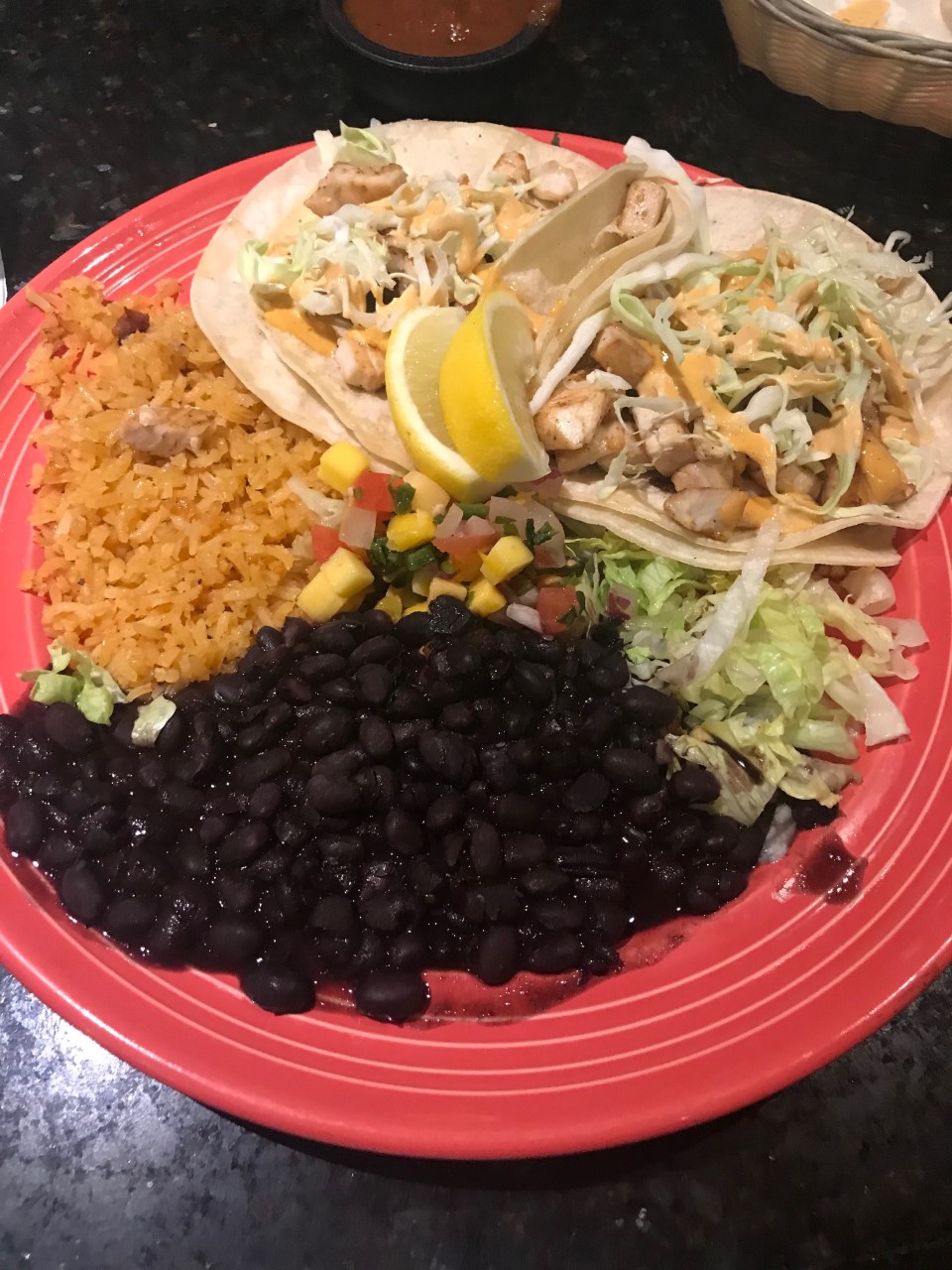 I got back to my Airbnb and got to bed at 9:30 p.m. once again. A long day of driving can do that to ya. I was so happy that I got to tour Napa!
Day 3 – Monday, February 18
My flight was at 3 p.m., so after sleeping another 10 hours the night before, I decided to get some brunch and tour some "bizarre hot spots" that Atlas Obscura recommended.
Not too far from my Airbnb was my first bizarre spot of the day: an old riverboat that was used in a John Wayne movie in the 1950s and later used for river tours in the 1990s. It literally is just hanging out on the side of the Sacramento River…kinda eerie if you ask me!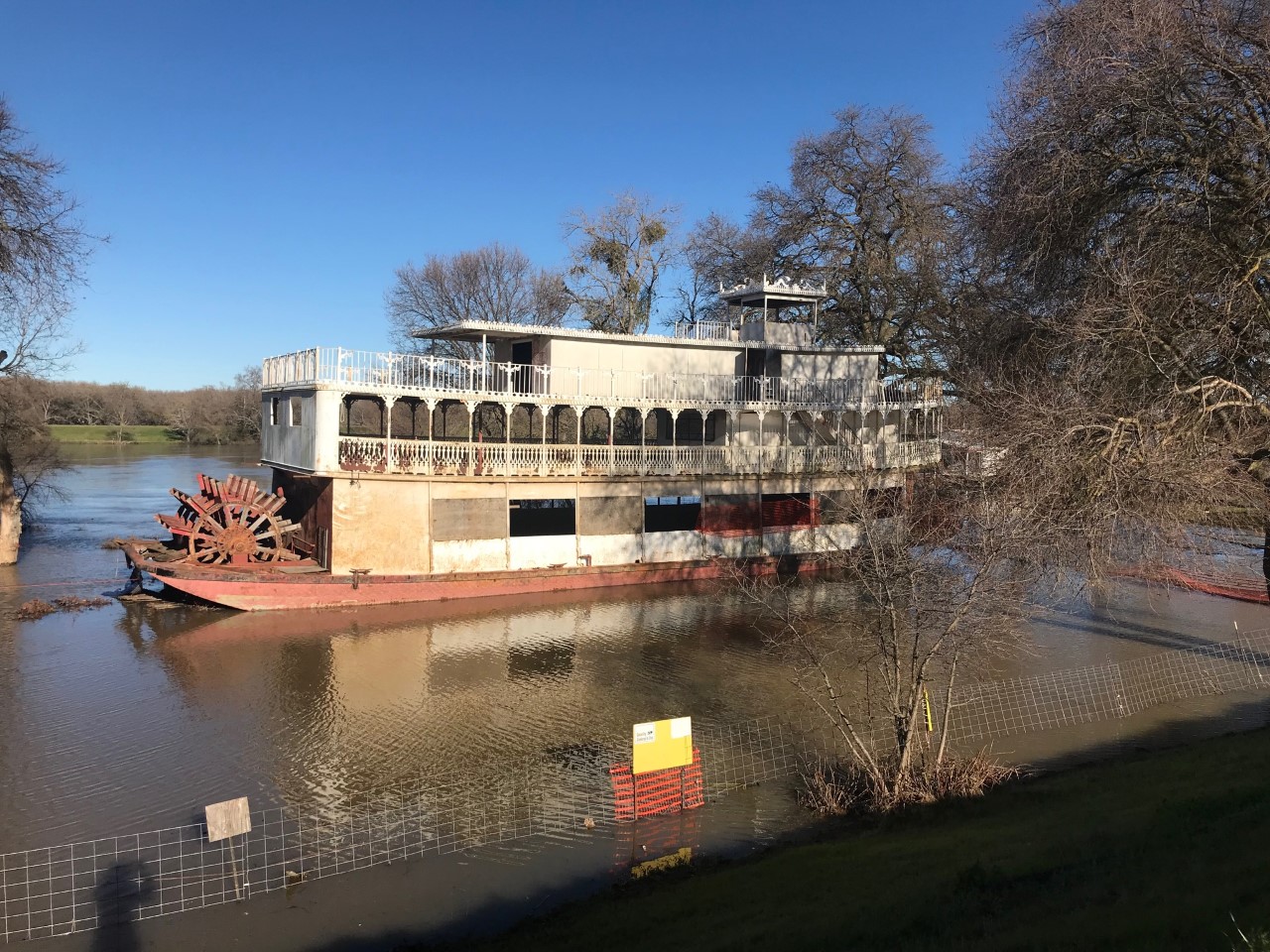 Next I went back downtown for brunch at a place Michael recommended called Iron Horse Tavern. I ordered myself a Mimosa and the Breakfast Board, which had egg, fruit, bacon, fresh peanut butter, toasted crostini and greek yogurt with honey ($20.51). It was unique and filling, I ate the whole thing!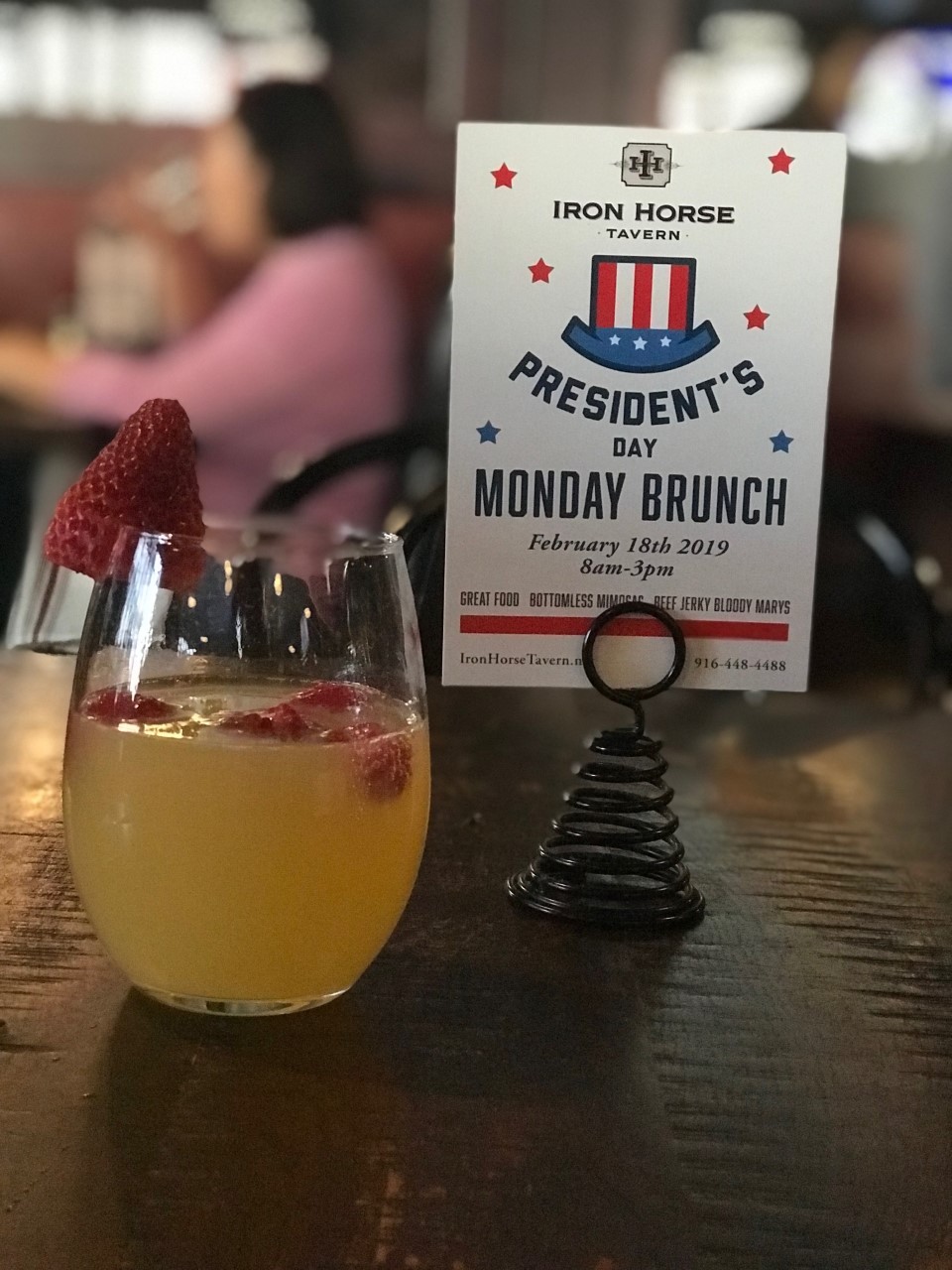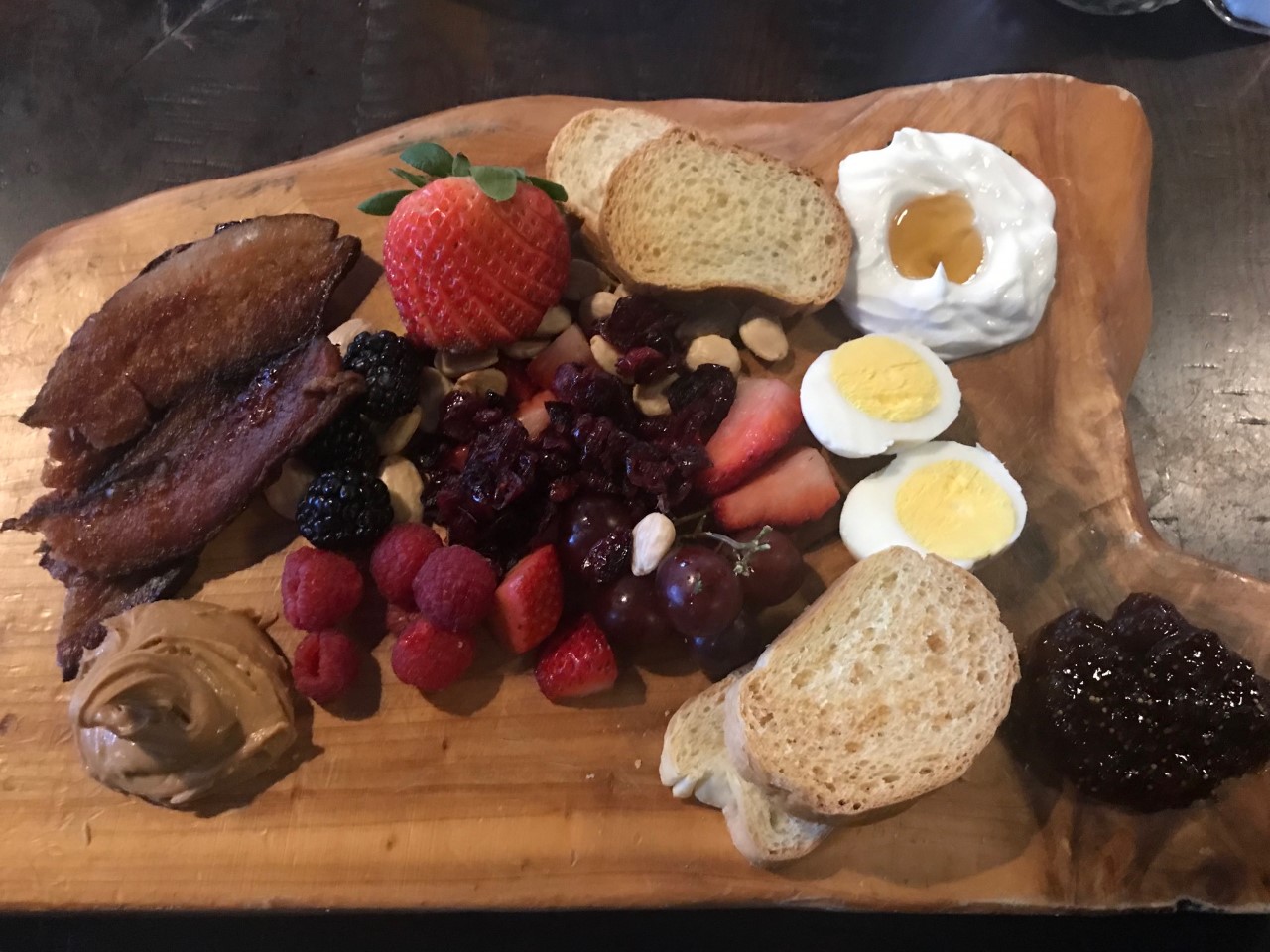 I had been wanting to try a different coffee shop, so I stopped at the most 5-star rated one called Old Soul Co. I saw a drink on the menu that was known as their specialty drink called the Mandarin Masaya ($7), which had 2 shots of espresso, ground ginger, turmeric and tangerine. It wasn't too sweet or too bitter, it really was one of the best and unique coffee drink I have had in a long time.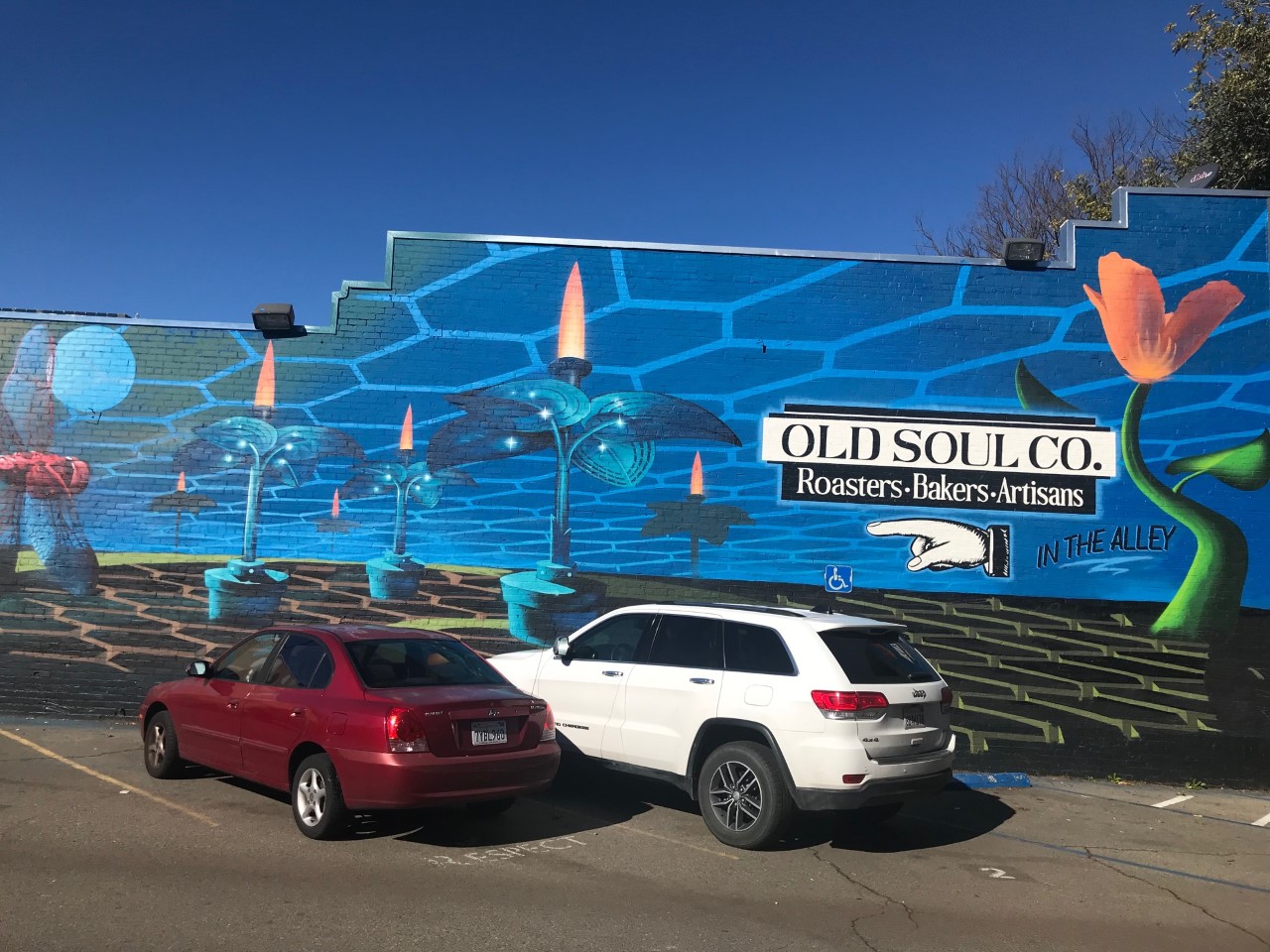 My next (and last) "bizzare spot" I checked out was a residence called the Dragon House in Curtis Park. It's awesome, I can't believe someone actually lives here! It has mosaics, mini topiaries and kinetic sculpture.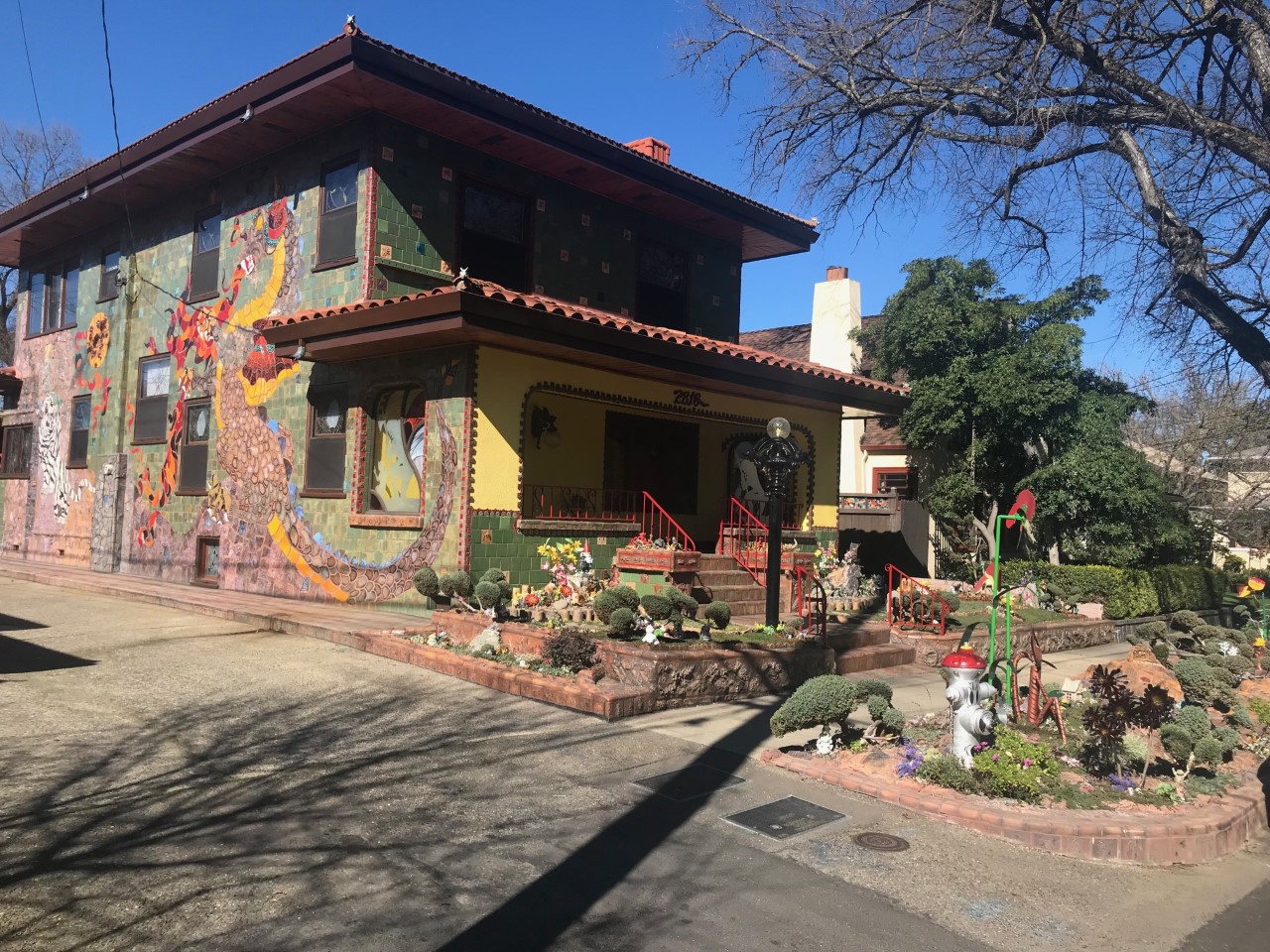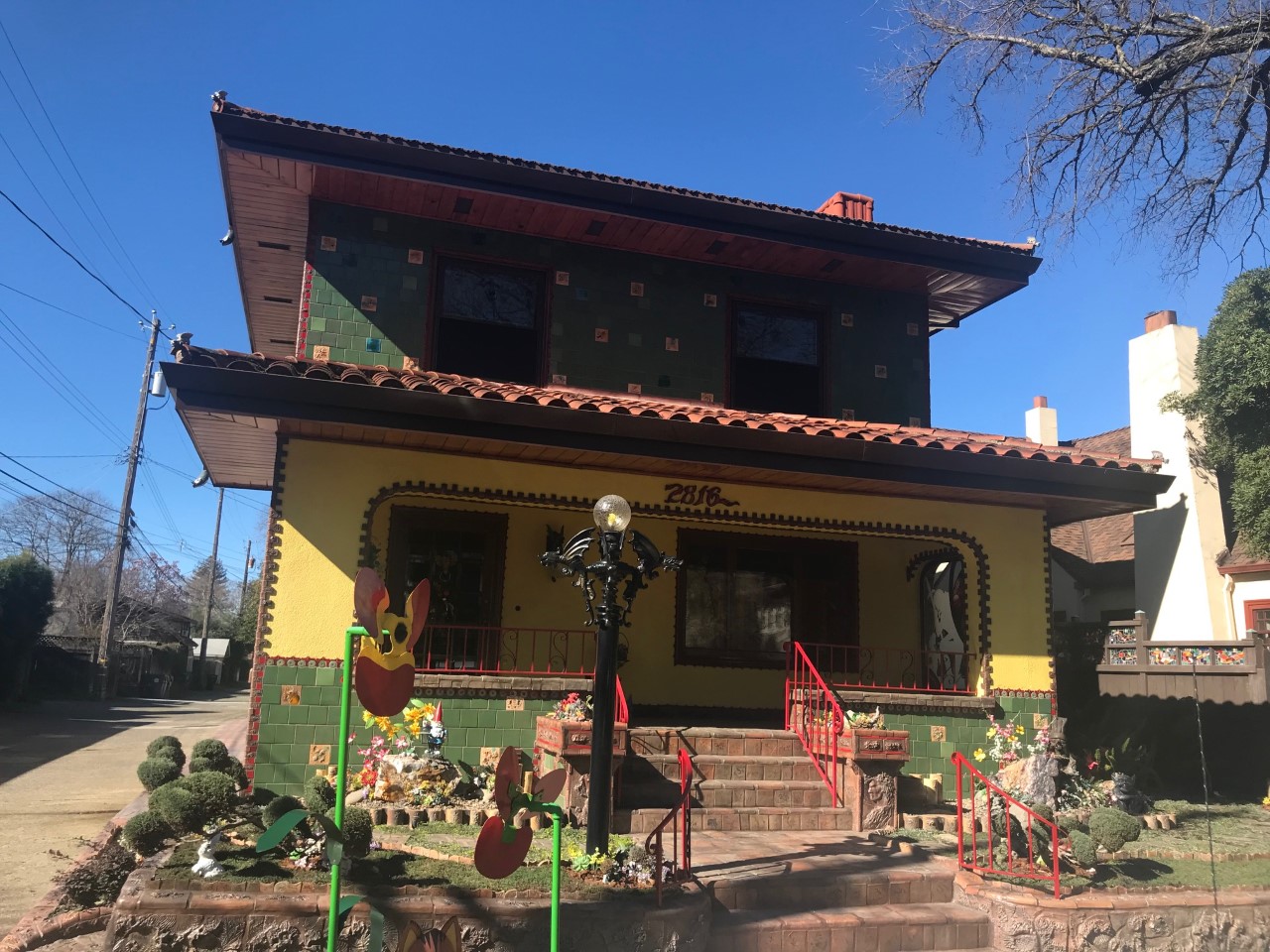 After snapping some photos I headed to the airport. While trying to land at LAX, the pilot had to abort the first landing because of too much tail wind. My stomach was doing flip-flops and I felt nauseous, the shaking was bad. It landed successfully on the second try. I had to go to the gas station and buy some ginger ale just to settle my stomach.
I hope you enjoyed my journey! Till next time! 🙂