Over the long Memorial Weekend, I decided to head east to Lake Arrowhead and Big Bear Lake in the San Bernardino Mountains.
Originally I was going to go to Portland, but with the Memorial Weekend travel prices being so high, I decided to stay local. I am also going somewhere extra special for my birthday in July and wanted to save money for that trip, so stay tuned! 🙂
Big Bear Lake
To get to Big Bear, you take Highway 330 through the San Bernardino Mountains. From my home in Oxnard to Big Bear, it took me about 3 hours to drive in my rental car. The views were stunning and I have never seen so many yellow wildflowers in my life!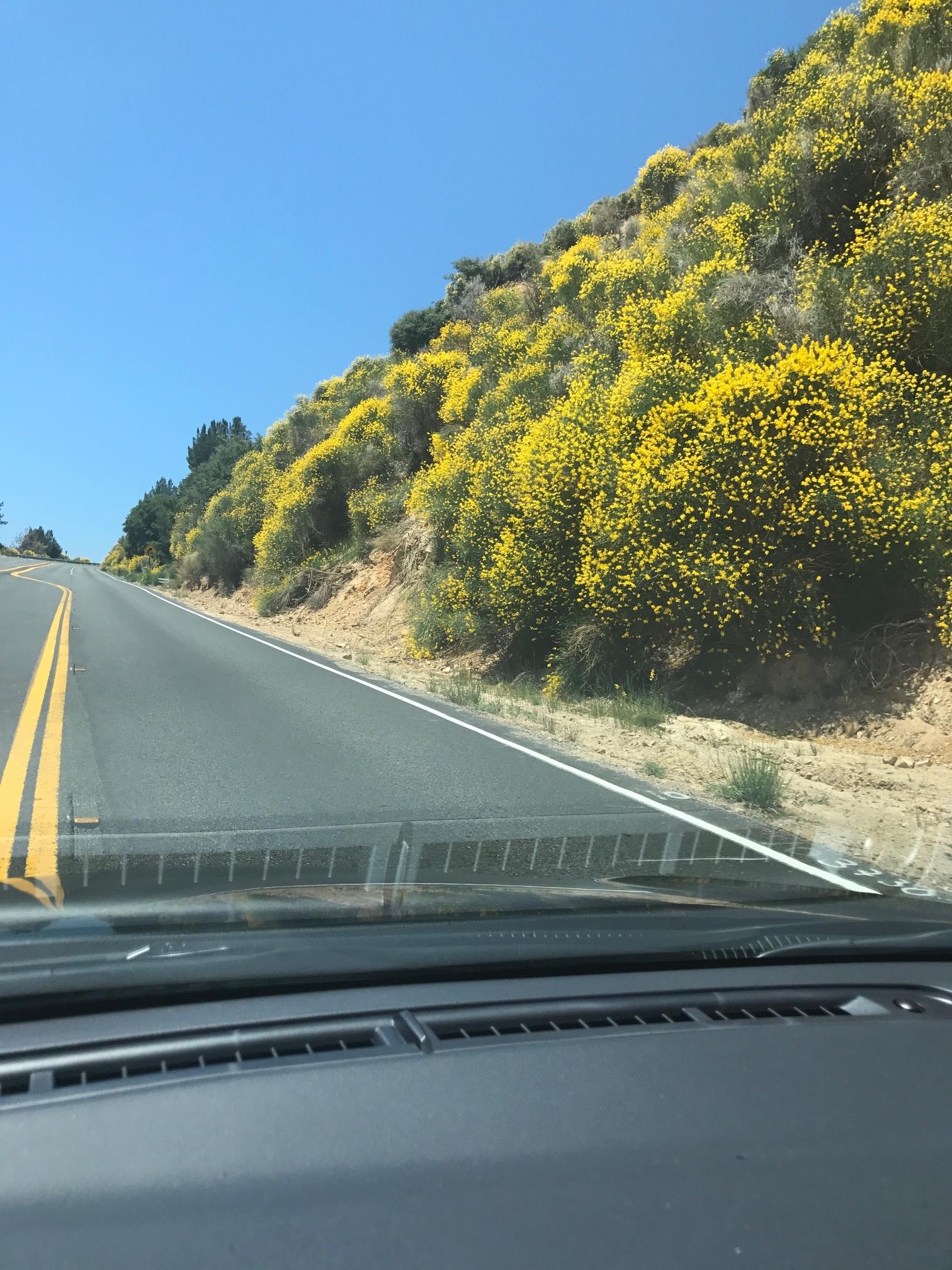 At the top, you reach an elevation of 7,112 feet above sea level. In the distance in the first photo below, you can see Big Bear Lake. The others are views of the San Bernardino Mountain range.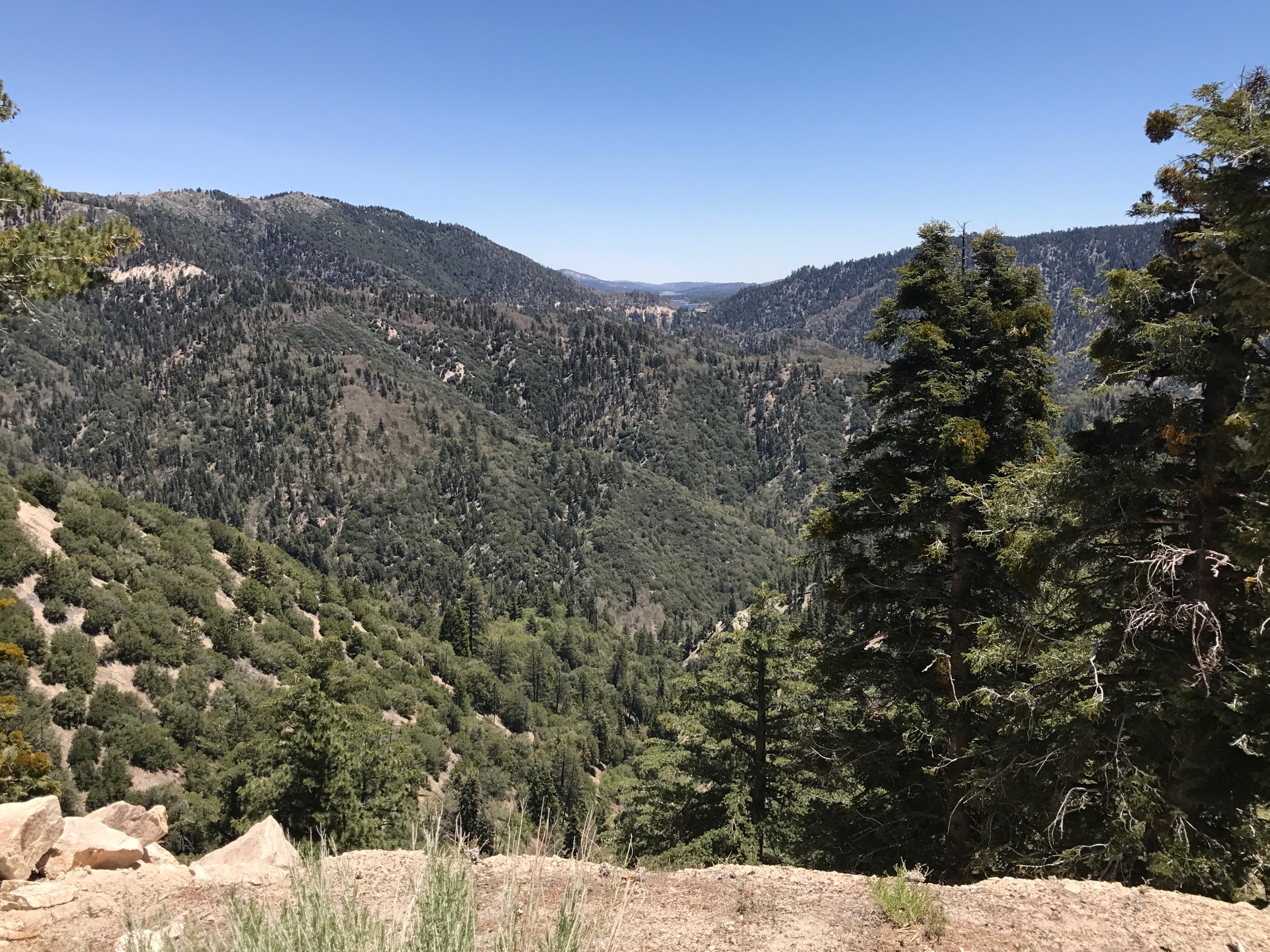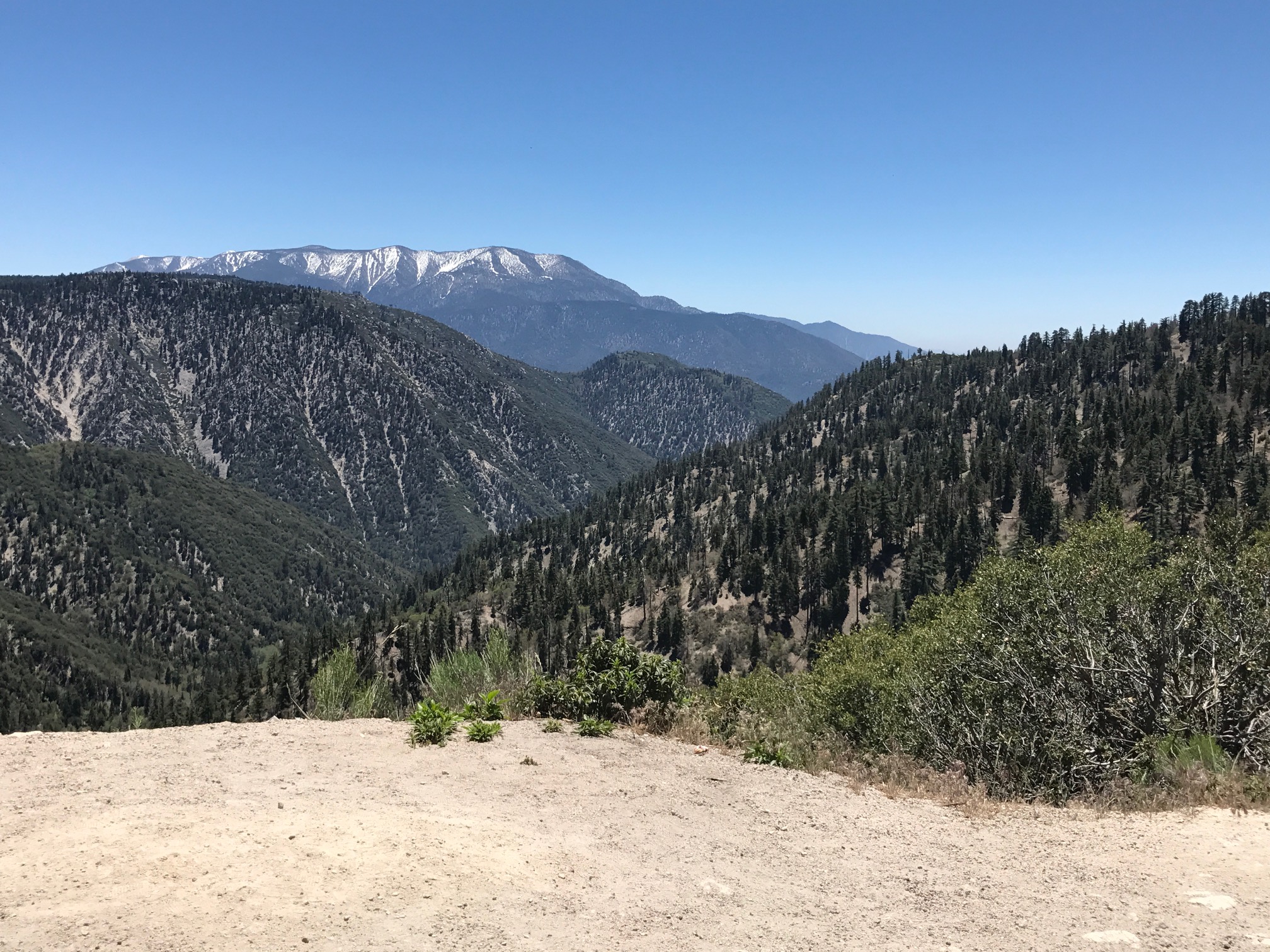 Once I entered Big Bear, I was blown away with how gorgeous the lake was and how many boats that were on it. The lake is about 7 miles long, 72 feet deep, open to the public and is a man made. You can read more about the history here.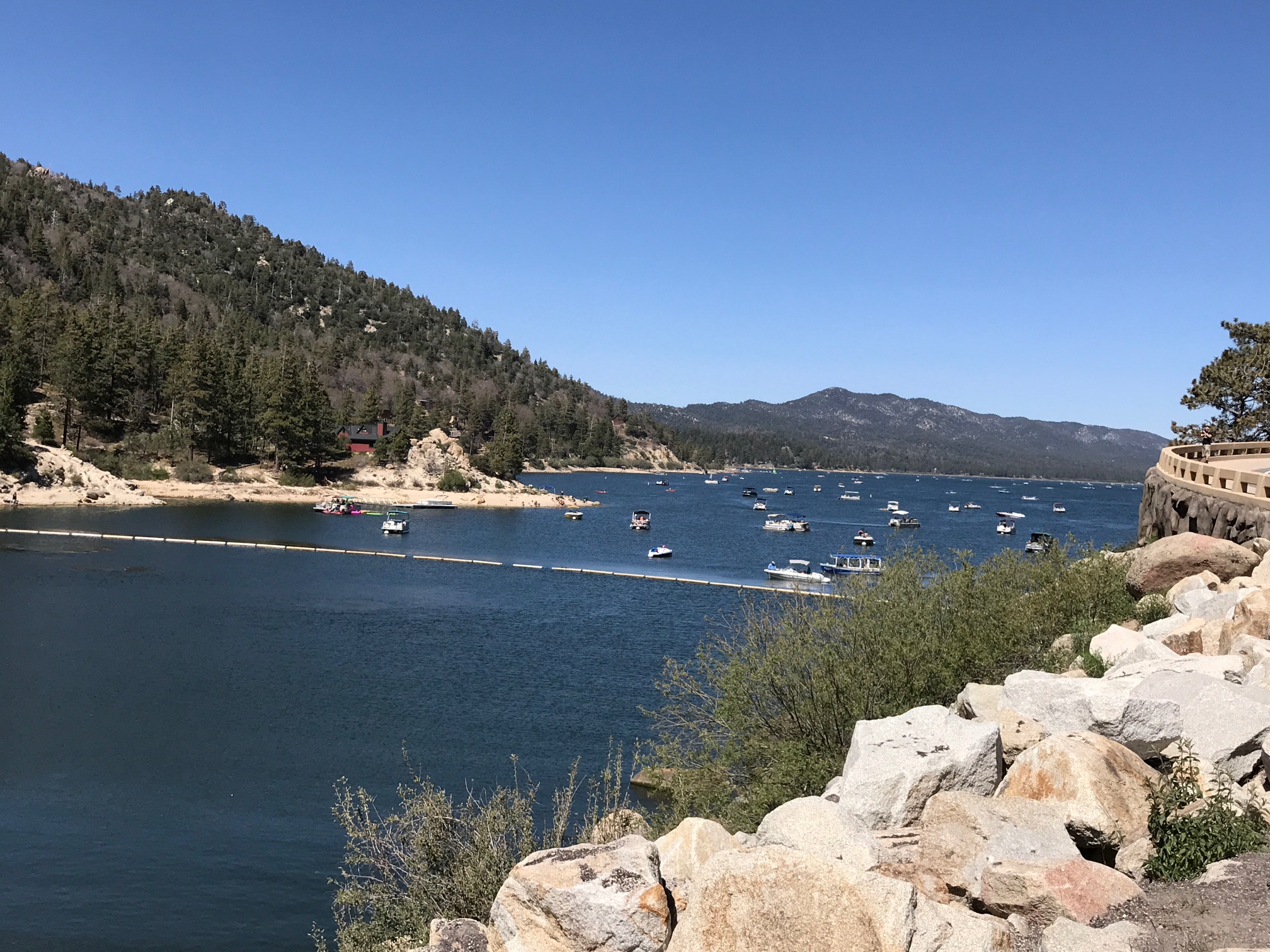 Since I couldn't check in for another couple of hours at my resort, I entered the The Village (basically downtown), which has a ton of cute little shops, restaurants and entertainment, and made my way to Big Bear Lake Brewing Company, you guys know how much I love my breweries!
I ordered a beer sampler (the Porter was my favorite) and a California Salad with spring greens tossed in a rasberry orange balsamic vinaigrette, chicken, apples, bleu cheese, dried cranberries and candied pecans served with warm Naan bread. The bar staff by the way are super funny and helpful!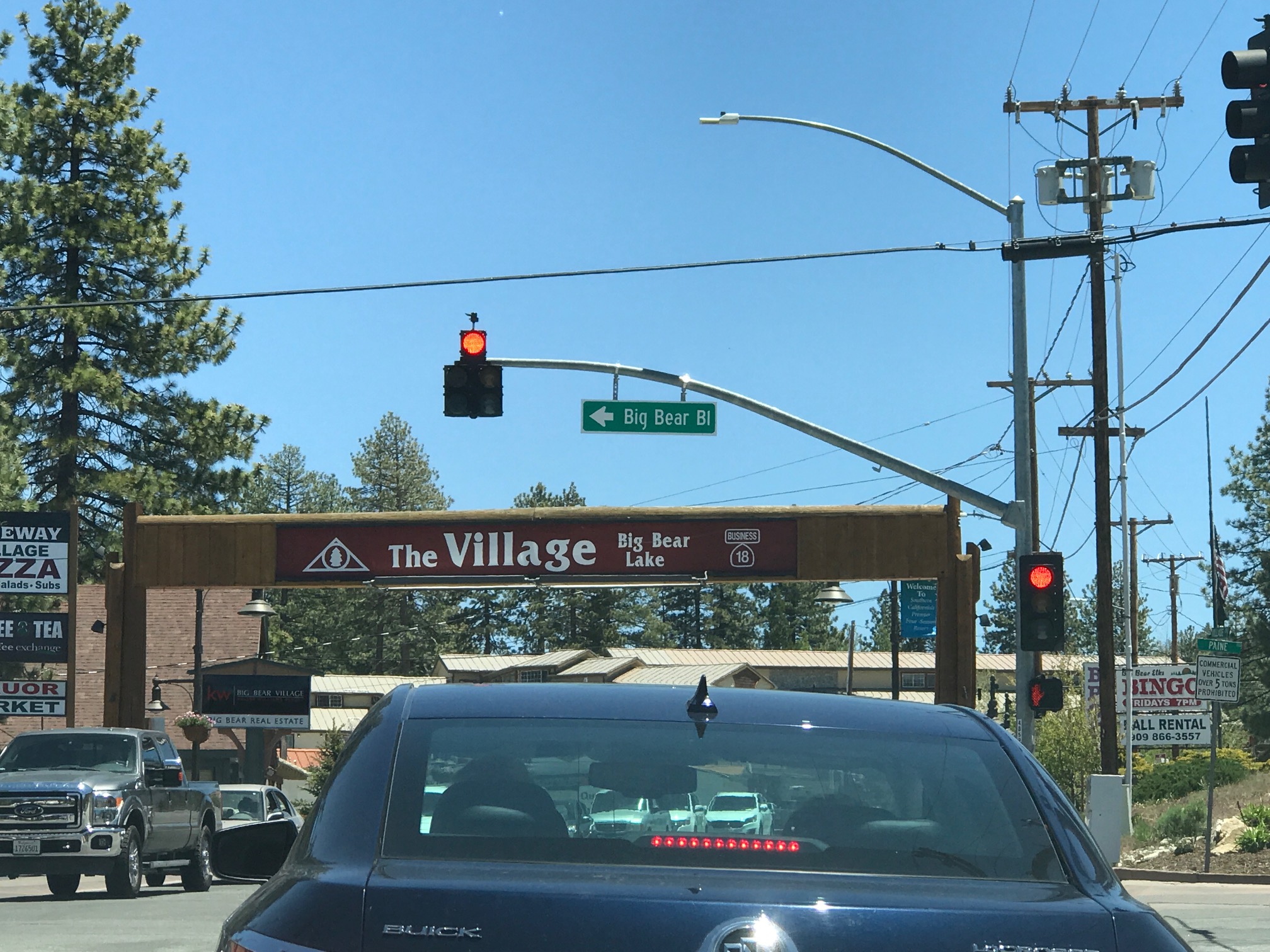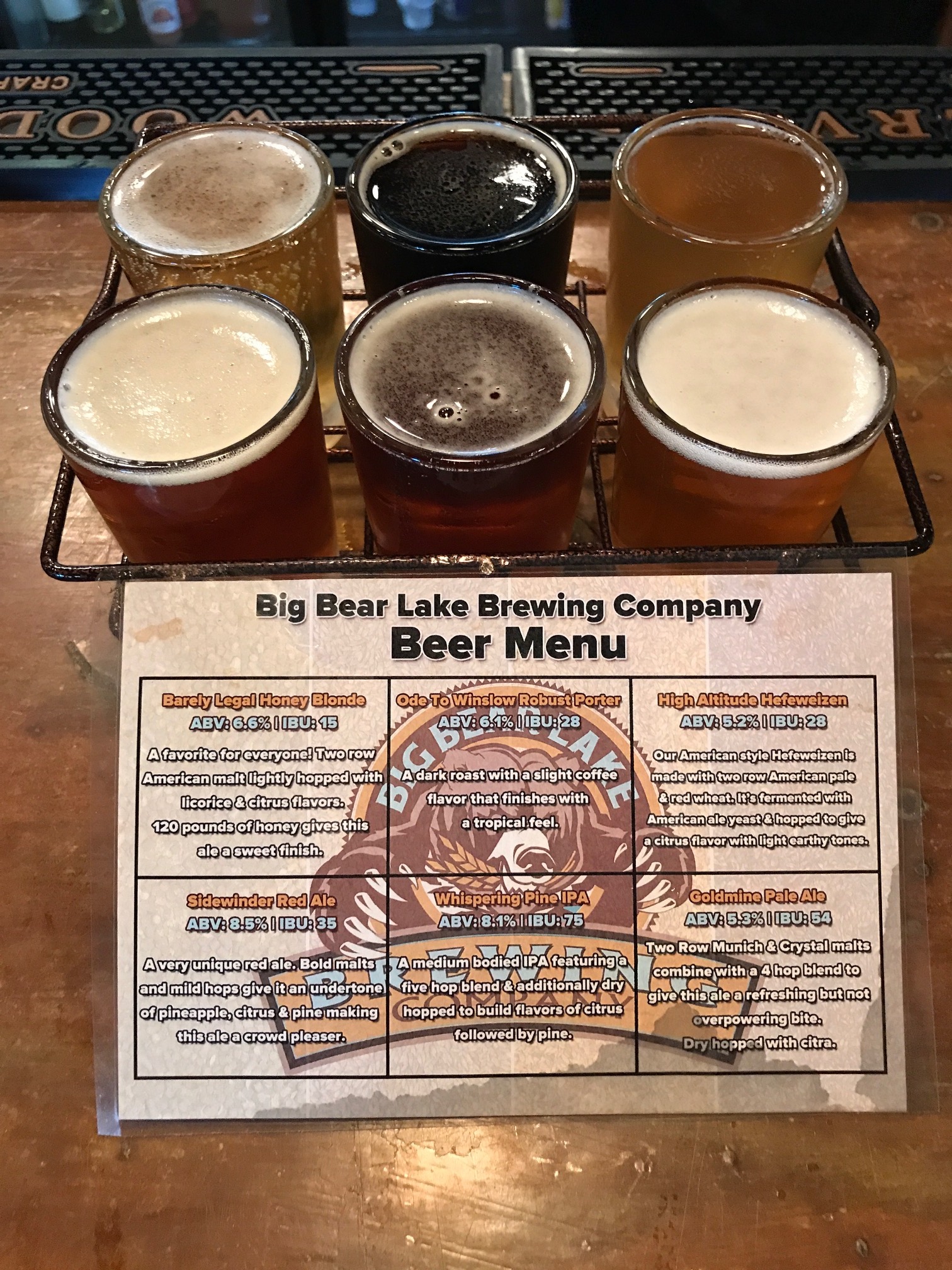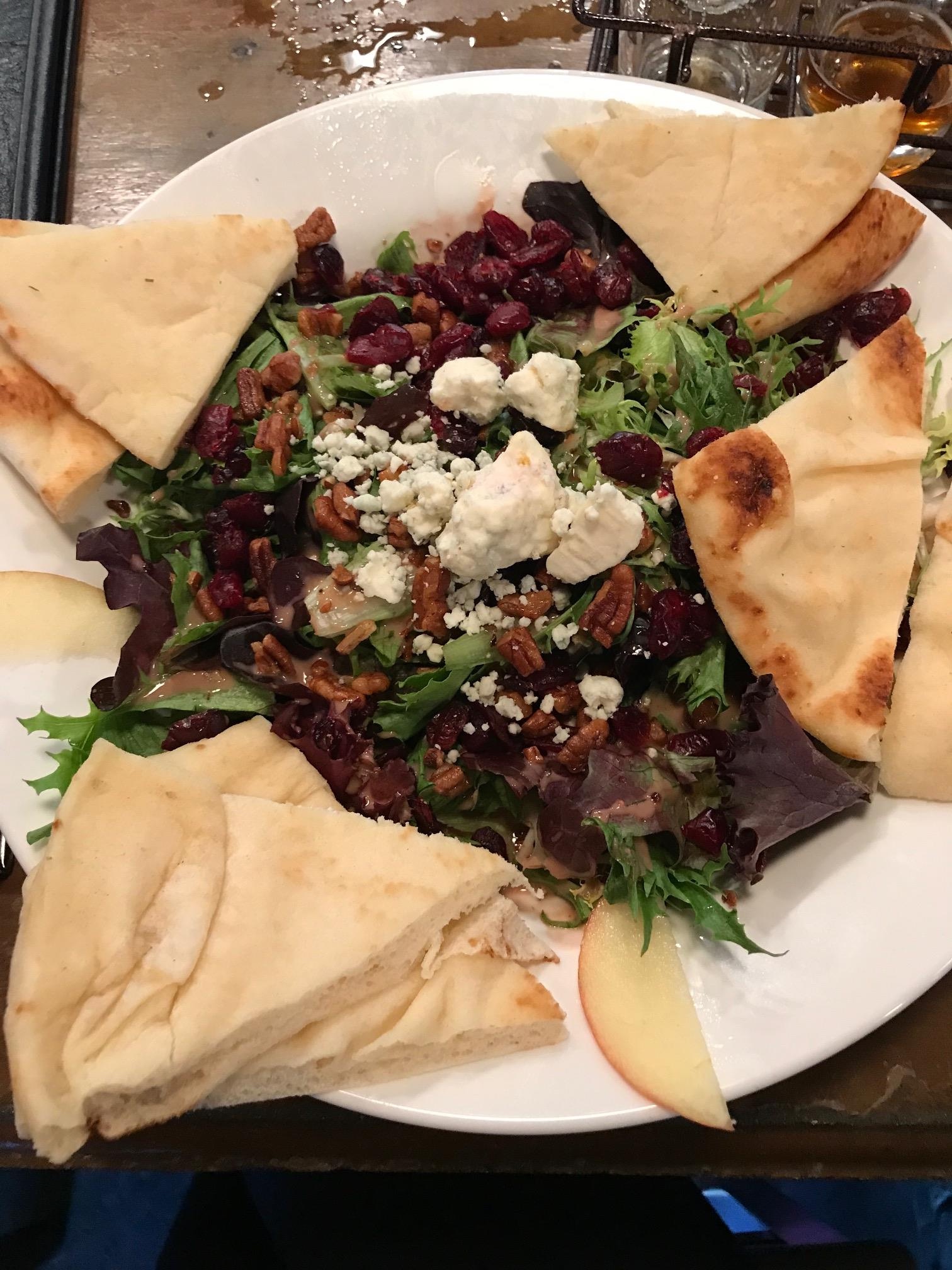 Later, I checked in at Wolf Creek Resort not too far from The Village and I must say the beds and room were quite comfy! I even had a wolf watching over me at night. The resort also has a wine room, which I didn't have time to check out since I was on the go, so if you stay here, let me know how it is!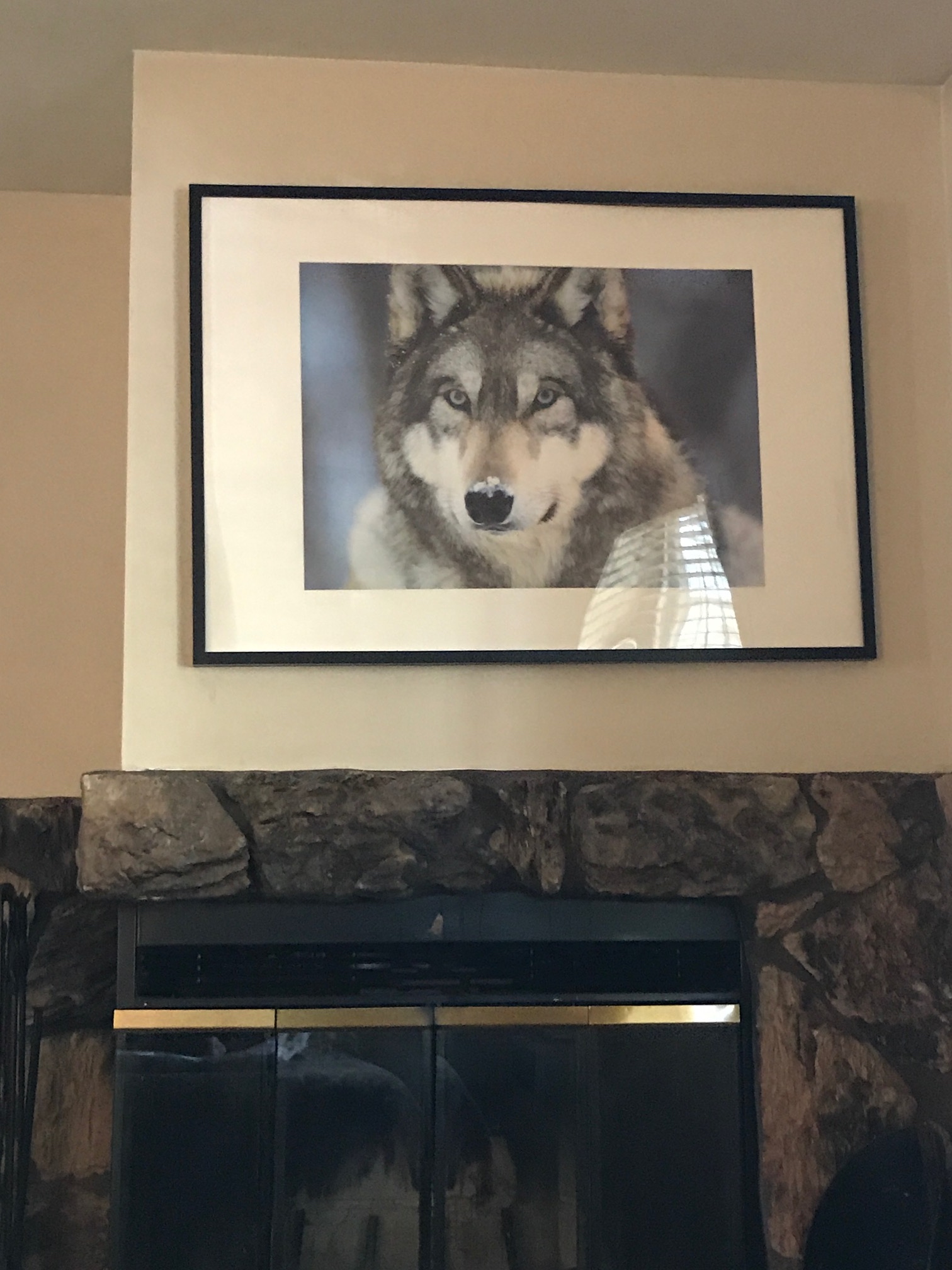 Later that night I freshened up and went to Nottinghams Tavern and sat outside on the patio, which was very cozy and charming. I splurged and ordered the Tortellini ($19) since I had chicken and greens earlier for lunch. The dish has tri-colored cheese tortellini in a kale pesto cream sauce, artichoke hearts, sun dried tomatoes, spinach and parmesan cheese. It was pretty tasty and not too salty, which I loved, and the sauce wasn't too heavy either!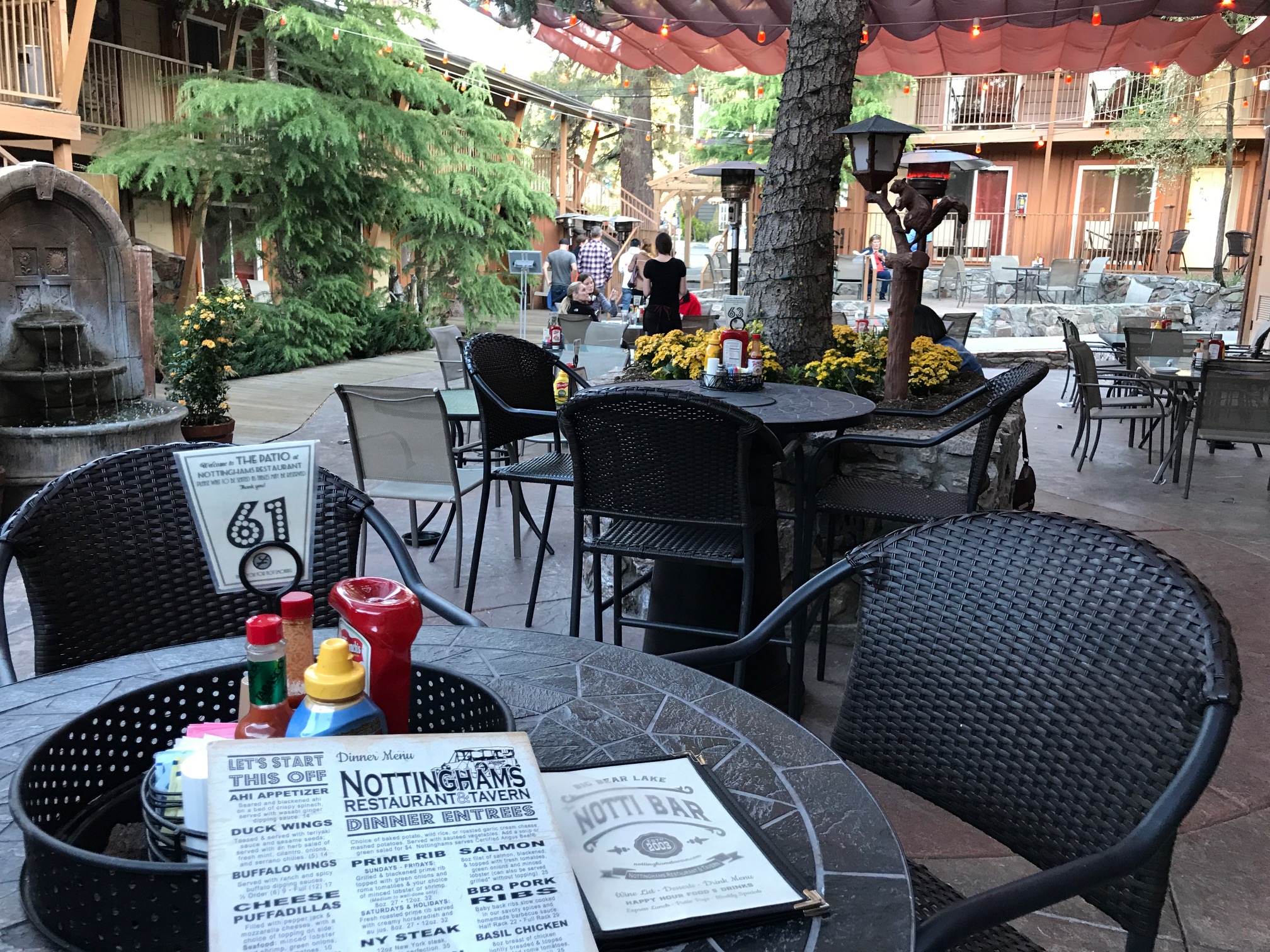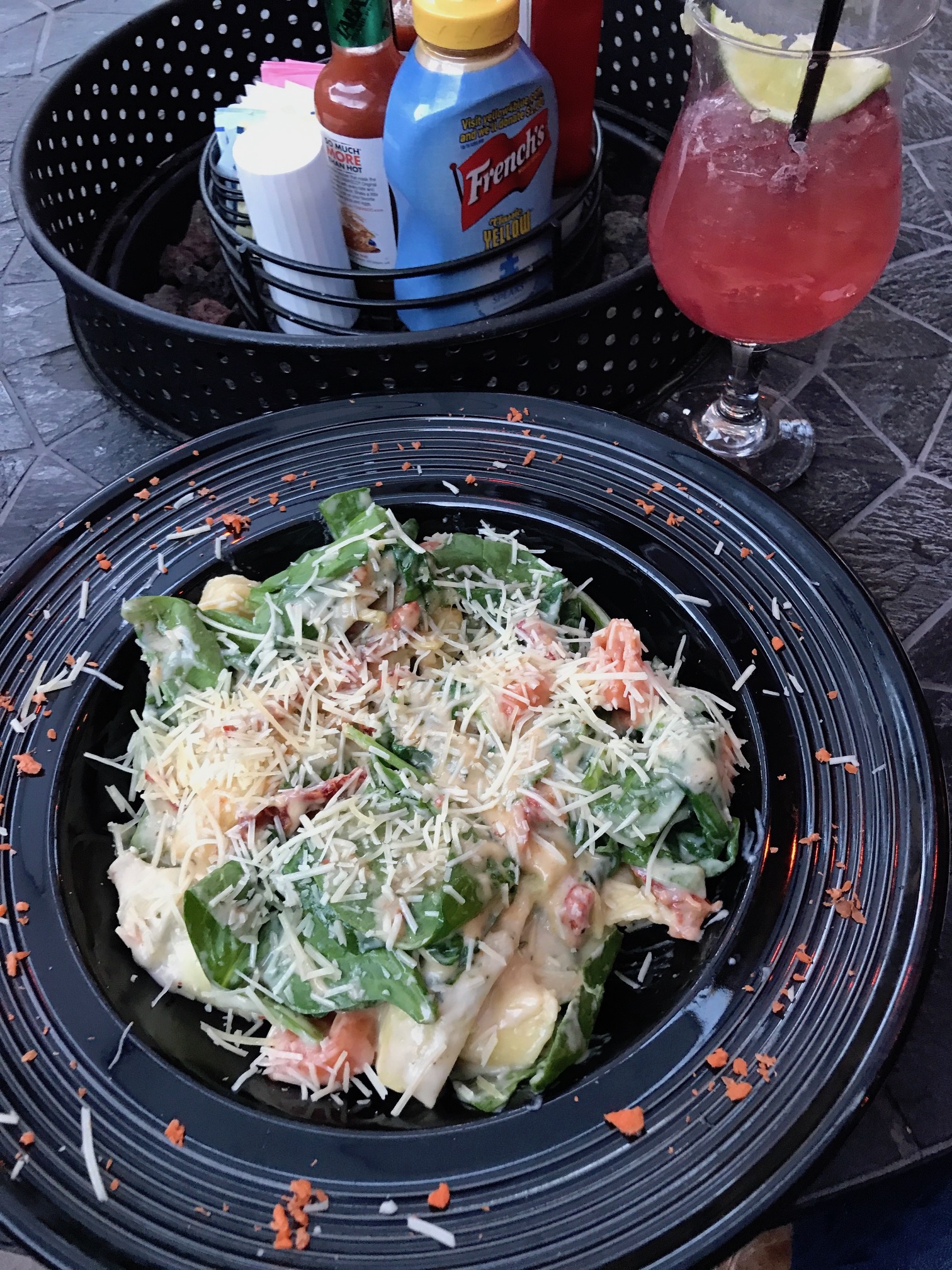 After dinner I went to bed at 8:30 p.m. I know, early evening for me! I was so tired from driving that I wanted to get a head start first thing in the morning.
When I woke up on Sunday morning, I went to Grizzly Manor Cafe, which was right across the street from where I was staying. Literally everyone I talked to in town told me to go here for breakfast and to get to the cafe super early because that is how popular it is! I got there at 7:15 a.m. and was seated by 7:30 a.m. It's a small cafe atmosphere with a ton of cool stickers posted everywhere, but has super friendly staff and customers!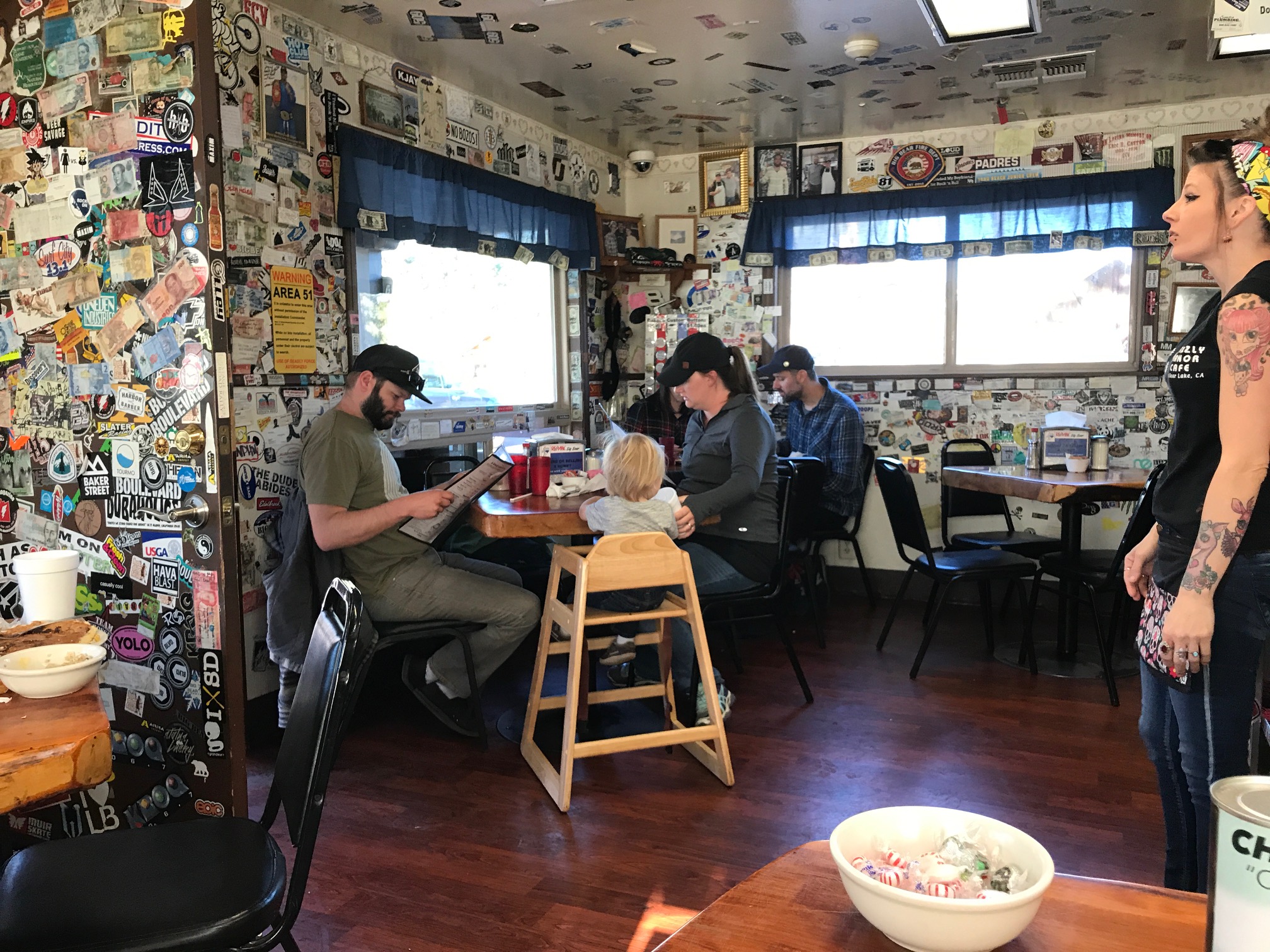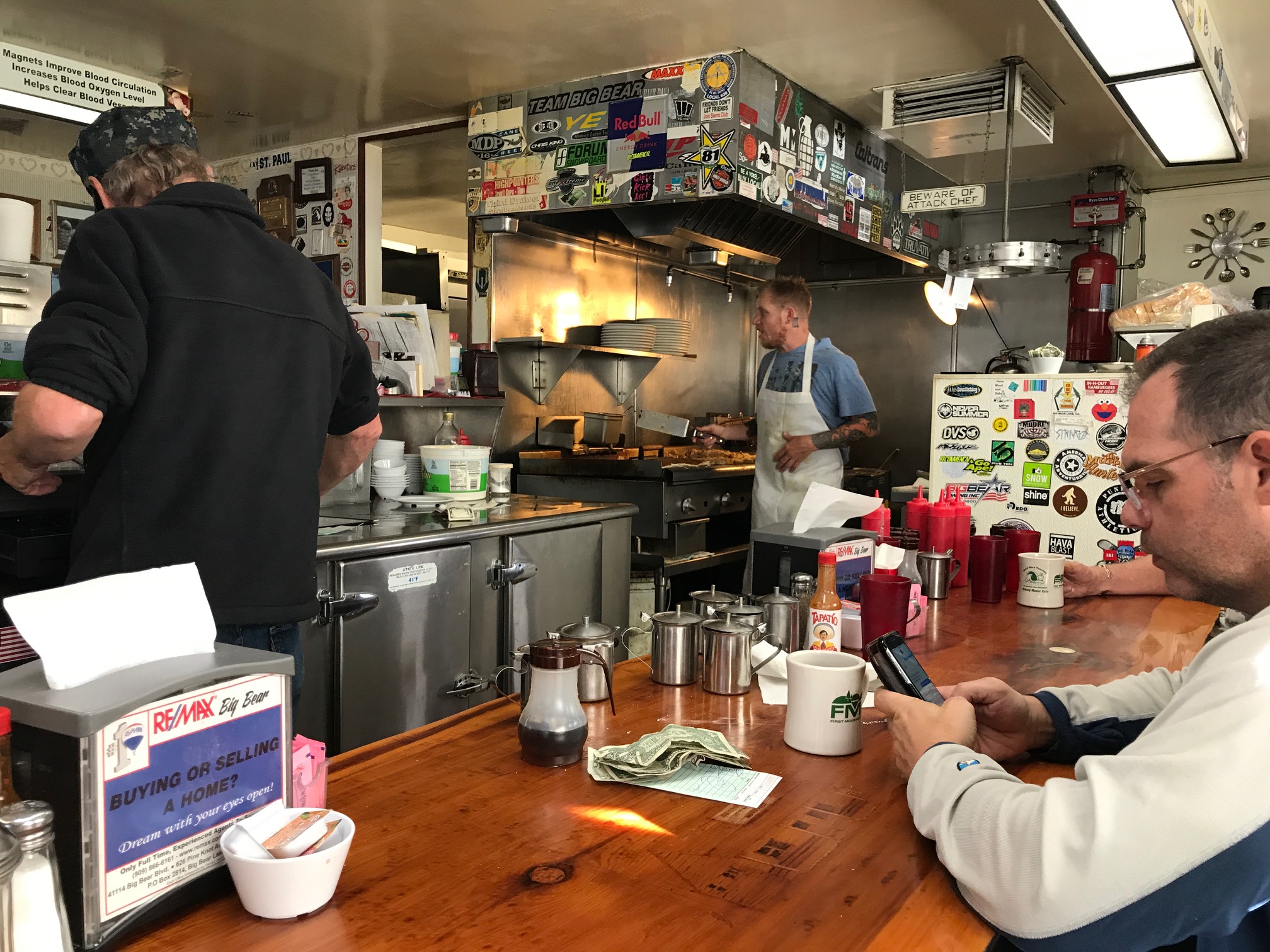 The cafe is known for their huge pancakes, but I decided to order Cinnamon French Toast with a side of hash browns and an over hard egg. I haven't had French Toast this good since Denver or maybe even my dad's French Toast? It was pure heaven, thick delicious bread. This place is an absolute must if you go to Big Bear!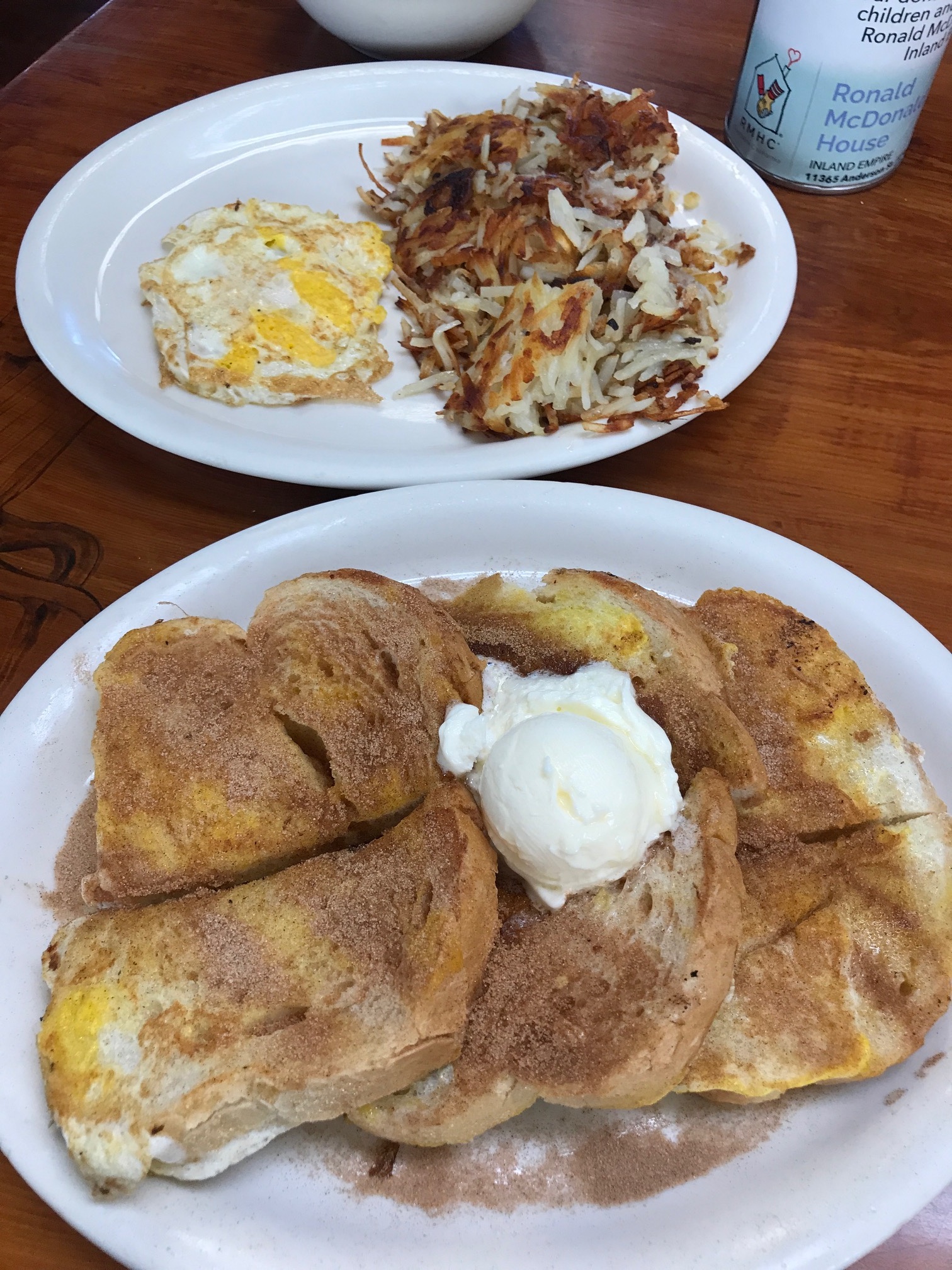 Later in the day after I came back from my brief adventure in Lake Arrowhead (see below in the "Lake Arrowhead" section), I immediately went to Snow Summit at Big Bear Mountain Resort to ride the sky chair. I have not been on a ski lift since Park City, Utah, when I was moving from Minneapolis to LA in August 2010. They are so much fun that I had to go on one.
The tickets are only $24/person and you can purchase them prior here. The ride from bottom to top and vice versa is 9 1/2 minutes…and the scenery? Breathtaking. Amazing. Gorgeous. Words can't describe it.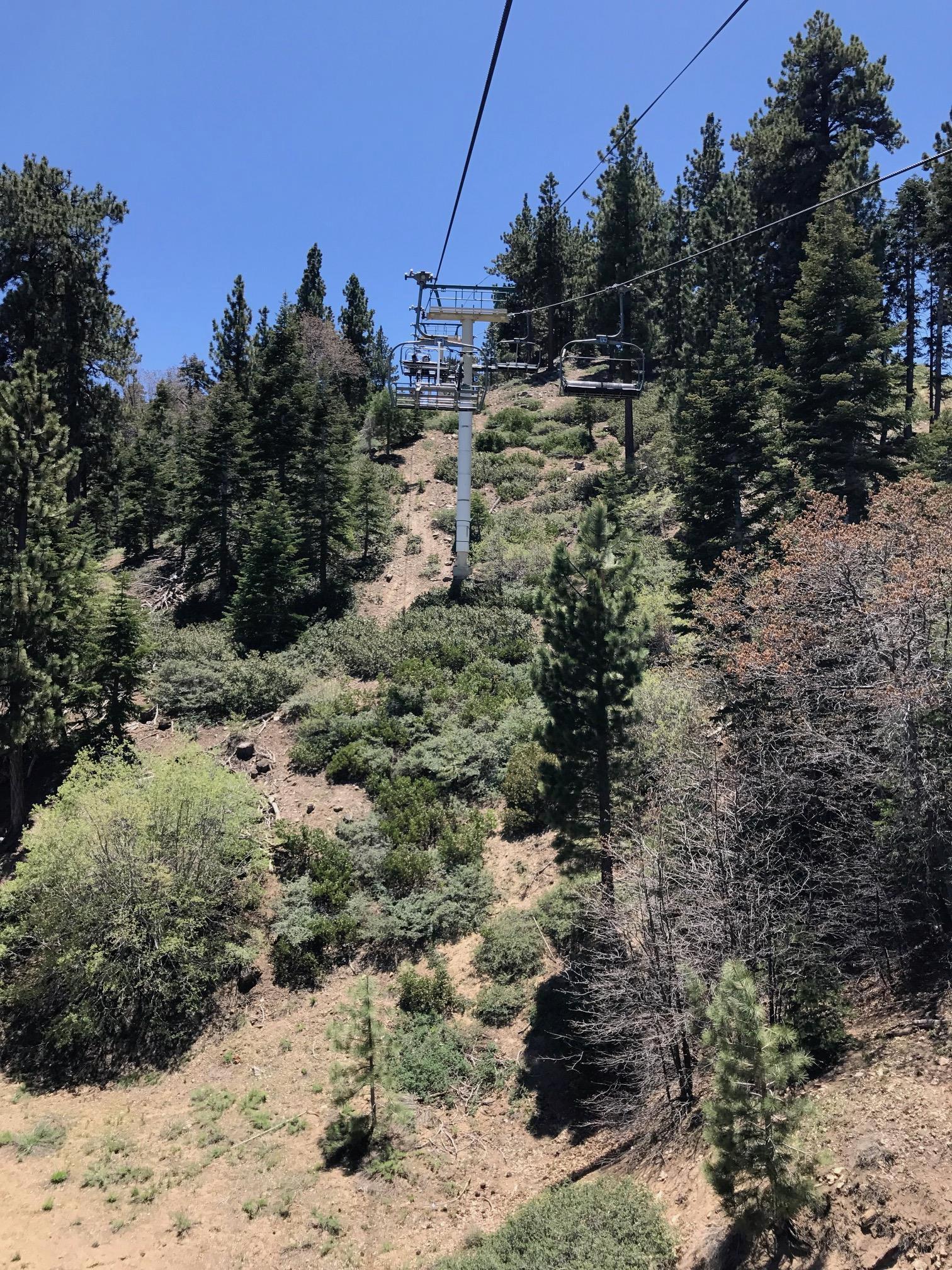 These next two photos were takin at the top of the summit, where you can hike and mountain bike. There were a ton of talented bikers! I took a brief hike and found myself a pine cone to take home as a memory. There is also a cafe and bar at the top. I had myself a Bloody Mary and a Chicken Cesar Salad.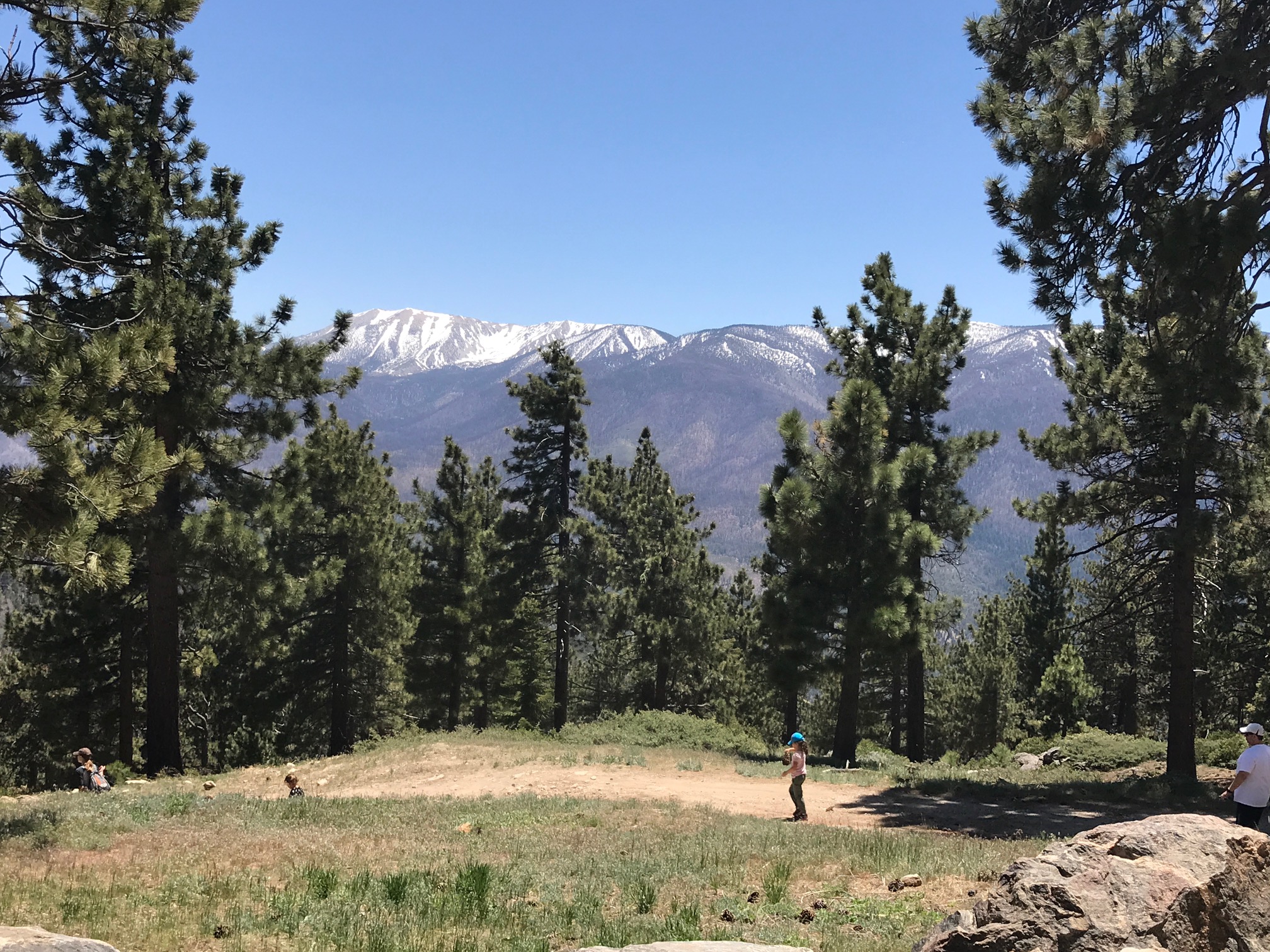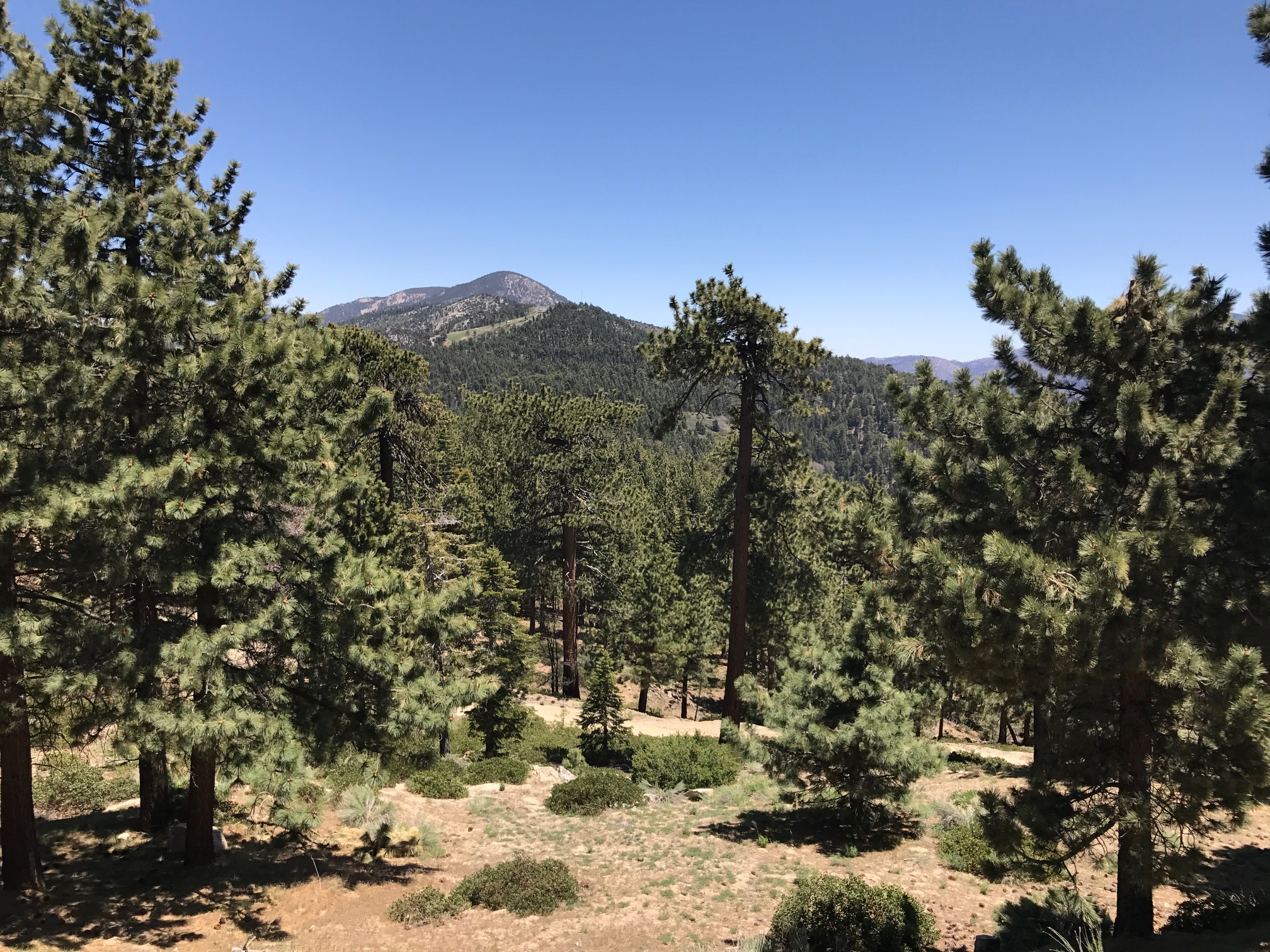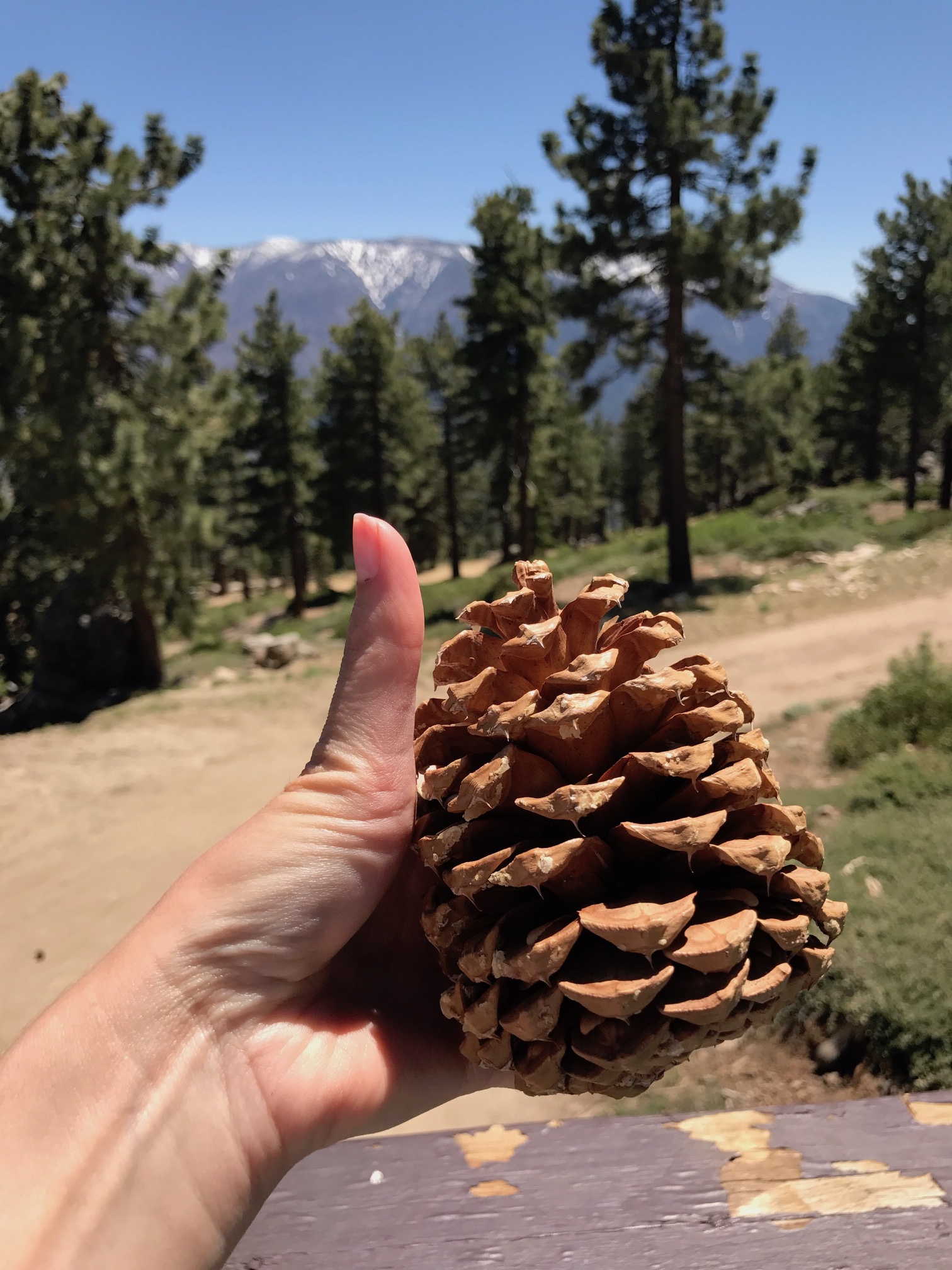 These next two shots are of Big Bear Lake and then a view to the east near Big Bear City.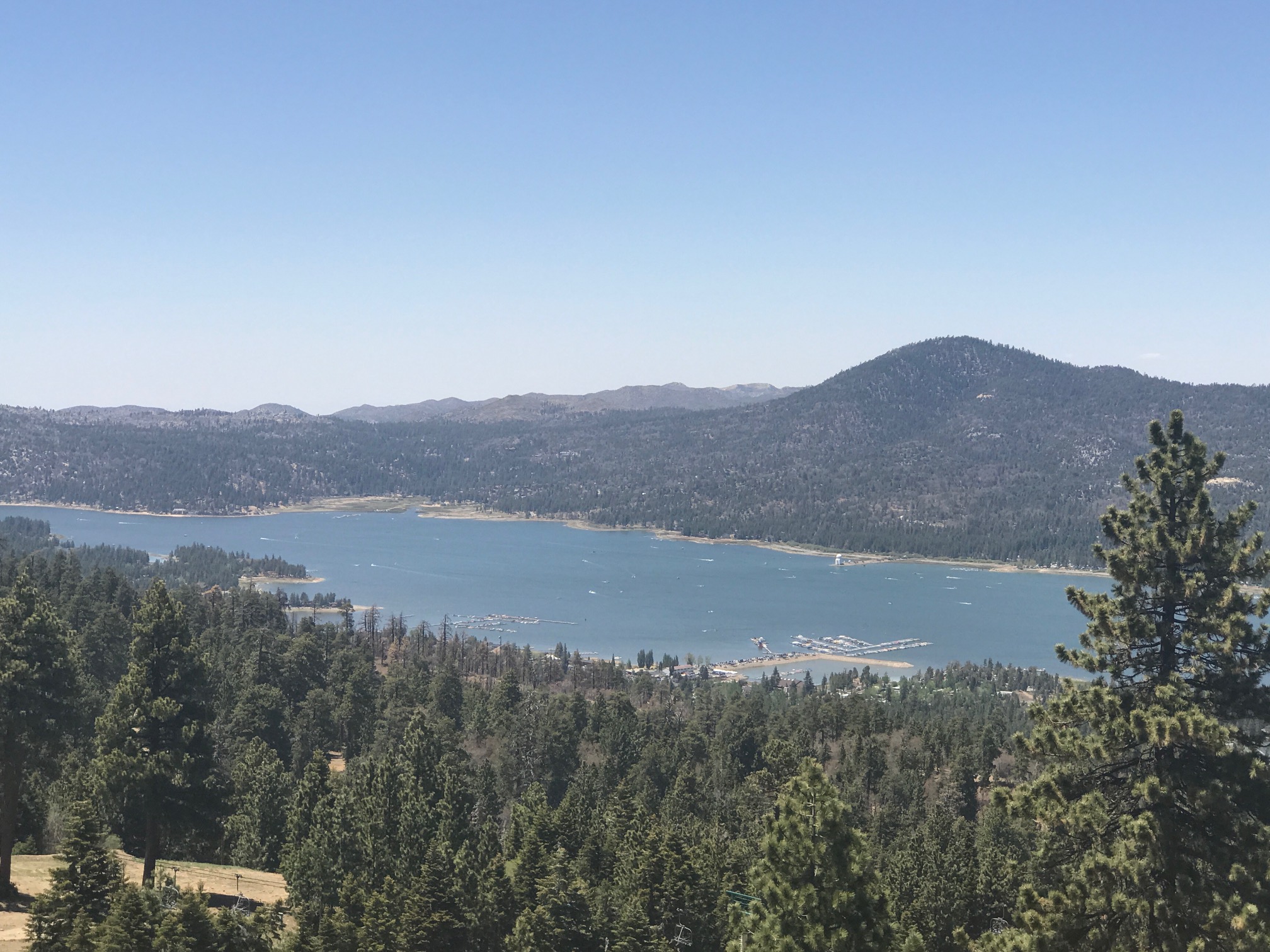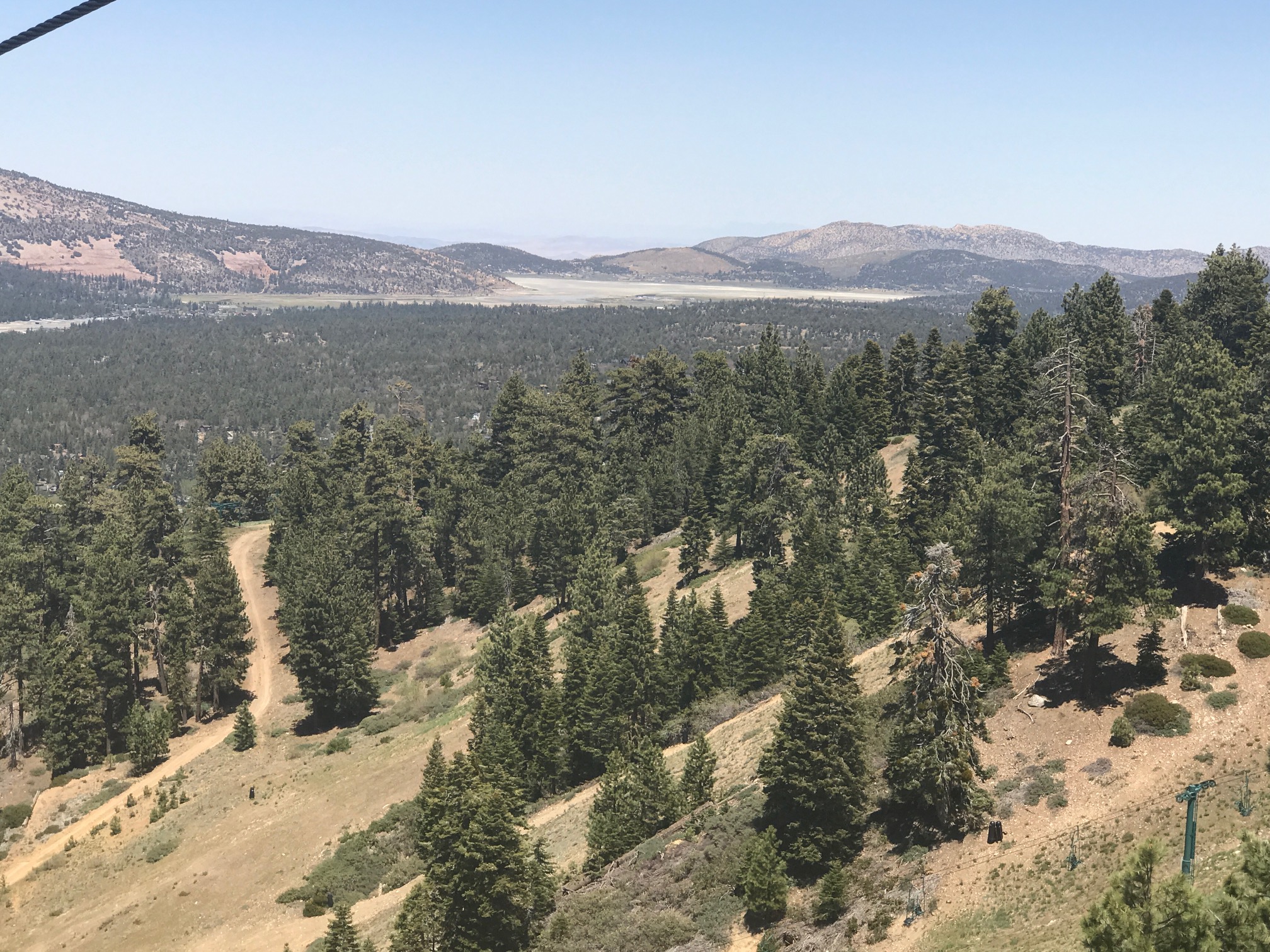 Once I got down, I drove over towards Big Bear Alpine Zoo, a "rehabilitation facility offering injured, orphaned and imprinted wild animals a safe haven; temporarily while they heal or permanently as they are unable to survive on their own." According to the website, "90% of all the animals brought in for rehabilitation are successfully released back into their native environment. Those that remain at the zoo that are on exhibit are either too injured or have been imprinted by humans and cannot be released back into the wild to care for themselves." So nice and sweet!
Below are photos of just some of the wildlife I saw: red foxes, bald eagles and a grey wolf.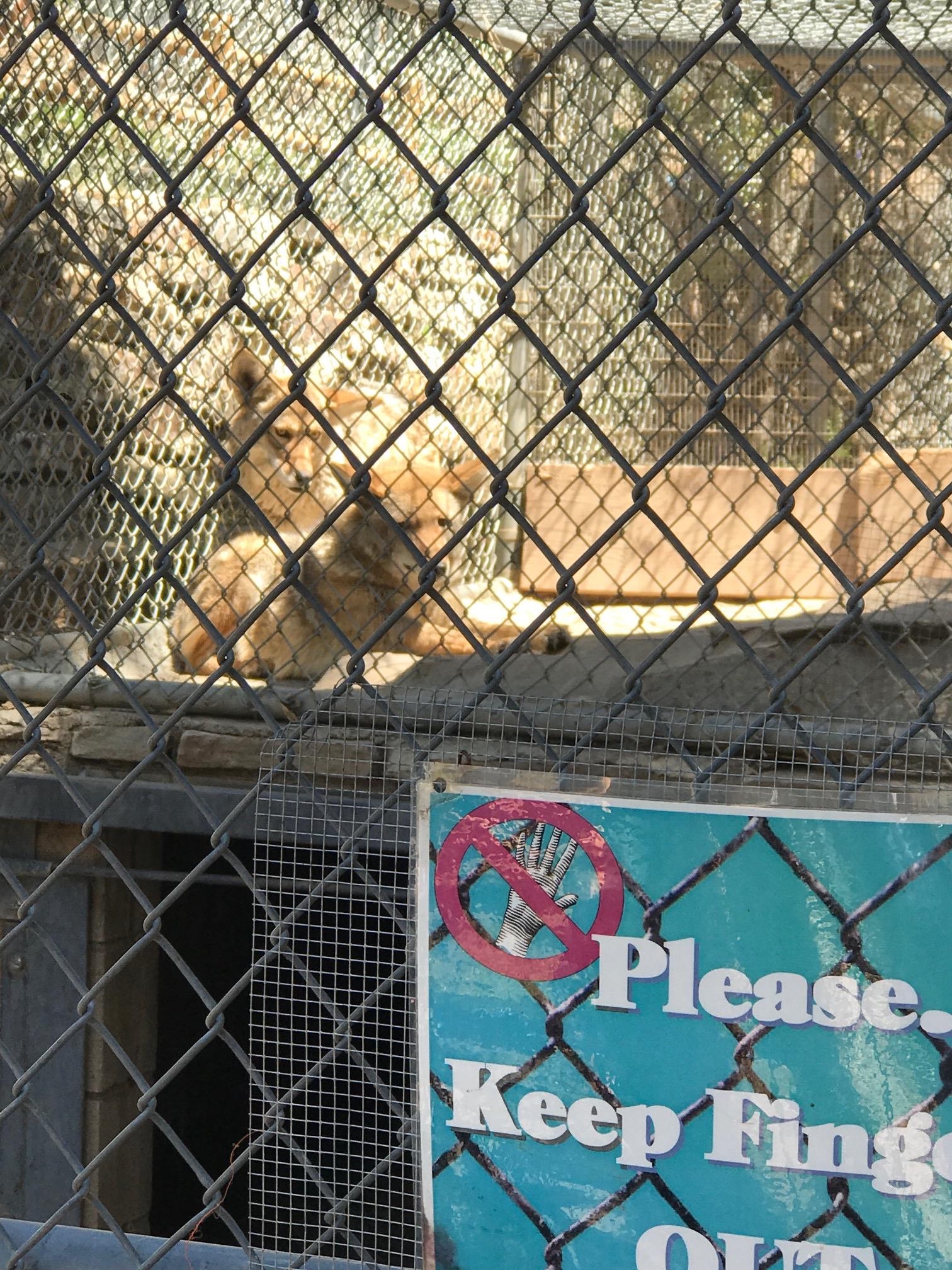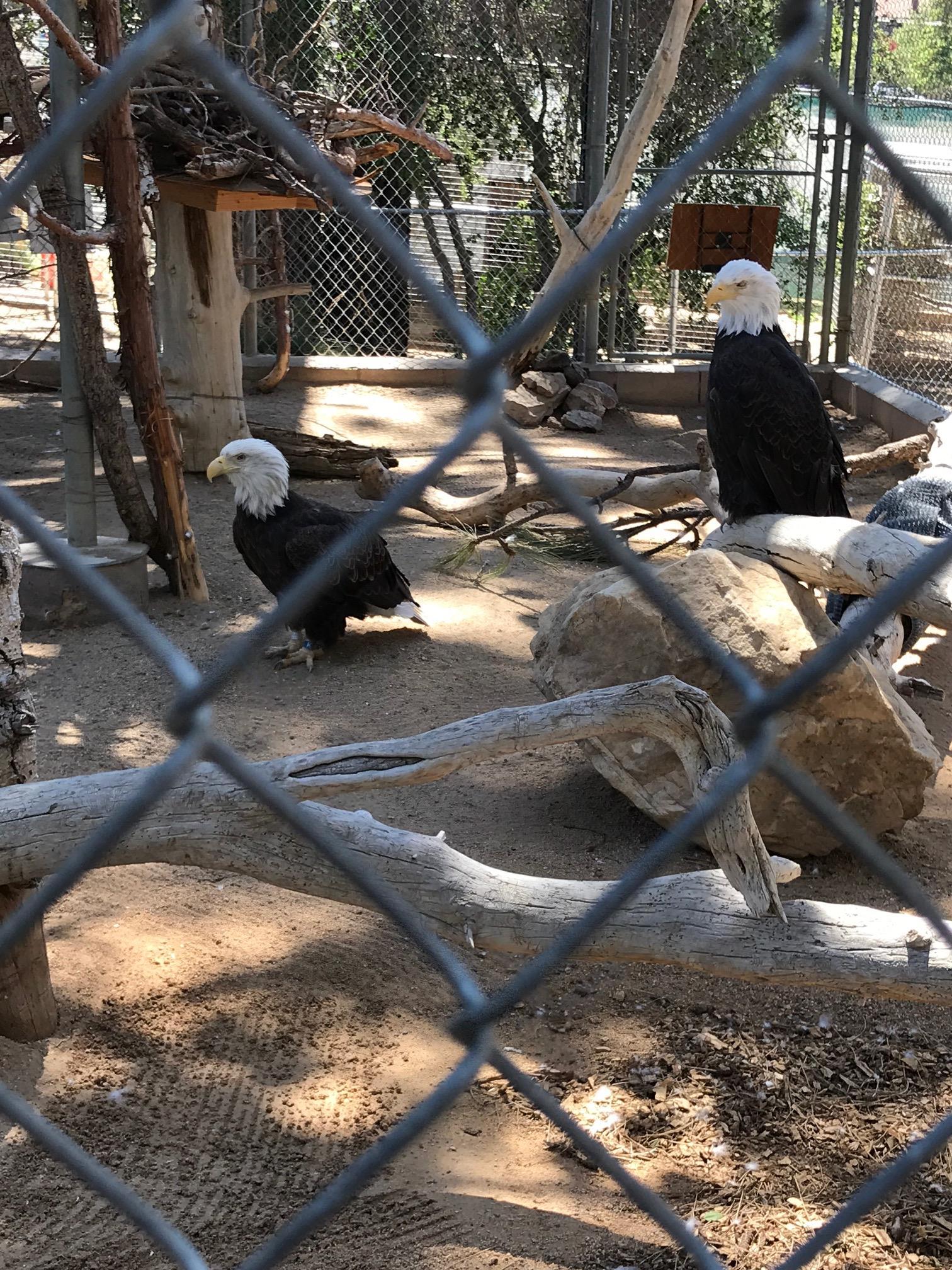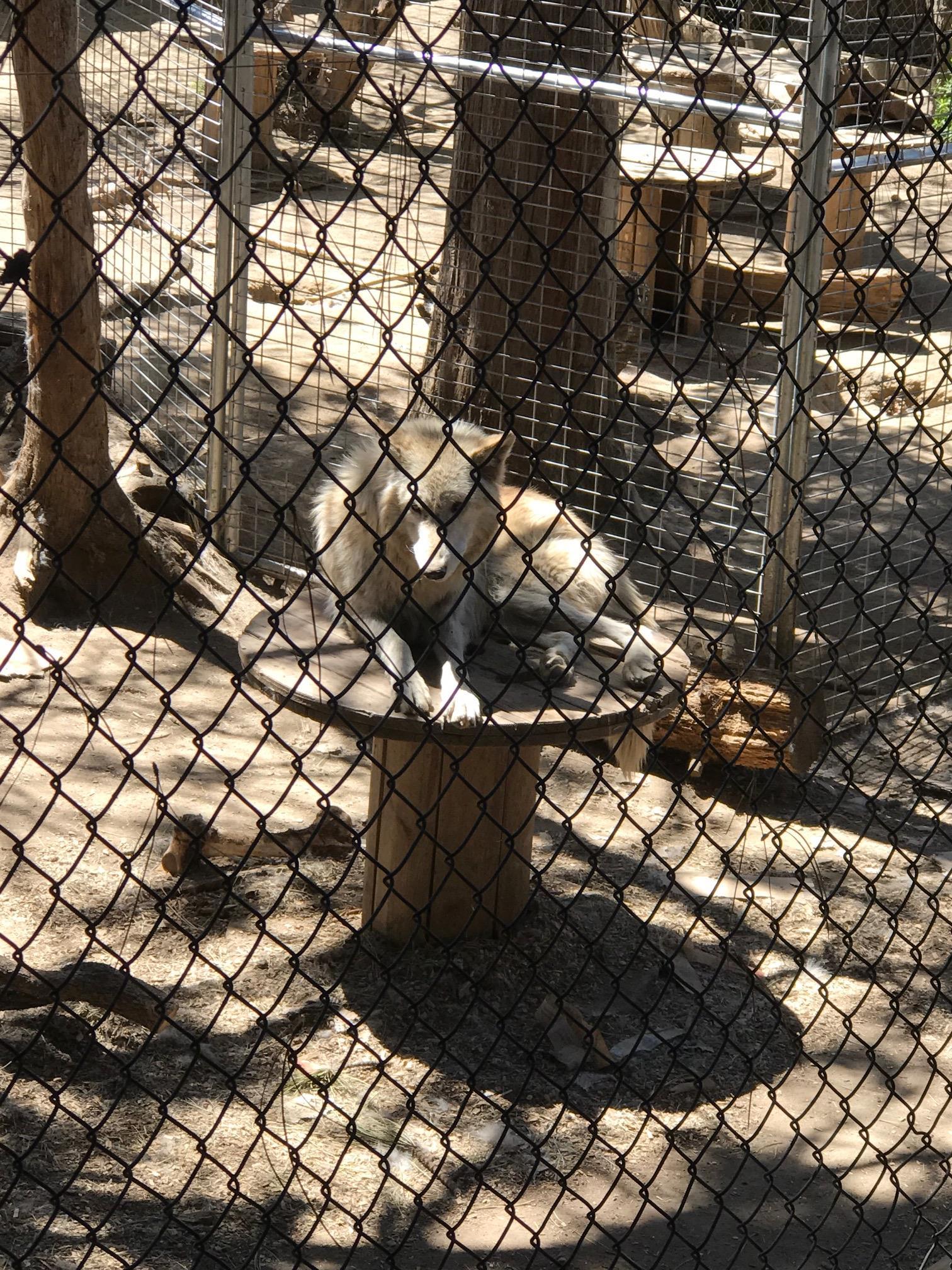 Okay, so my adventure is still going! Next I headed over to see up close the Big Bear Solar Observatory on the north end of the lake. Unfortunately, it was not open on the weekend I visited, so I got an exterior shot of it. Here is more information about tours if you decide to go.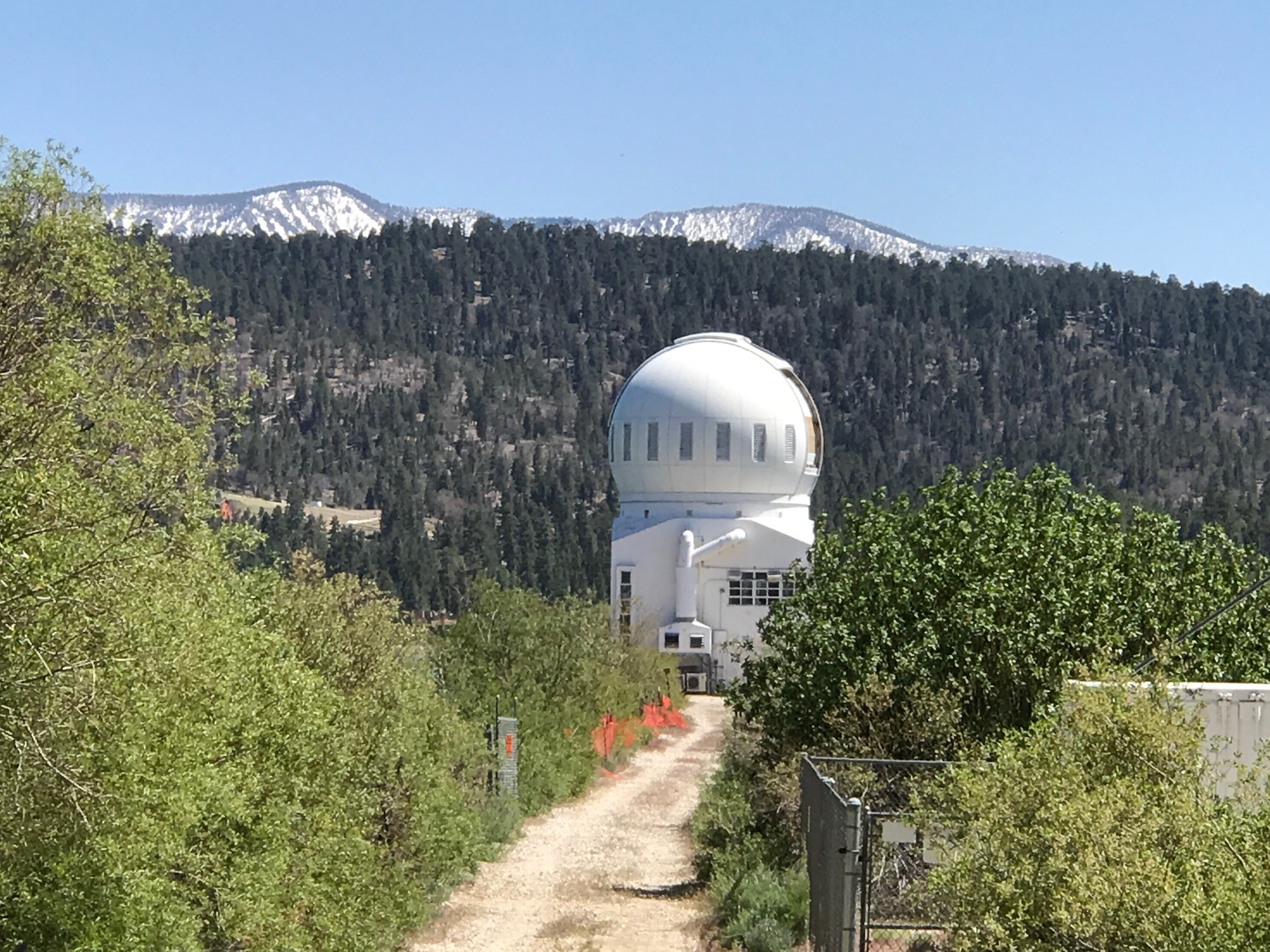 Just around the curve I stopped and took some photos of a 9/11 memorial at Fawn Park, which has a centerpiece, memorial fountain and a 600-pound steel girder from the Twin Towers, which was a donation from New York City. You can read more about the memorial from the San Bernardino Sun.
I also had someone take a photo of me in a giant tire. I cannot find online the significance of it.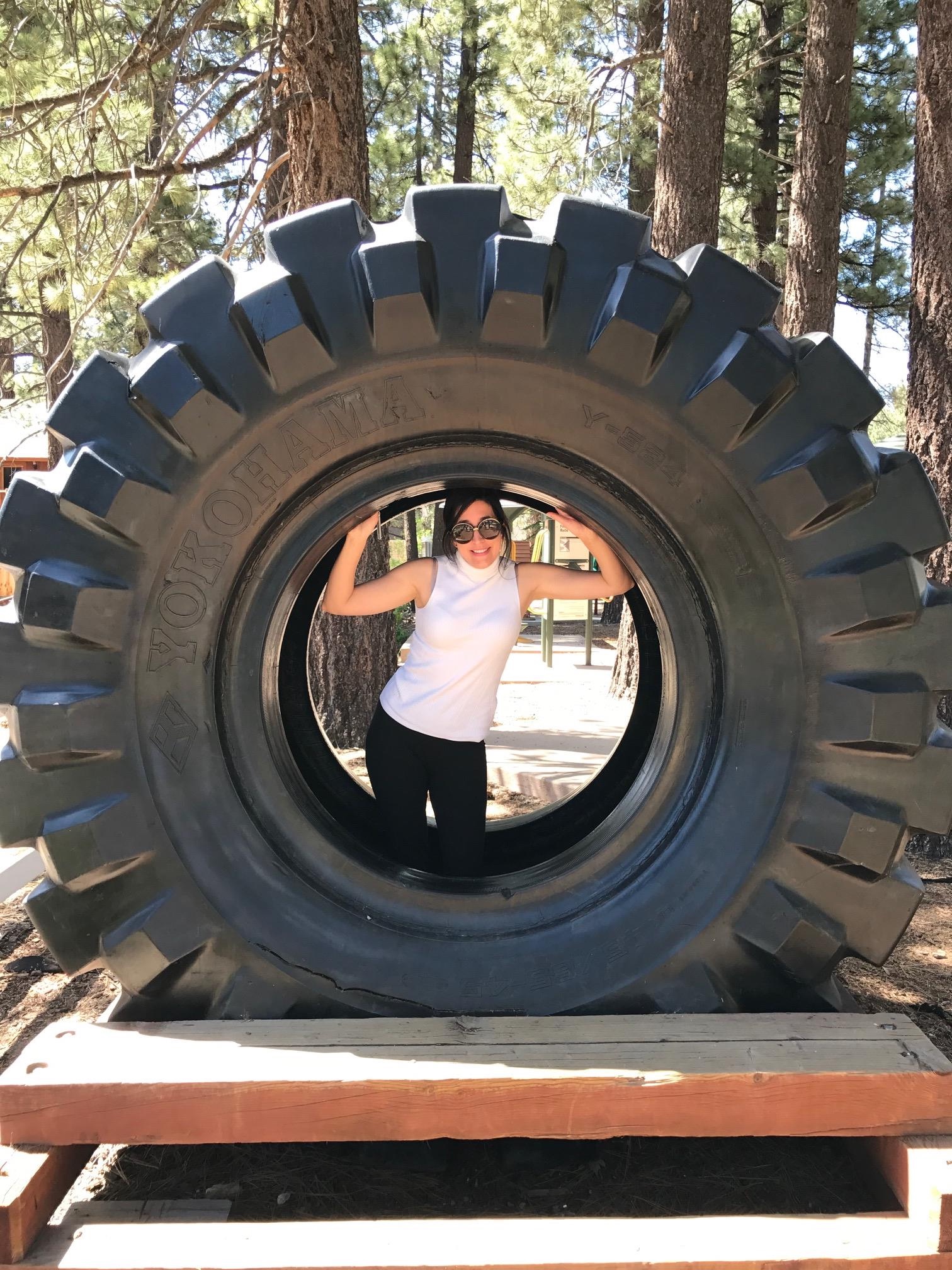 I headed back to the south end of the lake and checked out the Old Bear Valley Dam, which helped form Big Bear Lake in the late 1800s.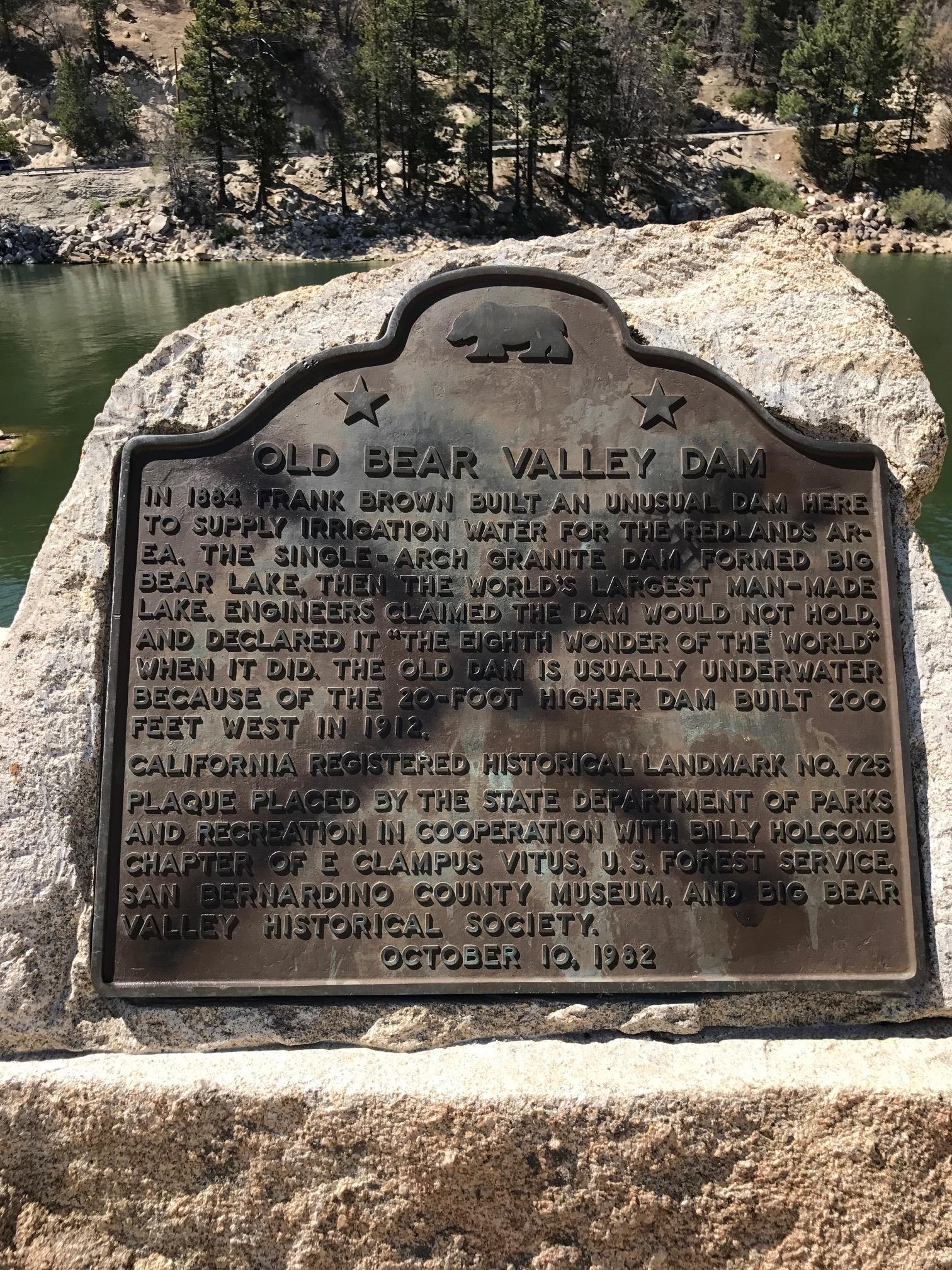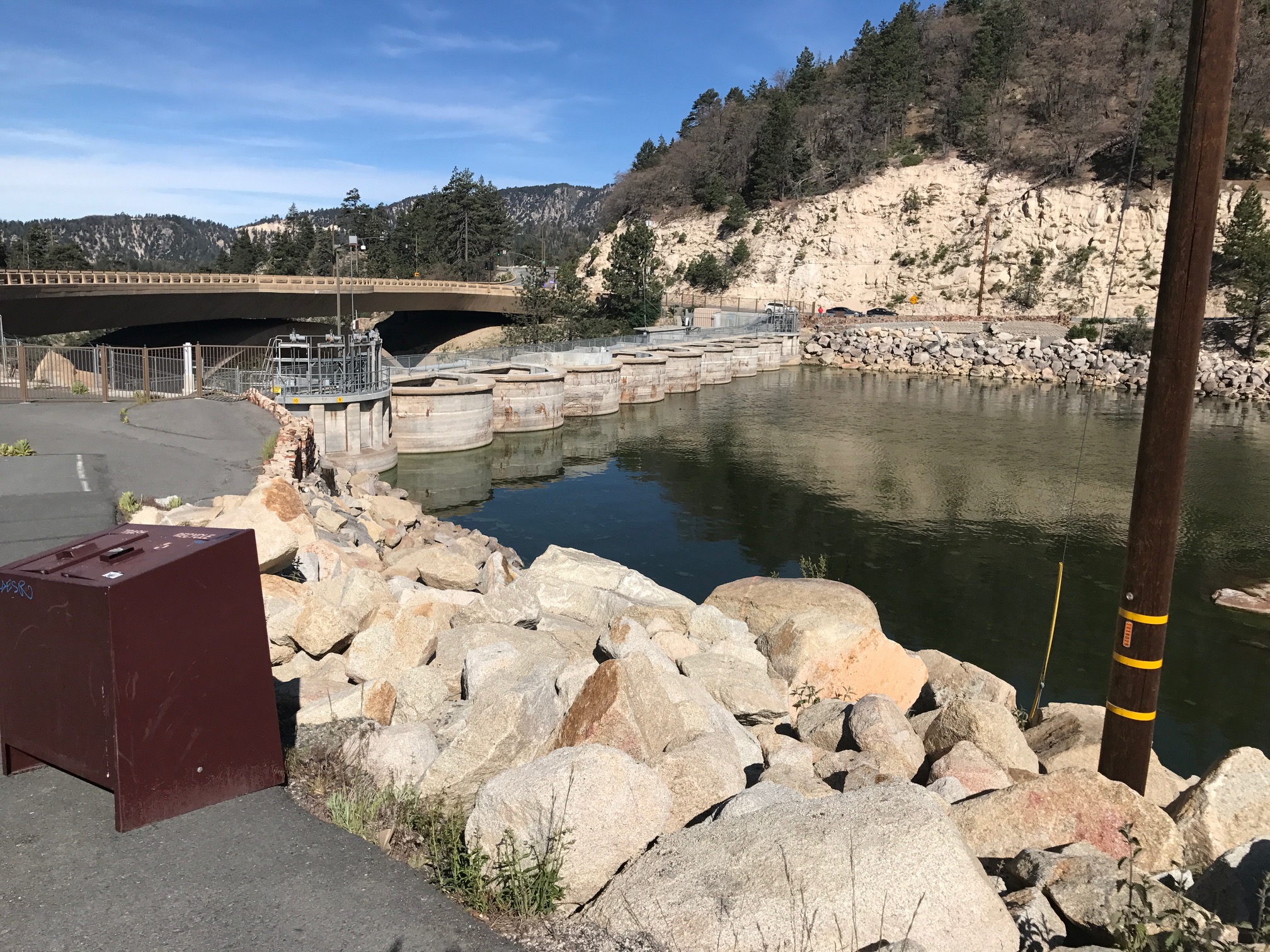 I then headed over to Boulder Bay Park to get some more scenic views. The park also has a dock, bandstand and is great for kayaking or canoeing.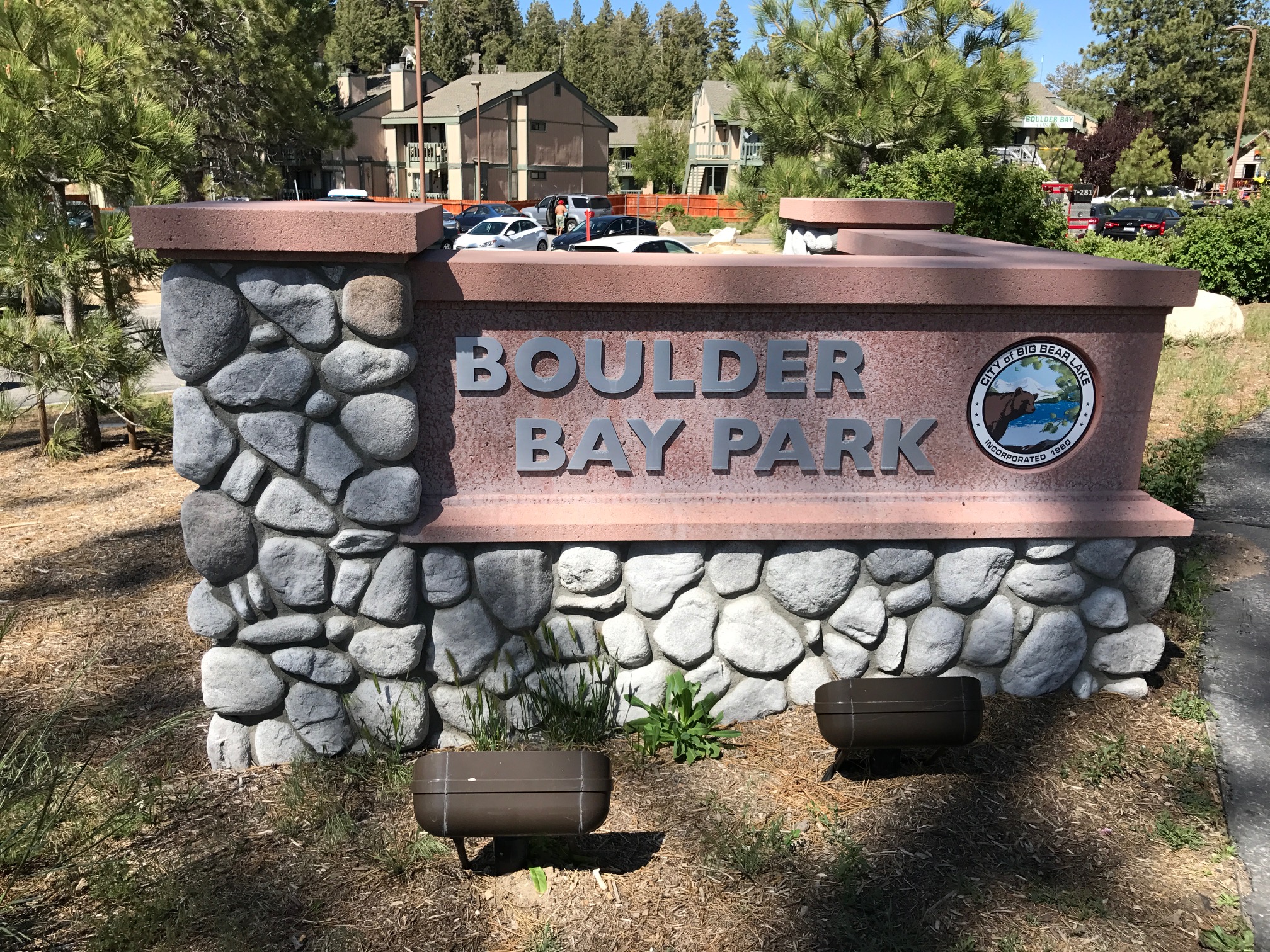 I ended my day at Alpine Slide, which is the only bobsled experience in SoCal. You take a chairlift up to the top and there are two lines, fast or slow, depending on how fast you want your sled to go. Because this was my first time, I chose the slow lane. Once the operator tells you when to go, you can control the sled's speed with a stick. It was fun and a great breeze!
Tickets are $6 for a single ride, which is a quarter-mile long. There is also a water slide, go-karts and putt-putt golfing available for fun.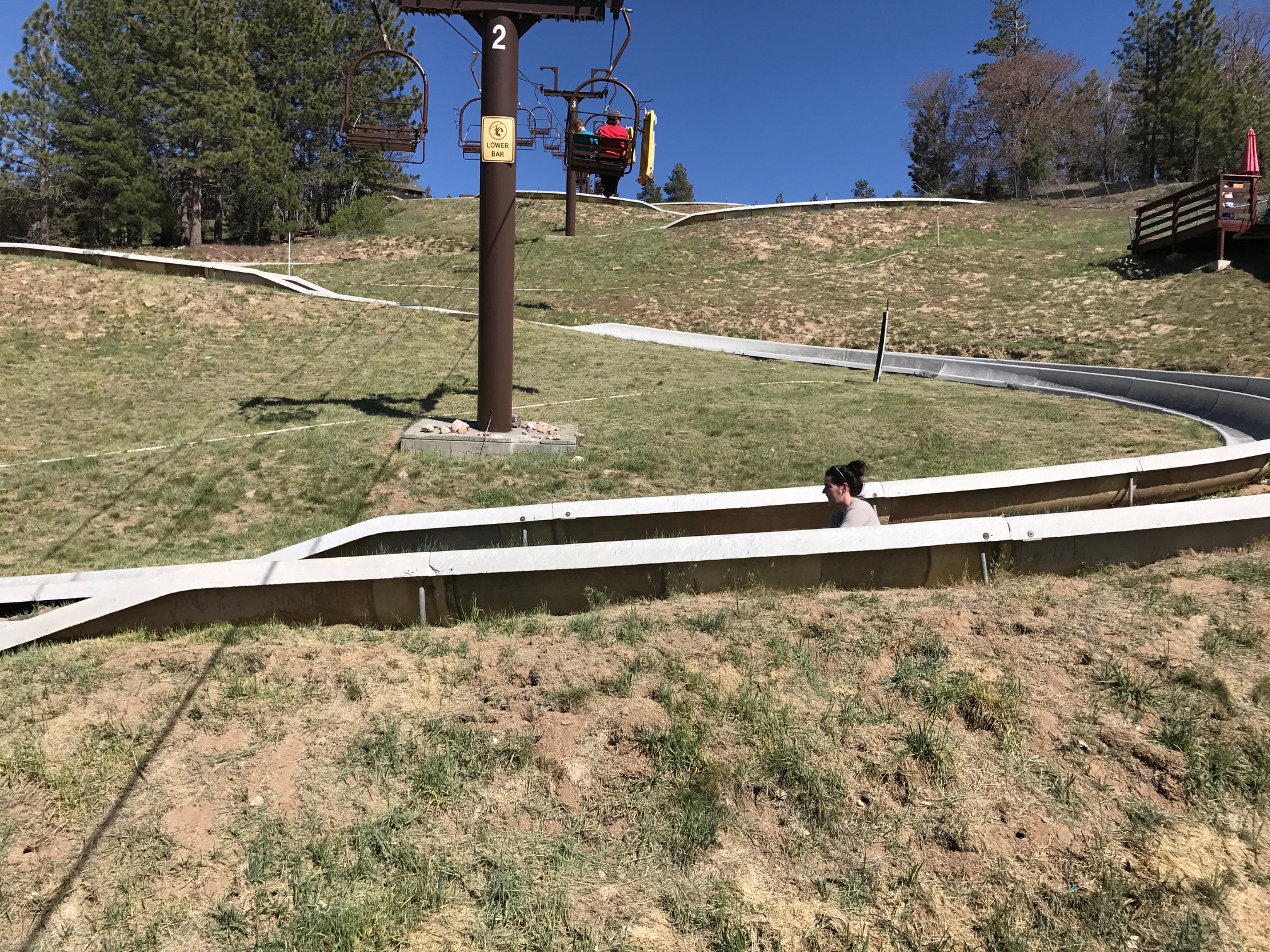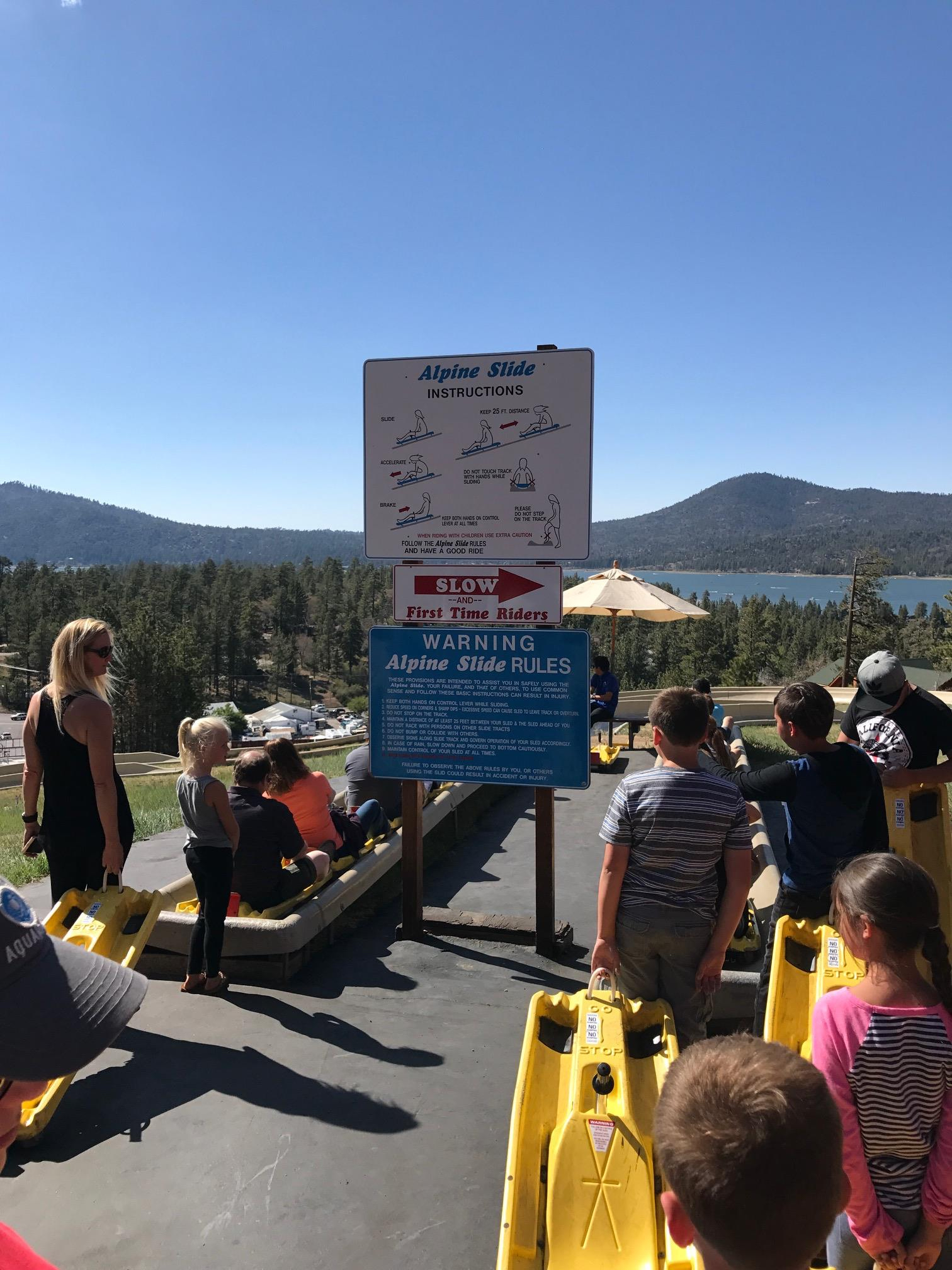 Lake Arrowhead
I spent only few hours in Lake Arrowhead after I had breakfast on Sunday. It's about an hour drive west from Big Bear off Highway 18. If I had to contrast the two, Lake Arrowhead has a great scenic view on the way and more high end shopping, but Big Bear has more laid back activities. Both are great lakes to visit!
Heaps Peak was where I was able to take some amazing scenic views overlooking the City of San Bernardino. There is also an arboretum at this point, but I did not go check it out. This was also the only chance I was able to grab a "San Bernardino National Forest" sign photo.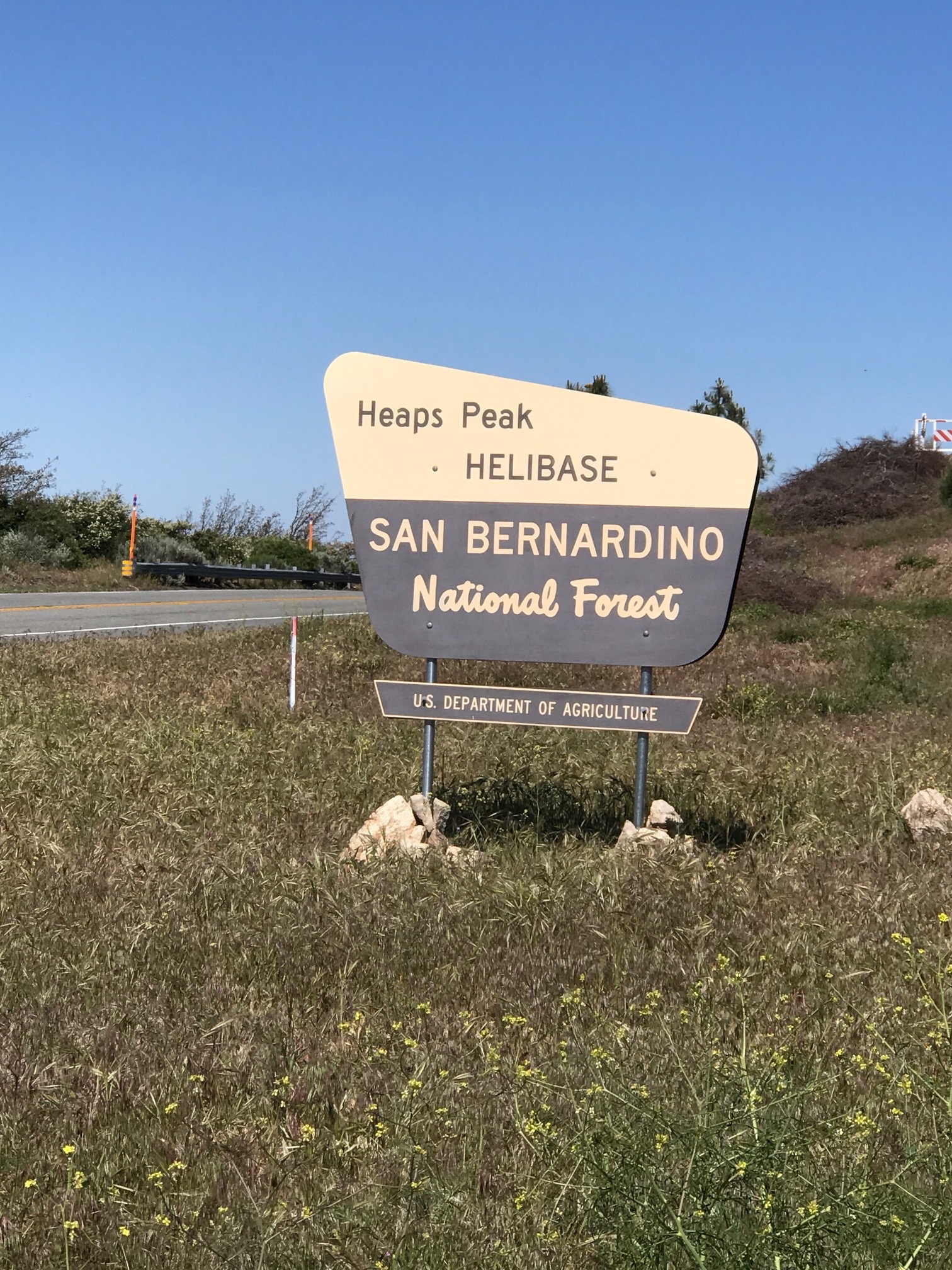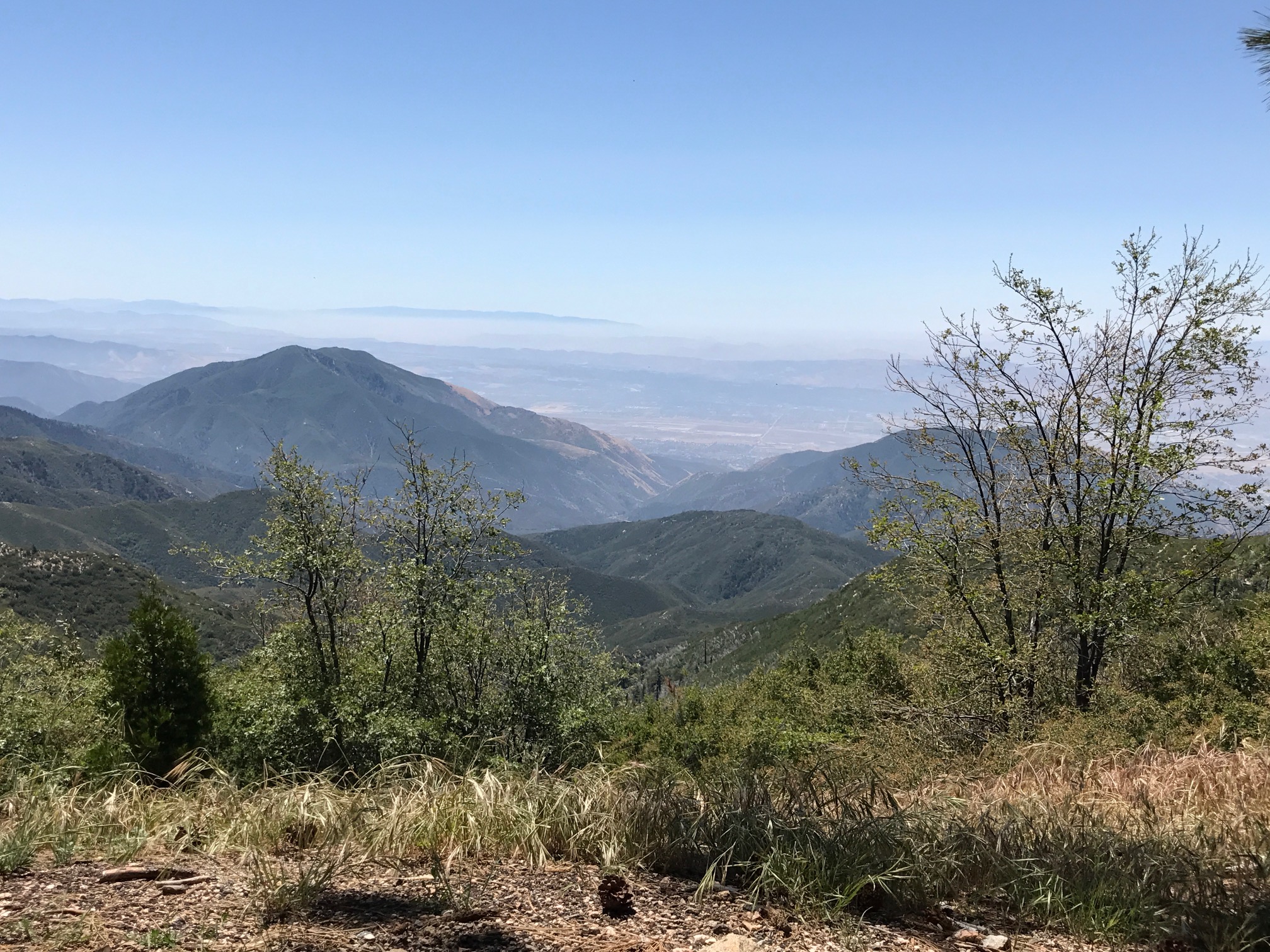 Once I got to The Village, the center of Lake Arrowhead, I went to the back of the shopping area and took some photos of the lake, quite peaceful I might say! The lake is little over 2 miles long, 185 feet deep and is private. You can read more about the history of the lake here.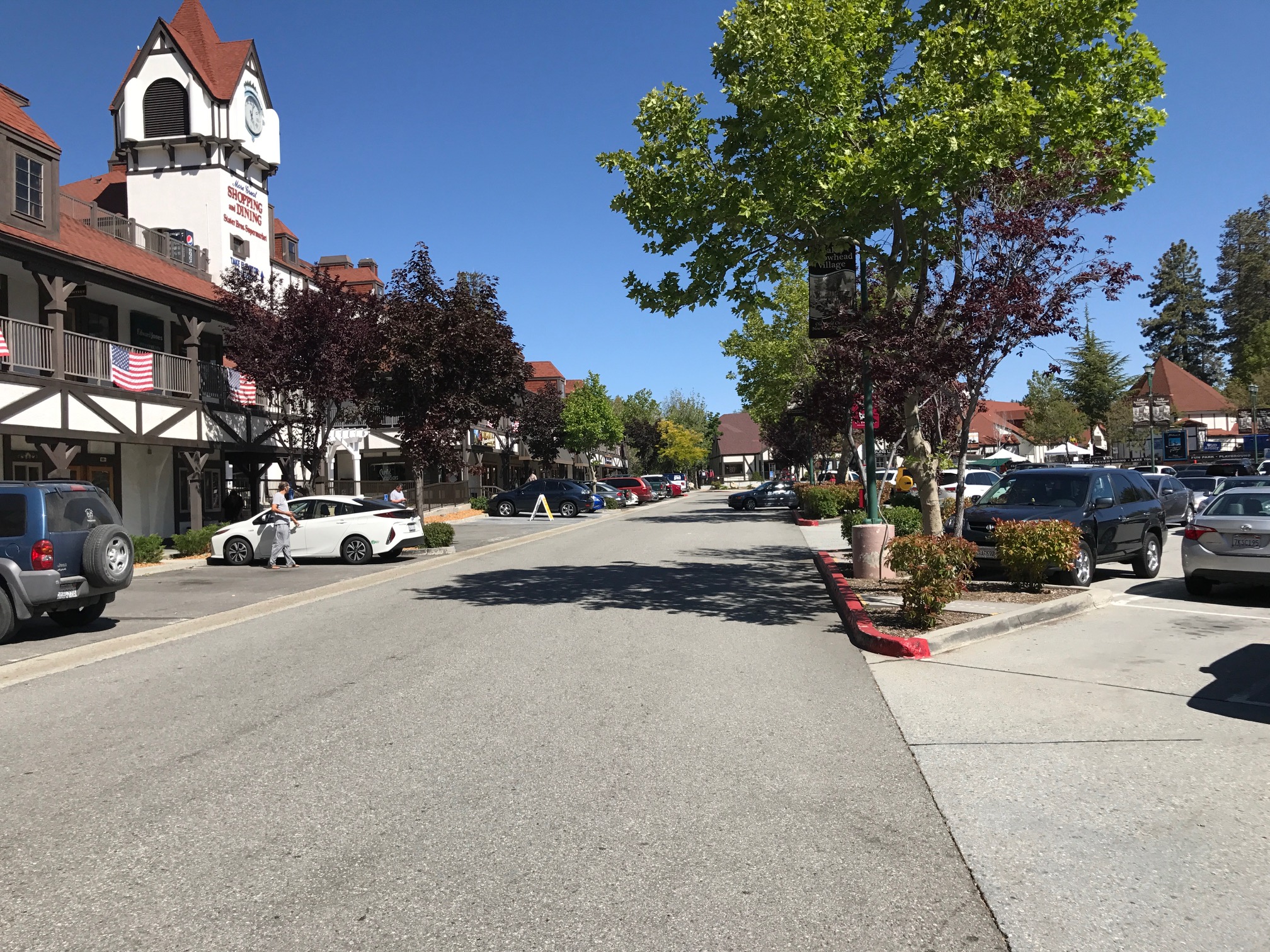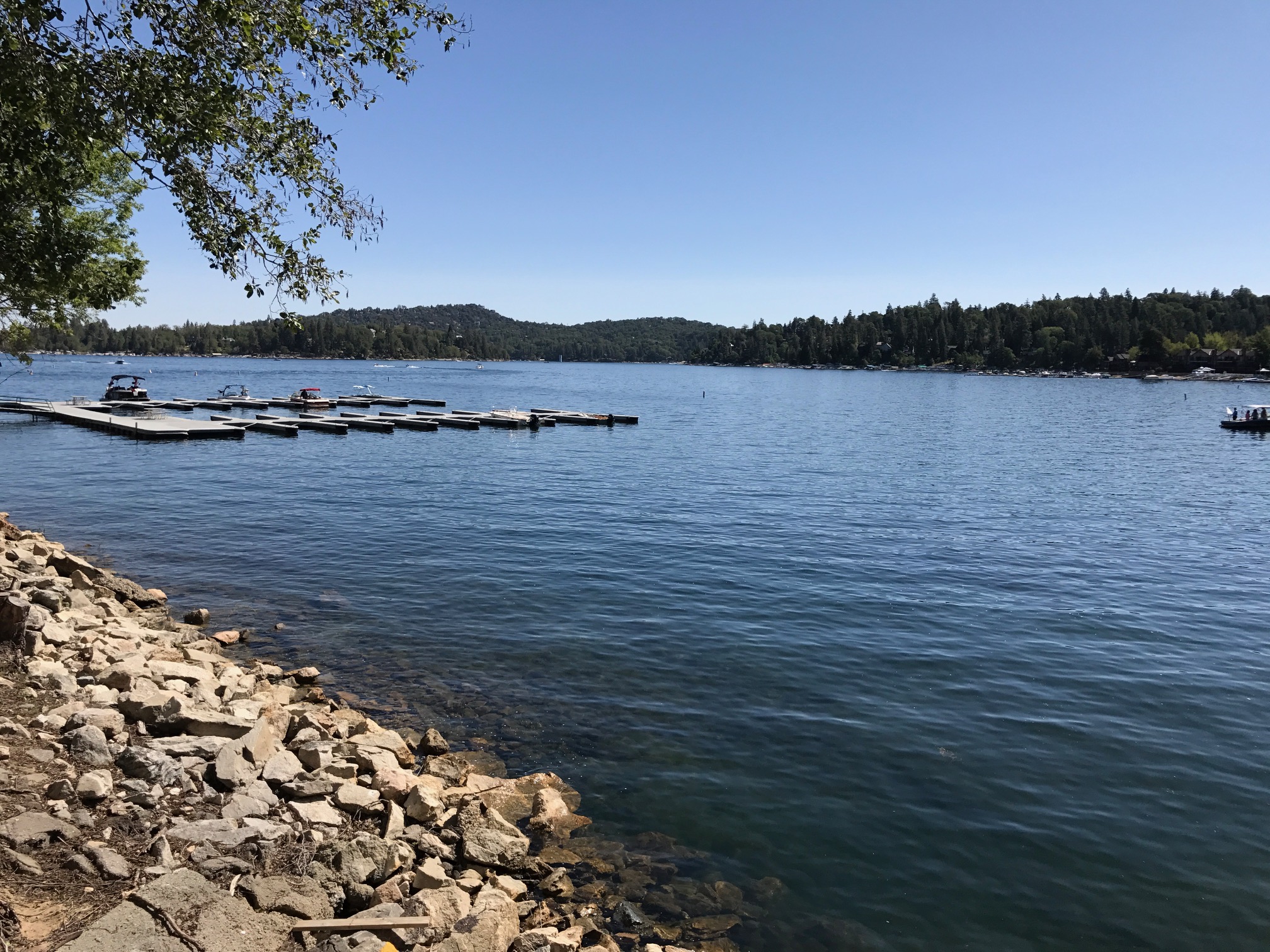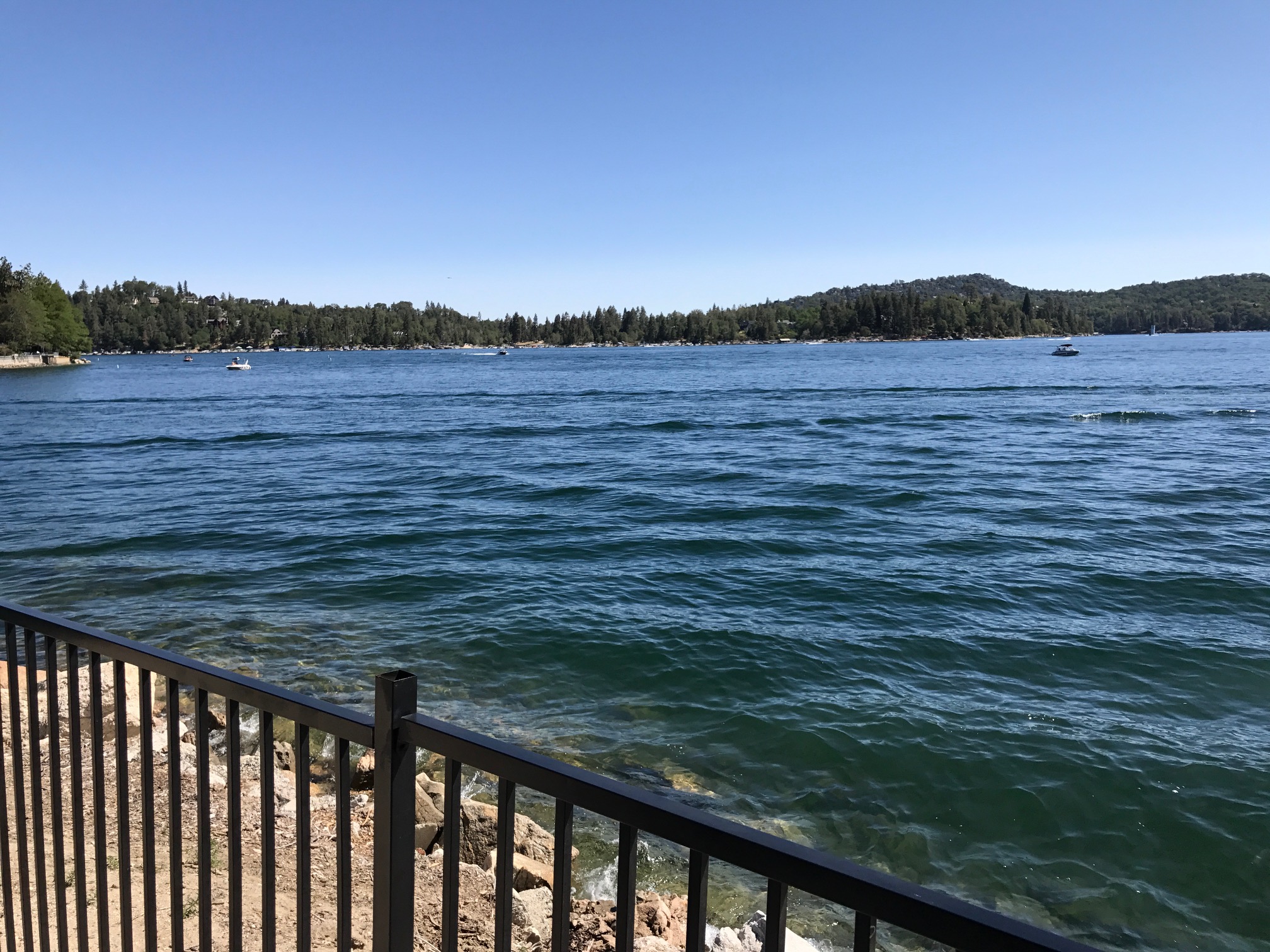 There's also a section called Lollipop Park with amusement rides for the kids to enjoy and a Center Stage with live music on the weekends.
At 11 a.m. I hit up The Grapevine Store for a wine tasting. I was the first customer in the door, ha ha! I got myself a White Wine Flight ($25) with four small tastings of white wines. You then can choose a full glass of your favorite one. I chose the Riesling because it was the sweetest. My second favorite was the Vinho Verde. Nice atmosphere!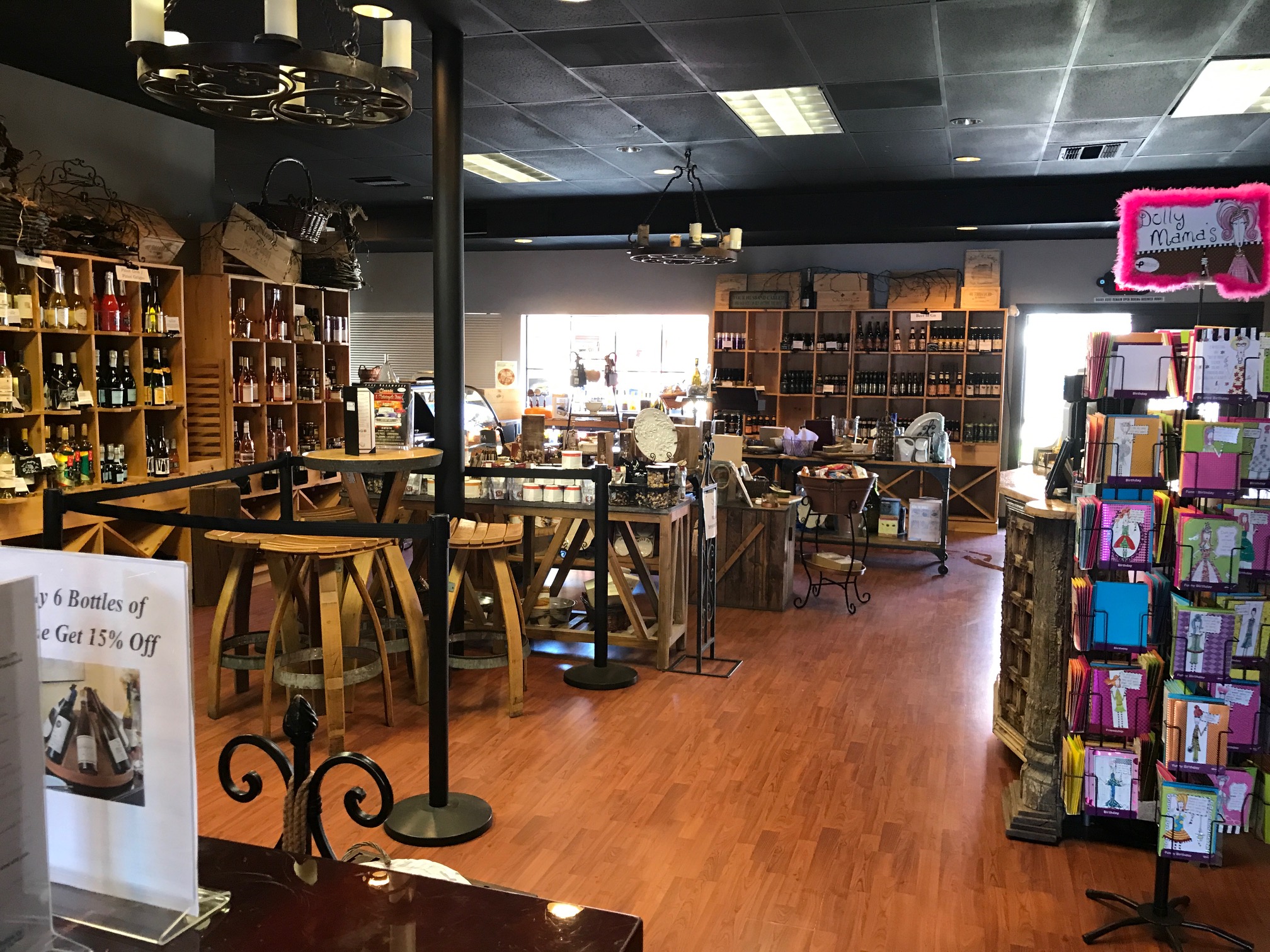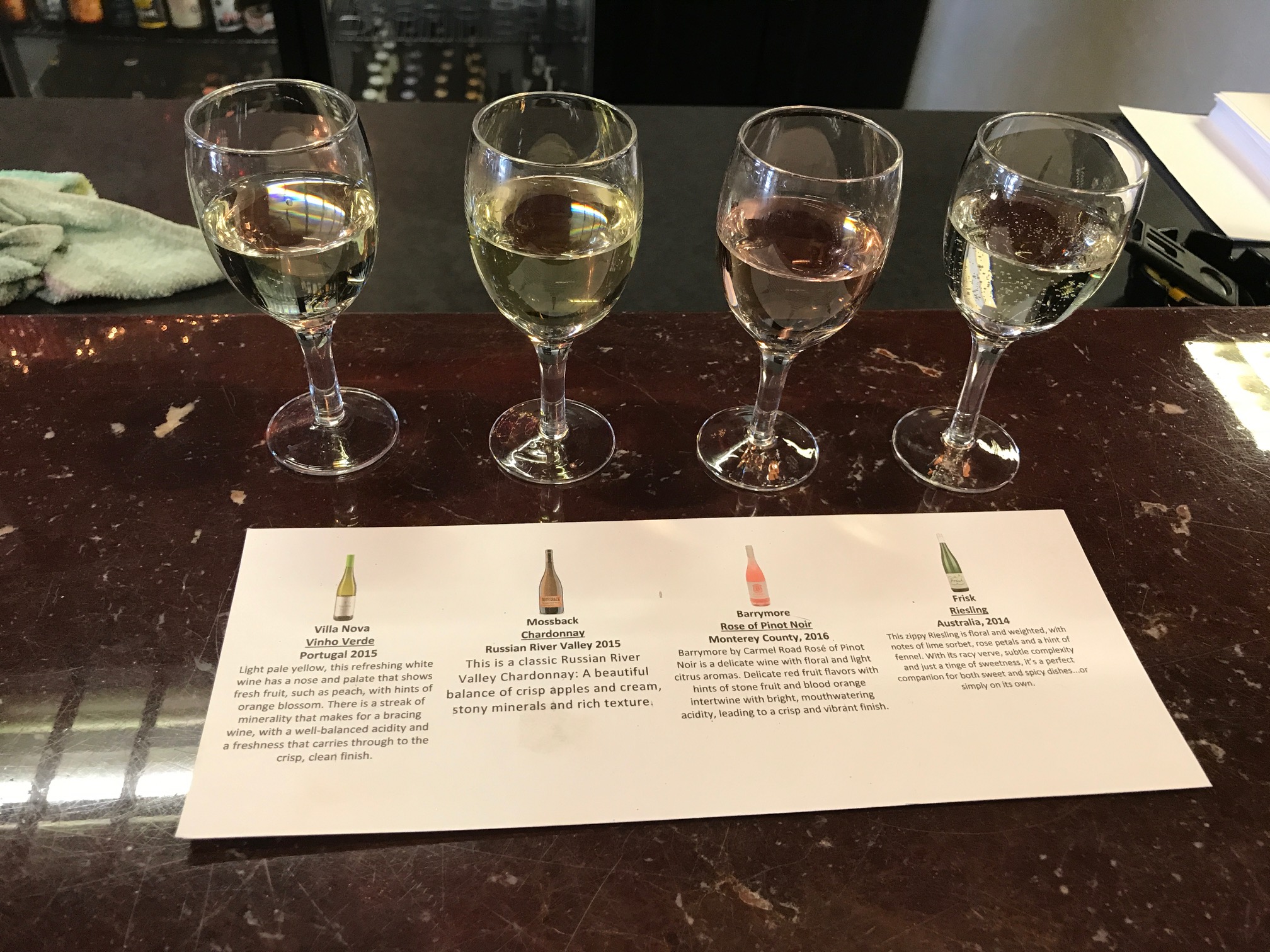 The locals told me to go and hit up Aztec Falls, which is off of Hoon Creek Road and about a 10 minute drive from The Village. So I'm driving this road that is a 2-way, then it turned into a narrow, single road, then a dirt road with tons of rocks. Again, thank god I had a rental.
I get to the area to hike to the falls only to learn that you need something called a Forest Adventure Pass in order to park and play! Being a city girl that I am who doesn't roam into nature that often, I had no clue. Then I had a couple of hikers tell me that the falls are very little and are "nothing too spectacular." So I headed back to Big Bear to finish off the remainder of my Sunday, which you read above earlier. If you go to Aztec Falls and have a better opinion of them, please let me know.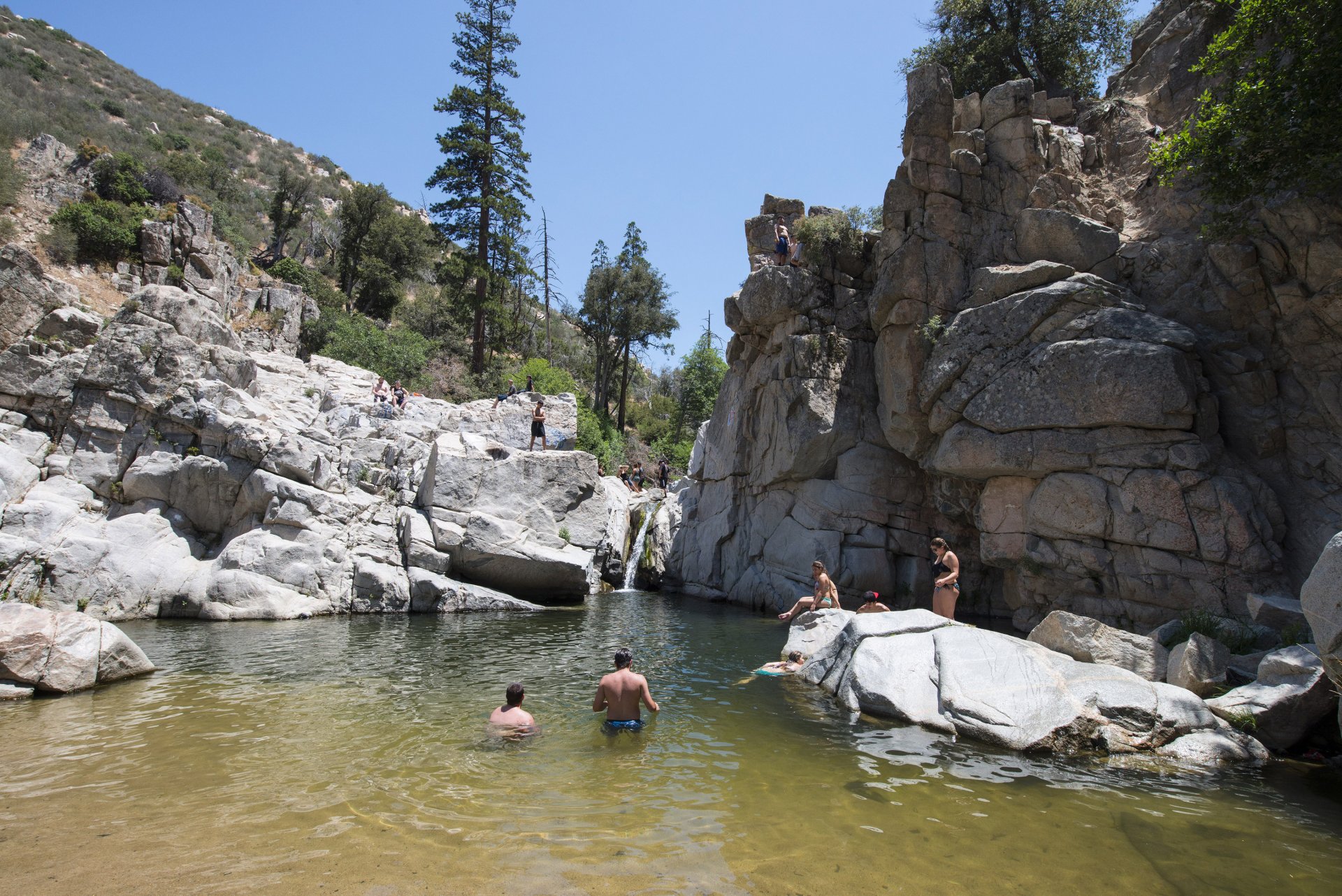 Bear Statues
Throughout all of Big Bear and Lake Arrowhead, there are a ton of bear statues to represent the area. I made it my mission to try and take a photo with myself with them or solo of as many as possible. Here they are!
At Lake Arrowhead Village.
Another one at Lake Arrowhead Village.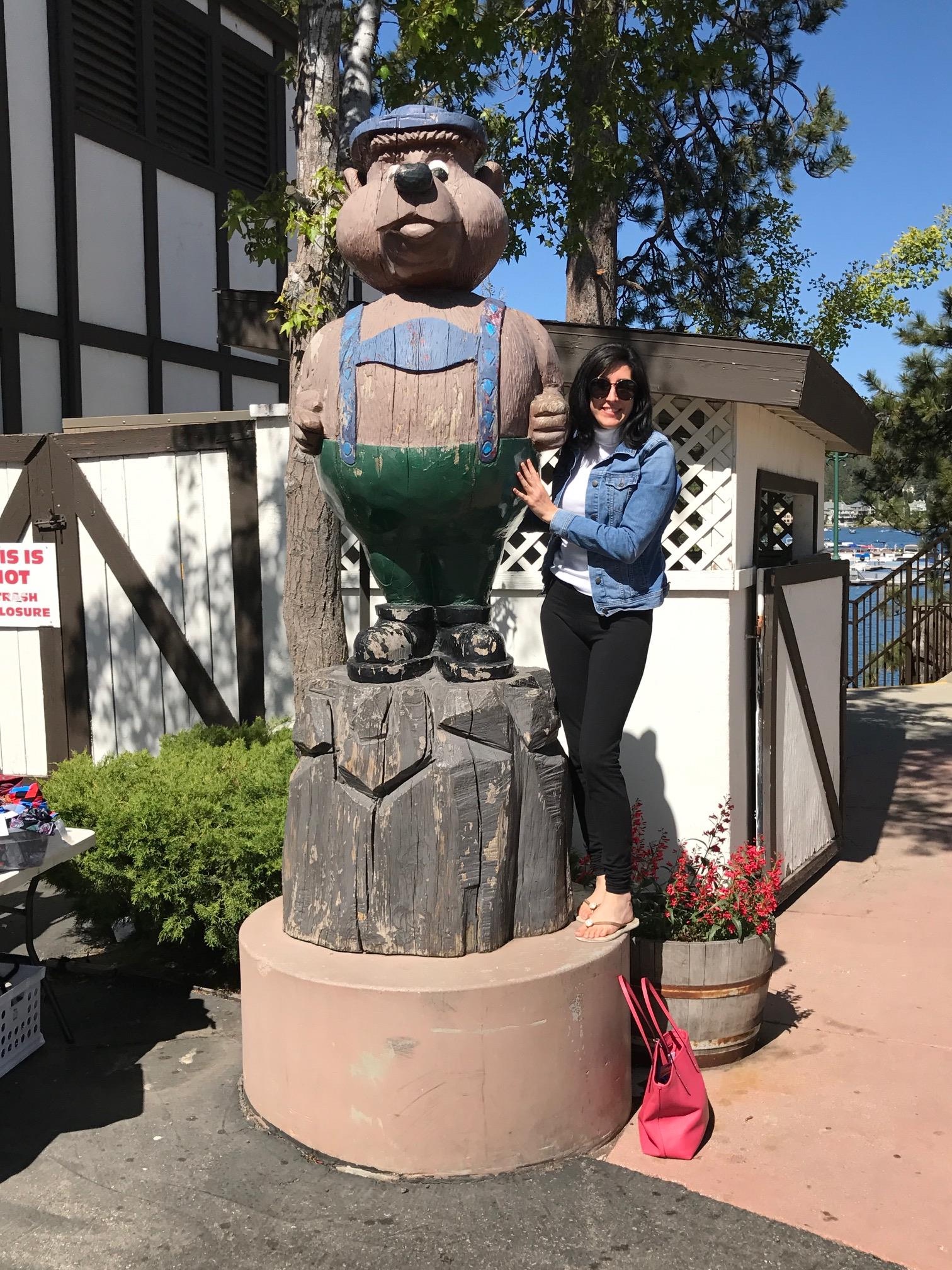 Outside of VONS in Big Bear.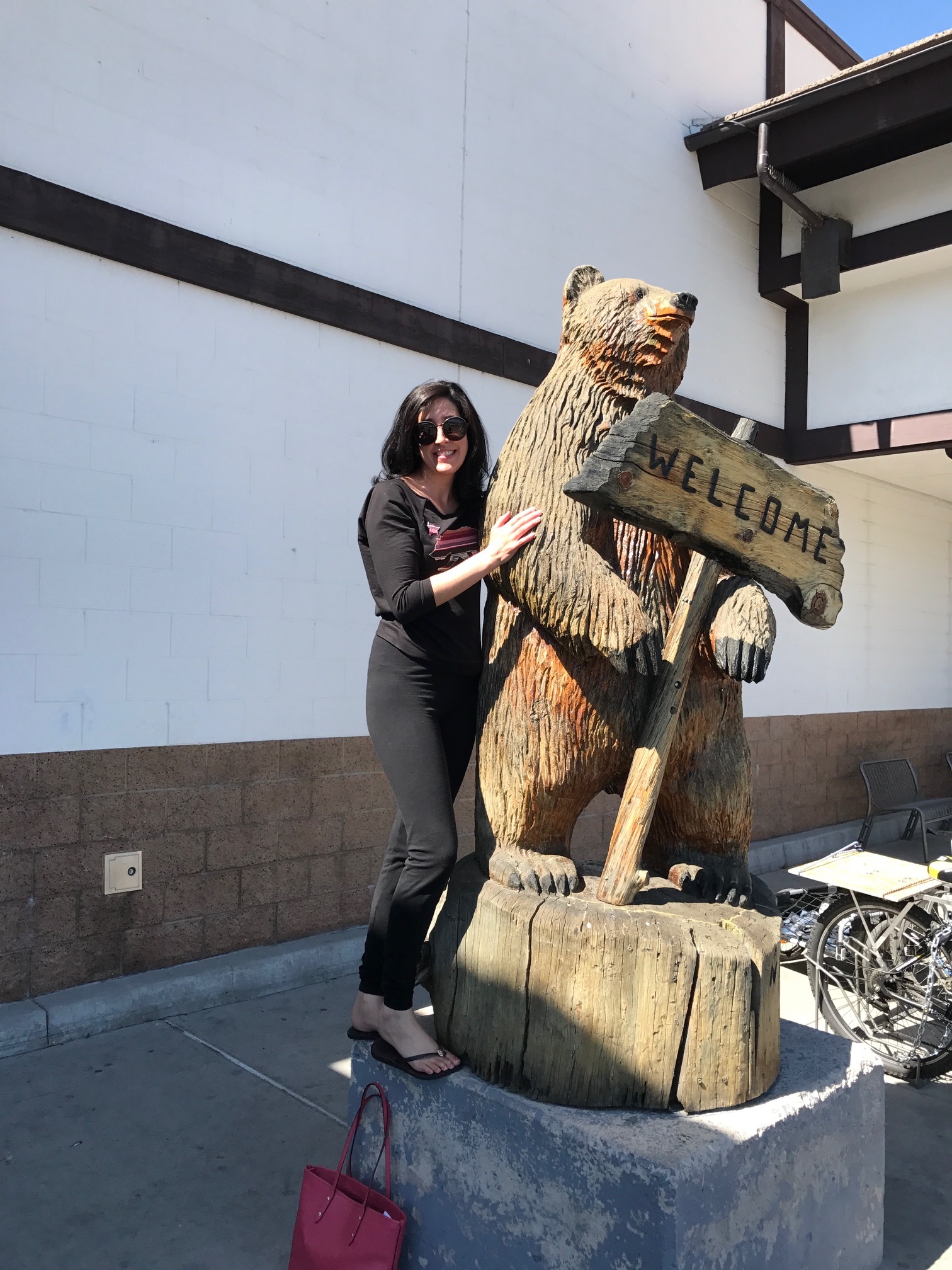 Outside of the Grizzly Manor Cafe.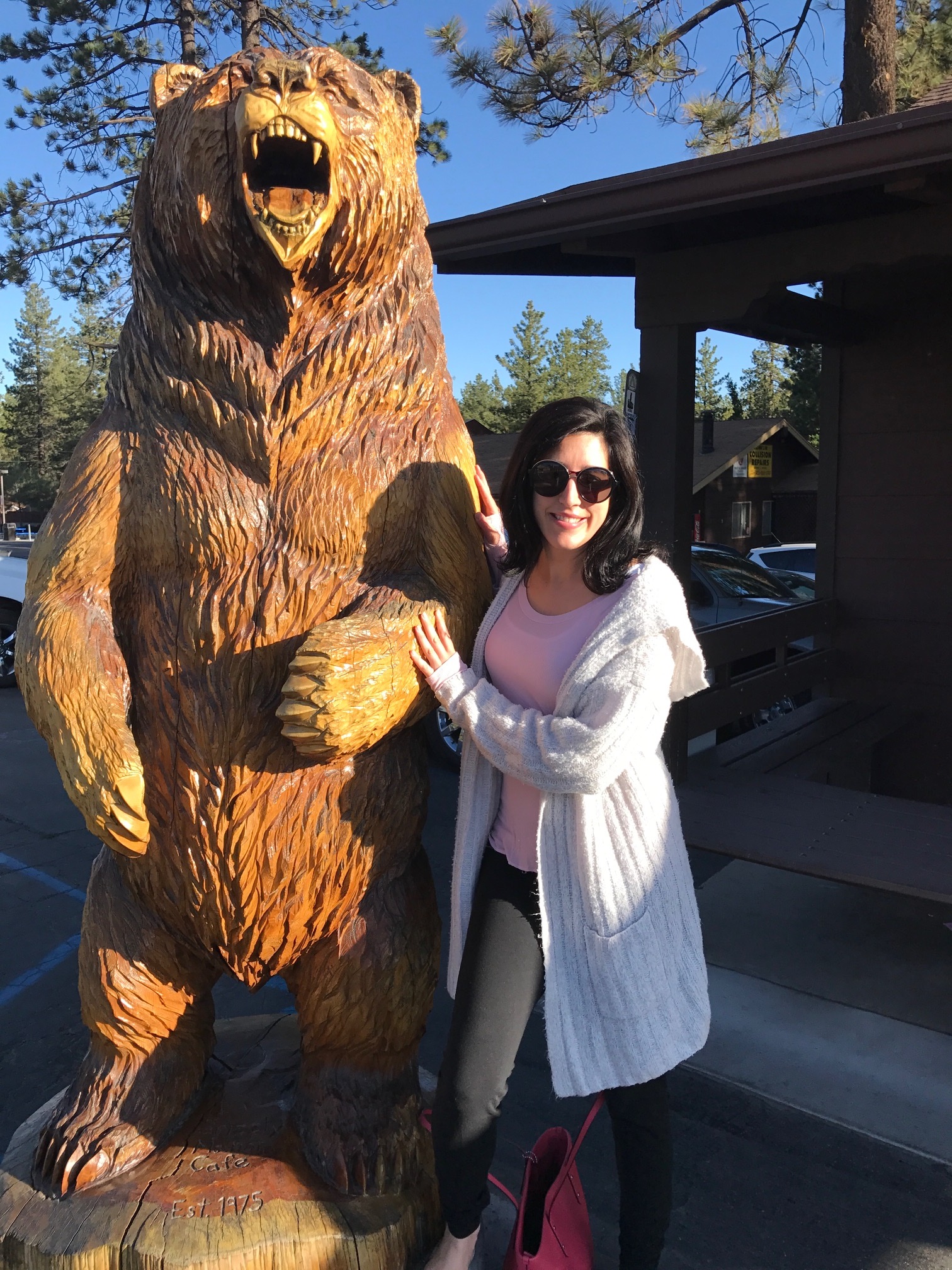 This statue was on a resident's property in Big Bear, so I stopped and took a selfie with it.
Another statue on a resident's property in Big Bear, peace and serenity!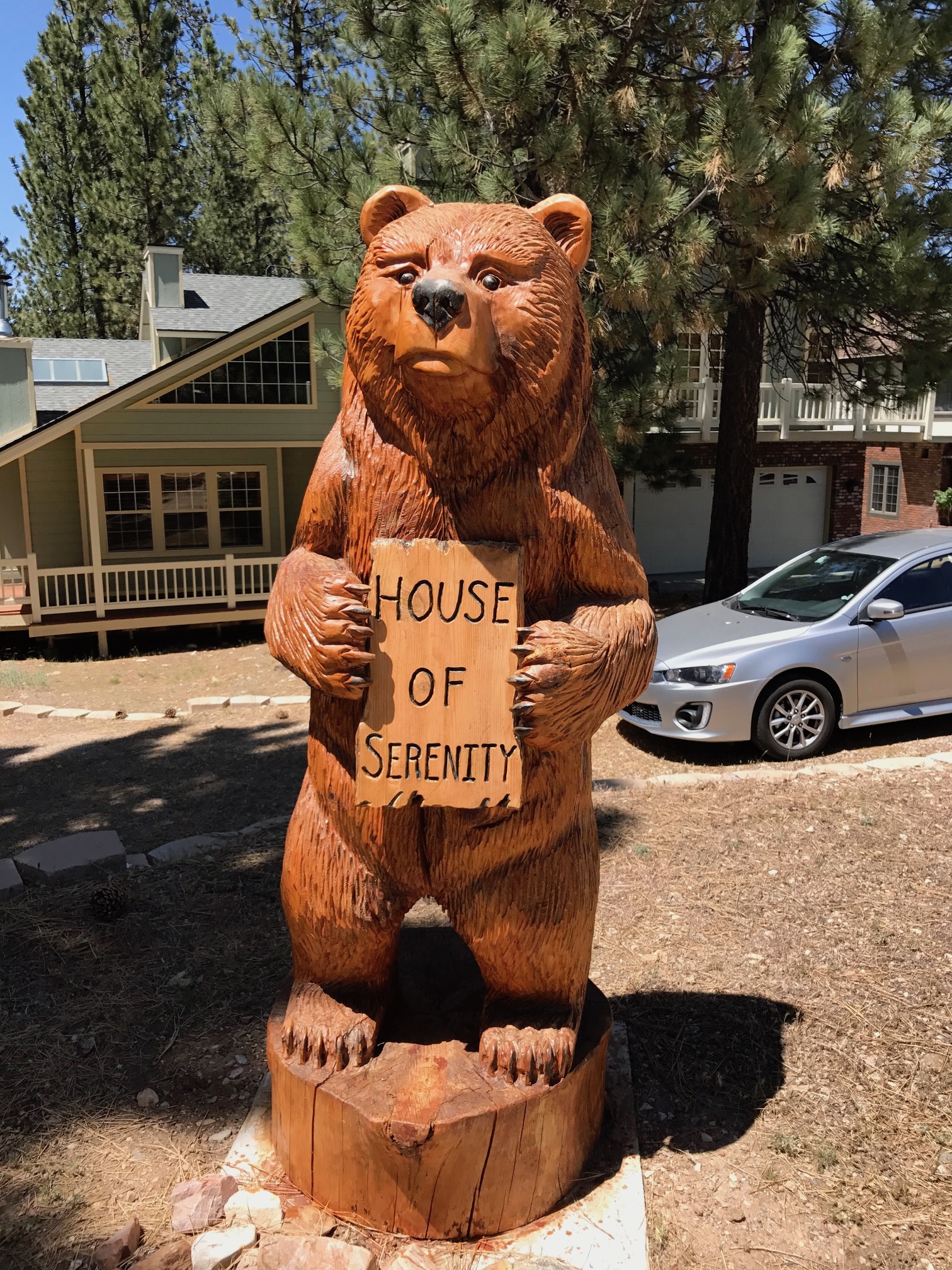 At the Big Bear Zoo.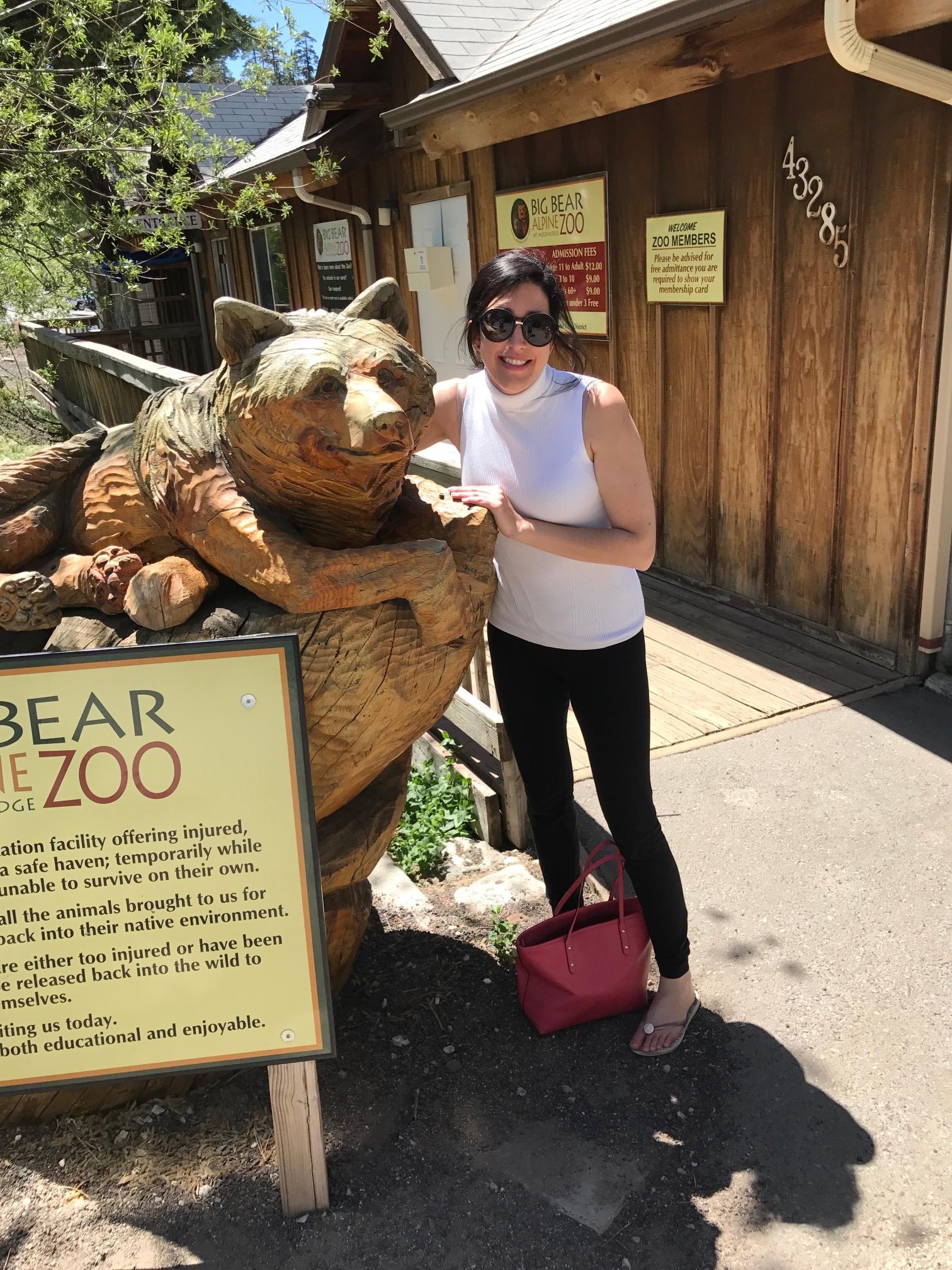 Another one at Big Bear Zoo, 3 actually!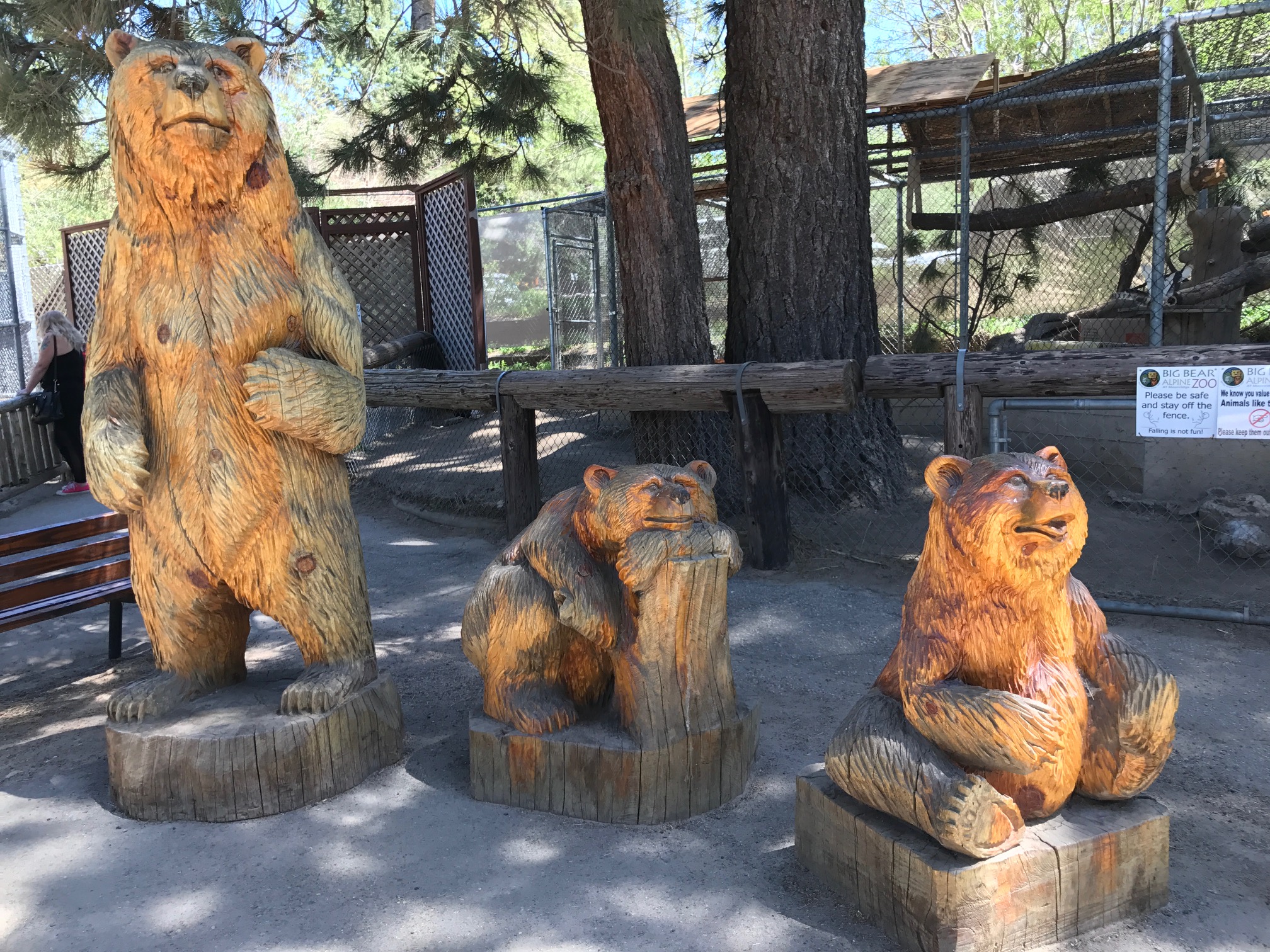 Okay this is me on a frog statue at the zoo, but hey, it's still unique and interesting!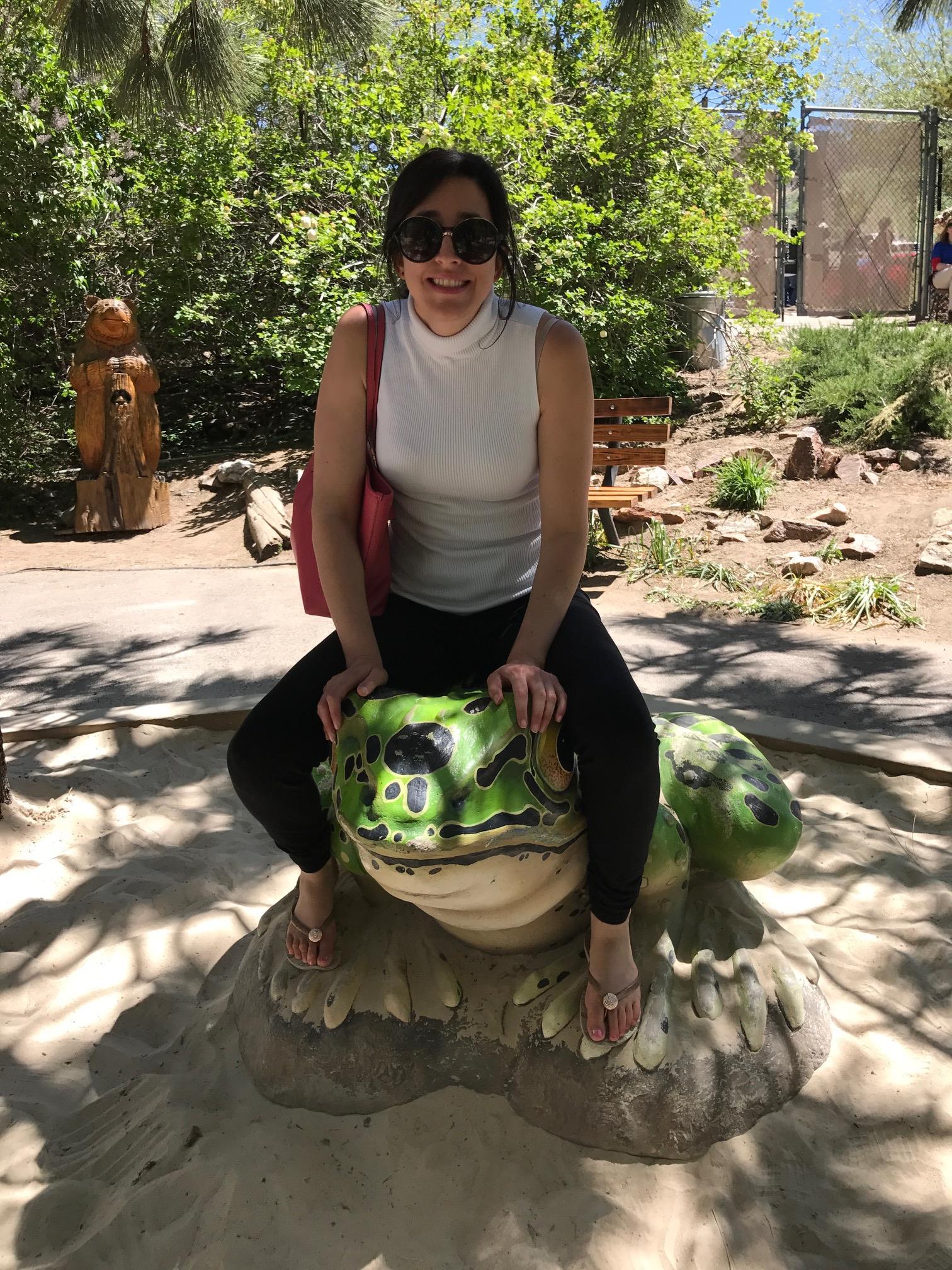 On Monday morning, I stopped at Copper Q for a Latte and Apple Strudel for the long drive home. Very, very delicious, fresh tasting and not too sweet! The establishment also hosts culinary classes.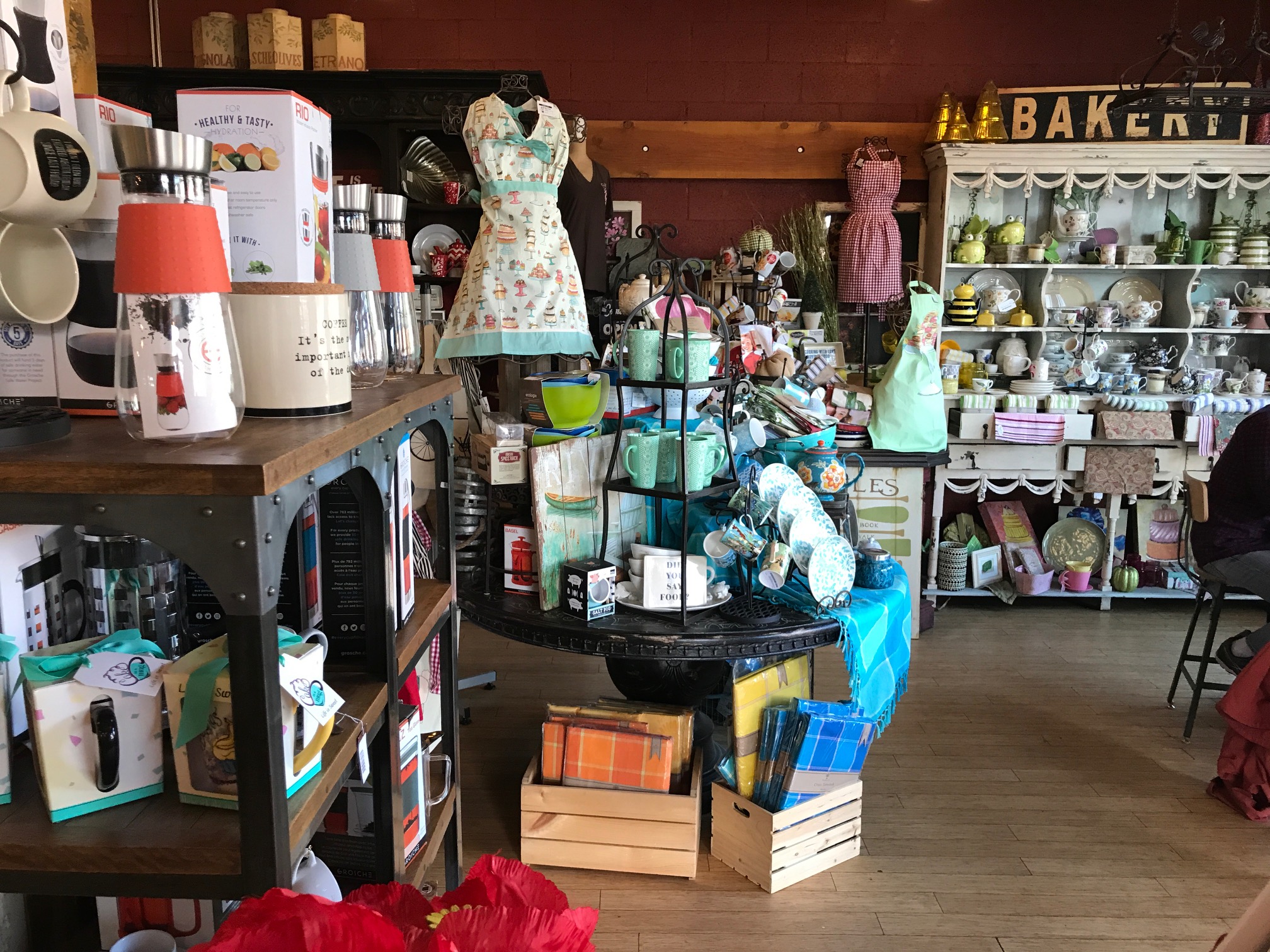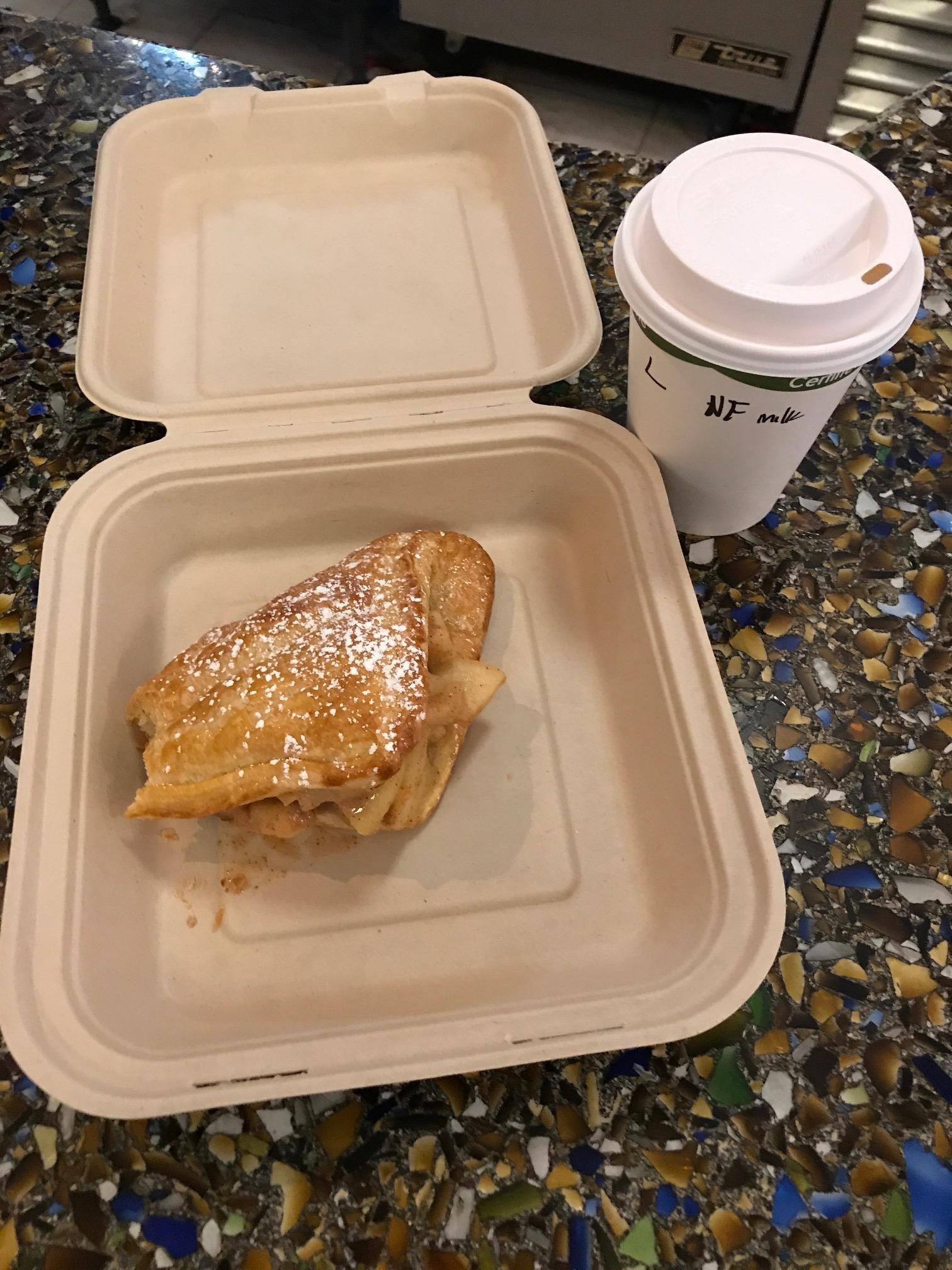 I hope you enjoyed my journey and that you visit the area in the future! 🙂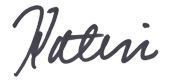 Photo credit: Outdoor Project