My birthday falls the week of July 4. I decided 3 years ago that I would always take the whole week off and travel every year for my birthday. In 2014 it was New York City, 2015 it was Big Sur/Monterey/Santa Cruz, last year I stayed in town because I went to Ireland and Scotland in March and this year I decided to go to Vancouver, Canada! Canada also turned 150 this year, so it was a very special time to go.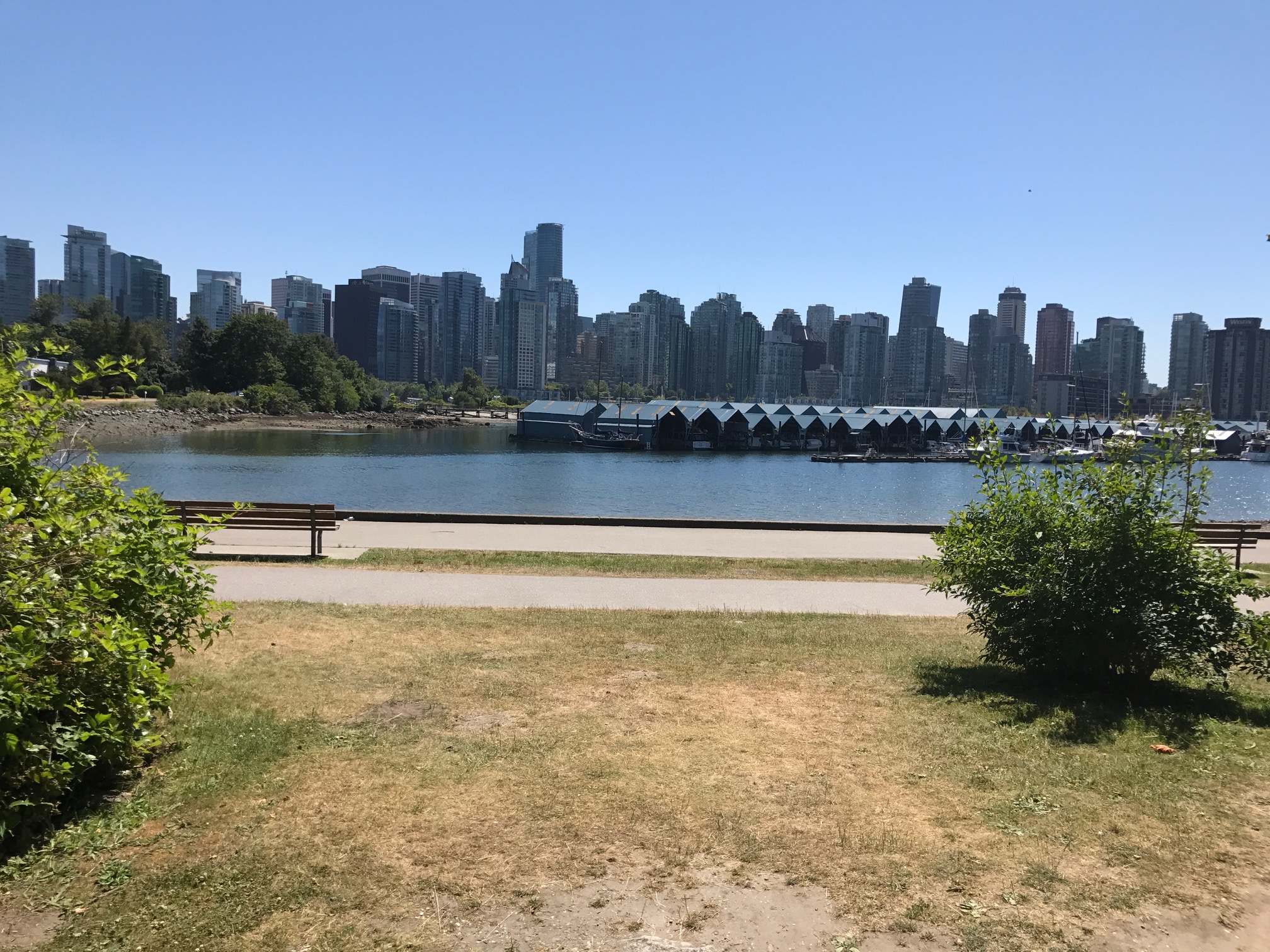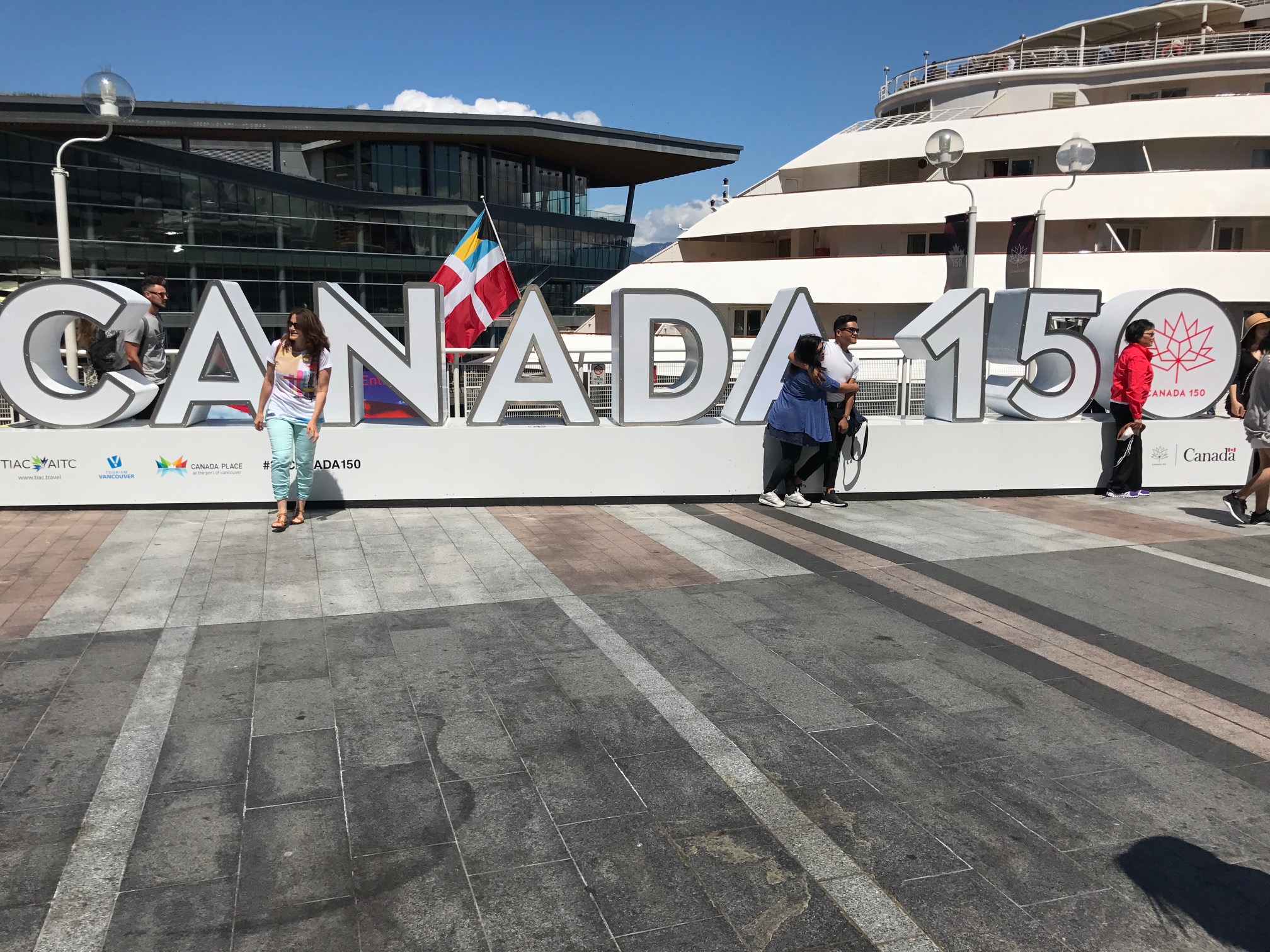 I have been wanting to go back to Canada for a very long time. The only time I visited Canada was Ontario with my family when I was 7-years-old! So yes, a trip was definitely a priority. Plus, Vancouver is only a 2 1/2 hour flight from LAX, in the same time zone and has cool weather in the summer. It was the perfect fit for me and with travelers insurance, the ticket only cost me $327 on Air Canada!
I got an AirBnB place this time because it was much cheaper than a hotel in the area. For 6 nights total in a brand new development I paid $210. It was located in Richmond, close to the airport but about 20-25 minutes south of the city.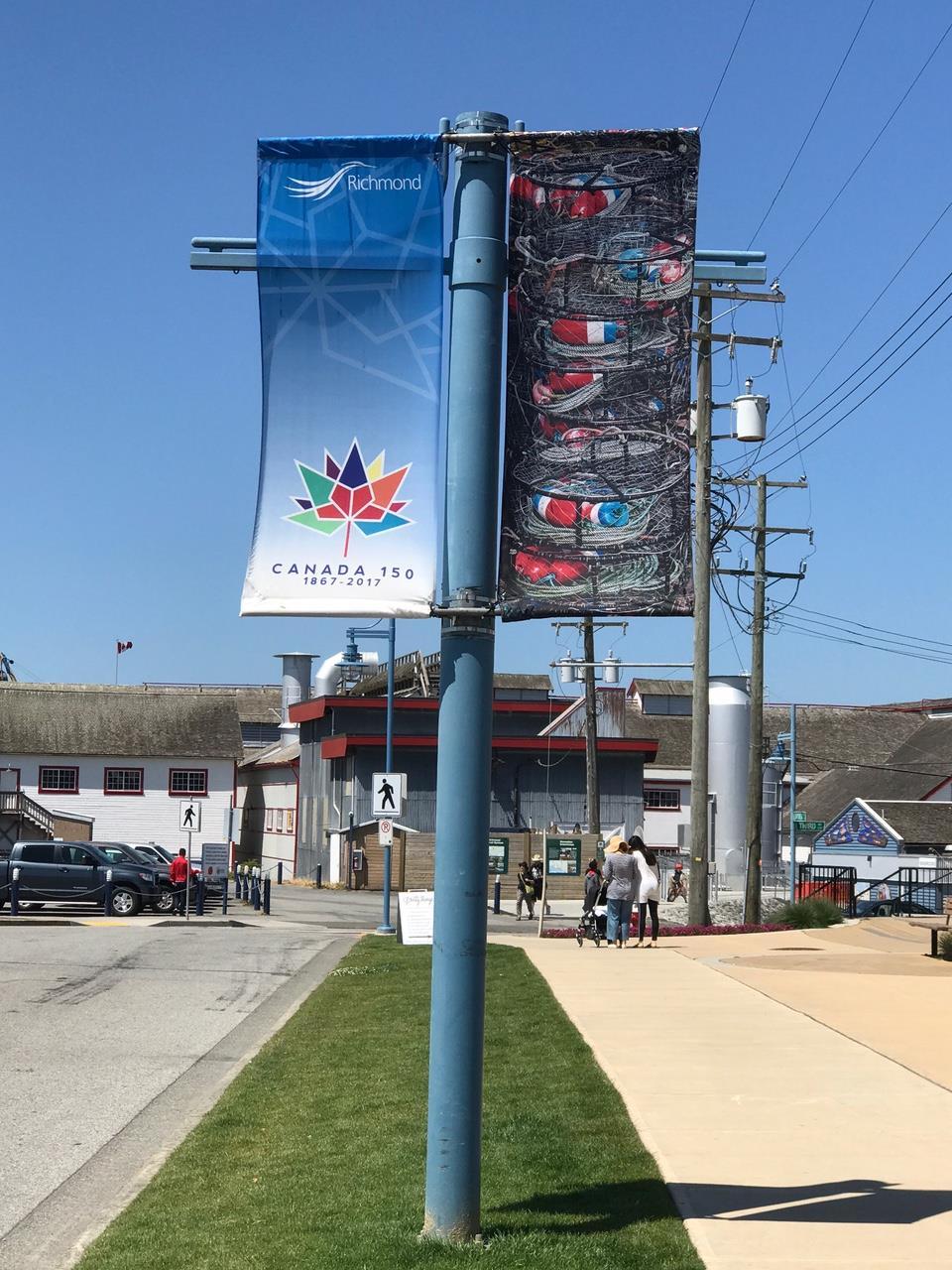 I also did not rent a car. The "cheapest" I could find was $550 and that didn't include out-of-country car insurance, which was more than $100. By the time I was done paying cabs all around the city, it cost me $255. Pretty good huh?!
I spent 5 full days in Vancouver and I got in on a Sunday night around 11:10 p.m. The Vancouver airport is very easy to navigate around and get through Customs. All you have to do is scan your passport and follow the instructions on the screen. It then prints you a receipt with your photo on it to hand to Customs after you get your luggage.
Some interesting facts I learned about Vancouver are the following:
The area is known for forestry, mining, tourism and films. In fact, Lionsgate media company has offices in Vancouver and the Lions Gate Bridge is also named after the company. The photo below oversees West Vancouver and the bridge.
Vancouver is a very safe city. Last year, there were only 11 homicides. However, the city is known for having a drug problem and I saw it first hand. When I was walking back from Chinatown, I saw homeless people outside of RBC Bank shooting heroin and snorting cocaine, not kidding you.
The city's second language is Cantonese. It also has a very high Chinese, Japanese and Punjabi population.
Vancouver is the 3rd largest city in Canada, with 2.6 million people. Montreal has the second highest population with 4 million while Toronto has 6.4 million.
There is a housing crisis in Vancouver, yet more and more condos are being built. Seriously, they are everywhere. The average cost to rent is $1,500+ for a 1 bedroom and to own a property is close to $1 million.
The tallest building is now the Trump Tower, which finished construction this year. Prior, it was the Shangri-la Hotel.
Just an FYI: excluding the breweries, most restaurants I visited I took note from the 2017 Vancouver Eater.
A funny fact: Pamela Anderson is originally from Vancouver, ha ha!
Day 1: Monday, July 3
I started the day at Granville Island where the Public Market is located. I love visiting public markets and tasting the different foods from all of the cultures. I bought myself a cinnamon roll to munch on, not too sweet, just the way I like it!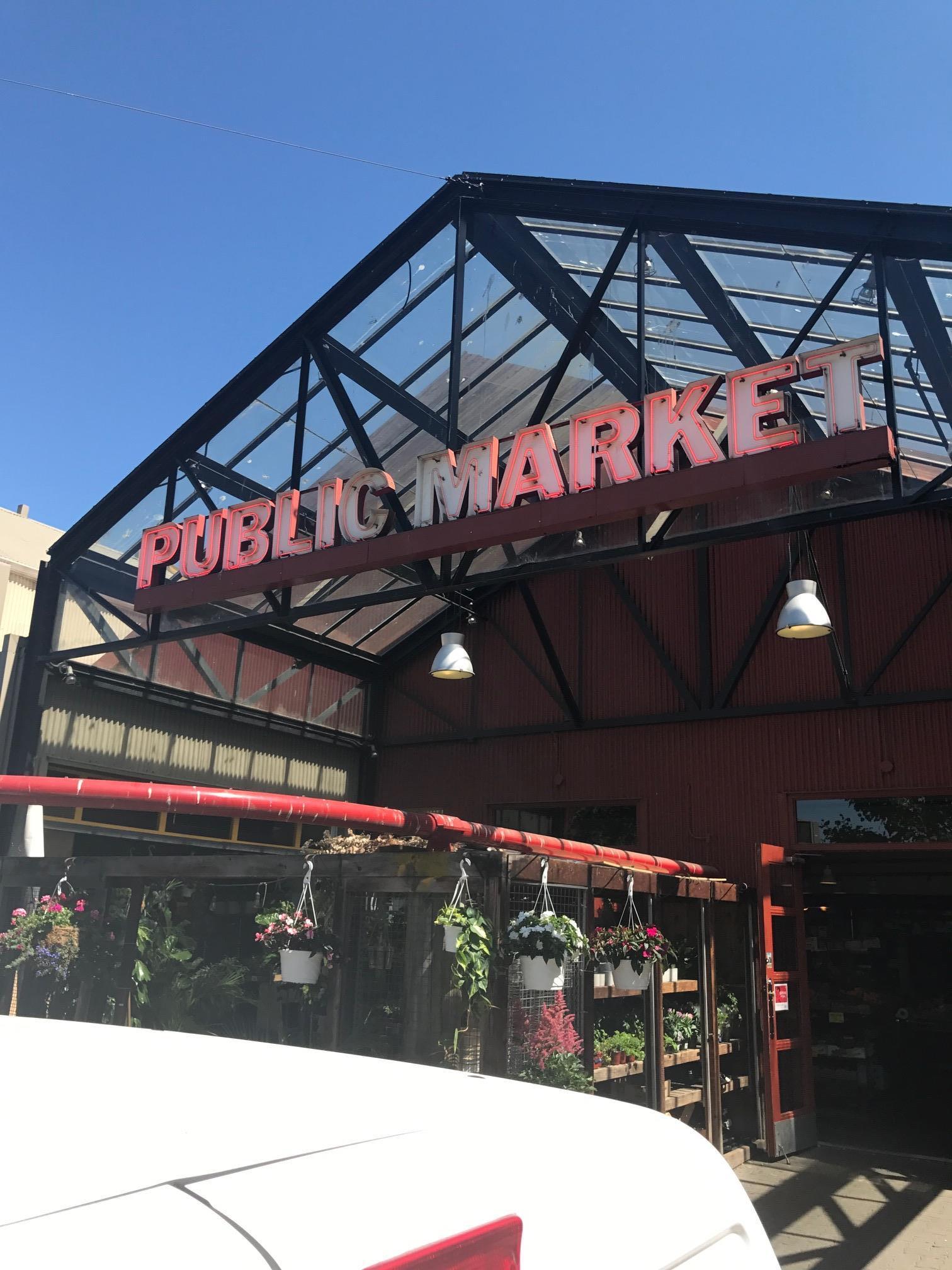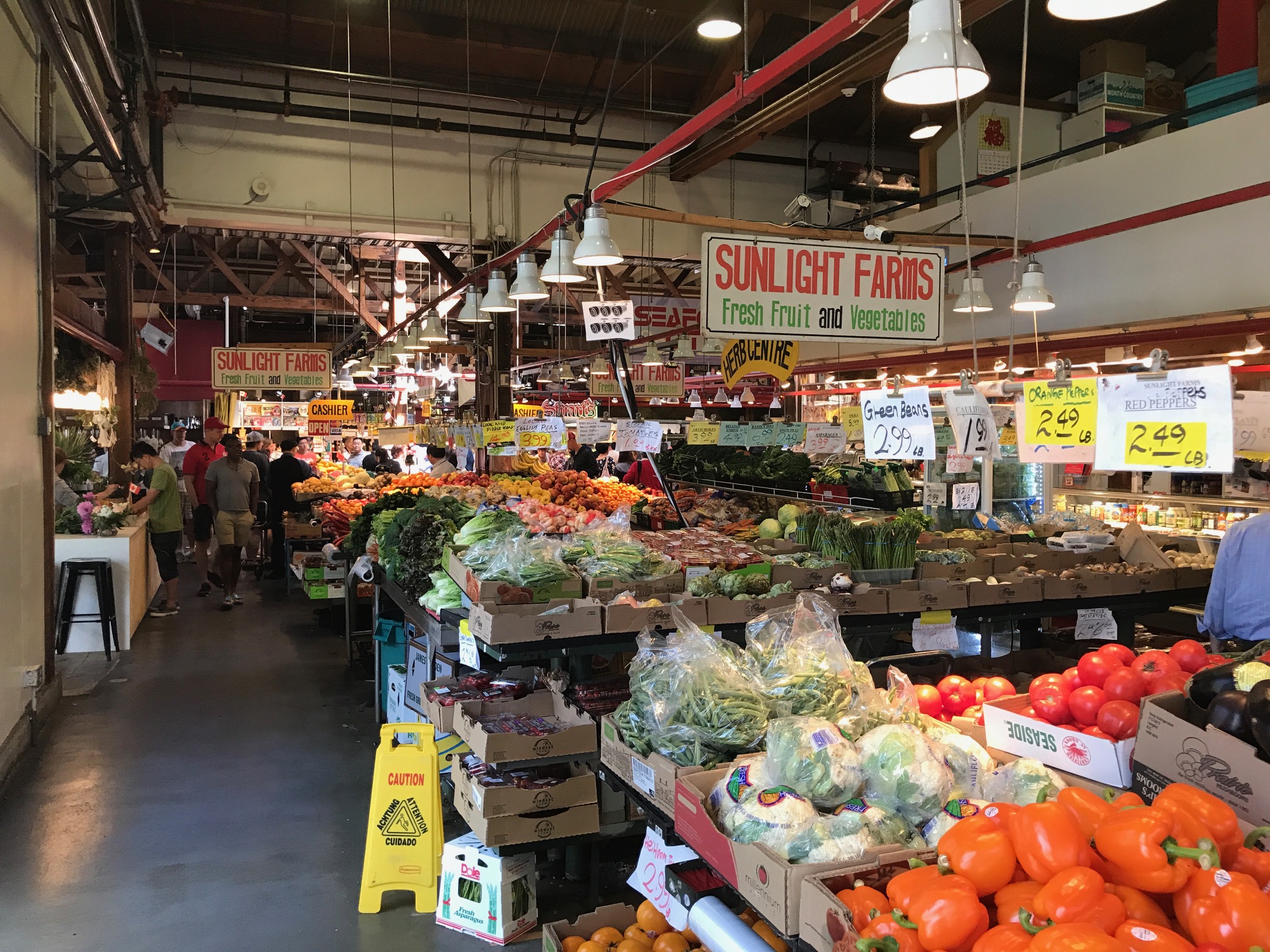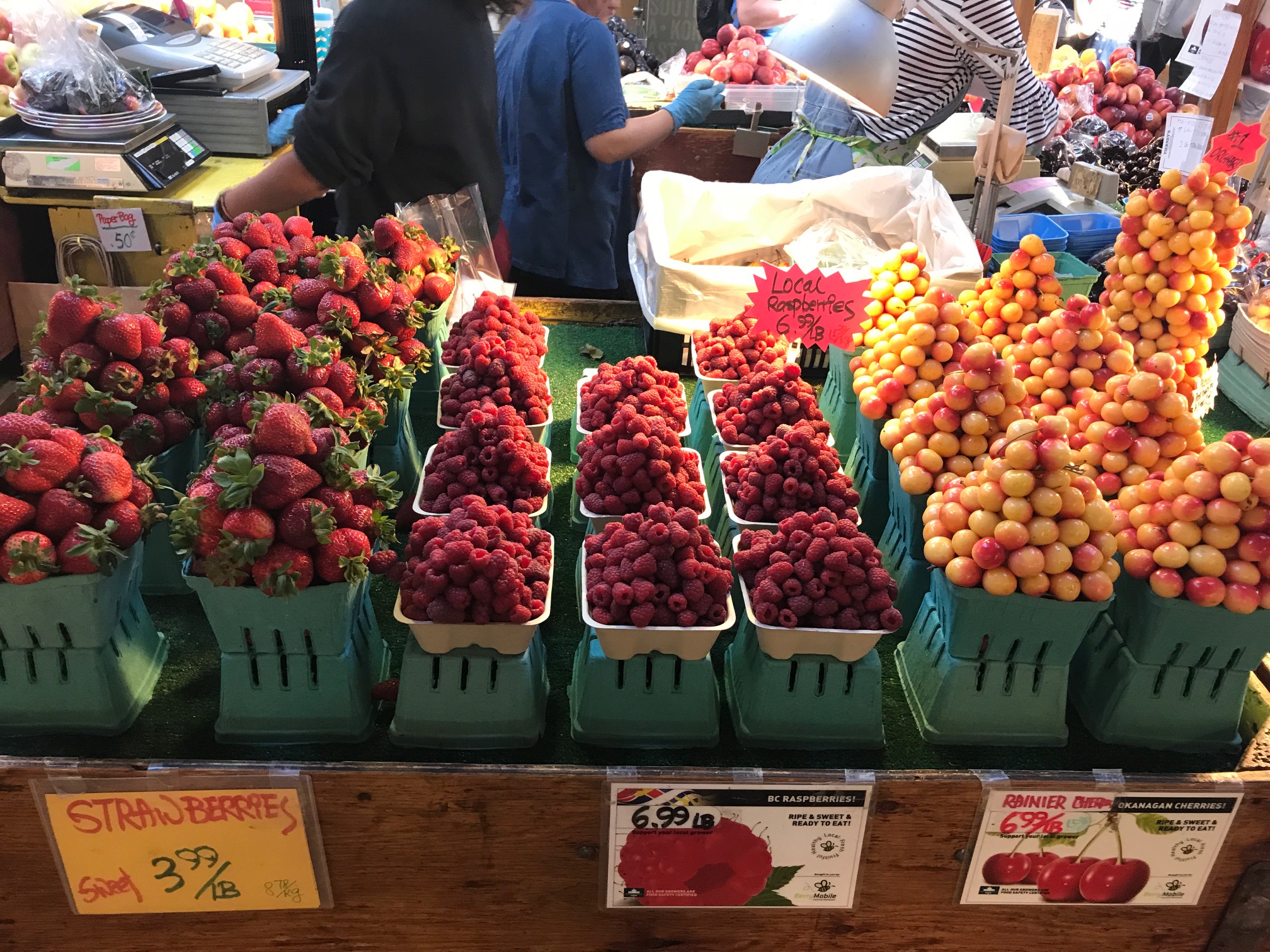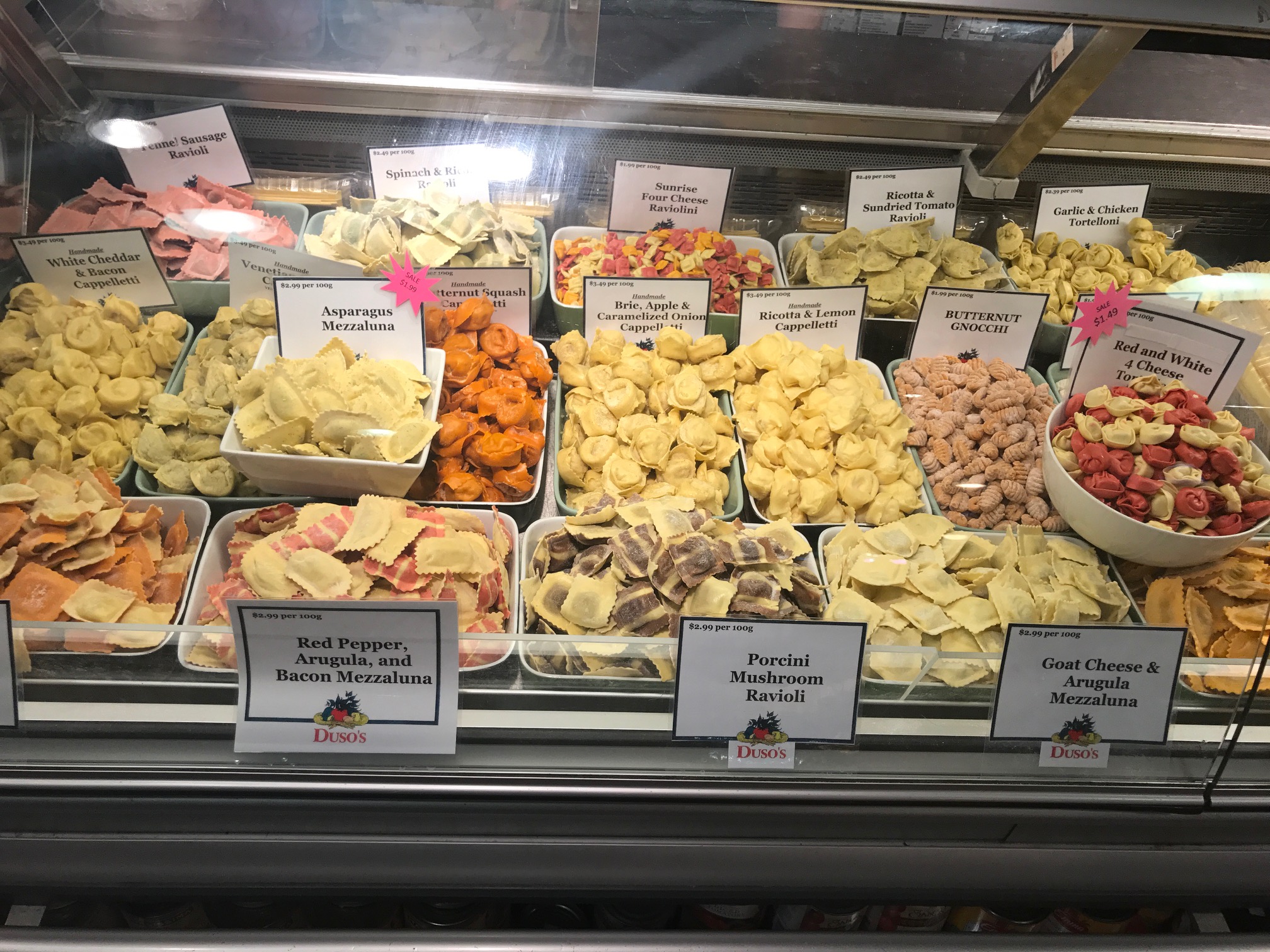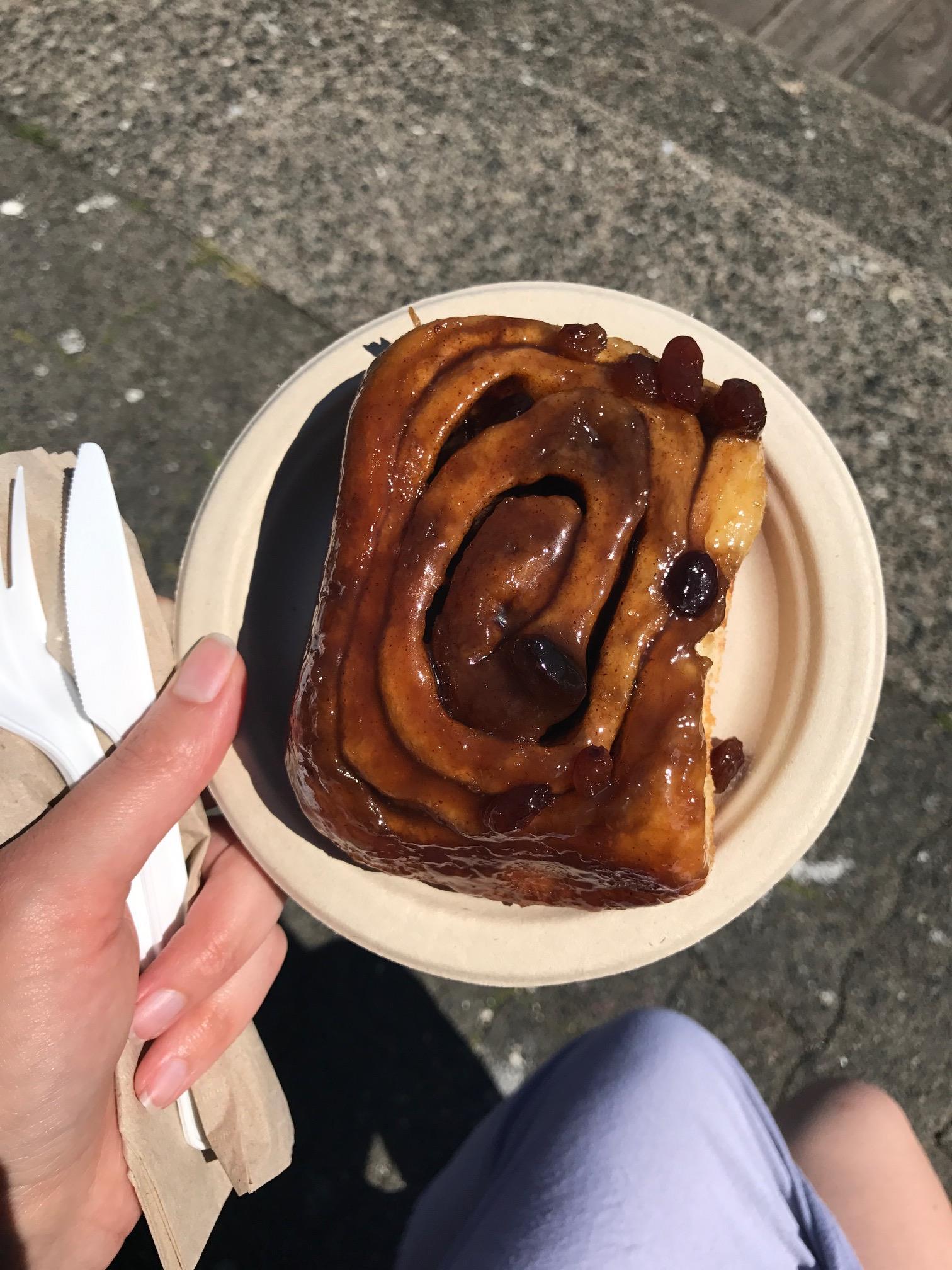 From there I wanted something a bit more hearty, so I stopped in at Edible Canada for breakfast. There I had a Vanilla Latte and a Breakfast of Champignons ($19), which has local mushrooms, Canadian grains, grilled avocado, poached free range eggs, tomato  and arugula salad. Very healthy! The establishment is also known for mixing their own salts, so I sampled a plain one, bacon flavored one and a spicy one. Best salt I've ever tasted, the spicy one was my favorite!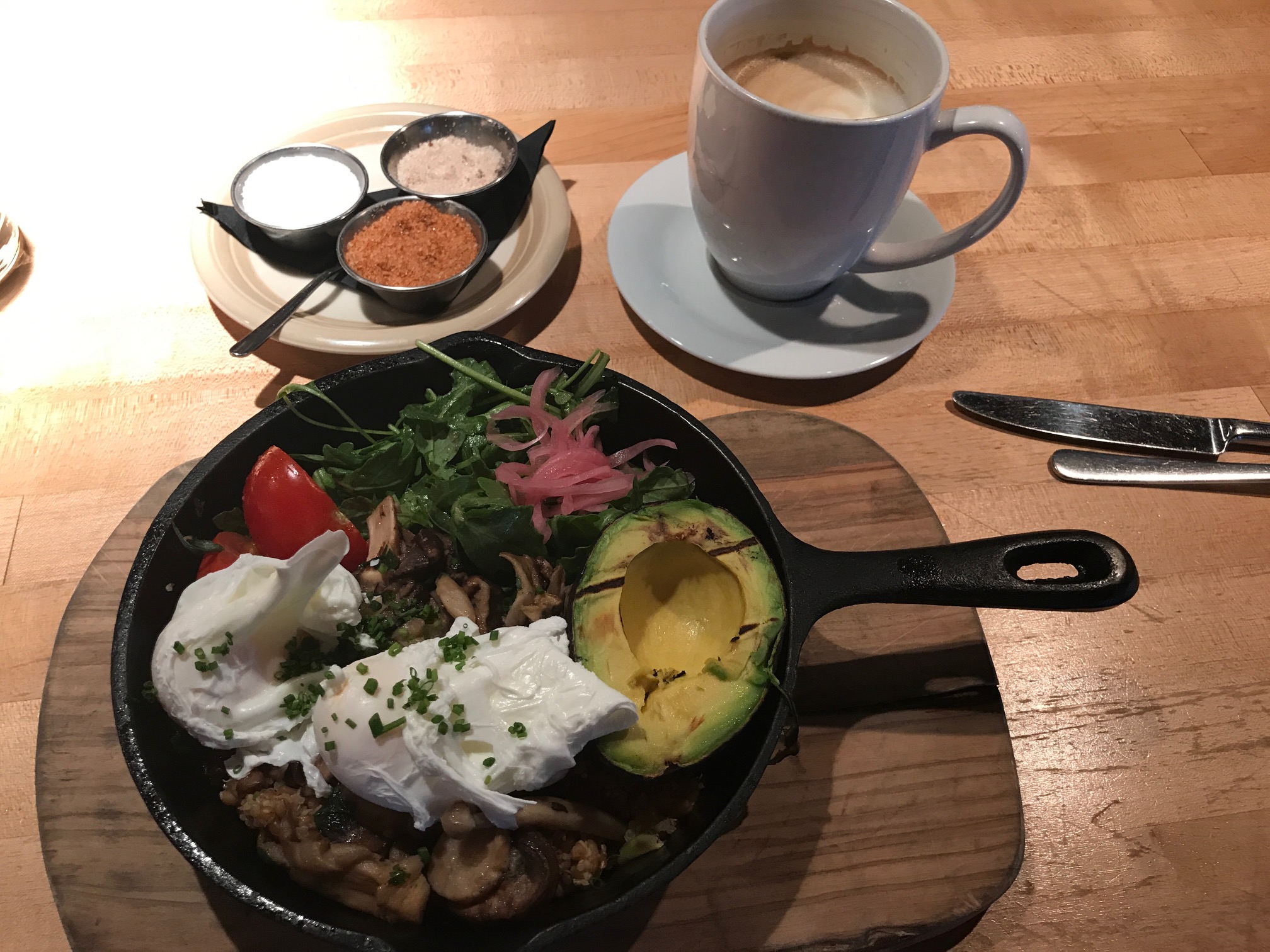 Afterwards I took an Aquabus ($3.50) over to downtown Vancouver so that I could walk to Canada Place and do a projection and technology ride with different parts of Canada called Fly Over Canada ($22.95 per adult). It was quite a walk, it took me almost 30 minutes but hey, it was a great workout! Canada Place also had 3 visiting cruise ships that day and it was busy!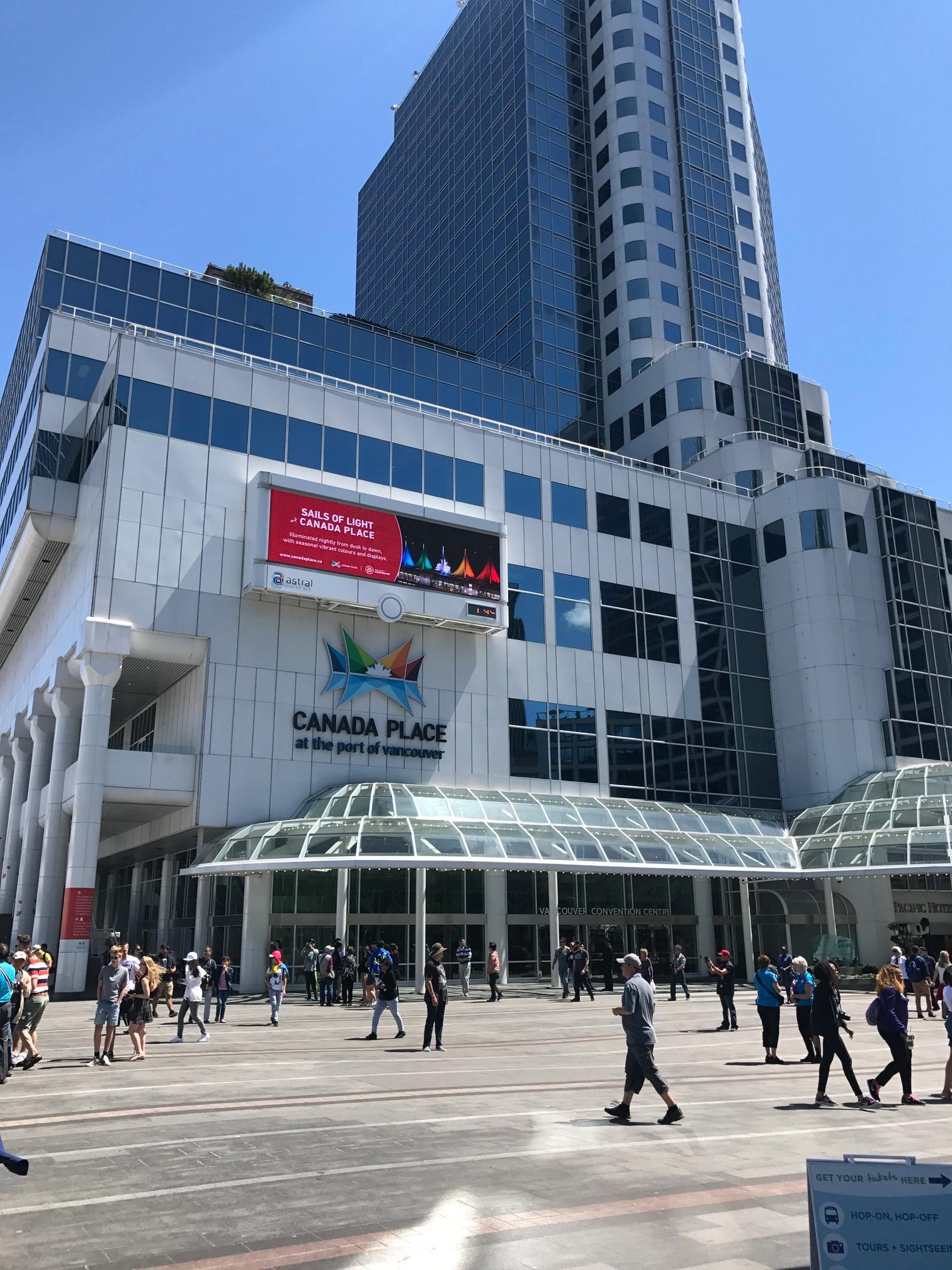 For the ride itself, you are projected upwards towards the huge screen and different scents and water spritz make you feel like you are actually in nature. The whole ride took about 30 minutes. There is a similar ride like this that I went on when I first moved to the LA area at Disneyland called Soarin' Over California.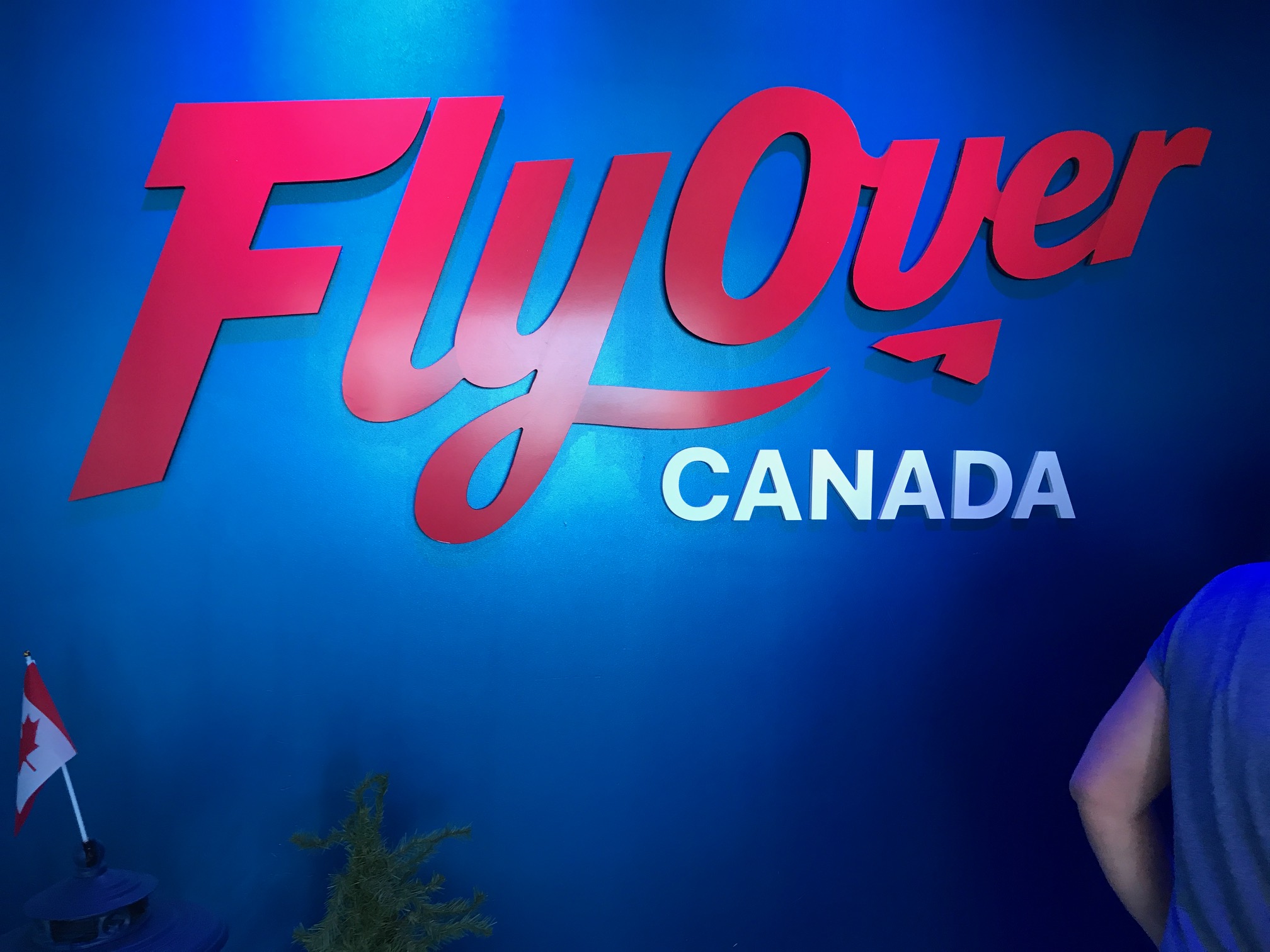 I also took a photo from the walkway that overlooks North Vancouver, it is beautiful!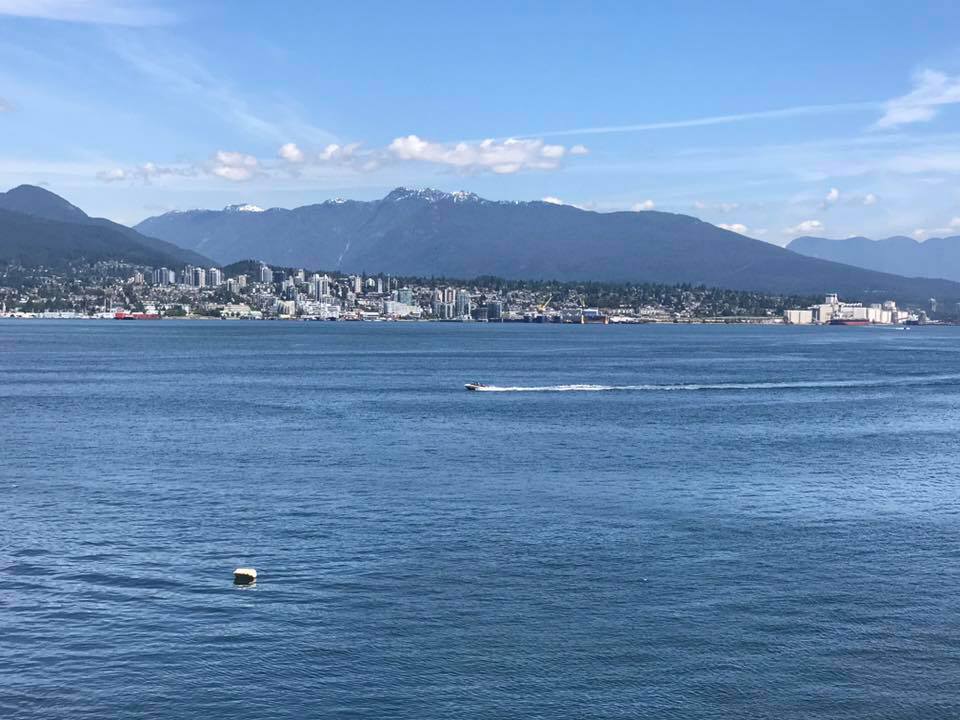 From there I hit up my first brewery on my vacation called Steamworks Brewery, not too far from Canada Place. For my beer flight, I choose the Oatmeal Stout, Pale Ale, Pilsner and Summer Ale. Honestly? I couldn't choose which one I liked the best, they all tasted well made!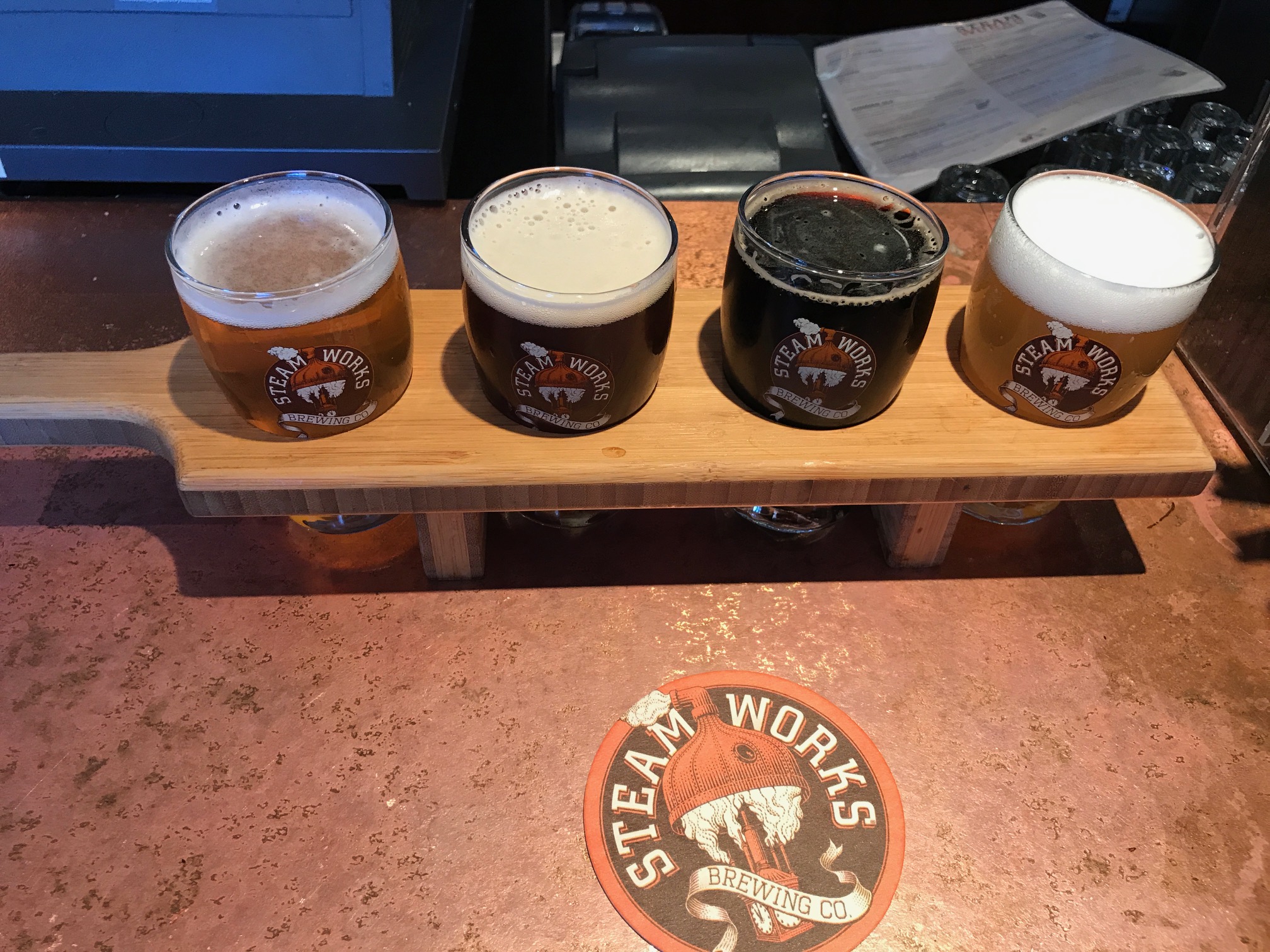 I went through a popular area called Gastown, Vancouver's oldest neighborhood, to get some souvenirs (magnets) at a local shop and then came across the Gastown Steam Clock, where real steam comes out of it. I also took a photo of the founder, Gassy Jack (btw, the meaning of "I'm gassed!" in Canada means, "I'm drunk!"), and a building that reminded me of the Flatiron Building in New York City, which is actually Hotel Europe.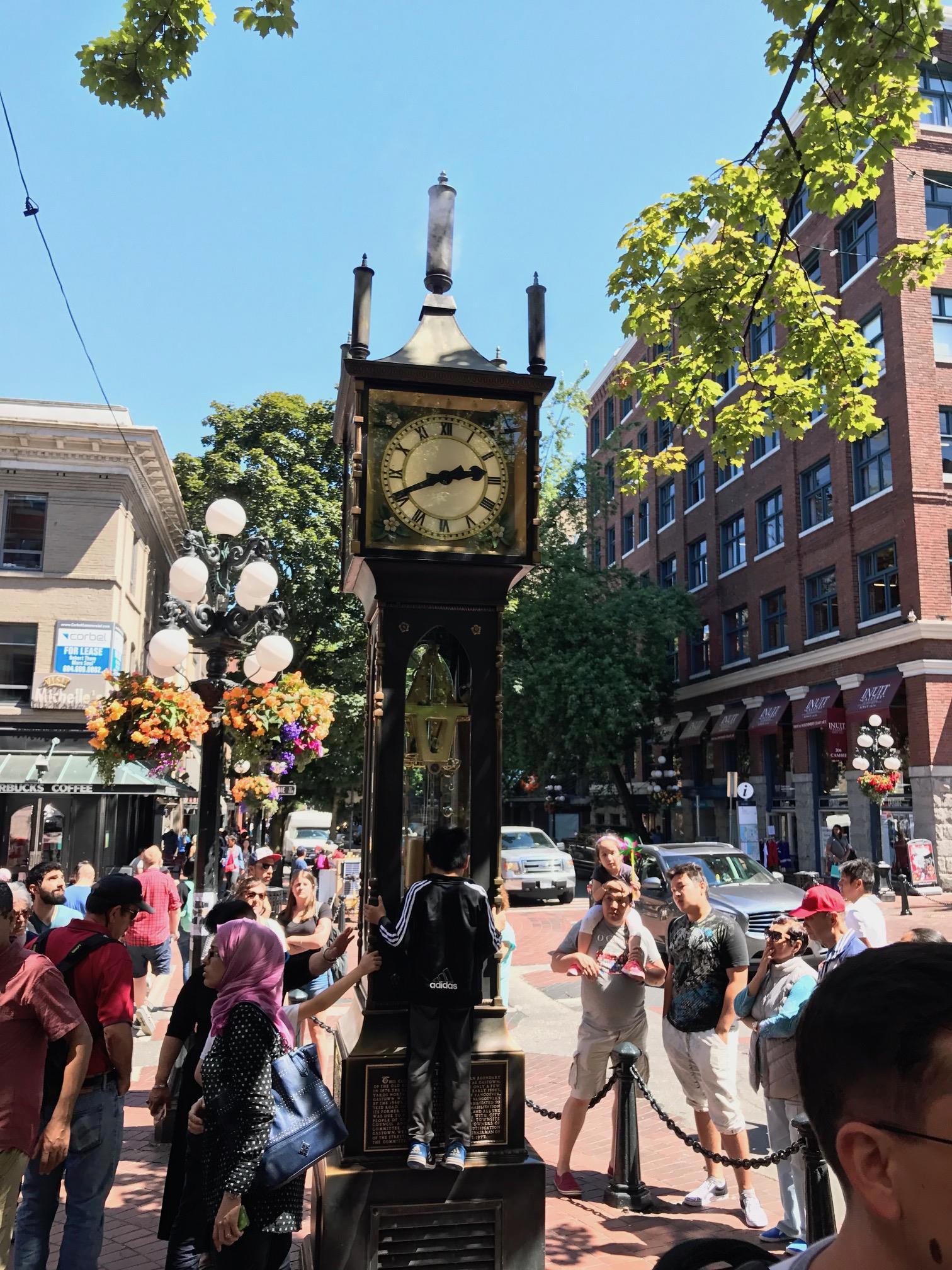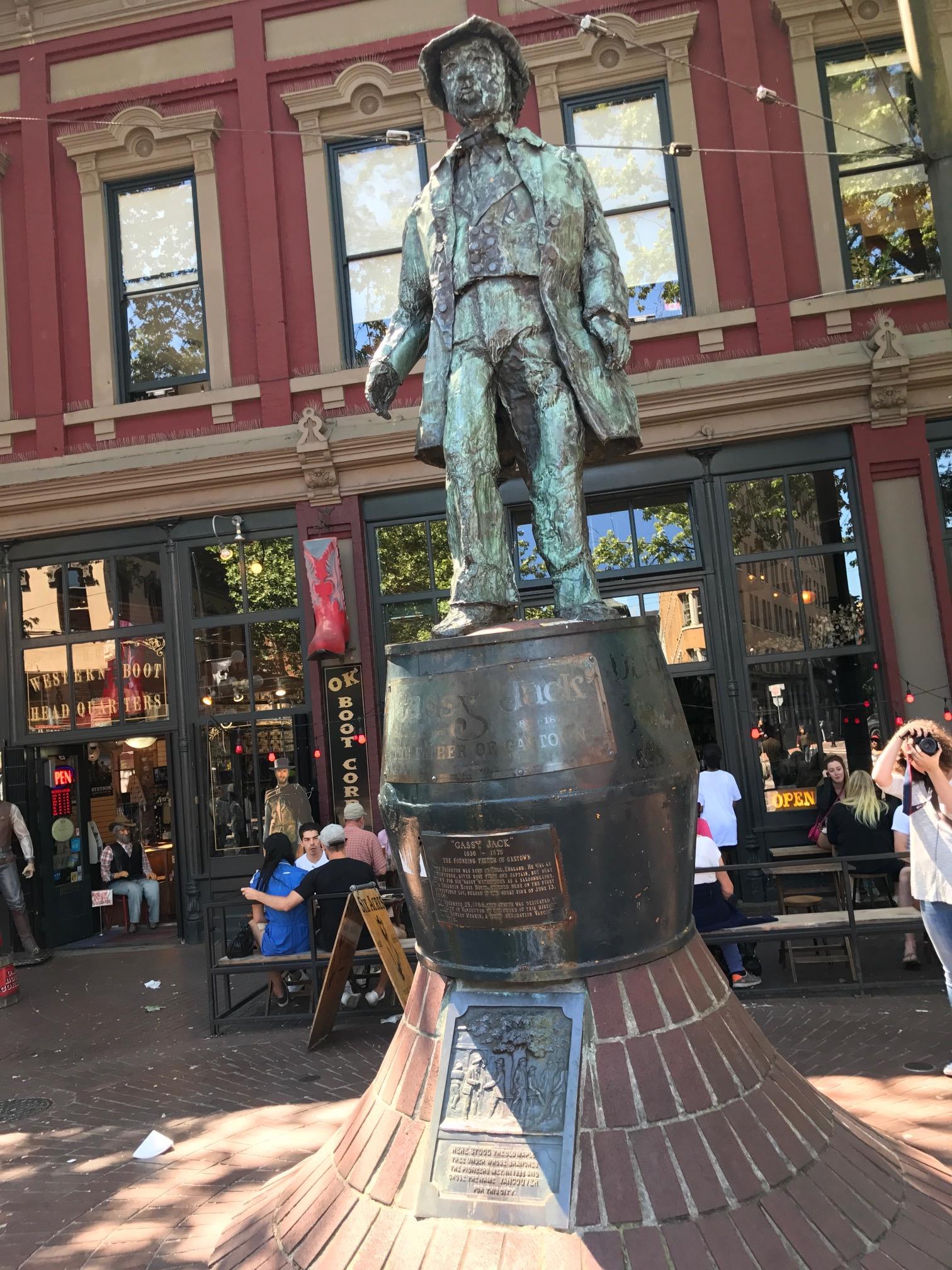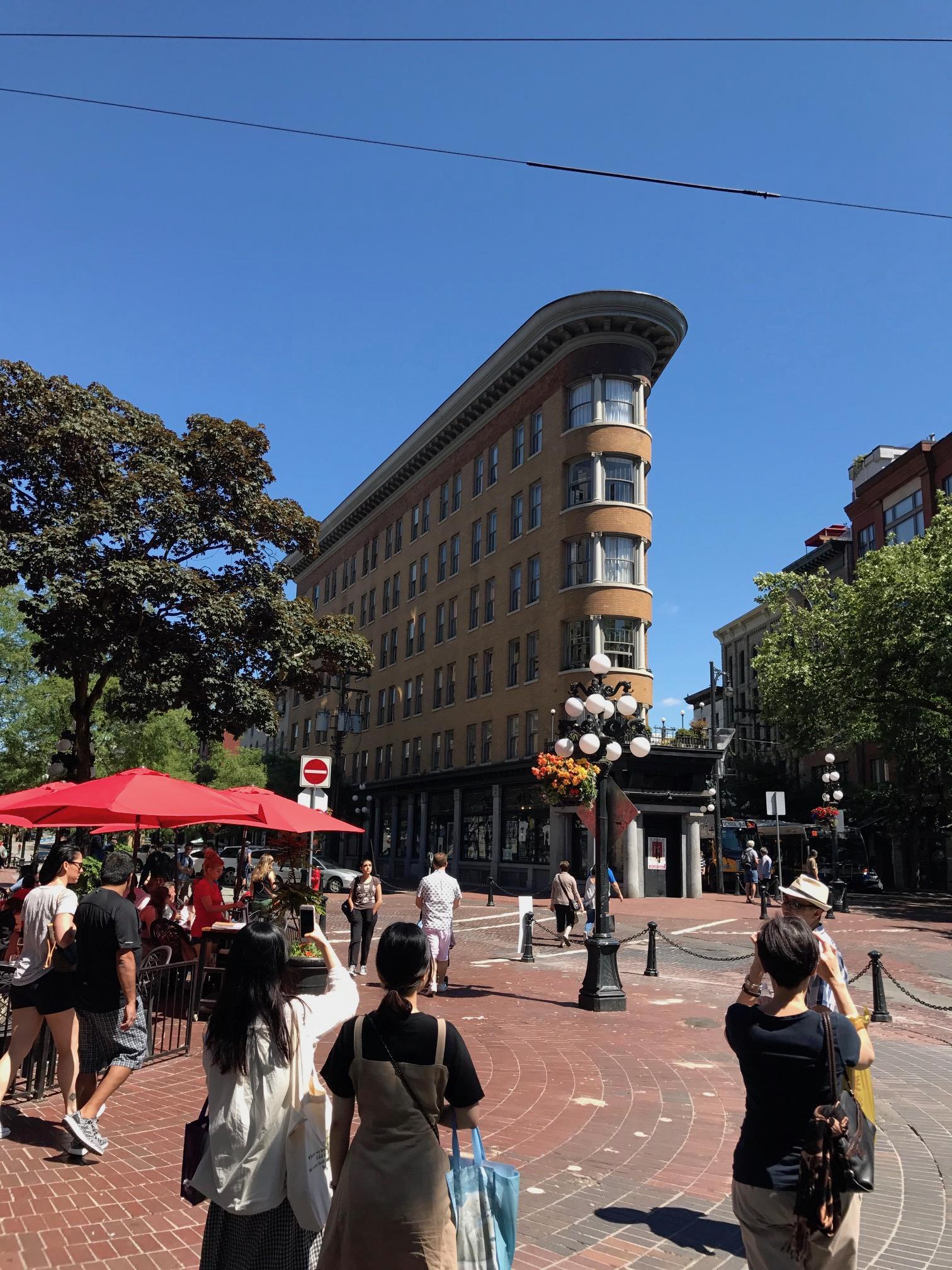 Up the street, I decided to visit Chinatown to see if I could find some amazing authentic Chinese food.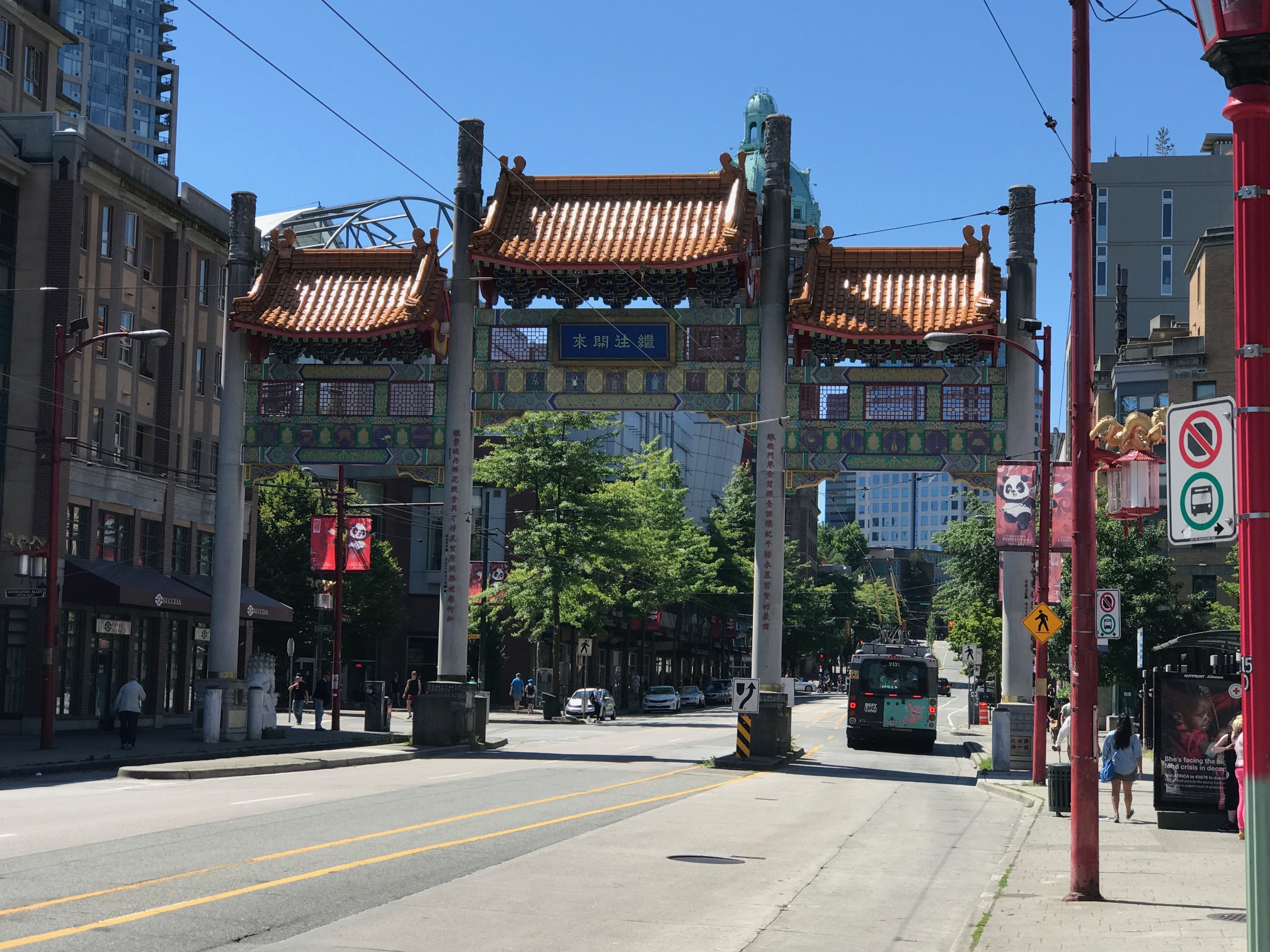 My stop was done a few minutes later when I came across New Town Bakery & Restaurant. It was voted as a "Must Visit Restaurant by CNN Traveler and are known for their world famous steamed buns. You need to grab a ticket and wait in line because it is that busy.
The spicy pork bun ($2.25) is the most popular and I was lucky to grab the last one. The bun is slightly sweet and mixed with the spicy pork, it tasted heavenly!
I ended the day by stopping at Boulevard Kitchen & Oyster Bar on the West End of the city for some Happy Hour Oysters ($2 a shuck) and a Dickie's Moscow Mule ($6). Nom, nom, nom! It is a very nice restaurant, so I recommend looking the part!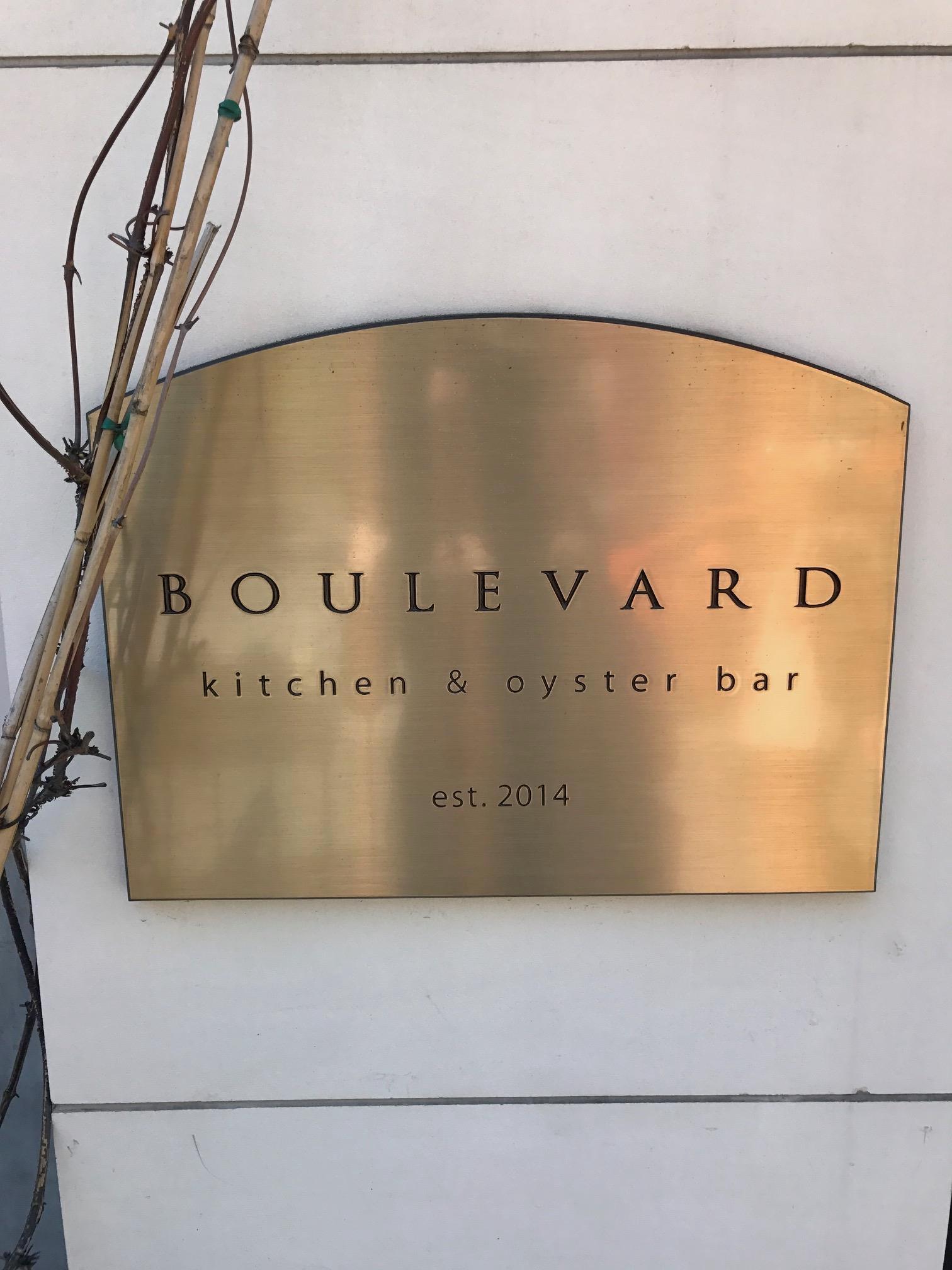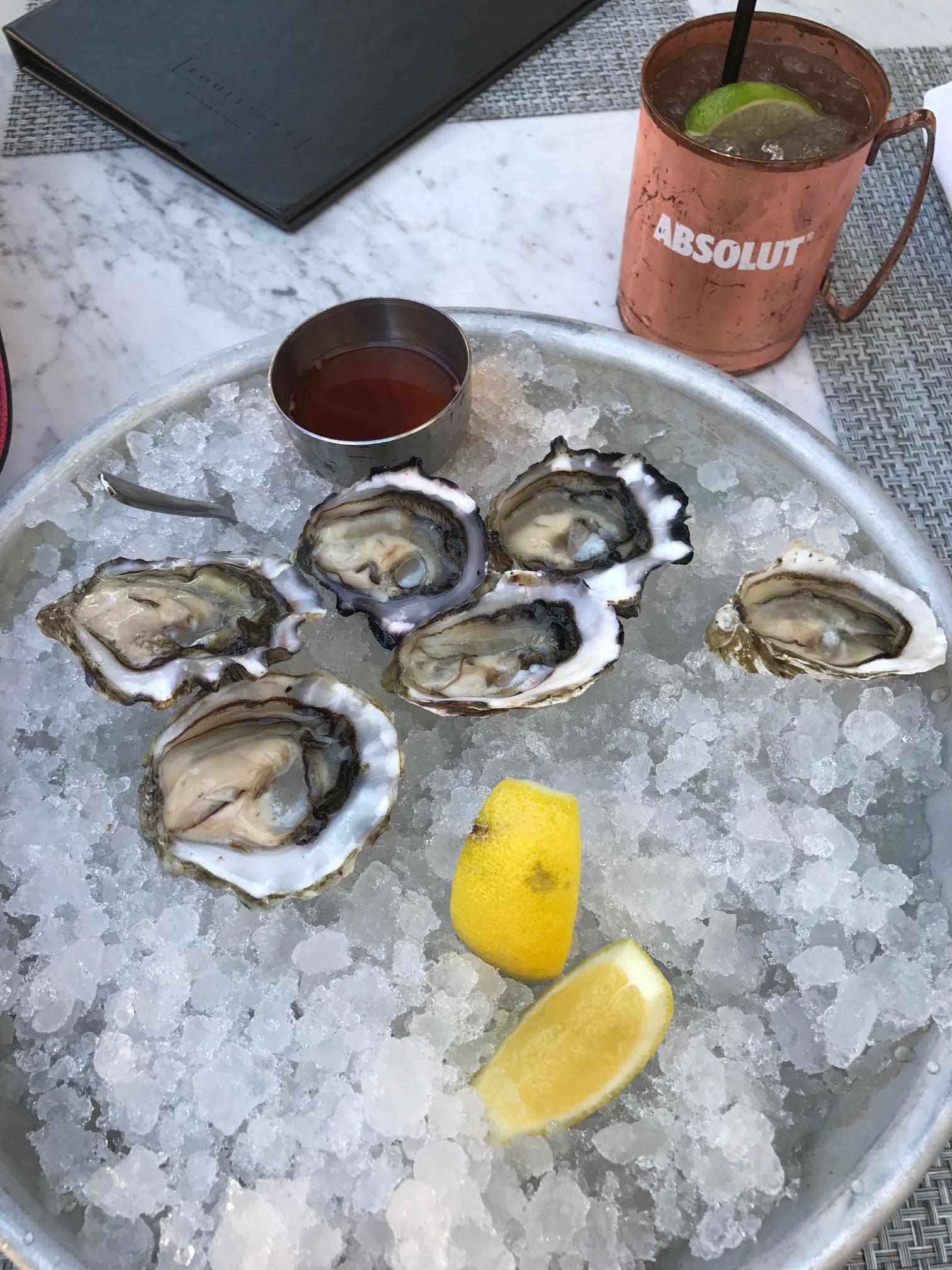 On the way back home in the cab, I snapped a photo of City Hall.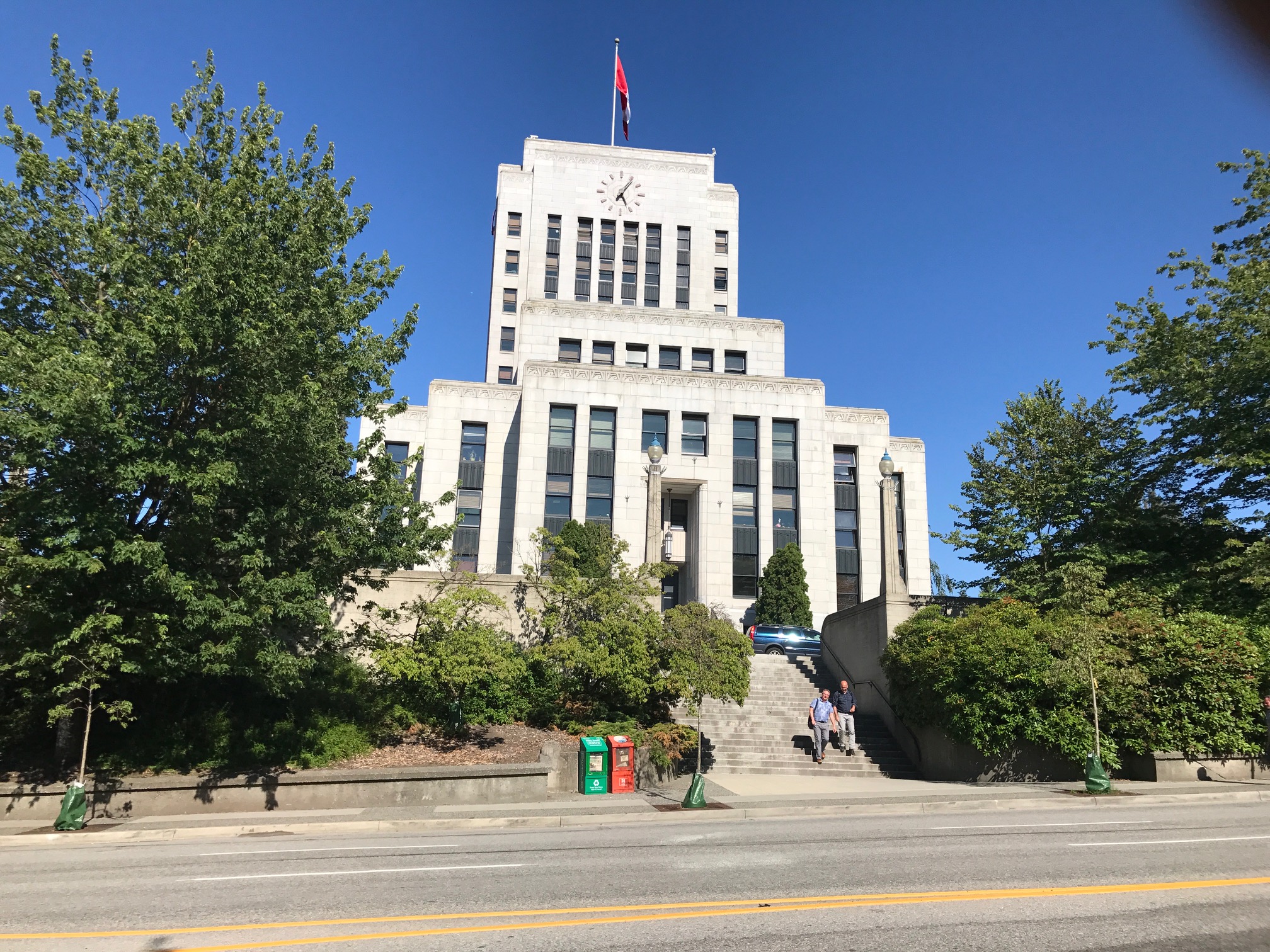 Day 2: Tuesday, July 4
While America was celebrating its 241st birthday in the states, I was celebrating in Canada! This was the day I decided to go to Capilano Suspension Bridge Park ($42.95) in North Vancouver. You can take the free shuttle over from Canada Place.
The bridge has been operational since 1889 and is 460 feet long and 230 feet above the river. At first it is annoying because it is a bit wobbly and tourists stop to take photos of themselves on it, but once you get going, it's a fun experience! It took me about 10 minutes to go from one side of the bridge to the TreeTop Adventures and Nature Walk portion of the rainforest and 3 minutes going back to the Cliff Walk.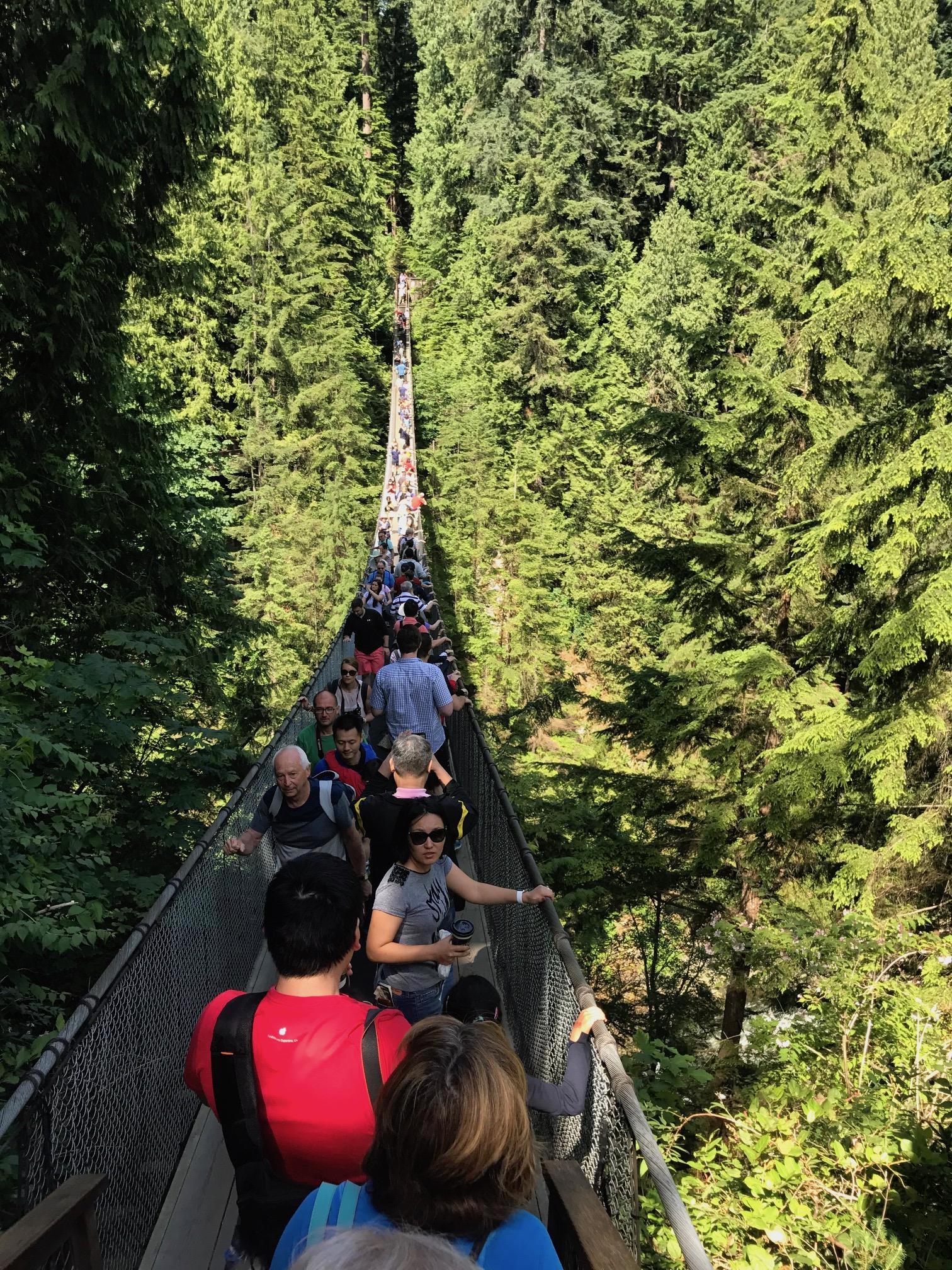 With the TreeTop Adventures, I walked between 7 Fir trees on a bridge and steps. It was probably my favorite and funnest thing to do at the park! The Nature Walk consisted of views of the river and some tour guide spots along the way, like the one below with the owl.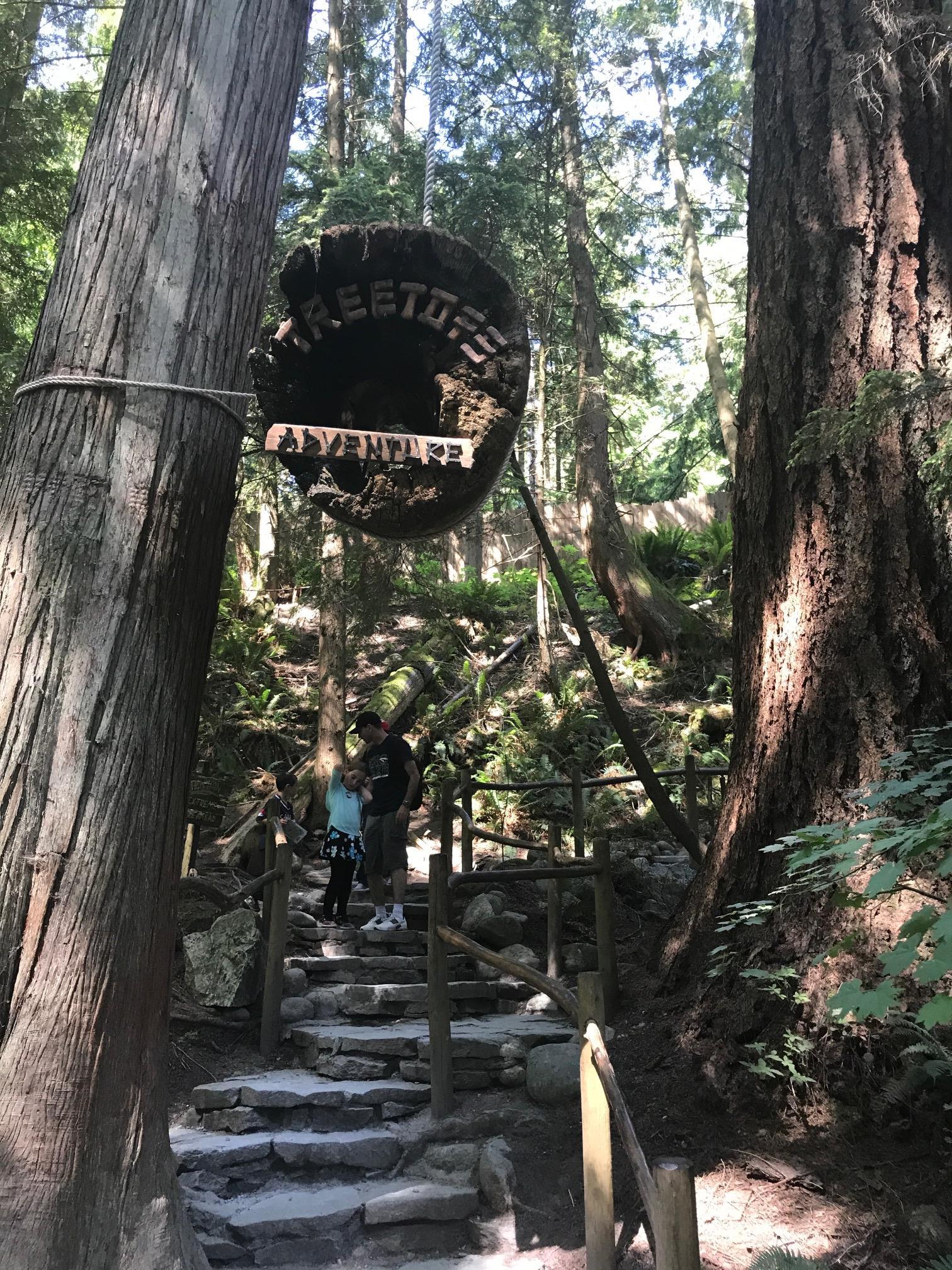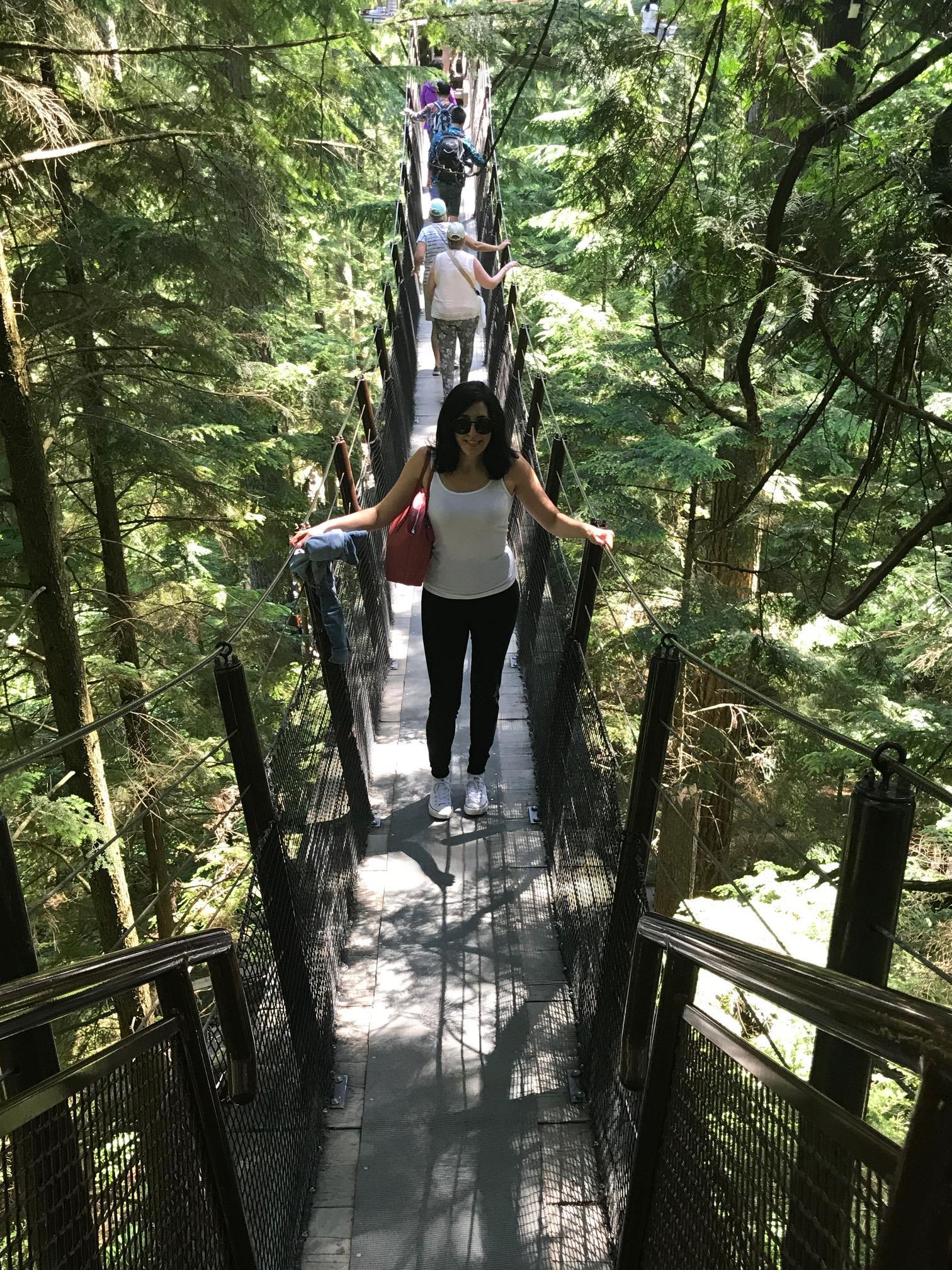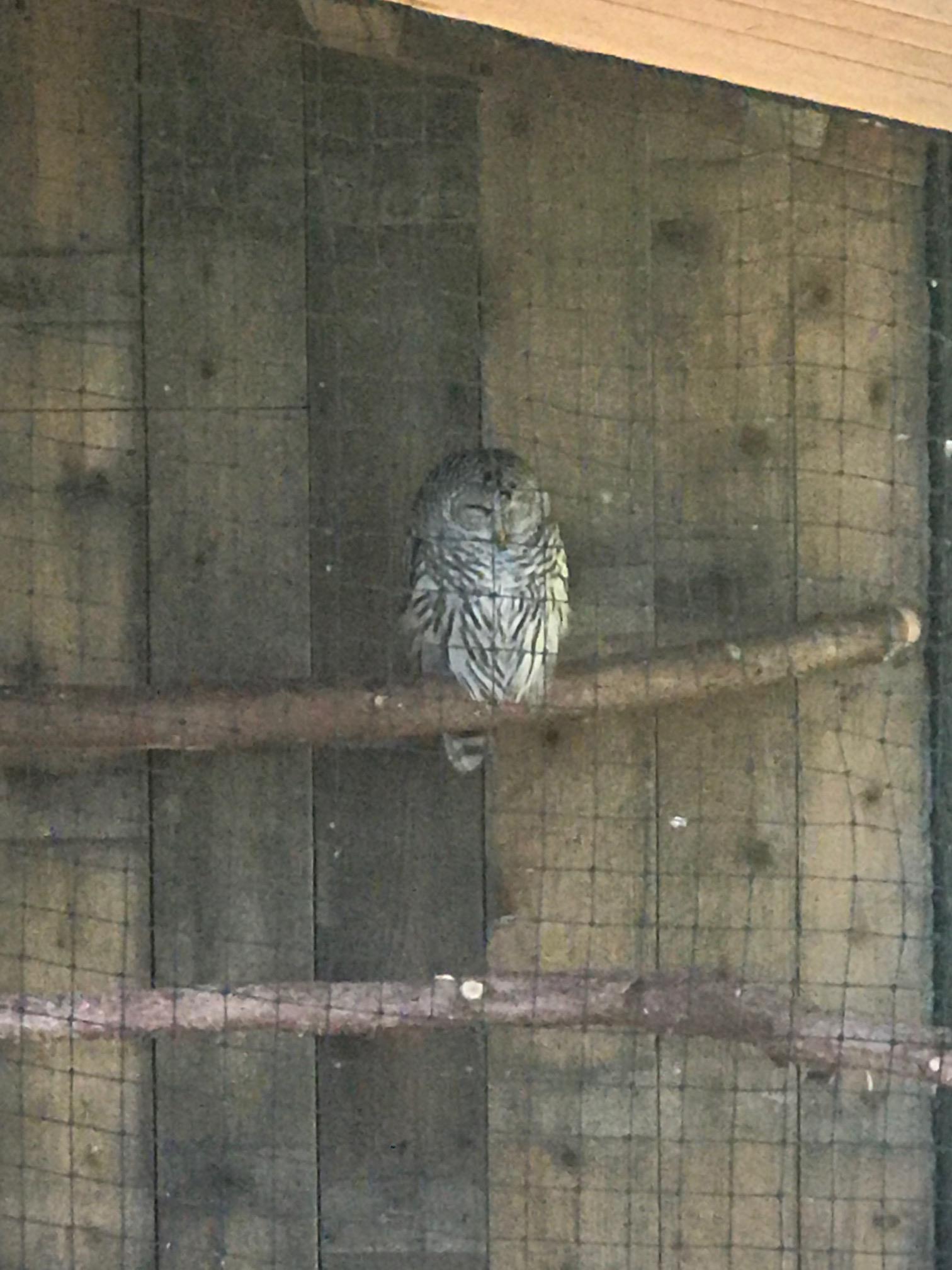 For the Cliff Walk, you walk on very thick and sturdy glass that overlooks the Capilano River and a small waterfall. It's a bit intimidating if you have a fear of heights, but I conquered it well!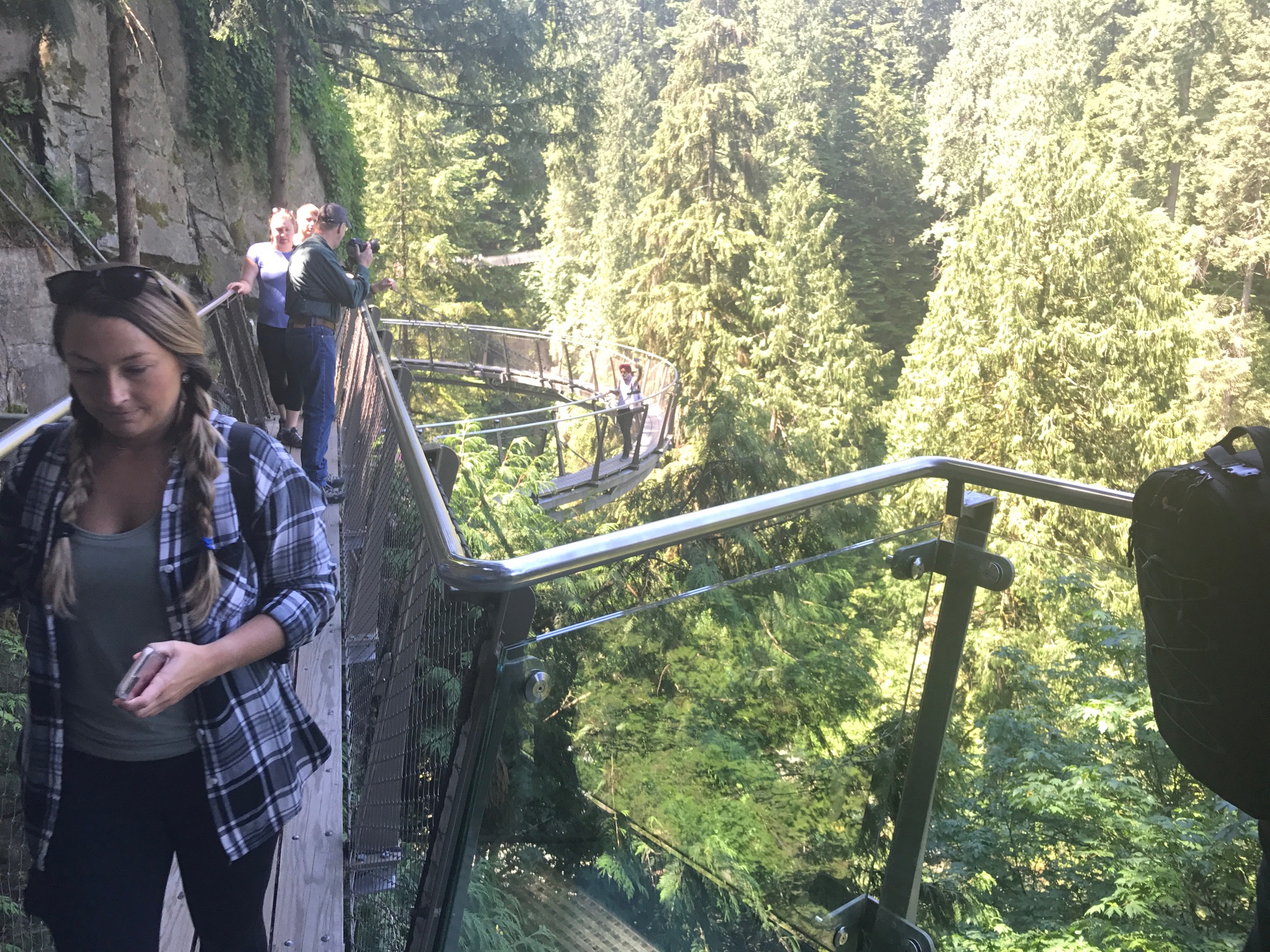 On my way out, I took a photo of some totem poles. The city is known for having multiple totem poles everywhere, so I tried to grab as many photos as I could on the trip.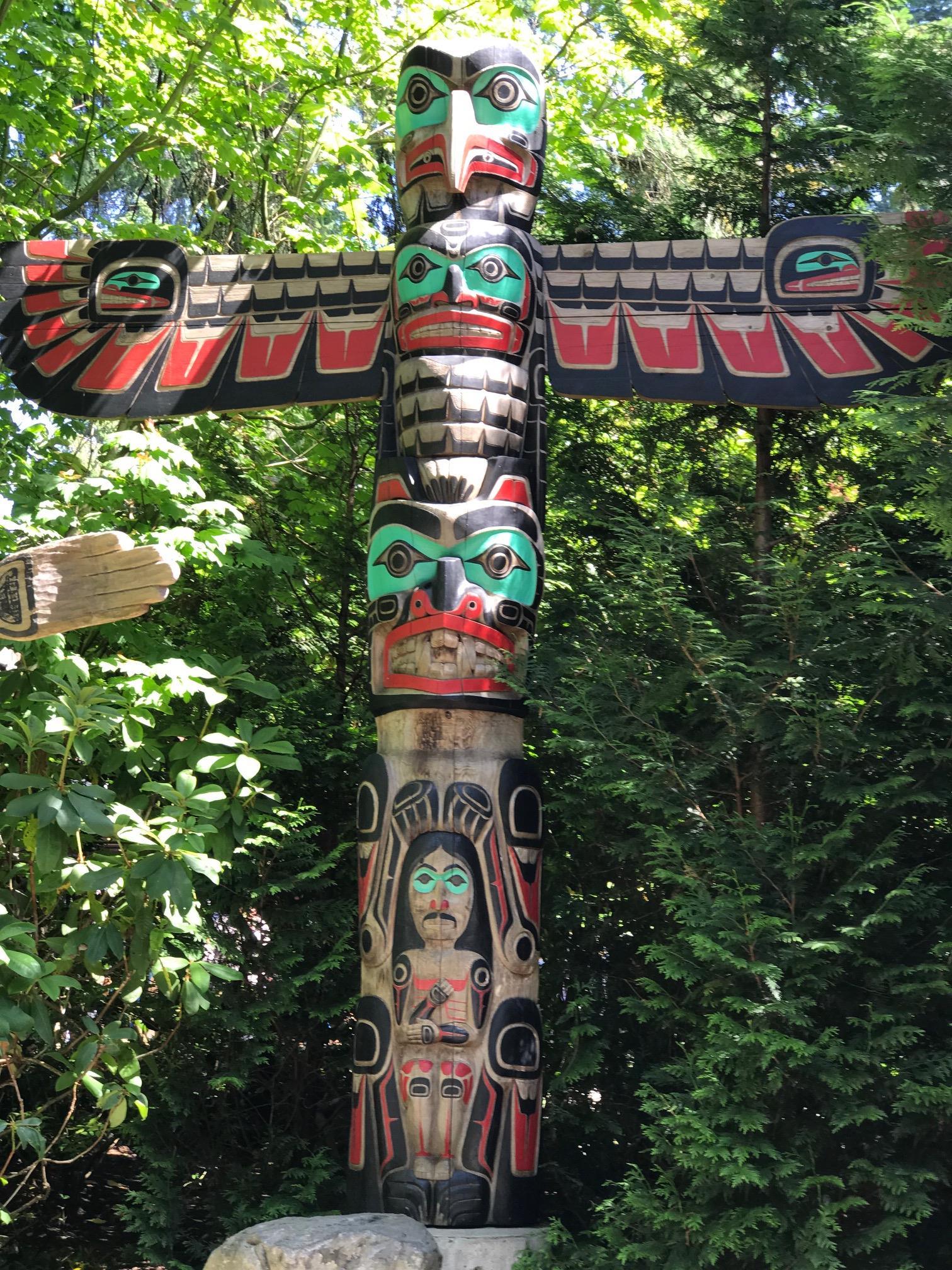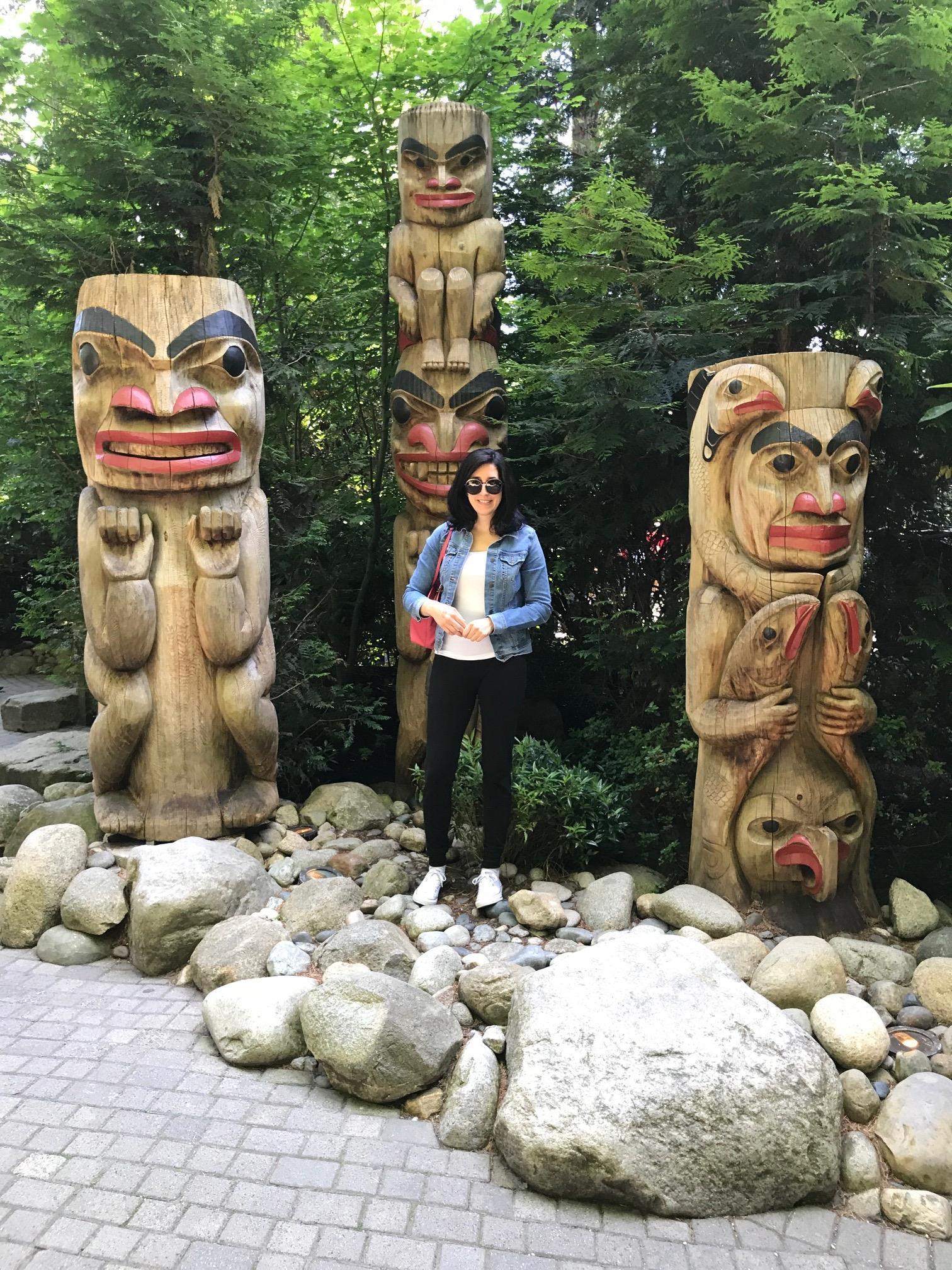 Something I did not have time to do was Grouse Mountain, which is not too far from the Capilano Bridge and is considered the peak of Vancouver. If you go to this, let me know!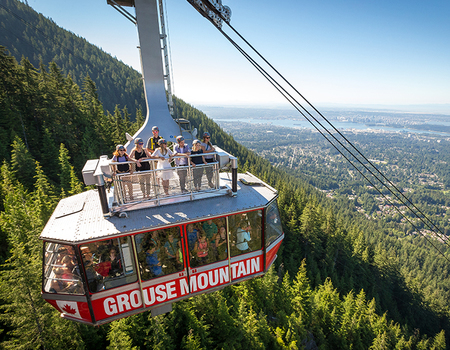 On the way back, the bus operator explained to us that we all needed to go to Bella Gelateria because the business has been voted twice as having the best gelato in the world!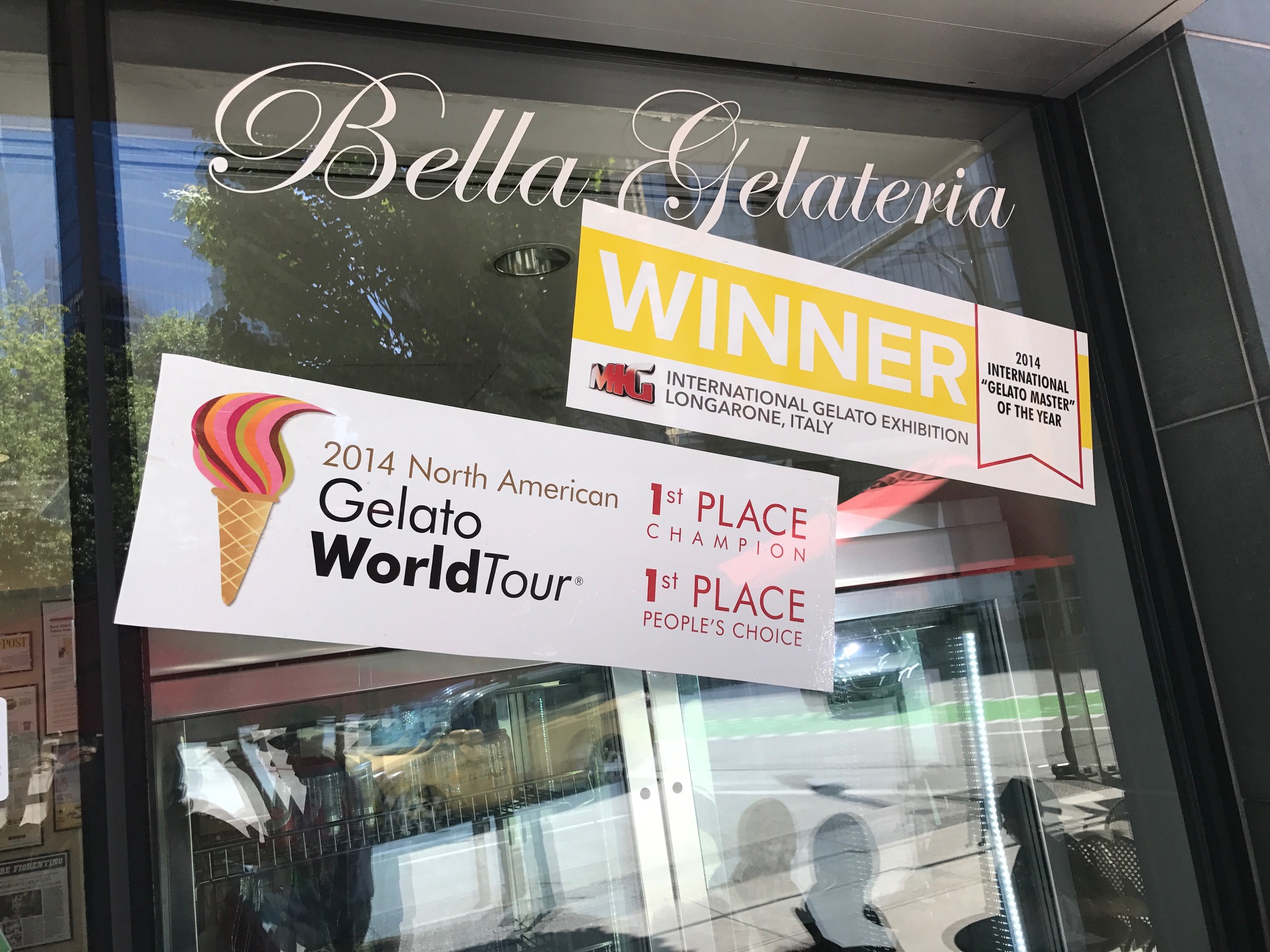 I was lucky when I got there that the line wasn't too long, because by the time I left, it was out the door! I got myself two flavors: Toasted Pecan and Armena Cherry. I liked them both because the weren't too sweet. The establishment let's you sample 3 different flavors before deciding on 1 – 3 flavors to purchase.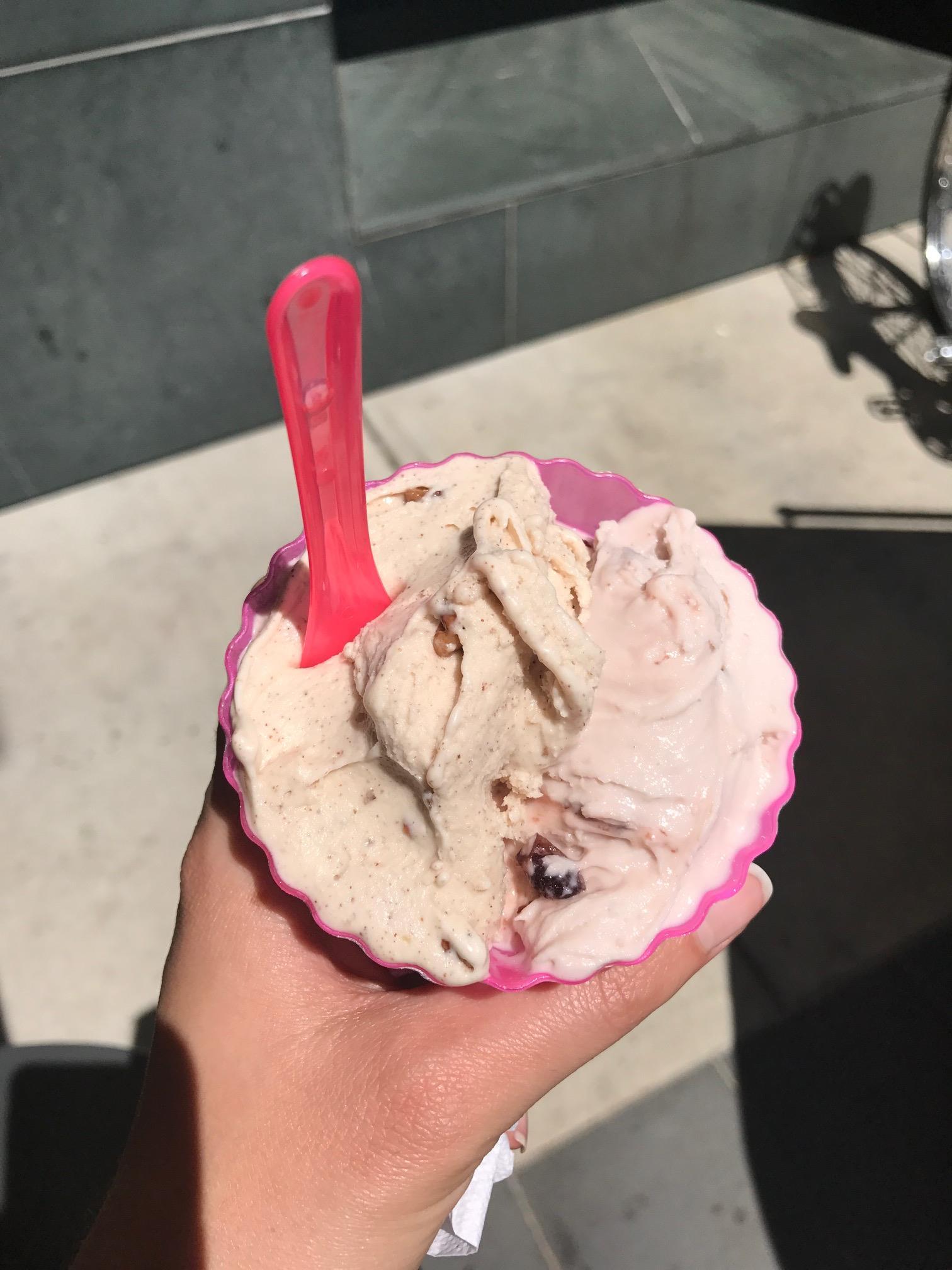 From the park, I took a cab over to Postmark Brewery, where I had this unbelievable salad that I am going to recreate at home. It had spinach, grilled asparagus, radishes, Rigatoni, Feta cheese, yellow tomatoes and sun dried tomato oil and garlic, to die for! I also had a Blondebucha, which was an ale with ginger Kombucha. Very unique and tasty!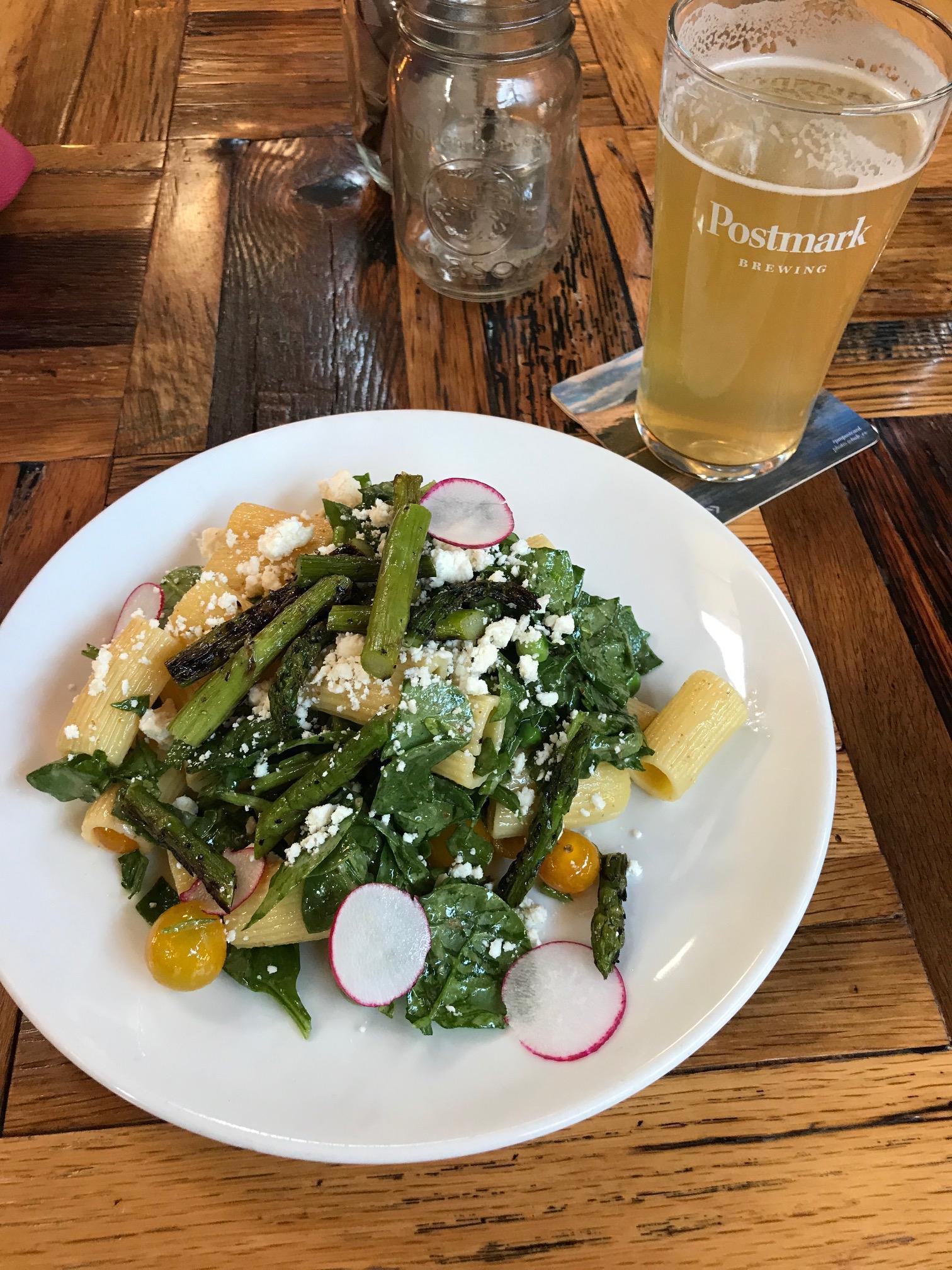 Afterwards, I took a cab back to my place so I could rest and freshen up before I went out for the night. I stayed in the Richmond area and took a cab to the best sushi spot in town, Village Sushi Bar. It's a very small restaurant that's mom n pop owned, but the sushi was amazing! They serve you complimentary green tea and I had the Salmon Roll and Mango California Roll. Guess how much it was total? $8!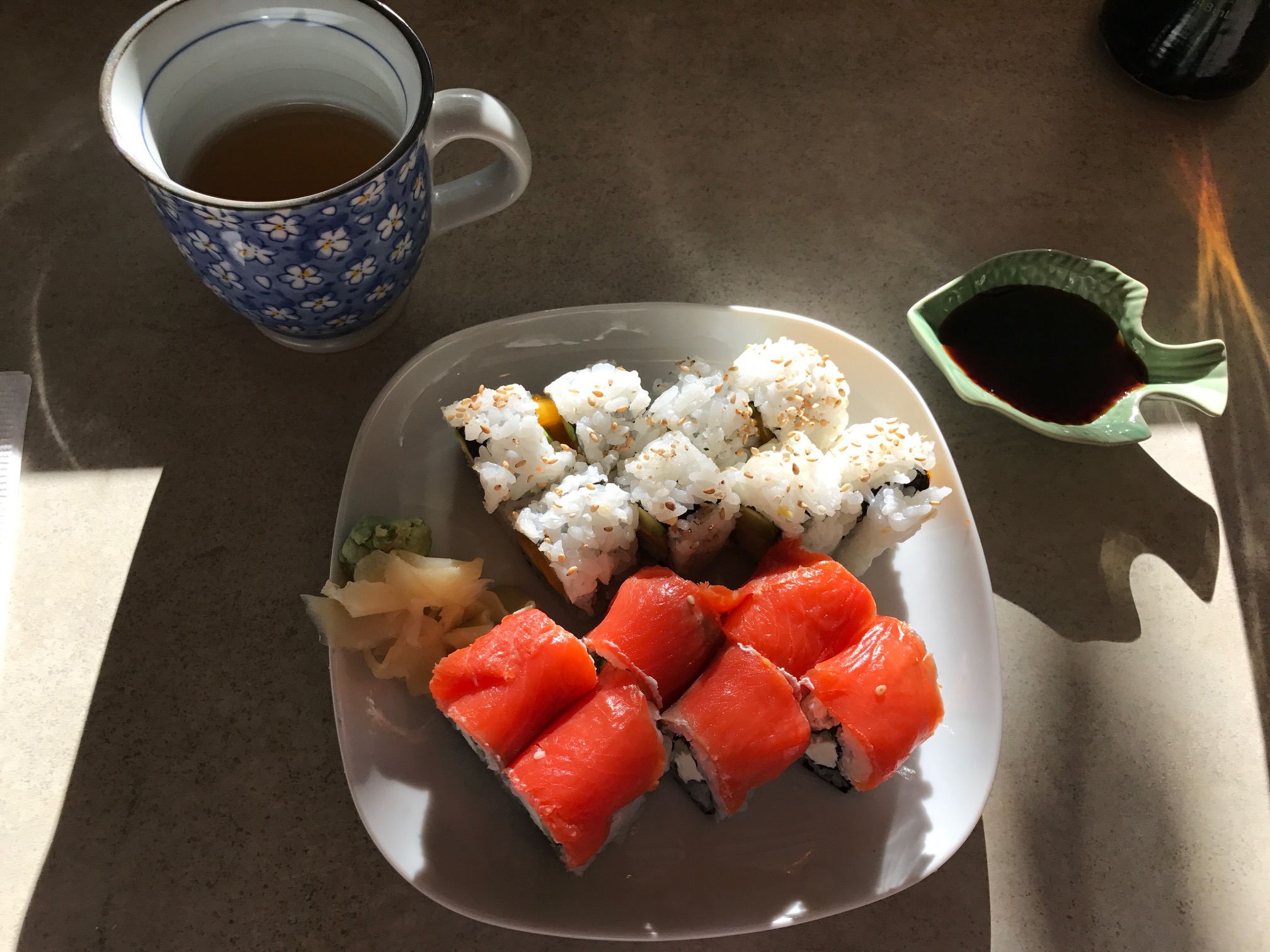 From there I walked over to Steveston Village and had a beer sampler at Britannia Brewing Company, where I had the Chai Saison, Cherry Chai, Blonde + Brunette, Blondmosa and Truffle Popcorn for a snack. The Chai Saison was my favorite and the bartender even gave me another free sample of it after I rapped 50 Cent's "P.I.M.P." to the radio, ha ha! The waitress also got everyone at the bar free ice cream from the local shop, Mary's Ice Cream House. I got a Cookies n Cream flavor, it was great!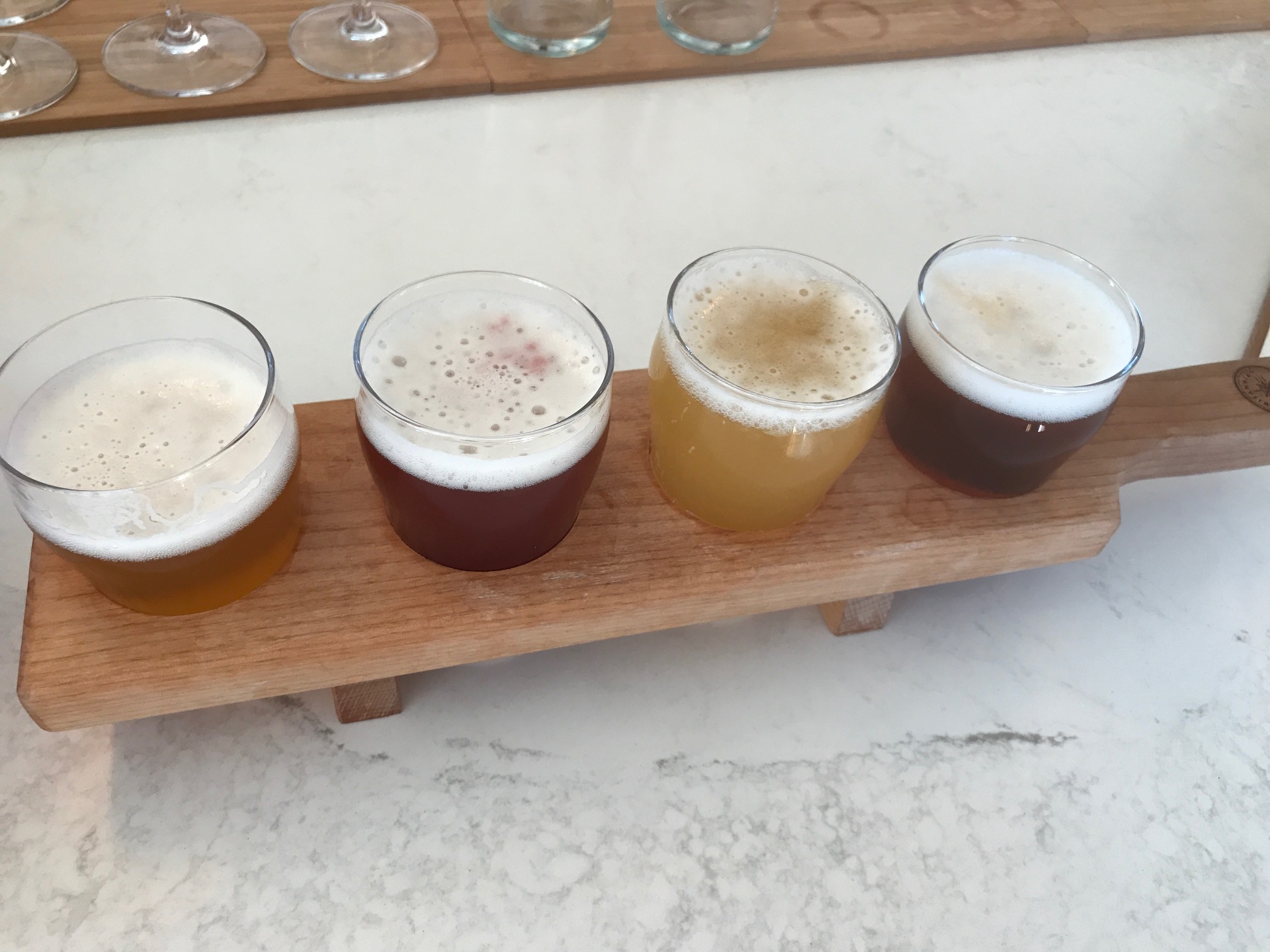 Afterwards, my tipsy self got a cab back to my place for the night.
Day 3: Wednesday, July 5
This was the day I took a day trip to Whistler, which is about 2 hours north of Vancouver in the Coast Mountains.
Whistler is known for its skiing in the winter (some of the 2010 Olympic games were held there) and mountain biking in the summer. It's also known for its Peak 2 Peak Gondola rides, which offers 360-degree views of Whistler Village, mountain peaks, lakes, glaciers and forests. It is a world record-breaking 2.7 miles long (11 minute ride) between Whistler and Blackcomb Mountains and about 1,400 feet from the ground! The cost for the experience is $54. Overall, I booked my day trip through Landsea Tours & Adventures ($145 per adult). It's about a a 10 1/2 hour trip and let me tell you something, it was worth it. We got back later than scheduled because our tour guide stopped at some spots that most guides don't on the tour.
We left downtown Vancouver and first stopped at Horseshoe Bay in West Vancouver to get some scenic shots and coffee.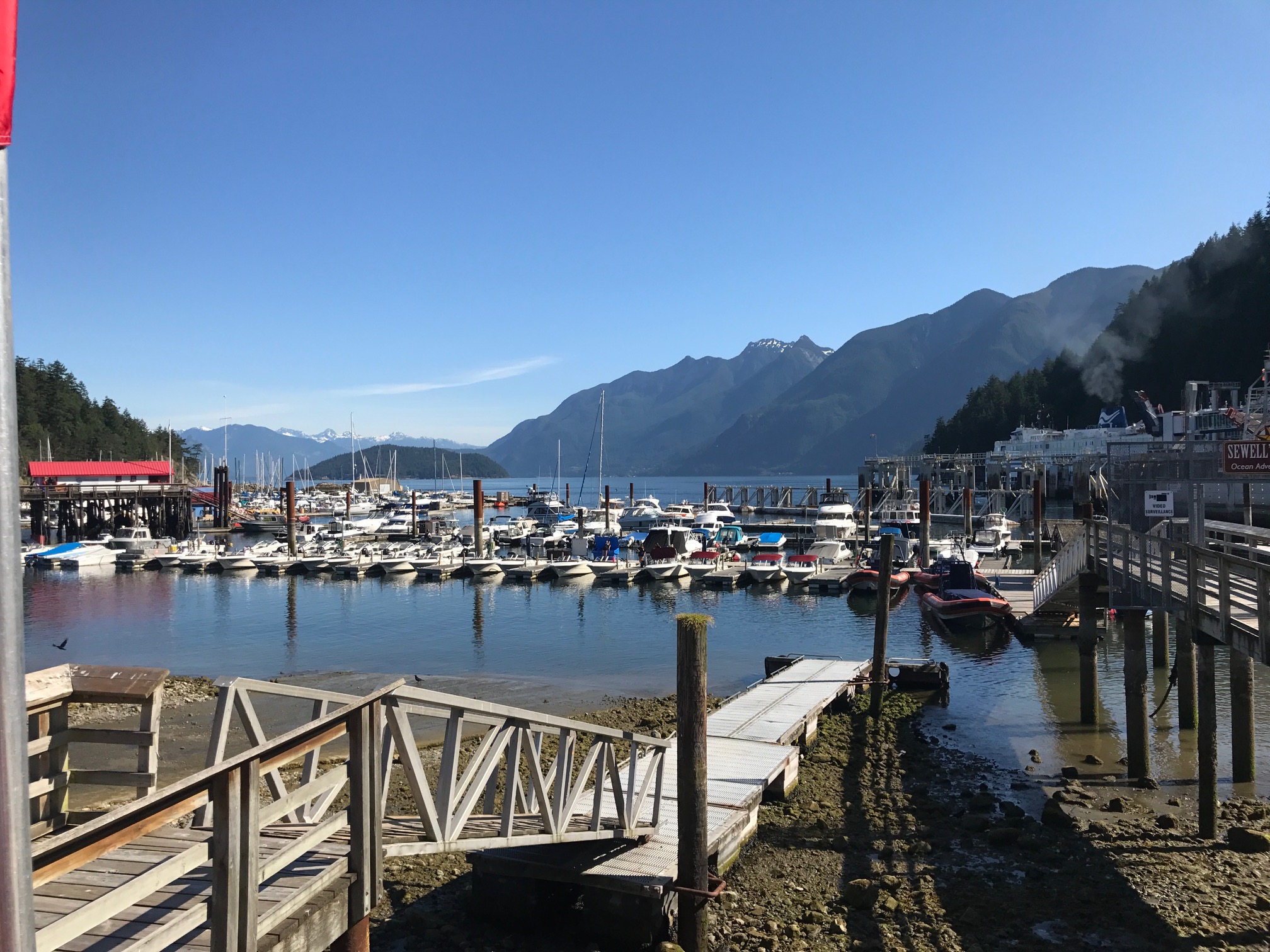 From there we passed Lions Bay and stopped at Porteau Cove Provincial Park in Squamish and Squamish itself for some more scenic shots. As you can tell from the photos below, snow is still on the caps of the mountains. According to our tour guide, Vancouver does not receive a lot of snow during the winter, but the area does get rain. This past winter was the heaviest rainfall they had in years, hence the snow in July.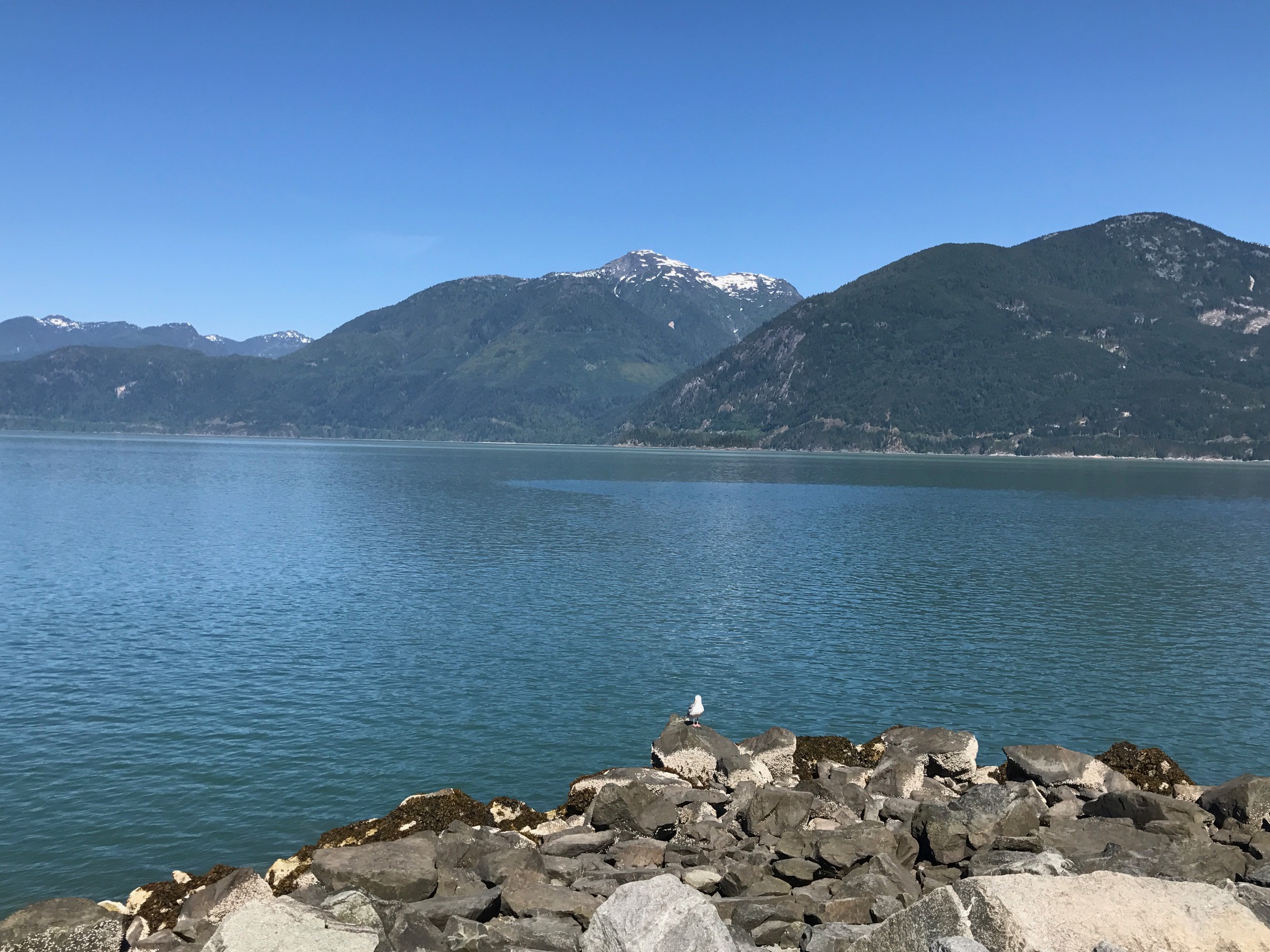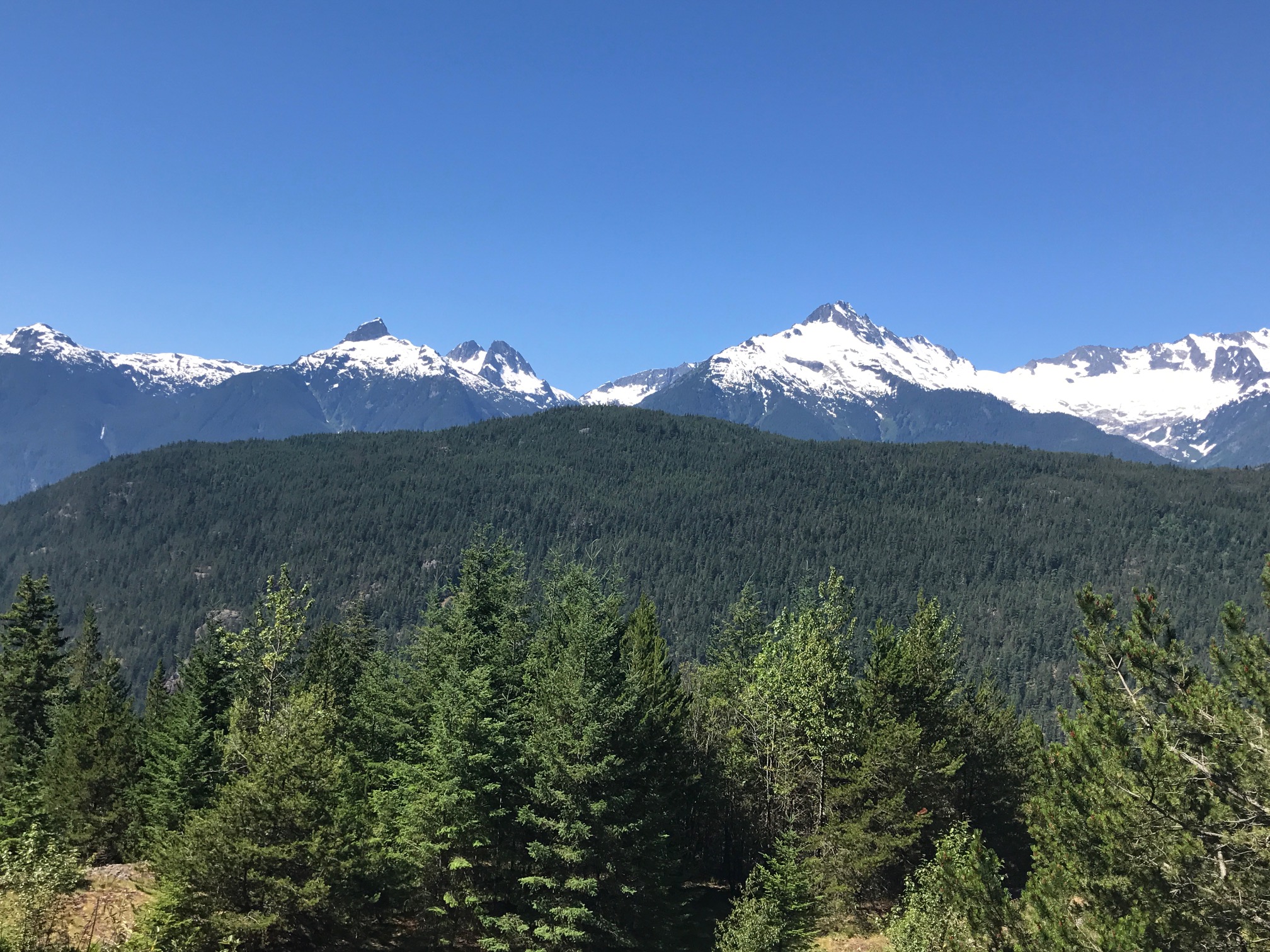 We then went to Brandywine Falls Provincial Park to see a gorgeous waterfall and also took photos of Lava Lake and the forest.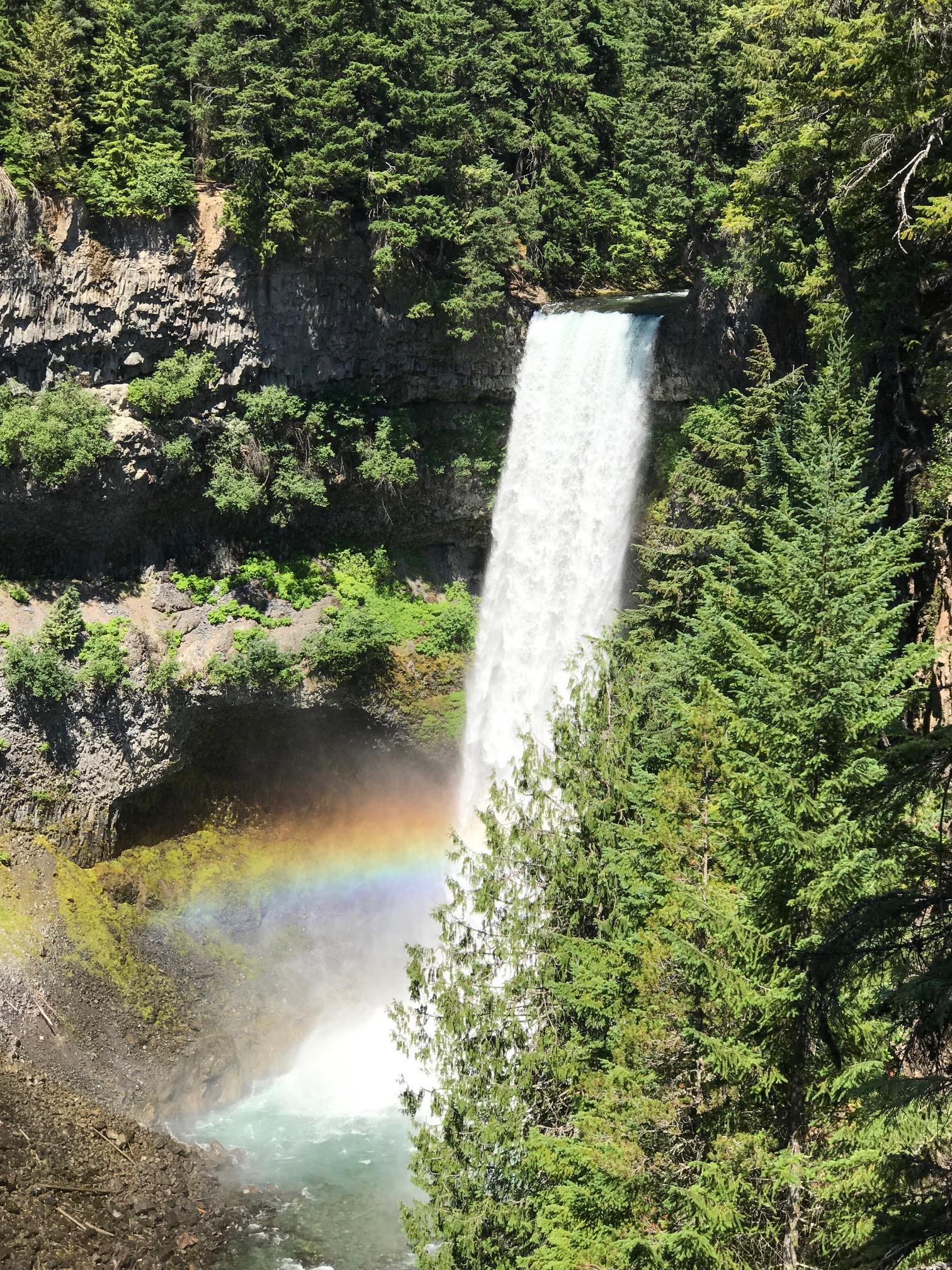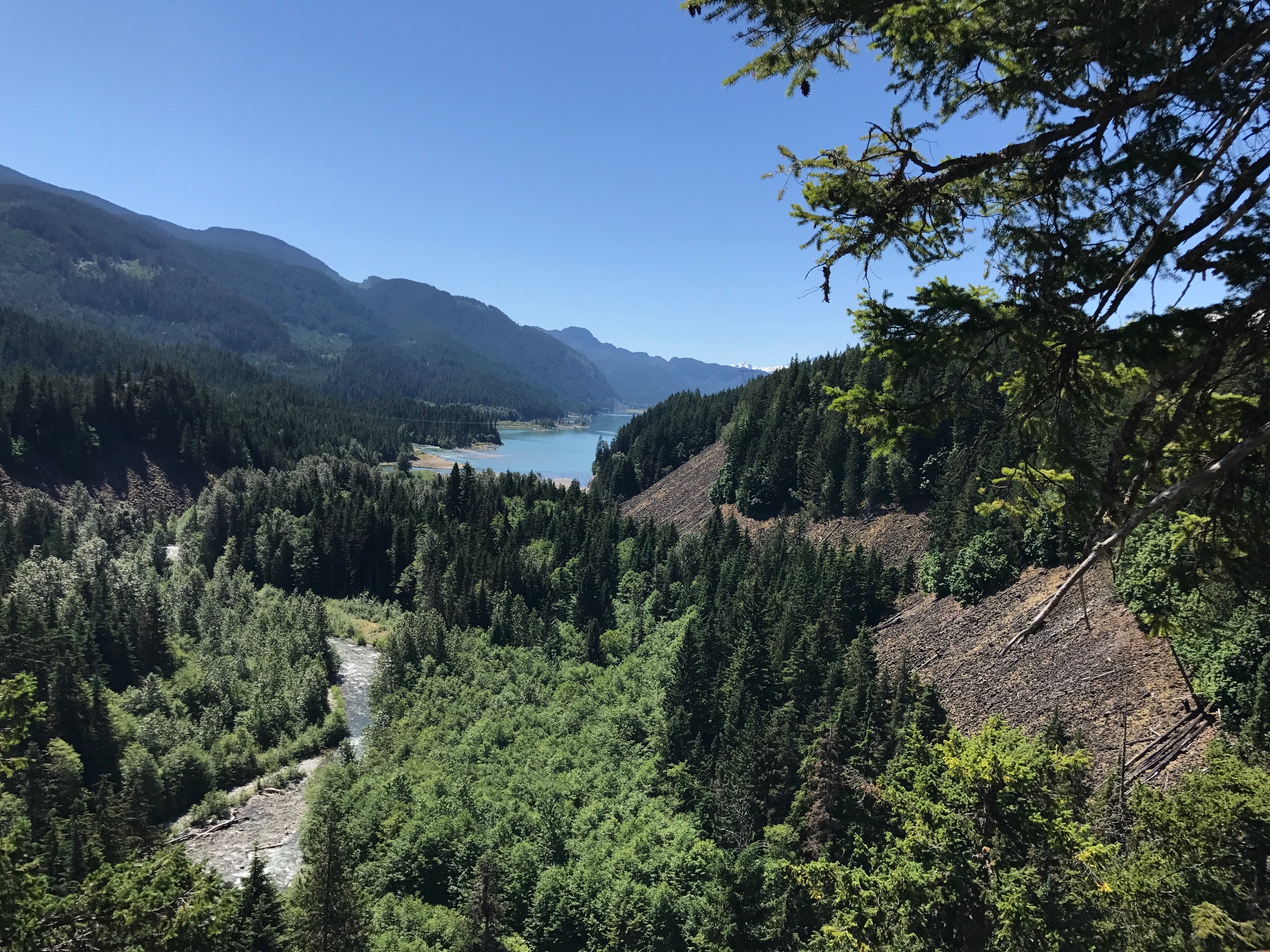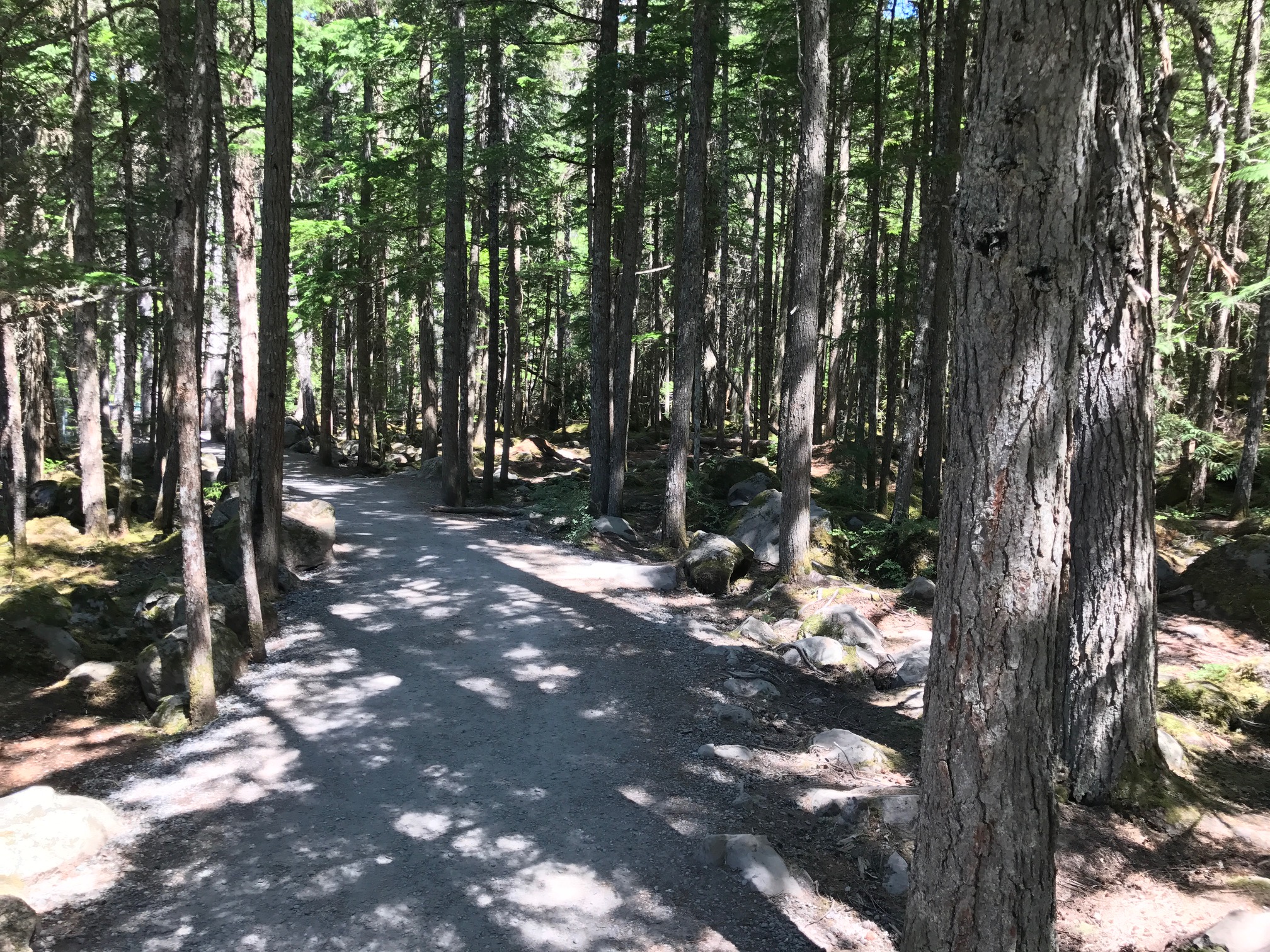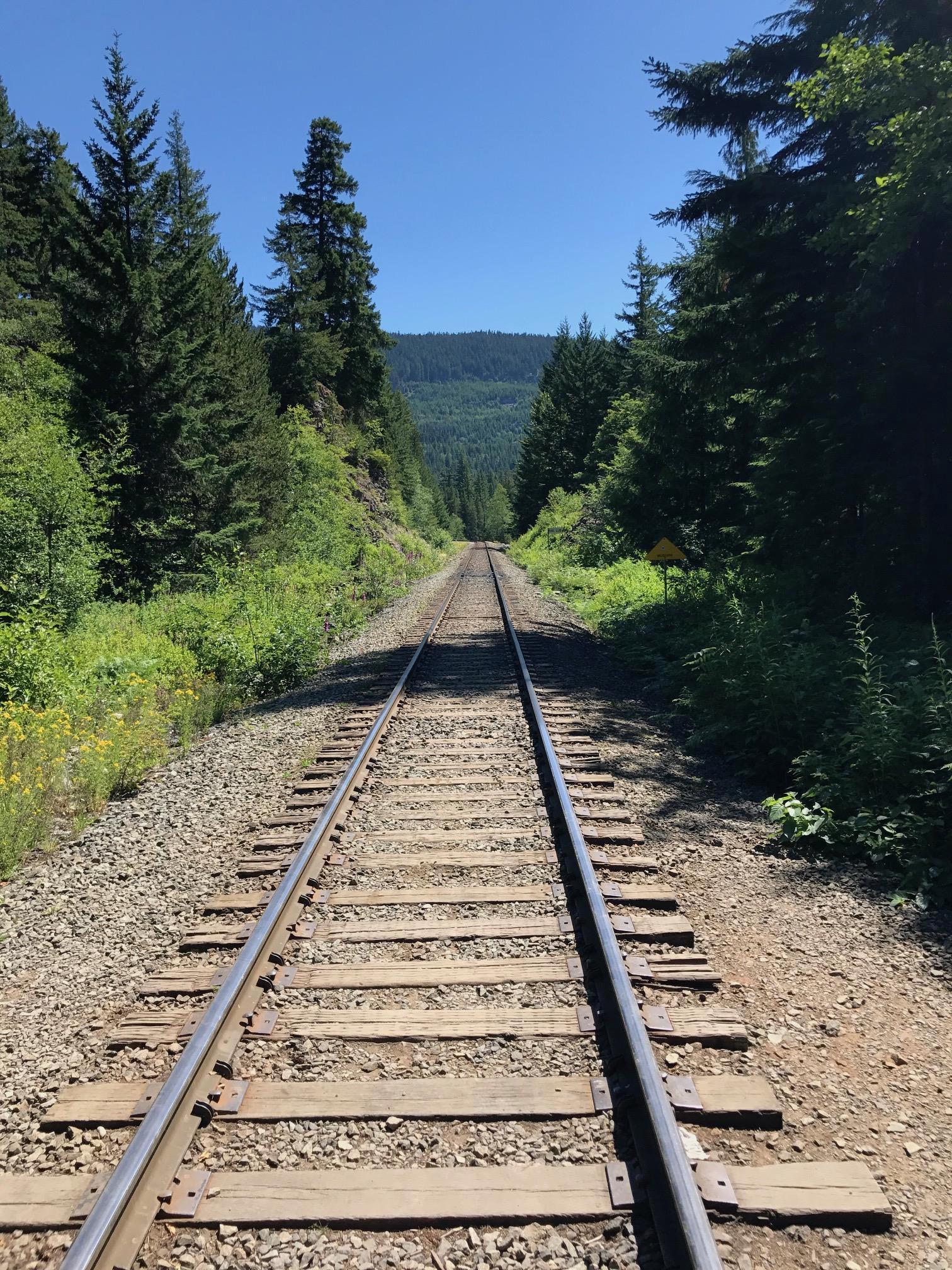 Two hours later, we arrived in Whistler. Since I had purchased the Peak 2 Peak ride, that is what I conquered first. I took a 30 minute Gondola ride up Whistler Mountain to its peak and had some Pho at a the cafe.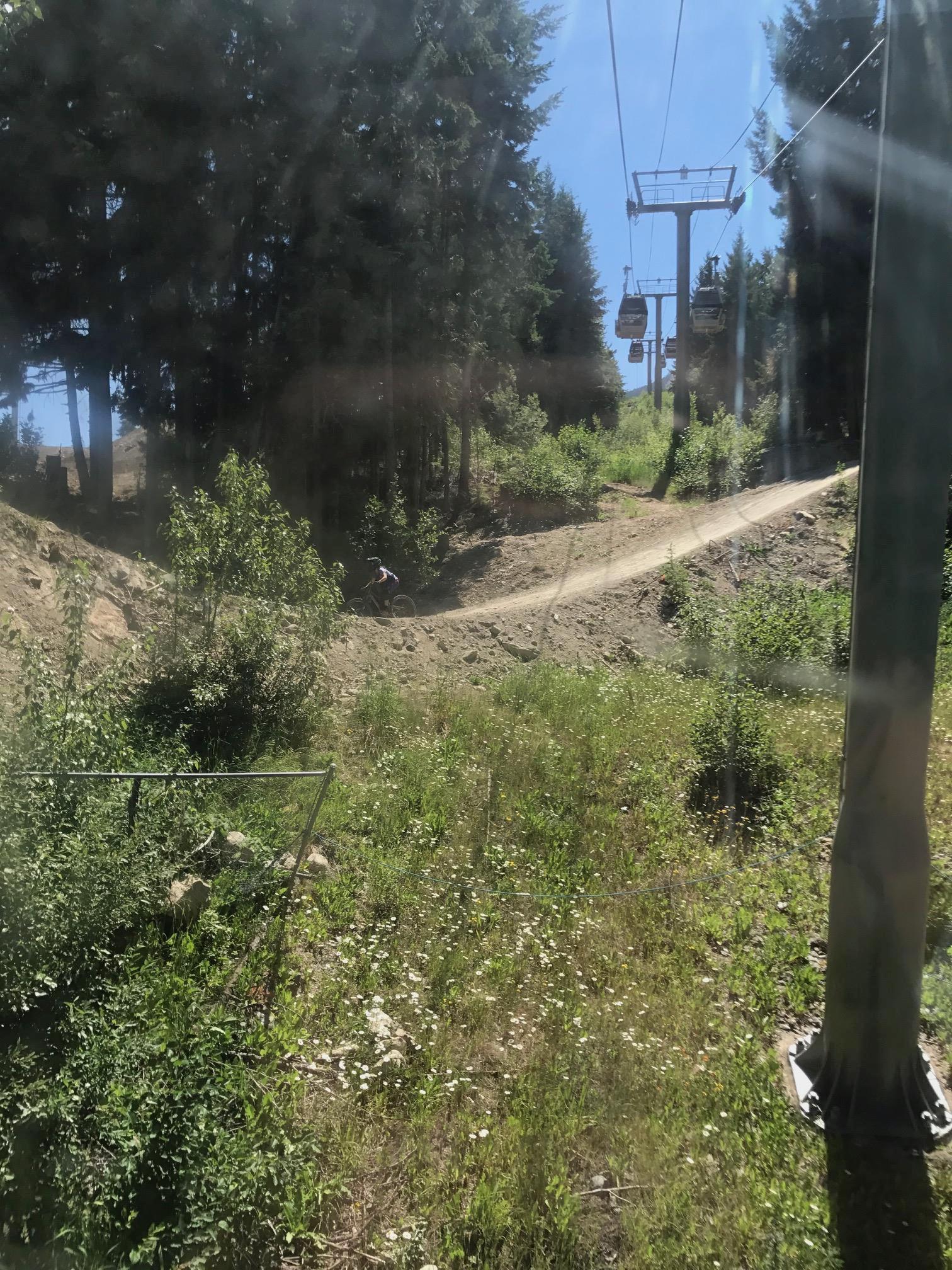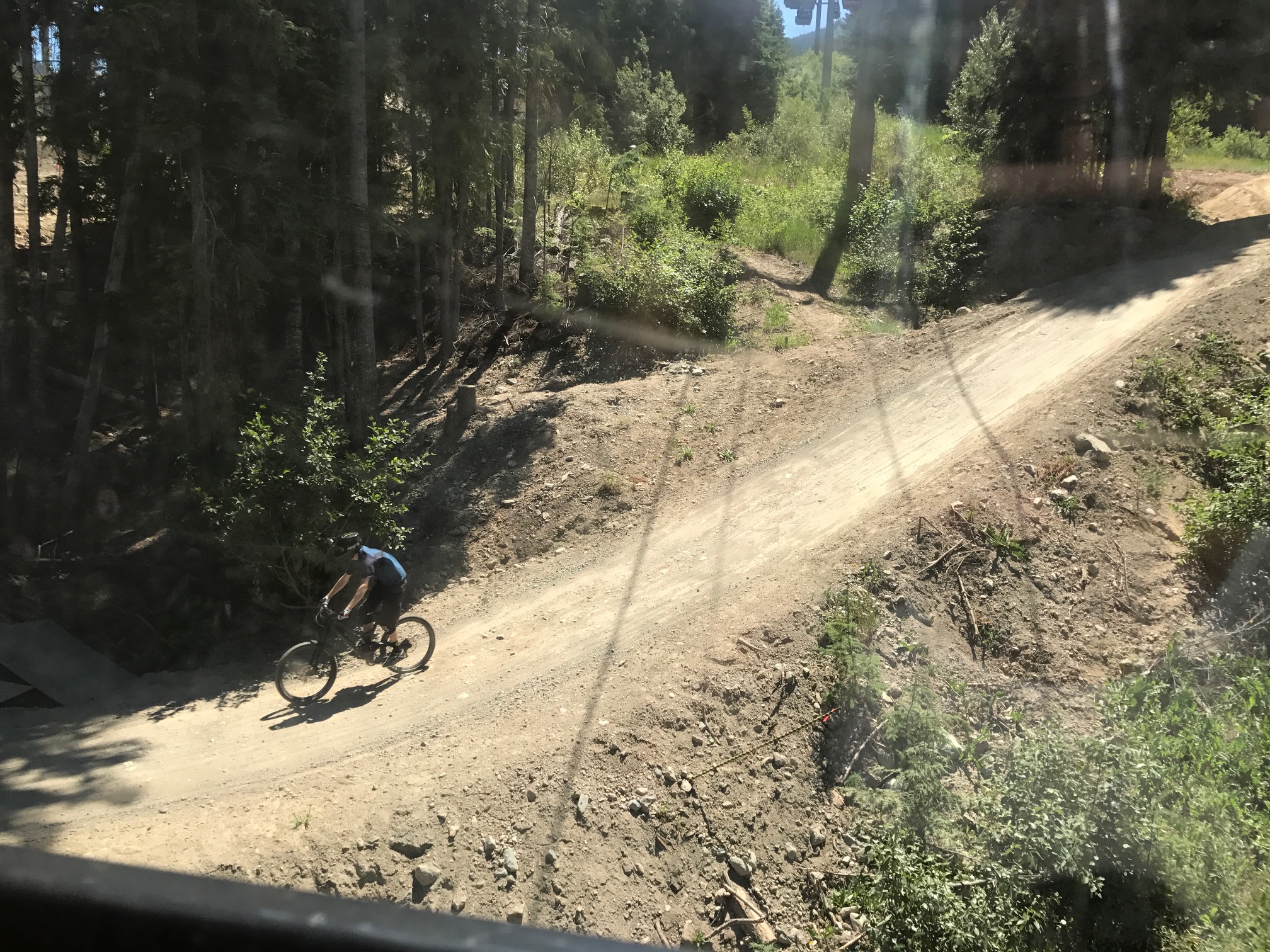 I then took some scenic shots of the mountain range, a pond, Olympic Rings and a Stand By Canada sign. Then it was time for my Peak 2 Peak!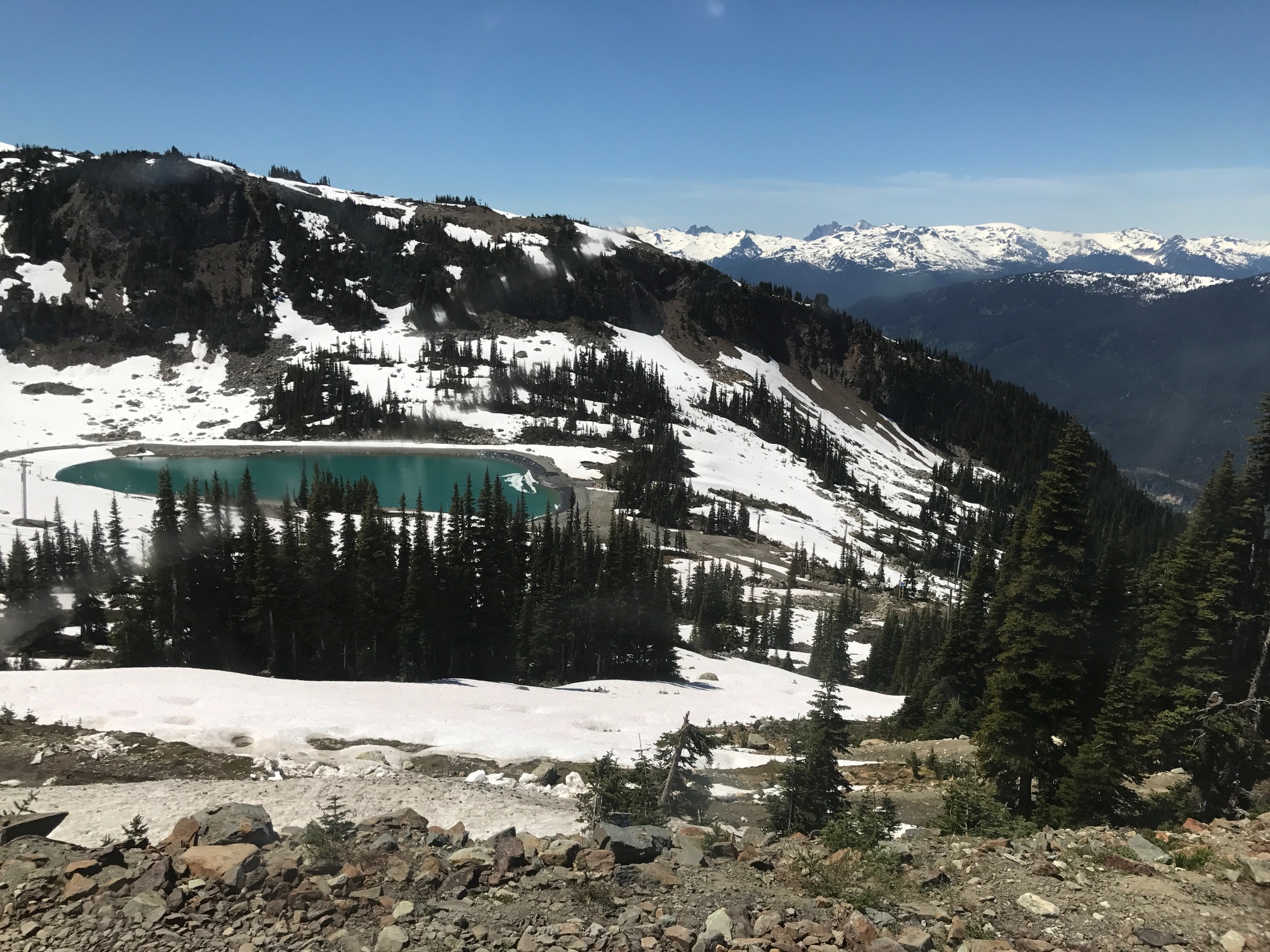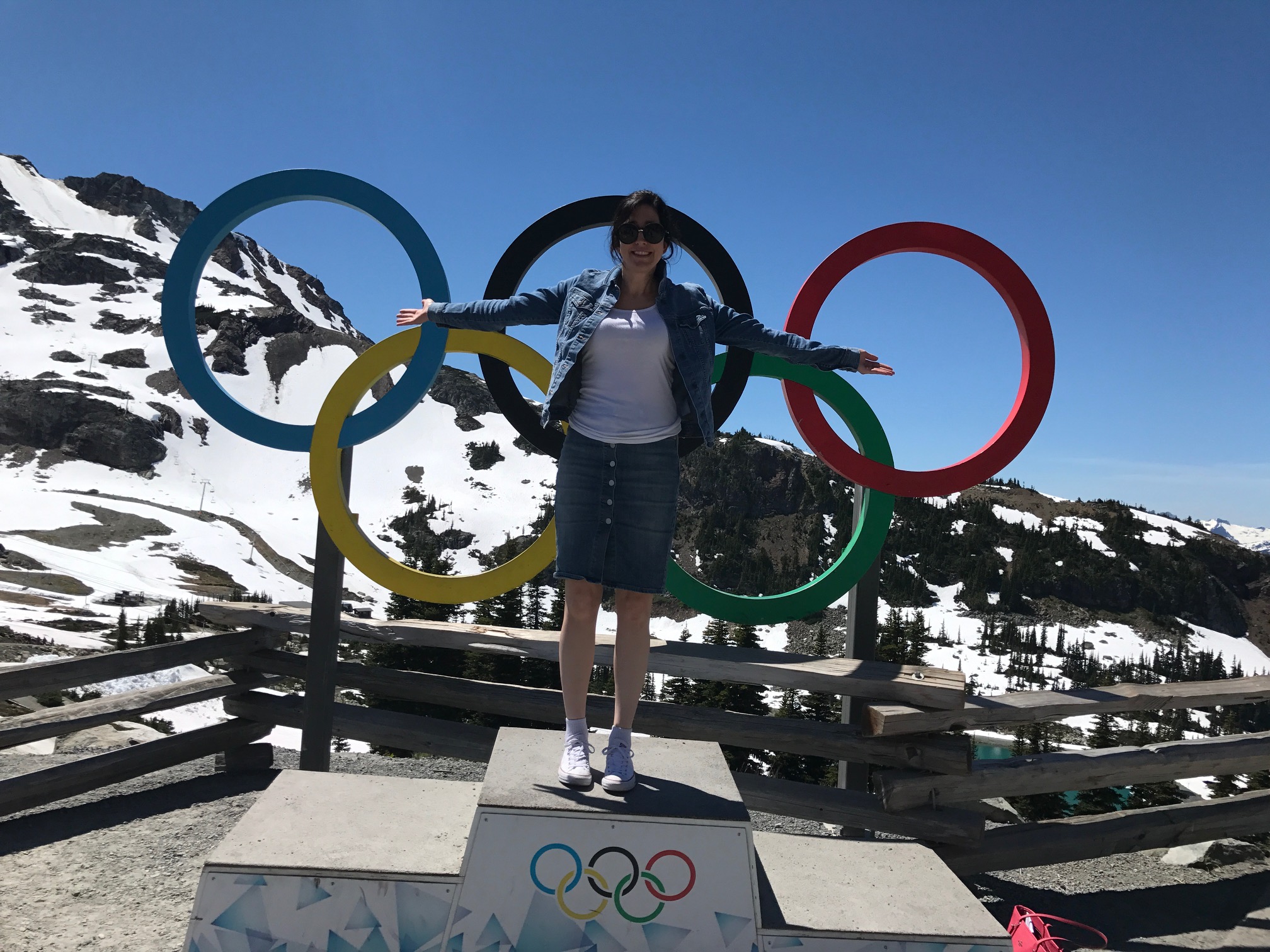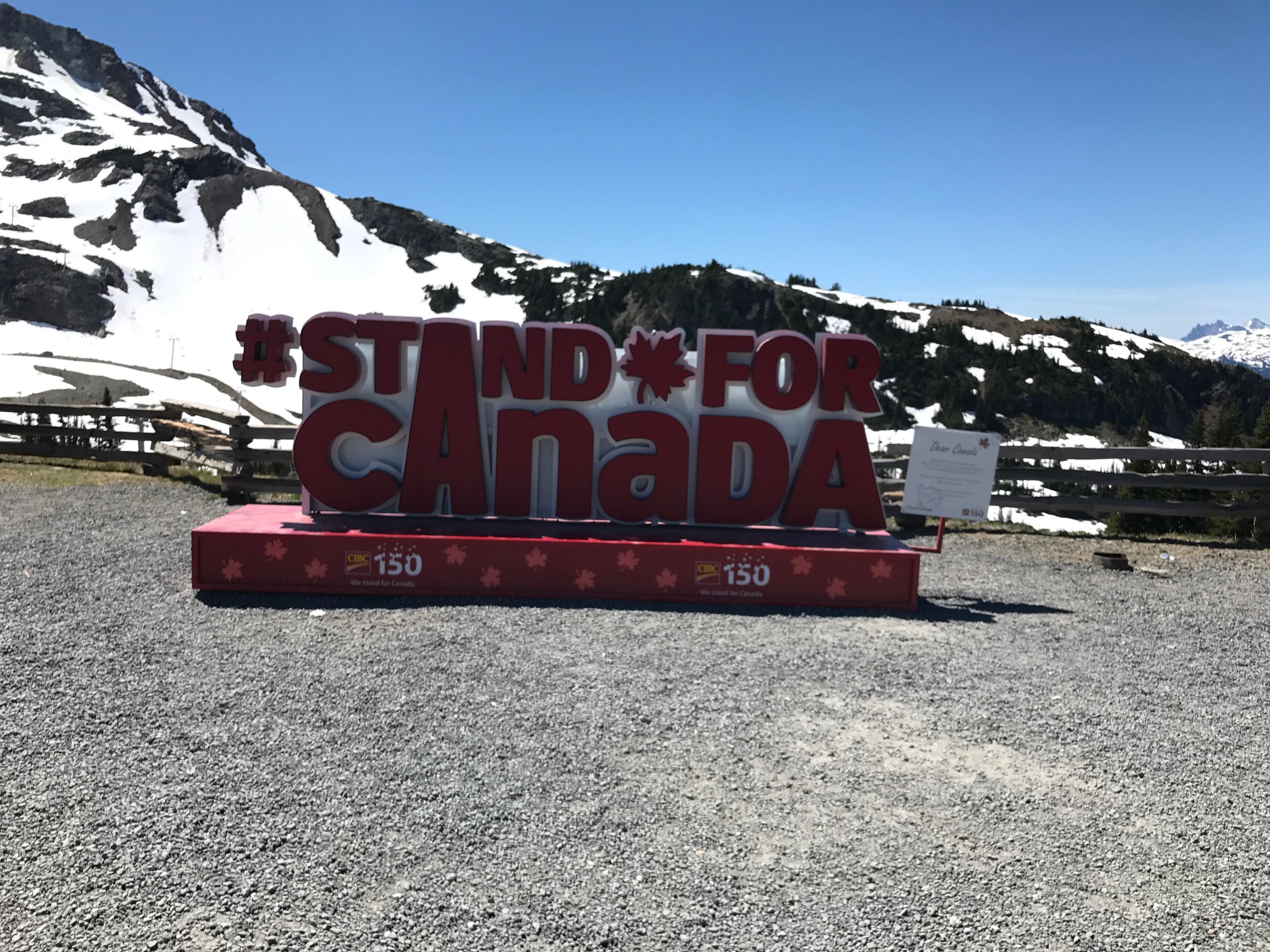 Peak 2 Peak was absolutely stunning and amazing, although I must admit when we were "dangling" in mid air high above the ground with nothing to catch us if the Gondola fell, it was a bit intimidating. This ride is an absolute must if you visit Whistler. About 11 minutes later, we arrived at the Blackcomb Mountain peak.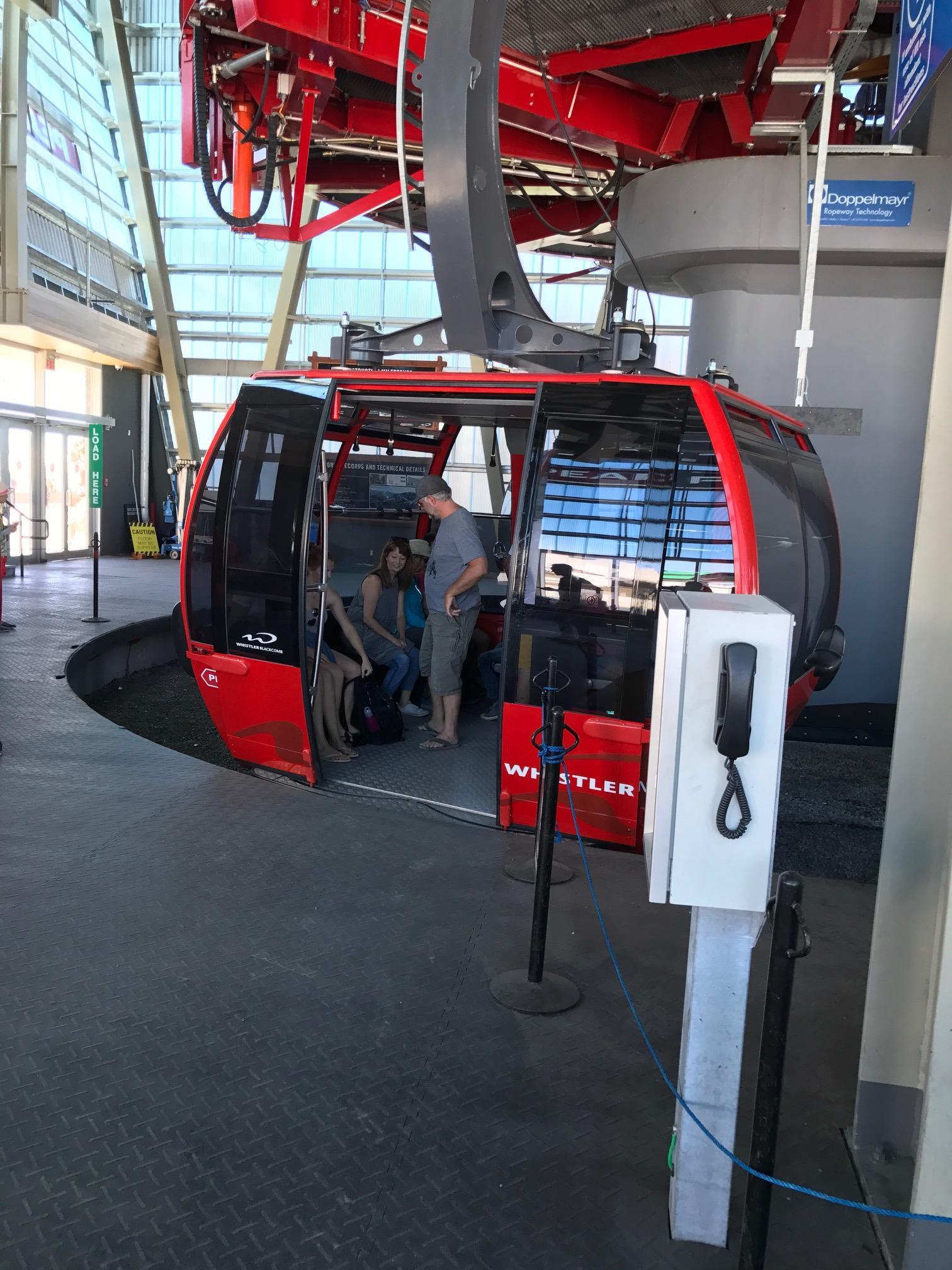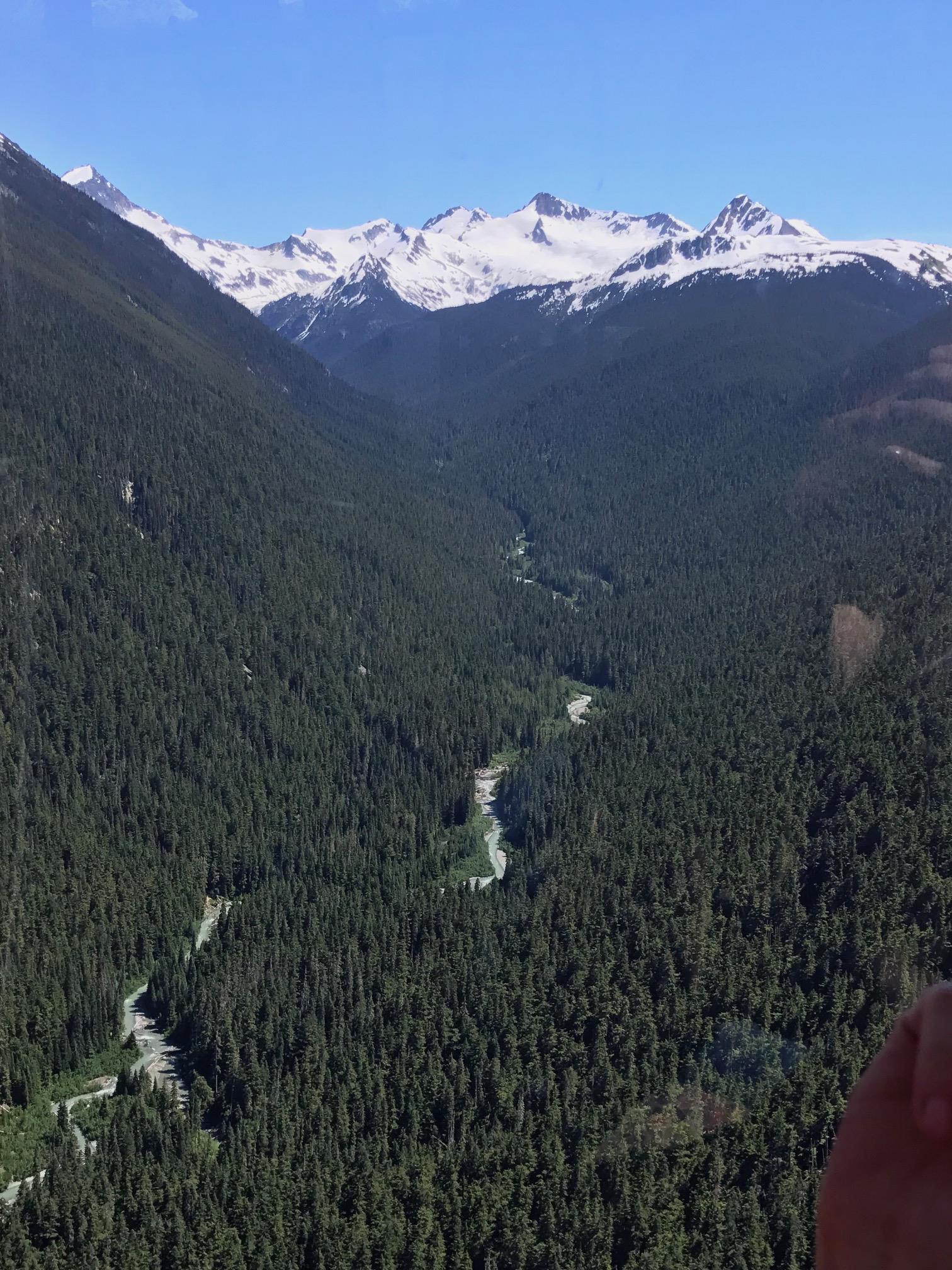 There are two ways down. The first is to take the Peak 2 Peak back towards the Whistler Mountain side and take the Gondola down. The second is to take the Blackcomb Mountain side with a chair lift down. I chose the latter.
I have taken many chairlift rides in my life, but this one was different. When I sat down to pull the bar over myself as I took off, one of the screws was loose! I literally was straddling my body over to the left side and my feet down tightly on the foot rests so it wouldn't break off! I have never gripped onto my purse so hard in my life! About 15 minutes later, I stopped at my first drop off point, then I had to take a second chairlift down to get to the bottom, which was another 15 minutes. Much safer I might add! Overall, the whole mountain adventure took 2 hours.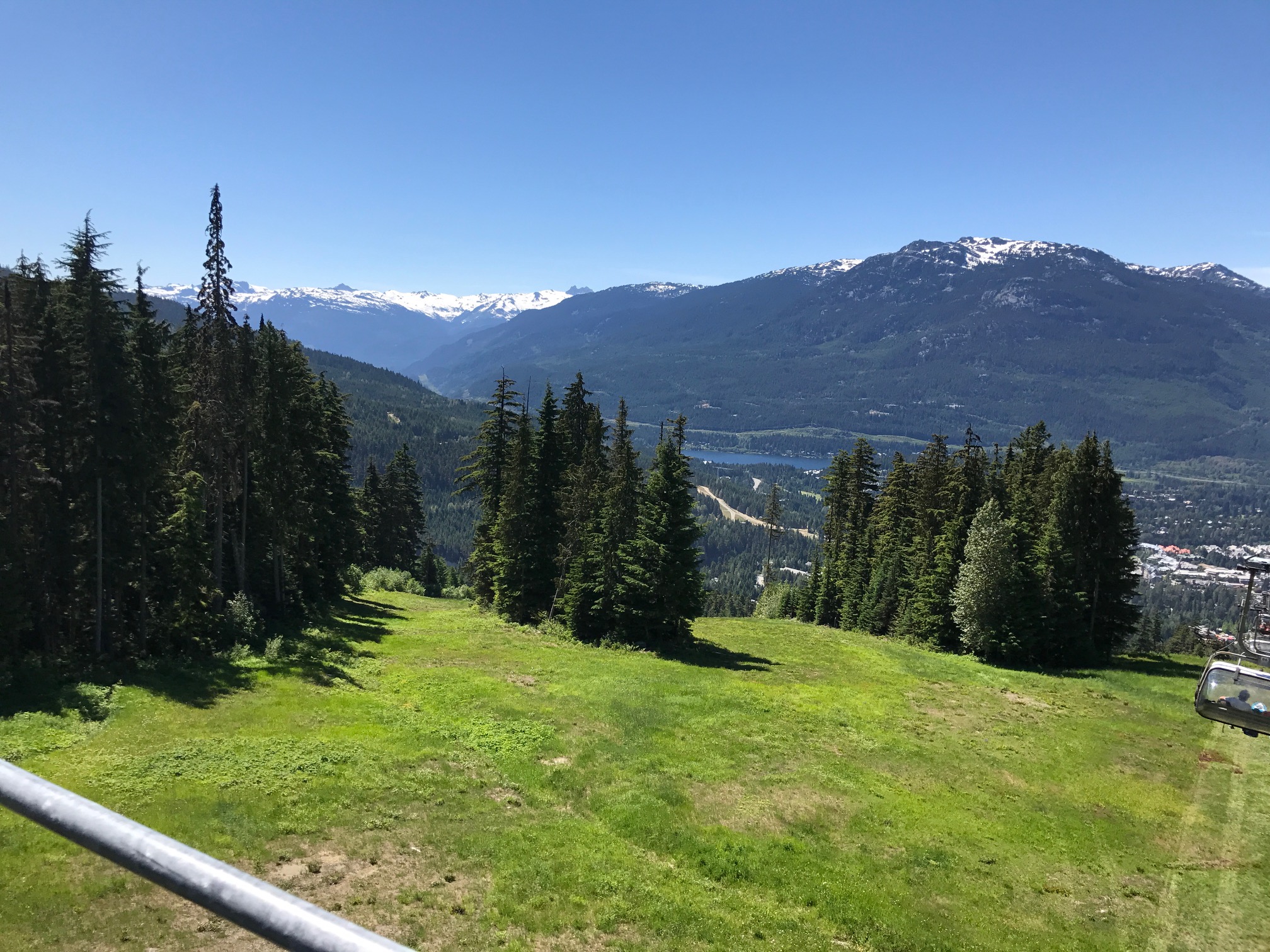 The temperature in Whistler was an astonishing 90 degrees that day, so I made my way down to Blacks Pub for a Berry Mojito to cool off! I then took a stroll around Whistler Village and viewed some cute shops before I had to board the shuttle back down to Vancouver.
Something I didn't have enough time to do because I saw this right as I was leaving was the Ketel One Ice Room at Bearfoot Bistro inside the Listel Hotel. If you decide to go, it's $62.50 per person for 4 shots of vodka. I have only been to Ice Bars in Las Vegas and LA but they are an amazing, refreshing and chilly experience!
On the way down, the tour guide pointed out some green Olympic Rings on Cypress Mountain at Whistler Olympic Park. I couldn't get a good photo of them because we went by too fast, but I found this photo on a Google search.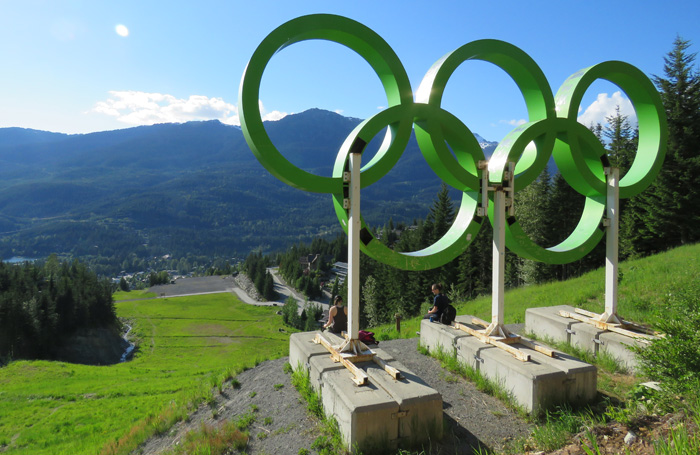 Finally, back in Squamish, we stopped at our last tourist destination, Shannon Falls Provincial Park. The short 5 minute hike to the falls was breathtaking and nice to view. You can also see the river that flows just below it and many tourists were jumping the rocks to be a part of it.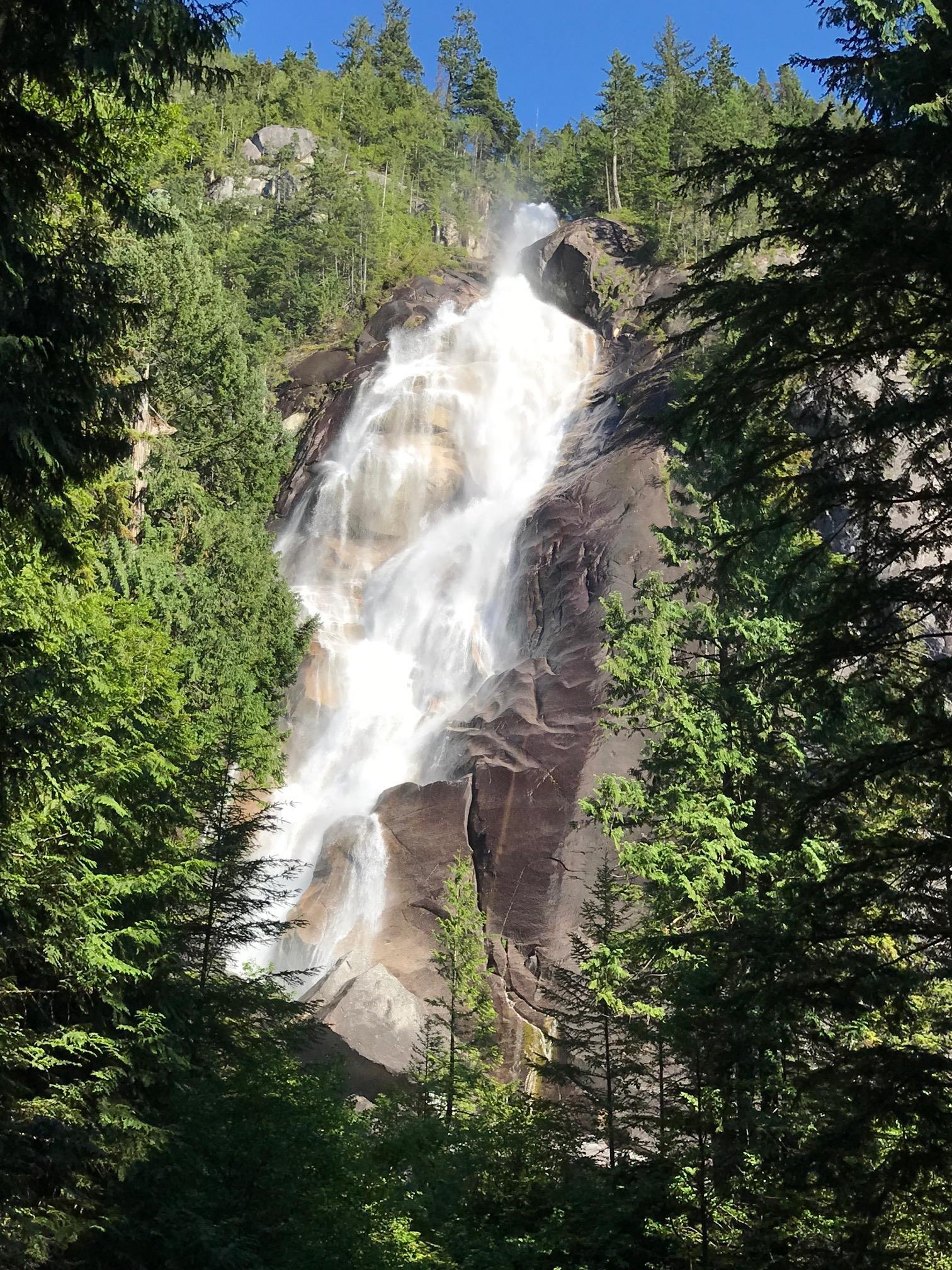 We got back to downtown Vancouver at 7:30 p.m. and another bus brought me back home. I was beat by the end of the day. It was amazing experience that I will never forget!
Day 4: Thursday, July 6 (my birthday!)
I turned 37-years-old. I was kind of dreading it a month prior, but once the date came closer, I was more at ease. All of my friends and family were full of love and supportive, thank you everyone!
I took a cab back down to Granville Island because I wanted to buy some Canadian Maple Syrup at the Public Market to take home with me. They were also having their mini Farmer's Market just outside! I tried to hard cider, wine and sampled some fruit. Very fresh tasting!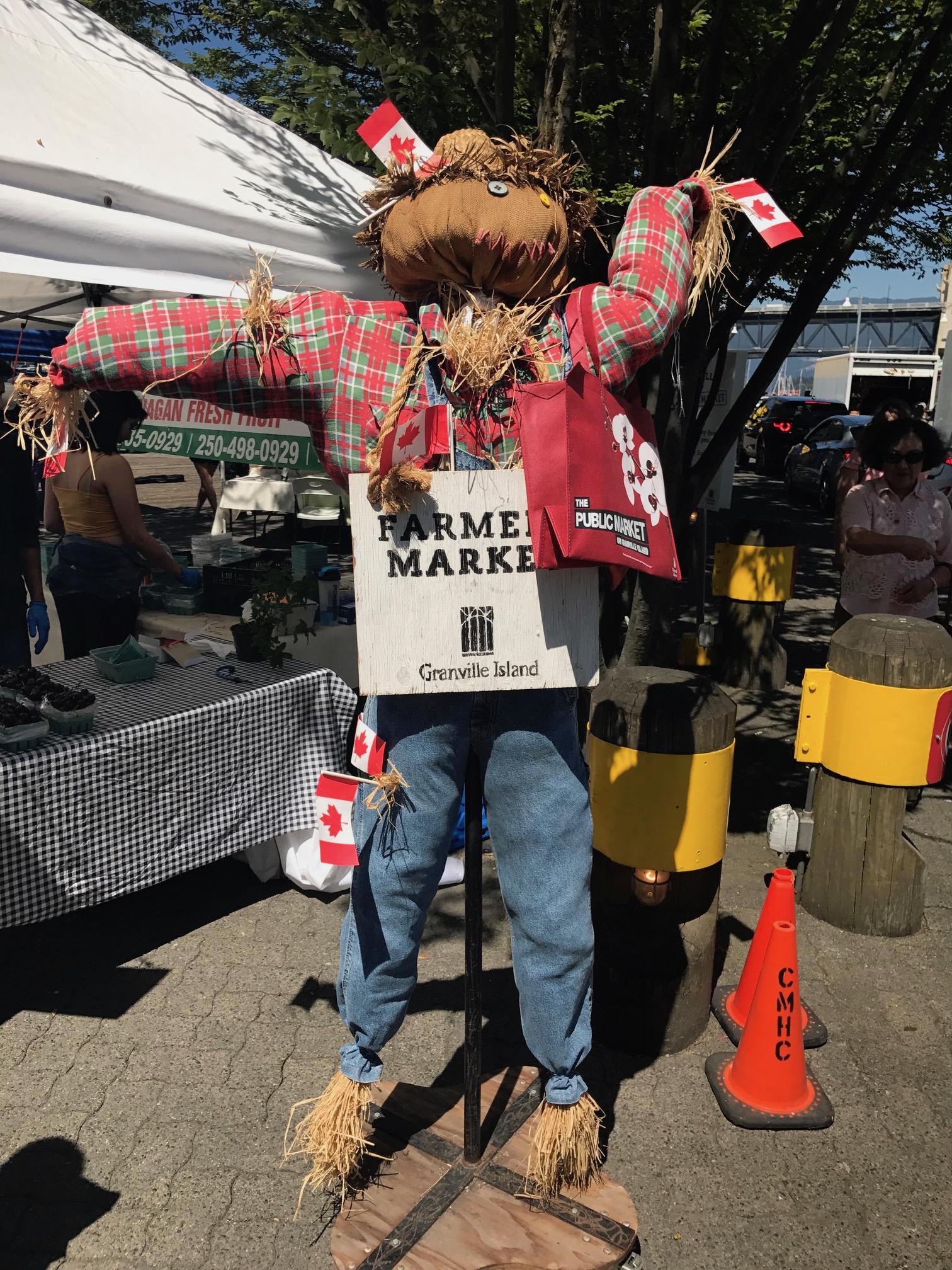 I also purchased some salmon sushi and 2 mini birthday "cakes:" a Key Lime Pie Tart and a New York Cheesecake. They were devoured within 10 minutes, ha ha!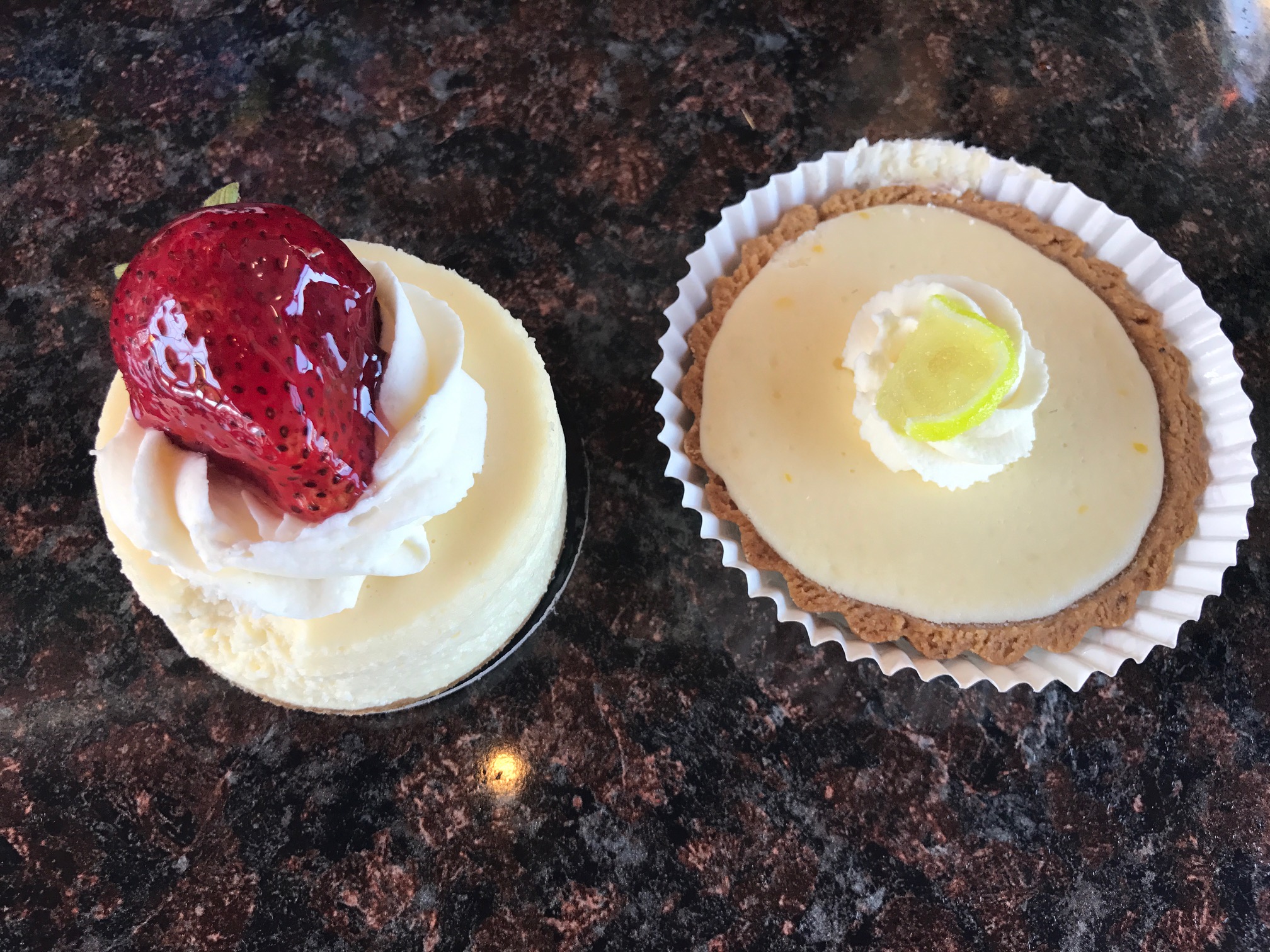 I then went over to The Vancouver Fish Company Restaurant & Bar for some oysters (market price) and a Honey Lager from Granville Island Brewing. The oysters were a bit too salty for my liking, but the beer was tasty!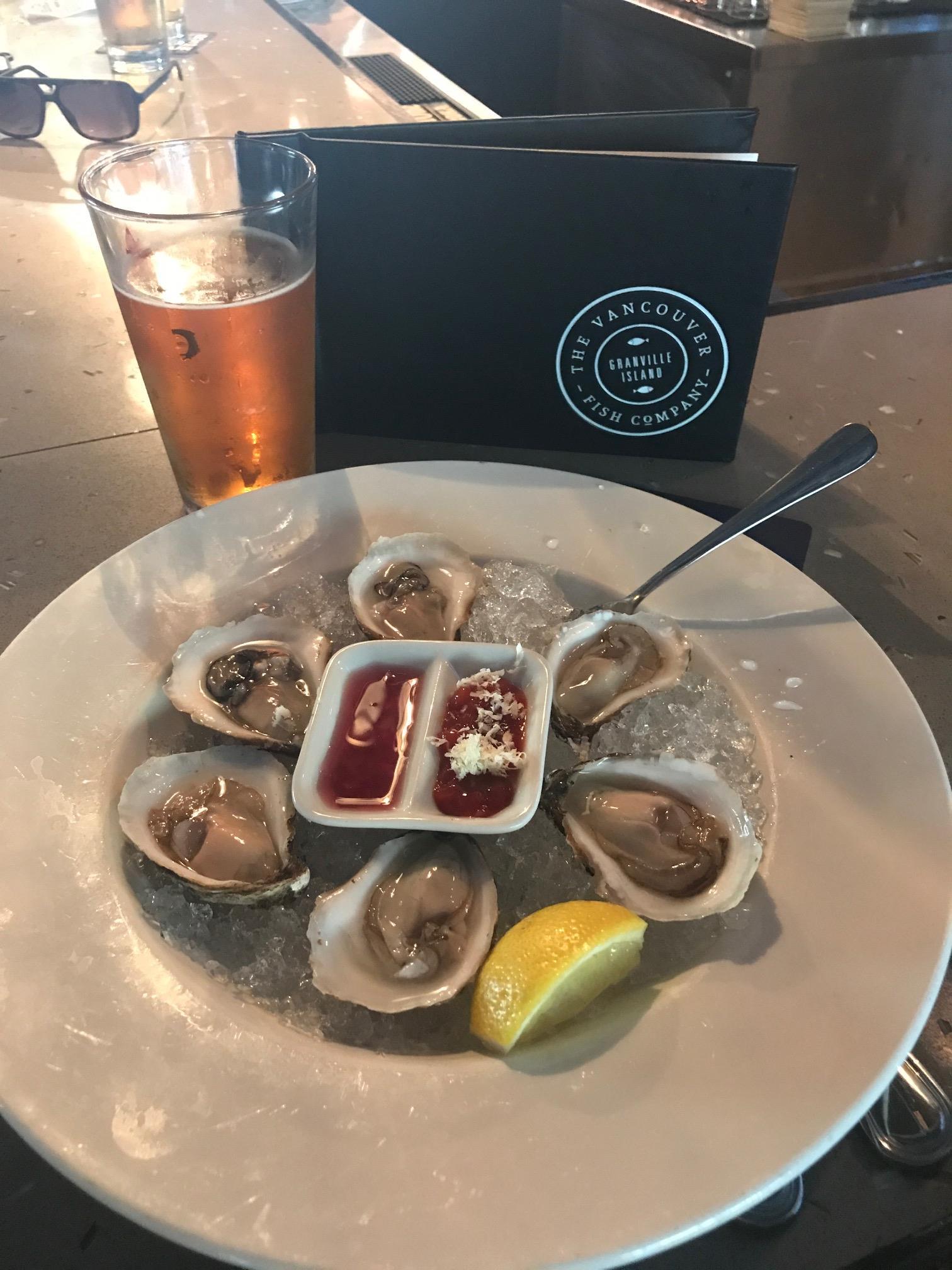 I then took a cab over to Stanley Park, which is 400 acres and has the world's longest sea wall at 5 1/2 miles! I knew I couldn't walk that far, so I decided to take the the Horse-Drawn Carriage Tour that lasts about 1 hour.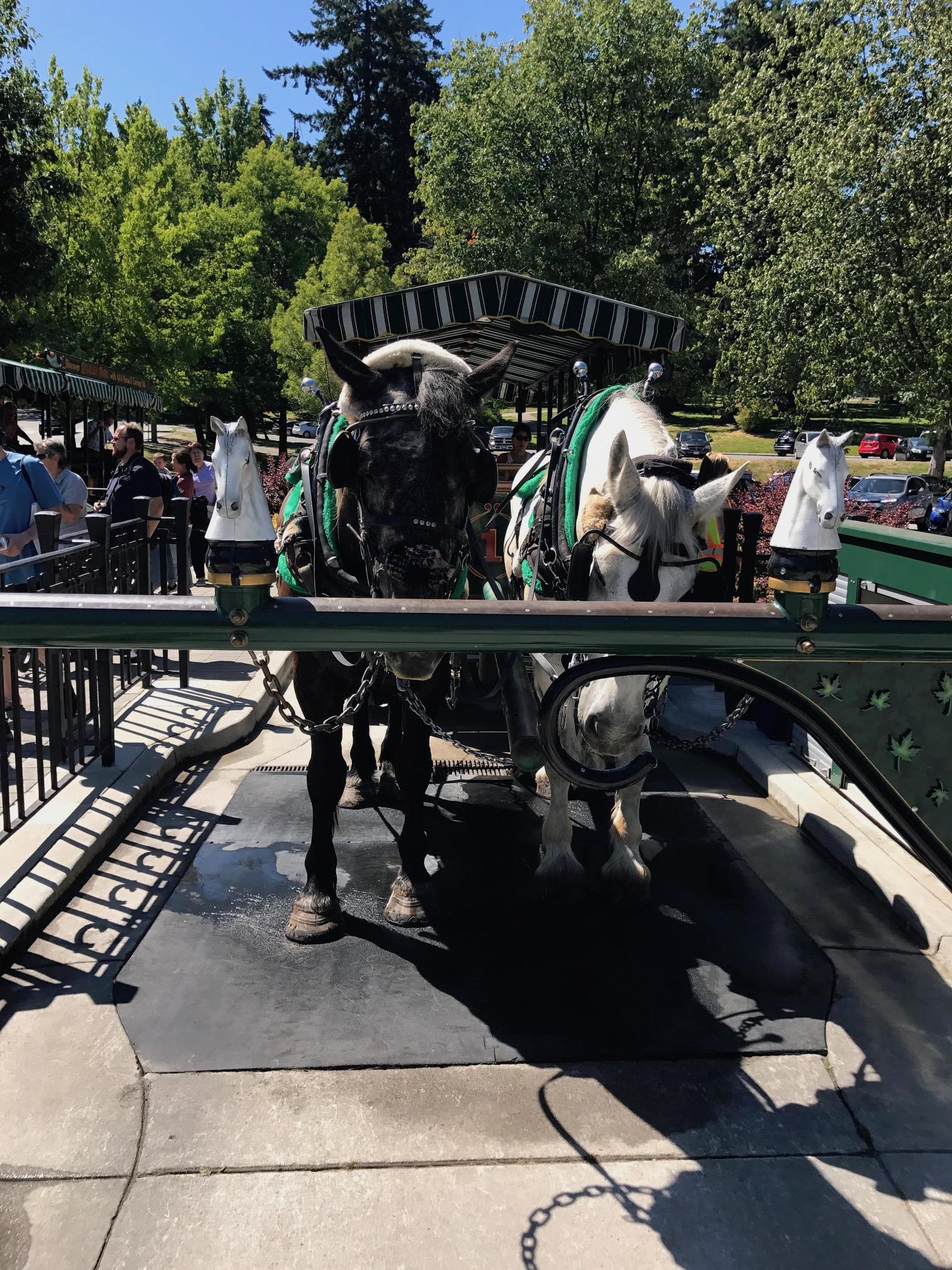 The tour's highlights include Deadman's Island, Vancouver's Harbour, Lions Gate Bridge and the Coastal Red Cedar Forest. It also stops at the Totem Poles, the Girl in a Wet Suit Statue, the S.S. Empress of Japan Figurehead and the Rose Garden. The cost is $42 for adults. It was gorgeous scenery and was worth it in my opinion!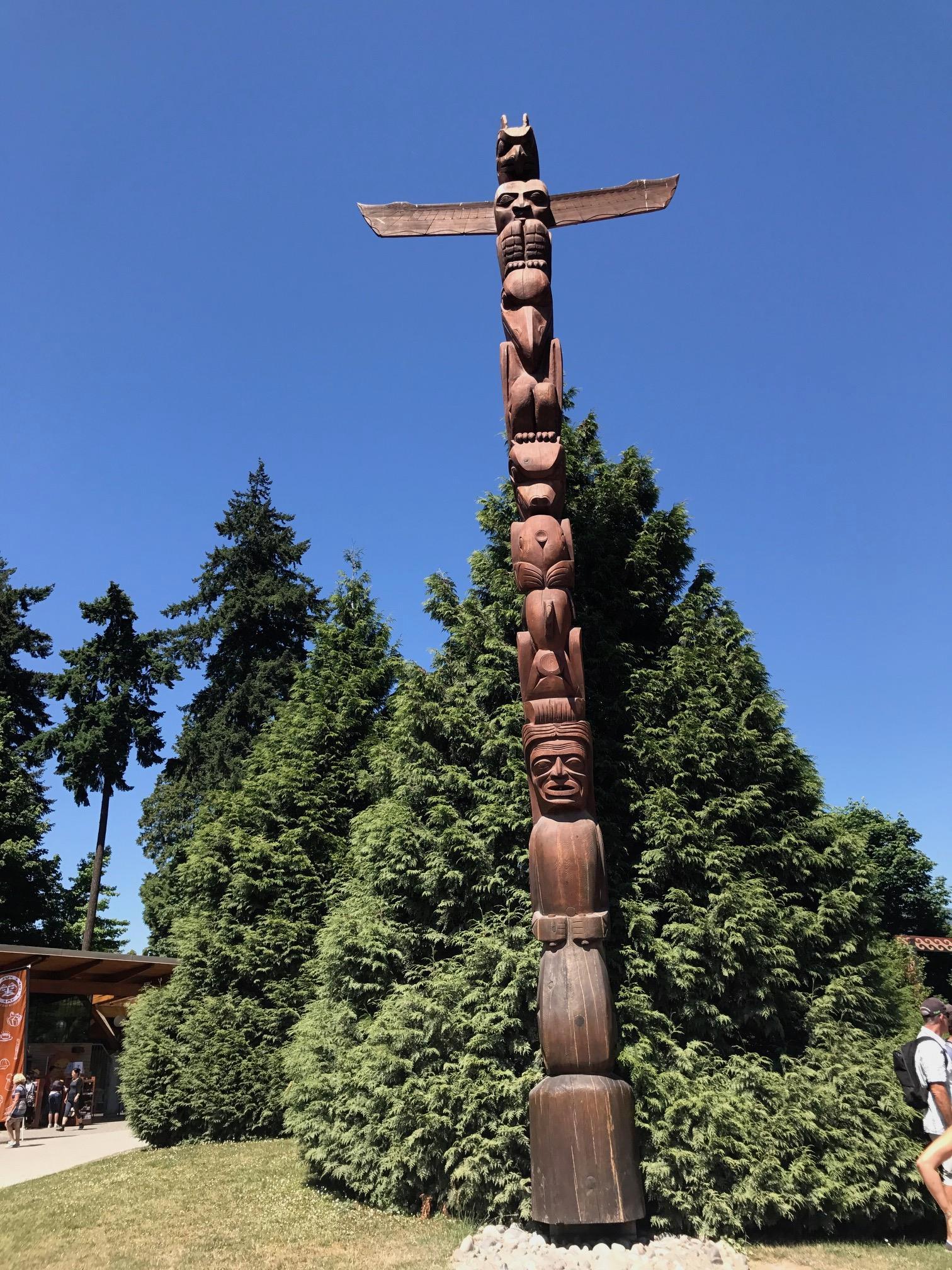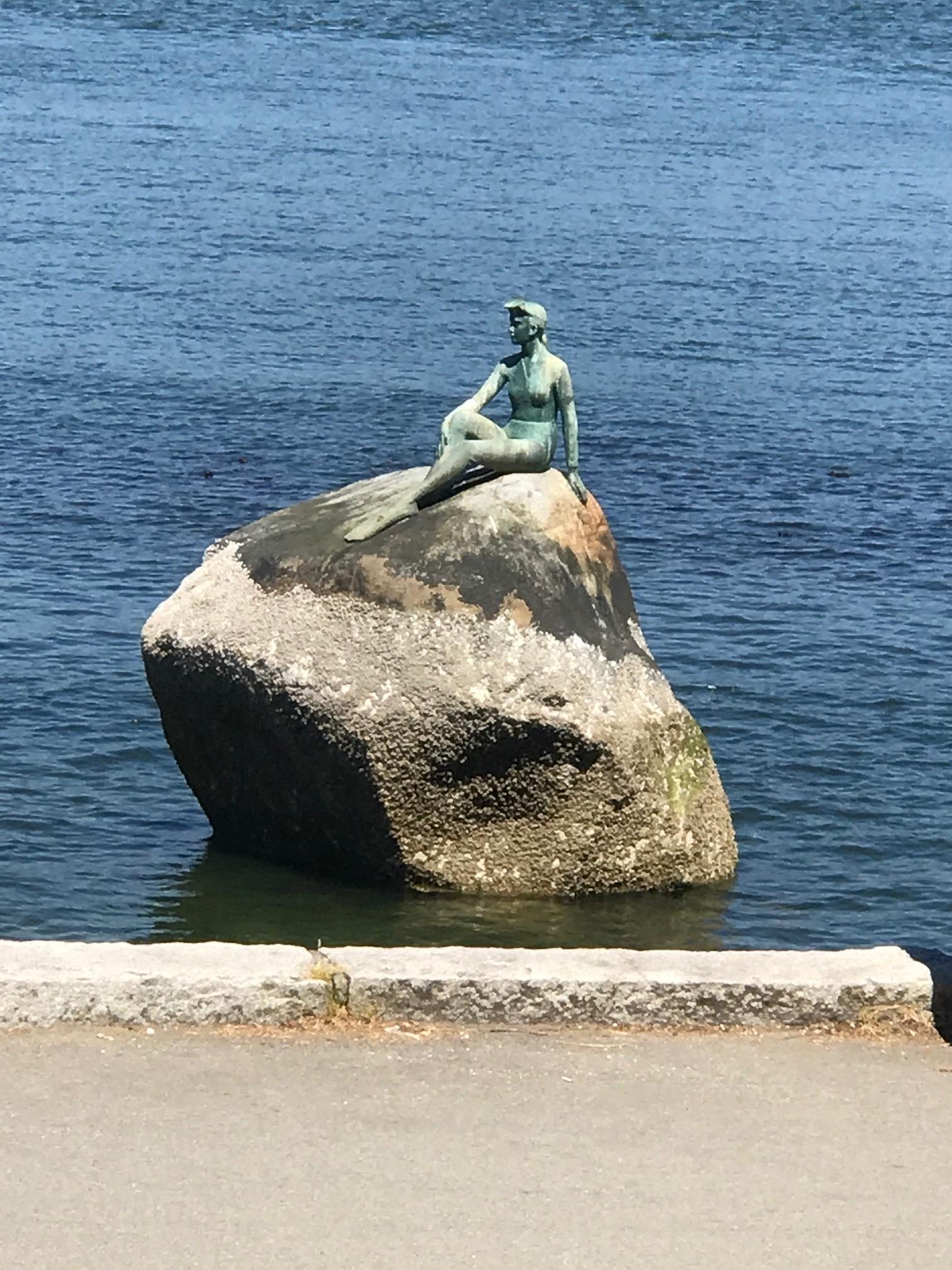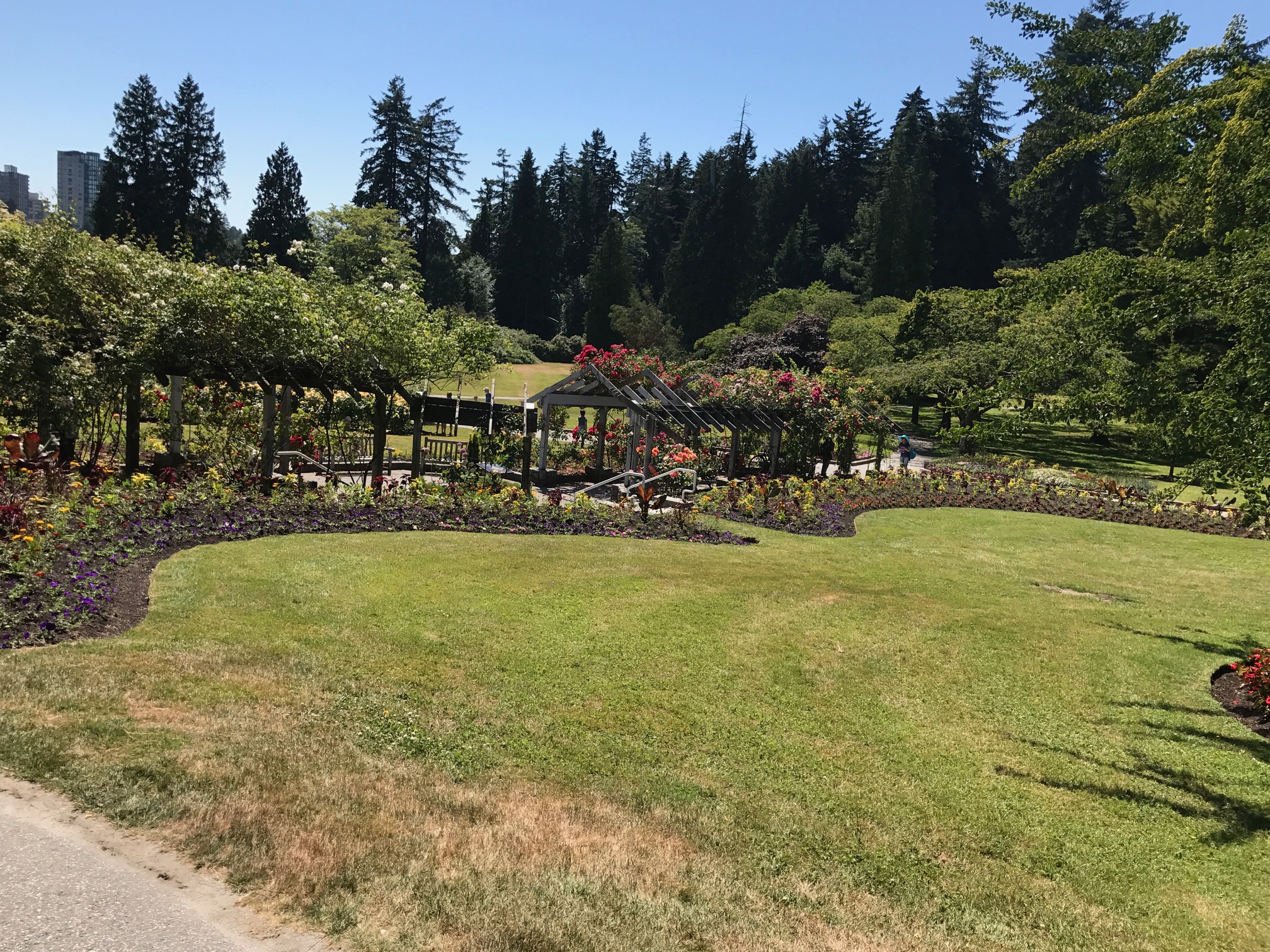 From there I took a cab downtown to Revolver Coffee. The coffee comes in from all over the world and they have extensive brewing equipment to make it perfect according to the region.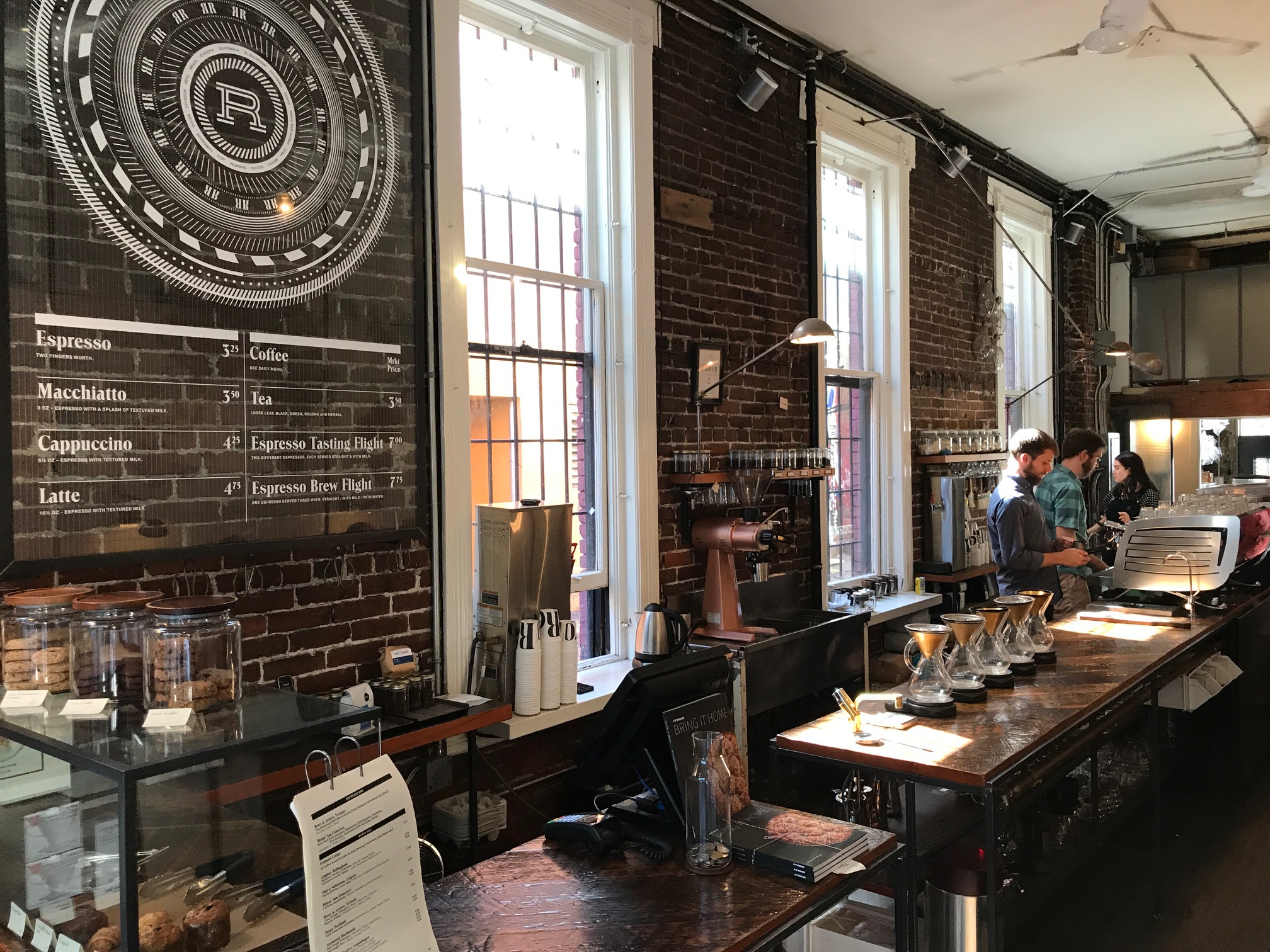 I wanted to try the Espresso Flight ($7), which had brews from San Francisco (Guatemala, not California!) and Vancouver. They serve it to you straight and also with milk with a cute decoration on top. I definitely liked the Vancouver one the best, the San Francisco one was very strong!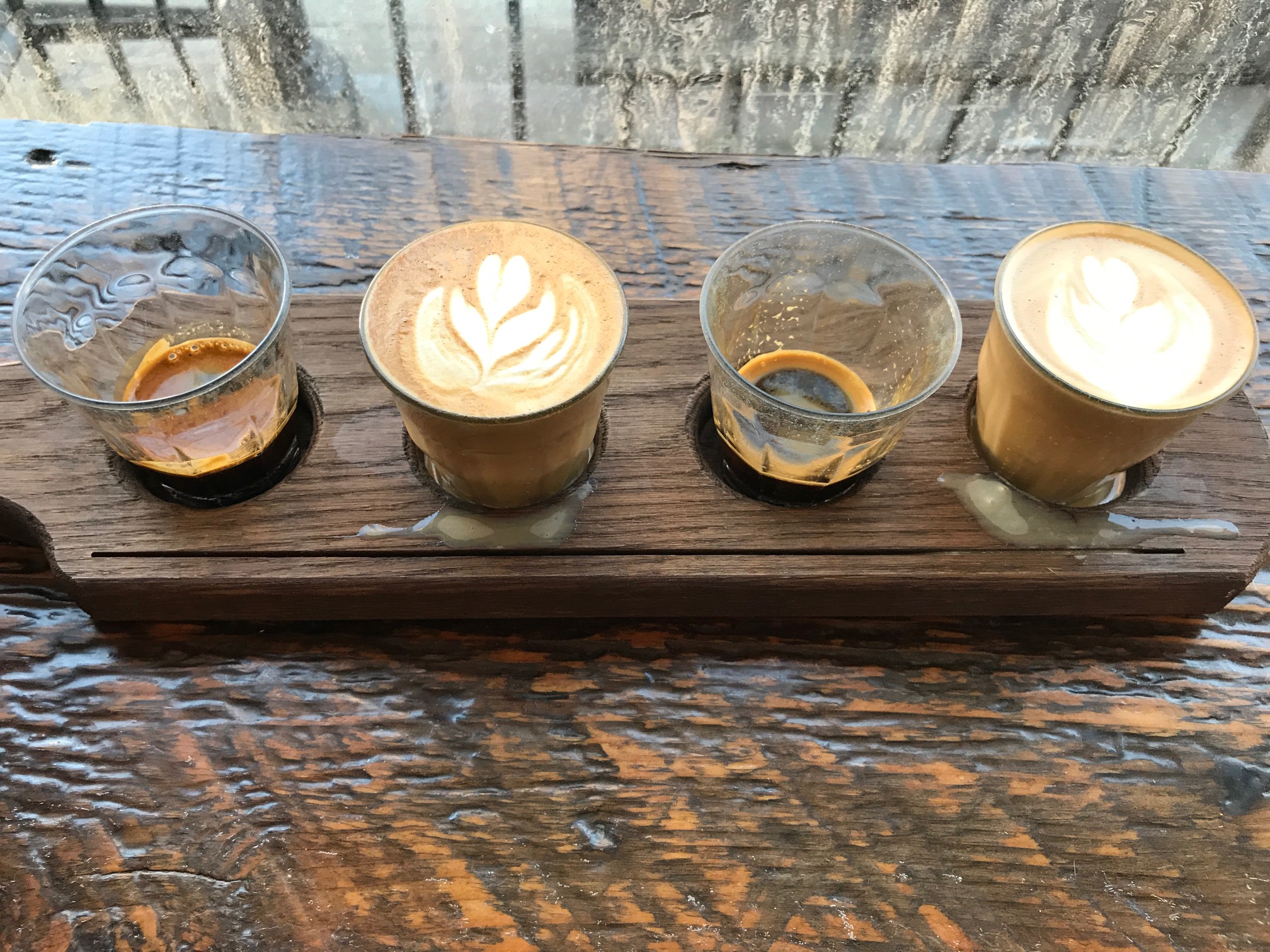 Afterwards, I strolled around Gastown for a bit before I took a cab up to Vij's, which is known for being the "Best Restaurant" in Vancouver and voted the "Best Indian Cuisine" in the world! They open at 5:30 p.m. and people literally line up 30 – 45 minutes early just to eat there! No reservations required at this place!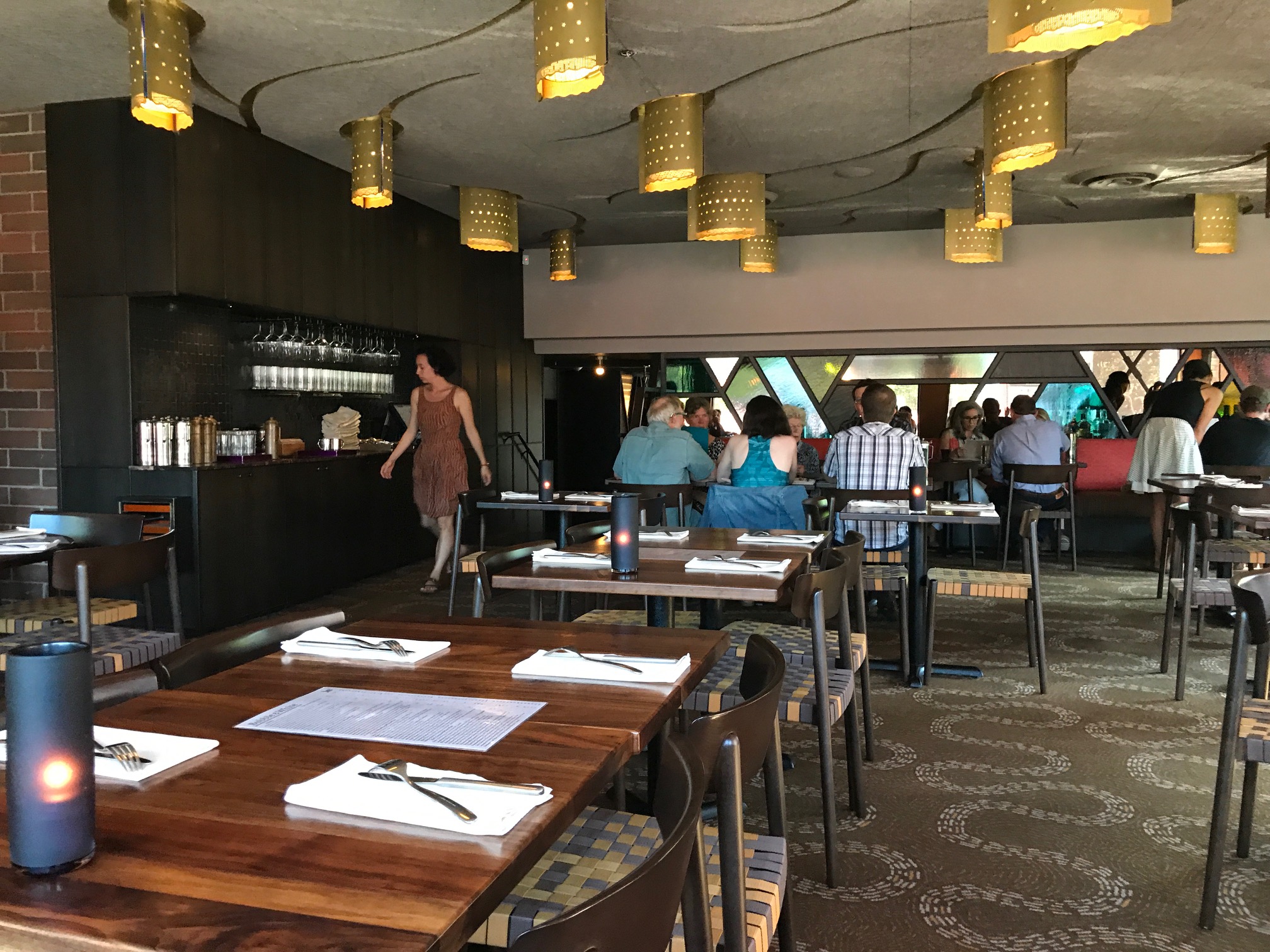 Once I sat down, the multiple waiters came along with fresh Chai made from cardamon, cloves and orange pekoe tea. Oh my god was it good, I even ordered myself a full cup of it when I was done eating! The waiters also served 3 bite size appetizers while I waited for my food (sorry guys, I can't remember what they were!).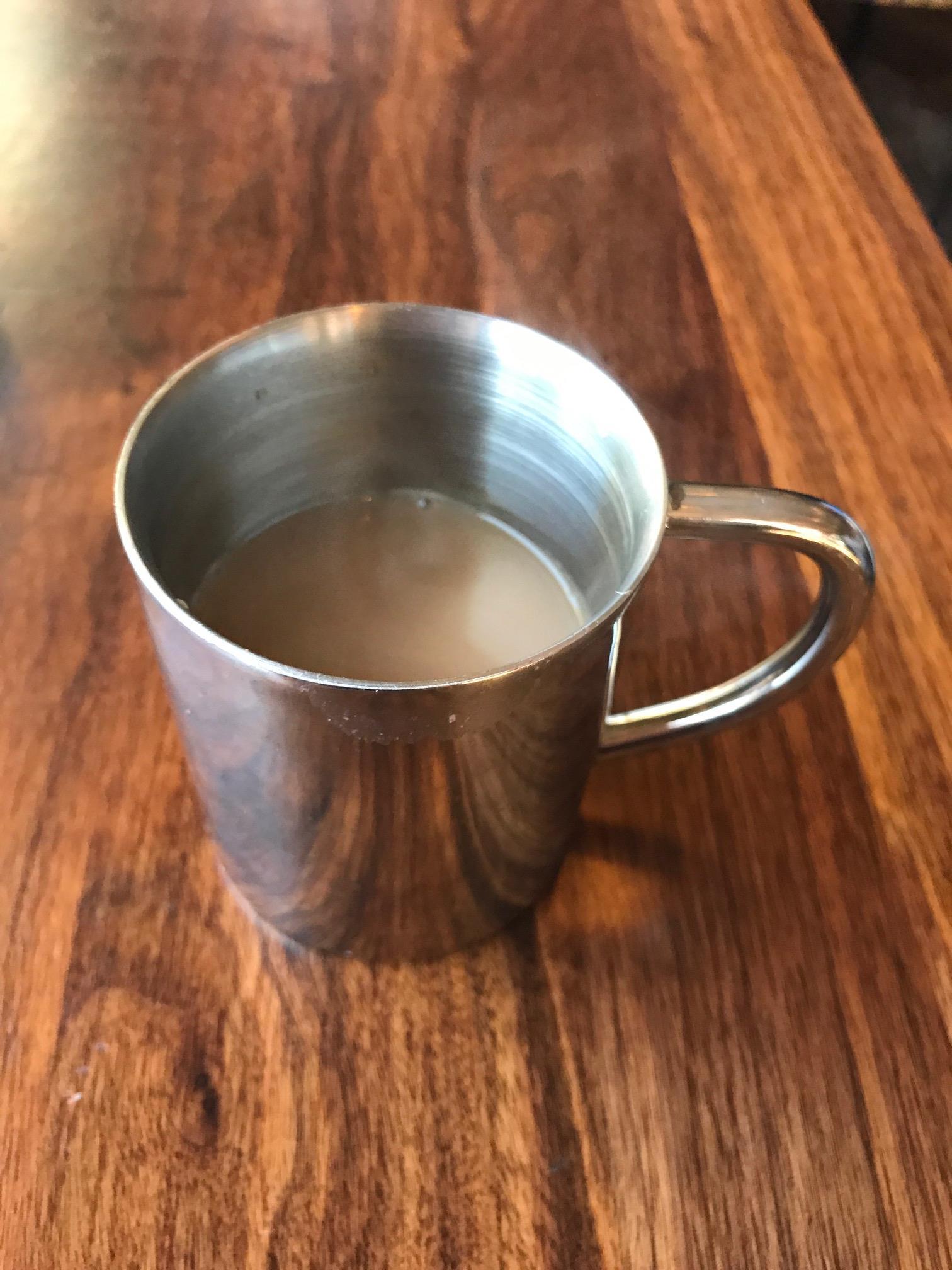 I ordered myself a a cocktail called a Smoking Dog ($12.50) that had vodka, grapefruit juice, another liquor and ice cubes that had salt sprinkled on them to give it an extra kick. I have never had a cocktail like this but it was tasty, citrusy and well-balanced, I definitely recommend trying it.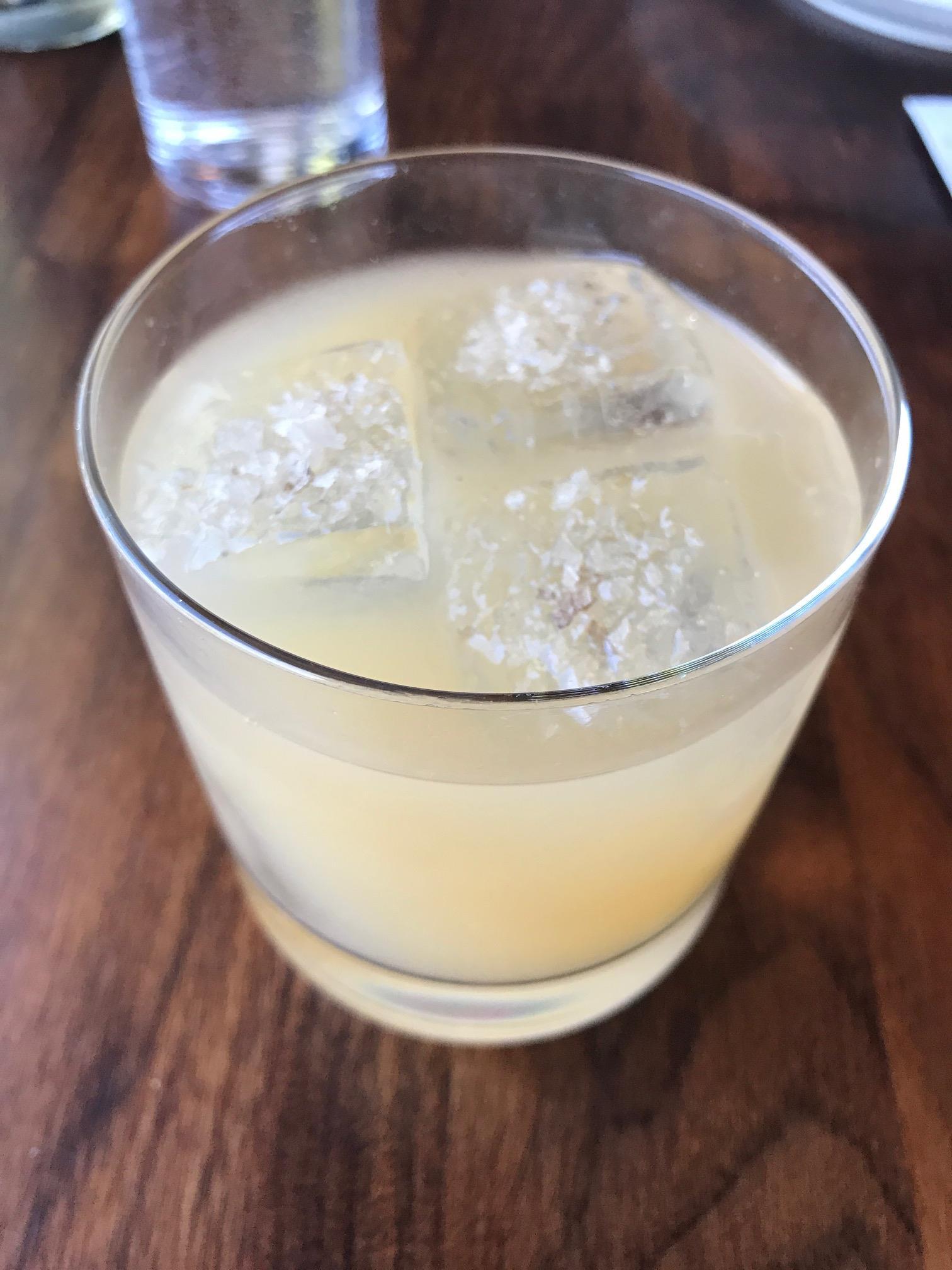 For food I ordered the Spicy Boneless Chicken Wings on Sweet Potato and Ricotta Cookies ($16), a Lamb Popsicle with Chutney ($8.75) and Ricotta-Garlic-Cumin stuffed Naan ($14). I understood right then and there why this place is the the best, because seriously, it is the best! Words can't describe how good the dishes were: scrumptious, delicious, to die for – the list could go on forever!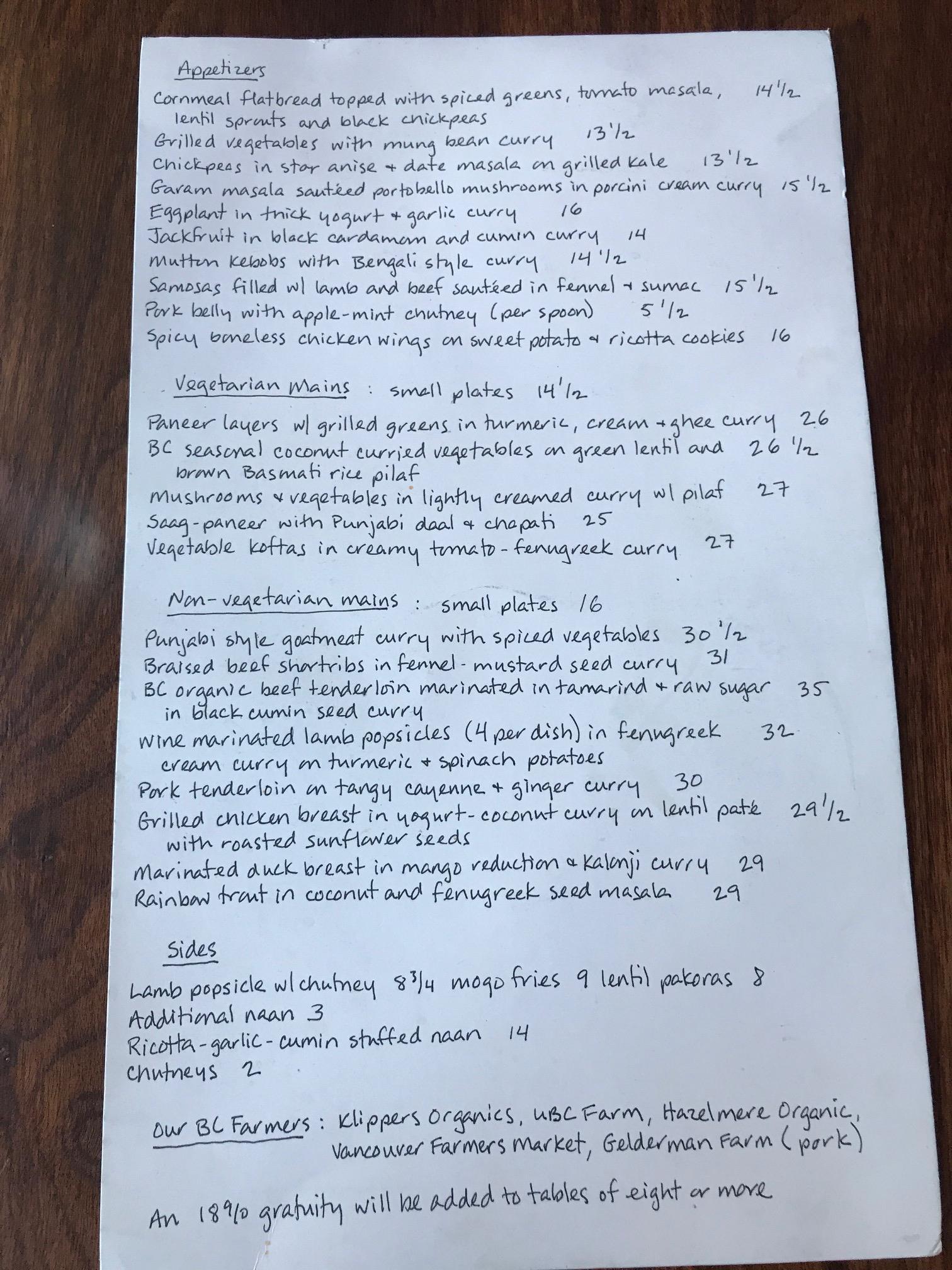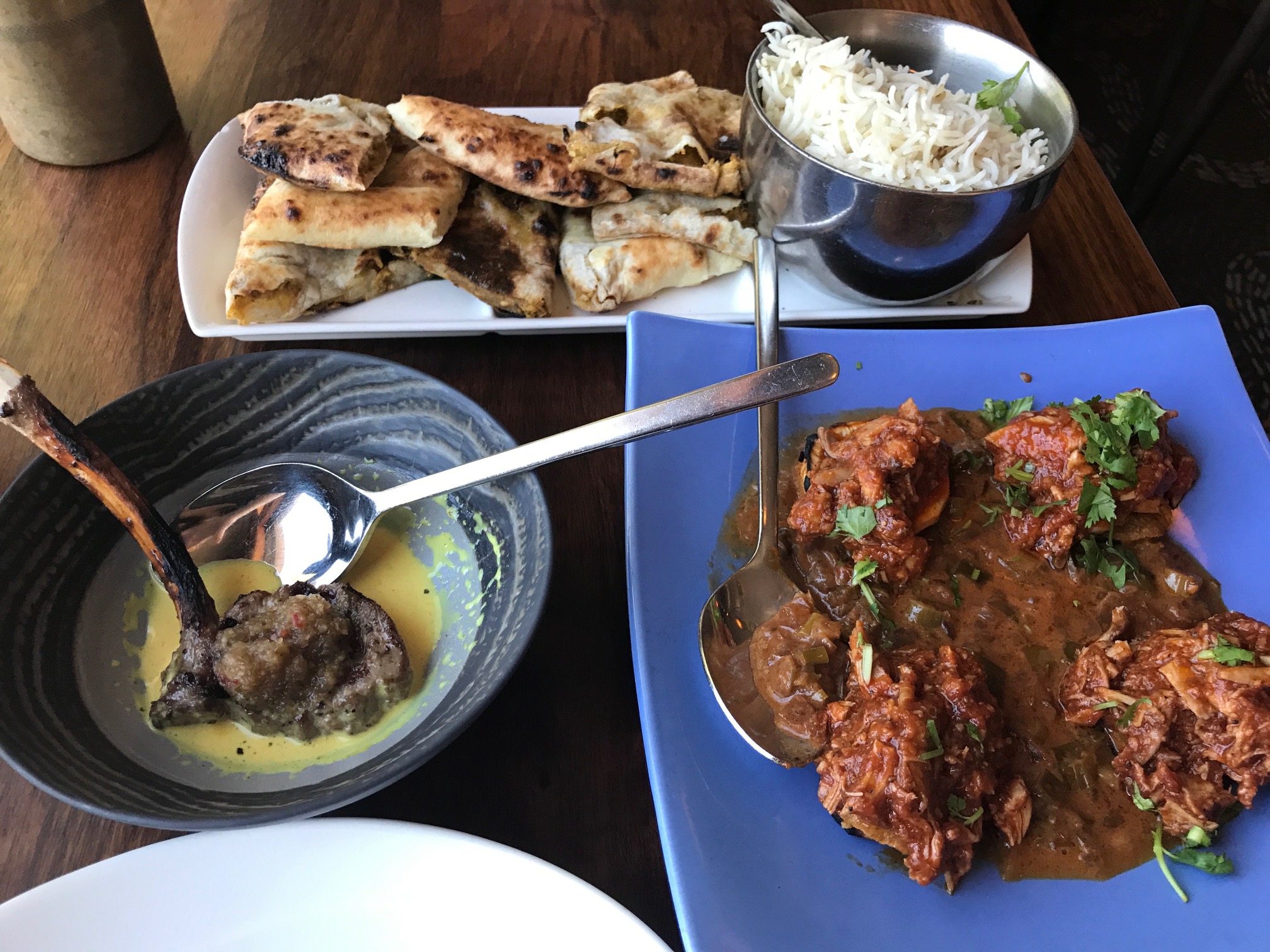 After my birthday meal I called it a night and headed back to my place to sleep.
Day 5: Friday, July 7
I slept in pretty late and got out the door by 11 a.m. I had already seen enough of downtown Vancouver, so I decided to stay in Richmond and tour it a bit more.
Breakfast, if you want to call it that, was a visit to Fuggles & Warlock Craftworks. I ordered a flight that consisted of The Last Strawberry (Strawberry Wit), Bean Me Up (Espresso Milk Stout), Mountain View (Black Currant Sour) and a guest Pilsner called Rotator. The Sour and Strawberry Wit were definitely my favorites!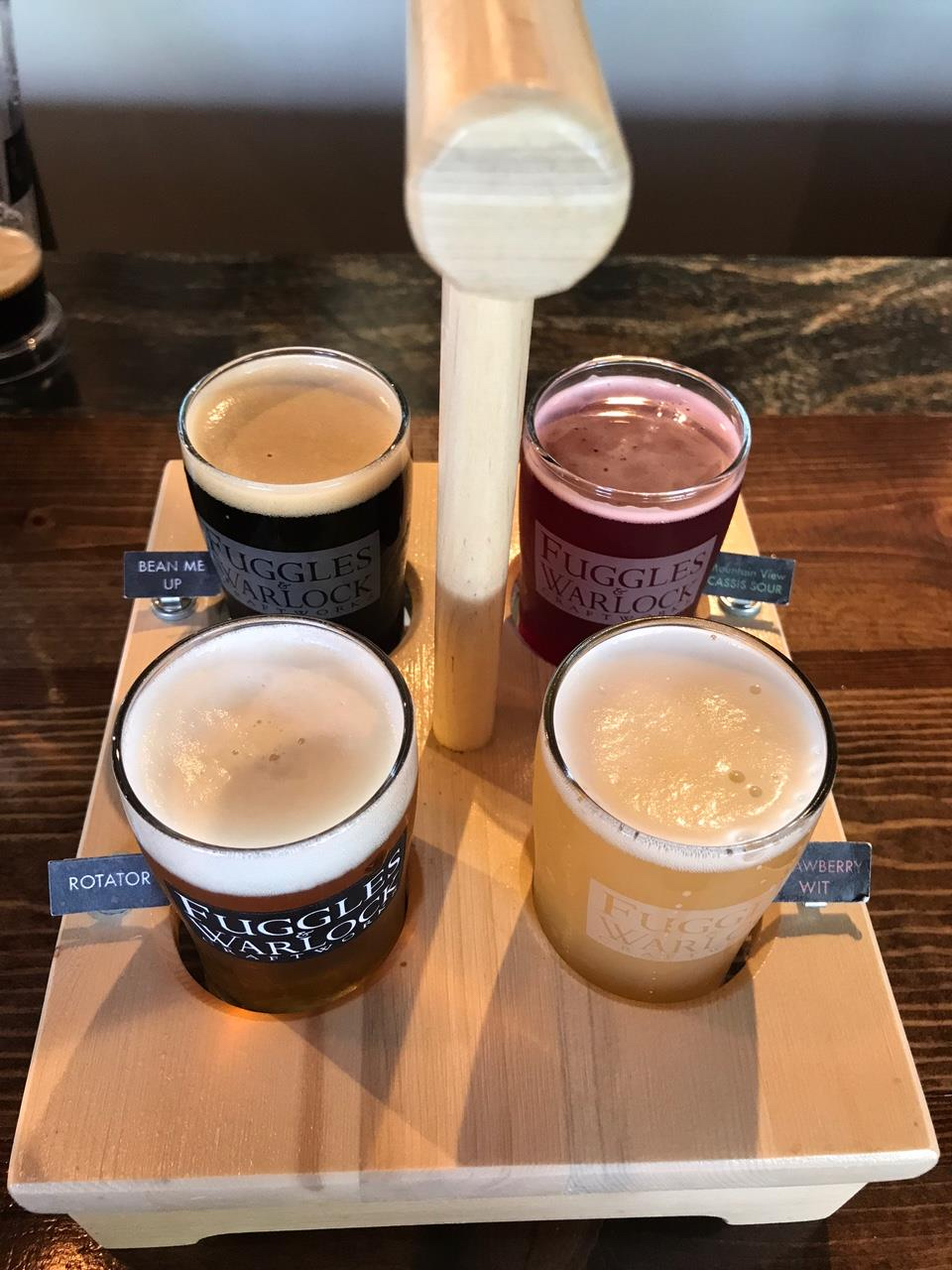 From there I took a cab back to the Steveston Point area and bought myself a cute moose keychain and small Canada coffee mug with a spoon attached to its side at a souvenir shop.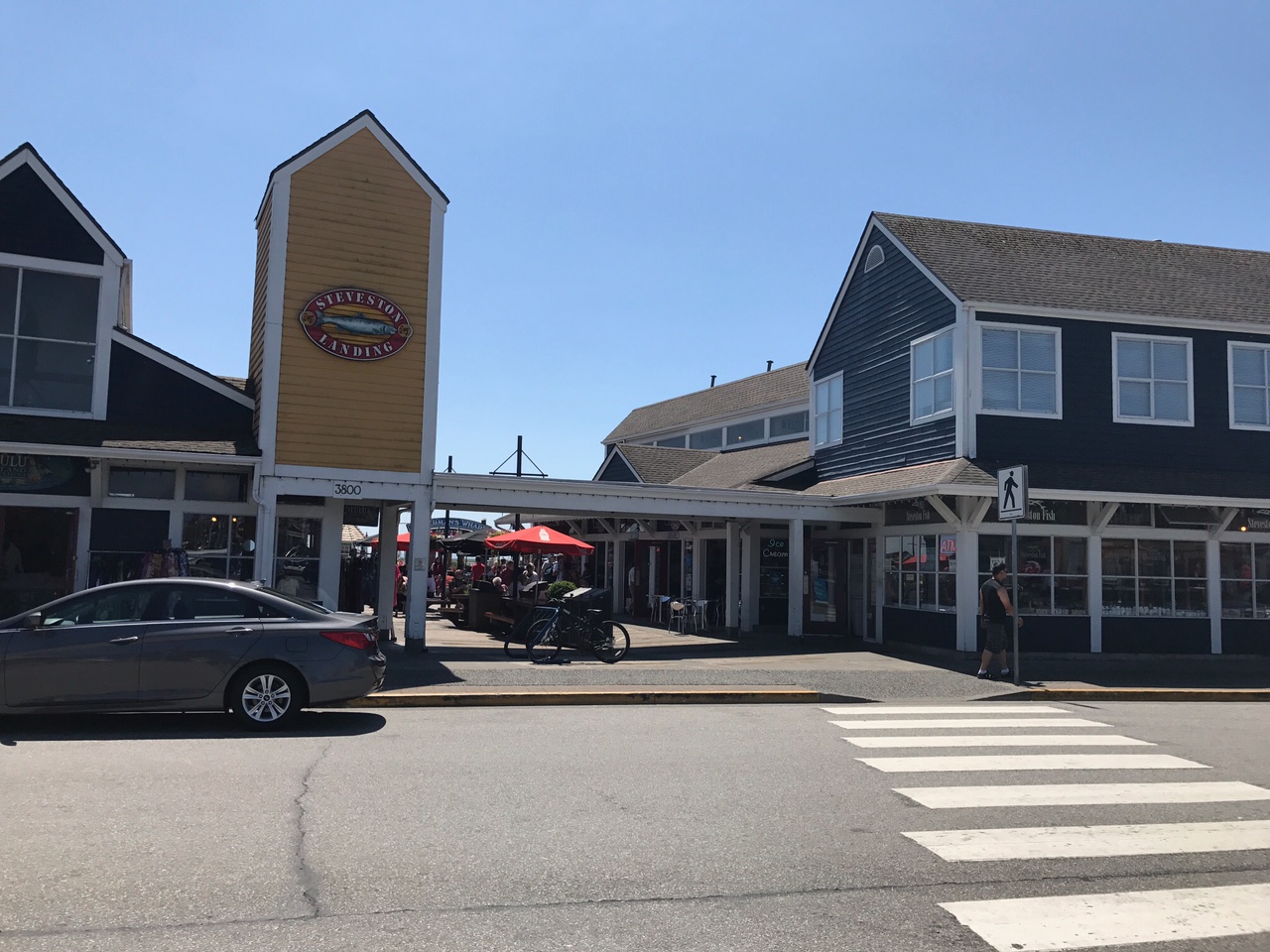 I then ate at a Greek restaurant called Kisamos Taverna and had a lamb pita wrap, the tzatziki sauce was amazing!
Afterwards I went across the street to Steveston Coffee Company and ordered myself a Latte and an Apple Strudel, which hit the spot after lunch.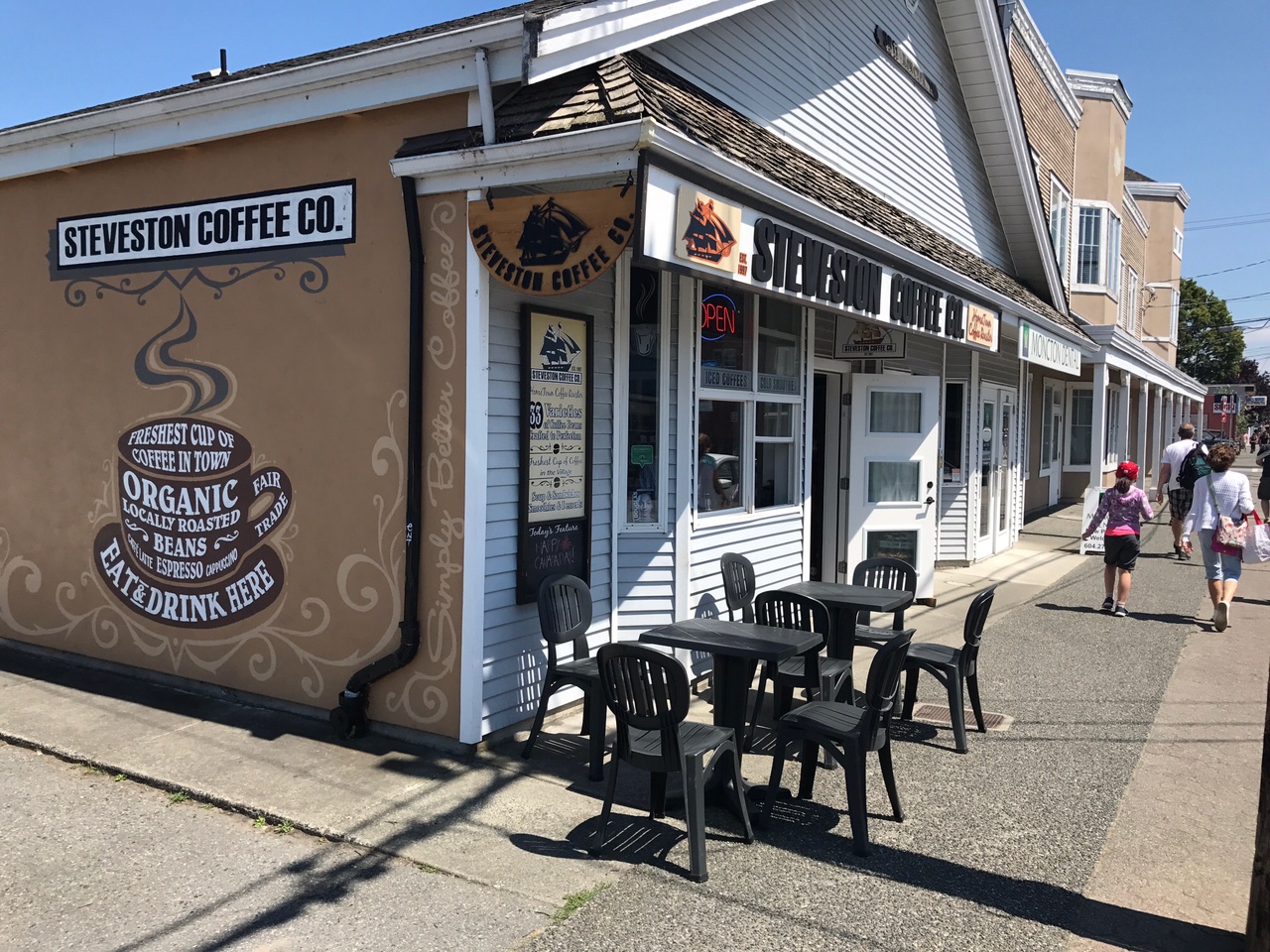 That is where my journey ended. I was pretty tired out from the fun and adventurous week that I took a cab back to my place, but not before I saw a random, cute bunny crossing the street. I took it as a good omen. 🙂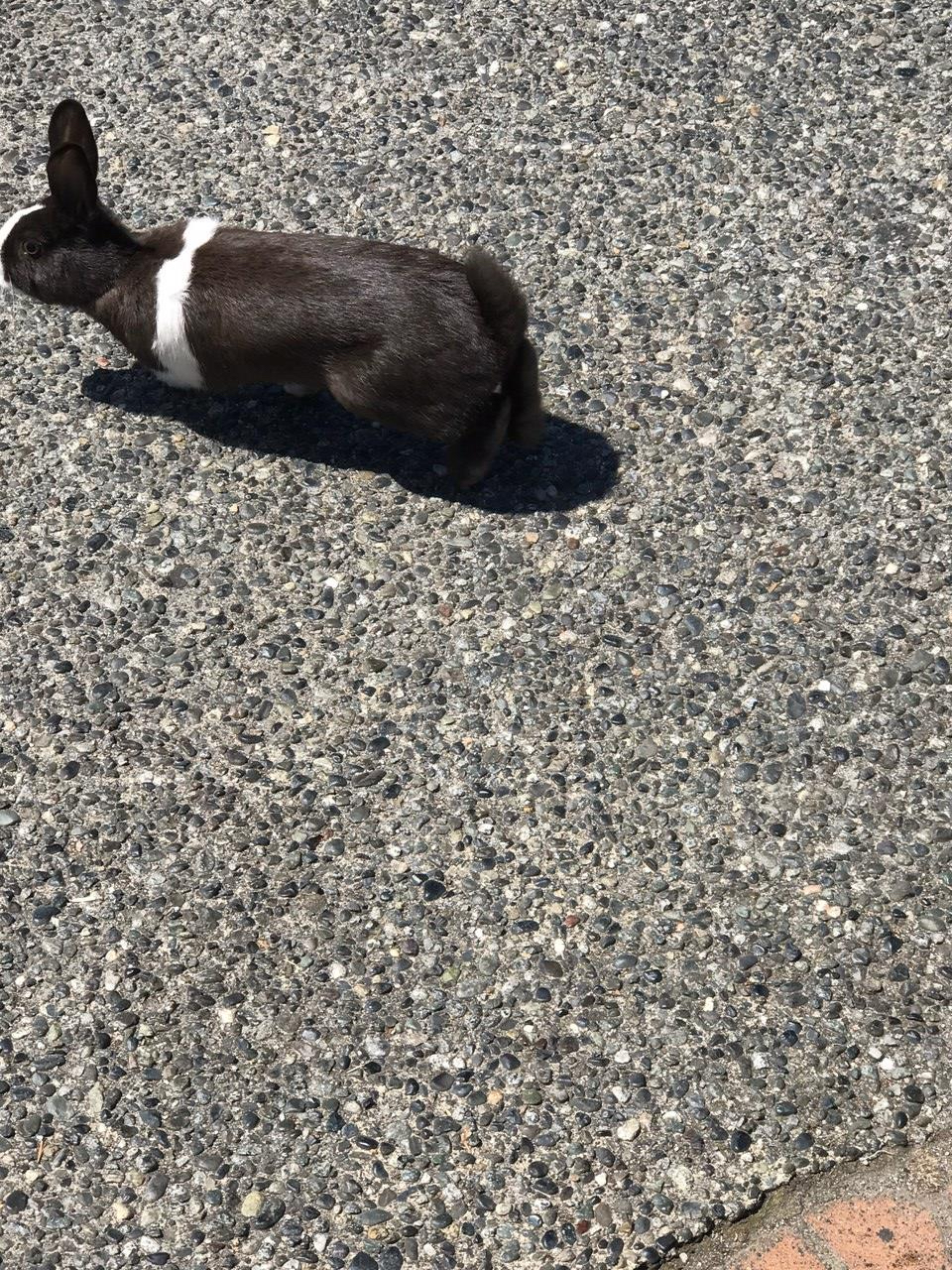 Something I didn't do while I was here was take the ferry over to Victoria. I did not have enough time (I hear you need a few days) and I have also heard mixed reviews. If you go, please let me know about your experiences, you can contact me here!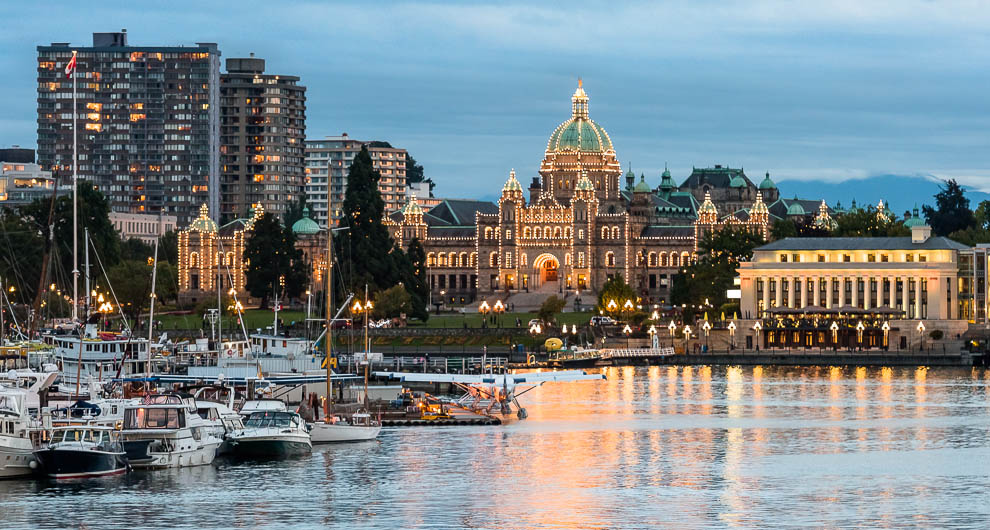 I hope you all get to travel to Vancouver in the future and explore the beauty and culture that the city has to offer! 🙂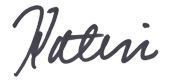 Photo credit: Grouse Mountain, Lodging Ovations, Hello BC
SaveSave
SaveSaveSaveSave
SaveSaveSaveSave
SaveSaveSaveSaveSaveSave
SaveSaveSaveSaveSaveSaveSaveSave
SaveSave
SaveSave
SaveSaveSaveSave
SaveSave
SaveSave
SaveSave
SaveSave
SaveSave
SaveSave
SaveSave
SaveSave
SaveSave
SaveSaveSaveSaveSaveSaveSaveSave