Hi all,
For the first time, I am experiencing a wildfire in the community I live in, Ventura County, more specifically dubbed the Thomas Fire. It is called the Thomas Fire because it started near Thomas Aquinas College in Santa Paula. It started around 6:30 p.m. on Monday, December 4 in Santa Paula and rolled its way into the Ventura hills around 9:30 p.m. Many structures, landscape and wildlife were destroyed. It has been sad and heartbreaking to see this happen and we are all coming together to love and support one another during these difficult times.
Below is a map for you to follow and understand the course of the fire thus far. Also, a great resource is Ready Ventura County. I have never been more obsessed with a website in my life since Tuesday morning. I look at 3 main things daily: 1) The containment level. 2) How many acres have burned. 3) The perimeter. It also lists the mandatory/voluntary evacuations, animal shelters, shelters, school closings and other helpful resources.
I also love this Interactive Fire Map from San Francisco Chronicle that shows the hot spots of where the fire is currently burning and the perimeter.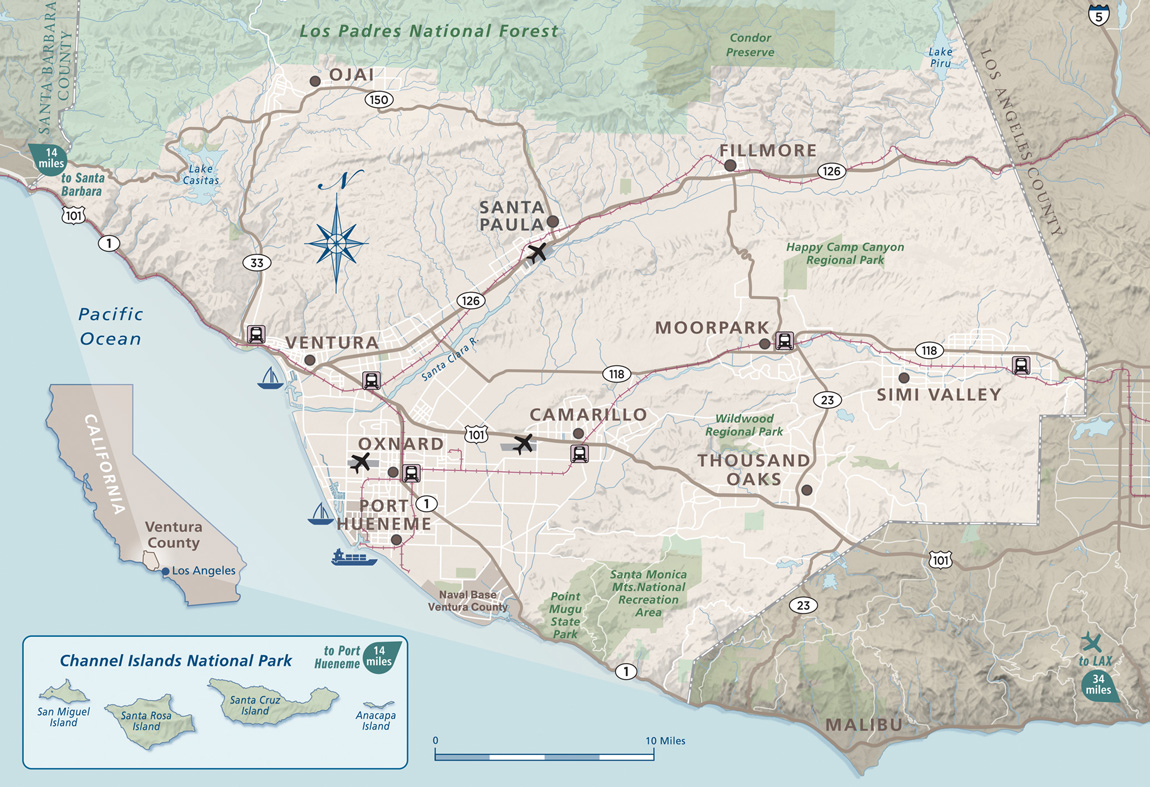 So as you can see from the map, I live in Oxnard near the harbor/beach area, basically where that big Navy ship is. I am about 20 miles south of where the fires are burning and officials do not anticipate it to hit the cities of Oxnard, Port Hueneme, Camarillo, Moorpark, Thousand Oaks and Simi Valley. The perimeter of the fire currently extends from Ventura to Santa Paula (possibly Fillmore) on the northeast to the coast line on the west. It also is above the 33 and extends east by Ojai and west of it as well. Also, it has run along the ridge line between Ventura County and Santa Barbara County and at times has jumped the 101.
Follow me day-by-day to see updates and my educational journey about wildfires. I am from the Midwest where I dealt with tornadoes and snow storms. I don't know the first thing about wildfires other than that they are out to burn and destroy. Also, for those who have reached out to me, I appreciate your thoughts and prayers as we all go through this difficult time.
Day 8 – Monday, December 11
Today I woke up to a half clear sky and a half smokey sky. I was also feeling a bit run down but I managed to get through the work day. Even with everything happening, the show must go on.
I really don't have much to update except the press conference today was probably the most positive and optimistic one I have heard in a week. The fire only grew to 231,700 acres and is now 20% contained. It is currently running along the ridge line in Santa Barbara County and is expected to stop miles away from Highway 154. A Red Flag Warning is still in effect for Ventura County along the coast line Tuesday at 8 p.m. and for the mountains Wednesday at 8 p.m. Winds will continue to be low but the temps still high. The saddest part is more than 800 homes have now been destroyed.
The fire officials looked happy and said that the fire is "cooperating" with them. 🙂 It's getting better, yay! Thank you First Responders!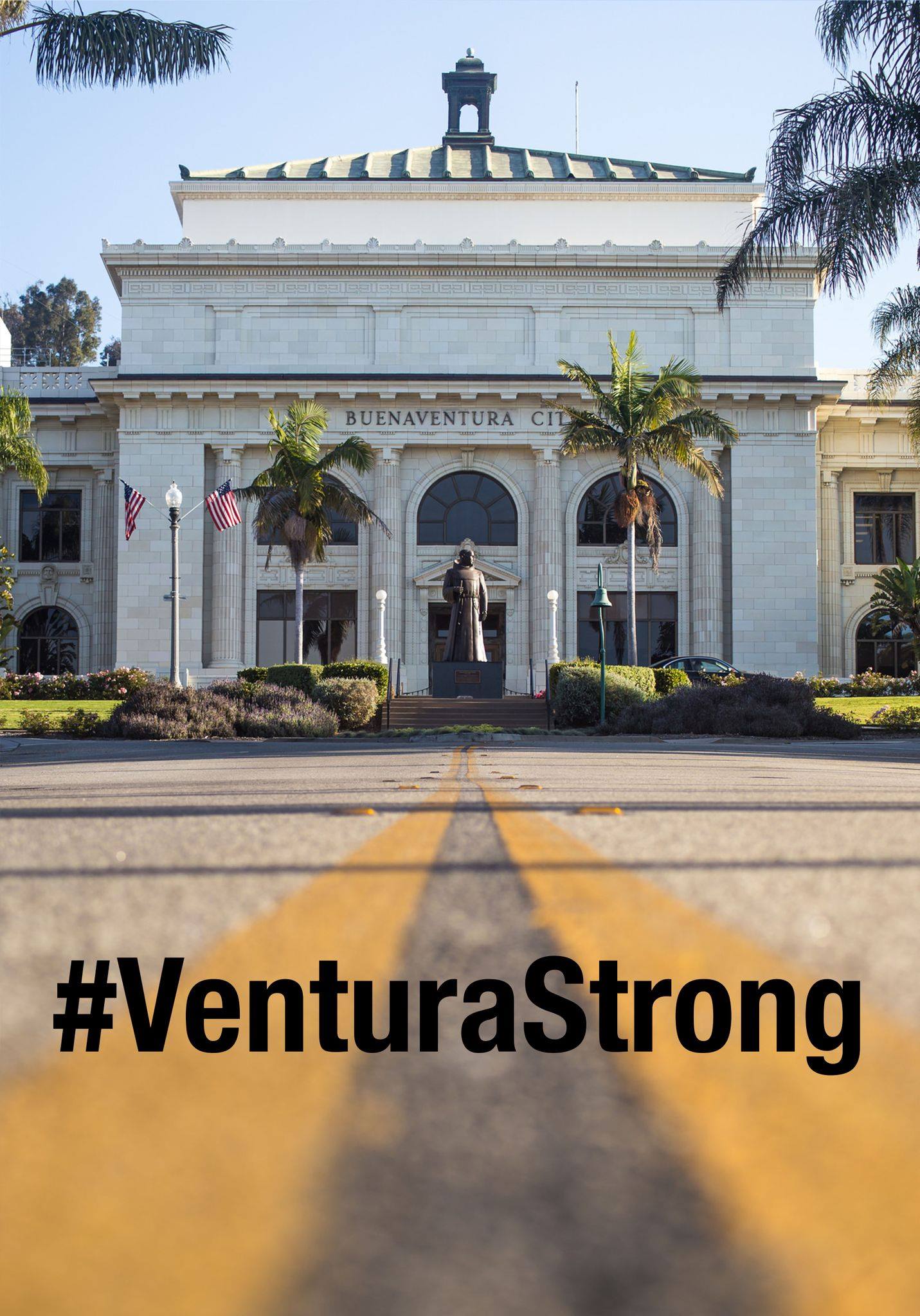 Day 7 – Sunday, December 10
This morning I got up and attended mass at Santa Clara Church. I needed a little faith to help get me through the day. I have been feeling sad today and a bit hopeless. My emotions are still everywhere: one minute I feel happy and confident that this will all end soon, the next minute hopeless and sad, sometimes angry. I snapped some photos of my church before most people got there, it was a full house though!
There was a part in the service where the Father read a chapter from the book of Isiah I believe, talking about how we should go to the mountain/terrain and shout at the top for joy and peace. That's the last place I'd want to shout it from right now!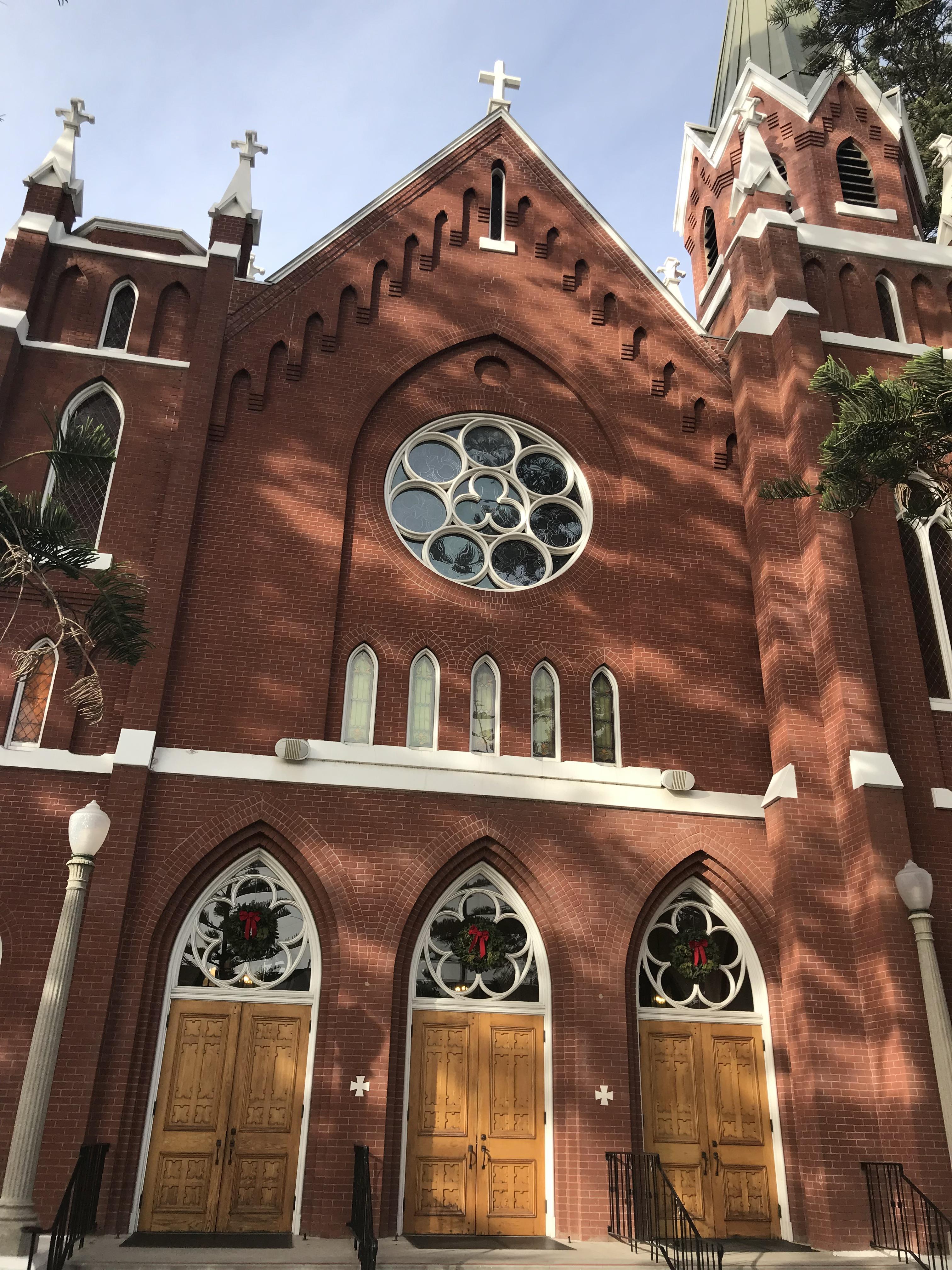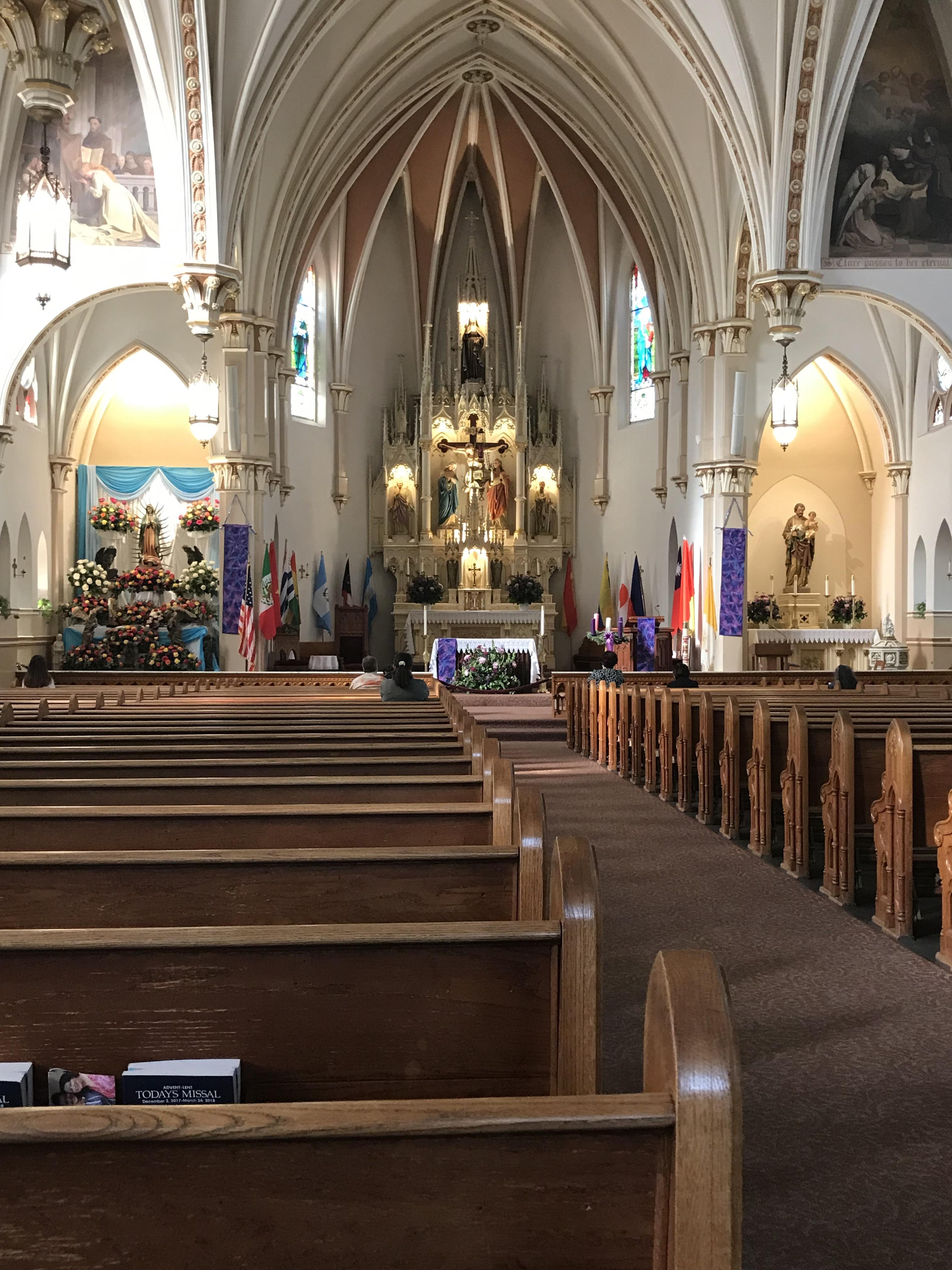 Afterwards I went to get my car washed and cleaned on the inside, it was filthy from the dirt the winds had brought up, and then I made my way to the grocery store. On the way in the median I saw a Stay Strong Ventura sign. My friend George took a better photo of it below.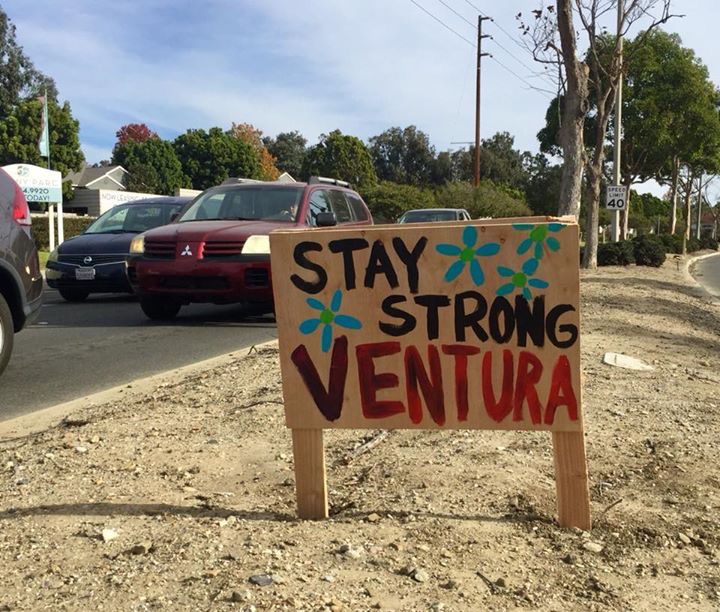 In the parking lot I saw this huge plume cloud that was coming from Santa Barbara County. You can even see the red firefighting helicopter. There are I think I heard more than 30 of the copters helping today. The planes had to make their way back to the Navy base down here by my apartment because the smoke was so thick that it was dangerous to be flying in the smoke with them.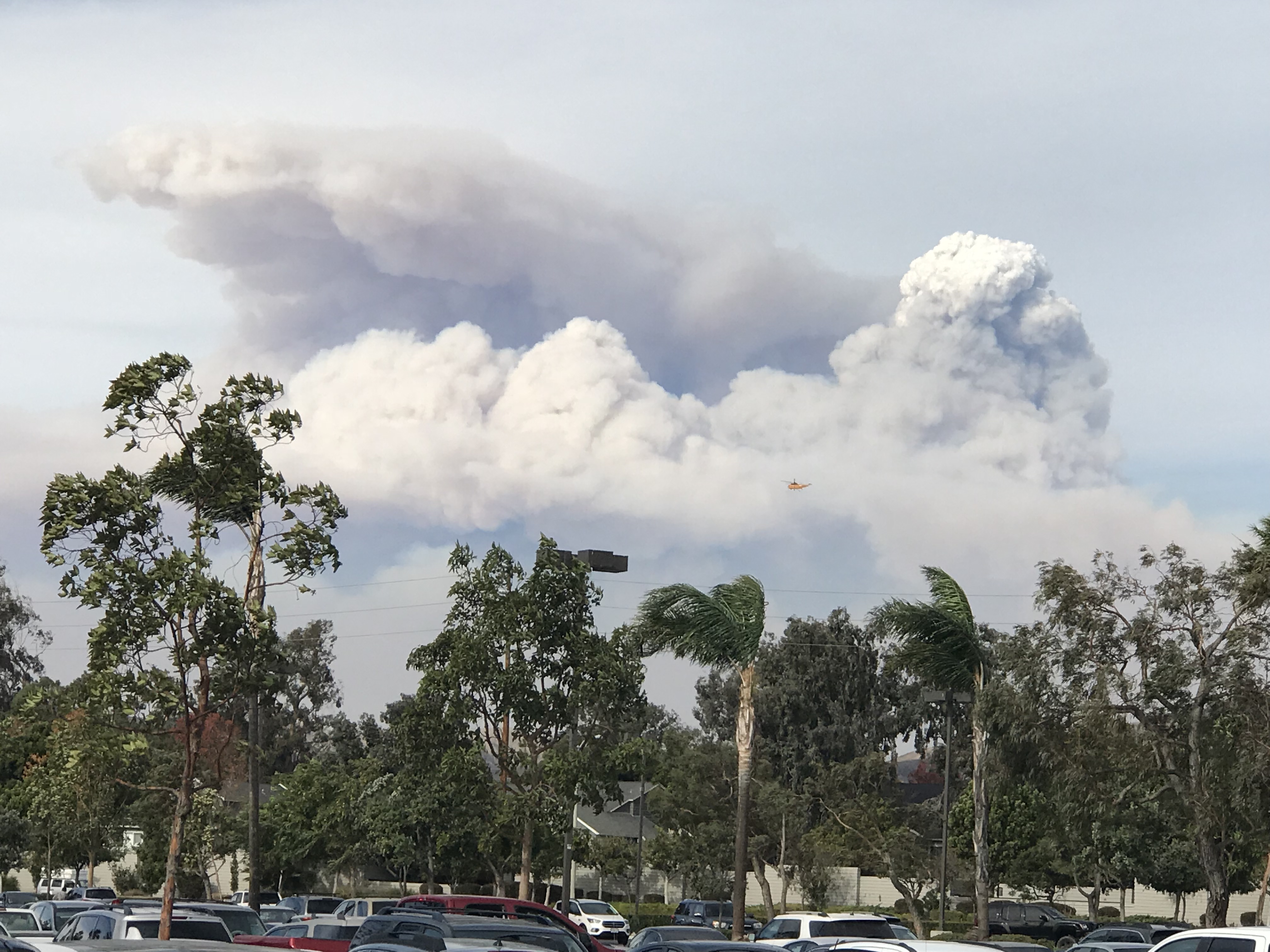 Currently and sadly, the fire has burned 230,000 acres and dropped back down to 10% contained. It is now officially the largest wildfire the County of Ventura has ever seen since 1932 and the 5th largest wildfire in California history. It is possible it might jump into the top 3 in the next few days. Again, now you understand why my emotions are everywhere, this is crazy. When you hear that many acres have burned, the weather won't let up and at this time 754 structures have been destroyed while 162 have been damaged, you would be feeling sad and hopeless, too.
The fire is making its way towards back country towards Highway 154 in Santa Barbara County at this time. The fire officials said in a press conference that the weather has contributed mostly to the frustration of not being able to control the spread. The winds are supposed to die down by Monday night, so we will see what happens. We are so grateful to our First Responders!
Meanwhile, Los Angeles and Ventura Counties had their Red Flag Warning extended until 8 p.m. Monday night now. It was supposed to be lifted at 8 p.m. tonight. The good news is by tomorrow night the winds will be dead and the humidity where I live will be at 45%. Right now it is at 9%. I figure if I can just get through one more day of this I will be good.
Day 6 – Saturday, December 9
I woke back up to more high winds but the smoke smell was gone. If the winds are around, the smell is mostly gone, but if they aren't, the smell returns. The fire has burned 155,000 acres and is 15% contained. It has made its way north of Carp and the good news is residents who live in west Ventura (aka "The Avenue") have returned home.
As I stated yesterday, I got my N95 mask to protect me from the particles from the fire. This is what it looks like on. If you are wondering if they help, to an extent they do, but not 100%. You need to change them out once in awhile.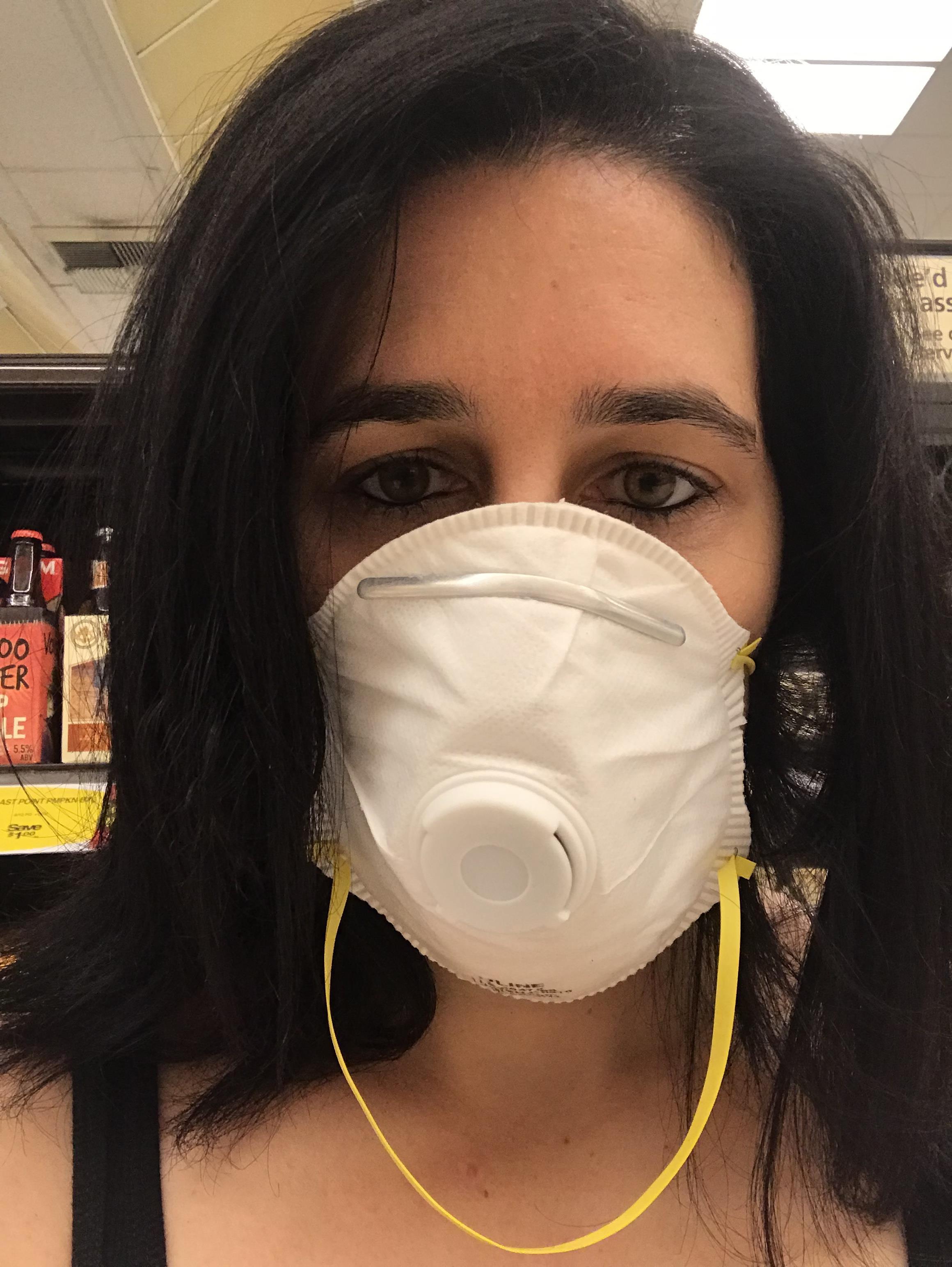 I am looking into volunteering to help the victims. I found this website through my friend with various ways to help called Thomas Fire Help. I will let you guys know what I decide to do.
I went to the Parade of Lights in the Channel Islands Harbor tonight. It is right by my apartment complex, below is the best shot I got out of all of the boats. You can also go to my Instagram page and check out the "Under the Sea" video!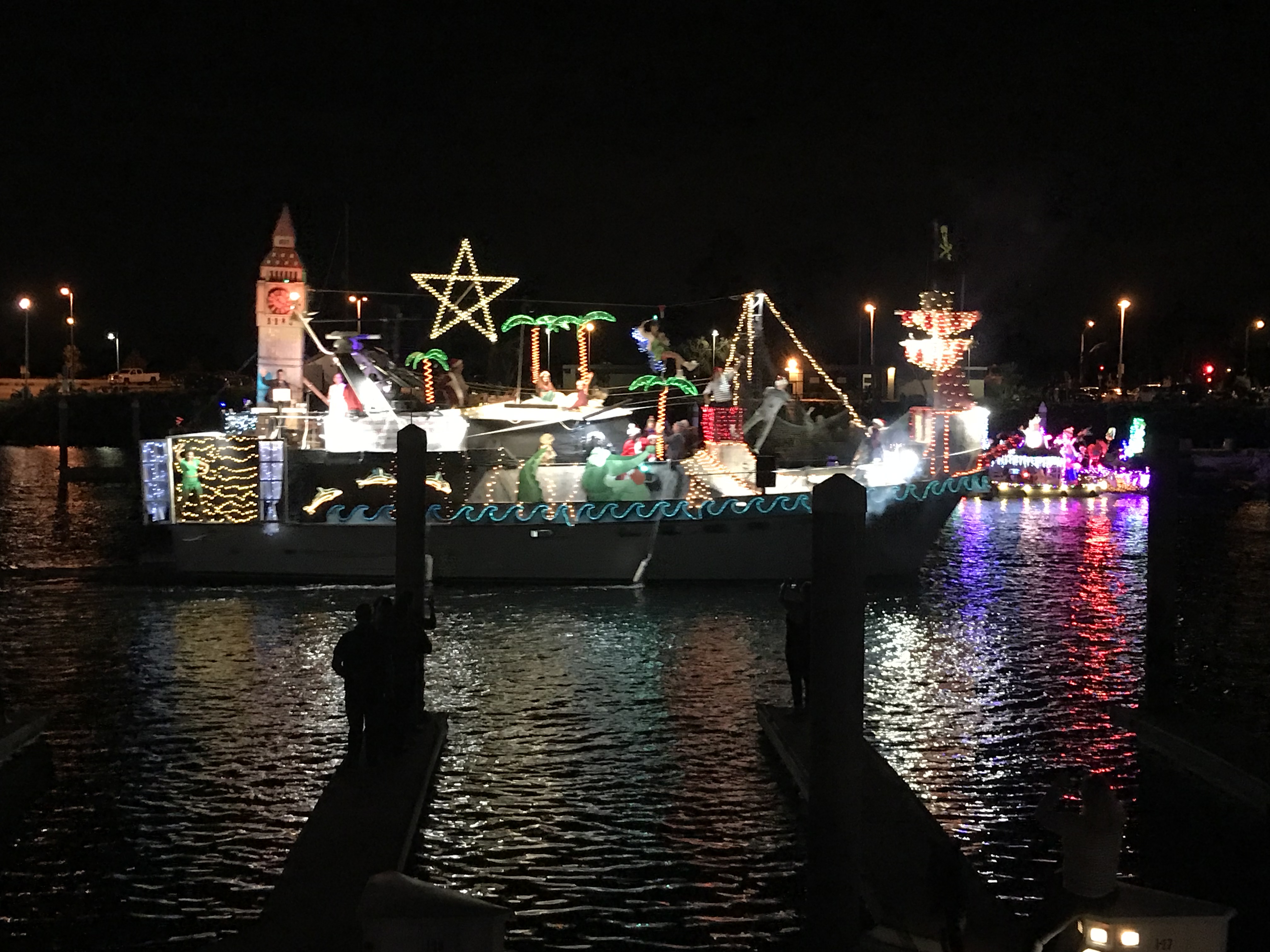 Tomorrow morning I am going to attend church. I have not gone in awhile and I will let you know what Father says.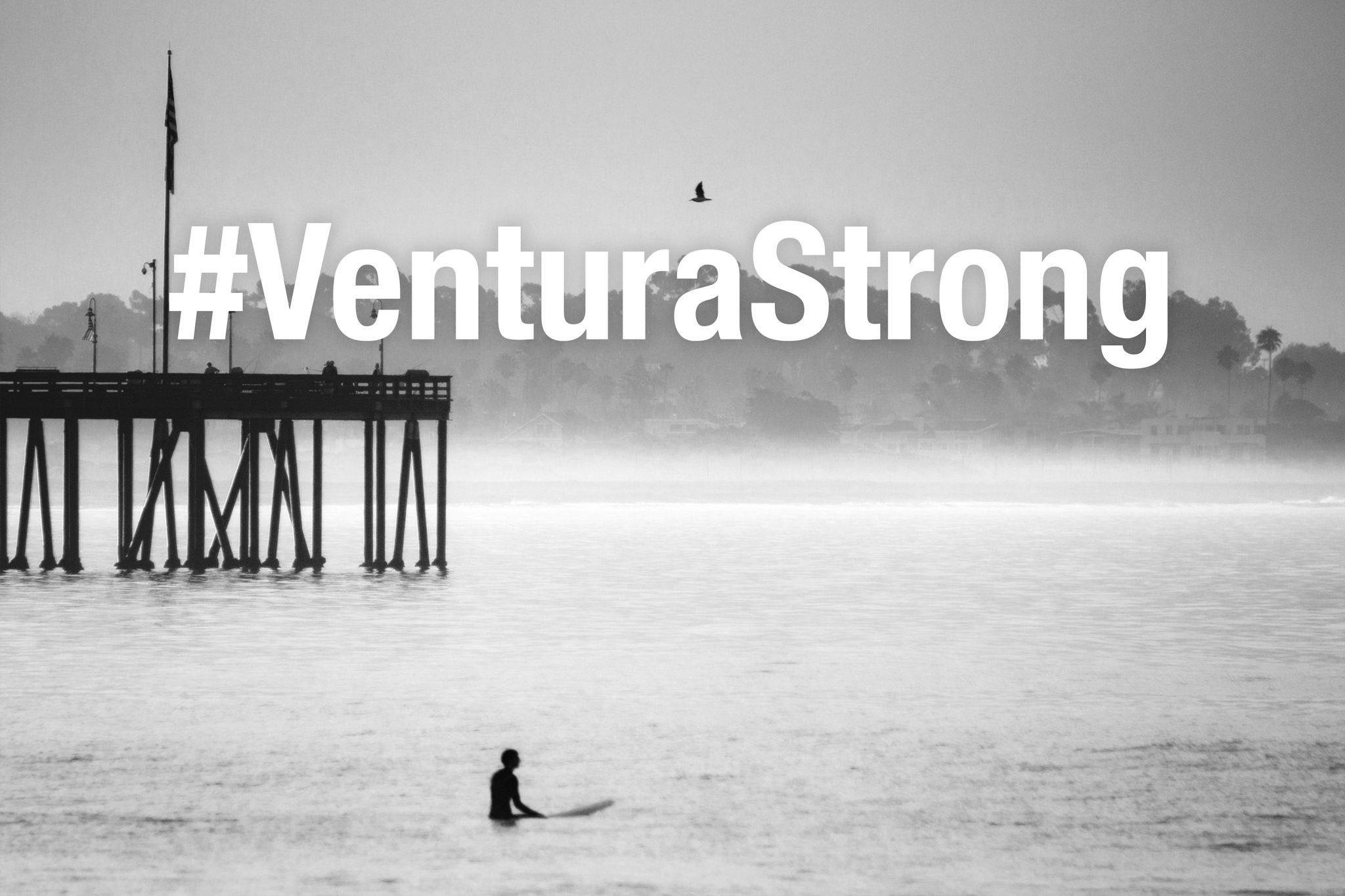 Day 5 – Friday, December 8
Today I am feeling a lot more happier and confident than I have the past 4 days. Last night during the press conferences I heard from a fire behavior specialist. He assured everyone that once that containment line is set and some more acres burn that firefighters will be able to control and put out the fire better. It is currently headed towards the north back country of the Ojai Valley and northwest towards Carpinteria.
At this hour there are 143,000 acres that have burned/are burning and the containment level is still at 10%. There are more than 4,000 first responders fighting the fire from everywhere in the state and from other states. The estimated cost is $17 million in damage, according to the LA Times. Many residents of Ventura were also able to return to their homes.
There were no high winds today, but the smoke was terrible. It was the thickest it has been since the fire was put out. Yesterday it was heaven, there was hardly a smokey smell in the air. Today was not so lucky. Even as I sit here I can still smell some mild smoke in the air. Tomorrow the Channel Islands Harbor is still having their Parade of Lights (boats), as they were cleared by officials to still put it on. I am hoping the air quality is a lot better tomorrow night so that I can enjoy it!
The cell phone reception and Internet is also a bit slower still, but not too terrible. I also got my N95 masks today, I'll take a picture of one on me tomorrow.
The fire briefly jumped the 101 again towards the Ventura County/Santa Barbara County line this afternoon I heard. I'm so glad I canceled all of my activities up there, I just don't want to risk it!
My friend Rosy invited me to come along and deliver some tamales her aunts had made for some Ventura County Fire First Responders. I got to see the office and sit in one of the helicopters. They have been working around the clock since the fire broke out on Monday night and sleeping on small cots in the office. I thanked them for all that they are doing to keep the community safe and we even shared a few laughs.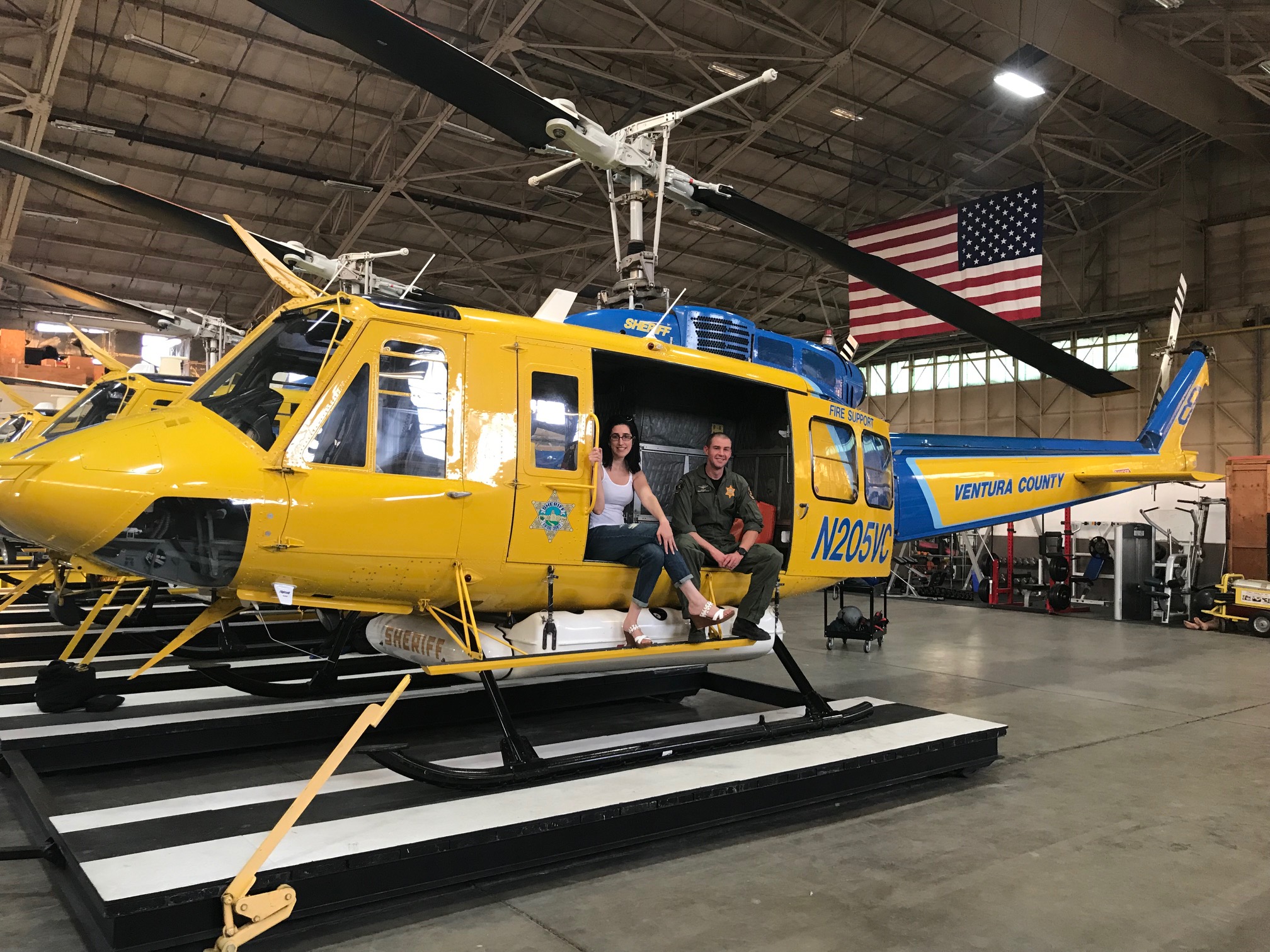 Day 4 – Thursday, December 7
Overnight, just like I had expected, the fire started slowly making its way to Carpinteria. Carp is my favorite coastal town in Santa Barbara County. I know a few people who have voluntarily evacuated thus far. The fire is also out of the City of Ventura itself and all the way up towards Ojai. The NB/SB lanes of the 101 along the coast line were also closed. They could be closed intermittently over the next several days I hear. I was due to be up there in the evening for several things between Friday – Monday and I canceled everything. It is best to be safe than sorry! The fire at this time has also grown to 96,000 acres and is only 5% contained. Another important note to make is the fire is expected to be 100% contained by Christmas Day. So it will be a Christmas miracle, we hope.
The winds are also beyond strong, making it hard to drive and be outside. I had to run an errand this morning across town and saw the hillside black with spots of brown in them. Just broke my heart. I also saw tumbleweed blow across the road and a couple street name signs blown down. The winds are due to die down on Saturday night, so I will make my way back to the office on Monday. For now, I'm just working from home. I was up at 5 a.m. today with more text messages and started work around the 6 a.m. hour. I usually put my phone on silent at night, but for these next 15 days before I fly home for Christmas, that will not be the case.
Today I am feeling hopeful but sad. Like I said, it's stressful and emotionally draining to see this happening to your community. John texted me a video of the palm trees burning down near Faria Beach (Ventura coast line) just now. Christ…why, why, why?!
I donated $50 to the United Way Ventura County this afternoon. It's my community, it deserves my support! I also ordered an N95 mask, which will protect me from breathing smoke particles. I will have it in another day.
UPDATE at 9:11 p.m.: Both Ventura and Santa Barbara Counties held press conferences to discuss the updates on the fire this evening. Currently, it is at 115,000 acres (most back country) and is at 5% containment. The Red Flag Warning has been extended until Sunday at 8 p.m. The Santa Ana's are expected to weaken tomorrow for crews to fight better. I also learned that 427 structures were destroyed in Ventura. I am calm because I have been told many times from Ana, George, John, Rosy and my meteorologist friend, Alan, that I will be ok. I finally believe that I will. 🙂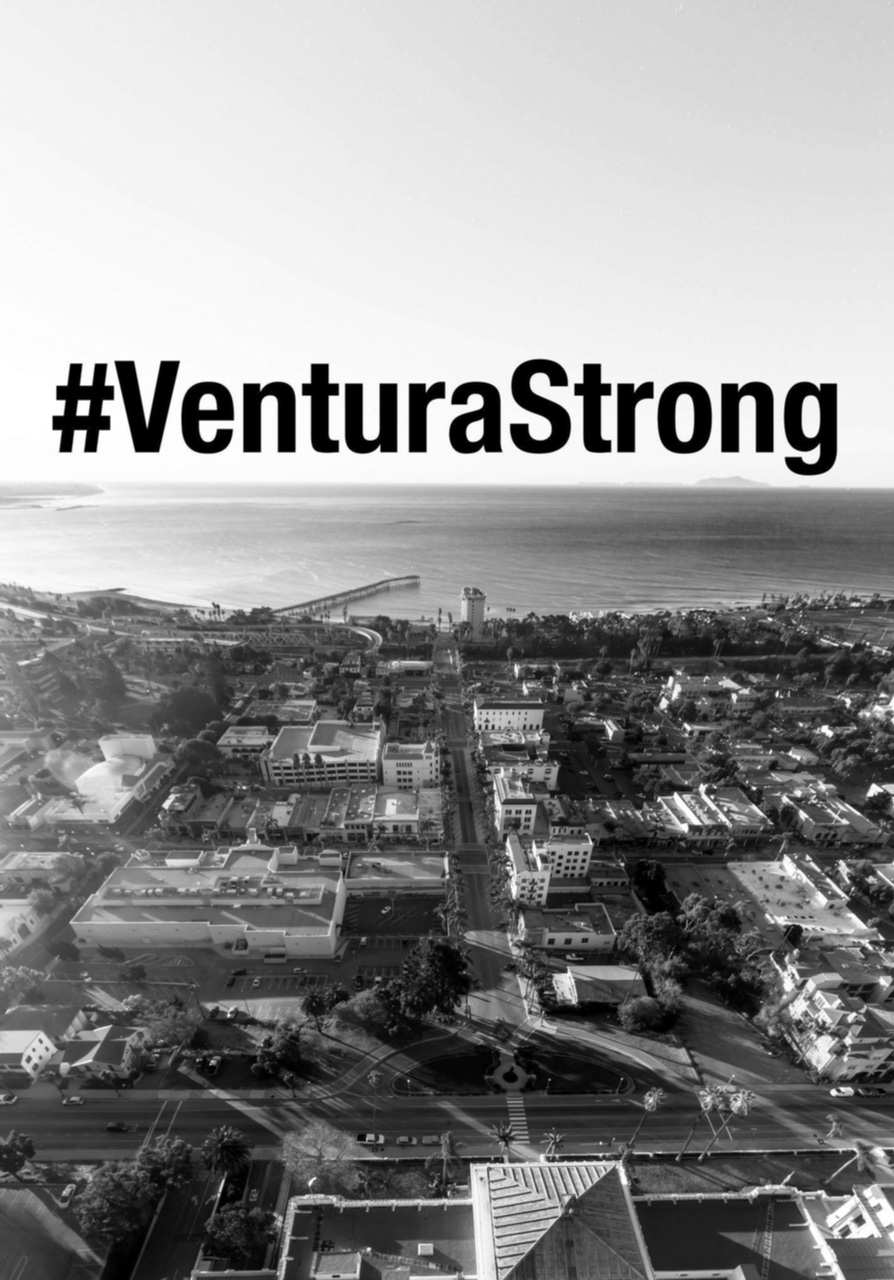 Day 3 – Wednesday, December 6
Overnight the fire spread to the coast line, which is the drive between Ventura to Santa Barbara and vice versa. Earlier this afternoon Ready VC said it was at more than 65,000 acres and 0% containment, but they removed that part in the 3 p.m. hour and I do not know what the acres/containment level is at this point. UPDATE at 6 p.m.: 90,000 acres burning! I just opened a bottle of wine, I need it! I read on my Facebook newsfeed others started drinking as well, so I am not alone! I needed Ana and my friend George to calm me, I am upset! My back-up plan is to go to Orange County, which is 2 hours south of me, and stay with my friend there in the event that something bad happens in my area alone.
This morning I was starting to feel a bit ansy as to why it is still 0% contained after 3 days when other fires in the SoCal region have contained to 5% or less. I feel this way because I can't stand to see more people being evacuated or most importantly losing their homes. This statement is not because I think of first responders are doing a poor job or I don't appreciate their efforts, nor do I expect it to be contained in say a day, but I am trying to understand why there isn't some type of containment, even if it is just a very small amount. The winds as of last night died down and are only at 12 MPH according to The Weather Channel app. Is it because of other factors besides the wind? What is the strategy?
My friend Ana told me that sometimes fire officials perform something called test fires, where a small area burns to prevent it from burning again. This obviously is not the case with this fire, but it was good knowledge to know.
Around noon today, the winds changed direction and that smoke came back down the hills towards the ocean. It was thick, heavy and my throat started feeling like it was burning – and this was with closed doors in an apartment! I have this amazing tea from Republic of Tea called Get Soothed. Works like a charm!
I worked from home today because of the poor air quality and plus I just wanted to relax in my PJs with my work laptop on my couch. Yesterday had drained me a bit. The good news was the winds had died down today. This shot was from this morning before the thicker clouds started rolling in.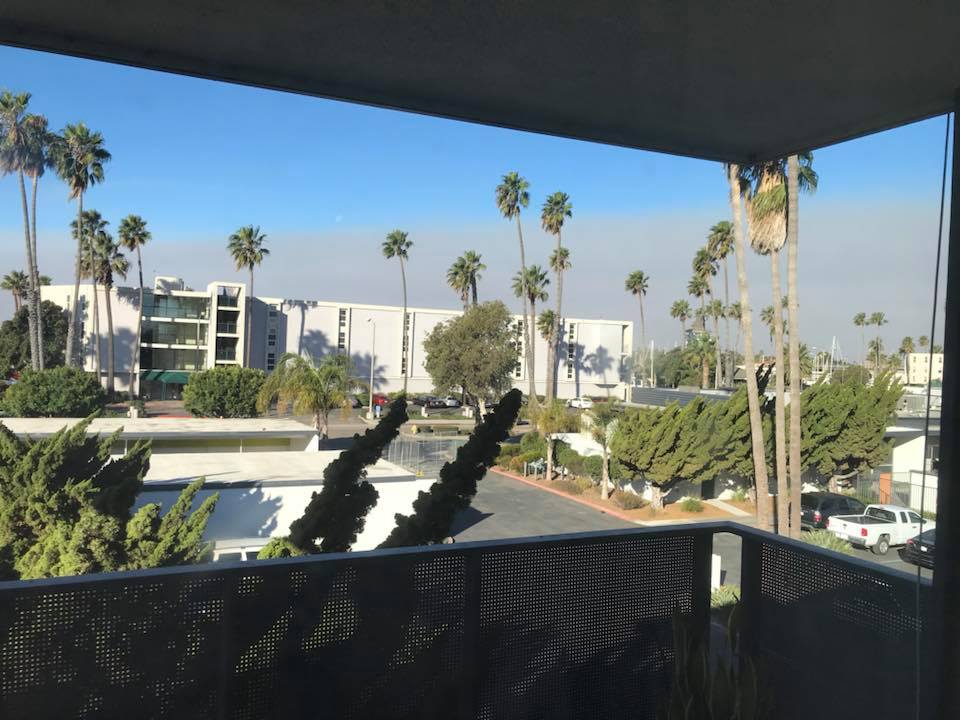 As far as my mental health, I half-jokingly say I am in the looney bin. I feel like I need stress and adrenaline in order to function these past 2 days. It is a mix of that and also feeling sad for everyone that has been affected.
I do not know what the expect overnight, maybe high winds again? Maybe it'll reach Carpinteria (aka Carp, first city in Santa Barbara County taking the coast line)?
Tomorrow is pay day and I plan on donating some money to the victims through the United Way Ventura County. I'll also go back into the office.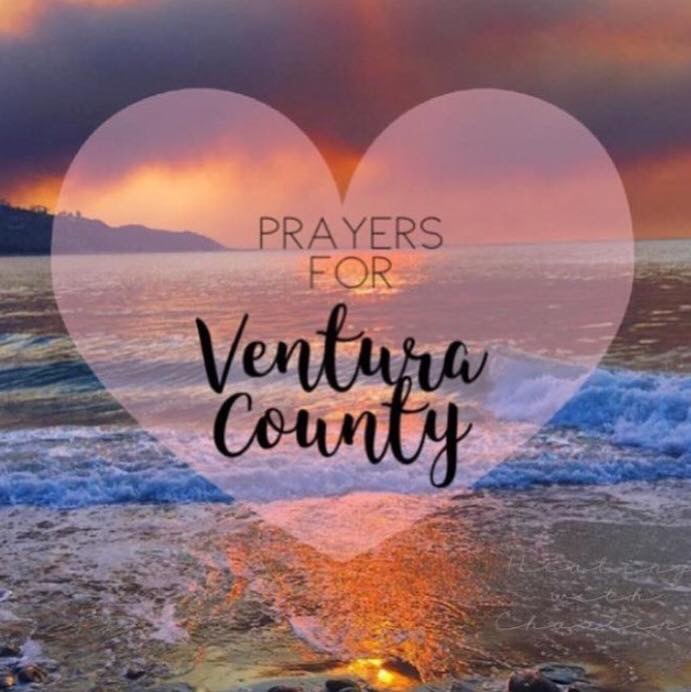 Day 2 – Tuesday, December 5
Ana and I did not sleep much the night before, it was on and off. We kept checking our phones to see any updates from the news, friends, family, etc.
I woke up officially at 6:30 a.m. and called John to get a quick update on the fire before I called my mom and dad and then my project manager. I decided to take the day off and figure out what my plan was going to be. Things change like crazy with wildfires and at this point, I wanted to think of what the safest option would be for me.
I then checked my Facebook news feed for any updates from my friends. A few said the power was still out as well as Internet/cell phone reception. I decided at that point that I was going to stay one more night at the hotel and go back to my apartment and get some more things until the power came back on fully.
Ana decided that since the fire had moved on from where she lived that she would grab more of her belongings and head down to her parents house in LA. She couldn't (and still can't) stay at her apartment until the mandatory evacuation has been lifted. It could be days. I have offered for her to stay at my place since she is attending school in the area (which they are still closed from the fire, btw).
I left the hotel at 8:45 a.m. and made my way back down the grade. As soon as I got down it, I felt the winds pick up. In the distance I could see smoke and as I approached Oxnard I could see some small flames burning in the Ventura hills still. This is insane, I thought.
I got back to my apartment and at that moment, my body couldn't take it anymore. I needed to nap…badly…NOW. I slept from 10am – noon when I was awaken by my former co-worker, friend and neighbor, Aaron.
"Hey how's it goin?" he asked.
"I'm back at my apartment, I just took a nap. I am going to pack up more things and head back to the hotel in TO," I said. "What did you end up doing last night?"
"I went outside to see how bad it was and it was eerie. I left for Santa Clarita for the night and I am driving back now," he said.
"The 5 is shut down because there is a new fire in Santa Clarita!" I exclaimed.
"Crap, yeah I know," he said. "I'm trying to figure out what to do, will probably come back."
We hung up the phone a short while later and I started to pack my things.
Then I saw an update from my friend Teresa on Facebook: new brush fire in Newbury Park!
OMG, no way, I thought. Newbury Park is right next to TO…and where my belongings still were in the hotel.
I sighed. I then made a new plan: get my belongings and come back to my apartment complex for good. It was better for me to be near the ocean water than in a hill that is burning.
I got on the road and the winds had picked up even more. Going up the grade, I smelled more smoke, almost like it was below me. The smoke smell was so strong that it was coming through the car vents. Crap, I thought, maybe I'll take the back roads home through the grade instead. Thrity-five minutes later I was in Newbury Park to check out.
As I waited in line to check out, I saw this woman ahead of me.
"Checking out too?" I asked.
"Yes," she said. "My husband and I are relocating to another hotel. Our house burnt down last night."
She opened up her cell phone and showed me an aerial shot of where her home used to be with tears in her eyes. I gave her a hug.
"It's ok," she said.
"How long did you live there?" I asked.
"Twenty-five years," she said. "We grabbed some belongings, the safe and the dog. That's all that was really important."
"I'm so sorry, you are in my thoughts and prayers," I said. "This is my first wildfire in a community I live in. Back home in Minnesota, I never dealt with something like this."
"No way!" Her face lit up. "What part?"
"Minneapolis area," I said. "You?"
"ST. PAUL!" she said with a big grin as she high fived me.
After we both checked out, she came up to me and thanked me for making her feel better. I gave her my number in case she ever needed a friend to talk to.
I took the side roads down the grade and prayed I would see no flames, which I didn't. Awhile later I got home safely, unpacked, ordered a pizza, took a shower, called my parents for the millionth time with updates and waited for nightfall.
At 6:30 p.m. I stepped out onto my balcony briefly. It was starting to smell like mild smoke and I snapped a photo of the west end Ventura hills still on fire.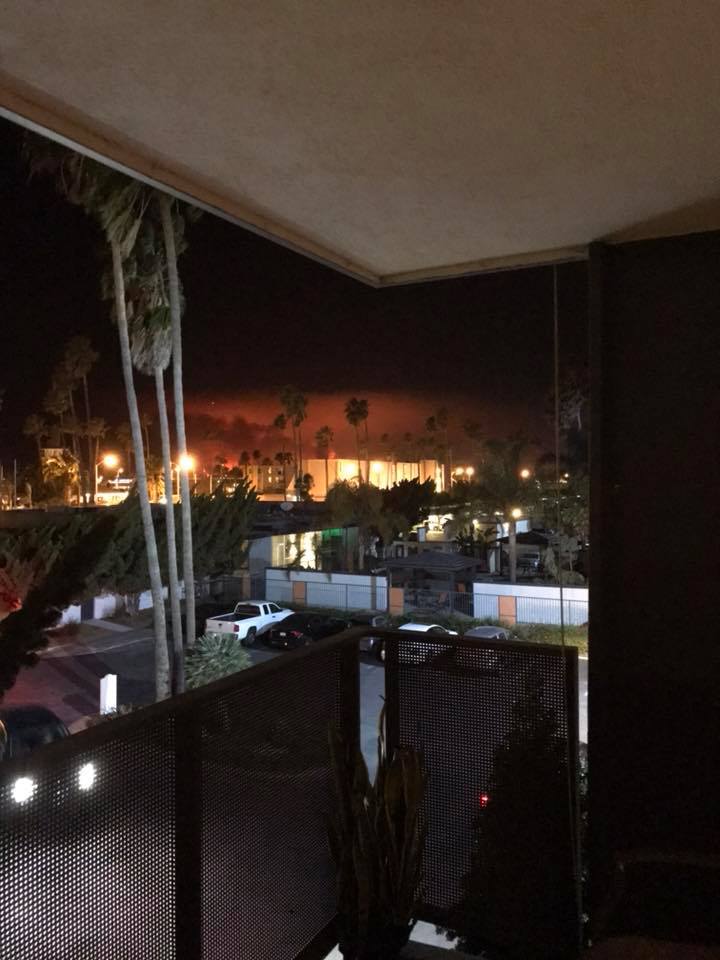 An hour later the flame was gone and the winds had already died down. Great! I thought. Now that the winds have died down, the firefighters can start beating this thing more effectively.
I literally closed my eyes at 7:30 p.m., I was beat. Then John called.
"Hello, hello! How are you?" he asked.
"Fine, tired. How are you dear?" I asked.
He proceeds to tell me he is meeting a news radio employee at one of the coast line parks, Faria Beach. Crap, I thought, it's spreading down the hillside to the 101 and heading west. After hanging up, I checked Facebook. Sure enough, it was spreading but had not jumped the freeway at that point. Below is a photo John sent me: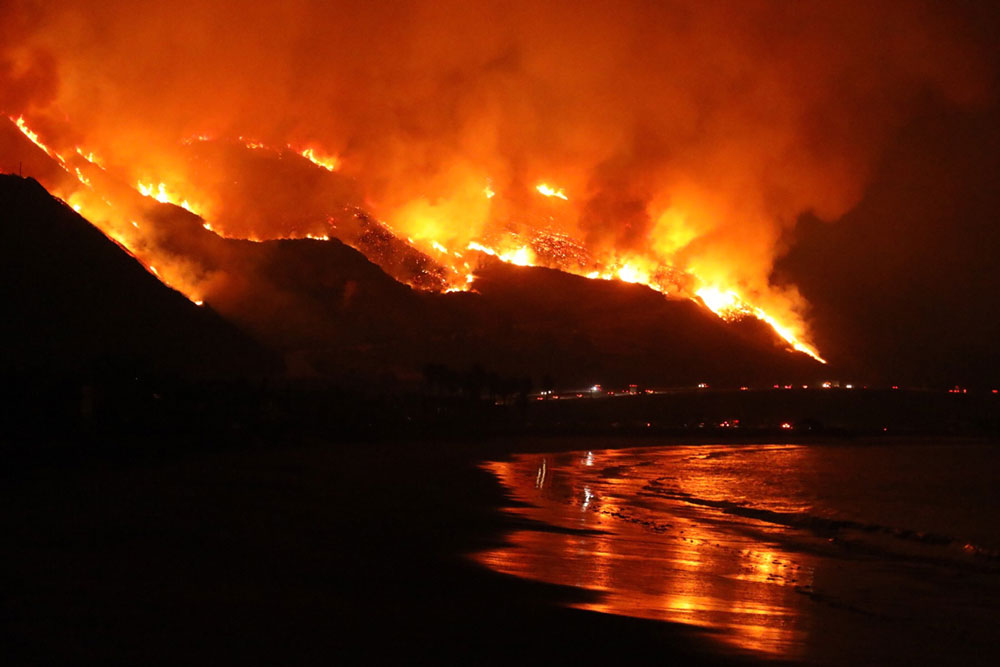 The rest of the night I was up and down about 3 times checking Ready VC and looking out my window.At that point is was at 50,500 acres and 0% contained. I slept much better though!
Day 1 – Monday, December 4
The weather for SoCal for the week was predicted to have high Santa Ana winds and issued a Red Flag Warning (potential fire danger) from Monday – Thursday. This did not alarm me, since we rarely get fires in Ventura County. My news reporter friend, John, had told me the last time the county had a bad fire was in the early 2000s and 1993.
Earlier I was about to fall asleep when the power went out before 10 p.m. I wasn't alarmed, I was assuming it would. After all, we were having 70 MPH winds! I called John.
"The power is out between Santa Barbara and east of Ventura County," he said. "Let me call you back."
I called my friend Ana, who lives a quarter mile from the Ventura hillside, asking if she was ok."
"Yeah girlfriend it's out!" she said. We talked a bit more and told her I'd be in touch.
That's some power outage, I thought. The power then went in and out before John called back with bad news.
"The fire that started in Santa Paula is coming up the hills towards Ventura and has taken out the power lines. It's also predicted it'll take out the cell tower," he said.
I was in shock. What?! I thought. I went out to my balcony and I will never forget it. I looked at the east end and started seeing a ball of fire roll over the hills. I looked above and there were gray clouds rolling towards the harbor area.
Oh, shit, I thought.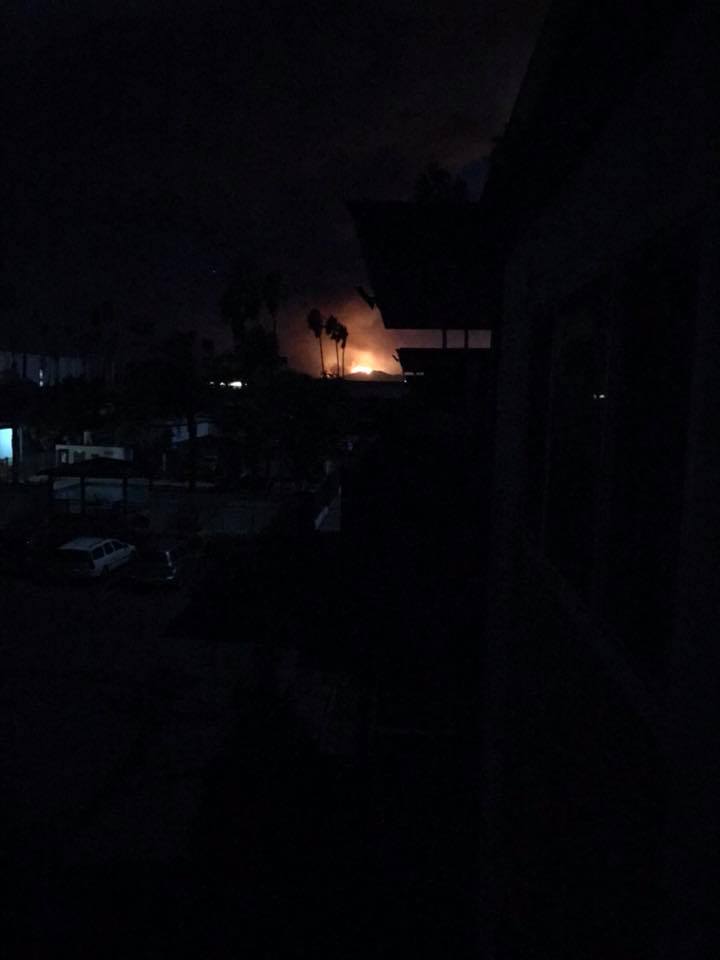 John called back. "The sheriff just held a press conference, he doesn't know when the power will be restored."
Second thought: call mom and dad and let them know what is going on, despite it being EST at 1 a.m. I am going to voluntarily leave just for a few days if necessary. I left because god knows when the power would've come back. When it comes to something like this, you just don't know and I prepared for the worst and safest situation.
I called my mom's line.
"I know it's 1 a.m. there, but there's somewhat of an emergency," I said. I explained my situation, then my dad woke up.
"Hey dad, you know how you kept saying what can you get my for Christmas?" I said. "Well, I need a hotel room for a few nights."
I immediately turned on my cell phone light – which at this point was almost dead – and started packing bathroom necessities, clothes, shoes, laptops – into a small suitcase and carry on. The winds were starting to pick up outside and it was cold.
I made my way out of my neighborhood in a daze after 11 p.m. I must've "ran" about 4 out of power stoplights. There were many cars pulled over in different spots to watch the inferno. I went as far as I could on the back roads before I decided to take an exit towards the 101 and head south. Watching the flames roll over the hills between Ventura and Camarillo left me in tears, heartbroken and helpless for the people that were evacuated and losing their homes that night. I will never forget that image.
In between this time I kept calling Ana to try and tell her to leave now. If anyone, she would be more affected.
Once I got up the grade to Thousand Oaks, I got off at the first exit (Wendy Drive) to try and find a hotel. A police vehicle blocked one side of it so that a line of cars could form to a gas station due to the power outages below the grade.
I stopped at the Hamptons Inn a few blocks down, only to find a swarm of vehicles.
"I'll take whatever!" I said to the front desk employee.
"Sorry, ma'am," she said. "We are full. We also called our other hotel chains around the area and they are booked. We are directing people towards Agoura."
For those who don't know, Agoura Hills is about another 15 minutes south from where the hotel was. I was in no mood to drive farther or be in high end winds, so I stopped at La Quinta Inn across the overpass.
At this point I heard from Ana, who had grabbed what she could, evacuated and started heading south.
"Come to Thousand Oaks, I am getting a hotel as we speak!" I said. At this point, it was close to 1 a.m. in the morning.
"Thank you, girlfriend!" she said. "See you soon!"
I stood in a short line and waited. Everyone looked scared, tired and sad. Finally I yelled out to the front desk employees and asked how many rooms they had left.
"Eight," one said. "It excludes online reservations."
A few moments later I was next. "You're fine," the employee said. "How many guests will be staying?"
"Two," I said. "I am not sure how long I should be staying here for though."
"Let's do it until Friday. If you don't stay the duration, we won't charge you," the employee said. I handed her my credit card and I was booked.
I went outside to meet and find Ana, who was a bit shaken. We both were. It was a sad, terrifying night.
We stared at the ceiling that night in shock and talked for a bit and slept, or tried to sleep. Only God knows why this happened. It's hard to sleep when a fire is burning a community you love and bond with.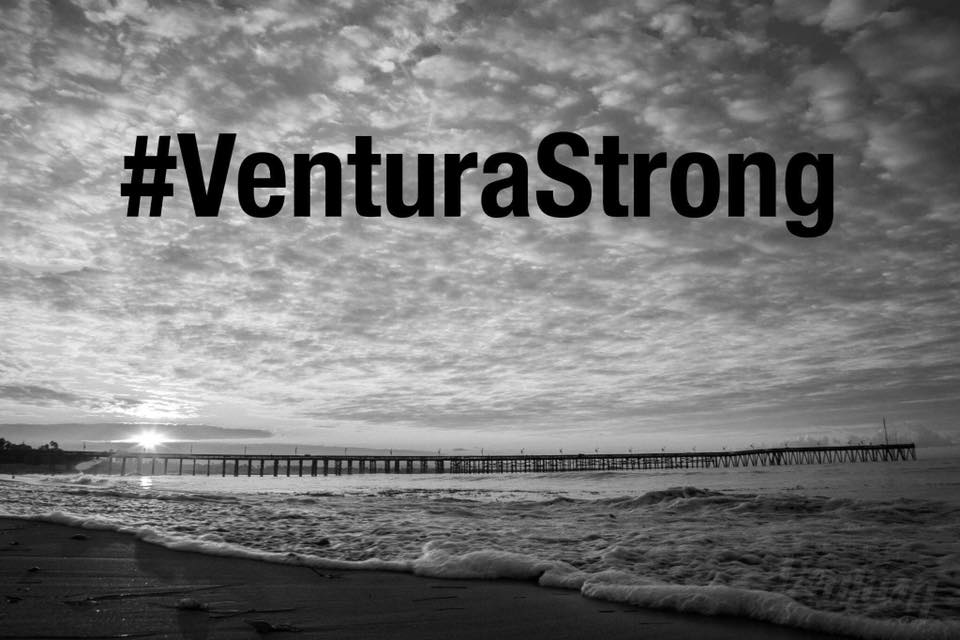 Photo credit: John Palminteri, Noozhawk, Downtown Ventura
SaveSave
SaveSave
SaveSave
SaveSave
SaveSave
SaveSave
SaveSave
SaveSave
SaveSave
SaveSave
SaveSave
SaveSave
SaveSave
SaveSave
SaveSave
SaveSave
SaveSave
SaveSave
SaveSave
SaveSave
SaveSave
SaveSave
SaveSave
SaveSave.
SaveSave
SaveSave
SaveSave
SaveSave
SaveSave
SaveSave
SaveSave
SaveSave
SaveSave
SaveSave
SaveSave
SaveSave