UPDATE: After 39 days of burning, on January 12, 2017, fire officials announced that the Thomas Fire is now 100% contained. It burned 281,893 acres, destroyed 1,063 structures and damaged 83 structures. Full press release is here.
Thank you all for going on this journey with me! If there is anything I learned it is to be prepared and have a plan, be vigilant and help out your community! 🙂
Hi all,
For the first time, I am experiencing a wildfire in the community I live in, Ventura County, more specifically dubbed the Thomas Fire. It is called the Thomas Fire because it started near Thomas Aquinas College in Santa Paula. It started around 6:30 p.m. on Monday, December 4 in Santa Paula and rolled its way into the Ventura hills around 9:30 p.m. Many structures, landscape and wildlife were destroyed. It has been sad and heartbreaking to see this happen and we are all coming together to love and support one another during these difficult times.
Below is a map for you to follow and understand the course of the fire thus far. Also, a great resource is Ready Ventura County. I have never been more obsessed with a website in my life since Tuesday morning. I look at 3 main things daily: 1) The containment level. 2) How many acres have burned. 3) The perimeter. It also lists the mandatory/voluntary evacuations, animal shelters, shelters, school closings and other helpful resources.
I also love this Interactive Fire Map from San Francisco Chronicle that shows the hot spots of where the fire is currently burning and the perimeter.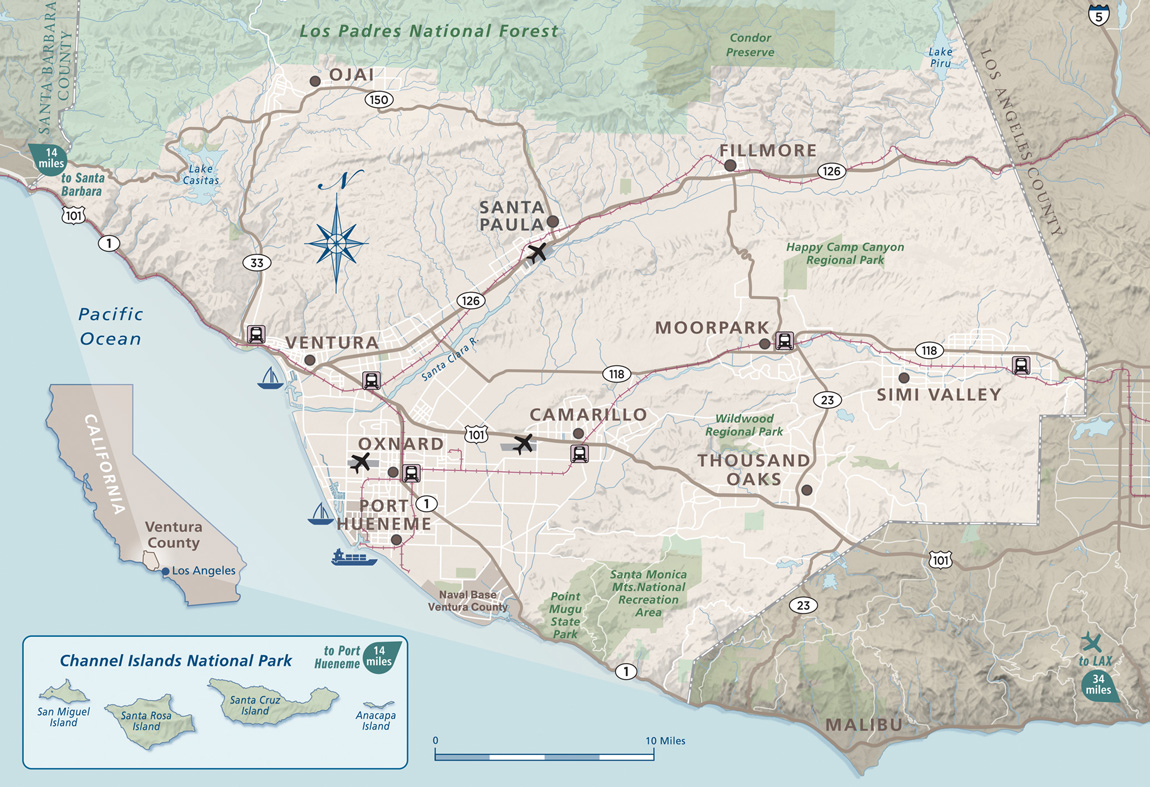 So as you can see from the map, I live in Oxnard near the harbor/beach area, basically where that big Navy ship is. I am about 20 miles south of where the fires are burning and officials do not anticipate it to hit the cities of Oxnard, Port Hueneme, Camarillo, Moorpark, Thousand Oaks and Simi Valley. The perimeter of the fire currently extends from Ventura to Santa Paula (possibly Fillmore) on the northeast to the coast line on the west. It also is above the 33 and extends east by Ojai and west of it as well. Also, it has run along the ridge line between Ventura County and Santa Barbara County and at times has jumped the 101.
Follow me day-by-day to see updates and my educational journey about wildfires. I am from the Midwest where I dealt with tornadoes and snow storms. I don't know the first thing about wildfires other than that they are out to burn and destroy. Also, for those who have reached out to me, I appreciate your thoughts and prayers as we all go through this difficult time.
Day 39 – Thursday, January 11
After 39 days of burning, on January 12, 2017, fire officials announced that the Thomas Fire is now 100% contained. It burned 281,893 acres, destroyed 1,063 structures and damaged 83 structures. Full press release is here.
Thank you all for going on this journey with me! If there is anything I learned it is to be prepared and have a plan, be vigilant and help out your community! 🙂
Day 35 – Sunday, January 7
The heavy rain is set to come Monday and Tuesday. Evacuation orders were just given for unincorporated parts of Summerland, Carpinteria and Montecito by the Office of Emergency Management. I haven't seen any for Ventura County at this time, but that could change. You can view this Google Map to see where the evacuation areas are.
Coincidentally, I had to go up to Santa Barbara today and I saw something green that was placed on the hillside in the La Conchita area. John later explained to me that is it called hydromulch and it prevents a slide from occurring. I had him send me a better photo of it below. I also have a photo from the 2005 La Conchita landslide to show the devastation.
Stay safe everyone!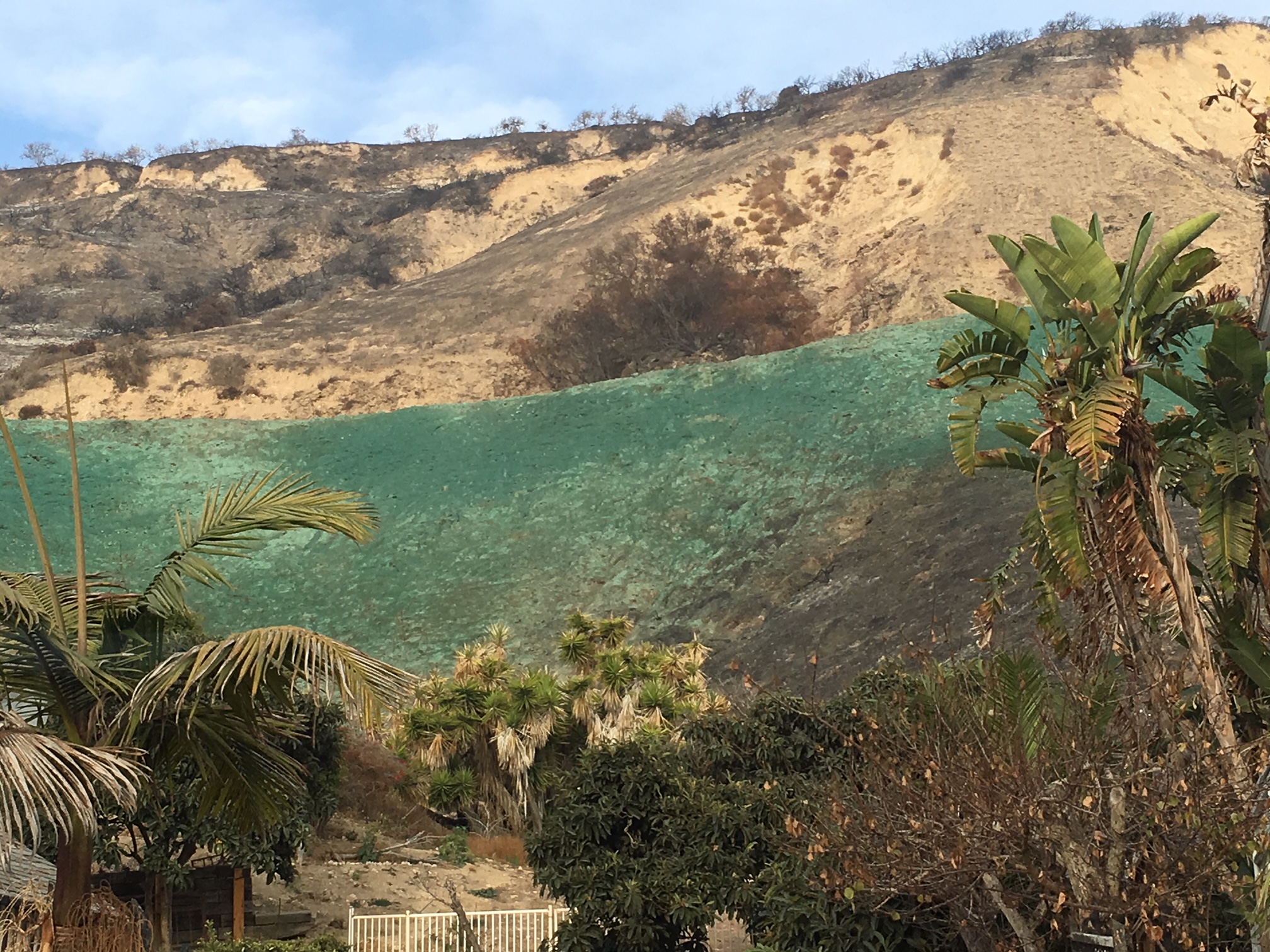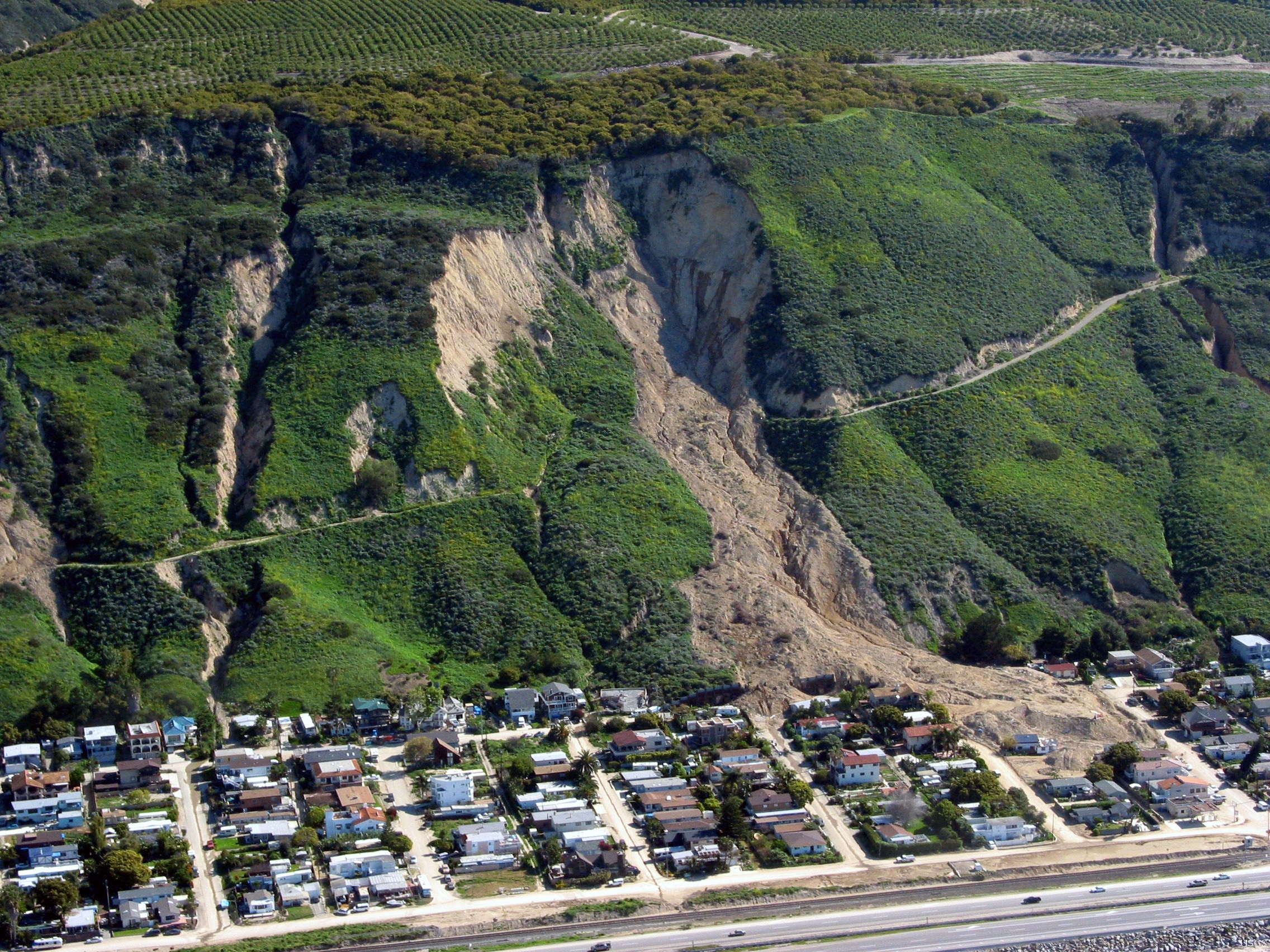 Day 33 – Friday, January 5
We now have a new issue to worry about in both counties: landslides.
We have been praying for rain for quite some time now, but because the land is so bare right now, landslides and flooding seem inevitable. The rain is supposed to come Monday through Tuesday evening with a total rain close to 2 inches for both days. It seems like it's not a lot, but for the dry land, it is. There have been public meetings throughout the week on how to prepare for this possible disaster. We continue to stay strong and are praying for the best!
The smokey air also returned for a bit today. This is because there was some drizzle the night before and the winds were pushing down towards the ocean. The smell was mild but a bit musty.
Despite there still being no official cause of the fire, 3 lawsuits have now been filed in Ventura County Superior Court saying that SoCal Edison negligently started the Thomas Fire. Then I read that a lawsuit might come down on the City of Ventura because there were no backup generators to get the fire hydrants to start pumping out water the night the fire happened. You can read the whole article in USA Today here.
The fire containment and acres burned are still the same, 92% contained, 281,893 acres burned. There are currently 407 fire personnel assigned to the fire. The total number of destroyed structures is 1,063 while 280 were damaged.
Day 30 – Tuesday, January 2
I am back from my holiday vacation, I hope it treated you all well! It feels good to be back in my city. The smoke smell is gone and I see very little ash compared to how heavy it was before I left. Yesterday I was able to see the mountain ridge for the first time and it is mostly burned. The smoke is way in the distance.
Tonight a press conference was held with Kirstjen Nielsen, Secretary for the Department of Homeland Security, explaining that President Trump declared both Ventura and Santa Barbara counties a "major disaster" and that federal funds would be used for recovery efforts. I read $300 million was spent on the fire so far and that 75% of what was spent would be used for relief efforts, so $225 million I believe?
Currently, the fire is at 281,893 acres and is still 92% contained. I heard on the news that the firefighters were going to let some of the back country burn a bit more and that a new full containment date was set for January 20. The U.S. Forest Service is now the main site to get information from on the fire. The cause of the fire is also still unknown at this time.
As we speak, I am still trying to find the right volunteer opportunity to help with the relief efforts, although most of the occurred last month when I didn't have the time to commit. If you know of someone or an organization that needs help, please let me know by contacting me here!
Day 25 – Friday, December 28
Hi guys, I hope you all had a Merry Christmas! I had to jump some days ahead as I am enjoying my vacation, but I have some great news on the Thomas Fire! It is now 91% contained and 281,893 acres. I am thinking maybe the firefighters will be ahead of the Jan. 7 deadline? 🙂
Last night my friend, Ana, went to that informational workshop regarding renters rights in Ventura. She said it was incredibly informative and that the presenters discussed how landlords are not allowed to hike up the price out of the blue and that they are only allowed to increase rent at the maximum of 10% each year. They also discussed discrimination laws. I found this online handbook from the California Department of Consumer Affairs about Renters and Landlord Rights if you want to read it here.
Another interesting thing is fire officials released an update on the fire yesterday saying how air quality conditions are deemed healthy for outdoor activities, businesses are back open and eager to serve the public, the remaining area the fire is burning in the back country is within the containment lines and that there may be an increase in wildlife throughout the city. An example is the photo below from LA Times of this poor mountain cub with burned paws while escaping the Thomas Fire. Anyone that sees wildlife within city limits is urged to call 911.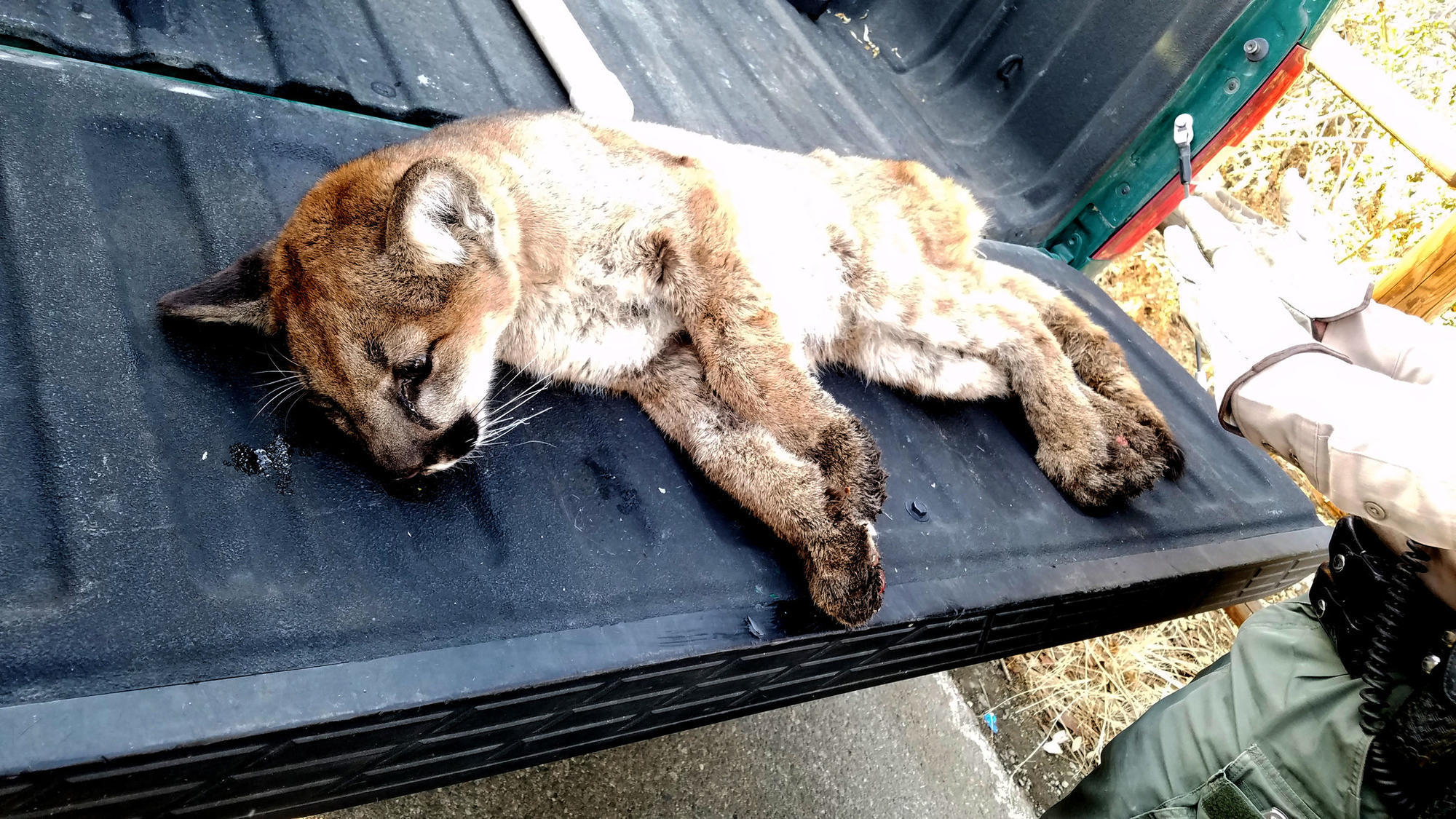 Day 19 – Friday, December 22
Biggest news today: the Thomas Fire is now officially the largest wildfire in California history, burning at 273,400 acres, still 65% contained. Firefighters are still doing some more backfire burns, which explains the increased acres, and half of the firefighters have gone home. There are 4,404 left fighting the beast, thank you so much for your bravery! The 2003 Creek Fire in San Diego now moves into second place at 273,246 acres. Also, the air quality has been a hell of a lot better this week than the past 2 weeks.
I read a lot of my Facebook newsfeed today that SoCal Edison is being sued for possibly starting the Thomas Fire because they were working on some nearby power lines the night it happened that could've triggered the it. However, fire officials still are investigating the cause at this time.
I am still battling this cold but it is slightly better today than yesterday, here's to a full recovery! I am flying home for the holidays this weekend but I will be blogging when I have a free moment! I think the photo below was taken by the Ventura County Fire Office but I am not so sure, it's been floating around everywhere.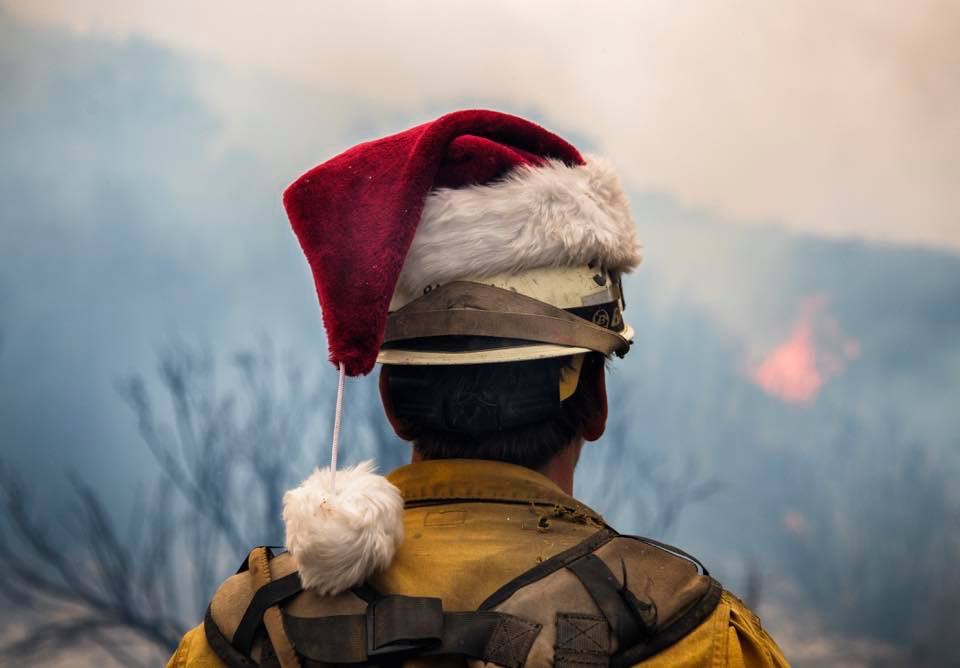 Day 18 – Thursday, December 21
So I was wrong, I am battling a cold right now. So day 18 of the fire, day 3 of the germ. I am feeling slightly better this evening, but this morning and afternoon were not so hot. I am hoping this lifts by the time I fly home for the holidays, which is this weekend!
Despite this stupid cold, I had to head up to Carpinteria to pick up last minute stocking stuffer gifts for my parents. This is the first time I have driven the coast line since the fire almost 3 weeks ago. I was shocked at how much had really burned. I also saw where it had hopped the freeway, more specifically to the palm tree farm right along the ocean. Once I got to Carp, I saw even more hills and mountain side burned. This whole fire really, really has been devastating.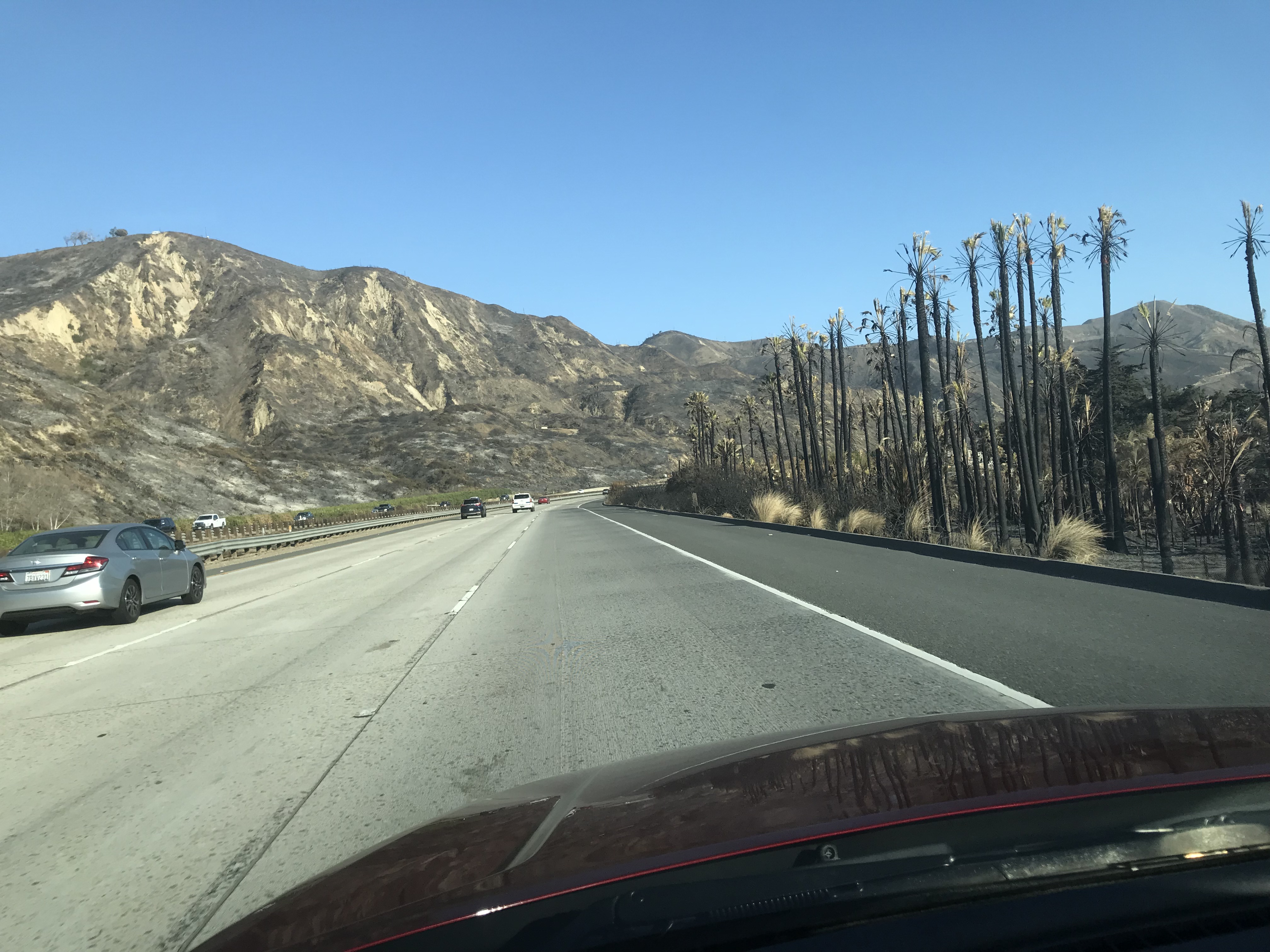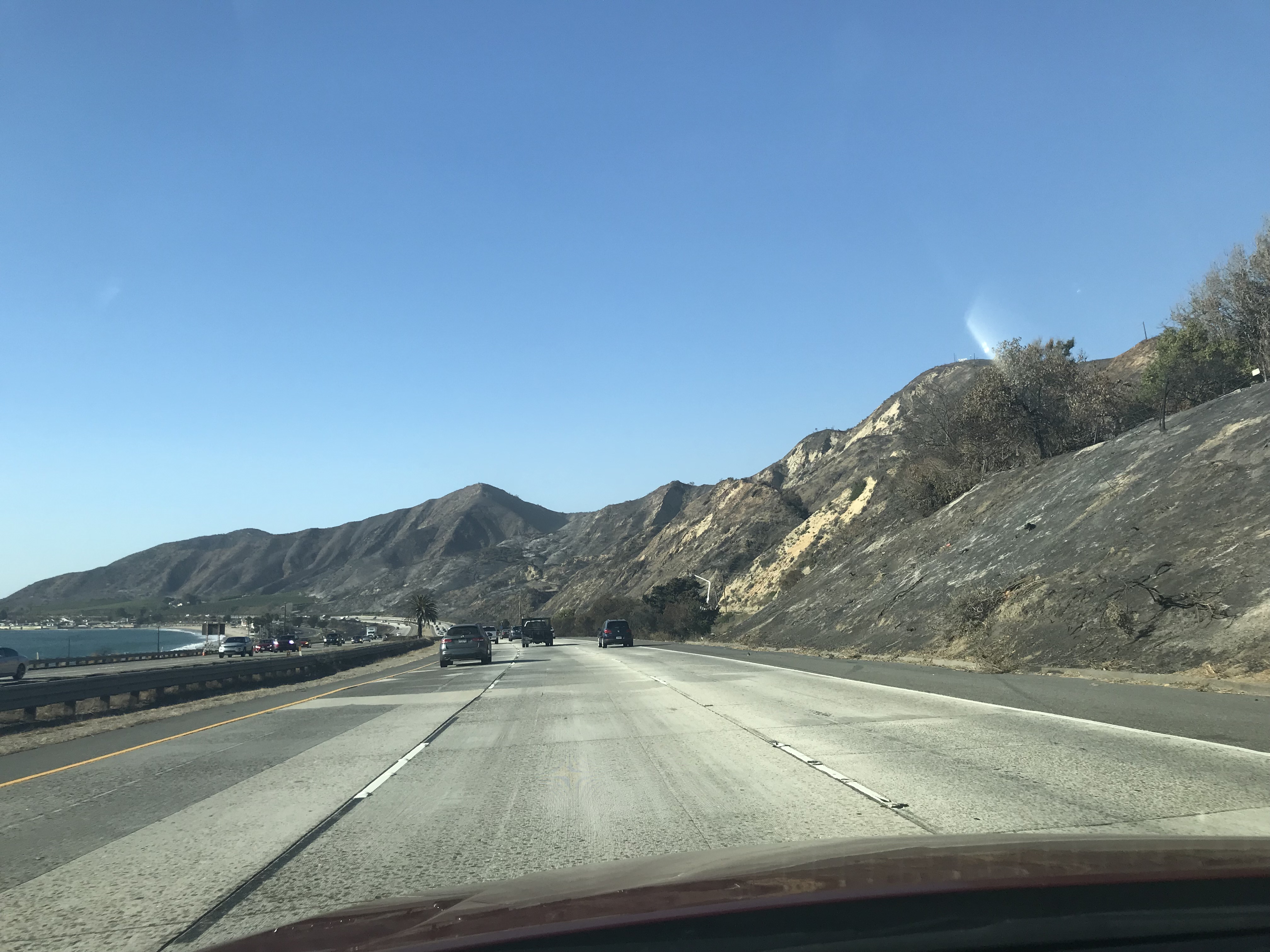 The press conference tonight brought some good news. The fire is currently at 272,600 acres and 65% contained, so only 35% more to go. All evacuation zones were also lifted for Santa Barbara County, so everyone was able to go home! Ventura County is still under a Red Flag Warning until tomorrow morning, so after that, hopefully we will have a break from the damn Santa Ana's. Something else that was a bit surprising was that it was so cold this morning up in the Ojai Valley that they actually got snow, despite this fire. Even the weather forecaster was surprised!
I also read in VC Reporter that landlords within the City of Ventura have been uncooperative, with "several reports of price gouging, sudden eviction of existing tenants, landlord refusal to clean smoke and ash in units not directly damaged by the fire, and imposing illegal restrictions on new rentals." That's terrible!
There will be an informational workshop for renters to help understand their rights on Wednesday, December 27 from 4 p.m. to 7 p.m. at the Ventura County Government Center, Hall of Administration, Lower Plaza Assembly Room (LPAR), located at 800 South Victoria Avenue, Ventura, CA 93009.
Day 17 – Wednesday, December 20
This is going to be a very brief update as I am still feeling under the weather. My throat feels a lot better, but guess what? It went into my head late this afternoon, yippee! I am thinking it's more like an allergic sinusitis, which I get a few times a year since I was a kid. It's like a very bad cold that lasts 24 hours and then by then next day I feel like a million bucks. So I am taking my NyQuil again because that is the only thing that will kill it and heal it faster.
The fire…oh fire, I am so happy that our dedicated First Responders are getting you out. It is currently at 272,000 acres and 60% contained, only another 40% to go and we'll be out of this mess! As I said in yesterday's post, the winds are in full effect and we will see what happens overnight in Santa Barbara County. To goal is to not have the fire jump the containment line. Hopefully all will be golden.
I'll leave you with a photo from Downtown Ventura.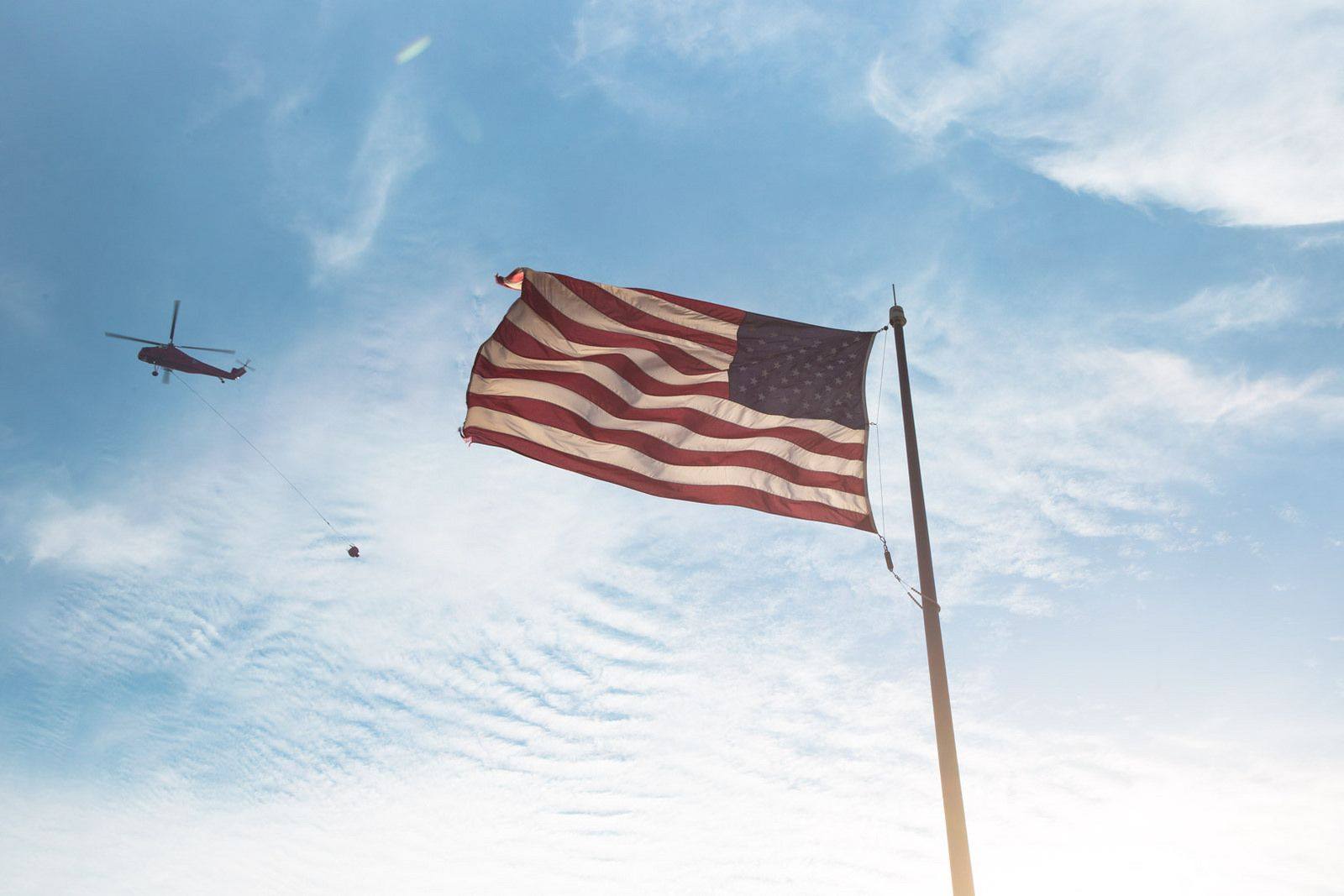 Day 16 – Tuesday, December 19
I am feeling a bit under the weather today. My nose is slightly stuffy and my throat feels strained. I read that a lot of wildfire smoke/ash symptoms can mimic a cold, so I am not sure what this is, maybe it's just an allergy? I have been drinking my Get Well Tea, eating healthy and keeping hydrated all day and the symptoms haven't gotten better or worse. Just kind of in the middle. I might take one teaspoon of NyQuil tonight to see if I feel more refreshed tomorrow morning.
After work I got my hair cut and colored. I cannot begin to tell you guys how much my hair has taken a beaten from this wildfire. Because of the dry air and lack of humidity, my hair has been super dry, even when I would leave the conditioner on longer. My ends were breaking and splitting so bad that I needed to get more taken off than I usually do. My hair stylist, Kelli, told me that she has been seeing the same kind of dryness/breakage in her other clients since the fire started. She applied a hair mask after shampooing me and boy did it make a difference! I am definitely going to go out and buy one.
The fire is currently at 272,000 acres and 55% contained. It still is currently the second largest wildfire in California history and it will take the #1 spot sometime this week. The sundowner winds will hit Santa Barbara Wednesday night into Thursday morning with wind gusts up to 50 mph to 60 mph, but the firefighters are feeling more confident that they can keep it within its containment line. The winds will "flip" and hit Ventura County Thursday morning into Friday morning and officials are hoping another fire won't spark.
So you know what that means…right! Both counties are in another Fire Watch, including some parts of LA! I think this is the 5th or 6th time a warning or watch has happened since the Thomas Fire broke out? You can see this weather graphic from KEYT below.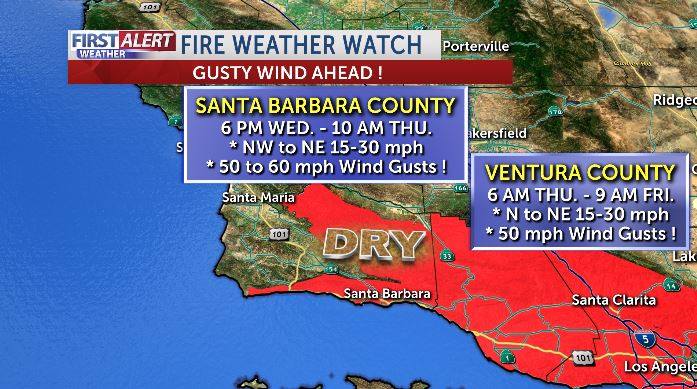 I'll leave you with some photos I saw around Oxnard today. This goes to show you how many fire agencies are in both counties fighting this fire. Yes, they are cute, but most importantly: Thank you First Responders for keeping us safe and for all that you do!
Search and Rescue trucks right outside my workplace.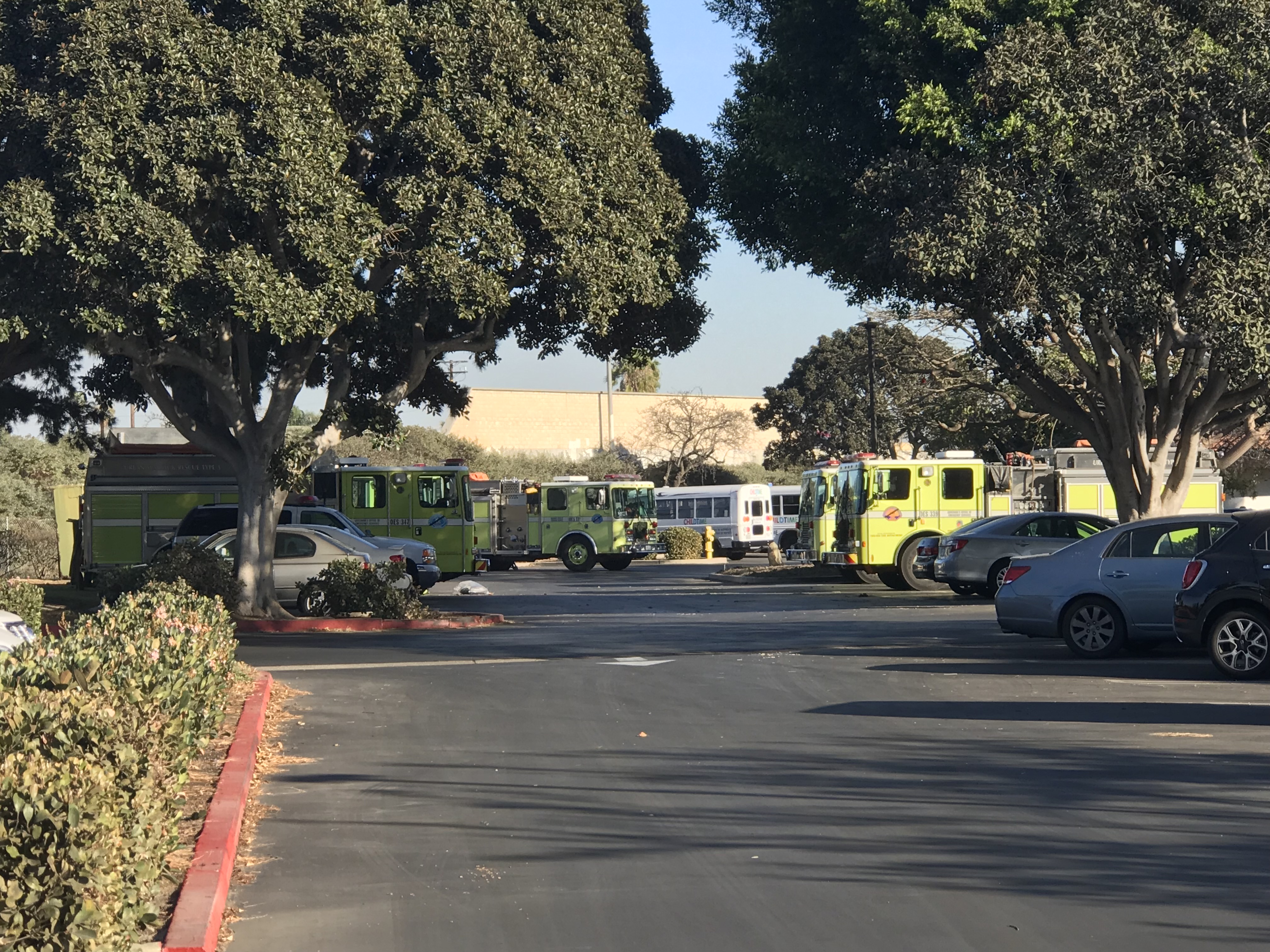 La Verne, CA firefighters taking a run at the 101 overpass.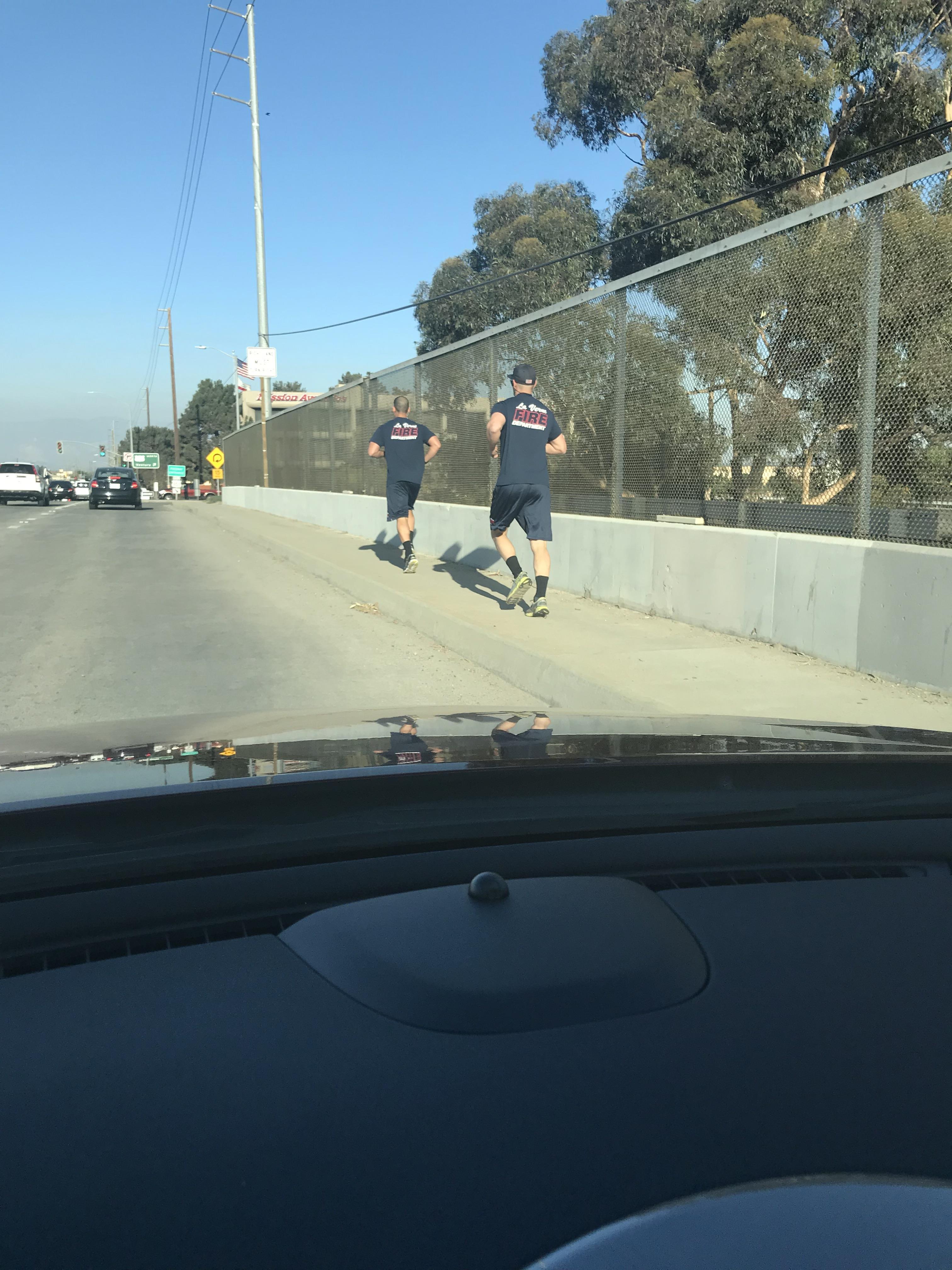 A Nevada fire truck parked at The Collection (outdoor shopping area for readers who are not from the area).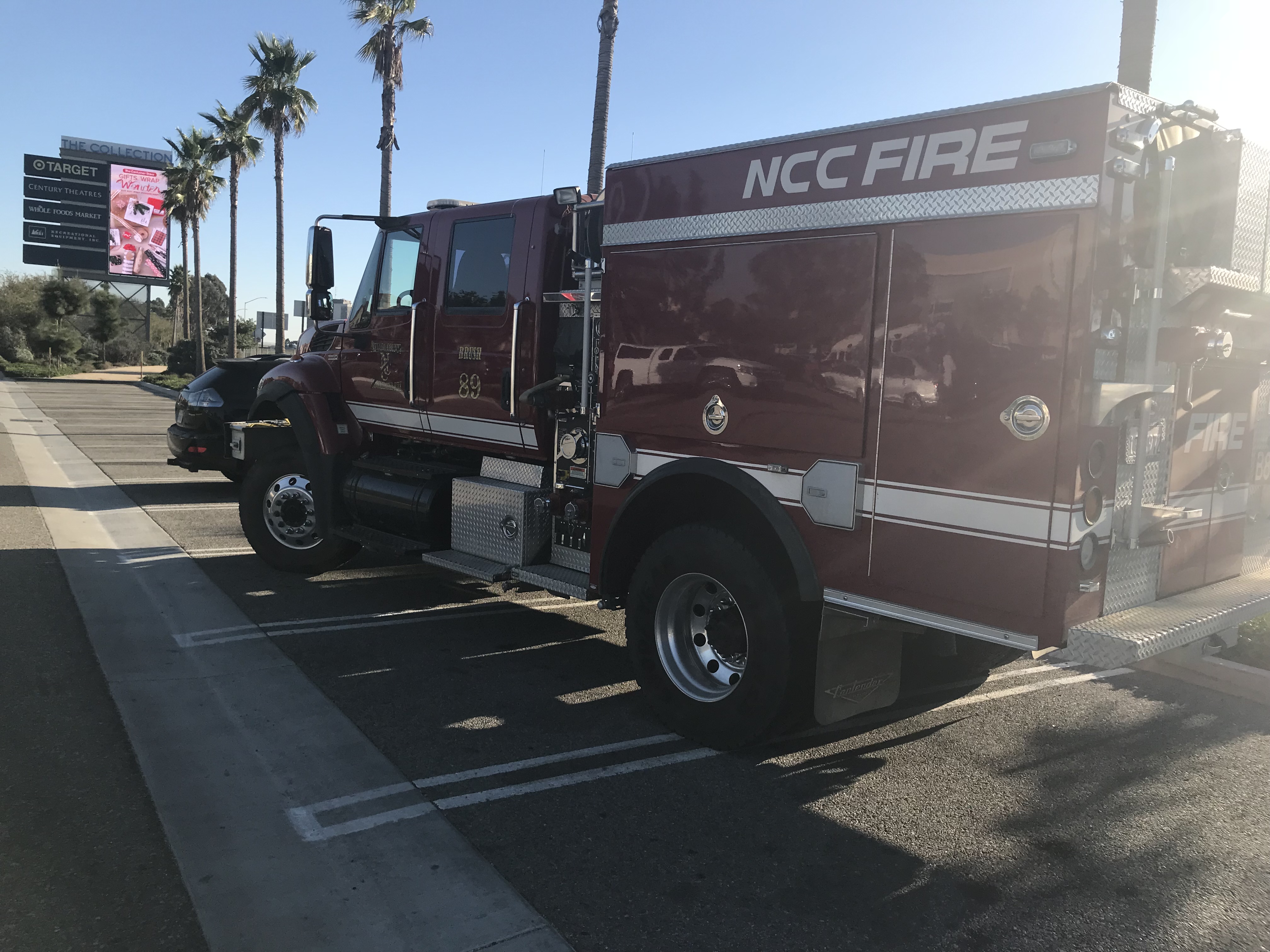 Day 15 – Monday, December 18
Today was pretty good in terms of air quality at my place and work. I thought it was going to be a lot worse, but alas, I could breathe well! I got back to some healthy cooking after work and even went to the gym, first time in 2 weeks. I remember that night of the fire I did some workouts in my apartment right before I went to sleep. An hour later, I was fleeing.
The fire is now 271,000 acres and 50% contained. Yippee, they are halfway through! Oh, and by tomorrow, it will officially be the largest fire in the history of California. I am living in history. Yay?
Below is a photo I took from my workplace overlooking the west side of Ventura. You can see the smoke in the distance lingering in the hills and mountains.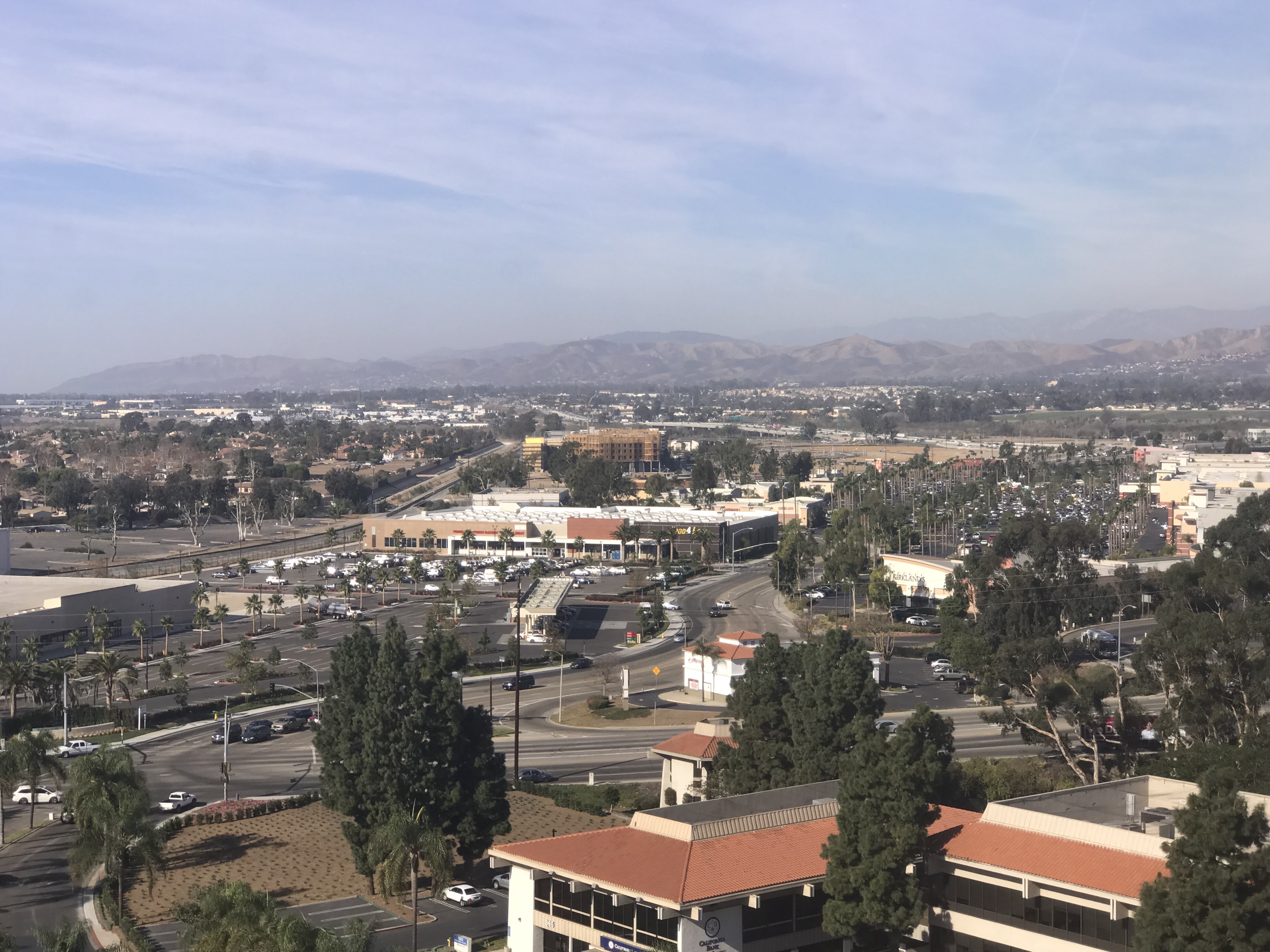 Day 14 – Sunday, December 17
The Santa Ana winds came back in full force in Ventura County today. I read that the mountains got wind gusts up to 60 mph to 75 mph. Where I live in the harbor, they maybe got up to about 50 mph. I mostly stayed indoors until about 4 p.m. and then left my apartment to run some errands, one was getting my car washed. I know I said that I wouldn't get it washed until after the holidays and I know that the the dirt/ash will come back, but it's better to get it washed so no excess dirt/ash falls on it.
On the way to the car wash I snapped this photo of the Ventura hillside. You can see the hillside crystal clear today because the winds pushed the smoke up north towards the back country, which you can also see in the photo. The smoke will most likely come back down tonight now that the winds have died down. The smell will return! 🙁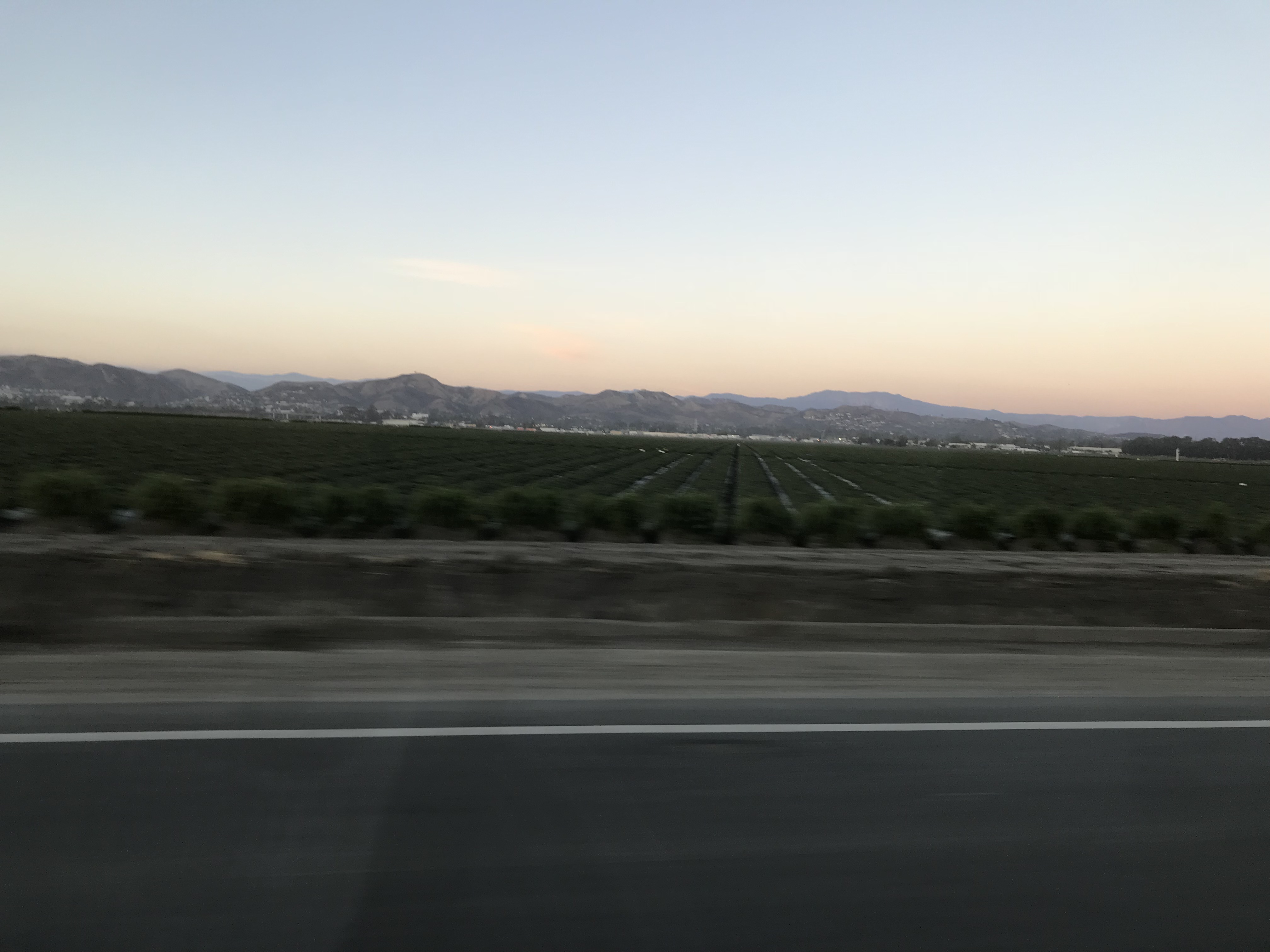 The press conference tonight presented good news. Even though the fire is now at 270,000 acres and 45% contained, firefighters said that they had the most successful and productive day so far. Winds will be calm the next 2 days, then on Wednesday the Santa Ana's will pick back up but will have more humidity. New numbers for structures destroyed or damaged is 1,268. The Red Flag Warning will lift at 8 p.m. They are anticipating that sometime this week the Thomas Fire will be the largest wildfire ever recorded in California history.
Here are some other shots from Downtown Ventura with Father Junipero Serra wearing his N95 mask and a "Santa's Nice List" with all of the fire agencies helping tackle the Thomas Fire.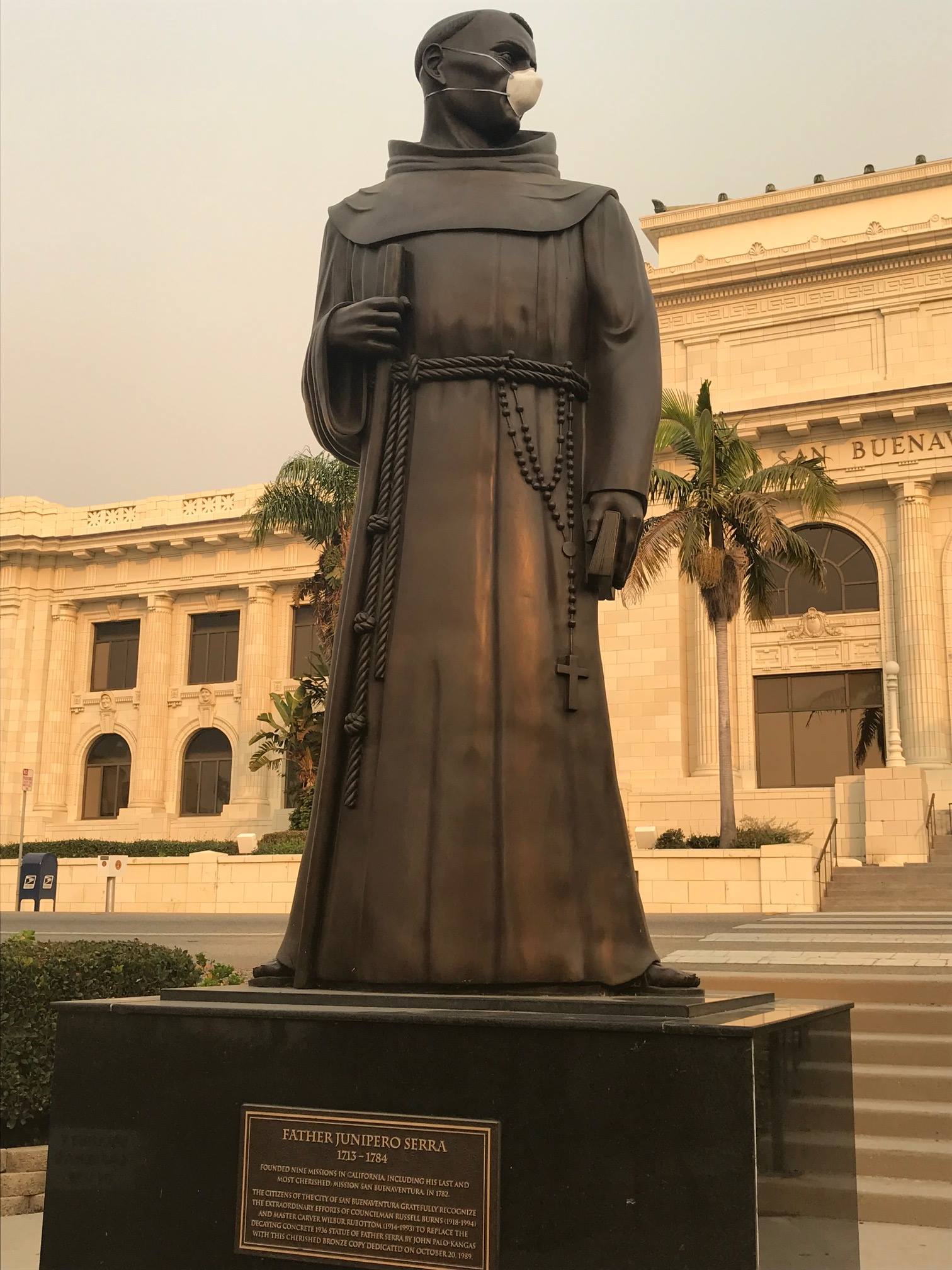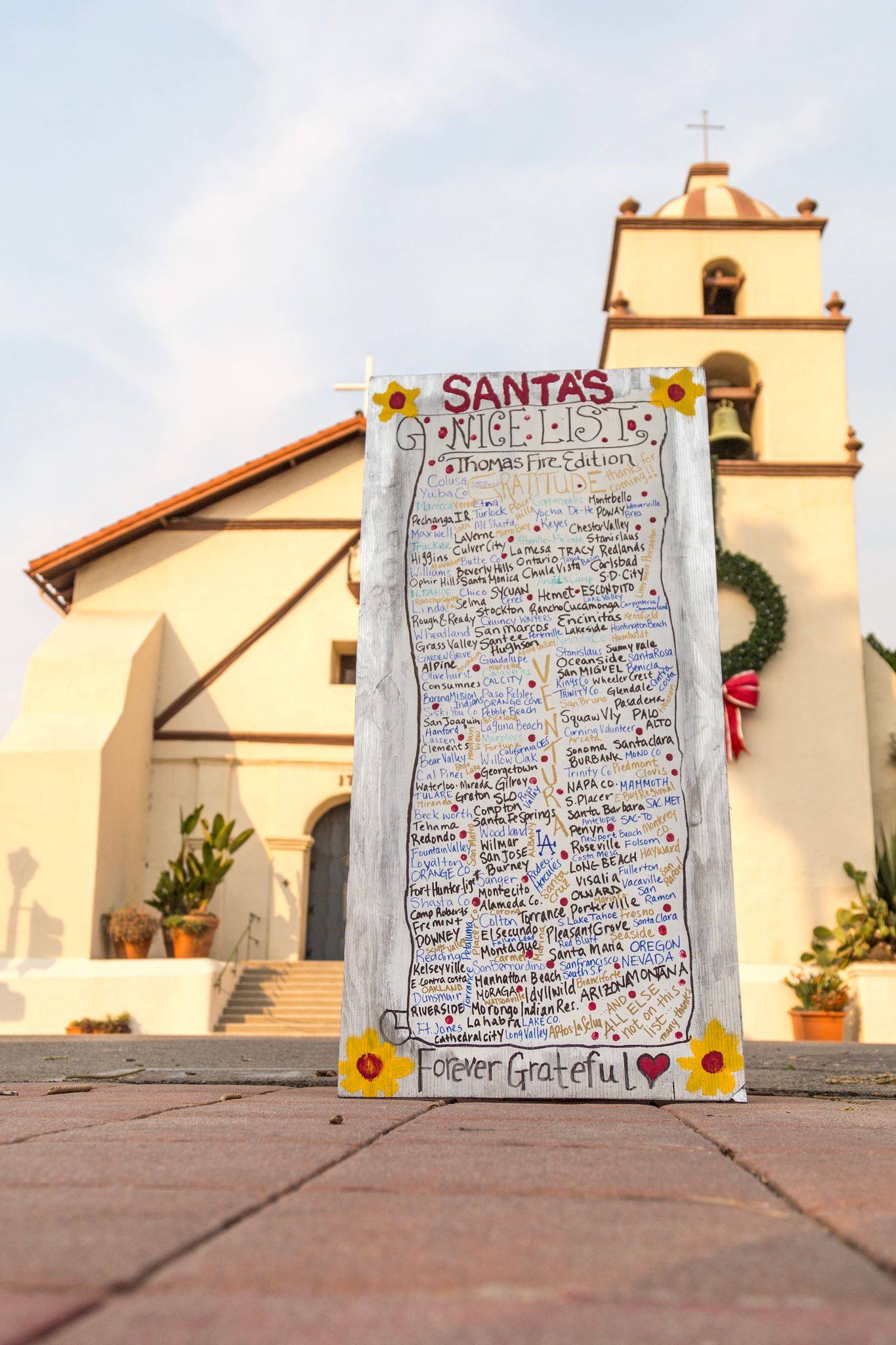 Day 13 – Saturday, December 16
First and foremost, my Hearst Castle trip did not happen. It was a good thing that it didn't.
I got up at about 8 a.m. this morning and began packing for my trip. As John had said, I could check in with him to see how the fire situation was, which I was expecting it to be ok. I texted him asking about the winds.
"I'm in the fire," he texted back. "Stop please."
At first I thought he was trying to be mean or sarcastic. What has gotten into him? I thought. Here I am, I have been incredibly supportive, now this, "stop"?!
"Fine," I texted back. "I don't need this. TTYL."
A short while later I heard from a co-worker, Lisa, about the fire condition. The fire had shifted and gained wind gusts up to 65 mph in the mountain range, moved south down towards Montecito and the zoo had been evacuated on the other side of the 101 towards the City of Santa Barbara. A short time later, the 101 NB was closed from the coast line up towards Santa Barbara and had an unknown reopening time slot (it was later opened close to 3 p.m.). On top of this, a fuel tanker had overturned the night before in Goleta in the same direction and crews were still trying to clean that up, causing another closure. Then on top of THAT, certain parts of Santa Barbara were now under mandatory evacuation while the rest was voluntary.
Sigh. Screw this, I thought, I'm canceling my trip. After a few phone calls, I ended up getting a full refund on the rental car and Christmas Market and half refund on the hotel and Hearst Castle tour. I lost out on about $55, but it was better to be safe than sorry at this point. Oh yeah, and I ended up apologizing to John. From here on out, when he says "stop," I will know it's an emergency going on.
Instead, I ended up going to the Camarillo Outlets to do some light shopping and then to Topa Topa Brewery in Ventura with my friend Ana to attend a fundraiser for the fire victims. This is the first time I went into the City of Ventura since the fire had started. I also promised you guys a photo of the ash on my car in my city near the harbor, so here it is. It really is more of a light dusting. When I was in Ventura, it was a bit thicker. Ash is known for hurting the paint on your car, so it is best not to use a towel to wipe it up! Instead, let it fly off your car once you are moving. You can also get it washed, but since the ash will keep returning to no end, I decided not to wash my car until I go home for the holidays.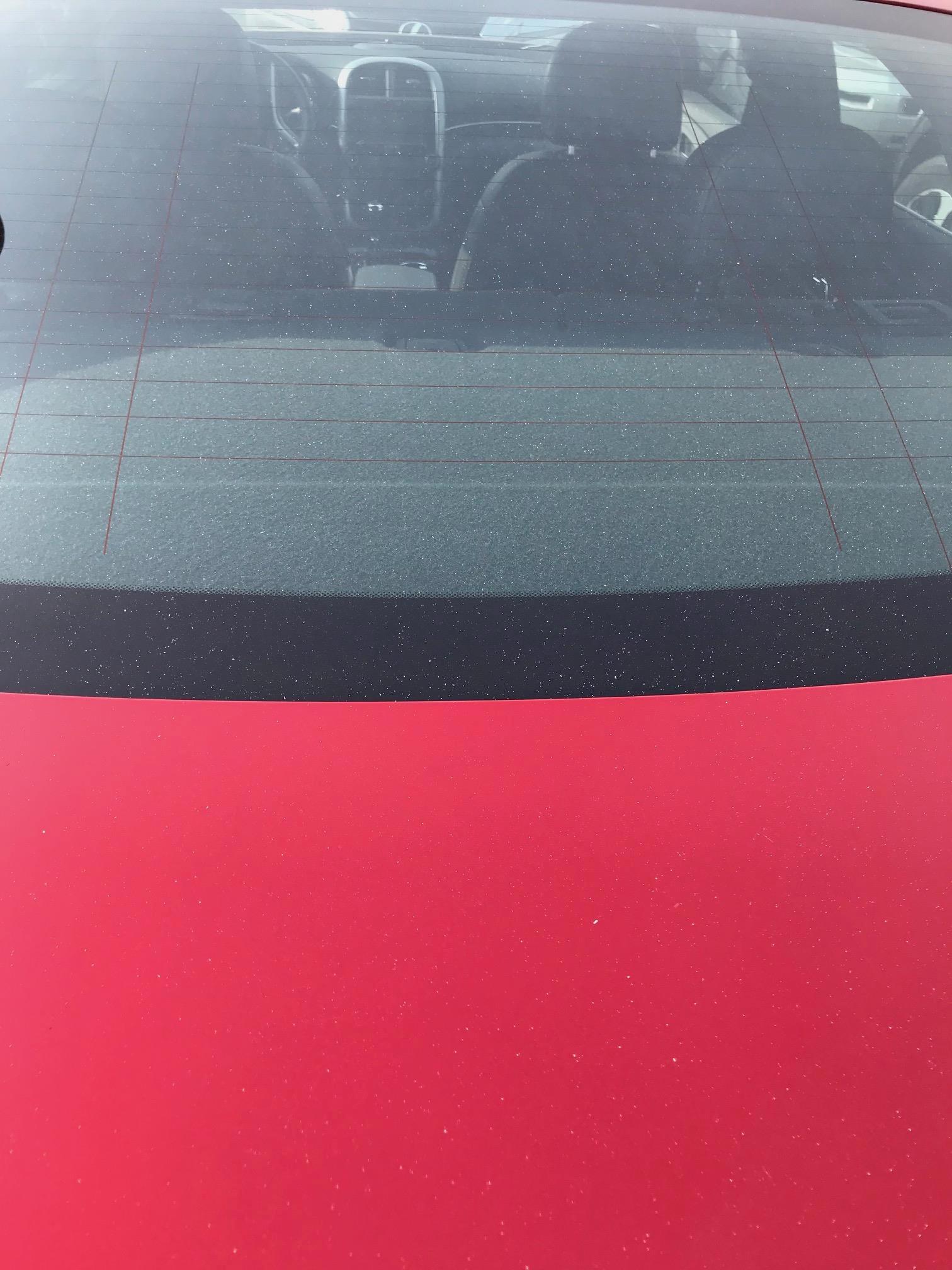 This was another freeway sign on a pedestrian bridge thanking the firefighters when I was on my way to Ana's apartment.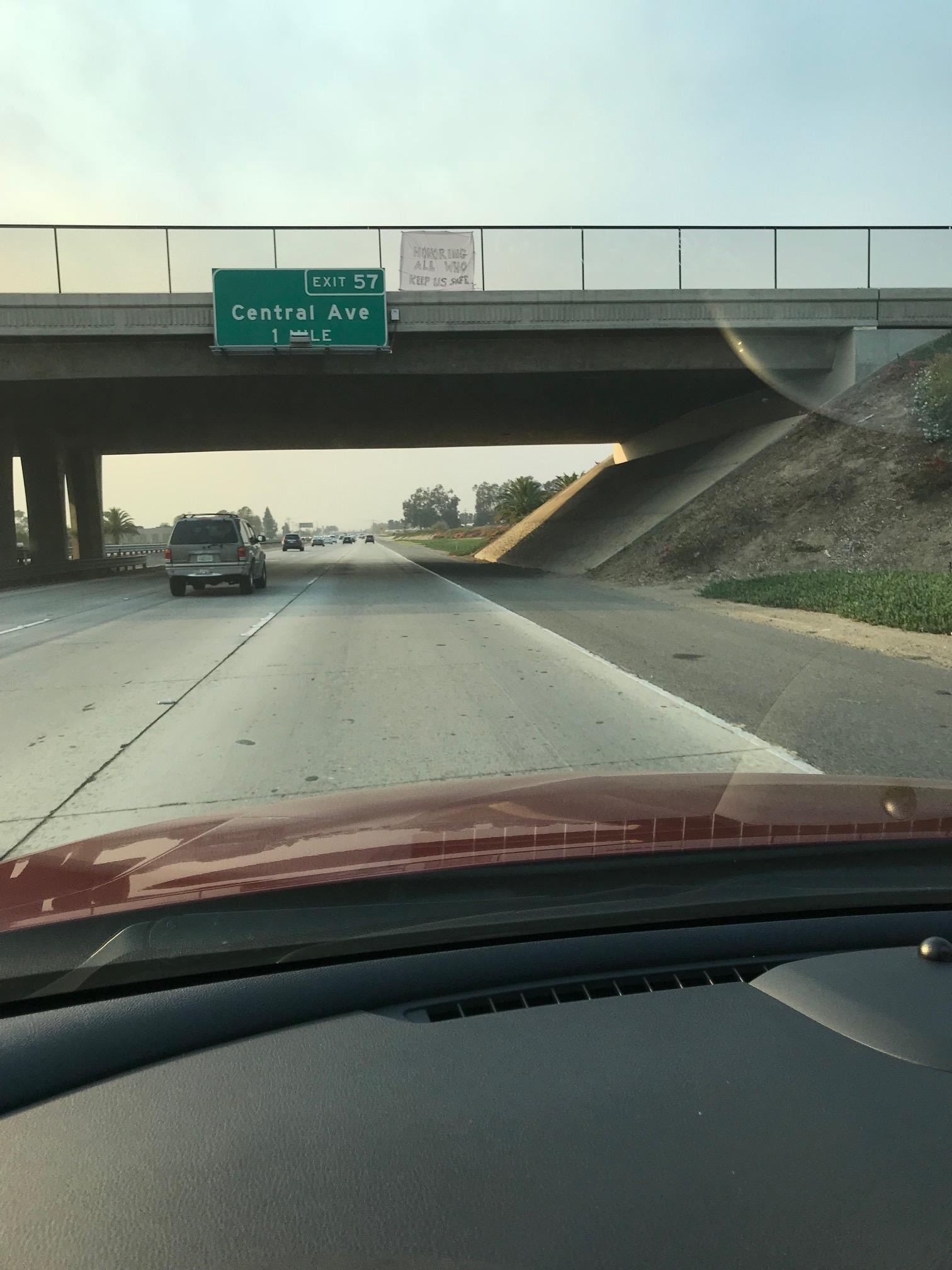 Before we went to the fundraiser, I asked Ana about the structures that had burned only a couple blocks north of where she lived, so we took her car to show me. I saw the black hills, a destroyed home and the Harbor View Apartment complex that was destroyed for the first time off Buena Vista Street. It was very sad and heartbreaking to see. I was also amazed at how the fire destroyed a home, then there would be 3 homes that were untouched, then a 4th one was destroyed on the same block. I was under the impression that all homes would be gone on one block in one swoop, but apparently I was wrong.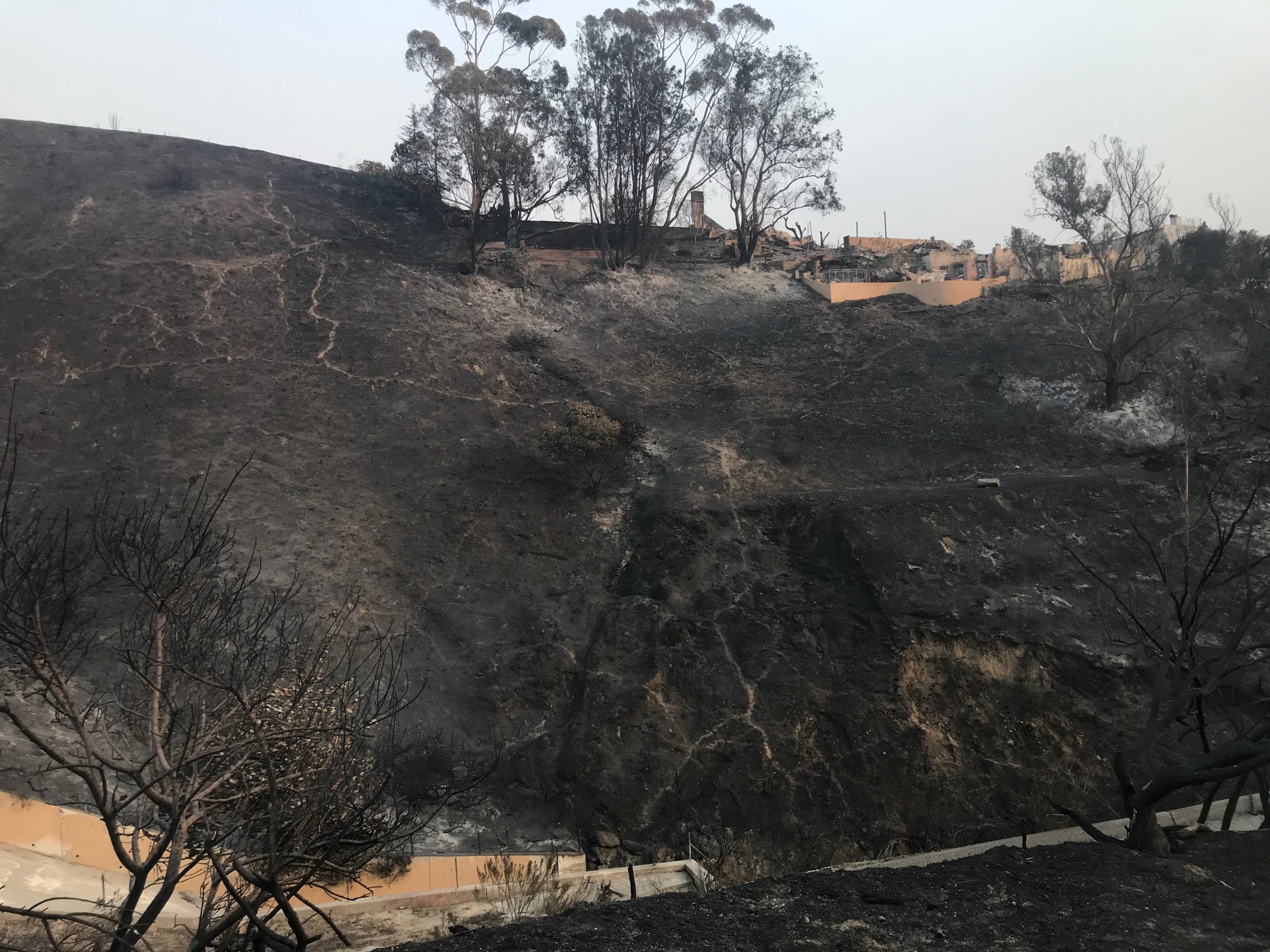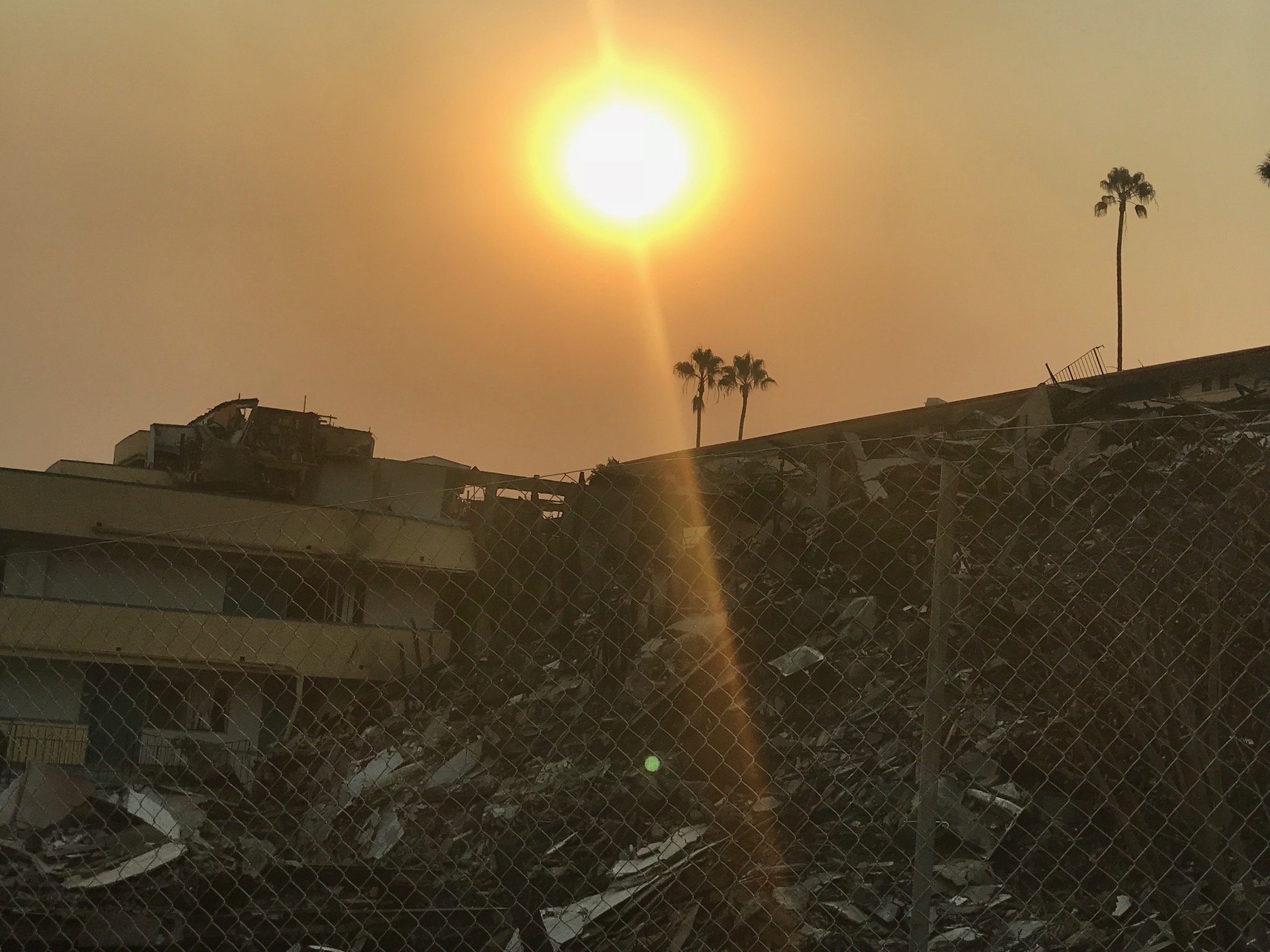 We then made our way to the west end on Ventura Avenue (aka "the Avenue") where I saw more black hills and burnt homes and from a distance I saw the Vista del Mar Psychiatric Hospital burnt to the ground. We couldn't get through due to security issues, but it was a sad sight to see. We also saw another sign thanking the firefighters for all of their hard efforts.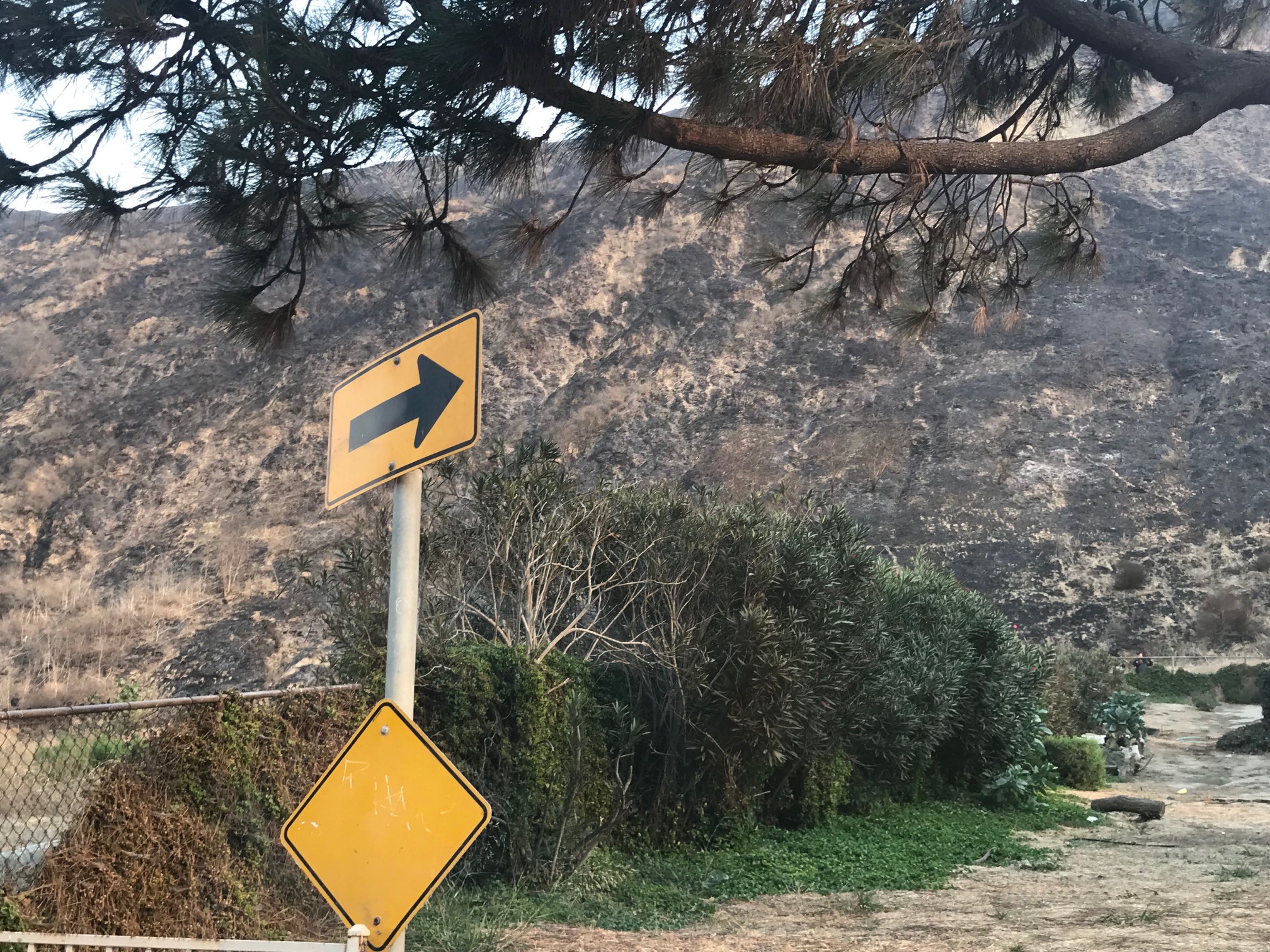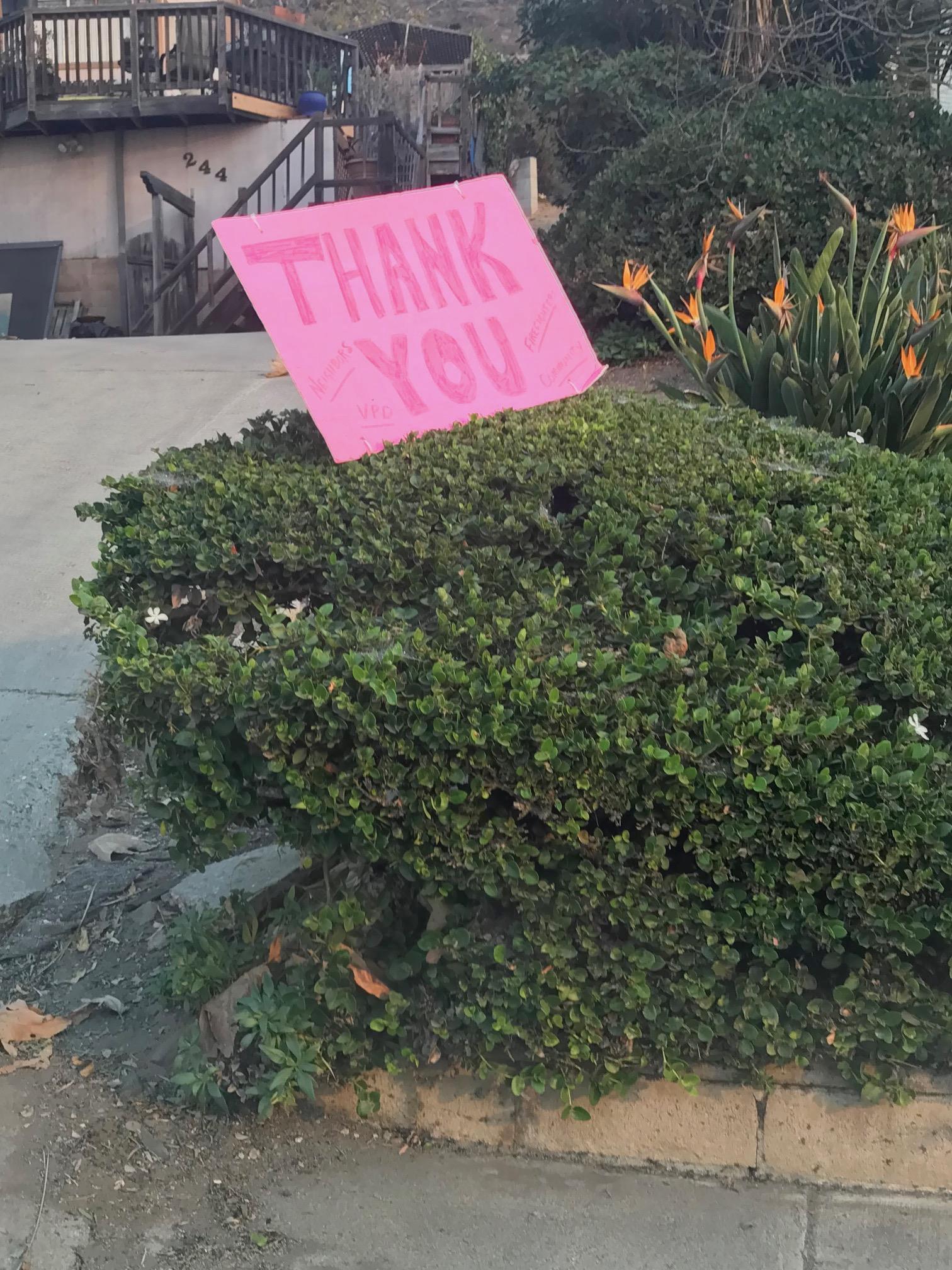 At Topa Topa Brewery, many local clothing companies such as Patagonia came together to distribute free clothing for the fire victims. There were also other vendors selling items such as jewelry, wallets and soaps. There was also a food truck, live music, a silent auction and of course, yummy beer! Everyone was in good spirits and having a fun time! We stayed for about an hour and then went to dinner downtown. As we chatted, I literally saw 10 different fire trucks from 10 different agencies drive by in the first 30 minutes. It's amazing how many agencies are out here helping with this fire.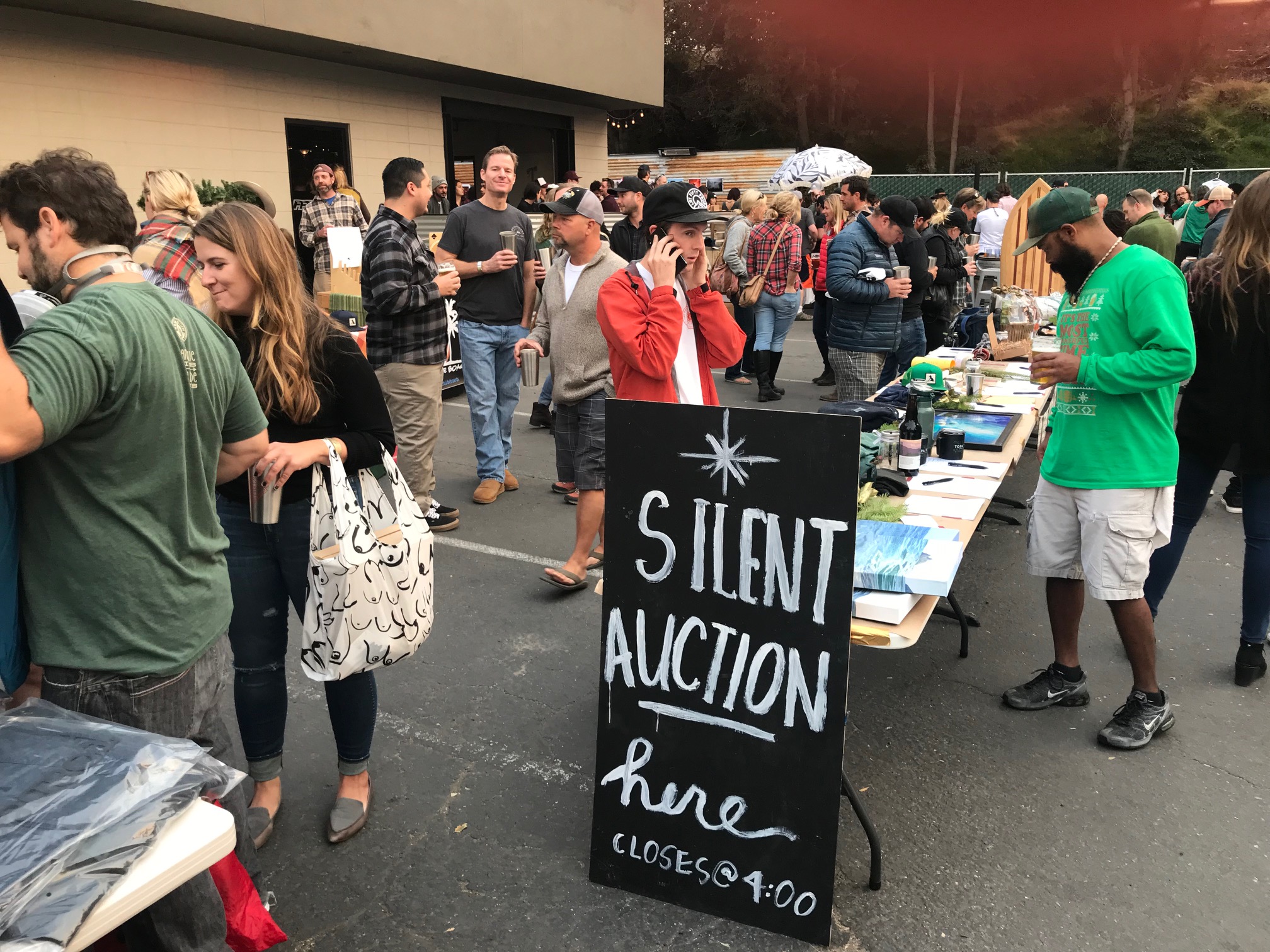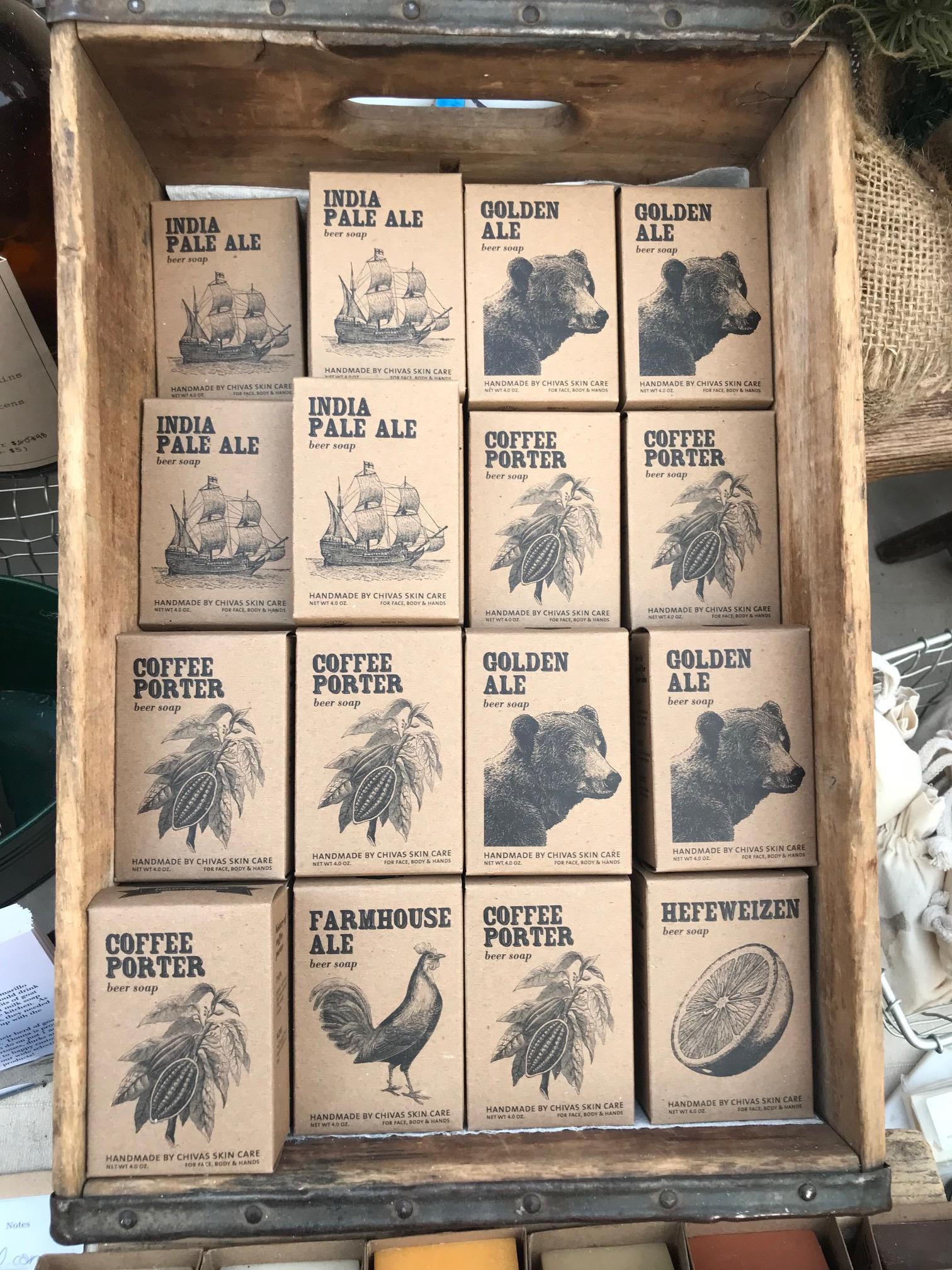 Currently, the fire is at 267,000 acres and 40% contained. It is now expected to be 100% contained by January 7 at noon. The winds are expected to hit Ventura County again tomorrow and a Red Flag Warning is still in place until tomorrow night. About 1,250 have been either destroyed or damaged and about 8,480 fire personnel are on the scene. Oh yeah, and it is now costing a whopping $110 million to put it to death. God bless our First Responders!
Here's a last photo of Ana and I wearing our masks around Ventura this evening.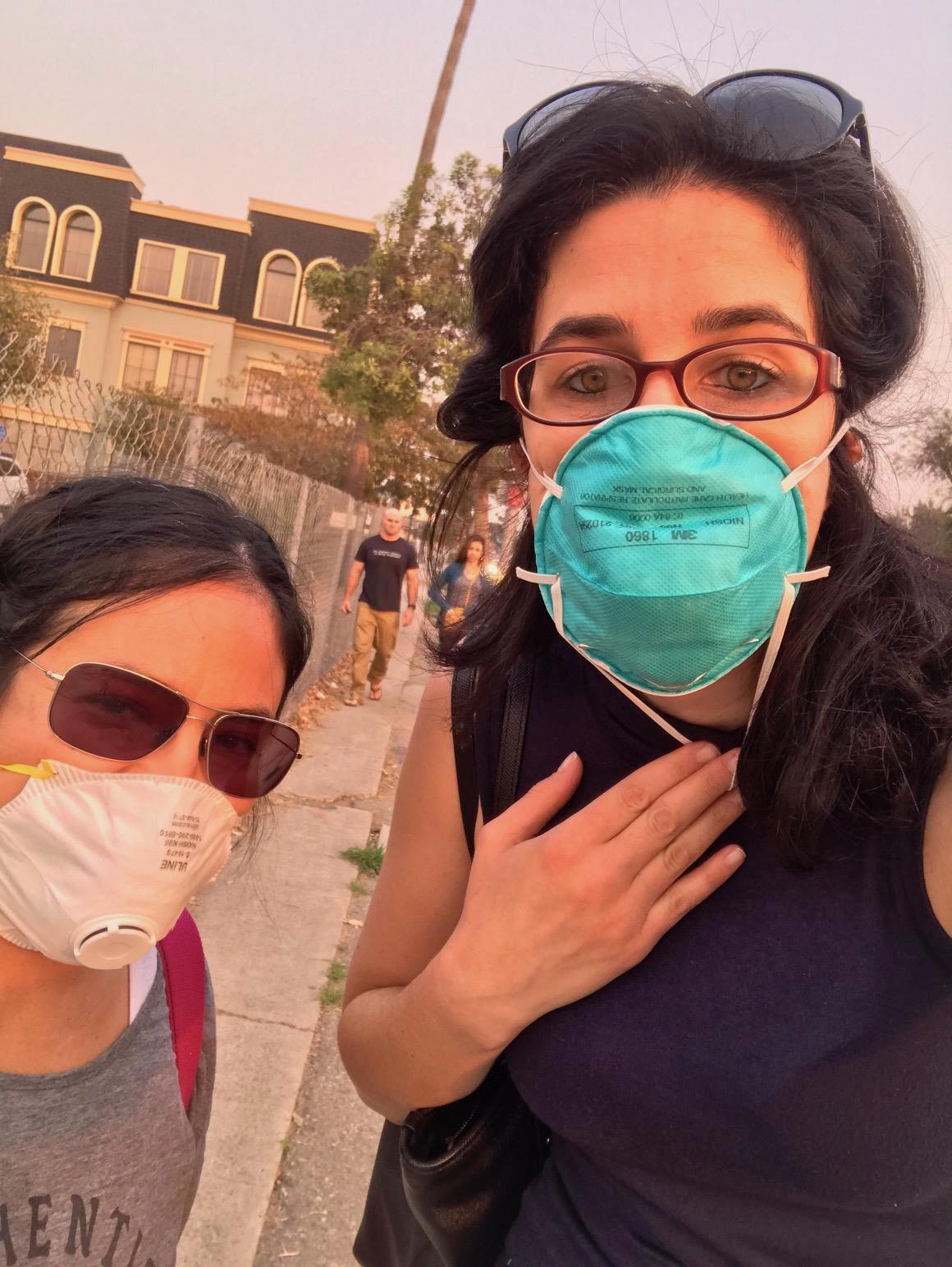 Day 12 – Friday, December 15
I don't have much to say today. My spirits are a lot higher and I feel more determined that our firefighters will put Thomas to death by Christmas Eve Day. I am also feeling a bit more hopeful for my community, as they are also determined to rebuild.
The fire is currently at 252,500 acres and 35% contained. As I stated yesterday, the weekend will mean either calm and happy winds or strong and fierce winds during various parts of Saturday and Sunday. The first round of winds will hit Santa Barbara County bad between 2 a.m. – 4 a.m. on Saturday. The fire continues to push northeast towards Fillmore, north into the wilderness areas and northwest in Santa Barbara County. I think I read somewhere that more than 2.4 million gallons of water have been dropped on the fire as well?!
This weekend I am driving up north to Hearst Castle in San Simeon to view it for the holidays and attend a Christmas Market in the evening in Cambria. The drive is about 3 hours north. According to the weather map, I will not be driving during the supposed "high wind" times. John will also be watching my back if something crazy happens, but it is not expected to. The fire will mainly stay in its back country area. I will write an update on Sunday about my experience at both holiday festivities in a separate blog post and then post here about what it was like driving the coast line and through Santa Barbara County. I usually go to Santa Barbara a few times a week, but because of the fire, I have not been up there in almost 3 weeks. Stay tuned!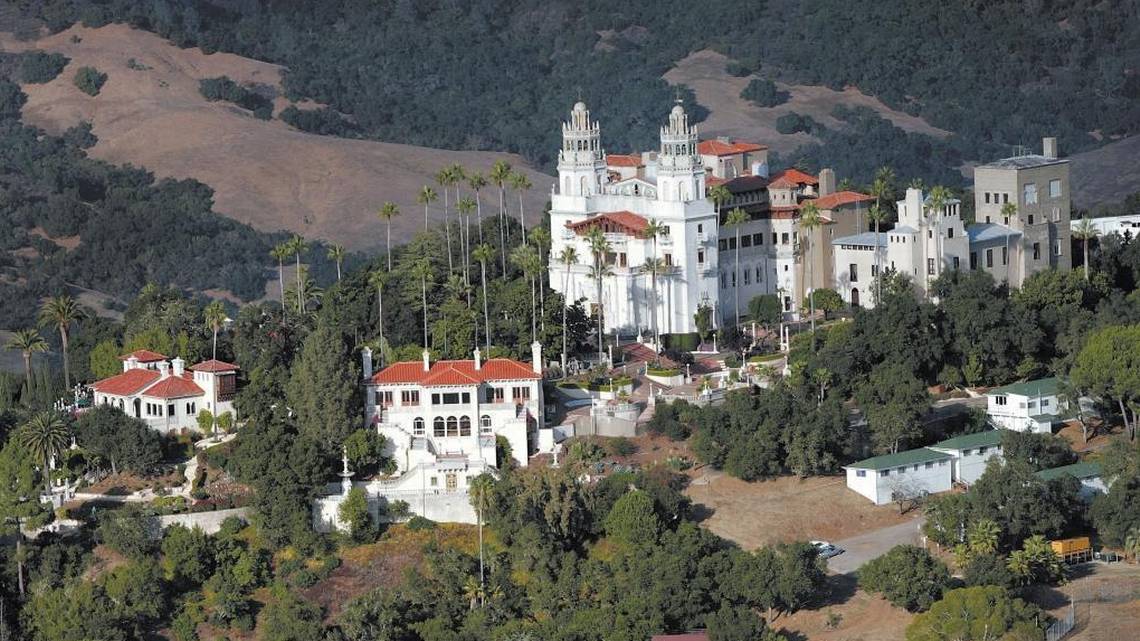 Day 11 – Thursday, December 14
My spirits were feeling a bit higher until I learned that San Diego Cal Fire Engineer Cory Iverson had died in the fire on the east side near Fillmore today. I had heard that the fire had jumped the containment line and maybe that is possibly how he perished, but fire officials are not saying at this time. The 32-year-old  leaves behind a wife, 2-year-old daughter and another baby on the way. Thoughts and prayers are with his family and friends during this difficult time. A GoFund Me page has been set up.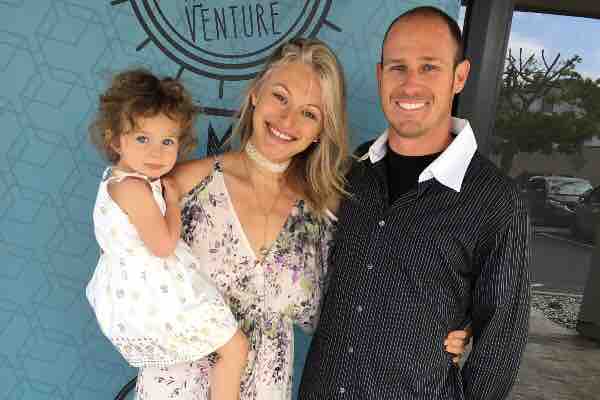 The smoke cleared a bit today due to the winds. For the most part, firefighters were able to complete controlled burns in the Santa Barbara County area and still continue to make progress. The fire is currently at 249,500 acres with 35% contained. There are currently more than 8,000 firefighters assigned to the fire and the cost is now at $82 million. More than 1,200 structures have been either destroyed or damaged and the Red Flag Warning is in effect for the Ventura County mountains until 10 a.m. tomorrow. However, there is a Fire Weather Watch from late Friday night into Saturday night for the Santa Barbara County mountains, while the same watch is in effect for the Ventura County mountains from late Saturday night into Sunday evening.  The Thomas Fire is currently placed as the 4th largest wildfire in California history.
I am trying to keep myself in the holiday spirit as much as I can, so I attended the City of Oxnard's 11th annual Holly Trolley Tour tonight. A Hollywood tour bus comes up from LA and takes ticket holders down 2 different streets of Oxnard each year to view the Christmas lights on the houses in the historic district. This is the second time I have done this in 4 years and it was a nice and festive sight to see. Ticket holders also received hot chocolate, sweet bread, a gift bag and had a chance to tour the church inside Heritage Square to view the gingerbread houses and even one made out of balloons! You can view my video of the trolley tour on my Instagram page. It was quite warm out when I boarded the bus, but then once you went 2 blocks towards the houses, it was ice cold. It was crazy!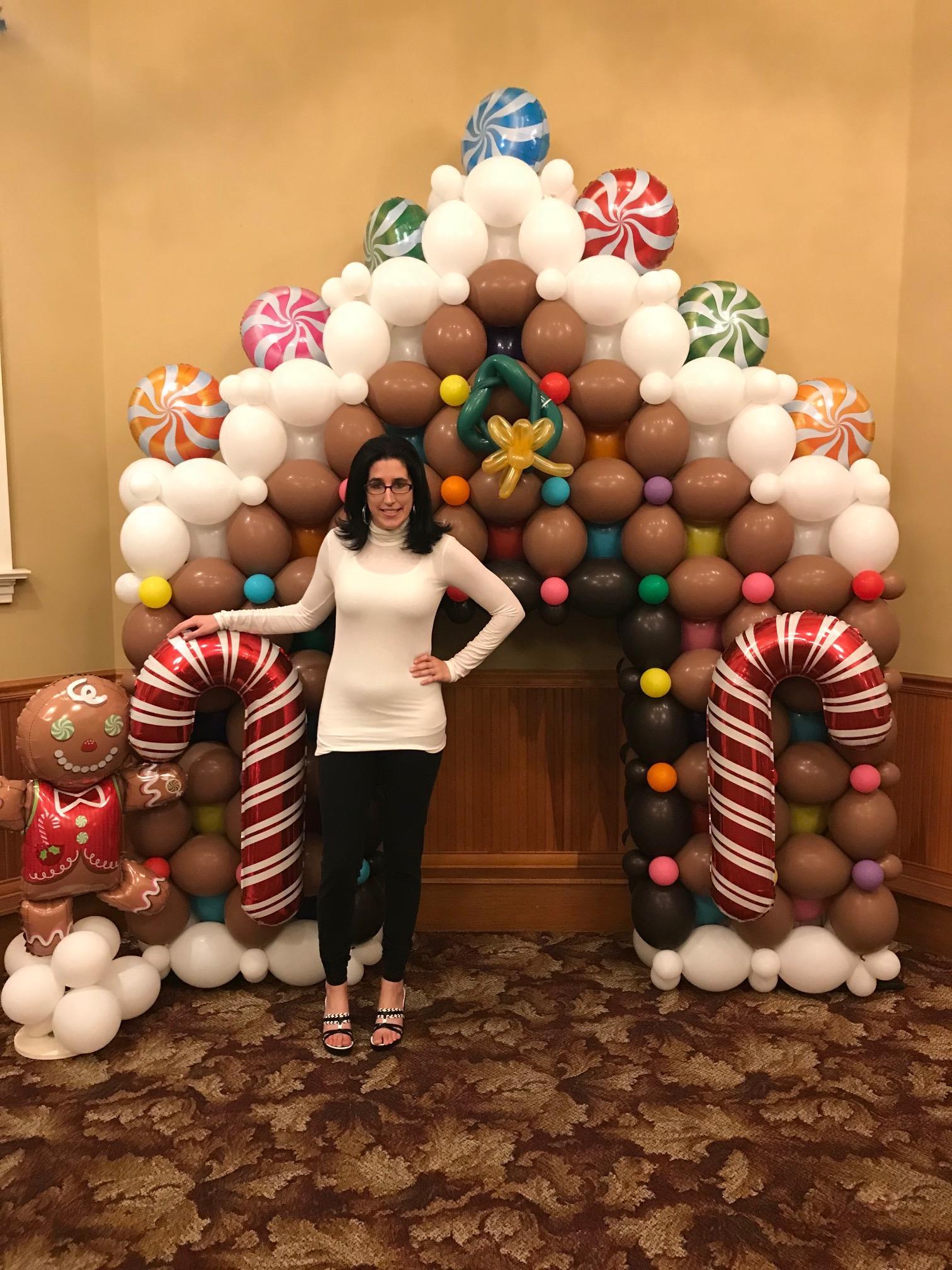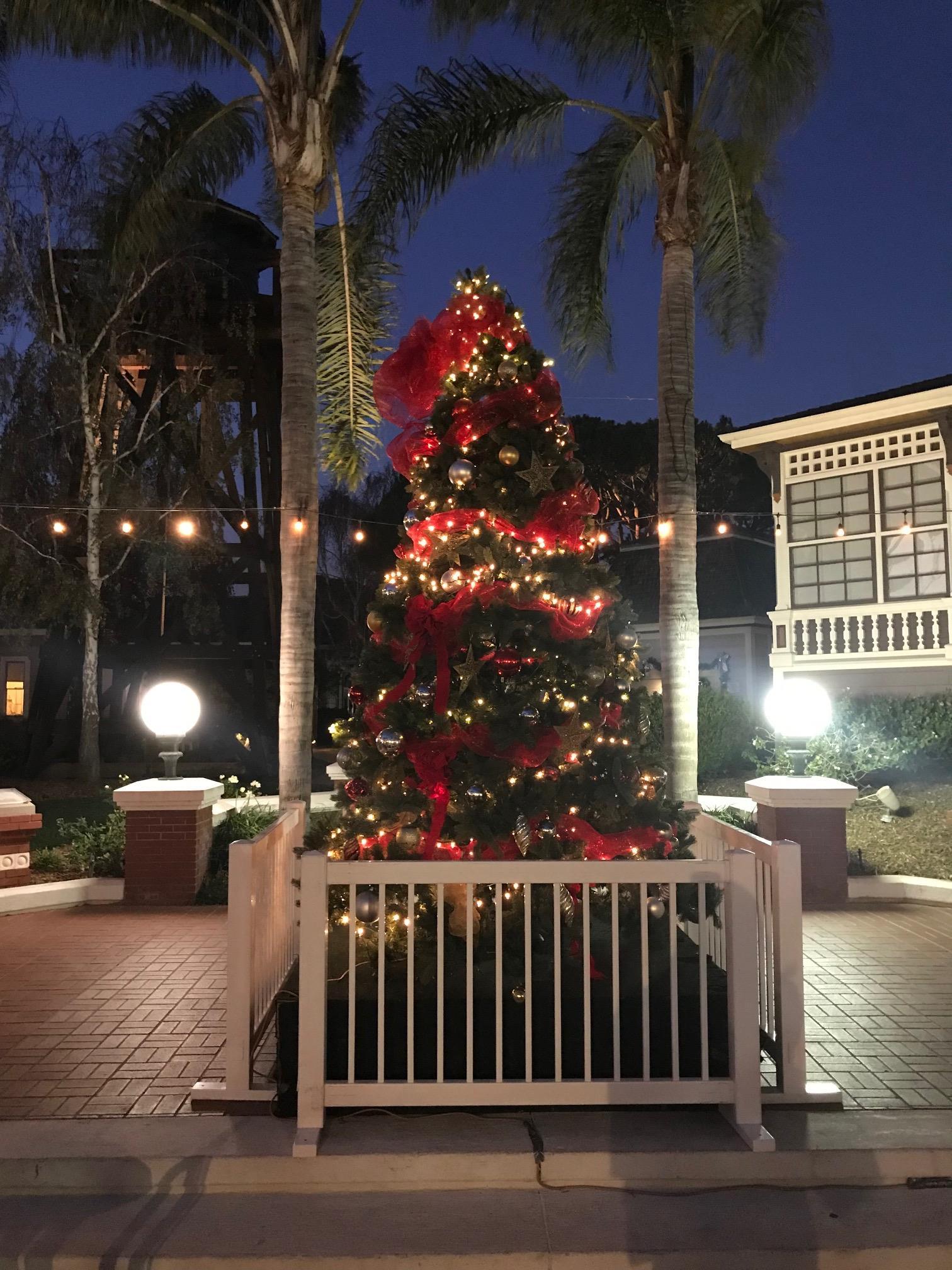 Day 10 – Wednesday, December 13
I am feeling a bit more worn out today than other days because of the fire smoke. I read from the Environmental Protection Agency that besides the obvious coughing, sneezing and wheezing from a wildfire, it can also cause tiredness. I also have a runny nose. Yesterday when I saw my doctor I told her how exhausted I have been and she explained that the smoke can cause that. I am just happy I don't have any asthma symptoms. I check Air Now from the EPA to see the air quality index and the particles currently in the air. Currently where I live it is "unhealthy," hence why I wear the N95 mask. It is supposed to hopefully ease up tomorrow or Friday, I do not know, it depends on the winds.
It also doesn't help when you are in the unknown in your community and your emotions are everywhere. Some nights I am on edge for silly reasons, thinking I hear a crackling sound only to realize it was a broken sprinkler line that was shooting up and coming back down. I also have been hearing fire, police and ambulances like crazy every night since the Thomas Fire began. I am sure they are responding to other types of emergency situations, but it keeps me on edge.
All of those emotions point to the word vigilant. That is a word I have been hearing a lot of lately. Webster's Dictionary says it means "paying close attention usually for the purpose of anticipating approaching danger or opportunity." My eyes are beyond open and my ears alert. Even my driving patterns have changed slightly. I feel like being too vigilant can lead to slight paranoia?
I read on my Facebook newsfeed that there has been some graffiti thugs on the prowl in the City of Ventura that have been spray painting cars, homes or sidewalk areas with cryptic messages. Luckily, the city has been responding to this type of crime and fixing the problem.
I had to go down to LA after work and I noticed for the first time a light dusting of white ash on my car. I will take a picture tomorrow, but I did manage to snap this photo over the pedestrian bridge at the 101 south just before Liberty Canyon Road. The love spreads far and wide!
The current stats for the fire are 238,500 acres, 30% containment and 8,000 firefighters. Red Flag Warning for the Ventura mountains is until 10 a.m. on Friday. More than 900 structures have now been damaged or destroyed. It is still moving NNW and more evacuations have been lifted in the Ojai valley and Fillmore. There are a few plans in place, better explained by the Santa Barbara Independent:
Plan A: Engage Thomas directly, take him down where he stands.
Plan B: Push Thomas into areas burned by recent fires.
Plan C: Burn about 7,000 acres of fuel between Thomas and Cold Spring Creek.
Plan D: Put Thomas to bed at Highway 154.
The biggest concern tomorrow are something called sundowner winds, where the winds push south from the mountains onto the coast line. This is a concern for residents along the coast near Highway 154/Painted Cave in Santa Barbara. The winds are supposed to be light, but anything can happen. No one in the community wants to see the fire start there, as there was a devastating fire there in 1990.
Day 9 – Tuesday, December 12
The Thomas Fire is now at 236,000 acres and is 25% contained. More than 7,000 First Responders are on the scene in Ventura and Santa Barbara Counties to help further contain it. More than 900 structures have been destroyed or damaged. It is still moving along the ridge line in the cities of Carpinteria/Summerland/Montecito and is still expected to burn before Highway 154. There is still a Red Flag Warning for Ventura County but in the mountains only until 10am on Friday along with a few other areas within LA County. It is only my city that isn't affected on the map, this is crazy! School districts around my area all canceled classes again because of the bad smoke.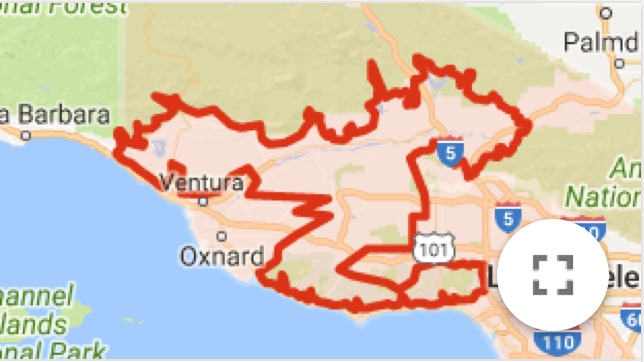 The worse part about the day was when the smoke was heavy during the lunch hour into the early evening. This was due to a burning out operation within the perimeter of the fire in the Ojai valley. Other than that, the First Responders are making progress each day. I am starting to feel more hopeful as the days go on. The stress of everything has caused me to kind of lose my appetite, but I am eating as healthy as I can, taking my daily vitamins and exercising when I am able to.
I decided to start volunteering within my community when I get back from the holidays. I absolutely cannot do it right now because of my work schedule before I fly home, plus many of the organizations that need help want people to start ASAP and I just can't at this time. To date I have donated $60 for relief efforts and I WILL be volunteering to some capacity!
Day 8 – Monday, December 11
Today I woke up to a half clear sky and a half smokey sky. I was also feeling a bit run down but I managed to get through the work day. Even with everything happening, the show must go on.
I really don't have much to update except the press conference today was probably the most positive and optimistic one I have heard in a week. The fire only grew to 231,700 acres and is now 20% contained. It is currently running along the ridge line in Santa Barbara County and is expected to stop miles away from Highway 154. A Red Flag Warning is still in effect for Ventura County along the coast line Tuesday at 8 p.m. and for the mountains Wednesday at 8 p.m. Winds will continue to be low but the temps still high. The saddest part is more than 800 homes have now been destroyed.
The fire officials looked happy and said that the fire is "cooperating" with them. 🙂 It's getting better, yay! Thank you First Responders!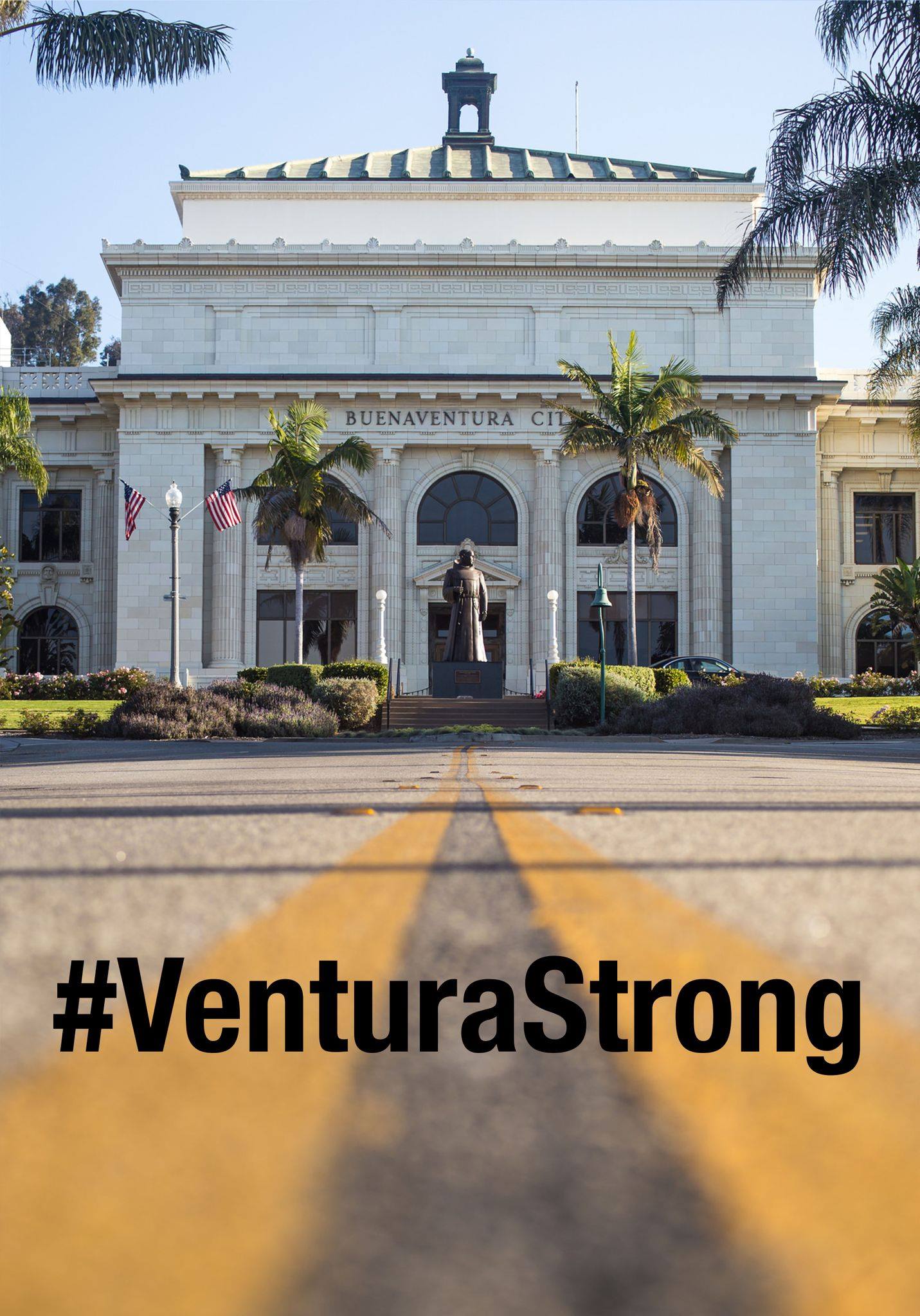 Day 7 – Sunday, December 10
This morning I got up and attended mass at Santa Clara Church. I needed a little faith to help get me through the day. I have been feeling sad today and a bit hopeless. My emotions are still everywhere: one minute I feel happy and confident that this will all end soon, the next minute hopeless and sad, sometimes angry. I snapped some photos of my church before most people got there, it was a full house though!
There was a part in the service where the Father read a chapter from the book of Isiah I believe, talking about how we should go to the mountain/terrain and shout at the top for joy and peace. That's the last place I'd want to shout it from right now!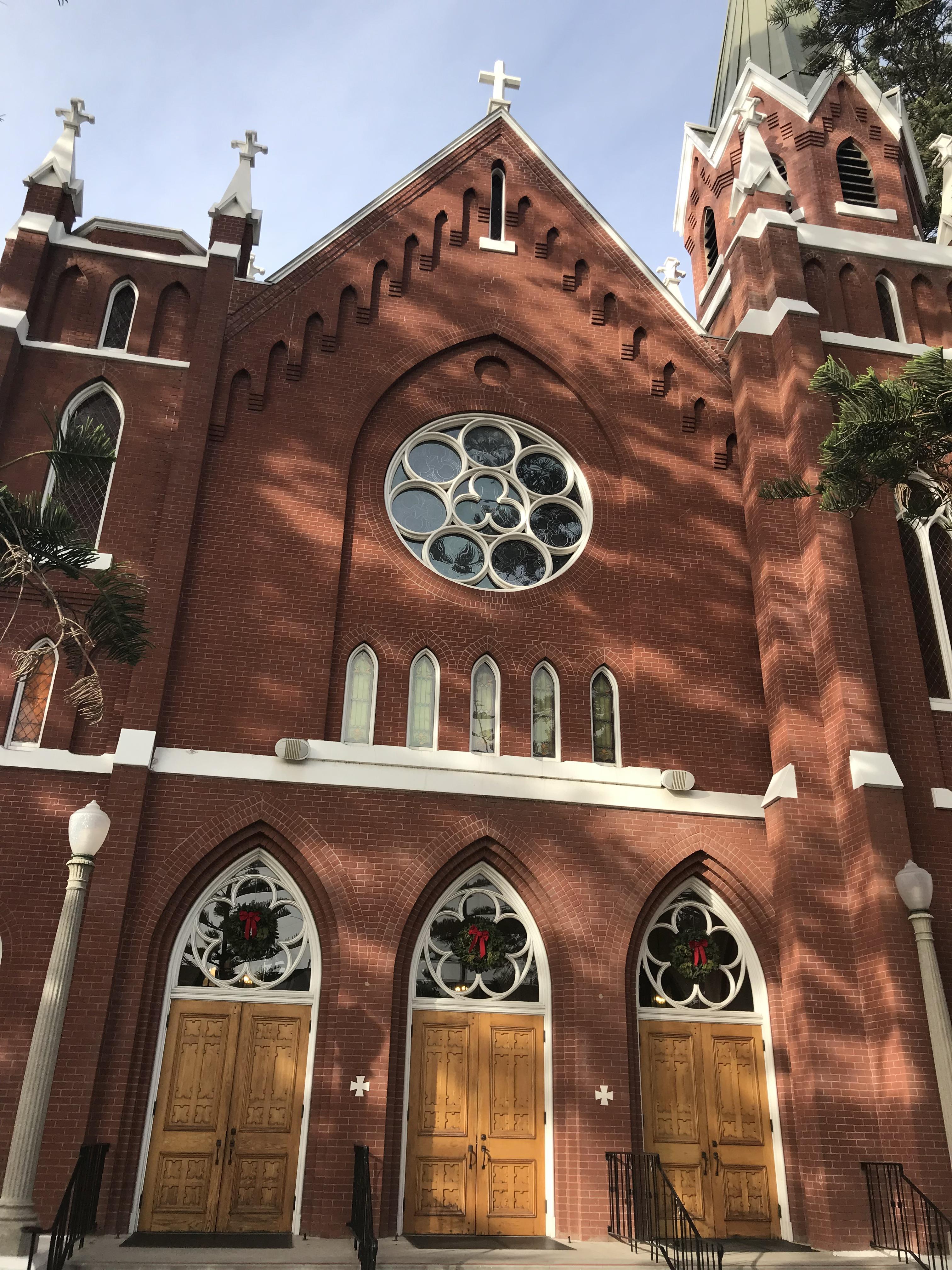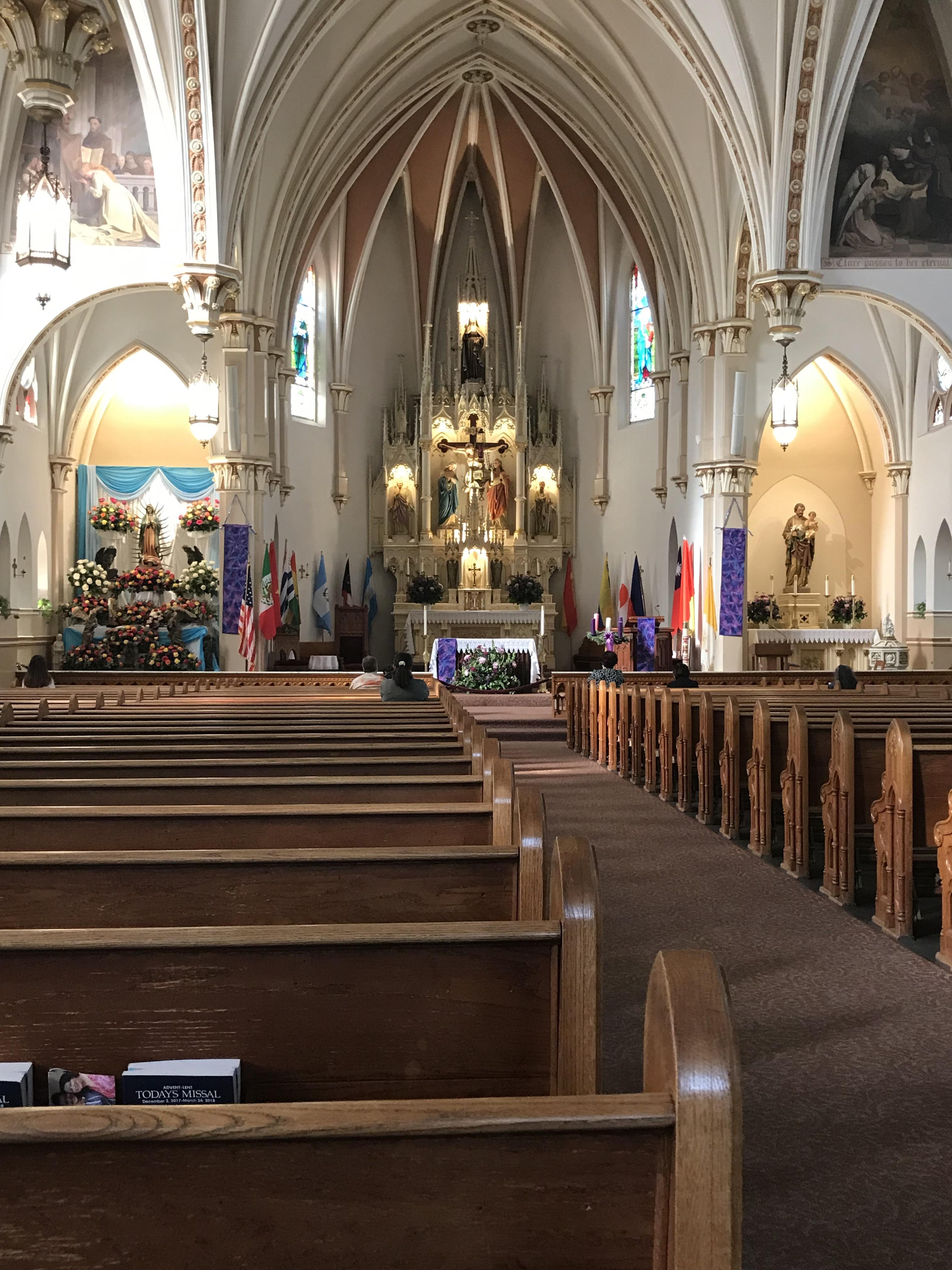 Afterwards I went to get my car washed and cleaned on the inside, it was filthy from the dirt the winds had brought up, and then I made my way to the grocery store. On the way in the median I saw a Stay Strong Ventura sign. My friend George took a better photo of it below.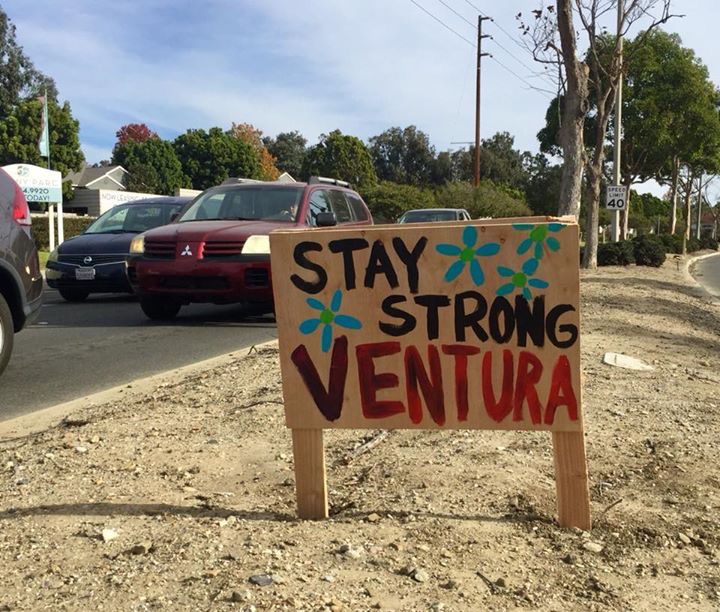 In the parking lot I saw this huge plume cloud that was coming from Santa Barbara County. You can even see the red firefighting helicopter. There are I think I heard more than 30 of the copters helping today. The planes had to make their way back to the Navy base down here by my apartment because the smoke was so thick that it was dangerous to be flying in the smoke with them.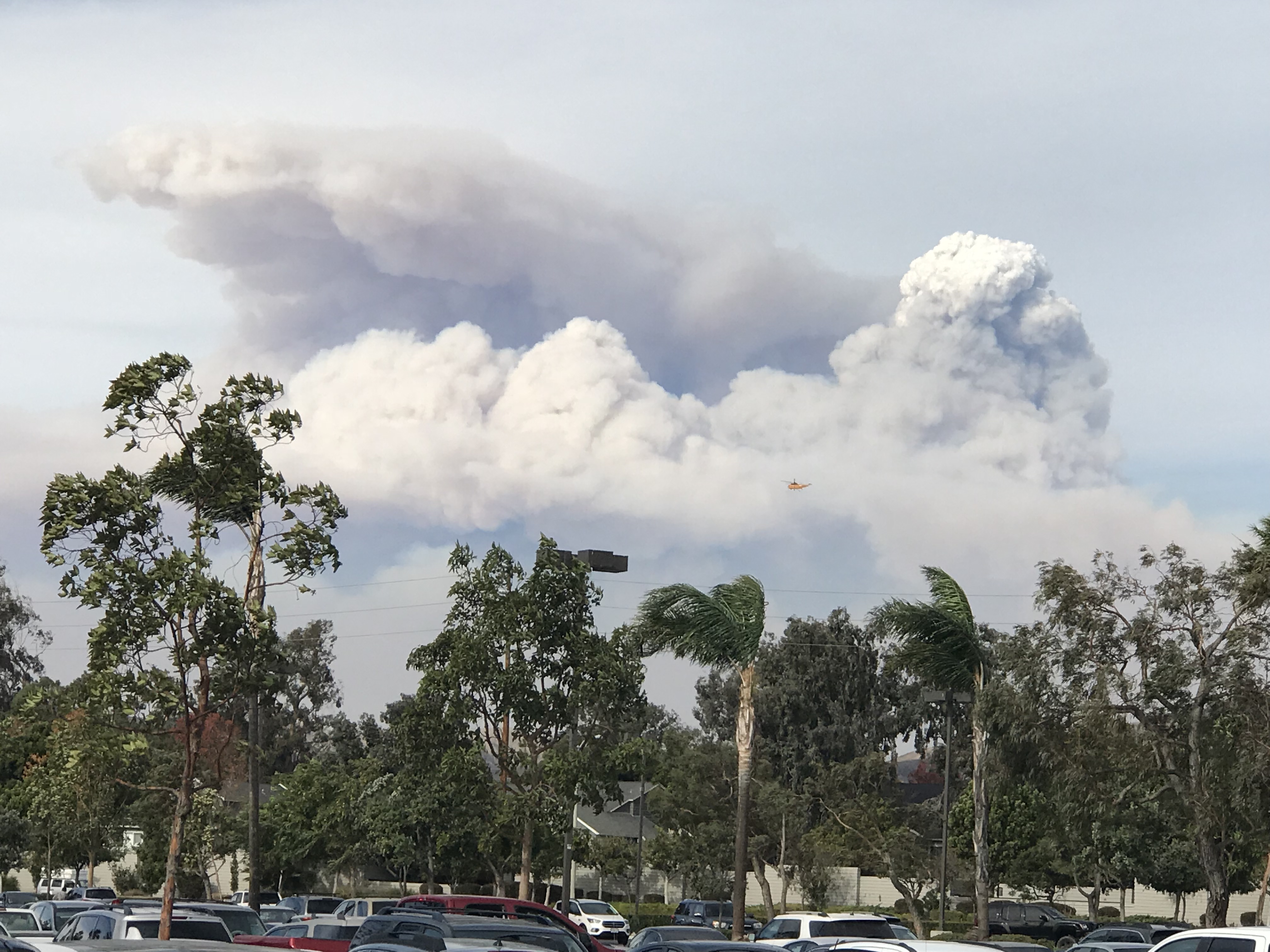 Currently and sadly, the fire has burned 230,000 acres and dropped back down to 10% contained. It is now officially the largest wildfire the County of Ventura has ever seen since 1932 and the 5th largest wildfire in California history. It is possible it might jump into the top 3 in the next few days. Again, now you understand why my emotions are everywhere, this is crazy. When you hear that many acres have burned, the weather won't let up and at this time 754 structures have been destroyed while 162 have been damaged, you would be feeling sad and hopeless, too.
The fire is making its way towards back country towards Highway 154 in Santa Barbara County at this time. The fire officials said in a press conference that the weather has contributed mostly to the frustration of not being able to control the spread. The winds are supposed to die down by Monday night, so we will see what happens. We are so grateful to our First Responders!
Meanwhile, Los Angeles and Ventura Counties had their Red Flag Warning extended until 8 p.m. Monday night now. It was supposed to be lifted at 8 p.m. tonight. The good news is by tomorrow night the winds will be dead and the humidity where I live will be at 45%. Right now it is at 9%. I figure if I can just get through one more day of this I will be good.
Day 6 – Saturday, December 9
I woke back up to more high winds but the smoke smell was gone. If the winds are around, the smell is mostly gone, but if they aren't, the smell returns. The fire has burned 155,000 acres and is 15% contained. It has made its way north of Carp and the good news is residents who live in west Ventura (aka "The Avenue") have returned home.
As I stated yesterday, I got my N95 mask to protect me from the particles from the fire. This is what it looks like on. If you are wondering if they help, to an extent they do, but not 100%. You need to change them out once in awhile.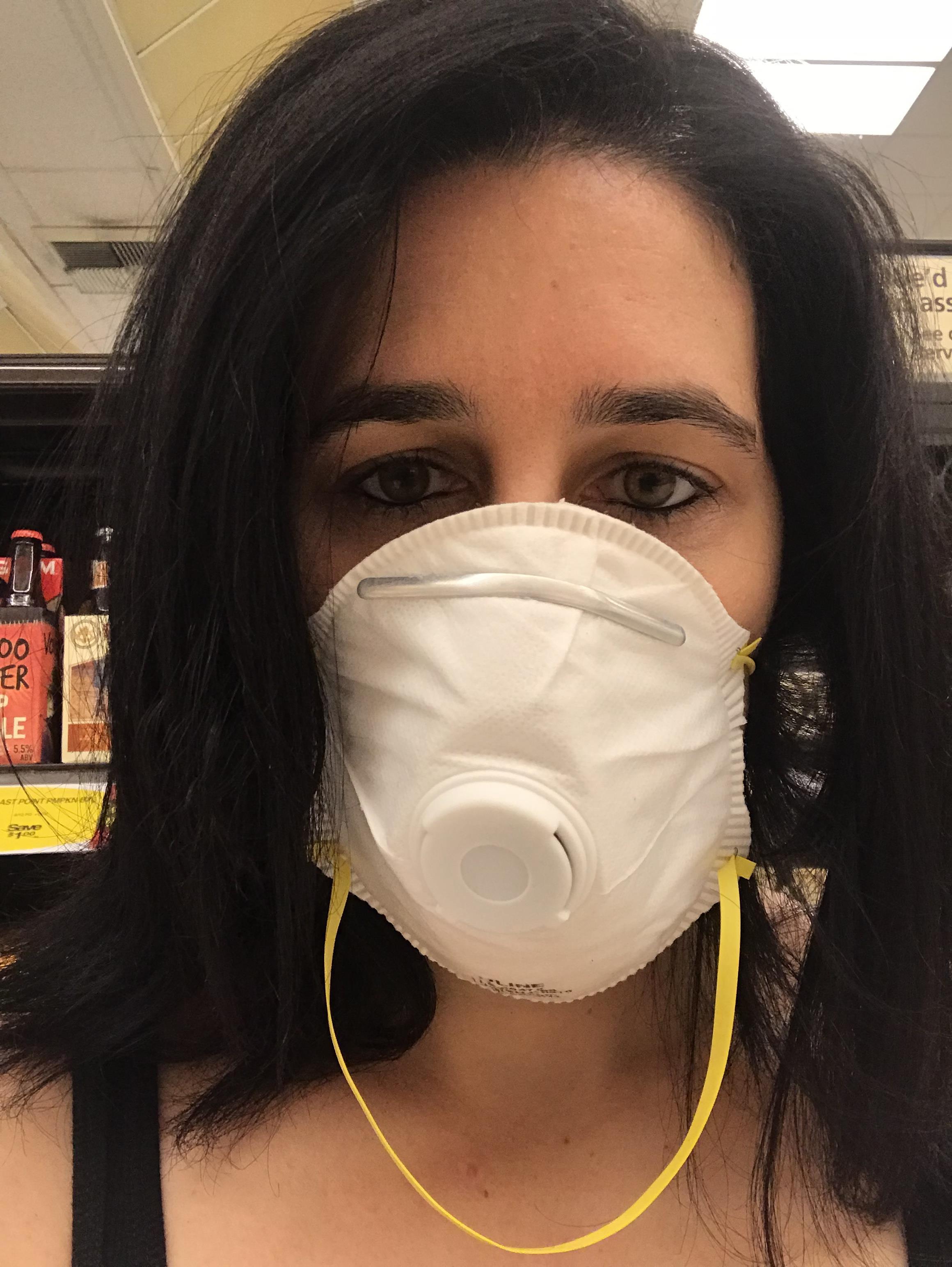 I am looking into volunteering to help the victims. I found this website through my friend with various ways to help called Thomas Fire Help. I will let you guys know what I decide to do.
I went to the Parade of Lights in the Channel Islands Harbor tonight. It is right by my apartment complex, below is the best shot I got out of all of the boats. You can also go to my Instagram page and check out the "Under the Sea" video!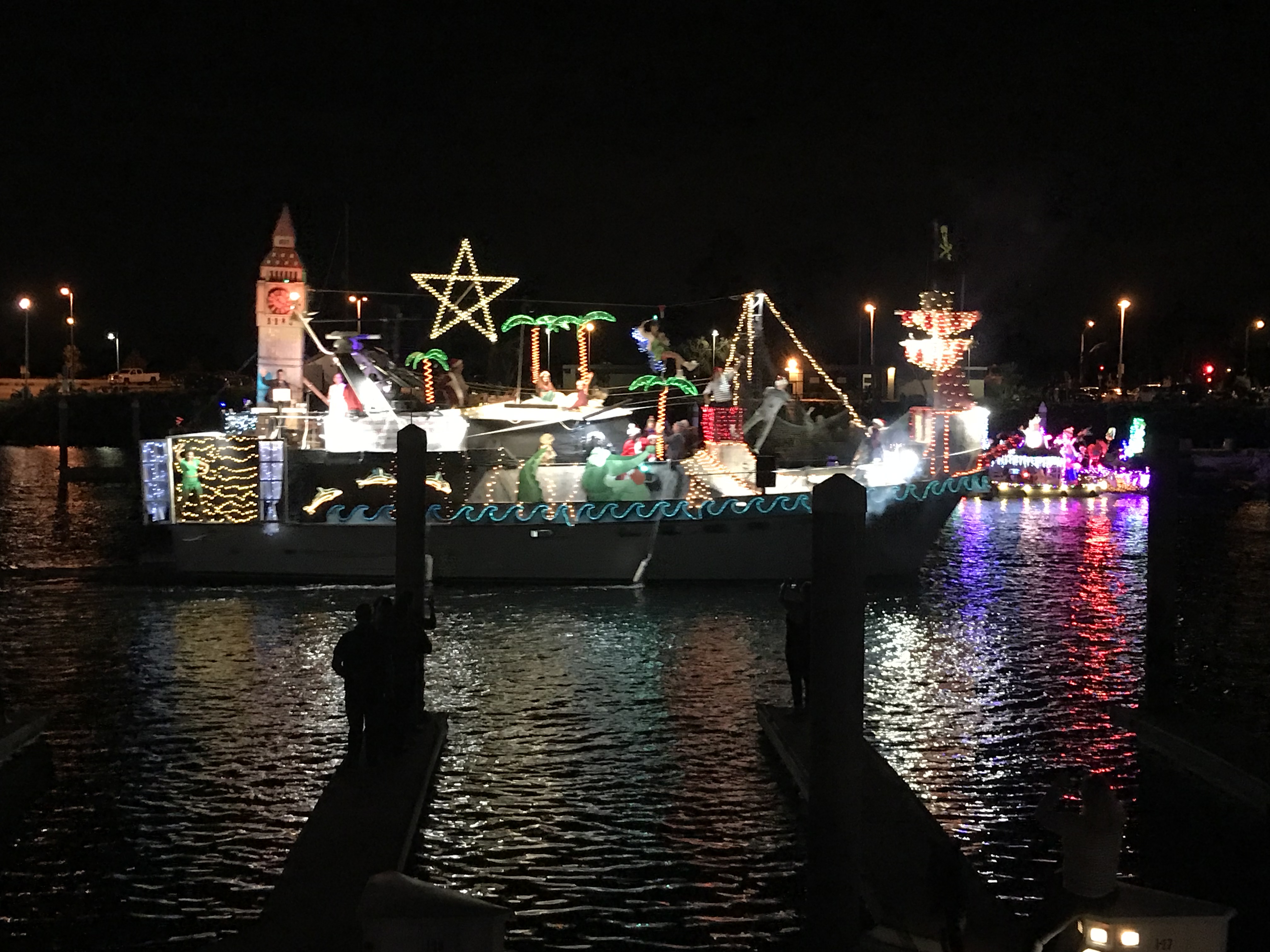 Tomorrow morning I am going to attend church. I have not gone in awhile and I will let you know what Father says.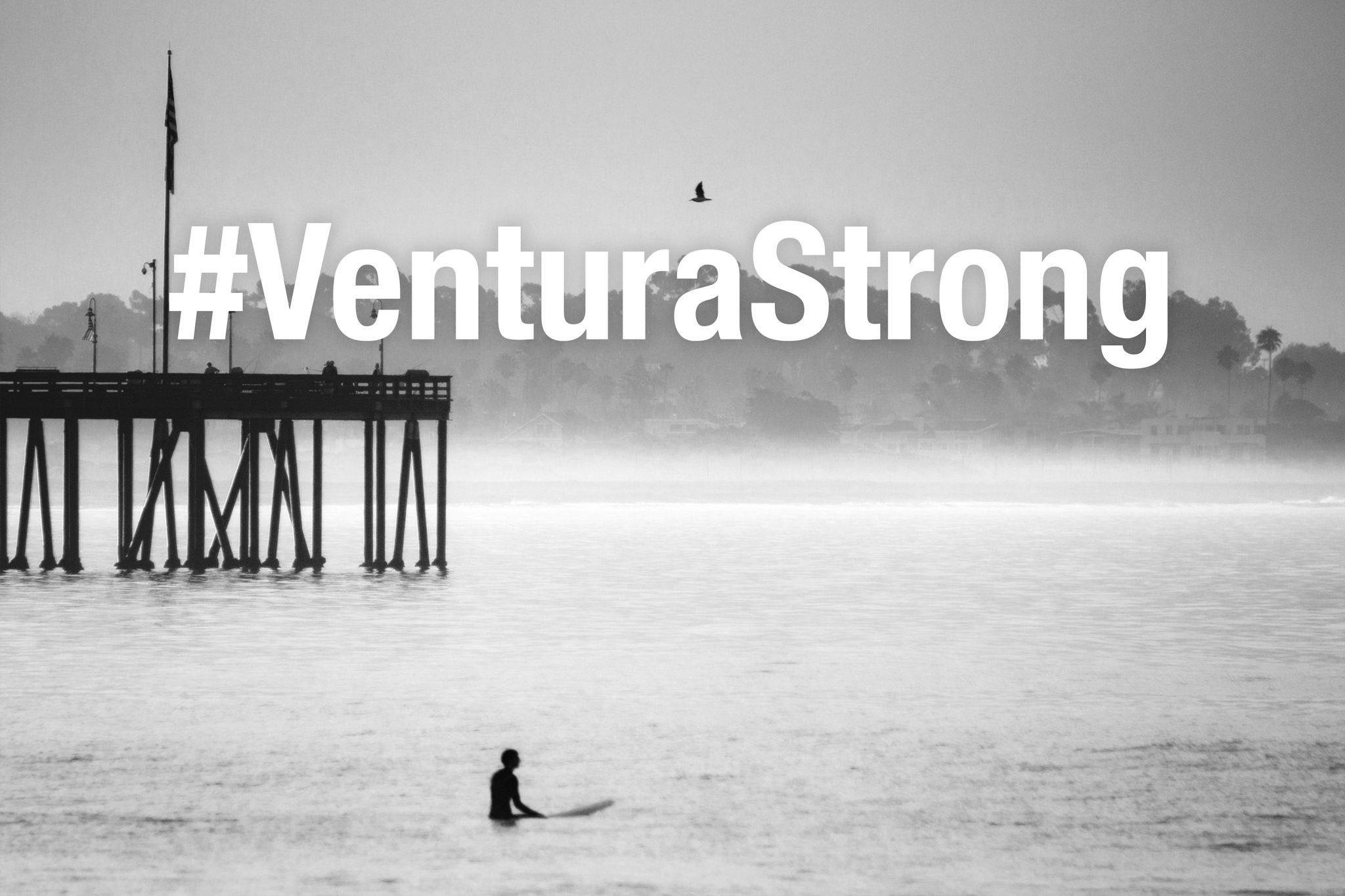 Day 5 – Friday, December 8
Today I am feeling a lot more happier and confident than I have the past 4 days. Last night during the press conferences I heard from a fire behavior specialist. He assured everyone that once that containment line is set and some more acres burn that firefighters will be able to control and put out the fire better. It is currently headed towards the north back country of the Ojai Valley and northwest towards Carpinteria.
At this hour there are 143,000 acres that have burned/are burning and the containment level is still at 10%. There are more than 4,000 first responders fighting the fire from everywhere in the state and from other states. The estimated cost is $17 million in damage, according to the LA Times. Many residents of Ventura were also able to return to their homes.
There were no high winds today, but the smoke was terrible. It was the thickest it has been since the fire was put out. Yesterday it was heaven, there was hardly a smokey smell in the air. Today was not so lucky. Even as I sit here I can still smell some mild smoke in the air. Tomorrow the Channel Islands Harbor is still having their Parade of Lights (boats), as they were cleared by officials to still put it on. I am hoping the air quality is a lot better tomorrow night so that I can enjoy it!
The cell phone reception and Internet is also a bit slower still, but not too terrible. I also got my N95 masks today, I'll take a picture of one on me tomorrow.
The fire briefly jumped the 101 again towards the Ventura County/Santa Barbara County line this afternoon I heard. I'm so glad I canceled all of my activities up there, I just don't want to risk it!
My friend Rosy invited me to come along and deliver some tamales her aunts had made for some Ventura County Fire First Responders. I got to see the office and sit in one of the helicopters. They have been working around the clock since the fire broke out on Monday night and sleeping on small cots in the office. I thanked them for all that they are doing to keep the community safe and we even shared a few laughs.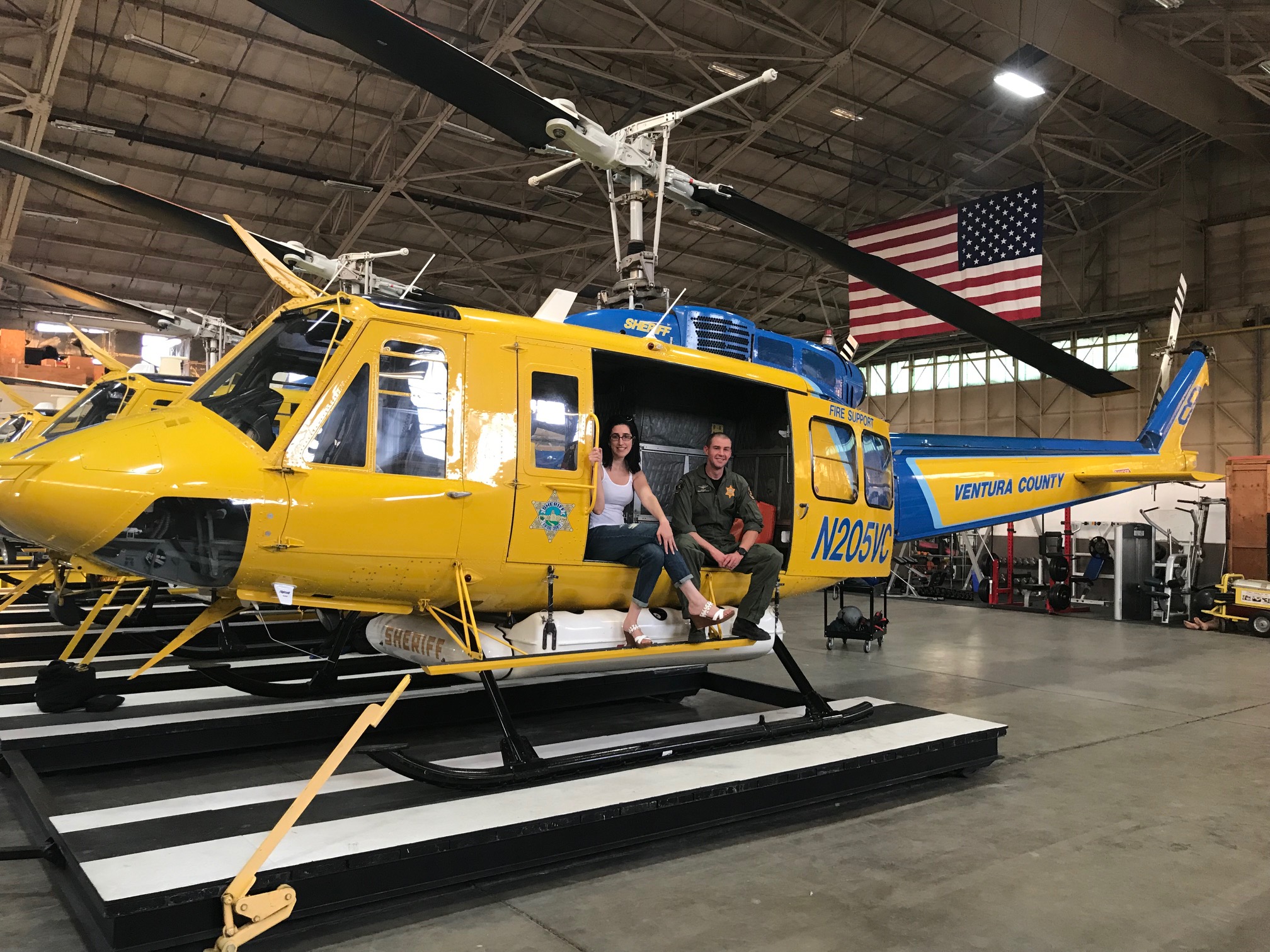 Day 4 – Thursday, December 7
Overnight, just like I had expected, the fire started slowly making its way to Carpinteria. Carp is my favorite coastal town in Santa Barbara County. I know a few people who have voluntarily evacuated thus far. The fire is also out of the City of Ventura itself and all the way up towards Ojai. The NB/SB lanes of the 101 along the coast line were also closed. They could be closed intermittently over the next several days I hear. I was due to be up there in the evening for several things between Friday – Monday and I canceled everything. It is best to be safe than sorry! The fire at this time has also grown to 96,000 acres and is only 5% contained. Another important note to make is the fire is expected to be 100% contained by Christmas Day. So it will be a Christmas miracle, we hope.
The winds are also beyond strong, making it hard to drive and be outside. I had to run an errand this morning across town and saw the hillside black with spots of brown in them. Just broke my heart. I also saw tumbleweed blow across the road and a couple street name signs blown down. The winds are due to die down on Saturday night, so I will make my way back to the office on Monday. For now, I'm just working from home. I was up at 5 a.m. today with more text messages and started work around the 6 a.m. hour. I usually put my phone on silent at night, but for these next 15 days before I fly home for Christmas, that will not be the case.
Today I am feeling hopeful but sad. Like I said, it's stressful and emotionally draining to see this happening to your community. John texted me a video of the palm trees burning down near Faria Beach (Ventura coast line) just now. Christ…why, why, why?!
I donated $50 to the United Way Ventura County this afternoon. It's my community, it deserves my support! I also ordered an N95 mask, which will protect me from breathing smoke particles. I will have it in another day.
UPDATE at 9:11 p.m.: Both Ventura and Santa Barbara Counties held press conferences to discuss the updates on the fire this evening. Currently, it is at 115,000 acres (most back country) and is at 5% containment. The Red Flag Warning has been extended until Sunday at 8 p.m. The Santa Ana's are expected to weaken tomorrow for crews to fight better. I also learned that 427 structures were destroyed in Ventura. I am calm because I have been told many times from Ana, George, John, Rosy and my meteorologist friend, Alan, that I will be ok. I finally believe that I will. 🙂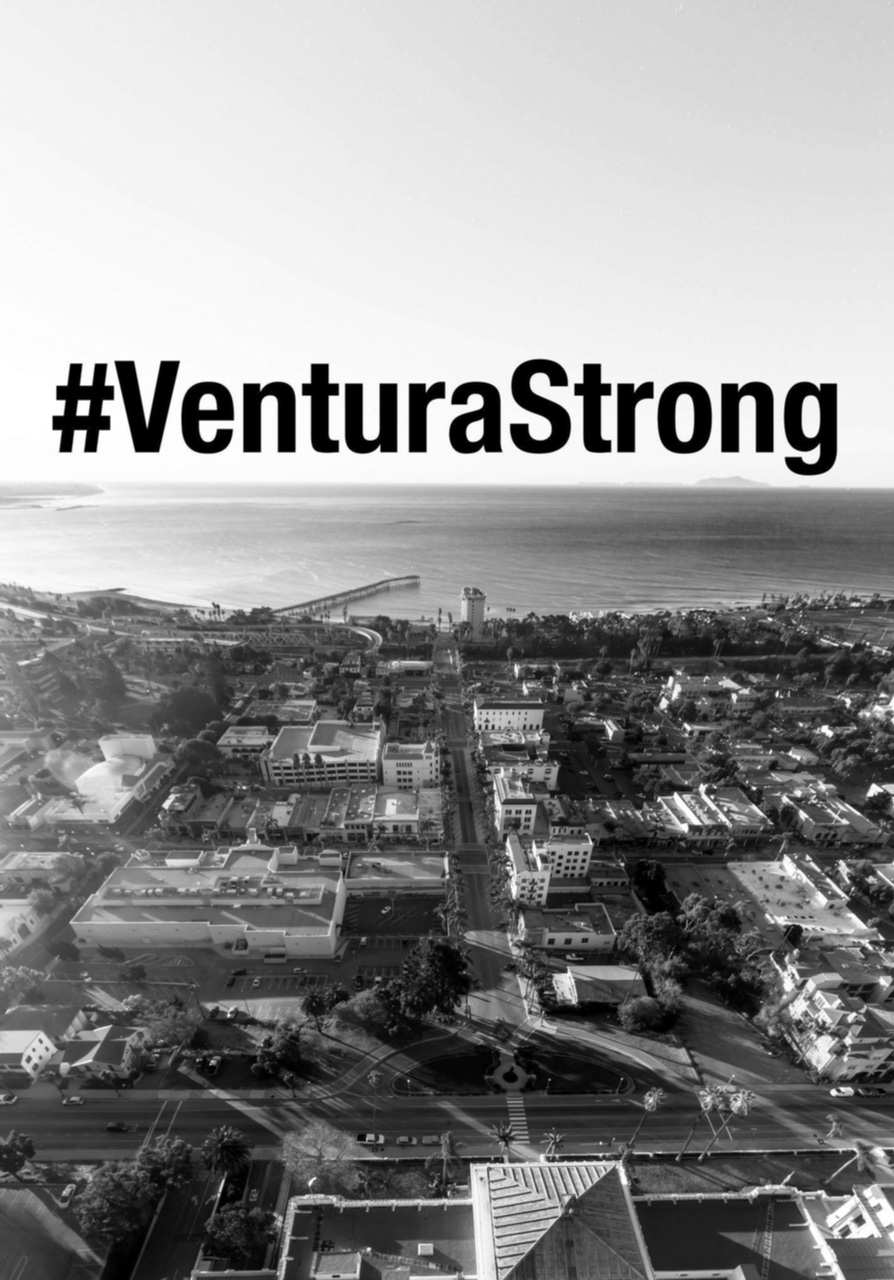 Day 3 – Wednesday, December 6
Overnight the fire spread to the coast line, which is the drive between Ventura to Santa Barbara and vice versa. Earlier this afternoon Ready VC said it was at more than 65,000 acres and 0% containment, but they removed that part in the 3 p.m. hour and I do not know what the acres/containment level is at this point. UPDATE at 6 p.m.: 90,000 acres burning! I just opened a bottle of wine, I need it! I read on my Facebook newsfeed others started drinking as well, so I am not alone! I needed Ana and my friend George to calm me, I am upset! My back-up plan is to go to Orange County, which is 2 hours south of me, and stay with my friend there in the event that something bad happens in my area alone.
This morning I was starting to feel a bit ansy as to why it is still 0% contained after 3 days when other fires in the SoCal region have contained to 5% or less. I feel this way because I can't stand to see more people being evacuated or most importantly losing their homes. This statement is not because I think of first responders are doing a poor job or I don't appreciate their efforts, nor do I expect it to be contained in say a day, but I am trying to understand why there isn't some type of containment, even if it is just a very small amount. The winds as of last night died down and are only at 12 MPH according to The Weather Channel app. Is it because of other factors besides the wind? What is the strategy?
My friend Ana told me that sometimes fire officials perform something called test fires, where a small area burns to prevent it from burning again. This obviously is not the case with this fire, but it was good knowledge to know.
Around noon today, the winds changed direction and that smoke came back down the hills towards the ocean. It was thick, heavy and my throat started feeling like it was burning – and this was with closed doors in an apartment! I have this amazing tea from Republic of Tea called Get Soothed. Works like a charm!
I worked from home today because of the poor air quality and plus I just wanted to relax in my PJs with my work laptop on my couch. Yesterday had drained me a bit. The good news was the winds had died down today. This shot was from this morning before the thicker clouds started rolling in.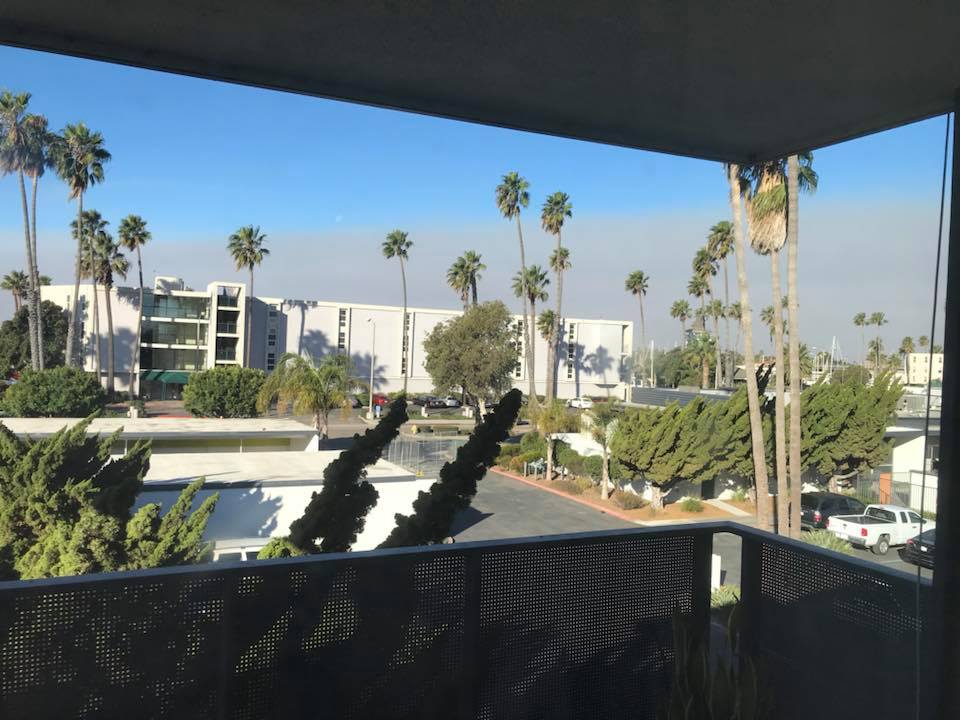 As far as my mental health, I half-jokingly say I am in the looney bin. I feel like I need stress and adrenaline in order to function these past 2 days. It is a mix of that and also feeling sad for everyone that has been affected.
I do not know what the expect overnight, maybe high winds again? Maybe it'll reach Carpinteria (aka Carp, first city in Santa Barbara County taking the coast line)?
Tomorrow is pay day and I plan on donating some money to the victims through the United Way Ventura County. I'll also go back into the office.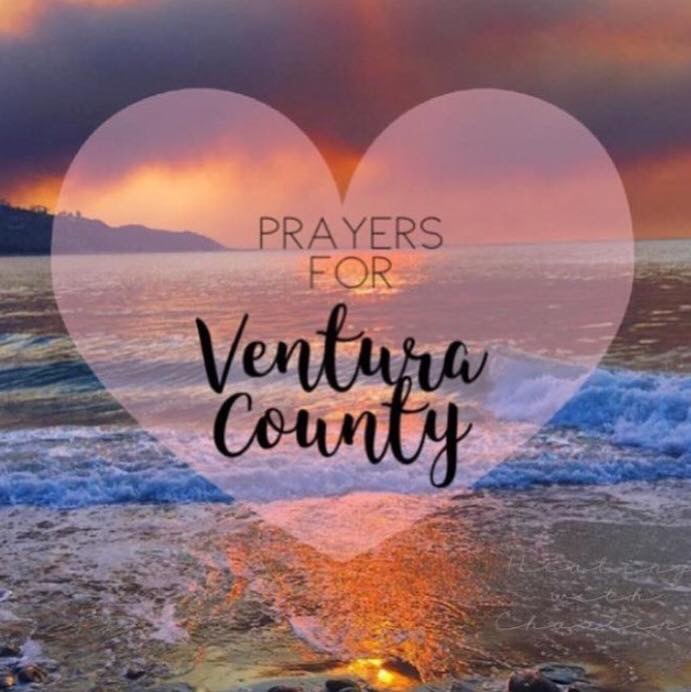 Day 2 – Tuesday, December 5
Ana and I did not sleep much the night before, it was on and off. We kept checking our phones to see any updates from the news, friends, family, etc.
I woke up officially at 6:30 a.m. and called John to get a quick update on the fire before I called my mom and dad and then my project manager. I decided to take the day off and figure out what my plan was going to be. Things change like crazy with wildfires and at this point, I wanted to think of what the safest option would be for me.
I then checked my Facebook news feed for any updates from my friends. A few said the power was still out as well as Internet/cell phone reception. I decided at that point that I was going to stay one more night at the hotel and go back to my apartment and get some more things until the power came back on fully.
Ana decided that since the fire had moved on from where she lived that she would grab more of her belongings and head down to her parents house in LA. She couldn't (and still can't) stay at her apartment until the mandatory evacuation has been lifted. It could be days. I have offered for her to stay at my place since she is attending school in the area (which they are still closed from the fire, btw).
I left the hotel at 8:45 a.m. and made my way back down the grade. As soon as I got down it, I felt the winds pick up. In the distance I could see smoke and as I approached Oxnard I could see some small flames burning in the Ventura hills still. This is insane, I thought.
I got back to my apartment and at that moment, my body couldn't take it anymore. I needed to nap…badly…NOW. I slept from 10am – noon when I was awaken by my former co-worker, friend and neighbor, Aaron.
"Hey how's it goin?" he asked.
"I'm back at my apartment, I just took a nap. I am going to pack up more things and head back to the hotel in TO," I said. "What did you end up doing last night?"
"I went outside to see how bad it was and it was eerie. I left for Santa Clarita for the night and I am driving back now," he said.
"The 5 is shut down because there is a new fire in Santa Clarita!" I exclaimed.
"Crap, yeah I know," he said. "I'm trying to figure out what to do, will probably come back."
We hung up the phone a short while later and I started to pack my things.
Then I saw an update from my friend Teresa on Facebook: new brush fire in Newbury Park!
OMG, no way, I thought. Newbury Park is right next to TO…and where my belongings still were in the hotel.
I sighed. I then made a new plan: get my belongings and come back to my apartment complex for good. It was better for me to be near the ocean water than in a hill that is burning.
I got on the road and the winds had picked up even more. Going up the grade, I smelled more smoke, almost like it was below me. The smoke smell was so strong that it was coming through the car vents. Crap, I thought, maybe I'll take the back roads home through the grade instead. Thrity-five minutes later I was in Newbury Park to check out.
As I waited in line to check out, I saw this woman ahead of me.
"Checking out too?" I asked.
"Yes," she said. "My husband and I are relocating to another hotel. Our house burnt down last night."
She opened up her cell phone and showed me an aerial shot of where her home used to be with tears in her eyes. I gave her a hug.
"It's ok," she said.
"How long did you live there?" I asked.
"Twenty-five years," she said. "We grabbed some belongings, the safe and the dog. That's all that was really important."
"I'm so sorry, you are in my thoughts and prayers," I said. "This is my first wildfire in a community I live in. Back home in Minnesota, I never dealt with something like this."
"No way!" Her face lit up. "What part?"
"Minneapolis area," I said. "You?"
"ST. PAUL!" she said with a big grin as she high fived me.
After we both checked out, she came up to me and thanked me for making her feel better. I gave her my number in case she ever needed a friend to talk to.
I took the side roads down the grade and prayed I would see no flames, which I didn't. Awhile later I got home safely, unpacked, ordered a pizza, took a shower, called my parents for the millionth time with updates and waited for nightfall.
At 6:30 p.m. I stepped out onto my balcony briefly. It was starting to smell like mild smoke and I snapped a photo of the west end Ventura hills still on fire.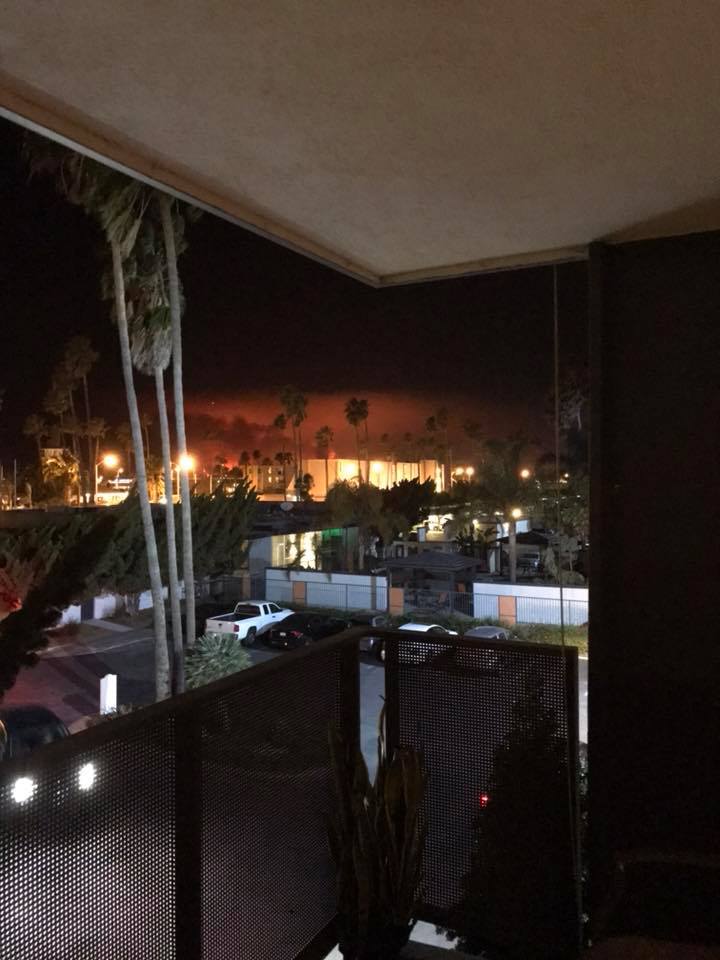 An hour later the flame was gone and the winds had already died down. Great! I thought. Now that the winds have died down, the firefighters can start beating this thing more effectively.
I literally closed my eyes at 7:30 p.m., I was beat. Then John called.
"Hello, hello! How are you?" he asked.
"Fine, tired. How are you dear?" I asked.
He proceeds to tell me he is meeting a news radio employee at one of the coast line parks, Faria Beach. Crap, I thought, it's spreading down the hillside to the 101 and heading west. After hanging up, I checked Facebook. Sure enough, it was spreading but had not jumped the freeway at that point. Below is a photo John sent me: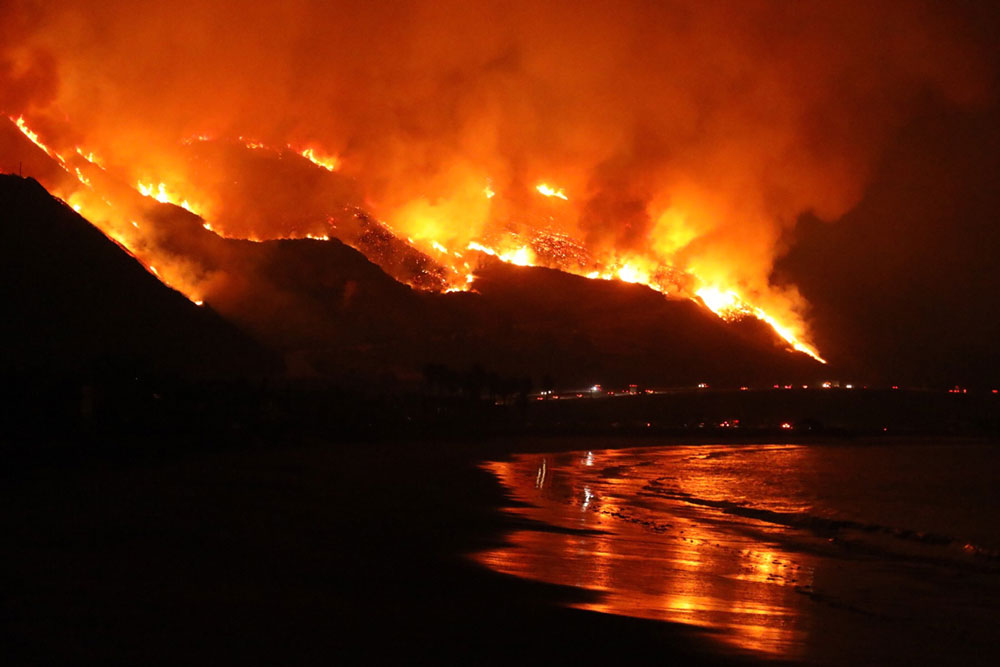 The rest of the night I was up and down about 3 times checking Ready VC and looking out my window.At that point is was at 50,500 acres and 0% contained. I slept much better though!
Day 1 – Monday, December 4
The weather for SoCal for the week was predicted to have high Santa Ana winds and issued a Red Flag Warning (potential fire danger) from Monday – Thursday. This did not alarm me, since we rarely get fires in Ventura County. My news reporter friend, John, had told me the last time the county had a bad fire was in the early 2000s and 1993.
Earlier I was about to fall asleep when the power went out before 10 p.m. I wasn't alarmed, I was assuming it would. After all, we were having 70 MPH winds! I called John.
"The power is out between Santa Barbara and east of Ventura County," he said. "Let me call you back."
I called my friend Ana, who lives a quarter mile from the Ventura hillside, asking if she was ok."
"Yeah girlfriend it's out!" she said. We talked a bit more and told her I'd be in touch.
That's some power outage, I thought. The power then went in and out before John called back with bad news.
"The fire that started in Santa Paula is coming up the hills towards Ventura and has taken out the power lines. It's also predicted it'll take out the cell tower," he said.
I was in shock. What?! I thought. I went out to my balcony and I will never forget it. I looked at the east end and started seeing a ball of fire roll over the hills. I looked above and there were gray clouds rolling towards the harbor area.
Oh, shit, I thought.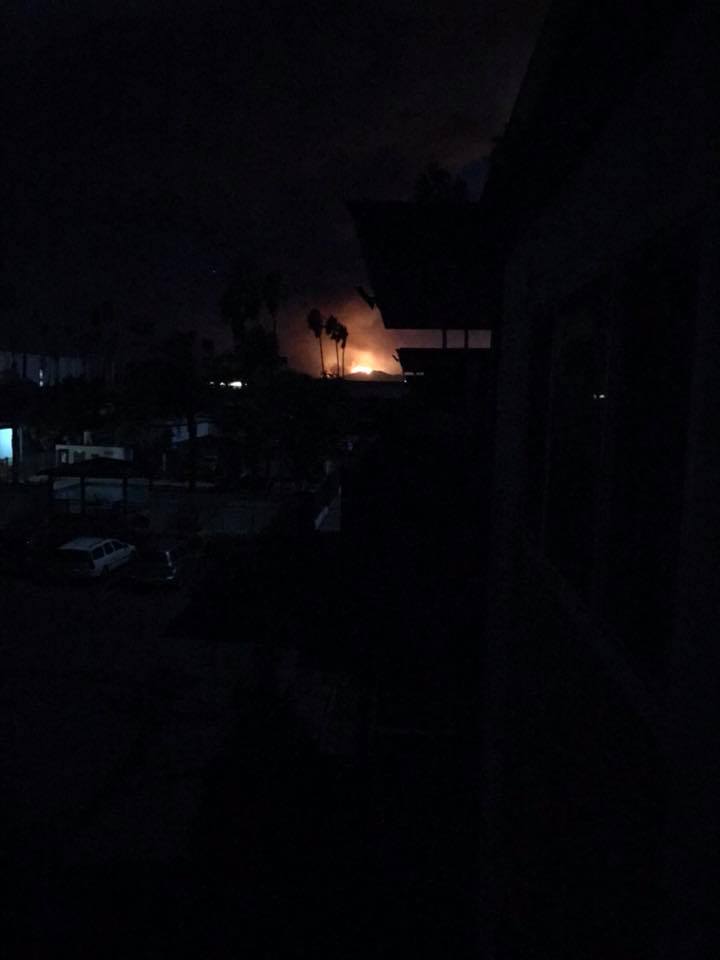 John called back. "The sheriff just held a press conference, he doesn't know when the power will be restored."
Second thought: call mom and dad and let them know what is going on, despite it being EST at 1 a.m. I am going to voluntarily leave just for a few days if necessary. I left because god knows when the power would've come back. When it comes to something like this, you just don't know and I prepared for the worst and safest situation.
I called my mom's line.
"I know it's 1 a.m. there, but there's somewhat of an emergency," I said. I explained my situation, then my dad woke up.
"Hey dad, you know how you kept saying what can you get my for Christmas?" I said. "Well, I need a hotel room for a few nights."
I immediately turned on my cell phone light – which at this point was almost dead – and started packing bathroom necessities, clothes, shoes, laptops – into a small suitcase and carry on. The winds were starting to pick up outside and it was cold.
I made my way out of my neighborhood in a daze after 11 p.m. I must've "ran" about 4 out of power stoplights. There were many cars pulled over in different spots to watch the inferno. I went as far as I could on the back roads before I decided to take an exit towards the 101 and head south. Watching the flames roll over the hills between Ventura and Camarillo left me in tears, heartbroken and helpless for the people that were evacuated and losing their homes that night. I will never forget that image.
In between this time I kept calling Ana to try and tell her to leave now. If anyone, she would be more affected.
Once I got up the grade to Thousand Oaks, I got off at the first exit (Wendy Drive) to try and find a hotel. A police vehicle blocked one side of it so that a line of cars could form to a gas station due to the power outages below the grade.
I stopped at the Hamptons Inn a few blocks down, only to find a swarm of vehicles.
"I'll take whatever!" I said to the front desk employee.
"Sorry, ma'am," she said. "We are full. We also called our other hotel chains around the area and they are booked. We are directing people towards Agoura."
For those who don't know, Agoura Hills is about another 15 minutes south from where the hotel was. I was in no mood to drive farther or be in high end winds, so I stopped at La Quinta Inn across the overpass.
At this point I heard from Ana, who had grabbed what she could, evacuated and started heading south.
"Come to Thousand Oaks, I am getting a hotel as we speak!" I said. At this point, it was close to 1 a.m. in the morning.
"Thank you, girlfriend!" she said. "See you soon!"
I stood in a short line and waited. Everyone looked scared, tired and sad. Finally I yelled out to the front desk employees and asked how many rooms they had left.
"Eight," one said. "It excludes online reservations."
A few moments later I was next. "You're fine," the employee said. "How many guests will be staying?"
"Two," I said. "I am not sure how long I should be staying here for though."
"Let's do it until Friday. If you don't stay the duration, we won't charge you," the employee said. I handed her my credit card and I was booked.
I went outside to meet and find Ana, who was a bit shaken. We both were. It was a sad, terrifying night.
We stared at the ceiling that night in shock and talked for a bit and slept, or tried to sleep. Only God knows why this happened. It's hard to sleep when a fire is burning a community you love and bond with.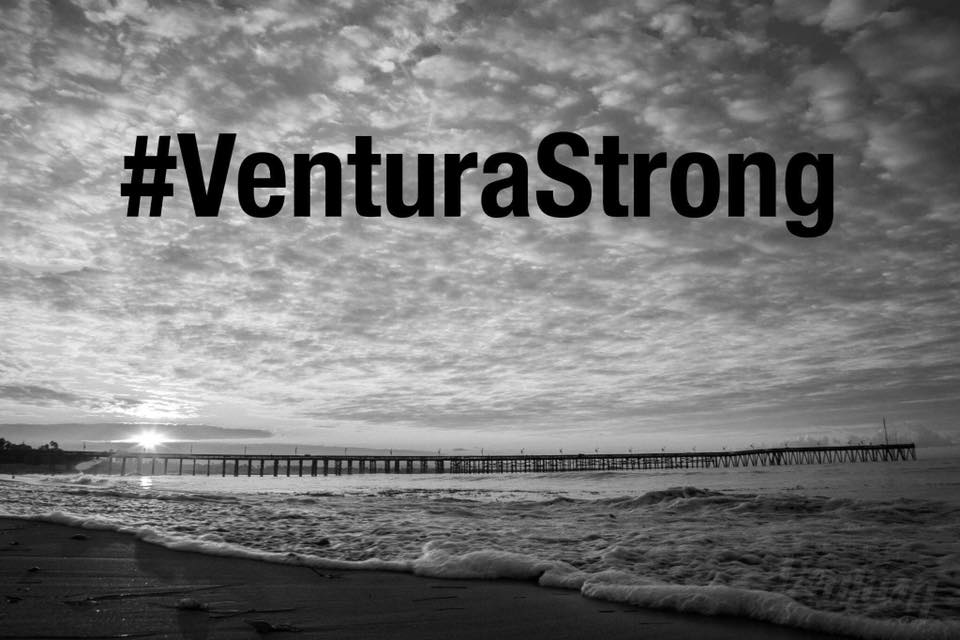 Photo credit: John Palminteri, Noozhawk, Downtown Ventura, LA Times, Ventura County Fire
SaveSave
SaveSave
SaveSave
SaveSave
SaveSave
SaveSave
SaveSave
SaveSave
SaveSave
SaveSave
SaveSave
SaveSave
SaveSave
SaveSave
SaveSave
SaveSave
SaveSave
SaveSave
SaveSave
SaveSave
SaveSave
SaveSave
SaveSave
SaveSave.
SaveSave
SaveSave
SaveSave
SaveSave
SaveSave
SaveSave
SaveSave
SaveSave
SaveSave
SaveSave
SaveSave
SaveSave
SaveSave
SaveSave
SaveSave
SaveSave
SaveSave
SaveSave
SaveSave
SaveSave
SaveSave
SaveSave
SaveSave
SaveSave
SaveSave
SaveSave
SaveSave
SaveSave
SaveSave