On my recent 4 day vacation to Arizona/Utah/Nevada (which I will talk about later as one big happy blog post), one of the stops included an overnight stay in Las Vegas on October 2, 2017.
We all know what happened in Las Vegas the night before and I don't feel the need to re-explain something that is still active in the news and is hurting so many Americans. So I decided to make this a separate post to share my thoughts and feelings about what it was like being at the scene at Mandalay Bay and why I went there.
I really didn't know what was going on until I woke up to a 4 a.m. text while I was staying at a hotel in Utah from my co-worker, asking if I was okay and if I was in Las Vegas. I learned via my Facebook News feed what was going on. I was shocked and numb. The third day of my vacation was the one I was looking forward to the most, because we were going to Bryce Canyon National Park, Zion Canyon National Park and then an overnight stay in Las Vegas. I hadn't been to Vegas in a few years. As I got ready (we had to be on the bus by 6 a.m.), I just felt so sad for the victims, their friends and family members.
Once on the bus, the tour guide informed us that he "didn't know if we could get into town" that night and that the tour bus office was keeping him updated. We were staying at Circus Circus (north end of the Strip) and Mandalay Bay is on the south end. I kept thinking, do we really need to stop in Vegas overnight?
We went to Bryce Canyon and Zion and I enjoyed my time as much as I could. I took in the scenery to be at peace, as did my other passenger friends I had made. By the time we left Zion and got some lunch, the tour guide informed us that we would be okay to still stay the night in Vegas and that all shows were canceled that night. Originally, I had gotten a meet n greet ticket to see the Kendra Wilkinson show.
As we drove, we passed through the murderer's town of Mesquite, Nevada. From the bus, it was in the middle of no where in the desert and small, but I did see some nice homes as we drove through. I later learned there are a lot of people that come there to retire.
As we got closer to Las Vegas, I felt anxious and sad as I saw the hotels in the distance, not because I felt like something else bad was going to happen, but because I was coming into a city that's known for bright lights and entertainment. Now they were facing the darkest sadness it has ever experienced. Even though it was sunny out, it was like a cloud was hovering over the city.
Prior to arriving, I saw a couple of my media friends on Facebook were in town covering the story (Note: I will not identify the outlet). I messaged them to see how they were holding up and mentioned I was in town. They encouraged me to come down to where they were to say hello, as they were still working. They told me not to worry as everything was safe and tightly secure, it would be okay. After I checked into the hotel, I freshened up, took a deep breath, caught a taxi and told the taxi driver to drive me to Mandalay Bay.
I asked the taxi driver how he was doing today. He said that the city was sad and quiet and still couldn't believe what had happened. I asked if he knew of anyone that was at the concert. He said no and took a deep sigh. I put my hand on his shoulder and offered some comfort. He informed me that I was his first passenger heading to that hotel the whole day. He had to take the back roads to the hotel because it was still blocked off on Las Vegas Blvd between Tropicana and Sunset.
The cabbie dropped me off underneath the parking garage at the hotel. I had to make my way back up towards the street because you couldn't access the hotel from the main drag. More on that in a minute.
I found my media friends at the media staging area near Luxor hotel, across the street from Mandalay Bay and where the concert was held. At that time, the FBI and police were still taking bodies from the scene I was told.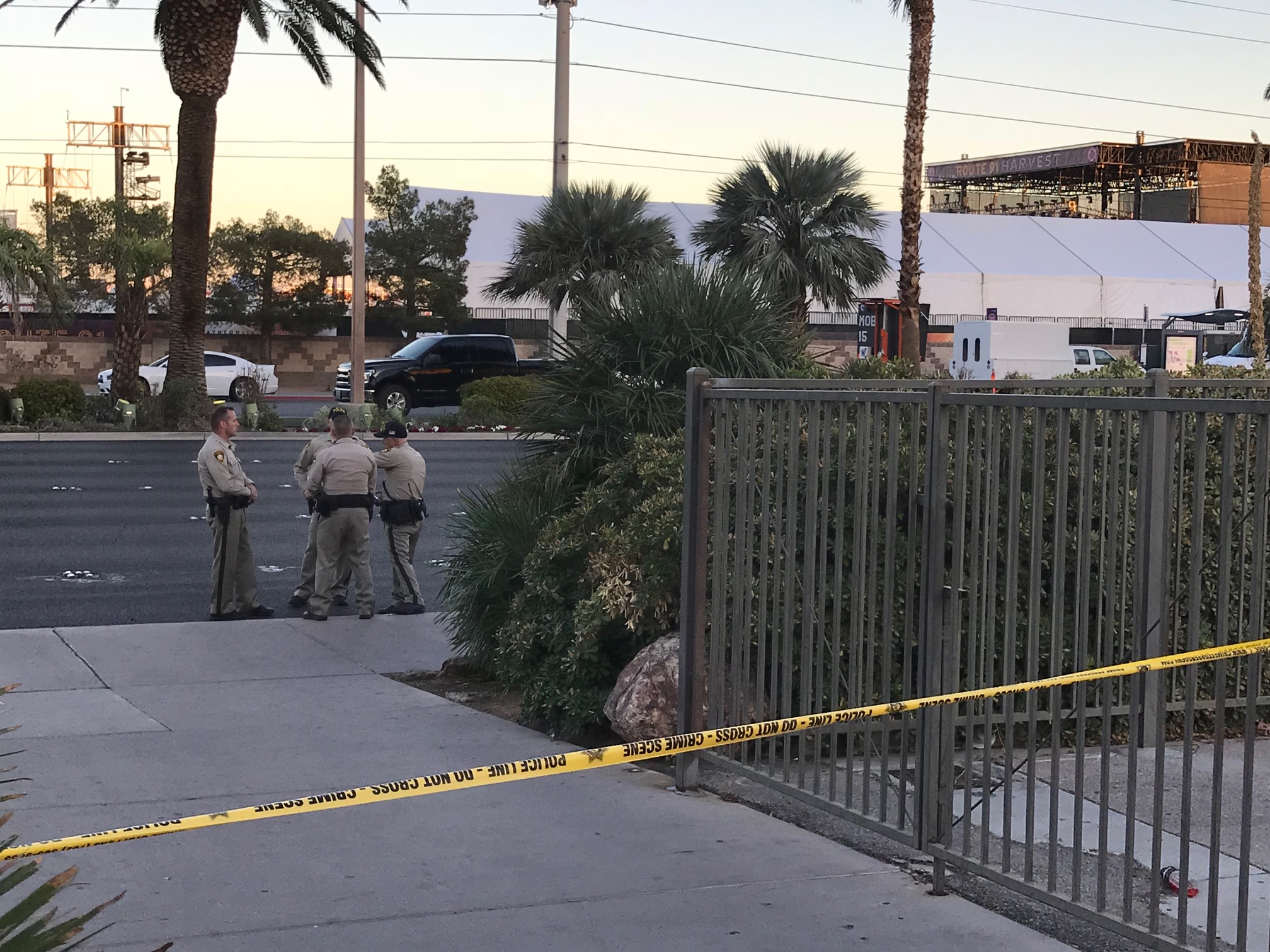 All I can tell you as I saw what was going on around me – from the First Responders to the shot out windows to the concert scene – was I felt a numb sadness. It was the same sadness when the 35W Bridge collapsed in Minneapolis in 2007. I was working at the TV station at the time and I visited the scene once I got off my shift. It was the same feeling. It's like, all I wanted to do was cry, but I couldn't let go. I was just so stunned.
The second feeling was thinking about the lives that were lost, the injured, their family and friends. The third feeling was watching all of the hard working First Responders try to find answers and help out the community, family members and the media in any way they could. Their emotions have to be running so high.
The fourth feeling is this: I am standing in an aftermath scene that is being considered the deadliest mass shooting in the history of the United States. This is crazy what has happened. This should have never happened. What are we doing here?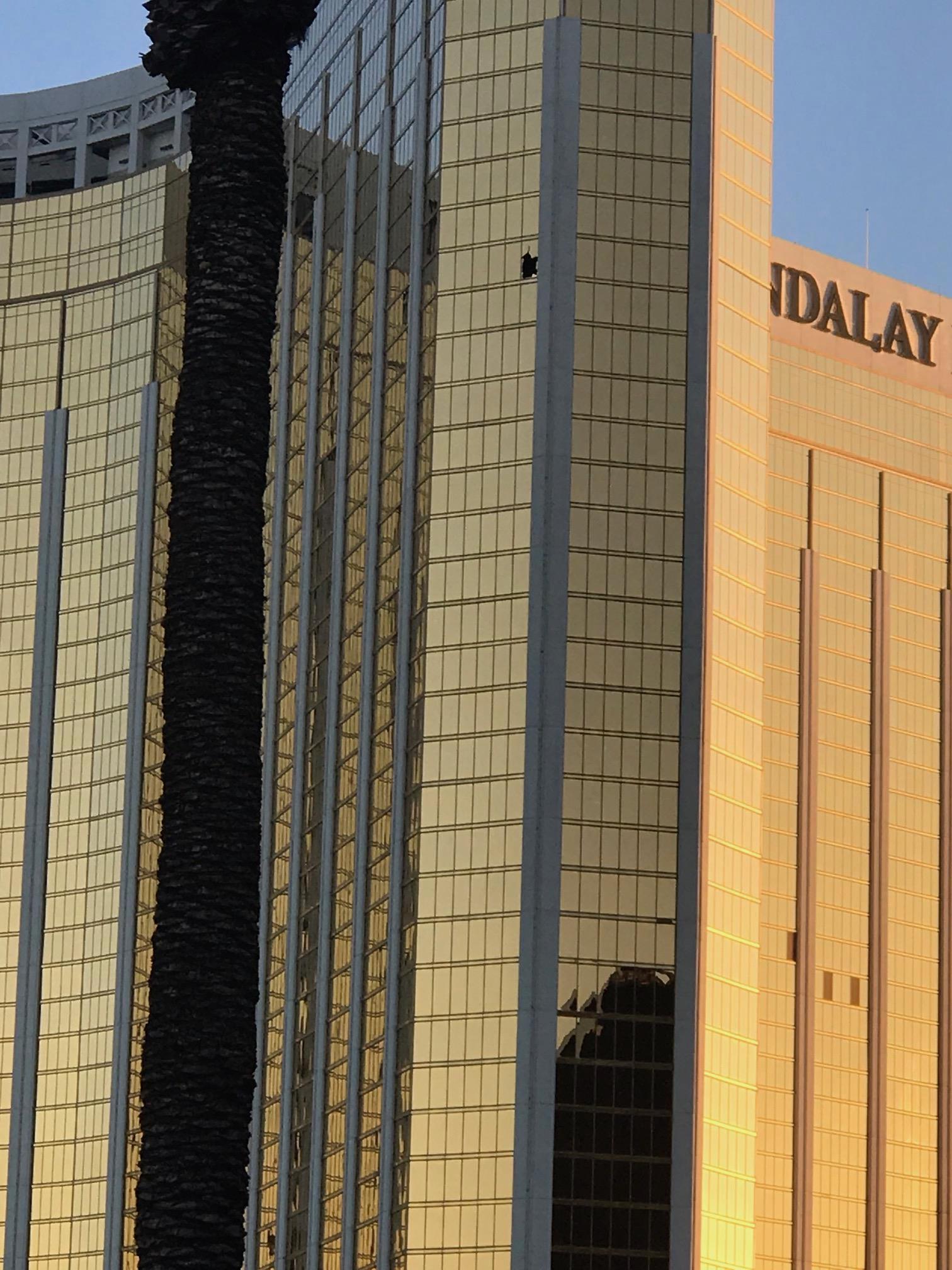 My media friends then decided they wanted to try and see if they could get to the 32nd floor of Mandalay Bay, despite it being reported that there was no access (that's a real journalist for you, you try no matter what). We went back underground into Mandalay Bay. Even though the slot machines were ringing, people were laughing at the bar and people were cheering at the Blackjack tables, being inside was just eery. It felt quiet despite some noise, I don't know how to explain it, it's a mindset. That's when we went across the hotel to the main doors and saw that you couldn't get in or out of the hotel. It was also near the lobby and elevators.
My friends could not access the 32nd floor (I waited outside of the elevator door area, it was too eery for me) because the button to go to the floor had been disabled. You also could not access it via the stairway.
We took the tram back to Luxor and got out. That's when I noticed more journalists, police and people looking up at Mandalay Bay. I saw a girl with glasses lay her head down on the cement barrier with tears in her eyes. Everyone was just silent.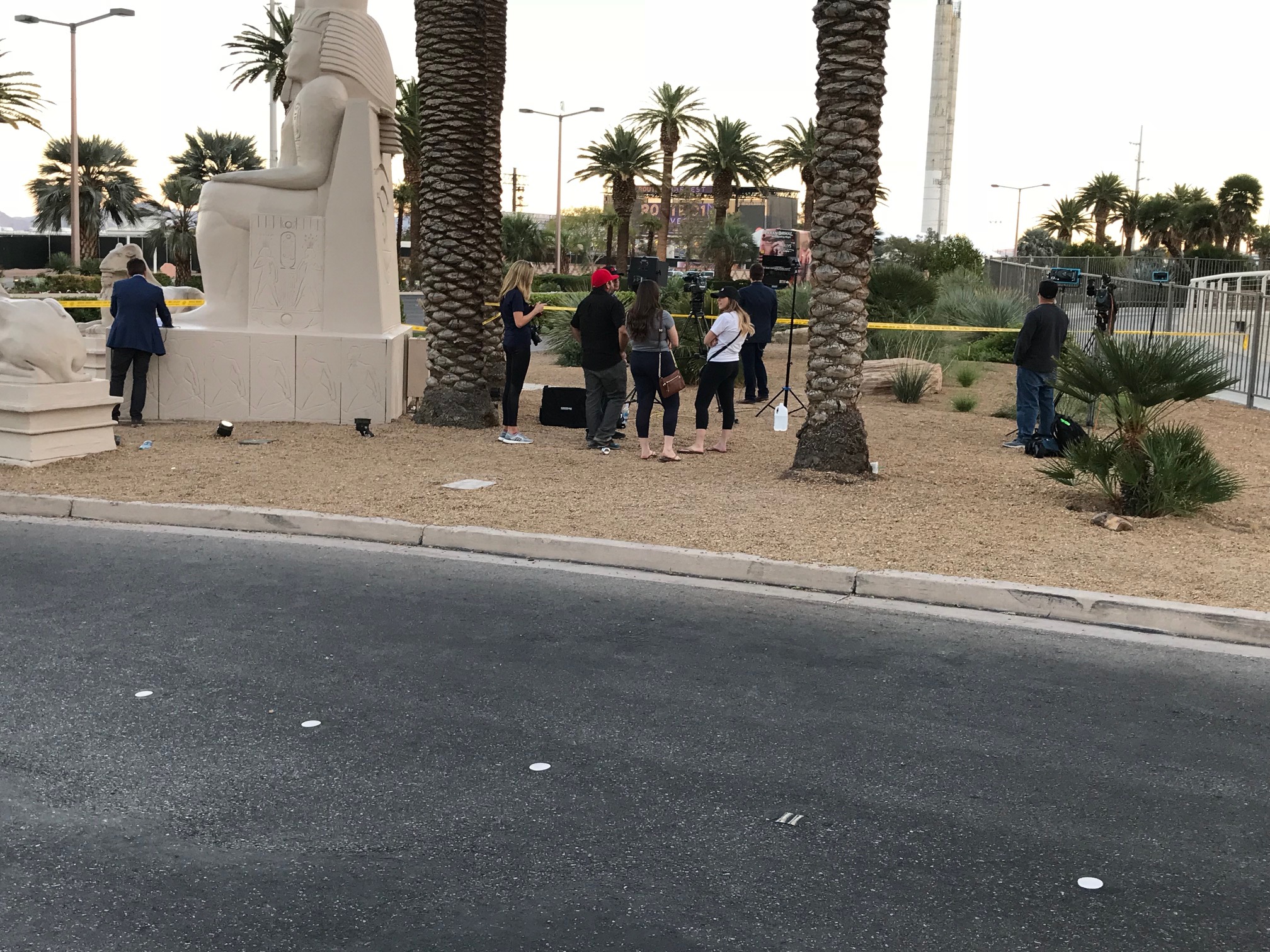 I paid my respects and said goodbye to my friends, as they had to get back to work. On my way back towards the Strip, I saw a police officer motion people to walk or stop. I waited my turn, then looked at him (he's pictured below in the photo right before I crossed).
"Thanks for all that you do," I said with gratitude as I shook his hand.
"Thank you ma'am, it means a lot," he said.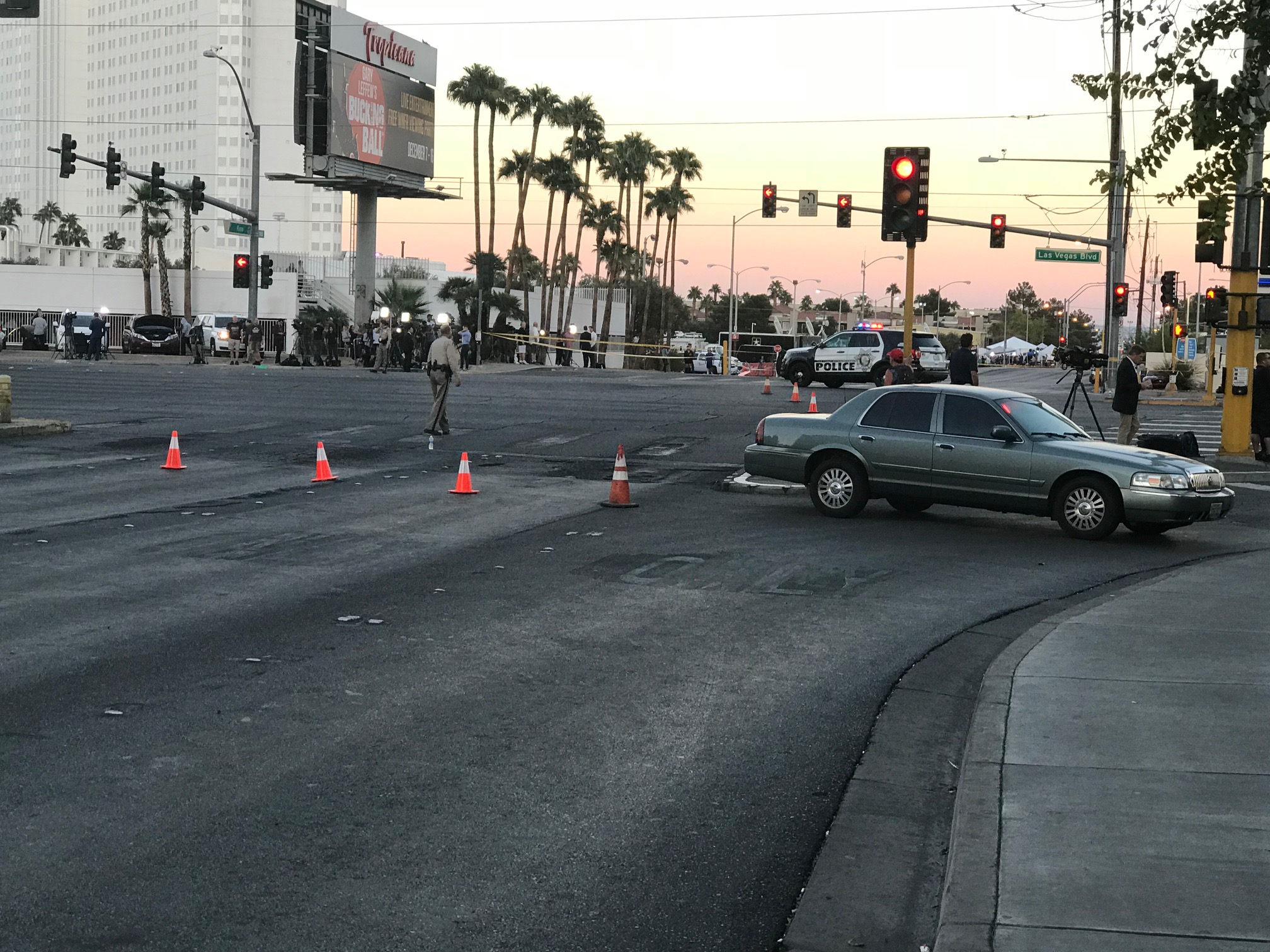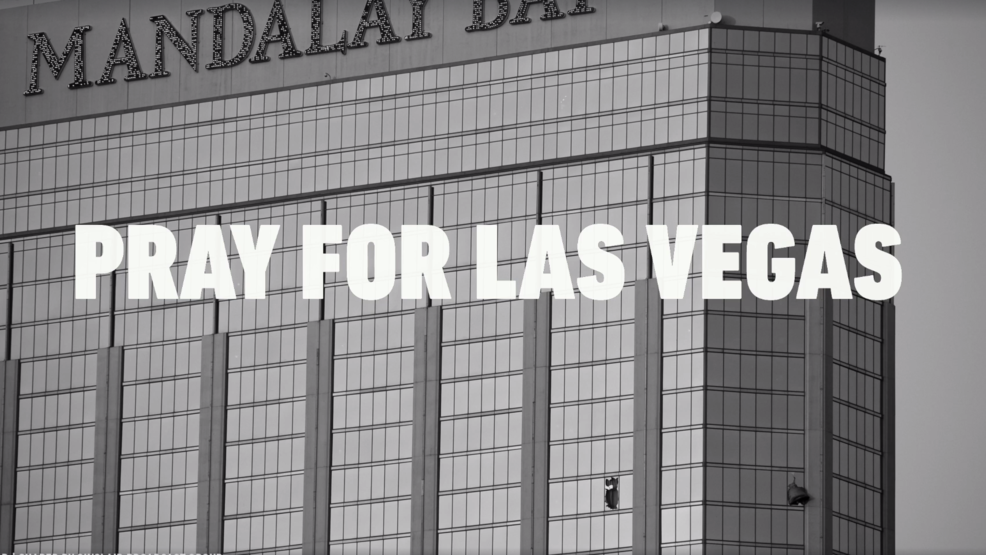 To donate to all of the victims, click here.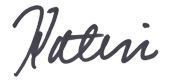 Photo credit: KSNV
SaveSave