My friend Nicole is a cheese fanatic and keeps raving about a cheese shop in Sherman Oaks called Cheesemongers. The shop offers 4 cheese classes, so when I got an alert in their newsletter that they were offering their beginners class, Cheese 101, I immediately jumped on it and bought a ticket. These classes are so popular and sell out fast! The cost with tax came to $43 for one person and seats about 12 people. They are also only held on Sunday evenings.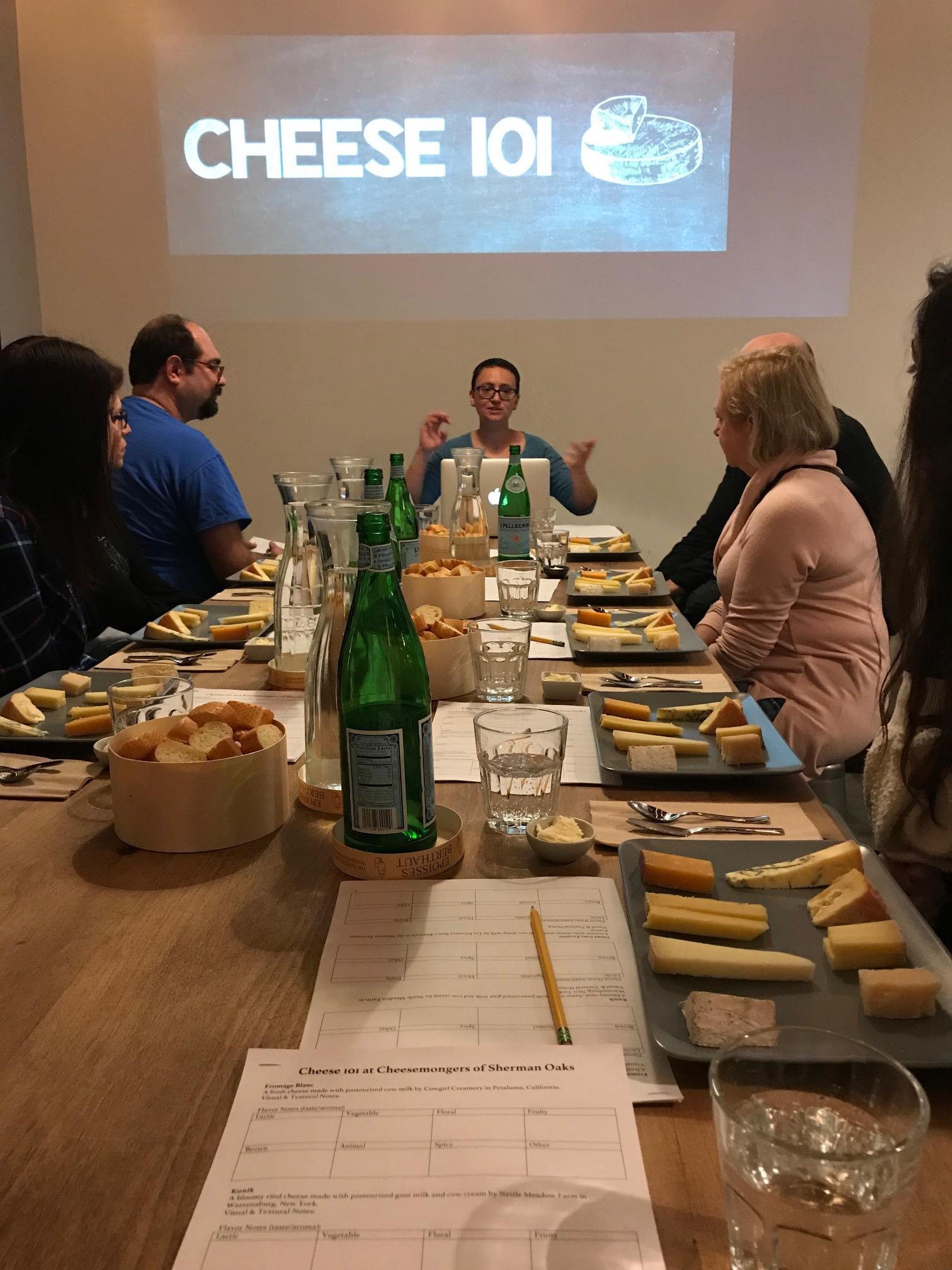 I had an hour long drive to get to the class, but trust me, it was worth it! According to the website, Cheesemongers features 80 different artisan and farmstead cheeses. They also have a variety of cured meats, local honey, jams, olives, crackers, chocolates, oils, vinegars and nuts.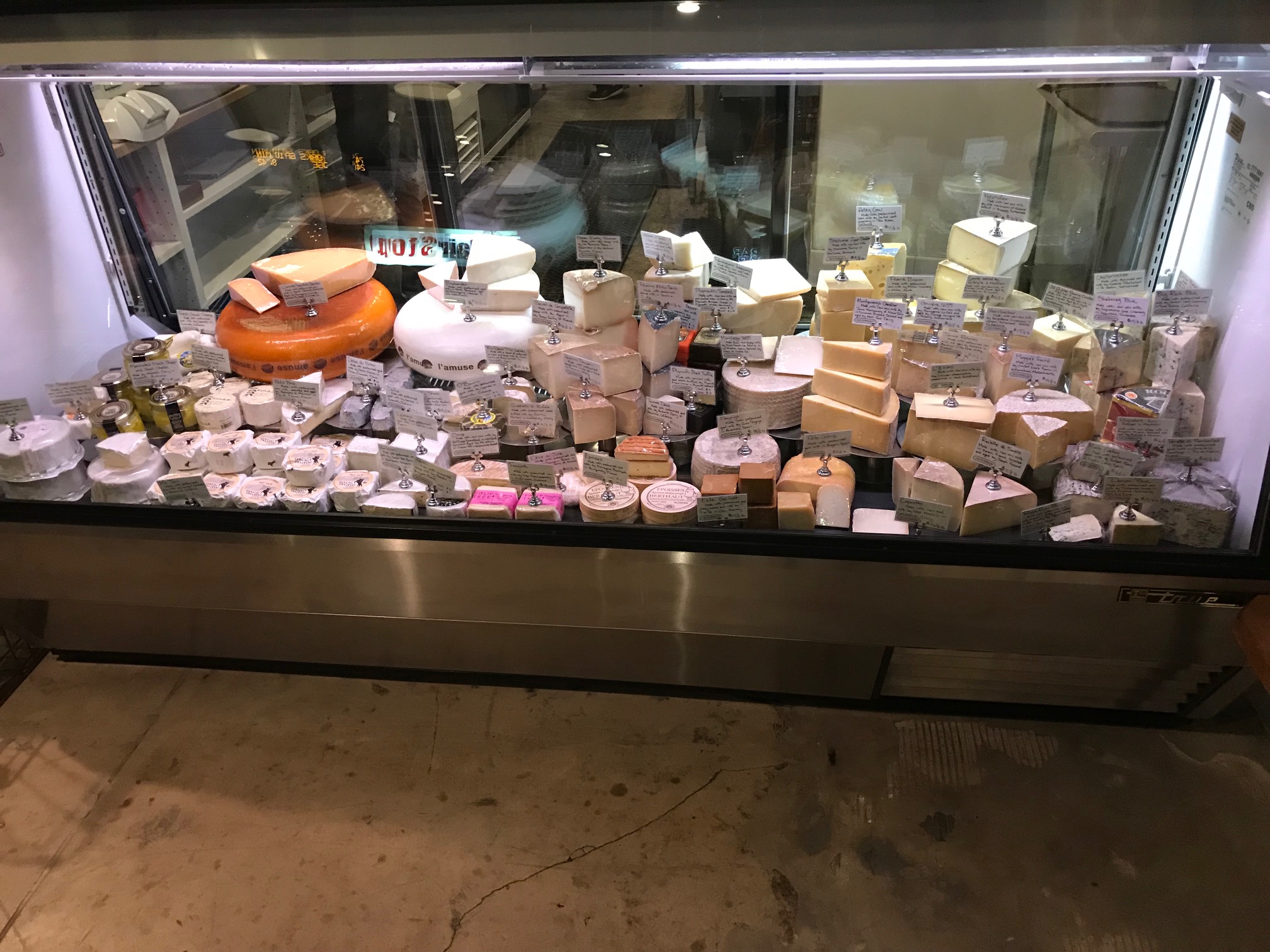 I am not going to tell you all of what was said in the class (plus if you want to take it, I want you to be surprised) because trust me, there was so much information to take in, but I will tell you some interesting facts I learned about cheese during the tasting:
Cheese is nutrient dense and only has a quarter of cholesterol.
Because of the flora/fauna in raw cheeses, it can help with digestion, allergies and acts as a probiotic.
Cheese is made of milk, cultures, rennet and salt.
All cheese is salted and done in a variety of ways, most of the time at the end of the process.
Most cheese is aged for only a few weeks.
The class featured 8 different styles of cheese to taste while the instructor discussed how the cheese is made and their flavor notes, visual and textural notes. We were all given a handout to jot down these notes and the Le Gruyere Aroma Wheel. We were instructed to touch, smell and breath and exhale when tasting.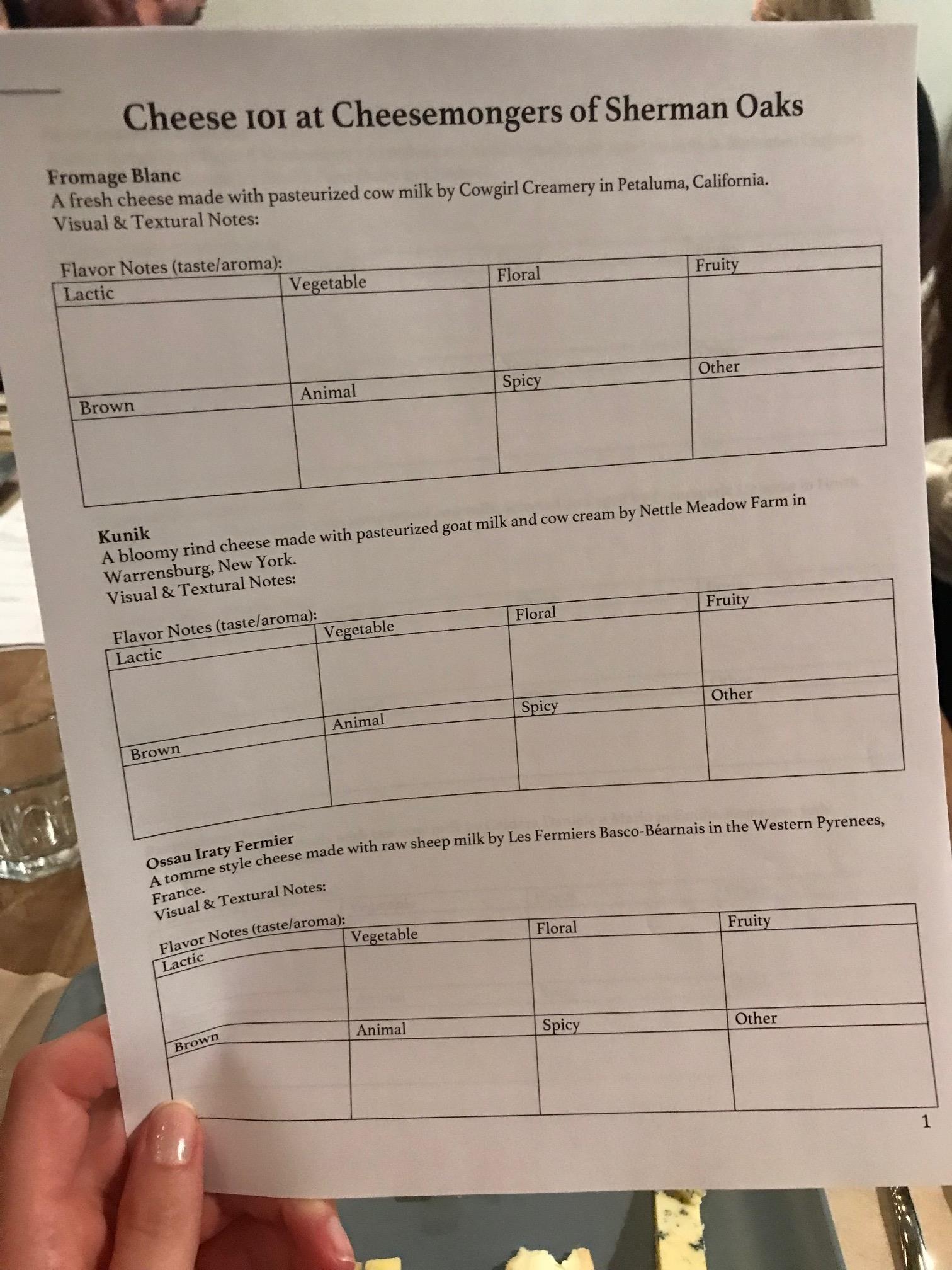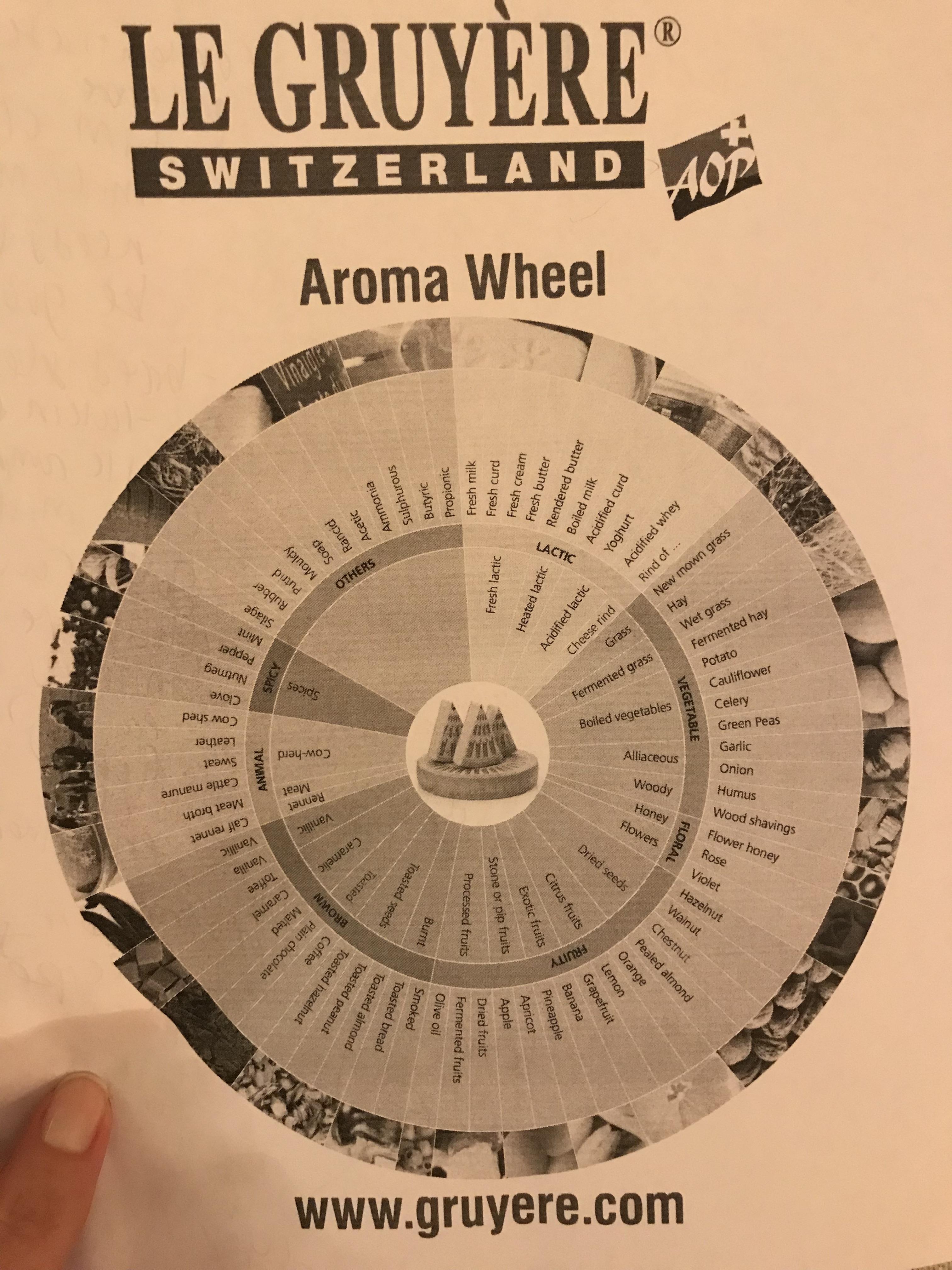 From left to right top to bottom, I tasted the following: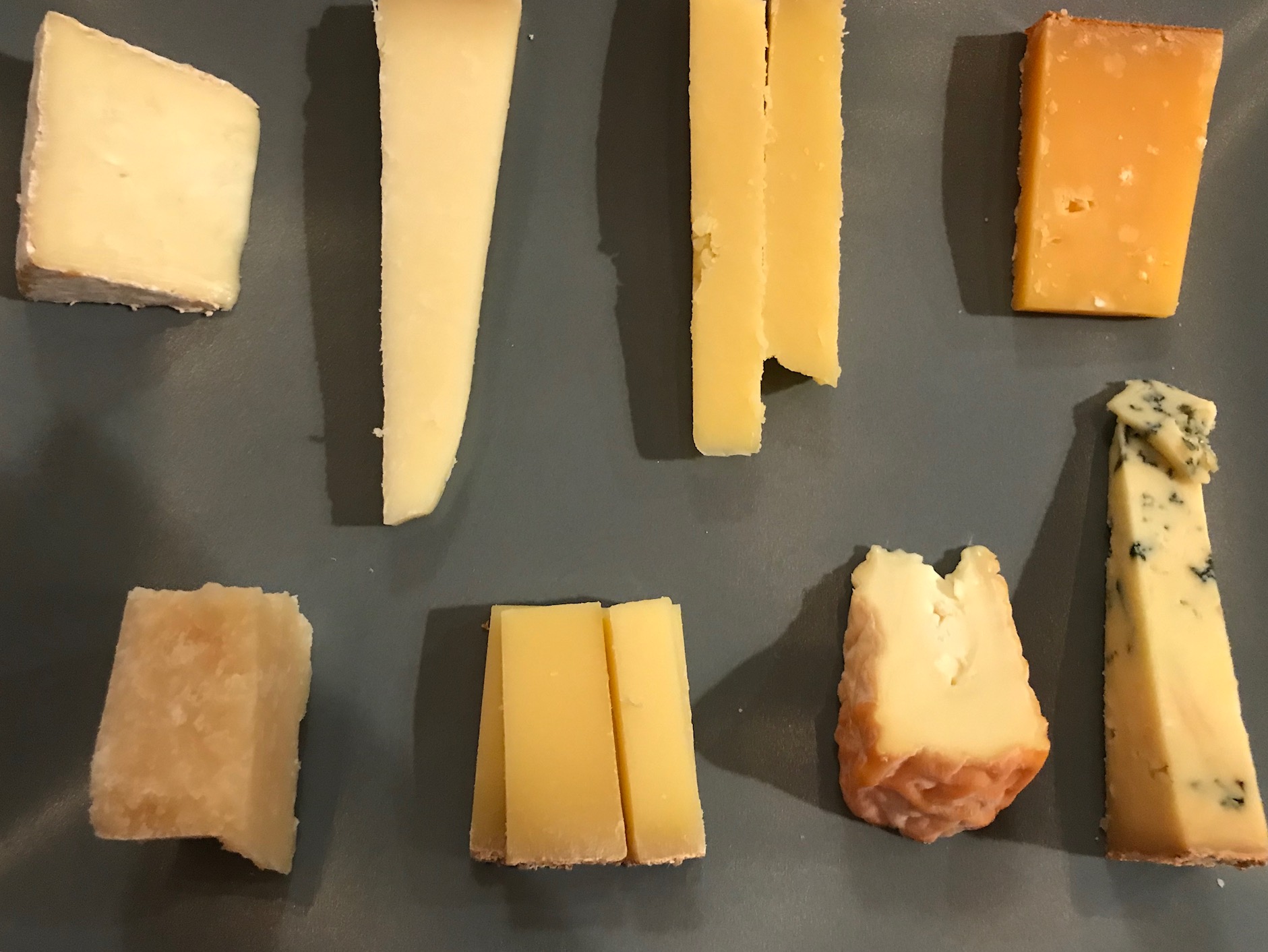 Kunik – Warrensburg, New York. A bloomy rind cheese made with pasteurized goat milk and cow cream. It had an ash burnt, grassy and buttery flavor. This was my favorite one out of all 8 that I tried and adored it on the bit size baguette bread that was provided, as seen below. I ended up buying this flavor ($20 for a pound) before I left the store.
Ossau Iraty Fermier – Western Pyrenees, France. A tomme style cheese made with raw sheep milk. This flavor had hints of pineapple, baked potato and mushroom and tasted a bit nutty.
Montgomery's Cheddar – Somerset, England. A traditional clothbound West Country Farmhouse Cheddar made with raw cow milk. The instructor said that only a handful of traditional cheddar is made in Somerset and this brand is one of them. It had hints of green pepper and horseradish and tasted slightly bitter and earthy.
L'amuse Signature Gouda – North Holland, Netherlands. A gouda style cheese made with pasteurized cow milk. I picked up some crystallization due to the aged refrigeration process and some orange as well.
Parmigiano Reggiano – Emilia-Romagna, Italy. A grana style cheese made with raw cow milk. When I saw the video of how this cheese is made, these cheesemakers better be getting paid a lot of money, it looked complicated! I learned it takes 6 gallons of milk just to make a wheel of this cheese, so I also hope the cows are being spoiled! I picked up some pineapple and sour notes along with toasted bread. I couldn't eat too much of this one, I would much prefer it on top of spaghetti!
L'Etivaz – Vaud Alps, Switzerland. An alpine style cheese with raw cow milk. The instructor told us this is a cheese you will either love or hate. I couldn't stand it, this was my least favorite cheese. It had hints of onion, truffles, banana and nutmeg and tasted a bit meaty. It tasted so strong!
Epoisses – Burgundy, France. A washed rind cheese made with pasteurized cow milk and washed in Marc de Bourgogne. Known as the "stinky cheese," this cheese tasted a bit buttery, sweaty and bitter. I could not enjoy this one without having it on some bread!
Colston Bassett Stilton – Nottinghamshire, England. A blue cheese with pasteurized cow milk. This was my second favorite cheese, I absolutely adore blue cheese! I usually have bleu cheese crumbles on top of a salad with oil and vinegar, but this bleu cheese was very creamy, absolute heaven. It tasted a bit bitter and toasty and had hints of pear, pepper and horseradish.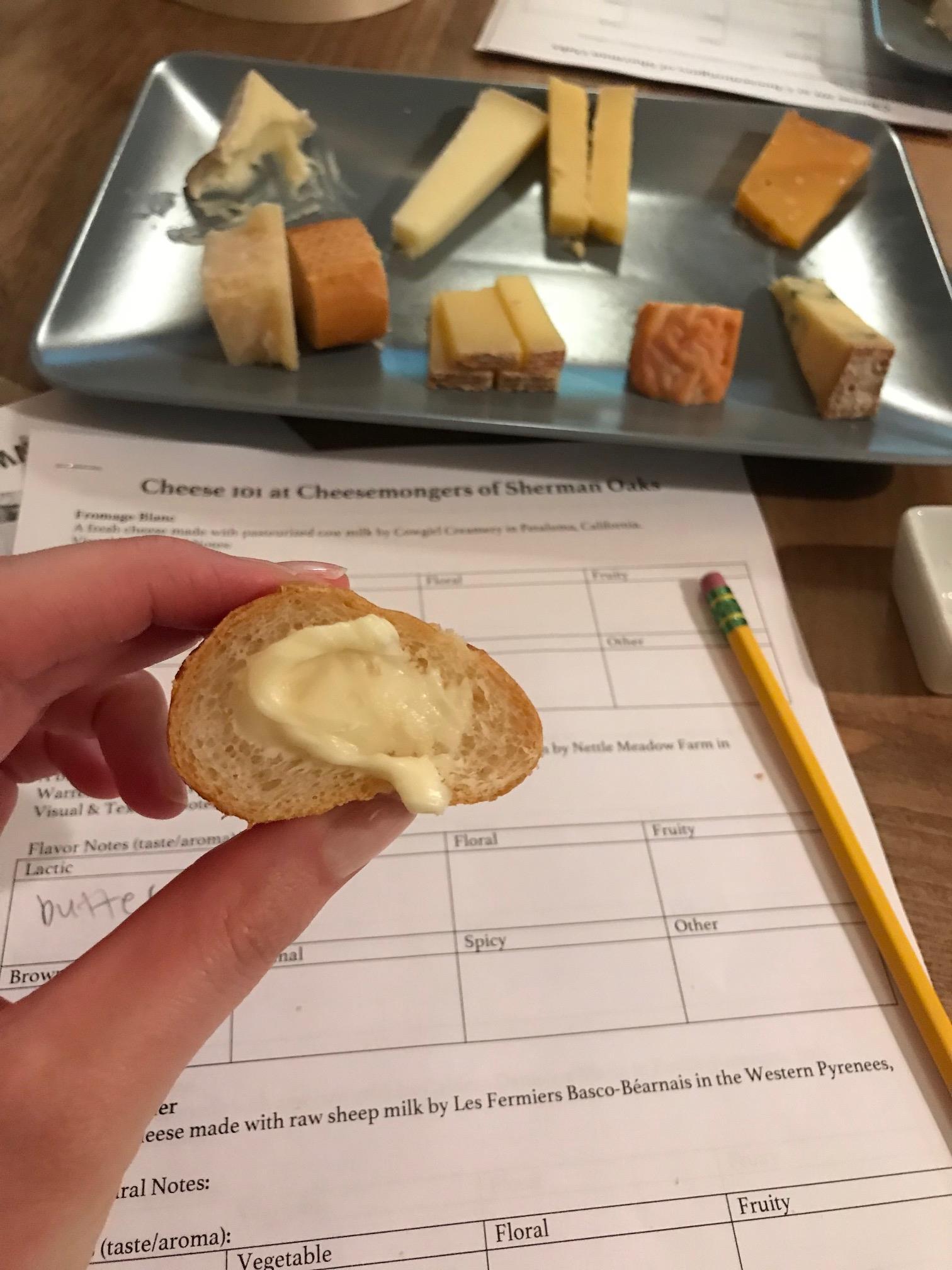 I definitely recommend this class if you want to get your feet wet and discover what types of cheese you are into. I was even surprised at myself with the new types of cheese I now like!
BTW, the other 3 classes are called Brie and Beyond (Nicole's favorite), Cheddars and Alpines, and Goudas and Blues. Again, you have to subscribe to the Cheesemongers newsletter to be informed of when a new class is being hosted. 🙂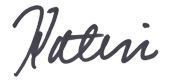 SaveSave
SaveSaveSaveSave
SaveSave
SaveSave
SaveSave