Every week, my goal is to cook something different that is delicious and healthy. After I went through all of Maria Menounos' "The EveryGirl's Guide to Cooking" book, I went to my local bookstore and searched online for even more healthy recipes, but I couldn't find any that I was really interested in. I decided to search on Pinterest and low and behold, I found a ton of healthy food bloggers!
Below are just some of my favorite food bloggers that I follow and recipes that I have made. I have links to their home pages and also links to the recipes from their sites.
Keep checking back on this post to see more updates with different food bloggers and more added recipes with my personal opinions as I discover them! 🙂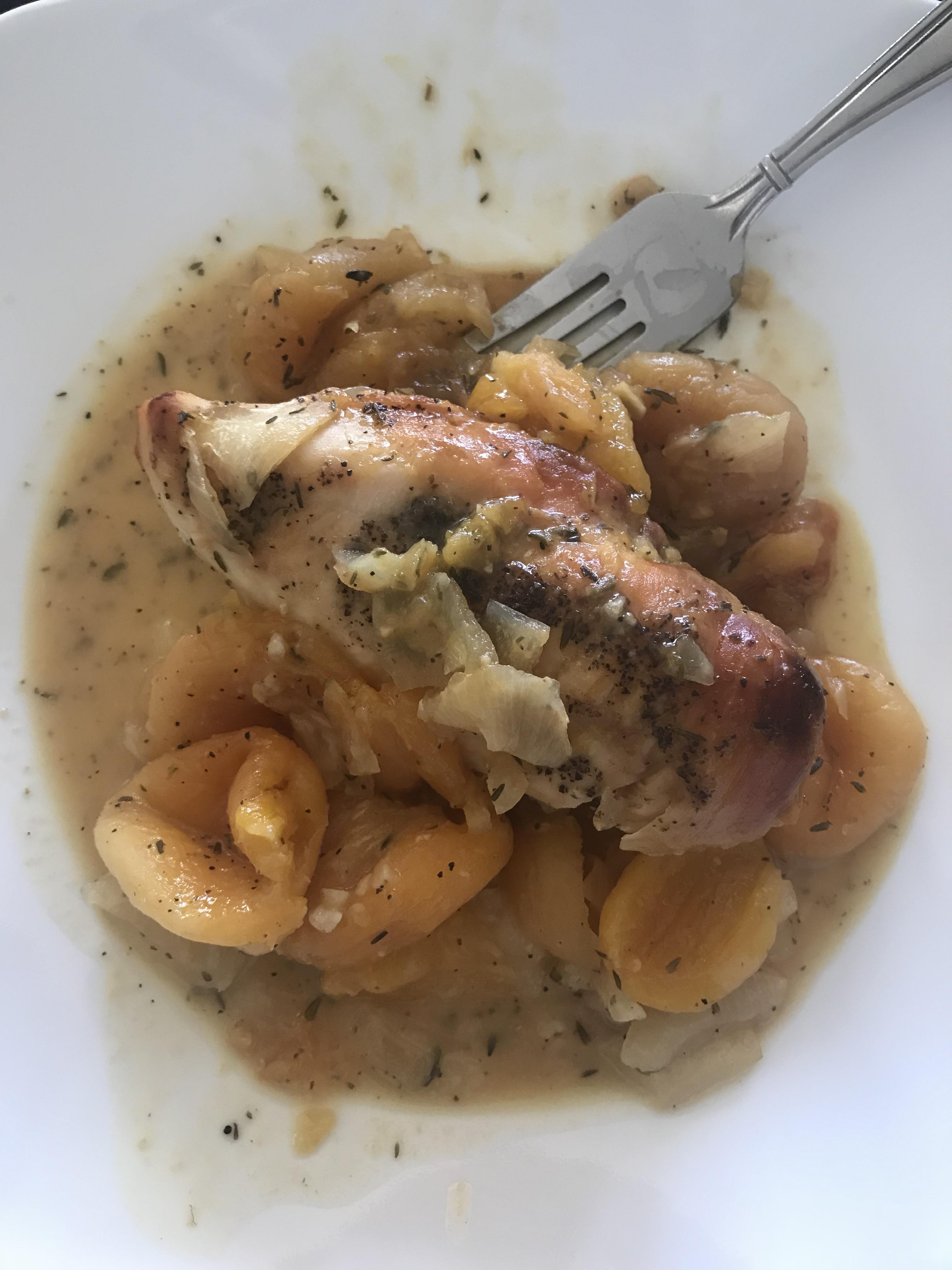 This is an absolute must make. Blogger Kathryn created this amazing Slow Cooker Apricot Chicken and I am hooked. The mixture is so sweet n tangy that it leaves me wanting another round! It has chicken breasts (the recipe calls for thighs but I used breasts), dried apricots, lemon juice, lemon zest, thyme, onion, chicken broth and garlic. Thanks for making such a wonderful creation!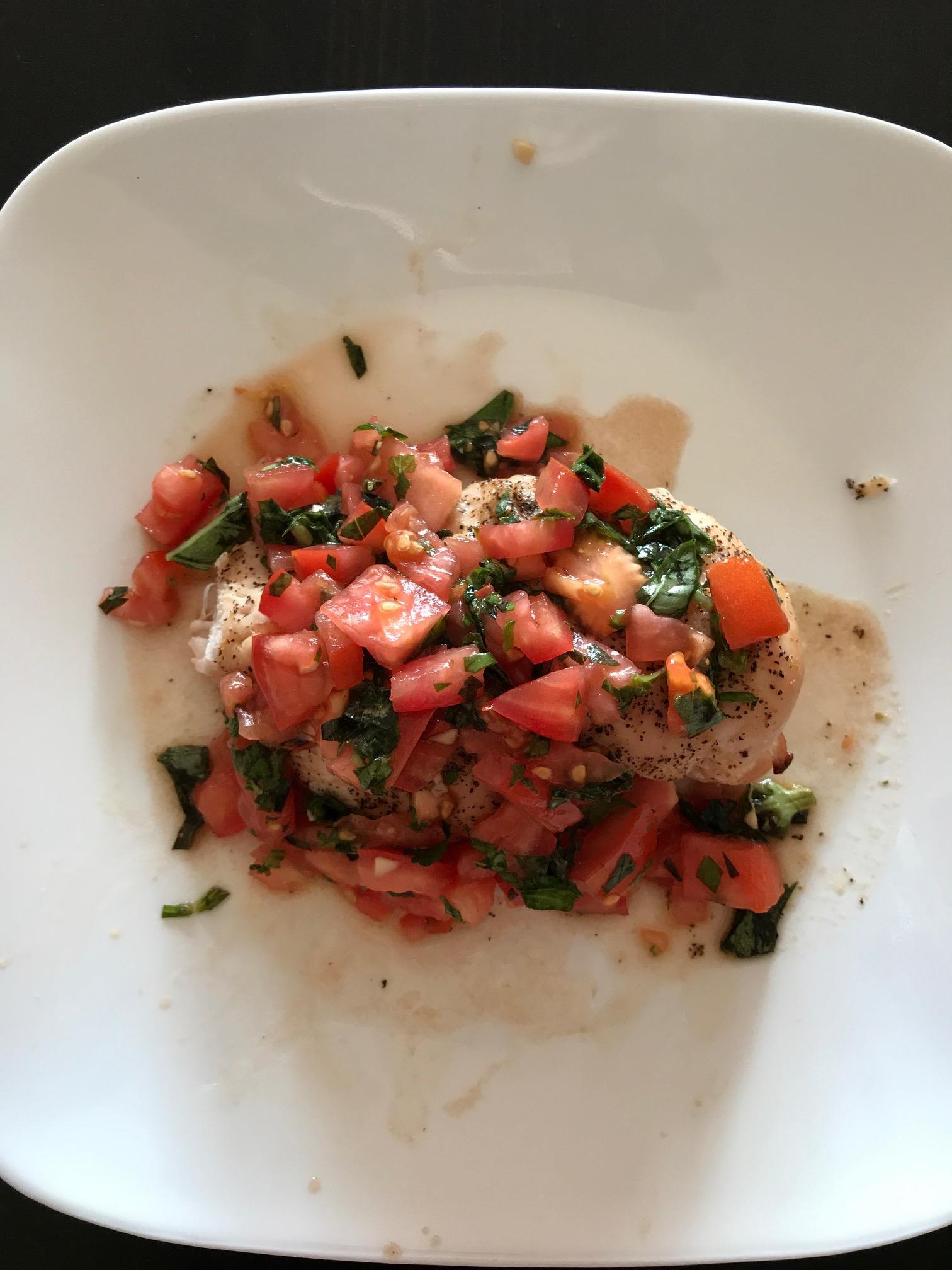 This Skinny Bruschetta Chicken from blogger Allyson is so incredibly good! I rubbed some pepper and garlic salt into the chicken before baking it along with some olive oil and lemon. The bruschetta is made from fresh tomatoes, garlic, basil, olive oil, pepper, salt and balsamic vinegar. I can't wait to make this dish again for all of my friends!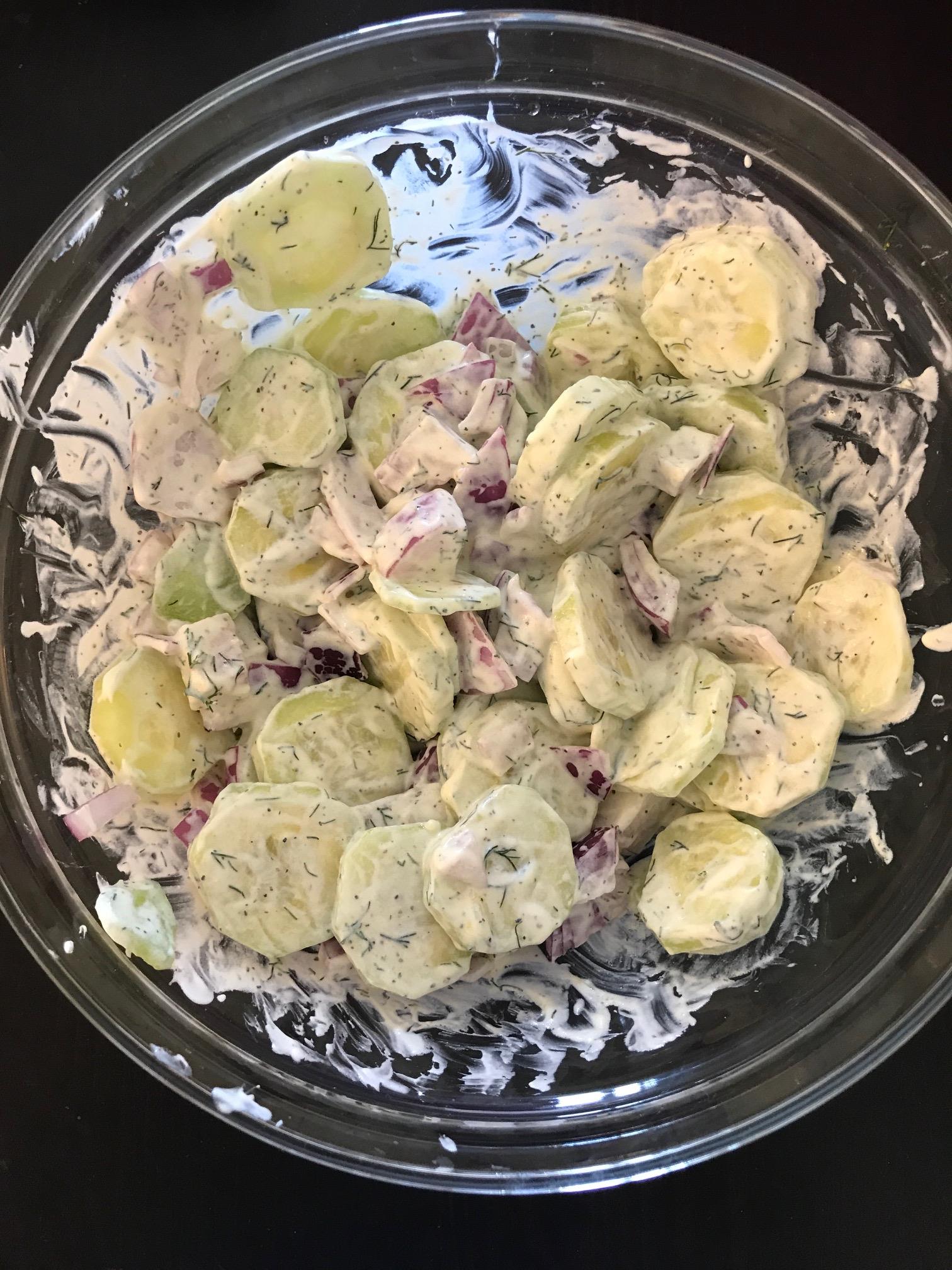 My mom used to make her version of a cream cucumber salad, so when I found blogger Maya's recipe on Pinterest, I knew I had to try it. It's also low carb and gluten free. It has cucumbers, red onion, low far sour cream, fresh dill, olive oil, lemon juice, garlic powder, salt and pepper. It's great for lunch or on a hot day!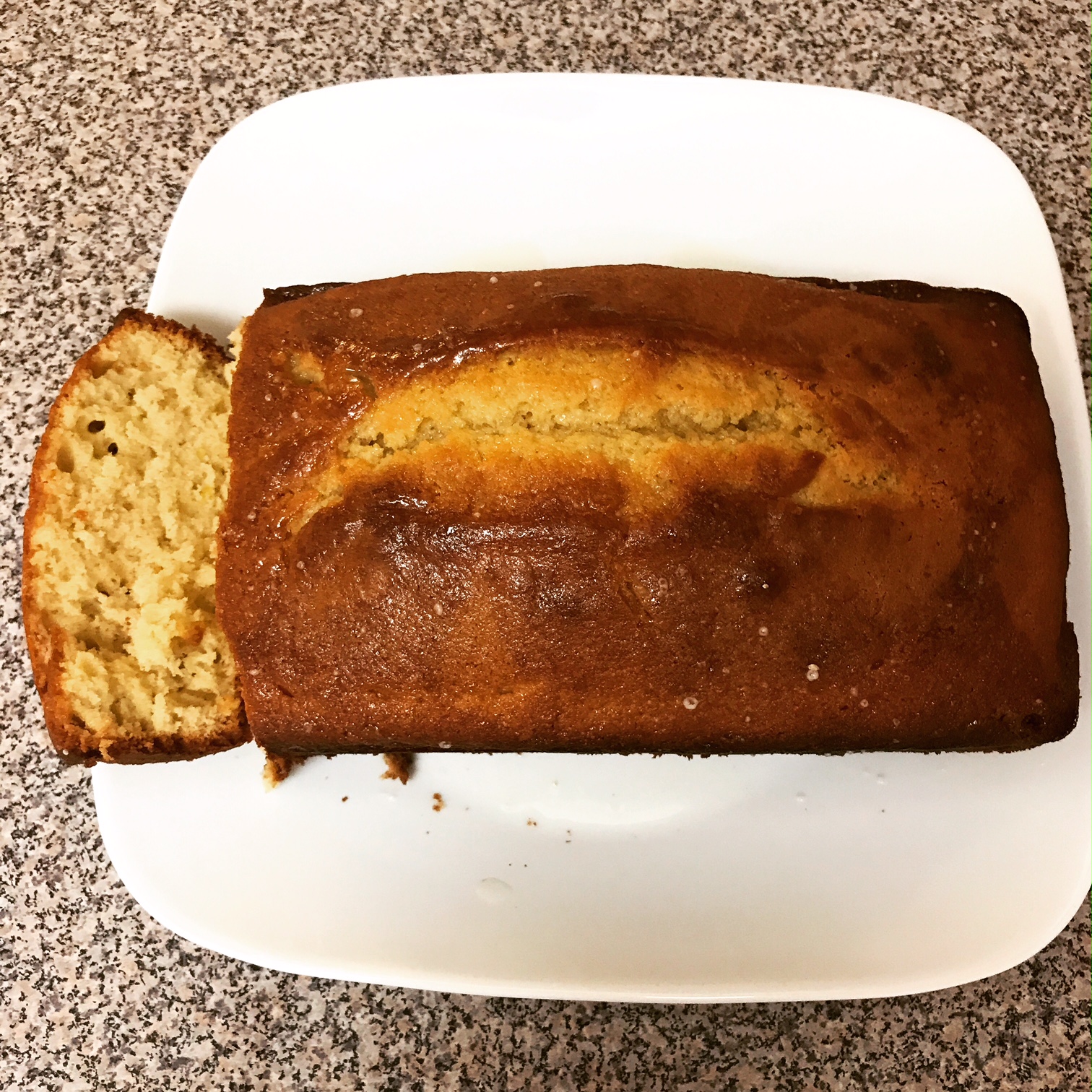 I love lemon anything, so when I found this Glazed Lemon Pound Cake Loaf, I knew I had to try it. I also like making these kinds of loaf cakes/breads for client meetings! The thing I really liked about this recipe was that blogger Jennifer is very specific on what the temperature should be for some of the ingredients and trust me, it really helped with the flavor and baking process.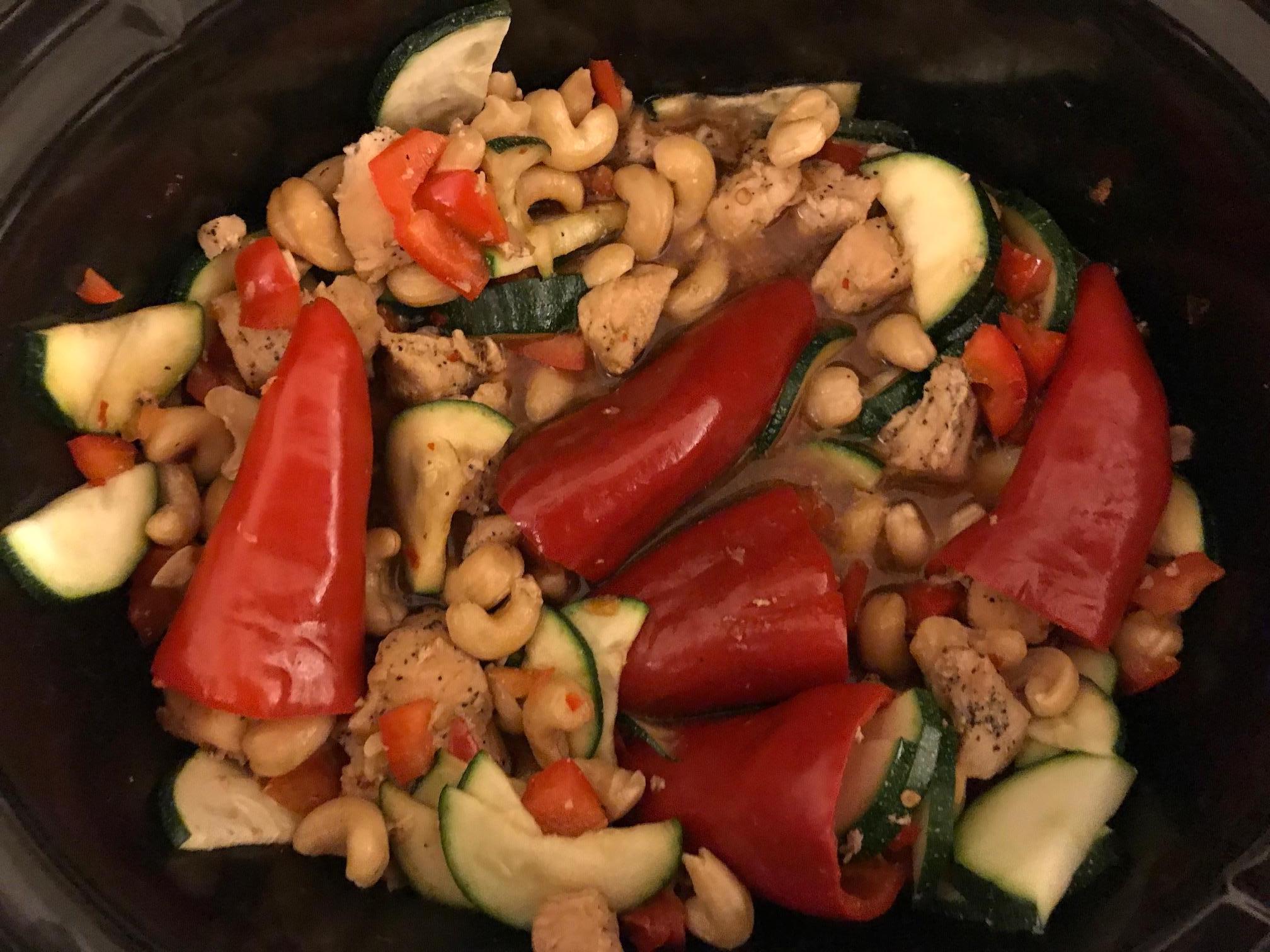 I thought that making the slow cooker Kung Pao Chicken would be interesting to try out. Blogger Kelly says that it tastes just like ordering one at a local Chinese restaurant and I couldn't agree more! The sauce has low sodium soy sauce, minced garlic, fresh grated ginger, honey, water, hoisin sauce and dried red pepper chili flakes that mixed in well with the chicken, cashews and zucchini. I was suppose to use dried red chili peppers to add, but I couldn't find any, hence why you see the huge red peppers instead. It still tasted great!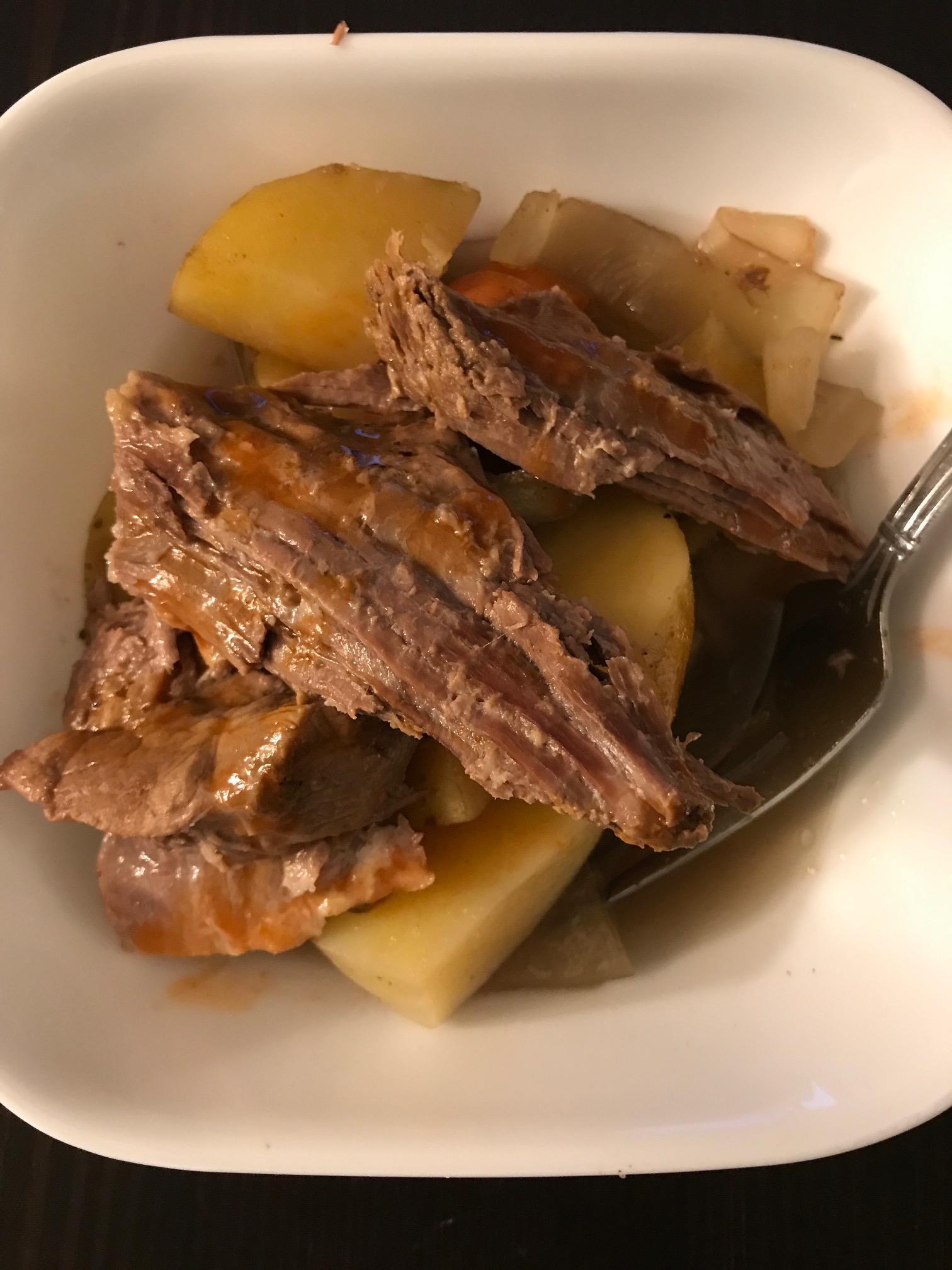 This was the first time I have ever made a Pot Roast in a slow cooker. The last time I had pot roast was when I lived with my mom and dad in my 20s! It took 5 hours to cook on high and has pot roast, potatoes, onions and carrots in beef broth, garlic powder, onion powder, Italian seasoning, salt and pepper. I could've made the gravy for it but I decided against it since I am not much of a gravy fan. Perfect for a dinner with a ton of people, thanks for creating this blogger Rebecca!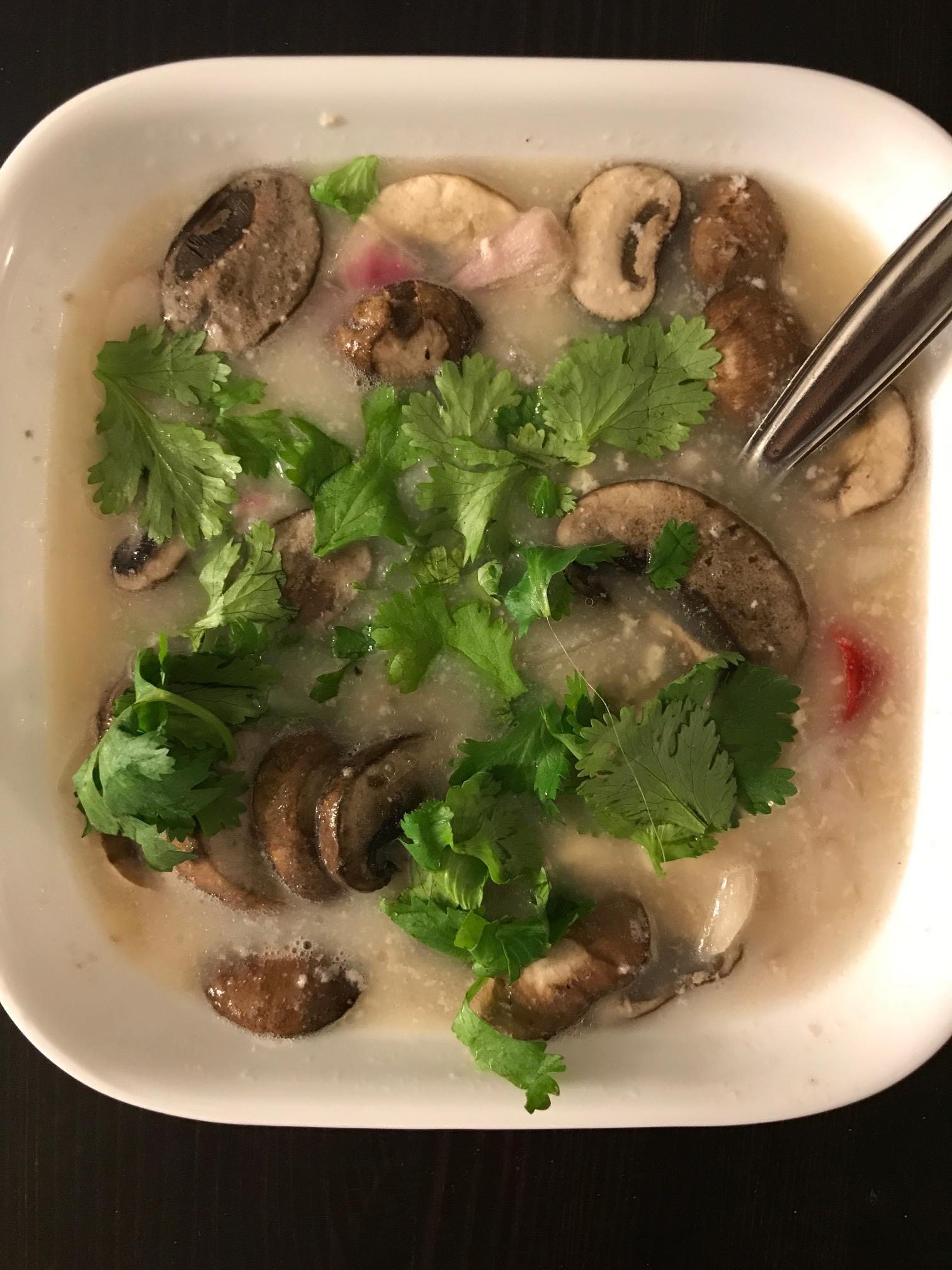 This is another slow cooker I recipe I made from husband and wife team Taylor and Lindsay: Tom Kha Gai, which is a creamy, tangy, sour and sweet Thai soup in a coconut milk-based broth that is infused with flavorful roots, herbs and spicy chilies. There are a lot of ingredients I couldn't find after going to many local markets (i.e. red thai chillies, kaffir lime leaves, galangal root) but the soup still came out very flavorful and hearty. It also has chicken, onion and cremini mushrooms in it.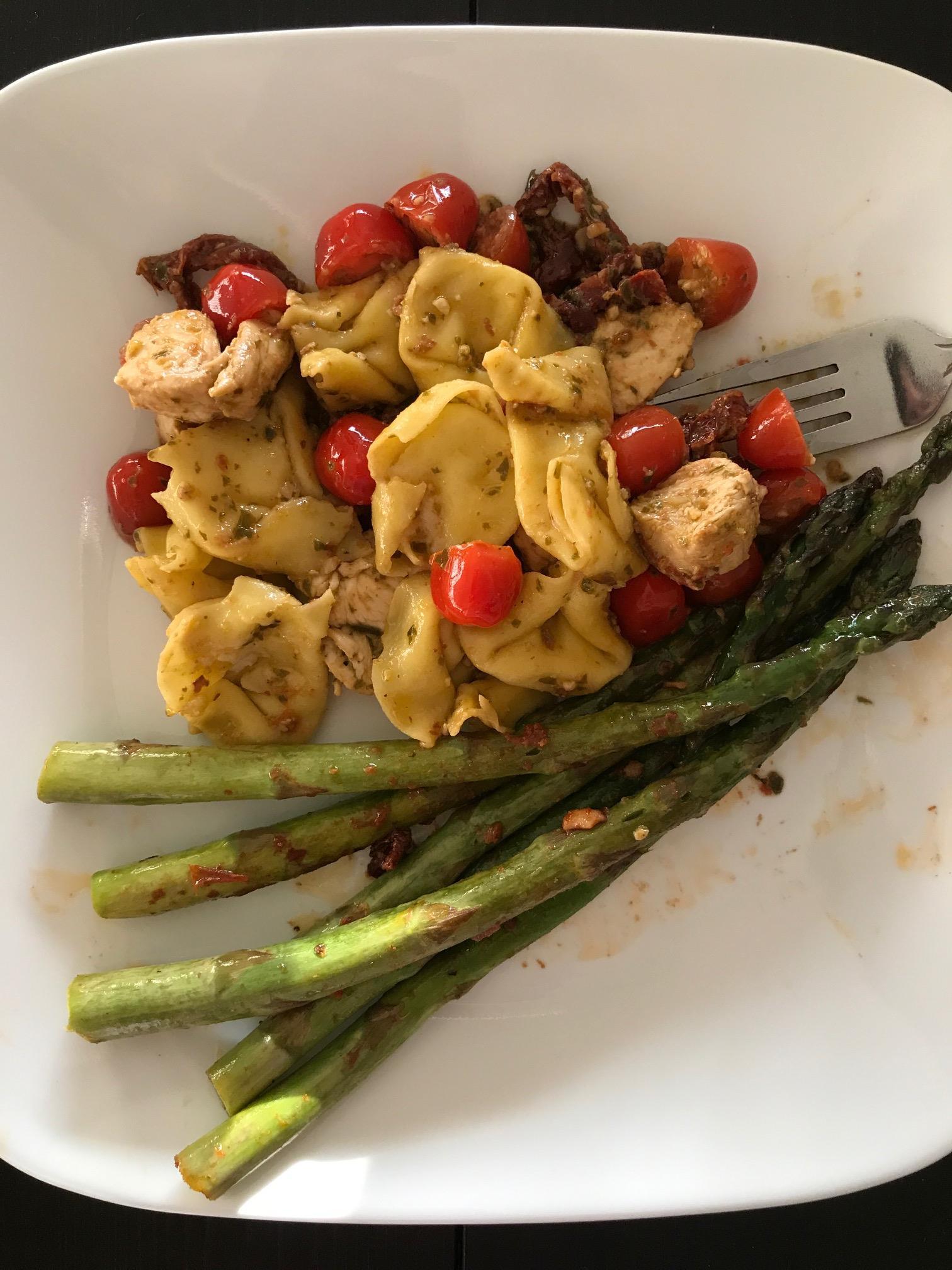 This is a recipe I will definitely be making again thanks to blogger Julia. It has the perfect balance of a carb, protein and vegetable called One-Pan Pesto Chicken, Tortellini and Veggies. I had a couple friends over for dinner and they said it was a hit. Again, those sun dried tomatoes really bring out the flavor in any dish! So did the basil pesto sauce. Heaven!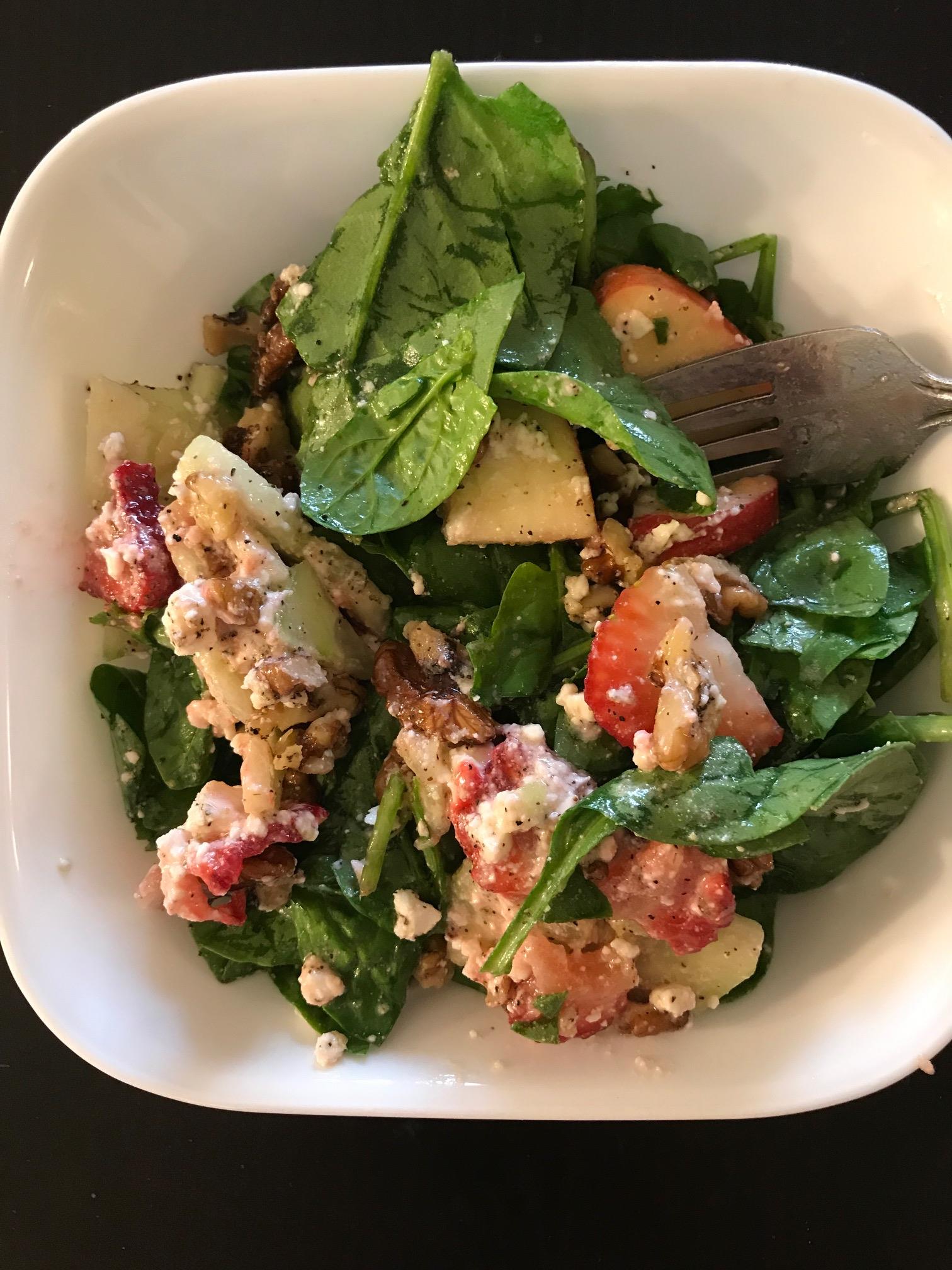 With summertime here, I wanted to search for a salad that had a healthy mix of fruit, nuts, greens, cheese yet was light, so I found this Strawberry Cucumber Spinach Salad with Apple Cider Vinaigrette from blogger Marie. However, I did tweak the dressing a bit, as I am not a fan of honey and dijon mustard for a dressing, so I used olive oil and red wine vinaigrette instead. It still came out fantastic! In fact, this salad I use as a "base" for other summer salads I have made. Sometimes I'll switch up the strawberries for watermelon or try mixed greens instead of spinach, or even add tomatoes or radishes.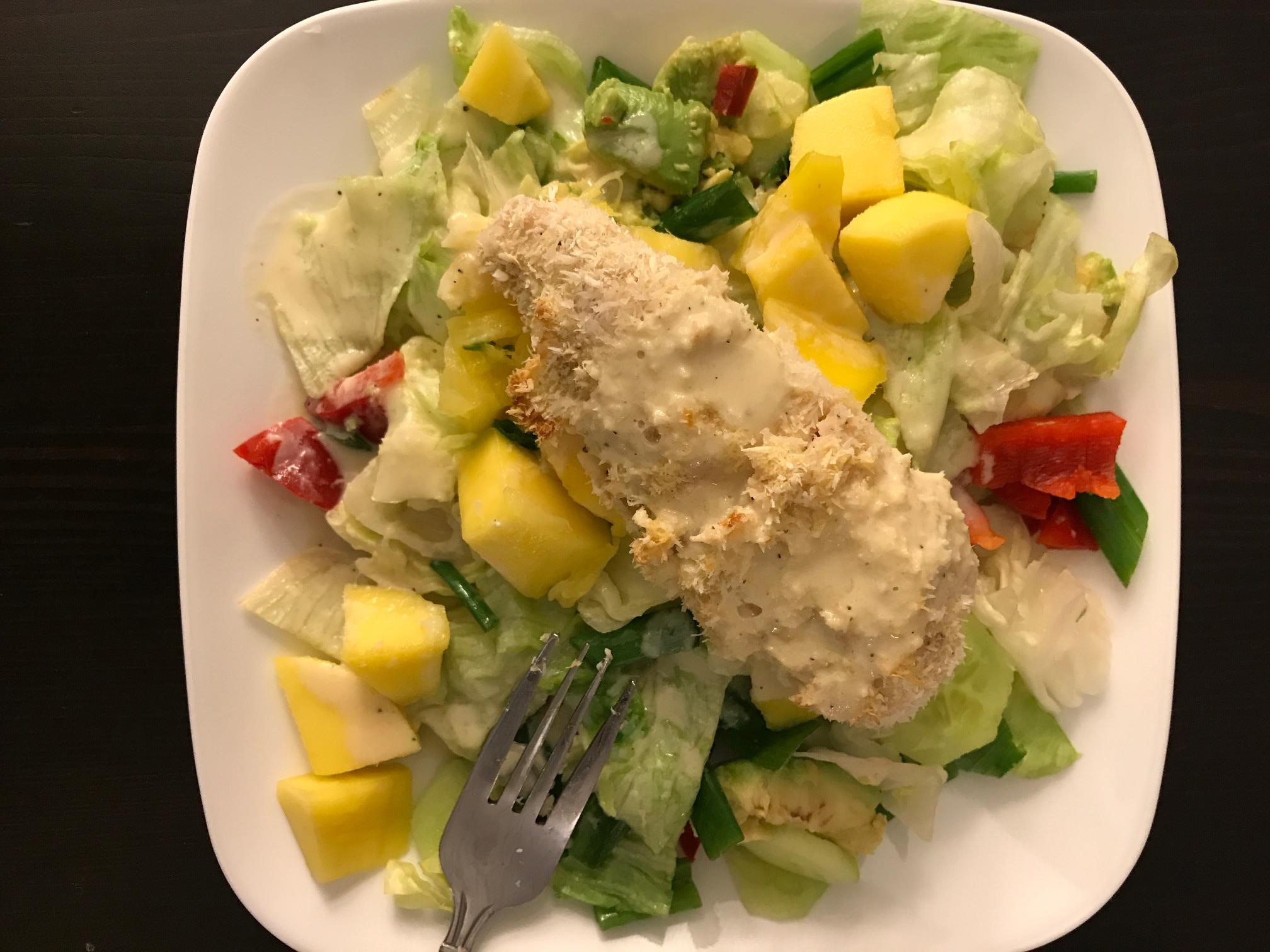 I love this Coconut Chicken Tropical Salad with Creamy Pineapple Vinaigrette from food blogger Lauren! I felt like I was on an island with one bite, plus it tastes light and refreshing! It's perfect for a hot summer day. It has pineapple, mango, cucumber, red pepper, green onions, avocado and romaine lettuce. The dressing is a combo of Greek yogurt, coconut milk, pineapple, olive oil, honey, salt, black pepper and red wine vinegar. Creamy and tangy!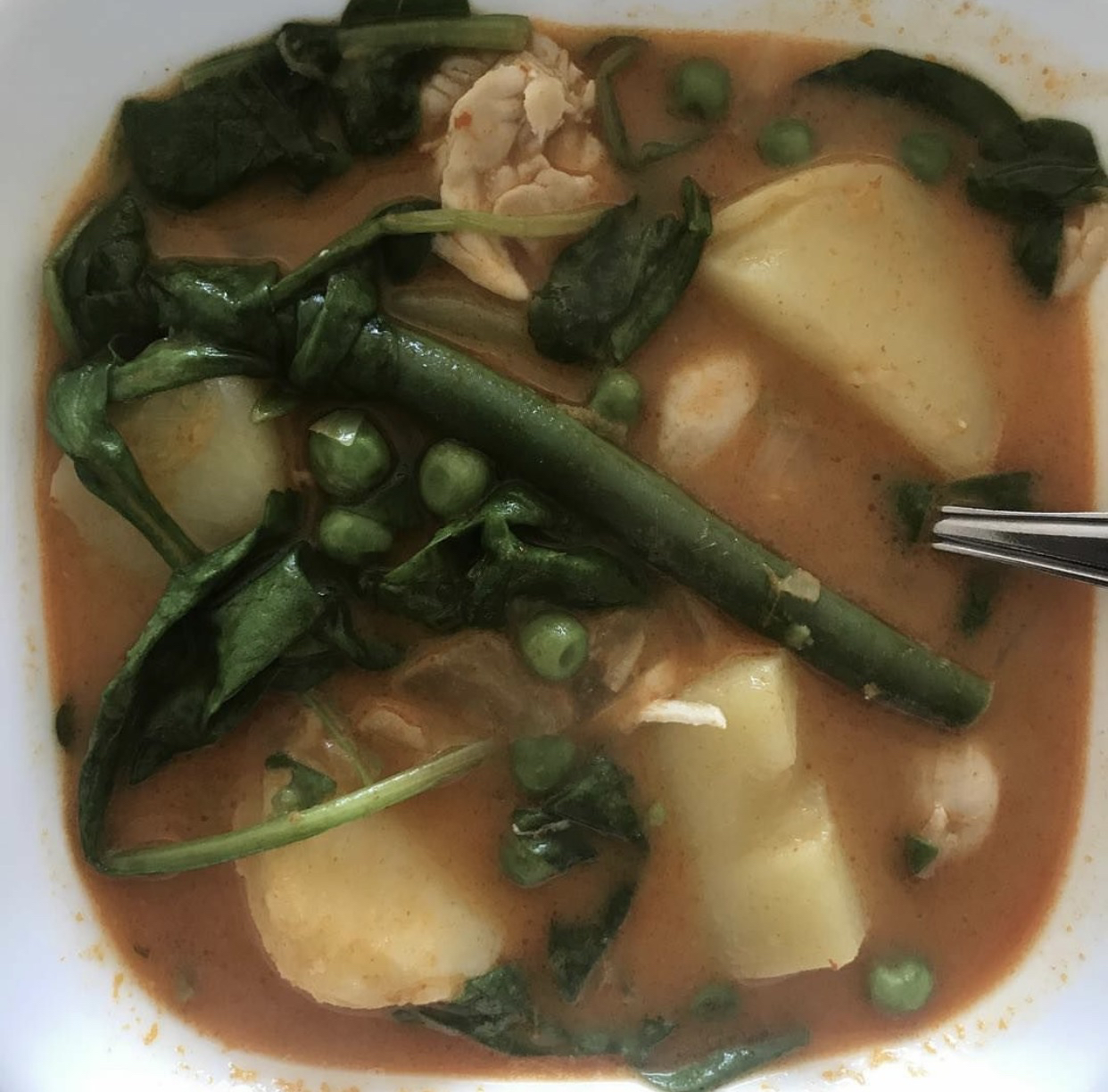 I tried Lauren's Red Thai Coconut Curry and it is to die for! Her recipes are all vegan, but I have to admit that I'm not a huge fan of tofu, so I added chicken instead. This is perfect for a cool day! It has onion, ginger, red curry paste, coconut milk, chili paste, rice wine vinegar, peas, potatoes, green beans and spinach. The recipe also asks for broccoli but I am not a huge fan, so I left it out.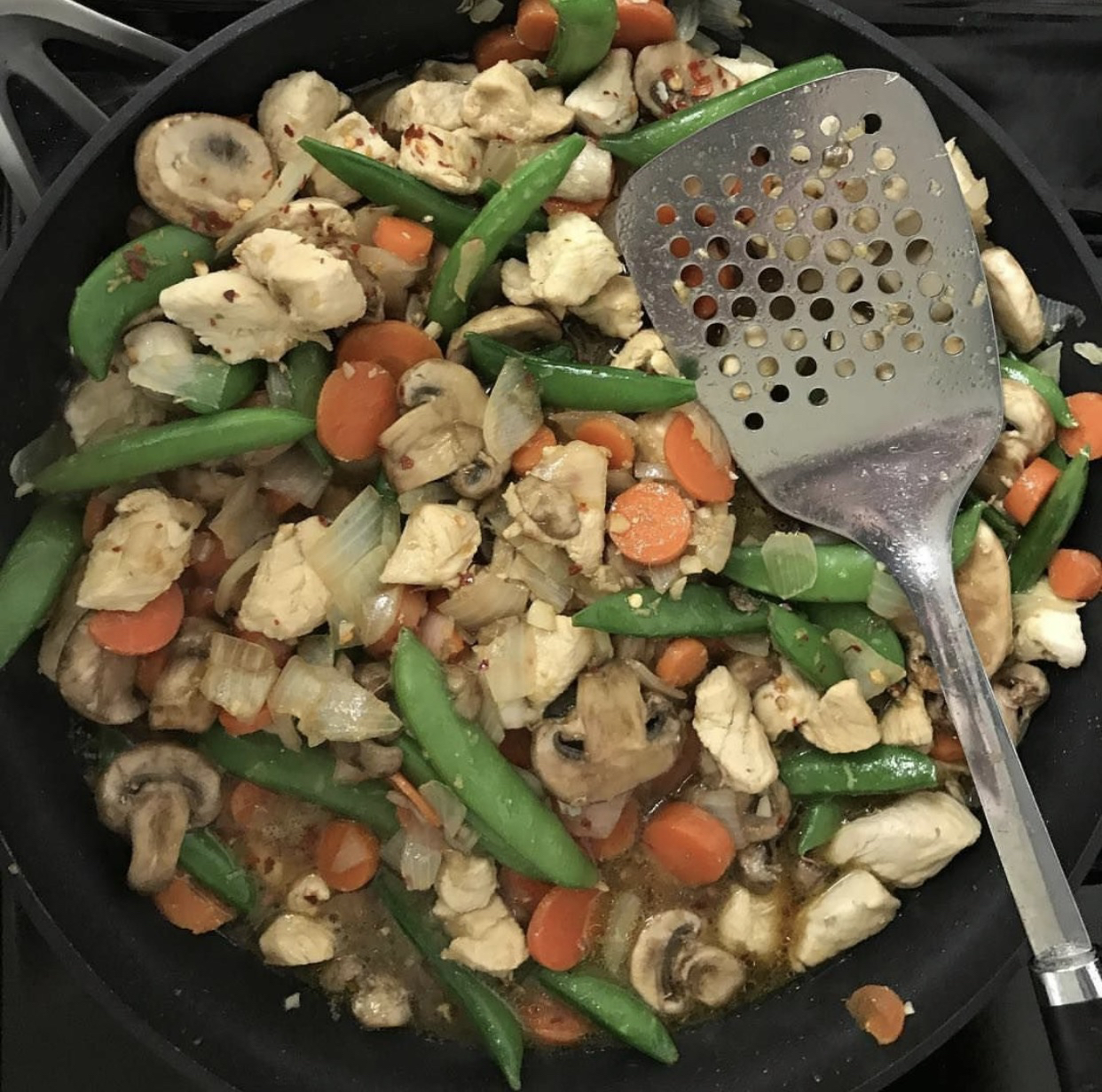 I tried food blogger Miryam's Teriyaki Chicken with Vegetables, this is my go to dish the past few times when I need to bring lunch to work or have it for dinner! The sauce is the perfect combo of ginger, soy sauce, water, honey and arrowroot powder. The main ingredients are chicken, carrots, broccoli (again, I left it out and substituted it for snap peas), pepper flakes and olive oil. It does not disappoint and even my friends love it!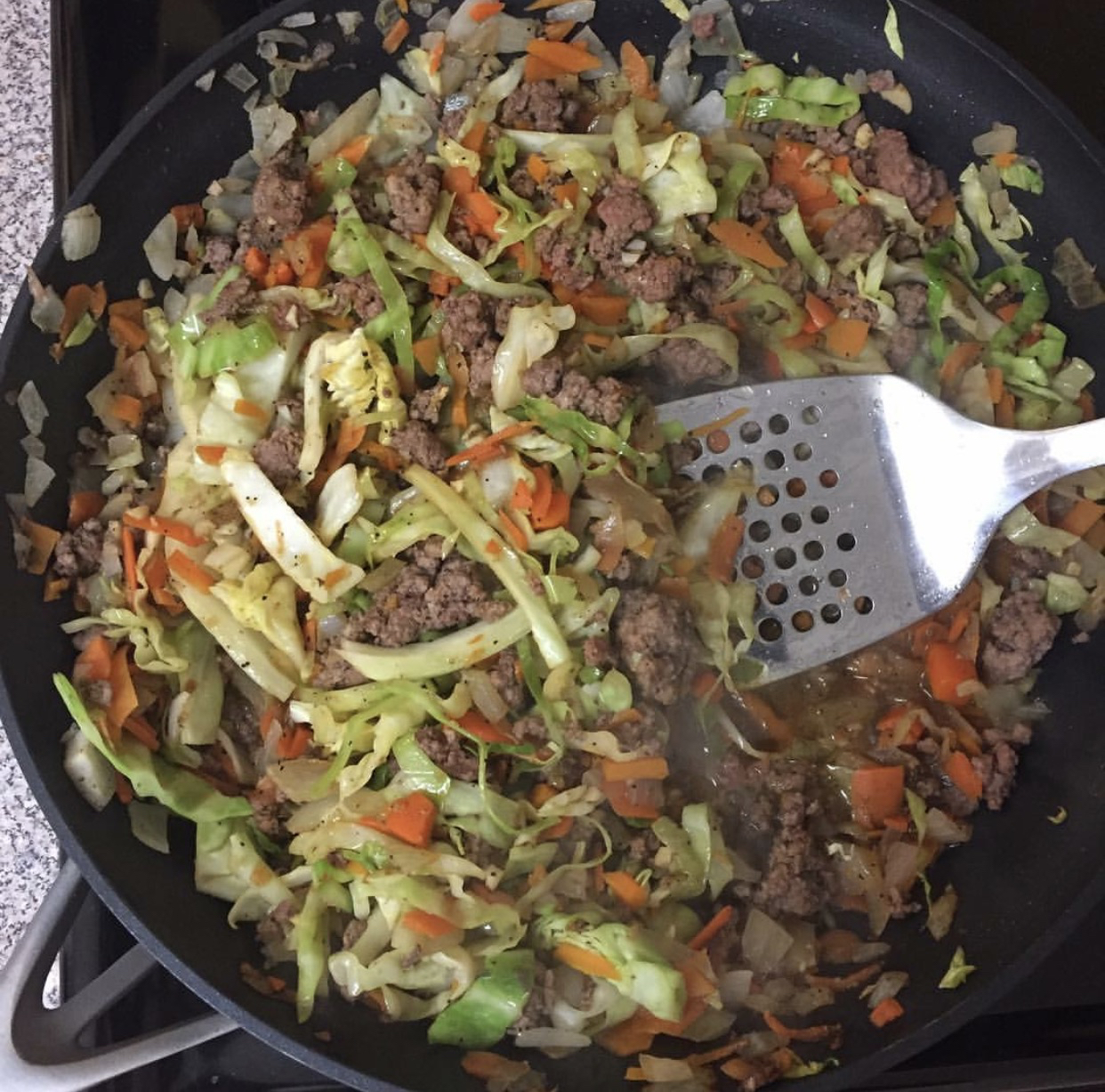 Okay, I know what you're thinking: how can this Egg Roll Stir-Fry be healthy? It only has ground beef (or use ground pork or chicken), onion, carrots, cabbage, garlic, ginger, black pepper, low sodium soy sauce, vegetable oil and sesame oil. Also, the leaner the beef, the less fat it has. It didn't taste greasy or too salty at all!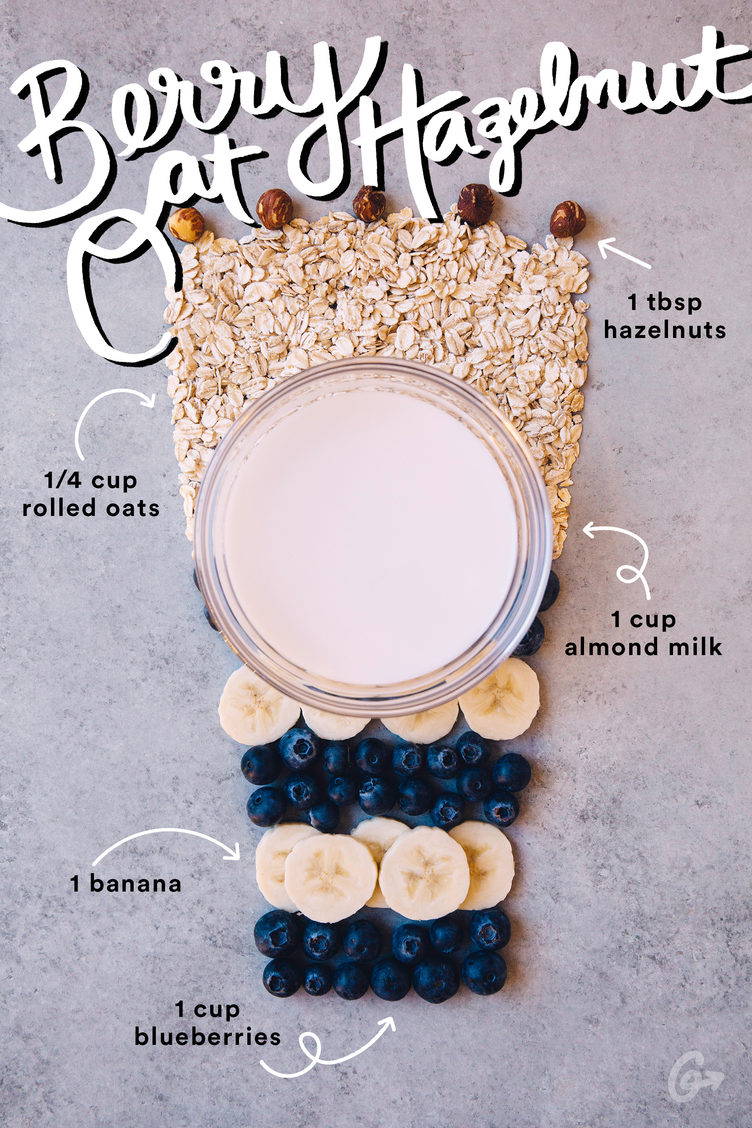 This Berry Oat Hazelnut Smoothie is one of my go to smoothies in the morning. When I don't feel like having a plain bowl of oatmeal, I blend this up into a nutty goodness. Blueberries are full of antioxidants and hazelnuts are high in vitamins B and E, it is a super healthy smoothie!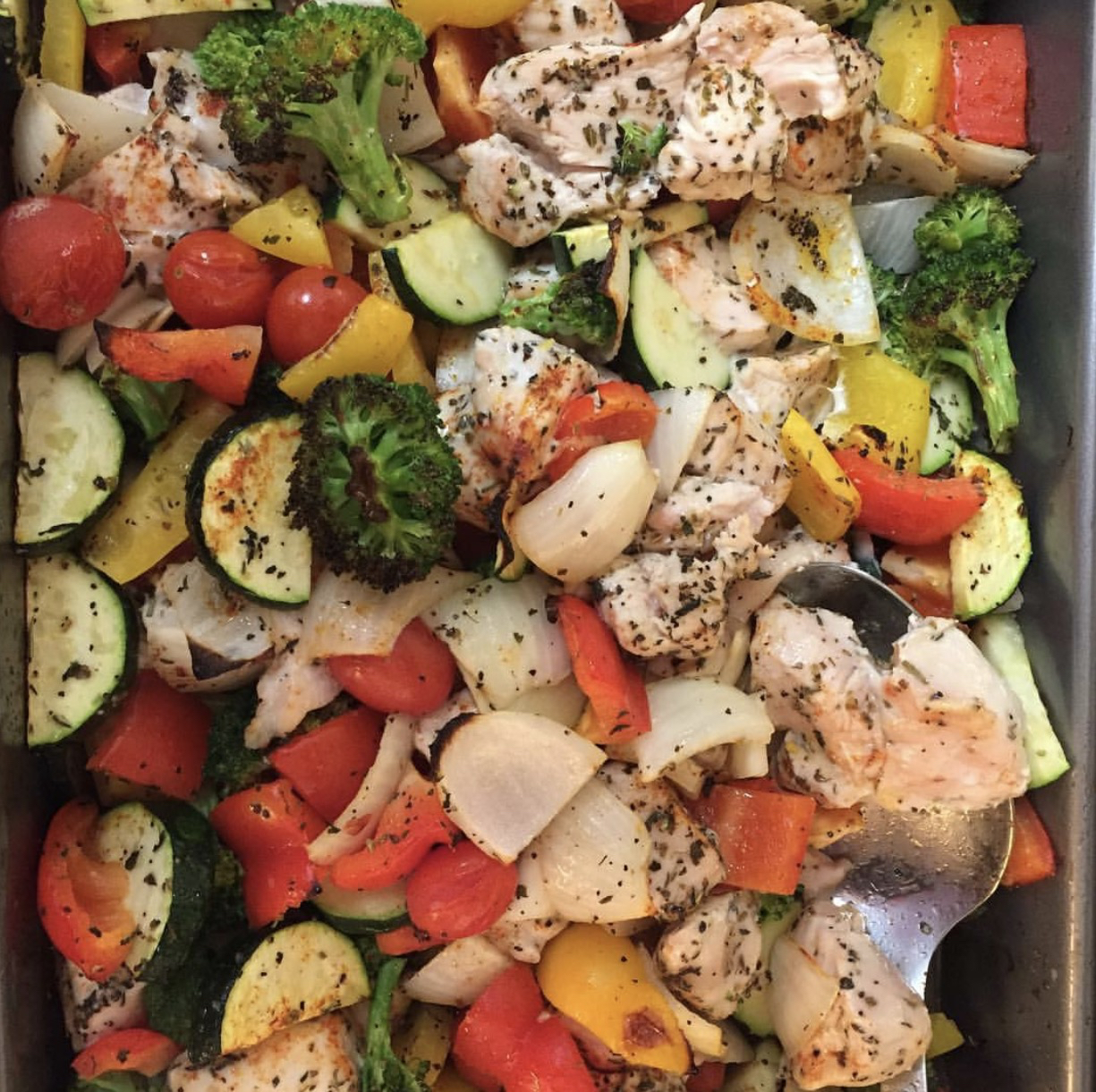 Gimme this Pan Roasted Chicken and Potatoes from food blogger Layla! This is another great dish I like to make for lunch or dinner, it's so colorful and healthy! It has chicken, zucchini, red peppers, potatoes, string beans, onions, grape tomatoes and yes, because I had a guest coming over that night, I even added the broccoli! The marinade has olive oil, garlic, oregano, basil, black pepper and salt.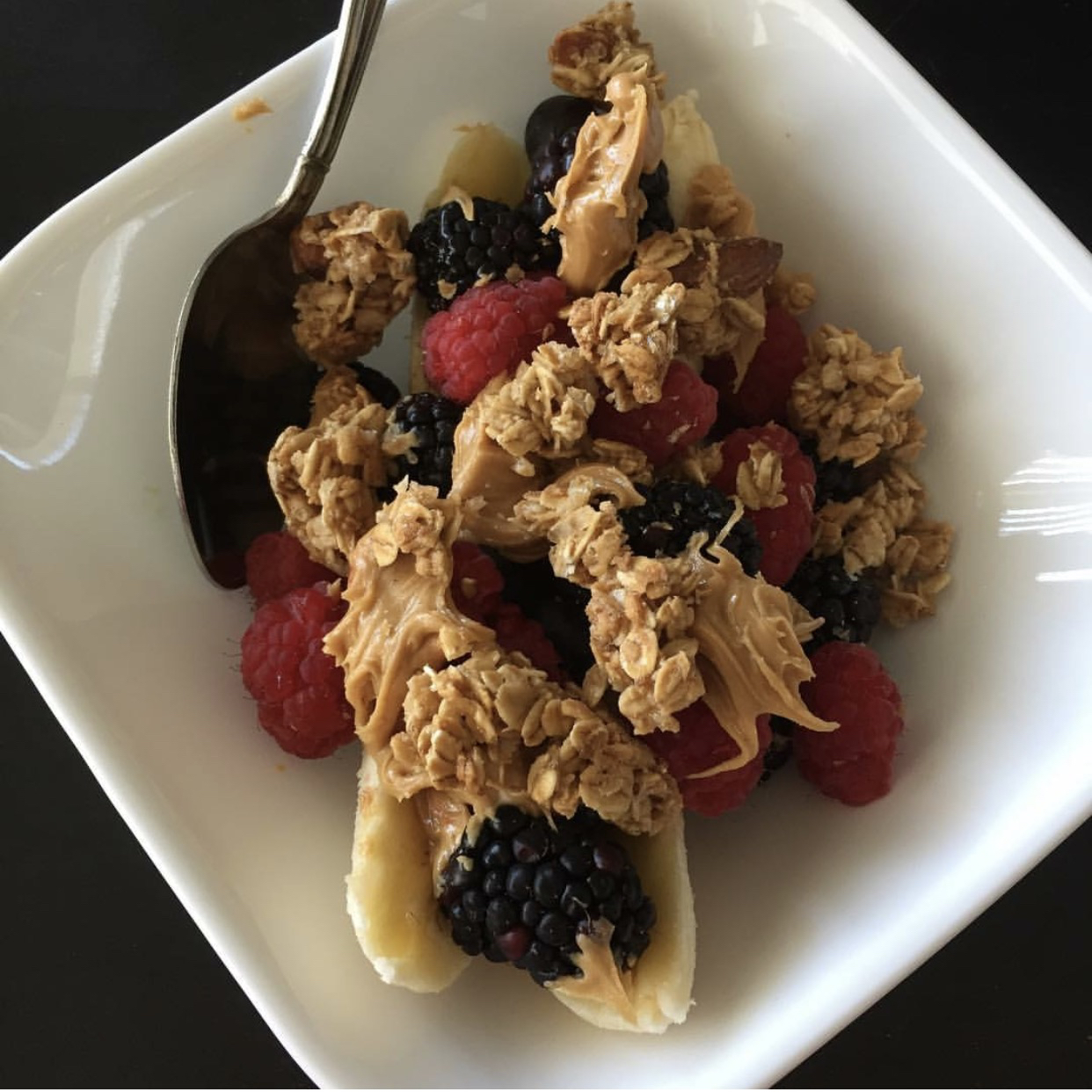 This is a healthy twist to the Breakfast Banana Split I found from food blogger Chellie, but I substituted the Greek yogurt for peanut butter and I didn't add the mini chocolate chips. Just split the banana down the middle, add yogurt or peanut butter, berries and top it off with granola! This would be a huge kick if you have kids too.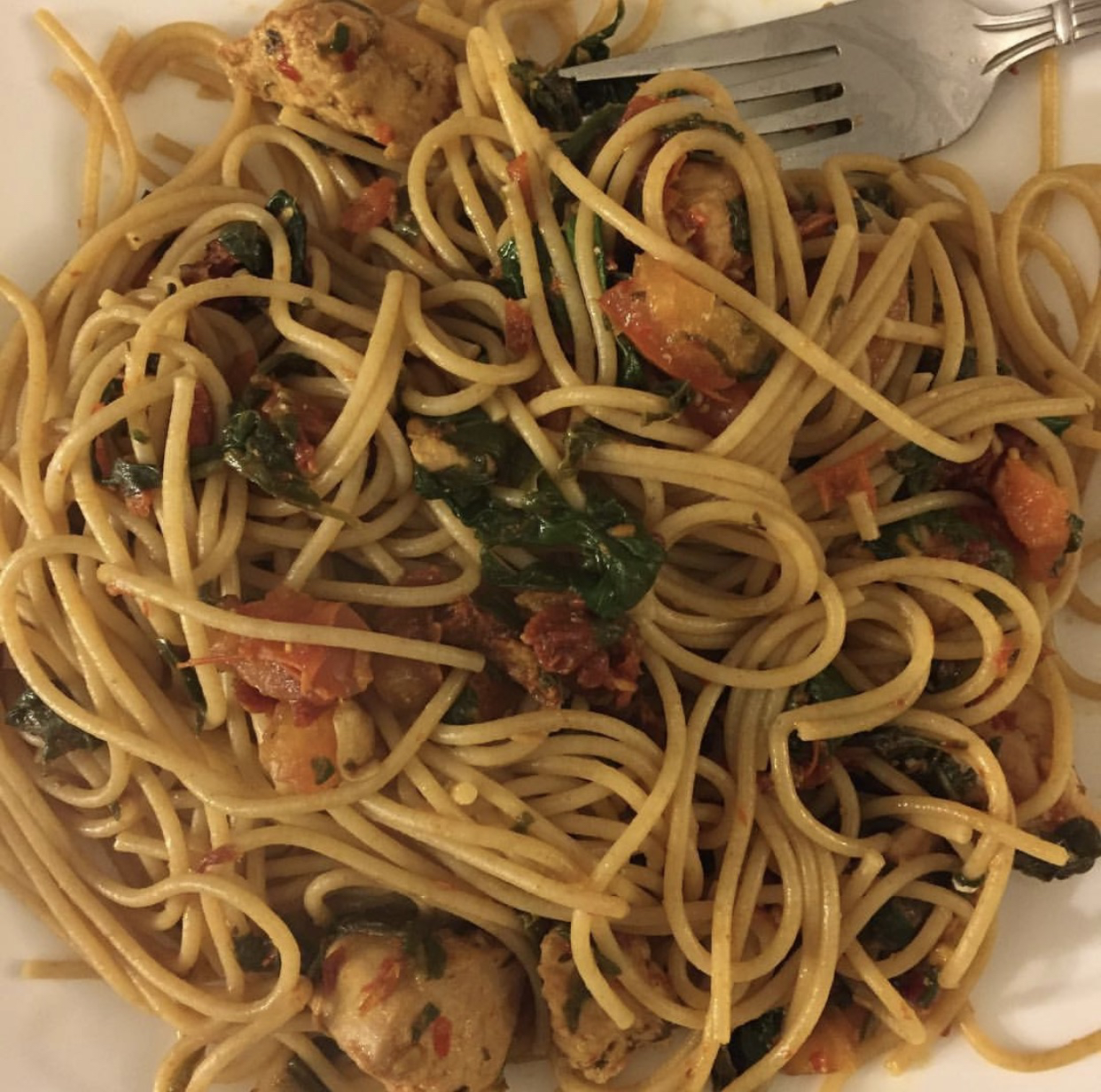 This Tomato Chicken Spinach Spaghetti is great to make for dinner guests. Top it off with some wine and you are good to go! It's a very well-balanced meal with sun-dired tomatoes (this ingredient is what really makes the dish in my opinion), olive oil, chicken, red pepper flakes, salt, basil, tomatoes, garlic and whole wheat pasta. Yum!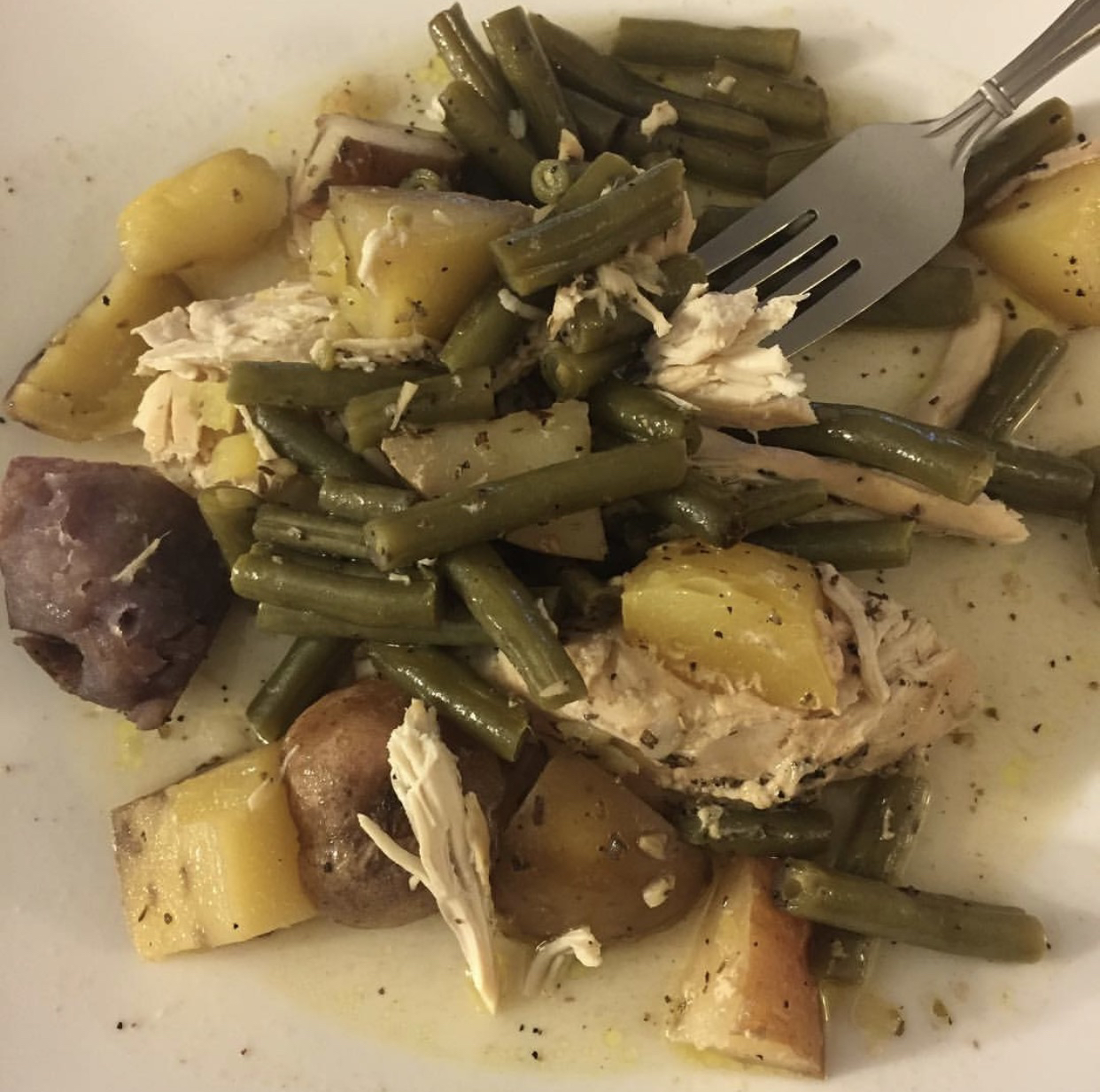 This Seasoned Chicken, Potatoes and Green Beans from food blogger Sarah was the first slow cooker dish I had ever made in my life. The potatoes, chicken and green beans are so tender and taste heavenly in the lemon juice, oregano, olive oil, salt, black pepper, onion powder and garlic marinade. Just pop it in the slow cooker and it'll be ready for dinner when you get home from work! Very convenient.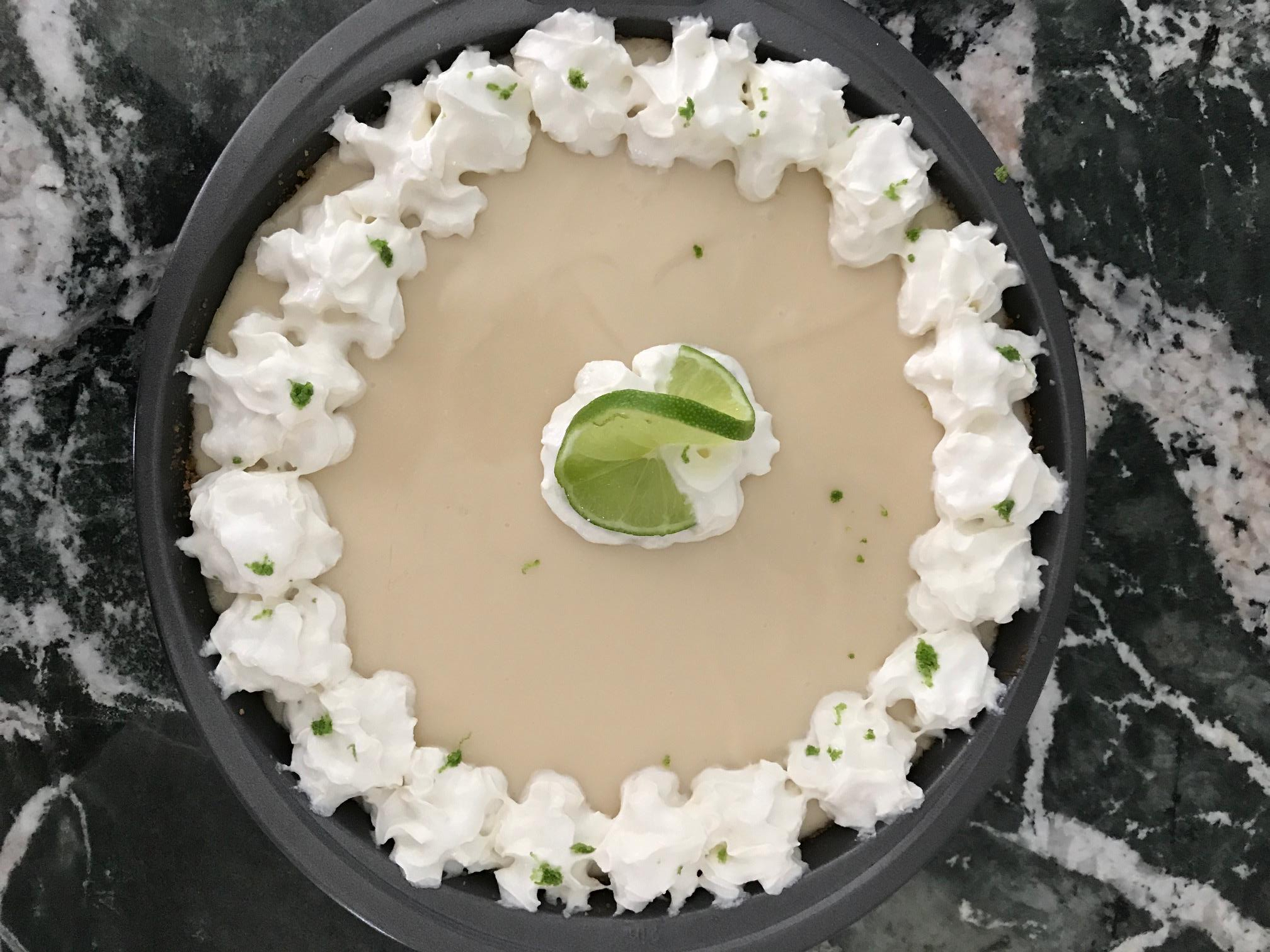 Okay, this one is more of a splurge, but for a good reason. I made The Perfect Key Lime Pie from food blogger Leigh Anne for a Cajun potluck that I recently went to. This really is the perfect key lime pie! I made 2 pies and they were gone within the hour, it was a hit and I got so many compliments from the guests on how good it tasted! The filling has sweetened condensed milk, key lime juice and sour cream that goes perfectly over the graham cracker crust. I added some whipped cream around the circumference of the pie, garnished it with lime zest and added a sliced lime in the middle. Pure heaven!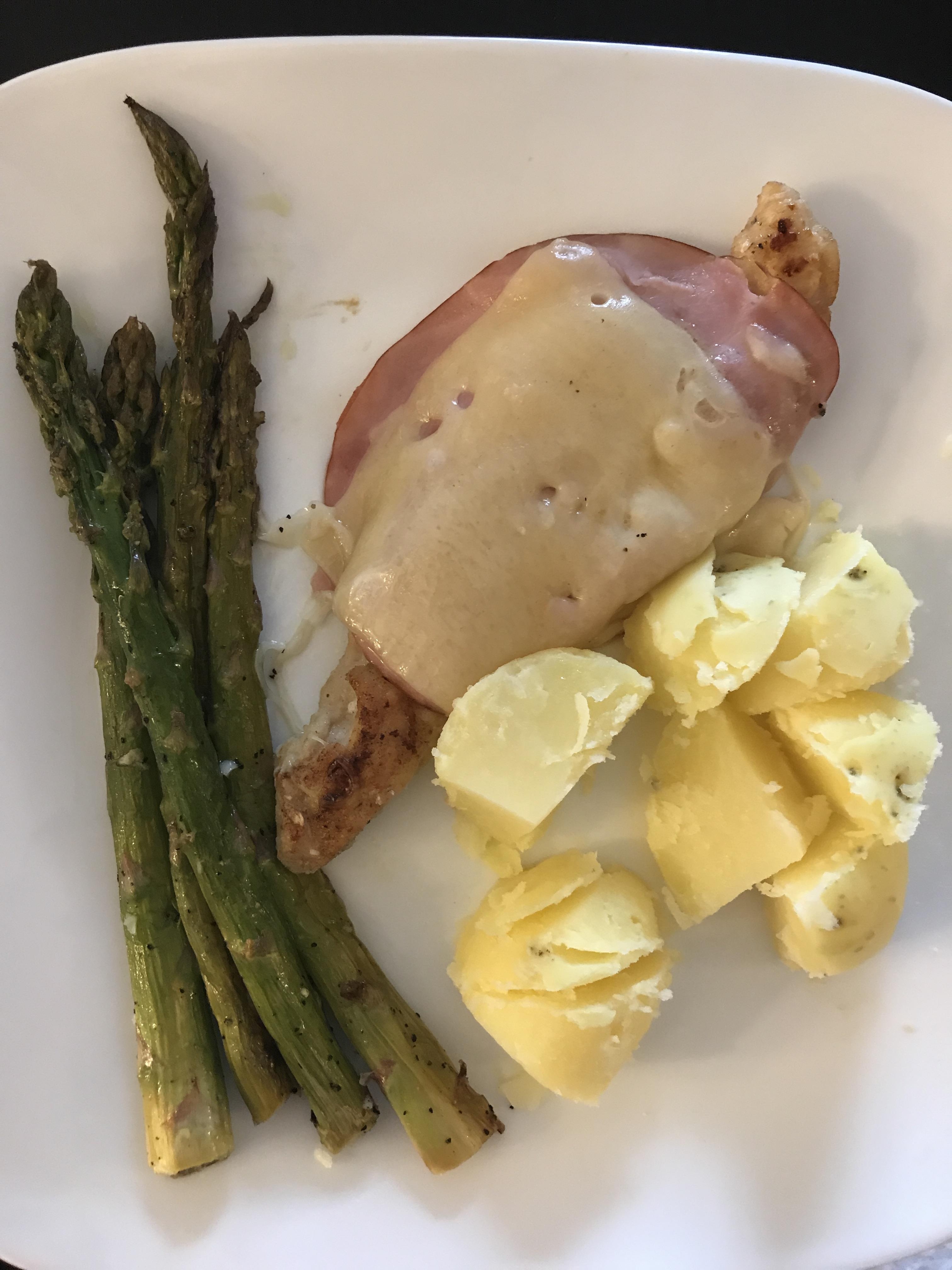 I am definitely making this Skillet Chicken Cordon Bleu from food blogger Gina again. The chicken cordon bleu is healthy, with low sodium sliced ham and swiss cheese, it's like a cheat with fewer calories! I also added some potatoes and grilled asparagus to make the meal well-balanced. This is a must make!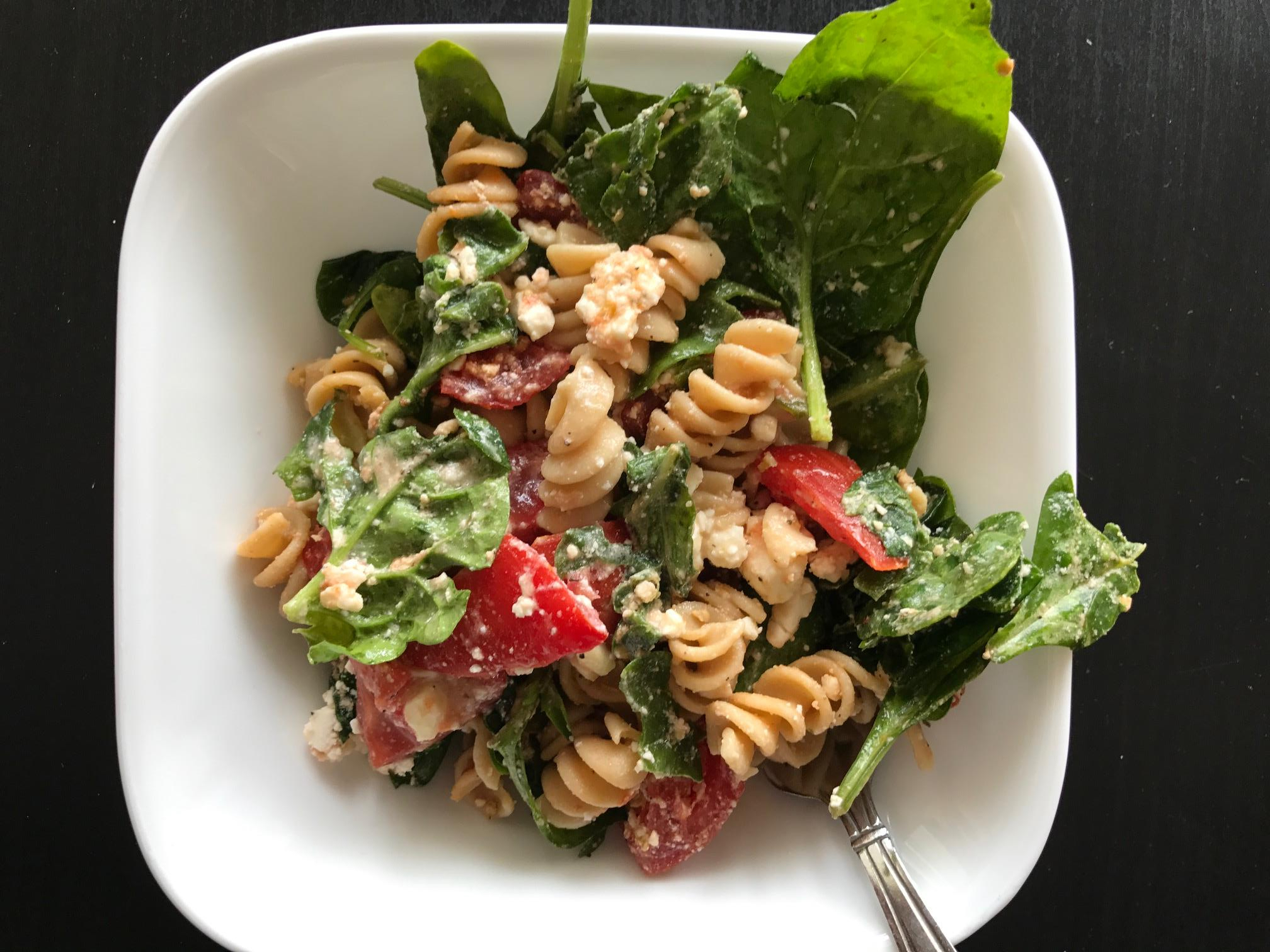 This Fresh Tomato and Ricotta Whole Wheat Pasta from food blogger Heidi is light, nutritious and tastes simply amazing. It has whole wheat pasta, tomato, fresh basil, spinach, olive oil, garlic, salt, black pepper, parmesan cheese and ricotta cheese. However, I substituted both cheeses for feta instead. It still tasted delicious and is perfect for lunch!
Let me know if you guys try any of these or have a healthy recipe you would like to share with me. You can contact me here! 🙂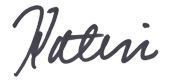 SaveSave
SaveSaveSaveSaveSaveSaveSaveSaveSaveSaveSaveSave
SaveSave
SaveSave
SaveSaveSaveSaveSaveSaveSaveSave
SaveSaveSaveSave