Fall is my favorite season of the year! If you check out my Pinterest page and click on the "Fall" category, you'll see how much I adore it. I love the crisp, cool air and changing colors.
It's also a great time to break out the squash, pumpkin and apples for cooking and baking! I tried out 2 new recipes this season that I found on Pinterest, plus I am going to share my mom's classic Apple Crisp recipe.
Butternut Squash Apple Soup
Serves 8
Soup ingredients:
2 Tablespoons olive oil
2 medium yellow onions, chopped (about 3 cups total)
2 large butternut squash (about 5 pounds total), peeled and diced into chunks
4 medium or 3 large apples, peeled, cored and roughly diced
3 – 4 cups low sodium chicken stock, divided
1 1/4 teaspoon kosher salt
1/2 teaspoon nutmeg
1/4 teaspoon black pepper
1/4 teaspoon cayenne pepper
Instructions:
1. Preheat the oven to 375 degrees. In a large, deep stockpot or Dutch oven, heat the olive oil over low. Add the onions and cook until very tender, about 15 – 20 minutes, stirring occasionally.
2. While the onions cook, cut and peel the squash and apples. Add them to the pot, then add 2 cups of the stock. Bring the pot to a boil, reduce the heat to low, then cover, and cook until the squash and apples are very soft, about 20 – 30 minutes depending upon how large the squash was cut and apple pieces (smaller pieces will cook more quickly).
3. Once the apples and squash in the soup pot are tender, puree the soup with a blender or carefully transfer it to a food processor fitted with a steel blade to puree in batches. Return soup to the pot once complete. Add 1 cup of the remaining chicken stock, then stir, adding a bit more stock as needed to reach your desired consistency (the soup will thicken somewhat when stored). Leave the texture fairly thick and rich. Stir in the salt, nutmeg, black pepper, and cayenne. Taste and add a bit more salt and pepper as desired. Serve hot.
Comments: Holy cow, where do I begin with the comments?! First, I have never cut up a squash in my life and it was the biggest pain in the ass! The recipe also says you can "peel" the squash, but I still couldn't get it soft enough in the microwave, so I ended up slicing it into thick chunks, then chopping it and finally chopping off the skin of each section – it took forever! Then I realized that I needed 2 squashes instead of the 1 I just bought! There was no way in hell I was going to drive back to the grocery store and spend another 25 minutes on a squash.
By the time I got to coring and peeling the apples, my hand was spent. After everything was softened, it also took me 3 separate batches to blend it all together in the food processor. But I have to admit that despite this being the hardest recipe I have made to date, it was so worth it. It tasted super fresh and yummy! Even with just using the 1 squash still hit the spot. I also sprinkled parmesan cheese on the top.
Rating: 9/10
Total times I swore: too many to count!
High Protein Pumpkin Flatbread
Serves 6 – 8 pieces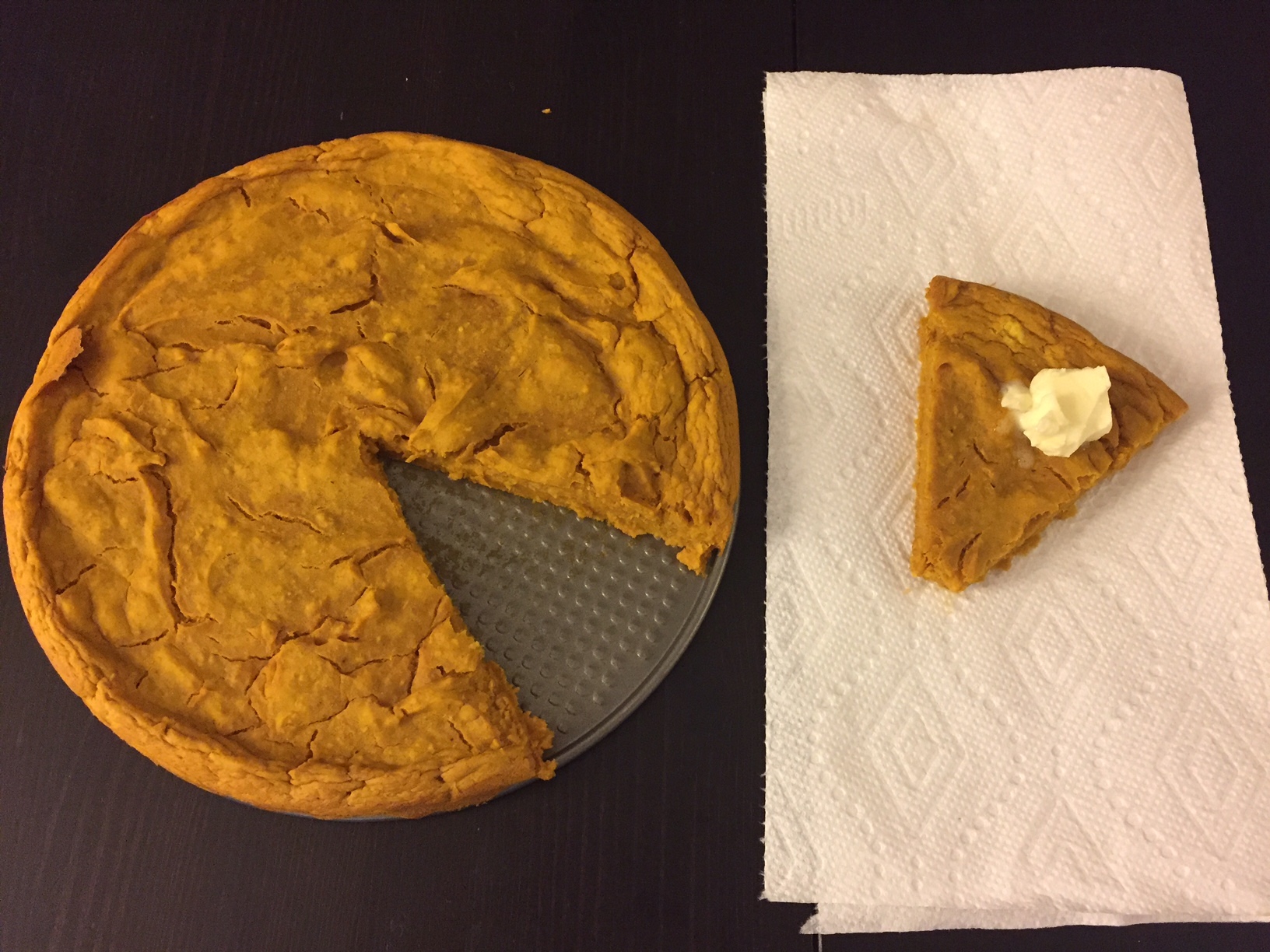 Ingredients:
0.6 cups of red lentils (use about 1 cup of water for soaking)
1 cup pumpkin puree (you can either cook and puree the fresh pumpkin or use canned pumpkin puree for a shortcut)
0.6 cups oats
0.4 cups wheat flour
3 teaspoons baking powder
0.4 cups water
1 teaspoon salt
2 Tablespoons olive oil
Instructions:
1. Soak the lentils in cold water for at least 2 hours.
2. Preheat the oven to 375 degrees.
3. Rinse and drain the lentils.
4. Put the lentils and all other ingredients in a food processor or blender and blend 1 to 2 minutes resulting in a smooth batter.
5. Prepare a cake pan by spraying the pan with a light layer of oil or place a fitted sheet of parchment paper into the pan.
6. Pour the batter into the prepared pan.
7. Bake the bread for 20 – 25 minutes, until firm to the touch and top is cracked a bit.
Comments: It's the red lentils that give this flatbread a "high protein" reputation. According to the recipe, "combining red lentils with some grains (oat and wheat) yields in 'complete' proteins, which provide the body with the full range of essential amino acids." I ended up also adding 3 teaspoons of sugar just to sweeten it up slightly and it was perfect. Top it off with some butter and it is delicious!
Rating: 8/10
Total times I swore: 0
Mom's Apple Crisp
Serves 6 – 8
Filling ingredients:
8 – 10 large apples (you want tart apples, such as Granny Smith), peeled and sliced
1/4 cup sugar
2 Tablespoons flour
1 teaspoon ground cinnamon
Butter or margarine
Topping ingredients:
1/2 cup sugar
1/2 cup flour
1/2 cup oats
1/2 teaspoon ground cinnamon
Dash ground nutmeg
1/2 cup butter or margarine, softened
Instructions:
1. Preheat oven to 350 degrees.
2. Combine apple slices with sugar, flour, cinnamon and nutmeg together; cut in butter until crumbly.  Spoon atop apples.
3. Bake for 35 – 45 minutes or until golden brown and bubbly.
4. Serve warm with ice cream or whipped cream.
Comments: I love apple crisp and it tastes so good right out of the oven! All of my baking credit really goes to my mom's influence. This is one of my all time favorite recipes that she makes. I made this for my friend's get together today and it was a huge hit! You can see them below assisting me with coring, peeling and slicing the apples. 🙂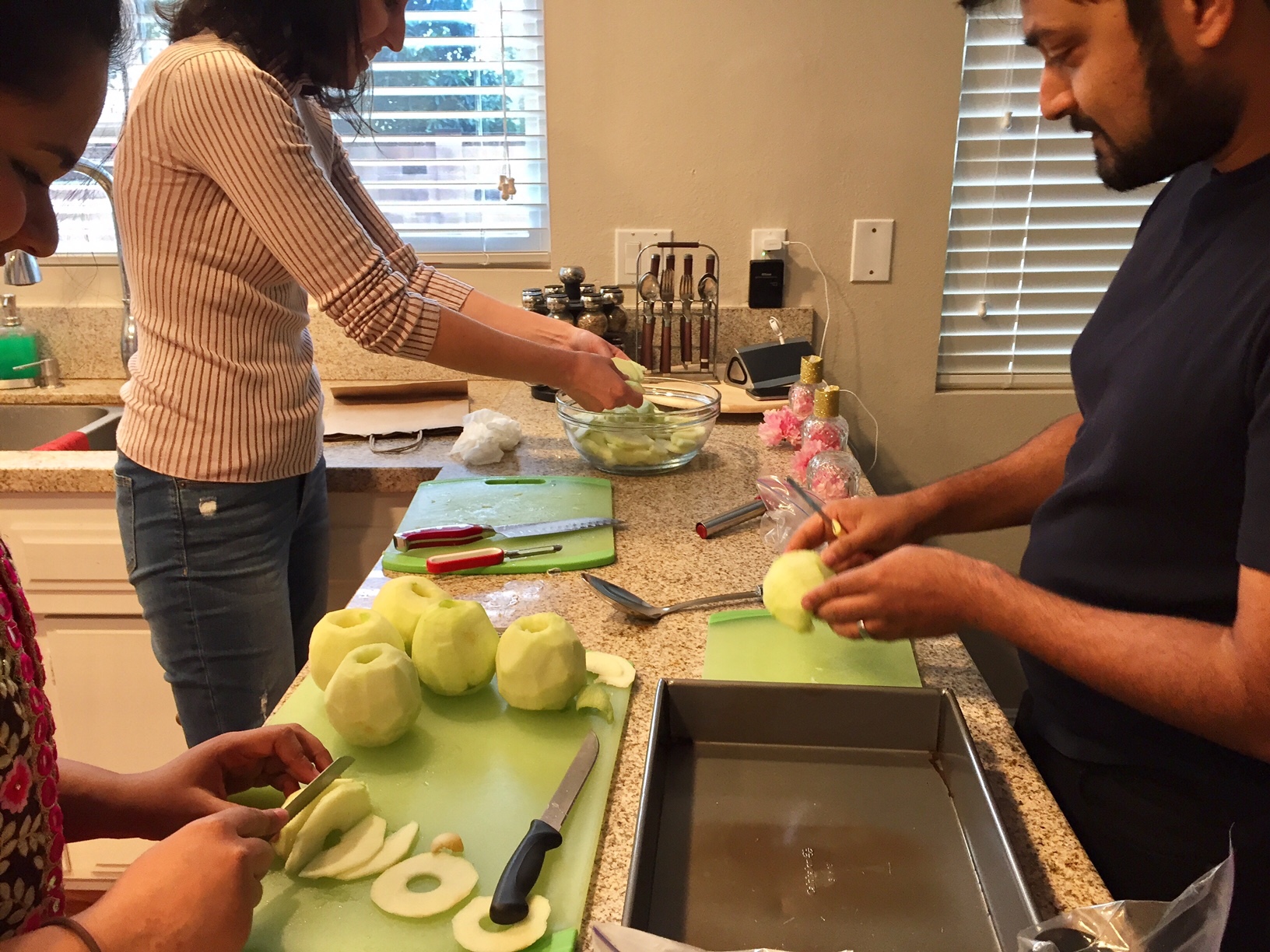 Rating: 10/10
Total times I swore: 0
Enjoy! 🙂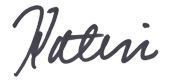 Photo Credit: North Ridge Times