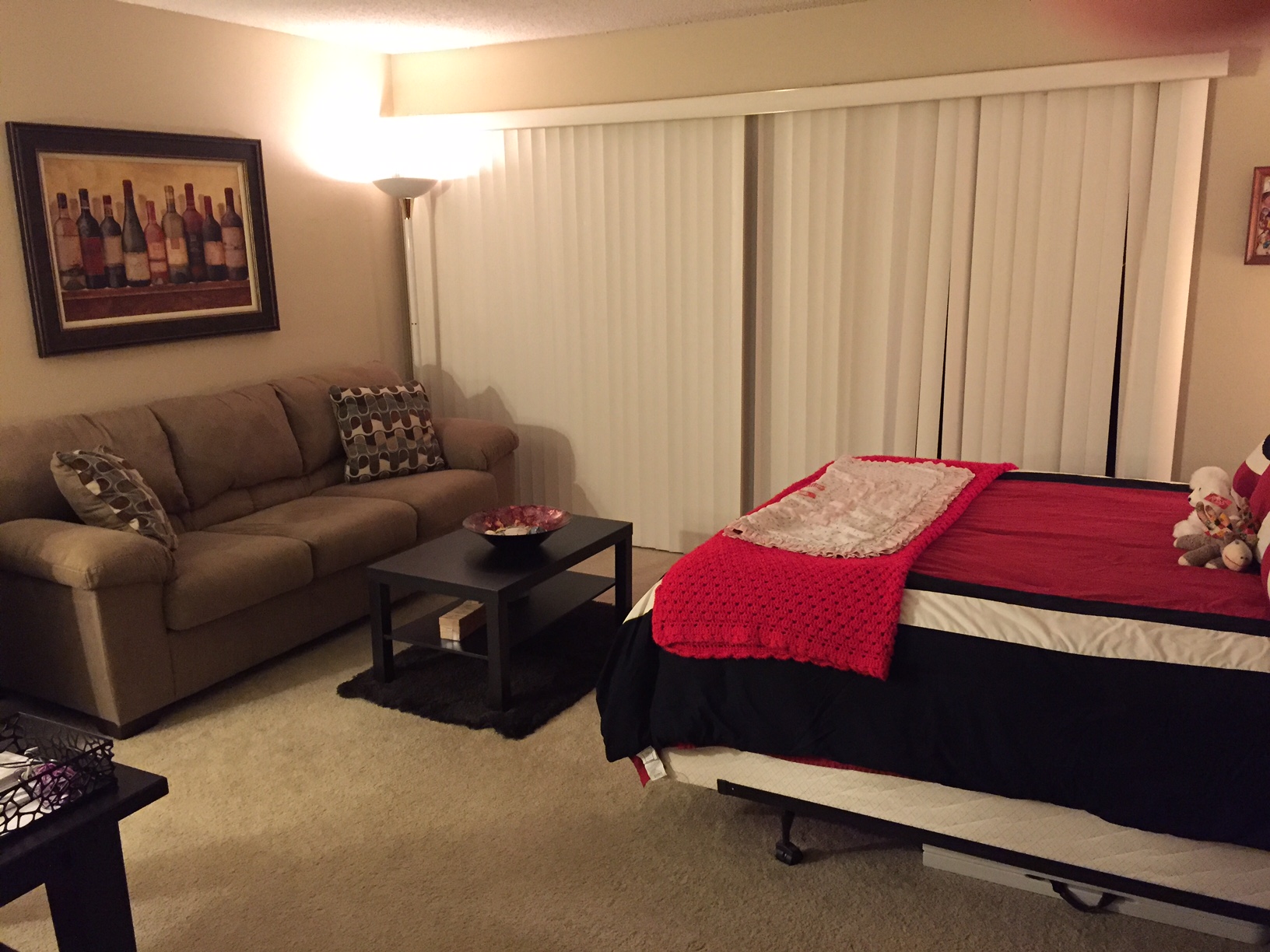 One of my main goals this year was to become organized and decorate my 520-square-foot apartment. I have been at my location for 4 years now and why it took me this long to redo it is beyond me. I blame my previous hectic schedule and not being able to nurture my home some more. Or maybe I just decided to slow down a bit and grow up!
I wish I had some before photos. My apartment looked like a storage closet, especially on the end where you see the couch. It was terrible. I remember one day in January looking at it and saying, I need to do something about this.
The key I have learned is to work with the space you have and make it appear larger. After doing some research, I believe the only thing I didn't do was buy a separator, it didn't really work well with the way my apartment is laid out. I turned my kitchen table into my desk since I don't have guests over for dinner very often. My once bookcase that stood upright where the couch is located was moved behind my desk and rotated horizontally. I wanted an area for relaxing and to entertain guests if they do come over or if a friend needs to crash on the couch for the night.
Here are some helpful decorating tips I learned along the way: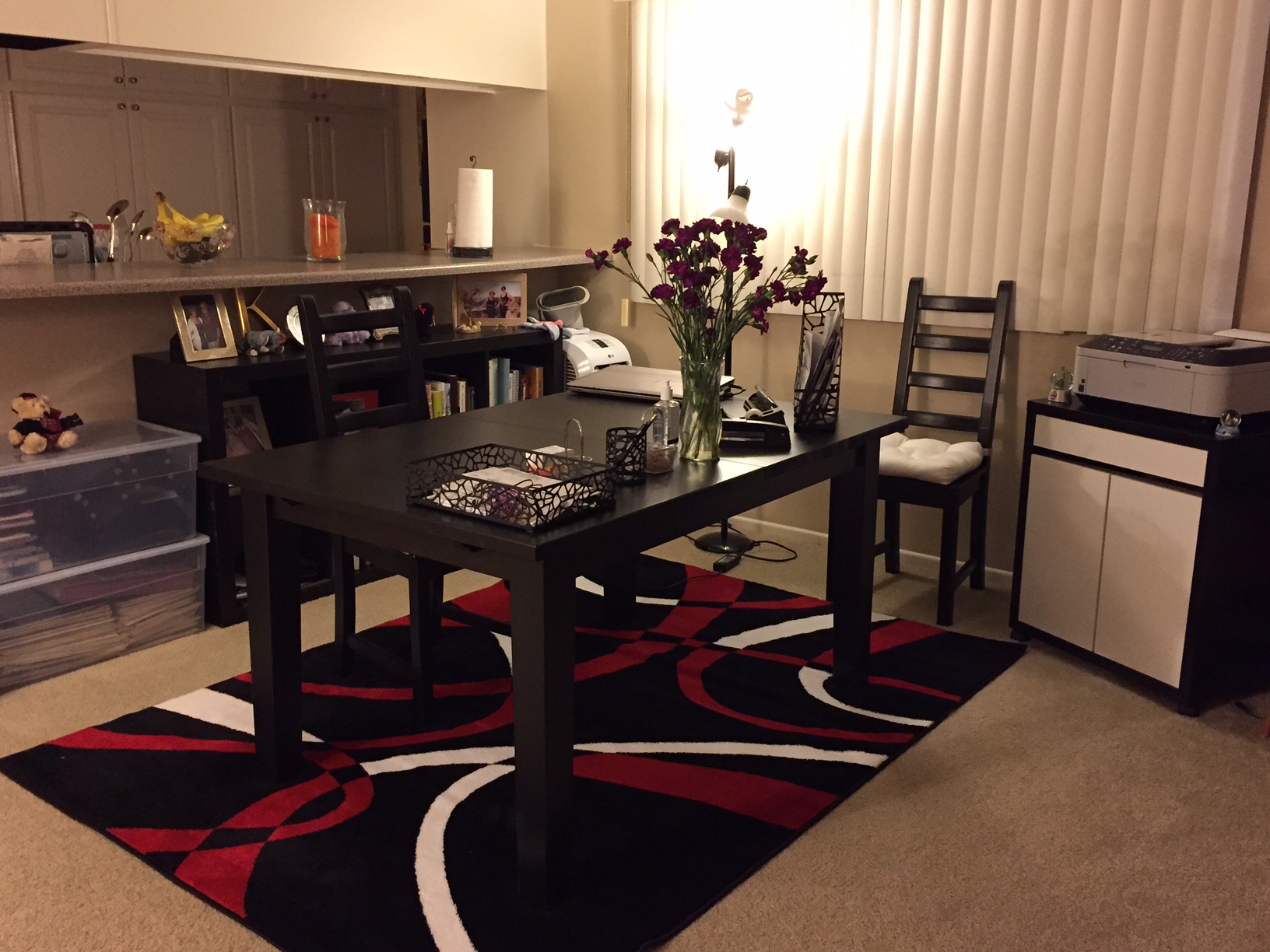 Add flowers and candles. Fresh flowers really do add color and beauty to an apartment. I like flowers that live the longest and are low maintenance. I have found that Carnations last about 3 – 4 weeks! I also love scented candles, it gives a sense of peace and serenity in a room.
Less is more. You don't want to over clutter your apartment with a ton of trinkets. It's all about maintaining the space across the room, which is one of the reasons I decided not to put anything above my bed or add a headboard. The wine painting on the other side of the room already did the trick, plus if an earthquake were to happen, I didn't want decor falling on top of my head while I am sleeping. Not having wall decor hanging on every wall of the apartment also just looks cleaner.
Add framed photos. When my parents moved out of their home in Minneapolis they sent me a ton of framed photos of me as a child and the family. I also have a couple of my friends and I. They are placed on my drawer and on top of my bookcase.
Go with a color theme. My apartment has tan walls (which I cannot paint over) and a tan carpet with all of my IKEA furniture in black. I decided to add some red and white to bring out the vibrance in the room, starting with the sheets/comforter and area rug. I also have my gorgeous velvet roses from Bombay that I bought years ago.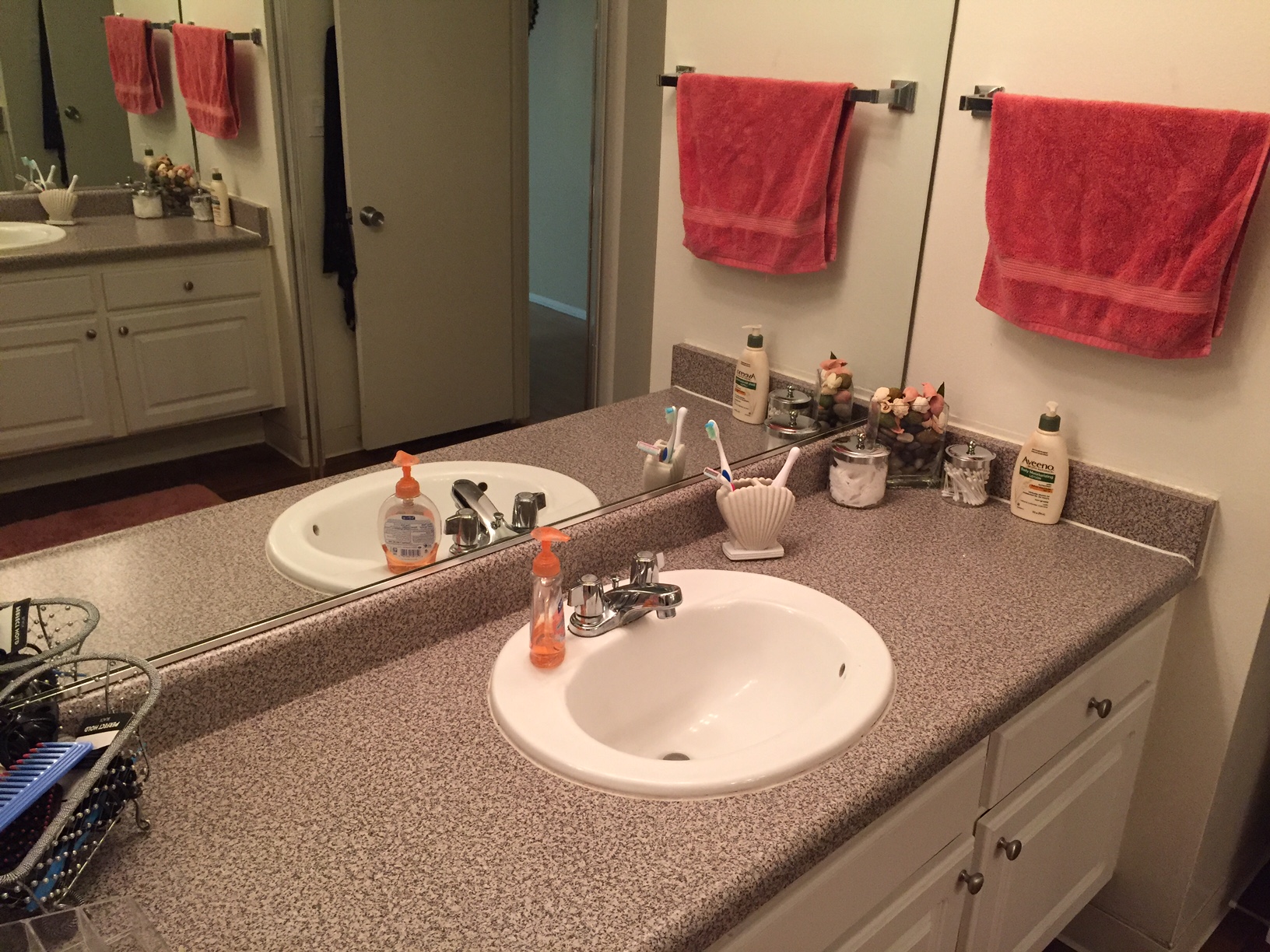 Stick to a budget. My goal was to spent under $1,000 for everything. In a 6 month period I spent about $700. I was always searching for quality but at a steal price!
The cheapest thing – yet longest drive – I was able to find was my IKEA coffee table for $24 at the Burbank location. My area rug was $90 that I found on Overstock, usually they cost $200 and up! My bed sheets I found on Groupon for $70, my Ashley Furniture couch was an astonishing $290 on sale from Big Lots and my bathroom wicker cabinet was $89 from Bed, Bath and Beyond, along with my $69 wine painting. All the other accents – the potpourri, kitchen floor mat, sunburst mirror, filing bins, pencil holder, plastic storage bins, seashell trash can and toothbrush holder, and wall decor – were all $55 and under from World Market and The Container Store.
The only thing I have left to buy is my high top chairs and table for the patio at $129 from Walmart. I am waiting for late summer because in the area I live, it has been cold lately, usually in the high 60s during the days and 50s at night. Two years ago it was blazing hot from the drought! I will post a photo of it once I buy it.
Happy decorating! 🙂