Hi guys! I am currently at the SheKnows Media BlogHer16 Conference in Downtown LA and blogging live!  I got my business cards handy, my cute outfit on and my laptop ready!
I am attending the conference today only and will be going to 2 different seminars on How to Blog to Book From the Publisher's Point of View and Driving Traffic to Your Site Using Social Media. I will be sharing some tips and trends that may help your in your future endeavors as well!
Sarah Michelle Gellar is kicking off the morning with her keynote and Kim Kardashian West and Sheryl Crow are also set to be the keynote speakers at lunch today, I can't wait! There may be some other surprises along the way that I will share.
Keep up with me throughout the day, I will be posting updated times below as to what session I am in on social media! 🙂 If you want to respond in the comments section I will be happy to answer your questions as well when I have a free moment. Make sure you hashtag #BlogHer16 and #SoCalShuffle!
4:45 p.m.: Hi guys! Thank you so much for following my blog during the BlogHer16 conference today! You support and comments on social media really have made an impact. I am done for the day and I hope you took away something from the keynote speakers and sessions I listened to. You can always refer to the information below for reference.
Chat soon! 🙂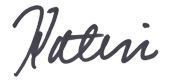 3:45 p.m.: I went to the Expo Hall to visit the Sponsor Booths and connect with brands. While I was there I got an autographed copy of Freddie Prinze Jr.'s new book, "Back to the Kitchen" along with a photo. I told him that his wife Sarah Michelle Gellar kicked ass this morning during her keynote and that I loved him in the movie "She's All That."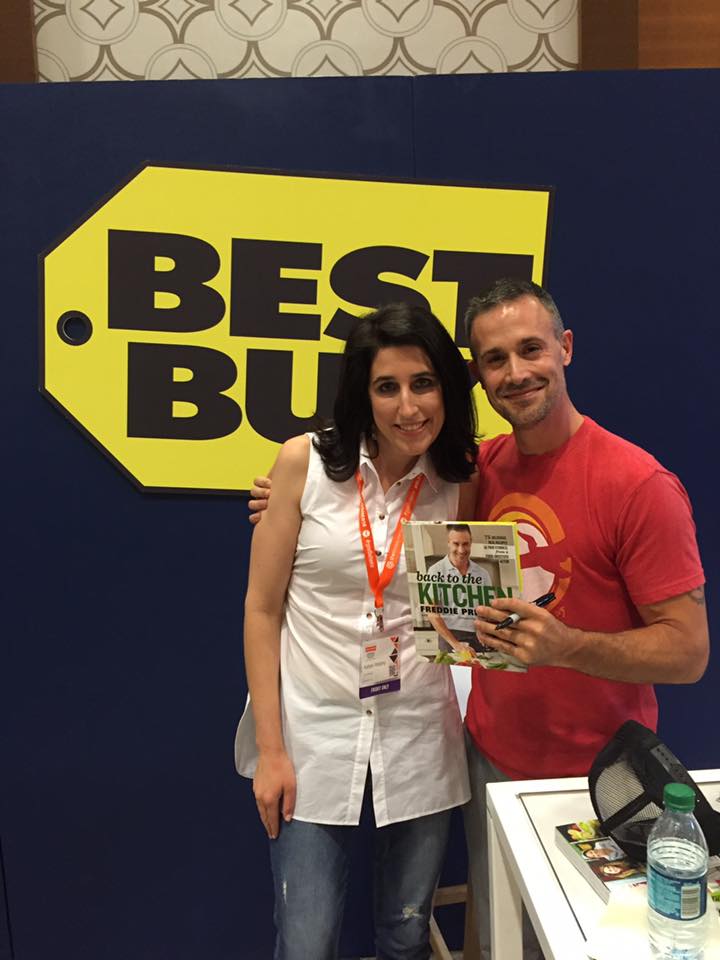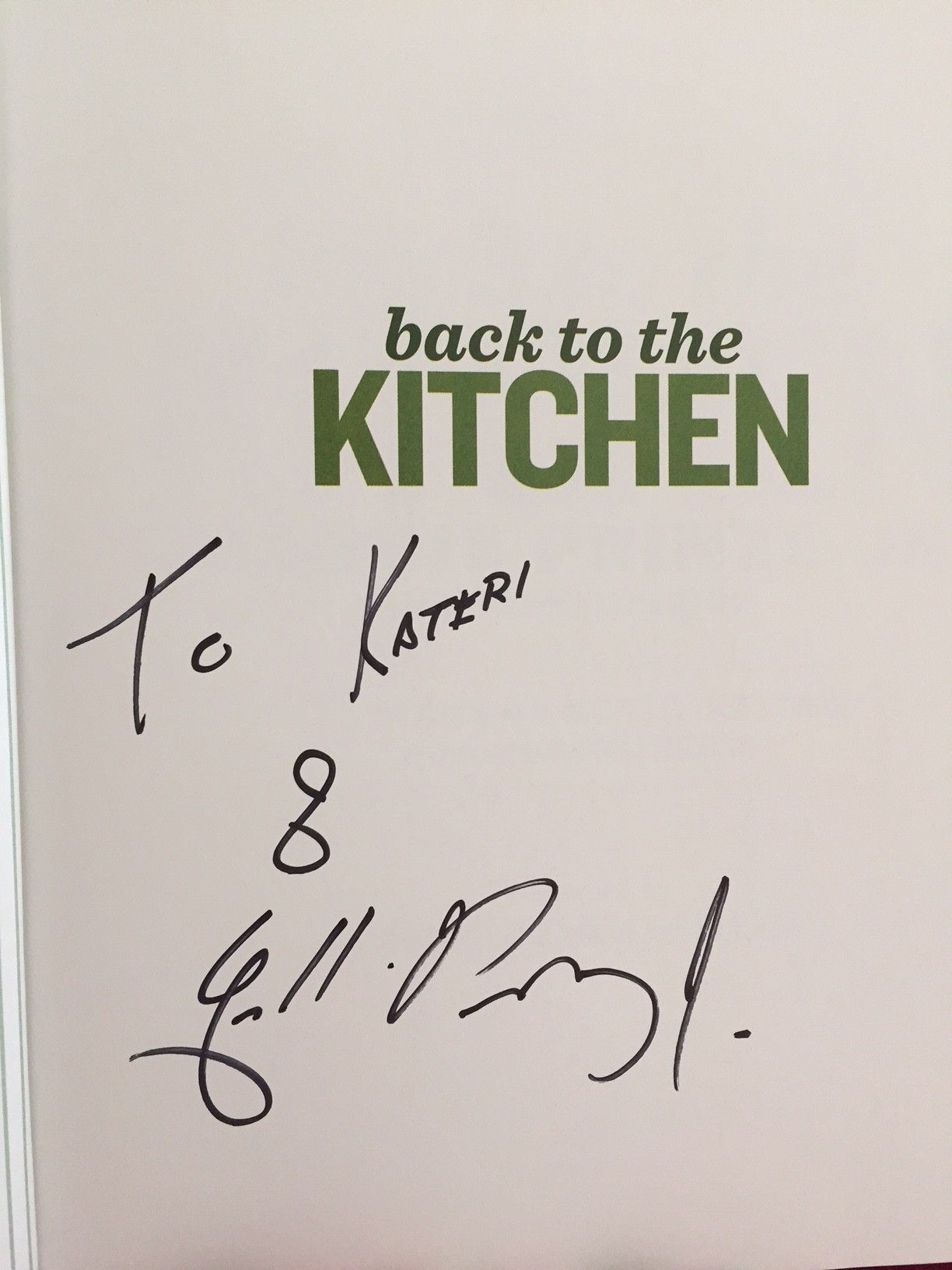 I also received a ton of coupons, sampled some ice cream from Baskin Robbins and took a photo with the ice cream mascot. I even did an interview for a documentary about Sheryl Crow and her work with breast cancer and how I felt about her keynote.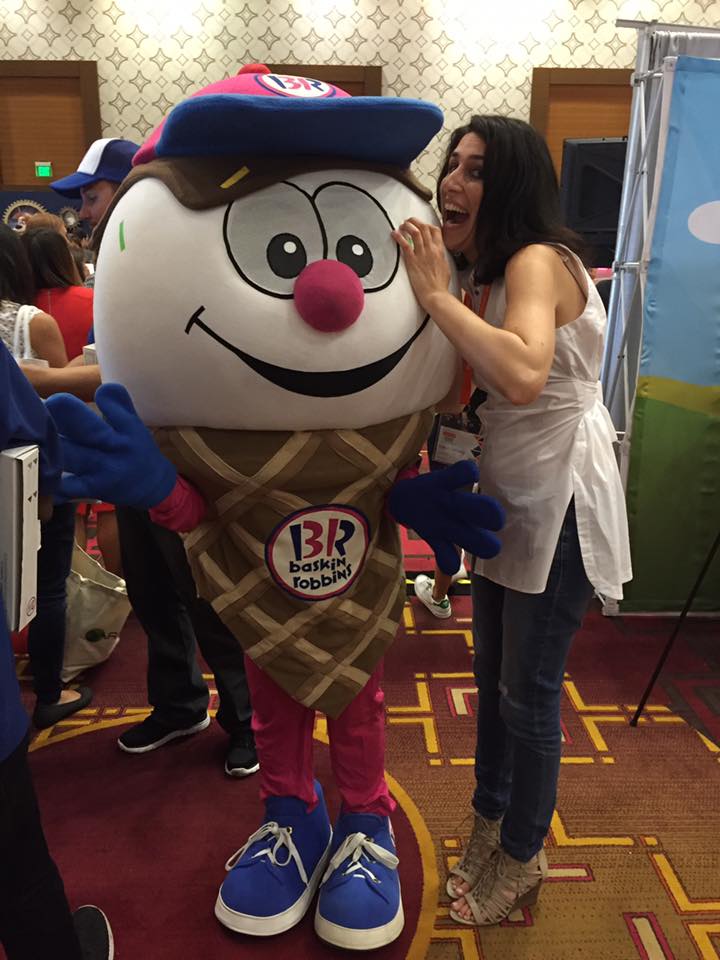 1:00 p.m.: This is the moment I have been waiting for all day (and probably all my life): to meet and hear Kim Kardashian West speak during lunchtime! I have been watching her since she first appeared on "Keeping Up With the Kardashians," I even have her app on my iPhone. I have learned so many tricks about makeup and some different independent fashion designers to wear.
On all of her projects: "Filming KUWTK, all of my apps (Kimoji…My cry face is my most signature emoji. I have the ugliest cry face ever.), I have a Lifestyle app that takes up half of my day on matters that are important to me or behind the scenes world."
On why KUWTK is on TV: "Our family life has always been interesting, people always asked, OMG, why aren't you on TV?"
On talking business with her father, Robert Kardashian, before he passed: "Being older now and having kids of my own, watching him was the best learning tool that I ever got. Just seeing how work driven and how determiend he was and involving us kids and seeing the follow through. I think seeing in the best example. I went to work for my dad and he taught me to be punctual and responsible."
On other female role models she looks up to: "I look up to Jessica Alba, she's very smart. I like to call people who I know for business advice."
On Kim Kardashian Hollywood, the app game: "After I had my daughter, I was reevaluating my life, I felt like my brand was all over the place and I wanted to take it back a bit, what do I love to do, what motivates me? There was a previous game called Stardom and they wanted to do the Kim version. At first I was
[hesitant], but Kanye said, This would be so cool! I wanted everything to be as life like as possible."
On people underestimating her: "It doesn't bother me. When someone underestimates me, I love to get to know them and have one on one conversation with them and prove people wrong. For anyone to assumes that it's not a full time job to sit and create things like blogs or apps, it's actually hard work. I feel for people, I understand how it could bother them if they were in the same situation as me. I know reality shows don't get the respect that they deserve, I will always fight to be on as long as possible."
On sharing her life with the public: I share about 85% of my life. The other 15%..I'm very protective of my kids. My husband is on our show sometimes but we do have a very private relationship. He's taught me how to be more private and I've taught me to be more open."
"I [share my life] because I love my connection with my fans and genuinely visit them or invite them to LA, I love their opinion."
On posting photos: "I used to care about all of the comments and see what people were saying…as you get older you just mature, I have thick skin. I have a great relationship that I feel so confident, it helps me. Kanye gives me that extra push. With my family, I don't have time to look at extra comments. When I post something, I'm not trying to get a reaction, I just do it because I like the photo. I feel good about myself and what makes me feel comfortable. Do whatever makes you feel comfortable and happy."
On being a feminist: "I don't think that I'm a feminist. I don't want labels, I am so supportive of women and I want them to feel confident."
On what she wants to teach her kids: "I hope that they learn to understand that they really can do anything that they want to do and to always be kind. I hope they see that it's ok to make mistakes, I've made mine very public. As long as you surround yourself with family and friends and that you grow from that, they will be ok."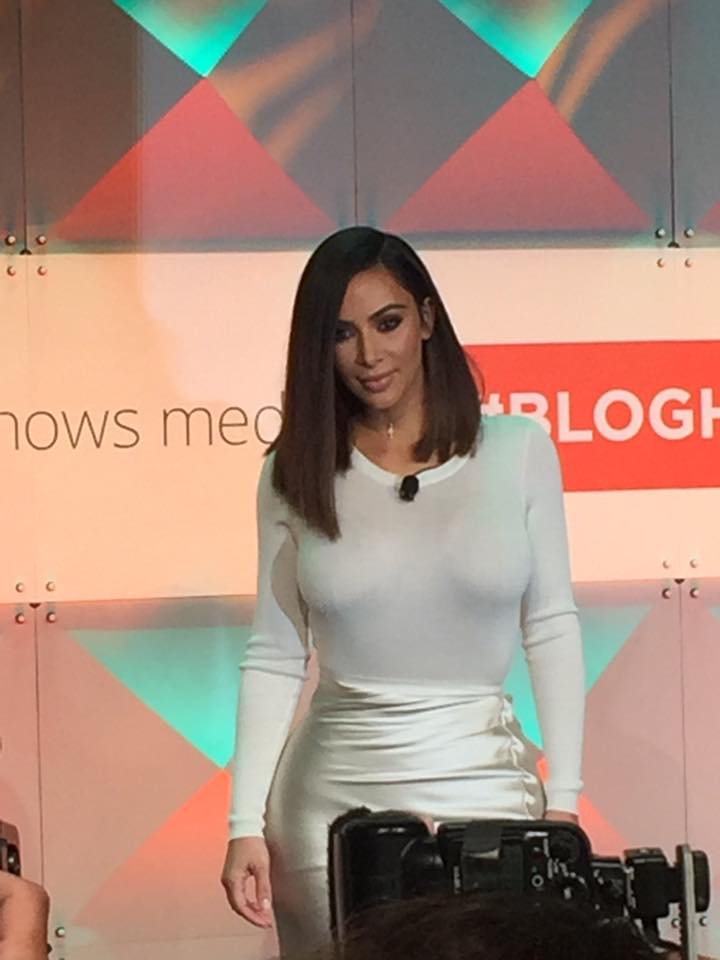 Sheryl Crow is doing a Q&A about her 10 years as a breast cancer survivor and to talk about her health and latest work. My favorite Sheryl Crow song…gosh that is a tough one…gosh it's probably a toss up of "All I Wanna Do" and  "Strong Enough."
On breast cancer survivors: "It's an amazing and hopeful time for me for breast cancer survivors, the technology has become so advanced. I'm working with Genius 3D and it can detect cancer 50 months early. The power comes from knowing your family history. Knowledge is power."
On foods with artificial ingredients: "We need to be aware of what is in our food and fight to get our food as healthy as possible."
On being a woman and taking care of your body: "It's important to learn as a woman that it's okay to be strong and feminine to make sure that you're taking care of yourself."
On new music: "I told my kids a year ago that I am not going to tour anymore. I've been touring nonstop since 1987. They said, What? You're not going on the road?! It's been good to be bored and creative and present. But I have made a record with friends [i.e. Willie Nelson], it'll be next year in October."
On woman empowerment: "Being empowered helps us remember who we are. Everything outside of those reminders are little distractions. Being empowered is noticing without making judgment and taking that and using it to be the best version of yourself that you can be."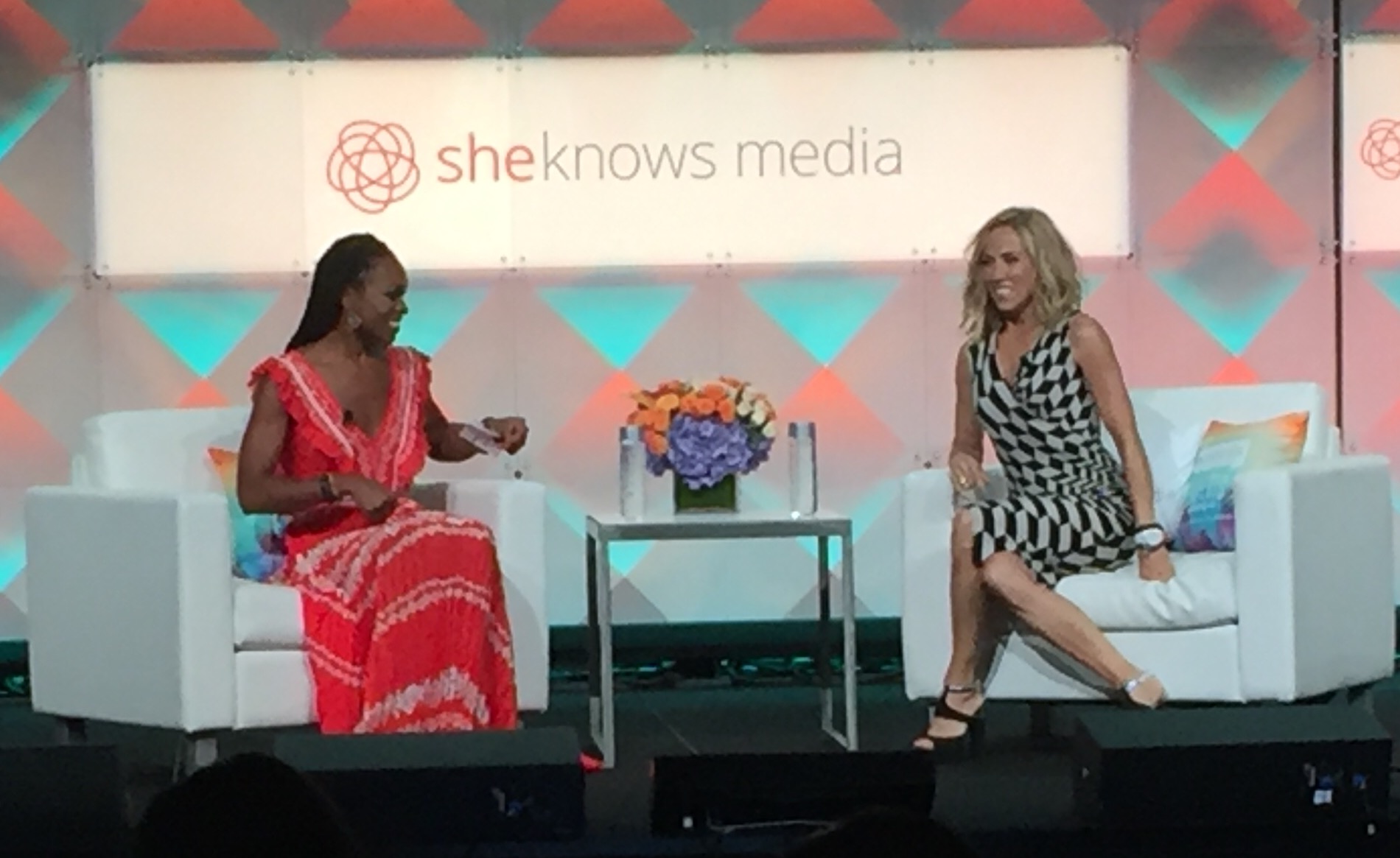 11:30 a.m.: My second session of the day! This conference is so much fun and I am meeting so many amazing bloggers with creative ideas.
This session is in the Tech & Tools category called SMO: Drive Traffic to Your Site Using Social Media. You guys are already huge supporters but it's always good to have more followers and fans!
The speakers, Deb Kadetsky and Jennifer Evers of SheKnows Media, are about to share concrete ways to improve a blogger's discoverability and help create the perfect combination of SEO and social media. I learned three important aspects:
How to build an effective social media strategy to improve your site's organic search results:
Mission, Vision, Values, Short Term and Long Term Goals, Income and Expenses.
Where are your people?
Who is your customer?
Don't build a house on someone else's land. Put the site on a host like GoDaddy.
Branding is King: Be consistent and make your content easy to share but hard to steal.
Put a teaser onto your social media posts, not the whole blog post. Put a snippet and a compelling photo. Also put your watermark/website on an image so no one steals it (PhotoGene). Also use a different photo on different social media channels.
How to design your social media content to suit the strengths of your chosen networks:
Consider the age and the voice you post it in.
LinkedIn: has high income users.
Pinterest: tremendous reach among women.
Instagram: most social network amongst U.S. teens.
Why one-size-fits-all posting is not making the most of your social media platforms:
Social KPIs: Where to Find Engagement: clicks (they are nothing unless it shows in the news feed), likes (increases search results), shares (gives a recommendation to friends), comments (spawns conversation) and brand mentions (use the handle). Adapt accordingly.
You can all of the impressions in the world but if no one clicks on the ad it's not a valuable impression.
You spend a lot of time crafting your content, also spend time crafting your social media strategy as well.
Track trends: consider the time of day, day of the week, week over week, month over month.
Content types: links, photos, video.
Frequency: consistency matters, platform tolerance varies. Allow for several posts and enough time to see the trends.
10:15 a.m.: Okay! I am now in my first session of the day regarding Publishing and Writing called Behind the Curtain: Blog to Book From the Publisher's Point of View. This is a very important session for me because I would love to turn my blog into a book. I actually already have a book title in mind and how I want the book to flow, but I don't want to say it as I don't want someone stealing my idea. 🙂
There are many publishing professionals checking out blogs and social networks looking for successful writers with built-in audiences and market-tested ideas. I am learning 4 important aspects from 4 different speakers:
Secrets to writing a compelling query letter that makes an agent want to read your proposal:
"We will not publish a book unless the author comes with a marketing plan."
"We see it as a partnership."
"I've gotten depend on the proposal 6 months to a year, you need to get the proposal to be amazing and to have the literary agent excited about your book so that you can get the best book deal and the right publisher. You will be a priority title for that publisher with the marketing aspect. You take 6 months to a year to write the book yourself and then we take a year to get it published."
"We need to see a part of the draft manuscript before it is signed, 5 peer reviewers give a critical review, we get the feedback, then the editor works with the author from the feedback, the final publication we do about 6 months. The copyeditor is doing the manuscript, then there's the cover design and working with the author on that until we go to final publication."
"If you're going to write a book, get an agent! It's like walking into court with a lawyer or without."
How to open doors and secure a book contract from a traditional publisher:
"The publisher first asks, what is your platform? You need to prove that you can reach those people and sell to them."
"The difference between blog content and book content is book content is compelled on one big idea. A blog has multiple. The book content allows you to get in deeper and analyze. Book content can also allow you to reach other markets other than a blog, a book can get in book stores, libraries, they make great gifts. There's a lot of different opportunities to get out there."
"Research your agencies and see what kinds of authors they are representing, then go through their inquiry process."
How to make your book stand out against the competition:
"As yourself what your goal is, What is my purpose and goal in doing the book? You want to expand your audience."
"Think about how it will be incorporated in training programs or speaking engagement or building your email list or going on a TV show."
"Just because you have 500 more Instagram followers doesn't mean that you are going to have 500 people buy your book. You need to reach a wider audience and engage, look at the depth of that connection with your fans, not just the number of followers."
"It's your audience, it's your voice."
"It's a wonderful time to be an author. You will be knowing 6 months in advance if people are talking about it on Amazon or on your pre-order campaign. It can build up itself and if you have these things in place before you begin the process."
How to repurpose your blog content into a book:
"What are the most compelling stories and breaking it down into one? It was reorganization and breaking it down. You want to have some kind of passion that wants people to buy it."
9:15 a.m.: Sarah Michelle Gellar just took the stage, she's very energetic and funny! Most people remember her as the lead character on "Buffy the Vampire Slayer," but I remember her from one of my favorite ruthless movies as a teen, "Cruel Intentions!" She is going to talk about starting up  her new business, FoodStirs, and the lessons she has learned on the entrepreneurial road.
FoodStirs mission is to help create memorable experiences through baking with organic and non-GMO ingredients. I actually just took a quick look at her website and she has a lot of interesting and yummy concepts, such as the Brownie Popsicles, Movie Night Kit and Cupcake Cone Kit!
On why she wanted to start FoodStirs: "I wanted to take control and I knew I was capable and doing more. I was successful with Buffy and I'm not afraid to go and try new things, I'm proud of myself. I had a great reach and I saw a whole other marketplace."
On how the FoodStirs idea came about: "The idea came about is that I have children, we live in a society that is connected and the kids were inspired by being in the kitchen. Baking is just more natural, it's about finding gross motor skills whether it's math or science."
On her first year with her business: "Failure is just your first attempt in learning. My husband [Freddie Prinze Jr.] and I look at failure as an exercise, it's trials and errors."
On influencers: "What makes a difference is when other people feel the same way about your product and you can support other people's brands. It needs to be authentic."
On her TV and movie career: "It's been great but I think of you spend your life worrying about your past life, you're going to miss the moments."
On the reboot of the Cruel Intentions TV show: "Look for an announcement in the next month and a half. We will probably start filming in the next year."
Sarah's philosophy on business: "If it's not challenging, it's not worth my time."