I have been dying to see Bryce Canyon and Zion National Parks but I didn't want to drive (I get tired easily if I drive too long), so back in August, I booked a bus tour through Tours 4 Fun for $439 for 4 days, which also included hotels! The company also had 4/5 star reviews with great comments, so hey, why not?
This was the first time I have ever been on a bus tour for longer than a day. I have to say that the first day on the bus was grueling for me only because I wasn't used to being on one, plus I had waken up at 4:30 a.m. so that I could drop my car off in the Valley and then Uber it to Downtown LA's Chinatown for the bus to pick me me up. The 2nd, 3rd and 4th days were fine for me though!
The tour guide was also very kind and informative. When it was early in the morning, he'd let us sleep for a bit. He always kept everyone on schedule. He made us laugh. Basically, he took care of us to make sure we were having a nice, fun time. Even if we were on a bus on and off all day, the longest period we ever sat was 2 hours.
Some important points to make:
There will be hardly any mentions of food from this trip because I was always on the go and stopping at convenient stations with surrounding restaurants.
Bring plenty of snacks when you are on a tour bus, as you will get hungry. I had cheddar crackers, grapes, jerky, protein bars, graham crackers, veggie chips and a ton of water. Oh my god, stock yourself up with water!
Bring a pillow or neck pillow. You will want to be comfortable and sleep at times!
Bring headsets and a portable charger. I cannot stress this enough! Tour buses do not have outlets (obviously), so make sure you charge it the night before. I bought a myCharge from Best Buy ($79.99) and it charged my iPhone 7 Plus 2 1/2 full charges. It lasted me all day.
All of the national parks/sites that were visited (Bryce Canyon, Zion and Grand Canyon, Horseshoe Bend, Antelope Canyon) have practically no cell phone reception.
If you plan on visiting a national park, the fee is $30 per private vehicle and it is valid for 7 days.
Day 1: Arizona: Lake Havasu City (London Bridge). Nevada: Laughlin, Nevada
I had to be in Downtown LA in Chinatown by 7:20 a.m. for the tour bus to come and pick me up and take me to the travel office. We were then transported to the appropriate bus taking us to our destinations. After another pick-up stop to get some more tourists, we were on the road by 9:45 a.m. We made a quick stop in Barstow, California for some food and had my photo taken at the Route 66 pillar.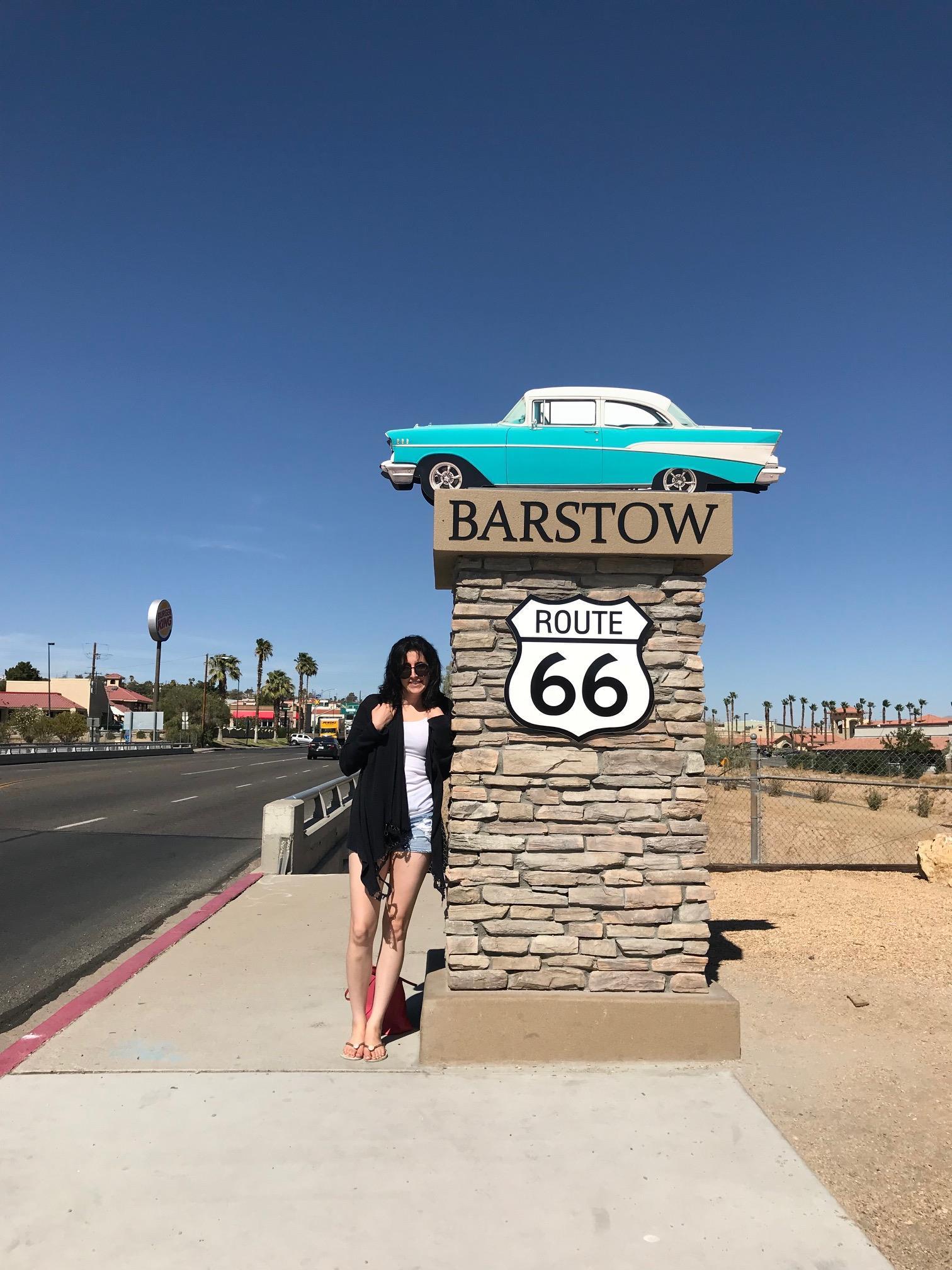 We boarded back on the bus and got to Lake Havasu City, Arizona at 3 p.m. to view the original London Bridge. By this time, it was 95 degrees outside, it was hot!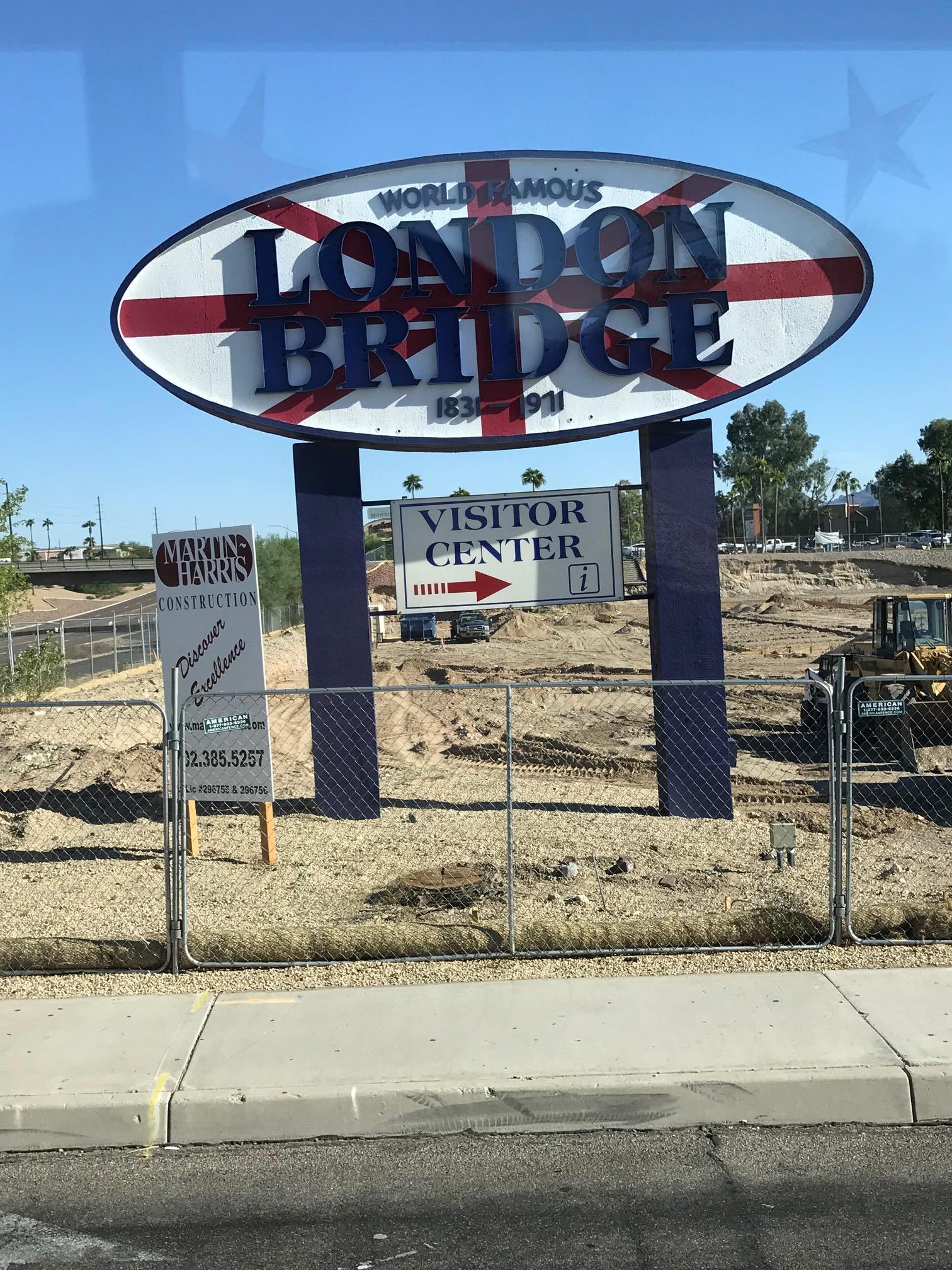 According to the website, the bridge was built in the 1830s and formerly spanned the River Thames in London. It was dismantled in 1967 due to uneven construction and constant repair. A man named Robert P. McCulloch bought the bridge for $2.4 million in 1968 to relocate it to Lake Havasu City. By 1971, the bridge was complete.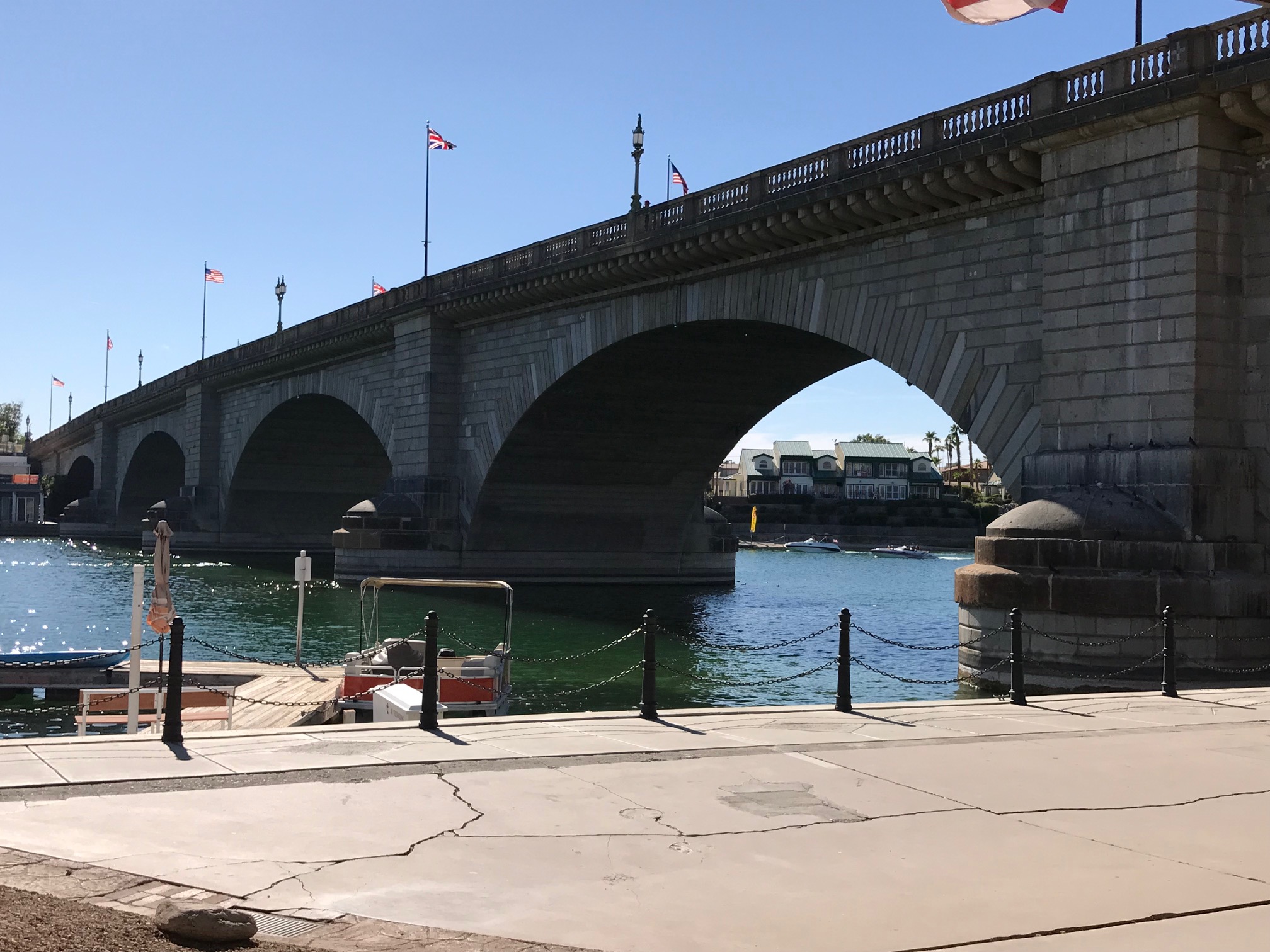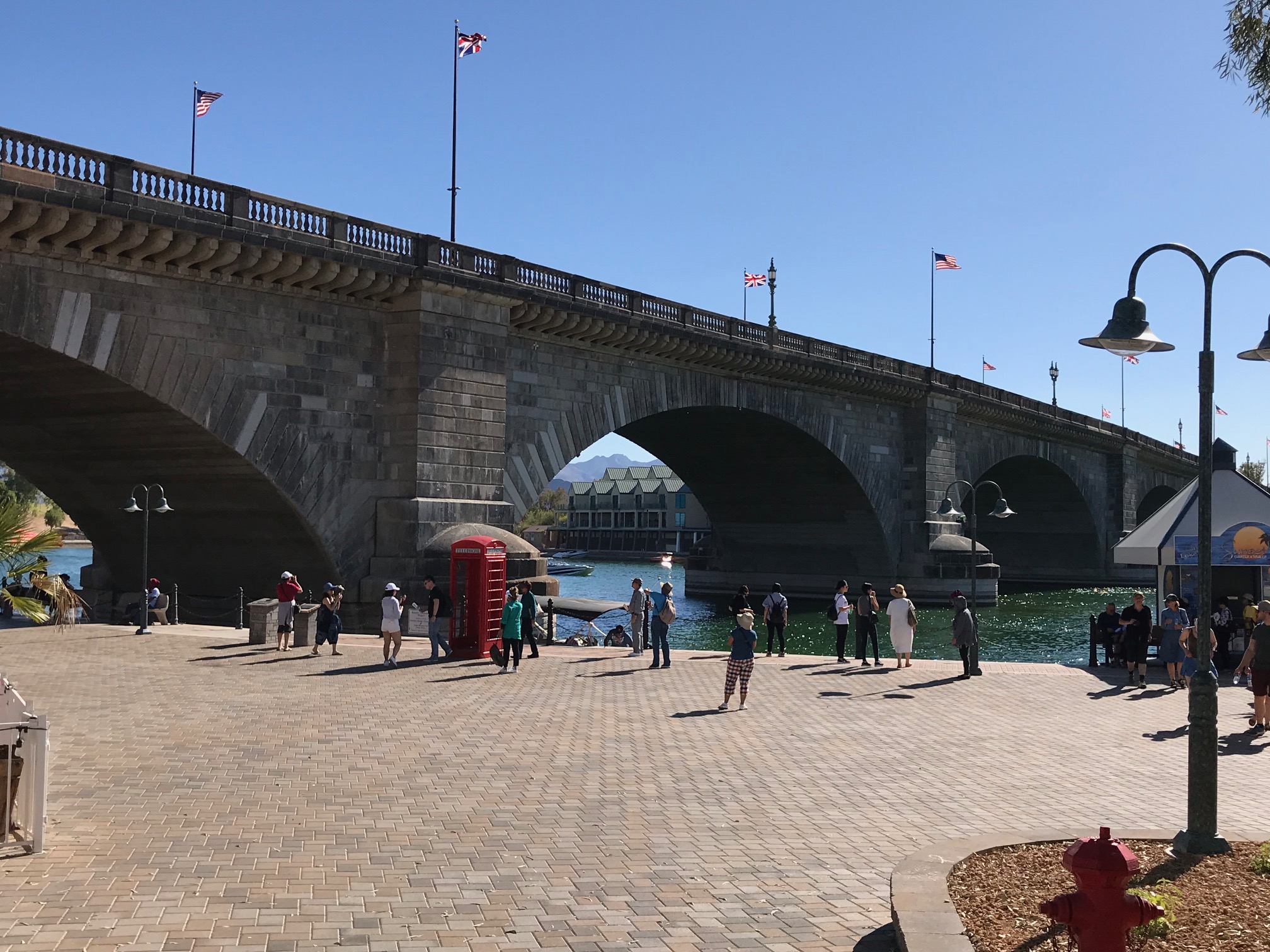 The English Village also had the World's Largest Candle Shoppe called London Bridge Candle Factory. It certainly was. The candles came in a variety of colors and were very pretty. But if you broke one from touching it, you had to pay for it. There were warning signs all over the store, so I decided to be safe and admire them from afar.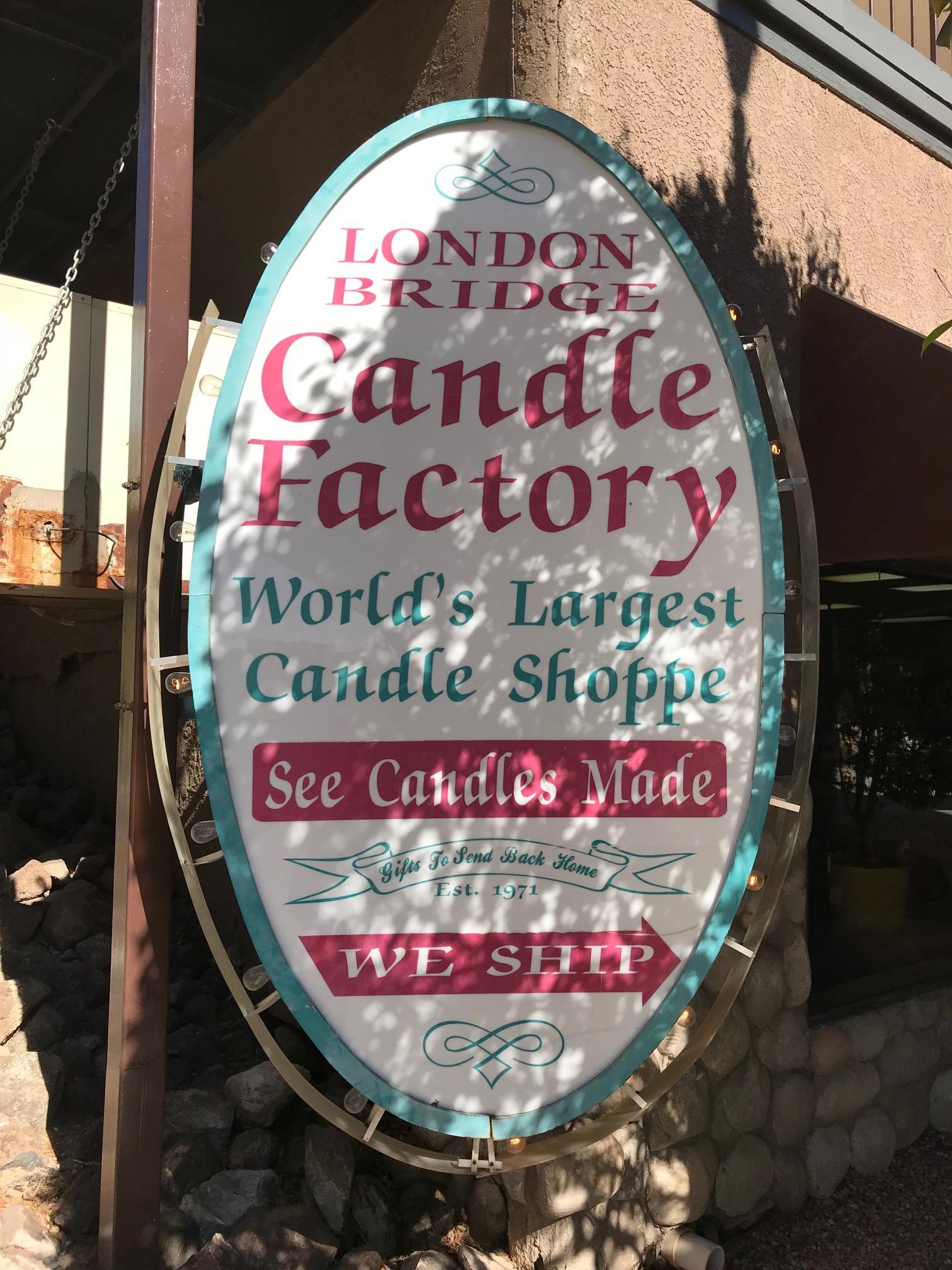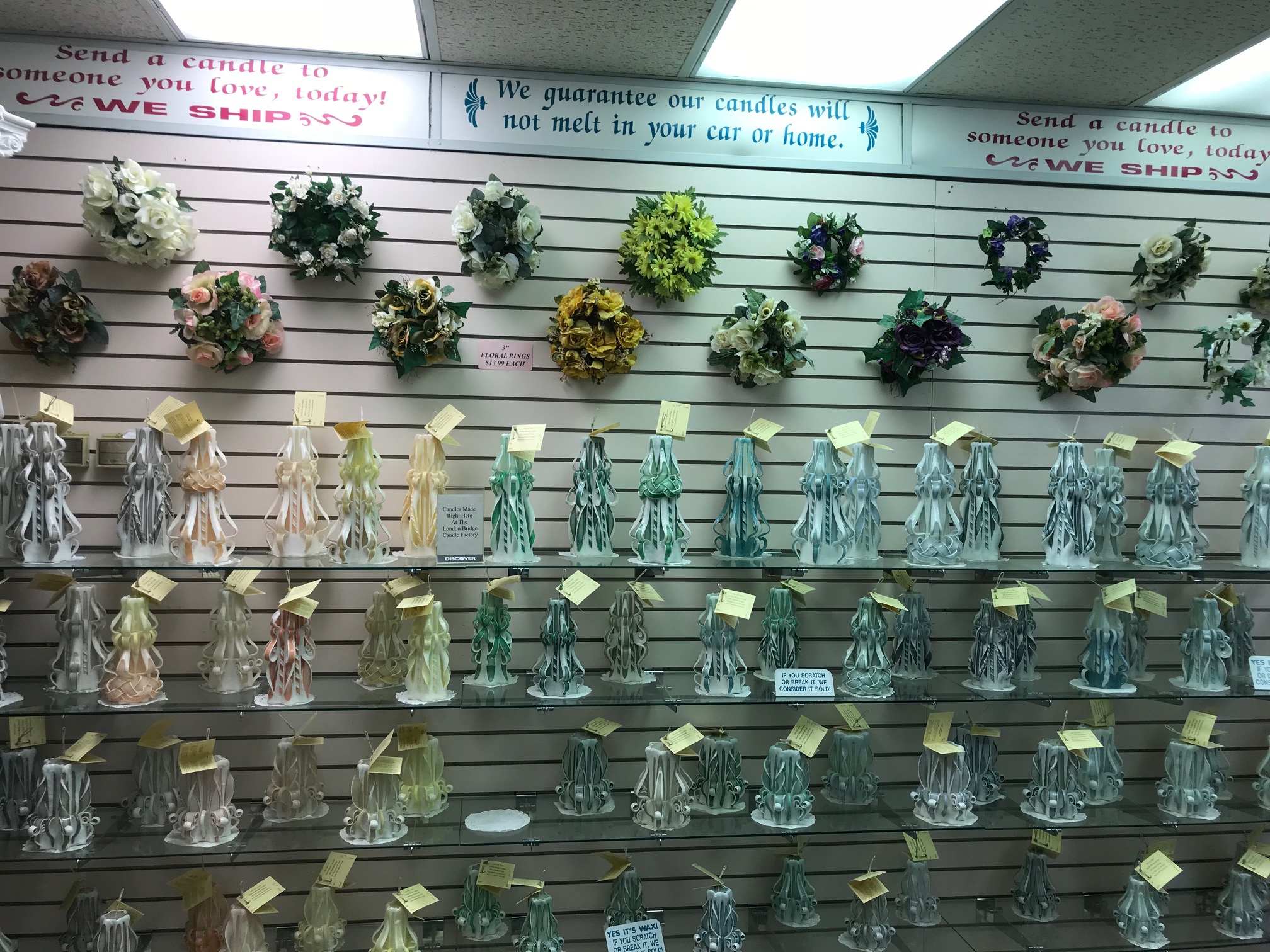 I also had my photo taken in one of those red telephone booths they have over in the UK, something I have not been in since my trip to Ireland/Scotland last year, and also by the fountain.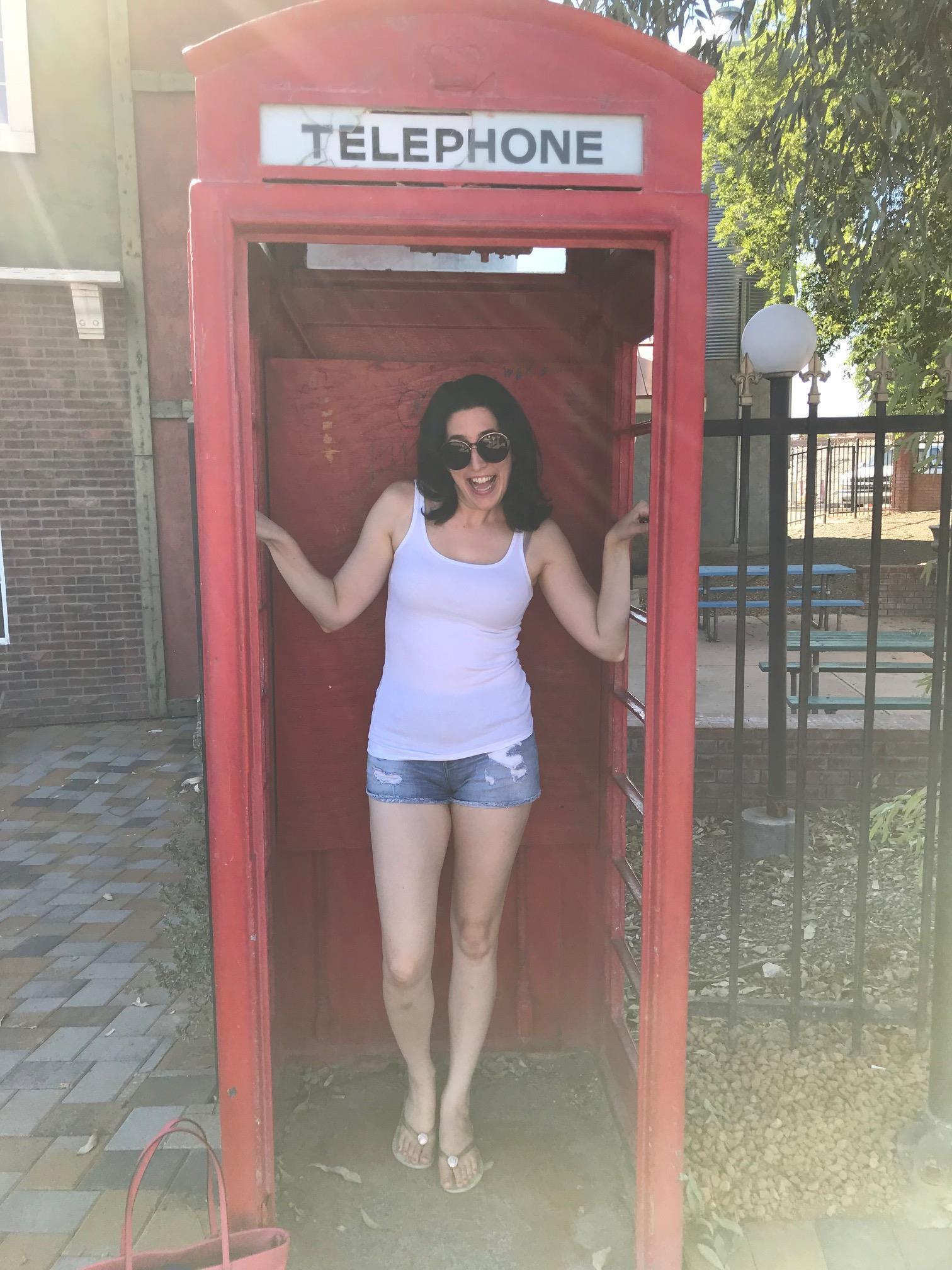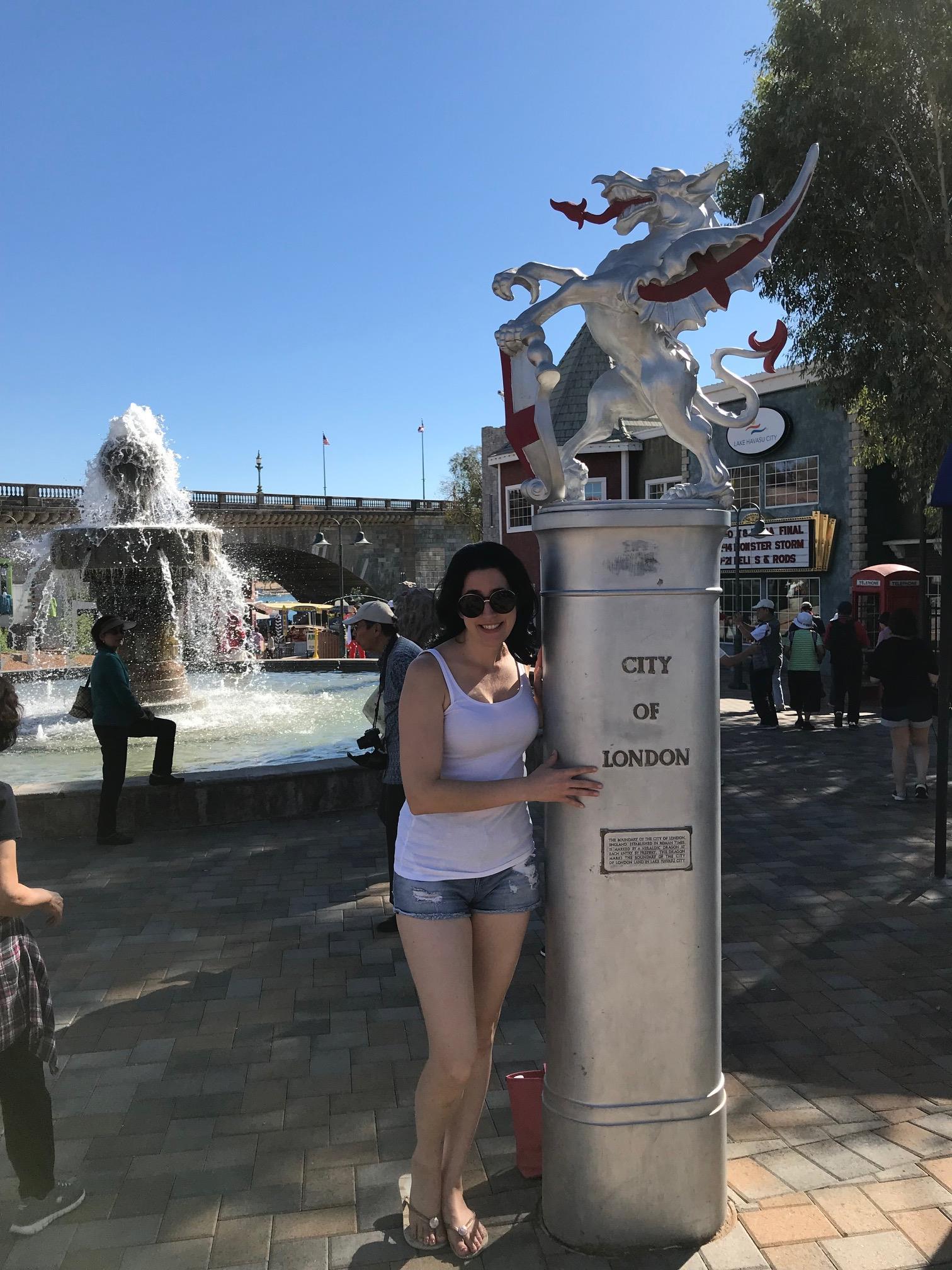 Inside the visitor's center, there was a map where visitors could add a colored pin to where you were visiting from on a variety of maps. You can see where I added my yellow colored one onto the Channel Islands area. I thought it was a great idea!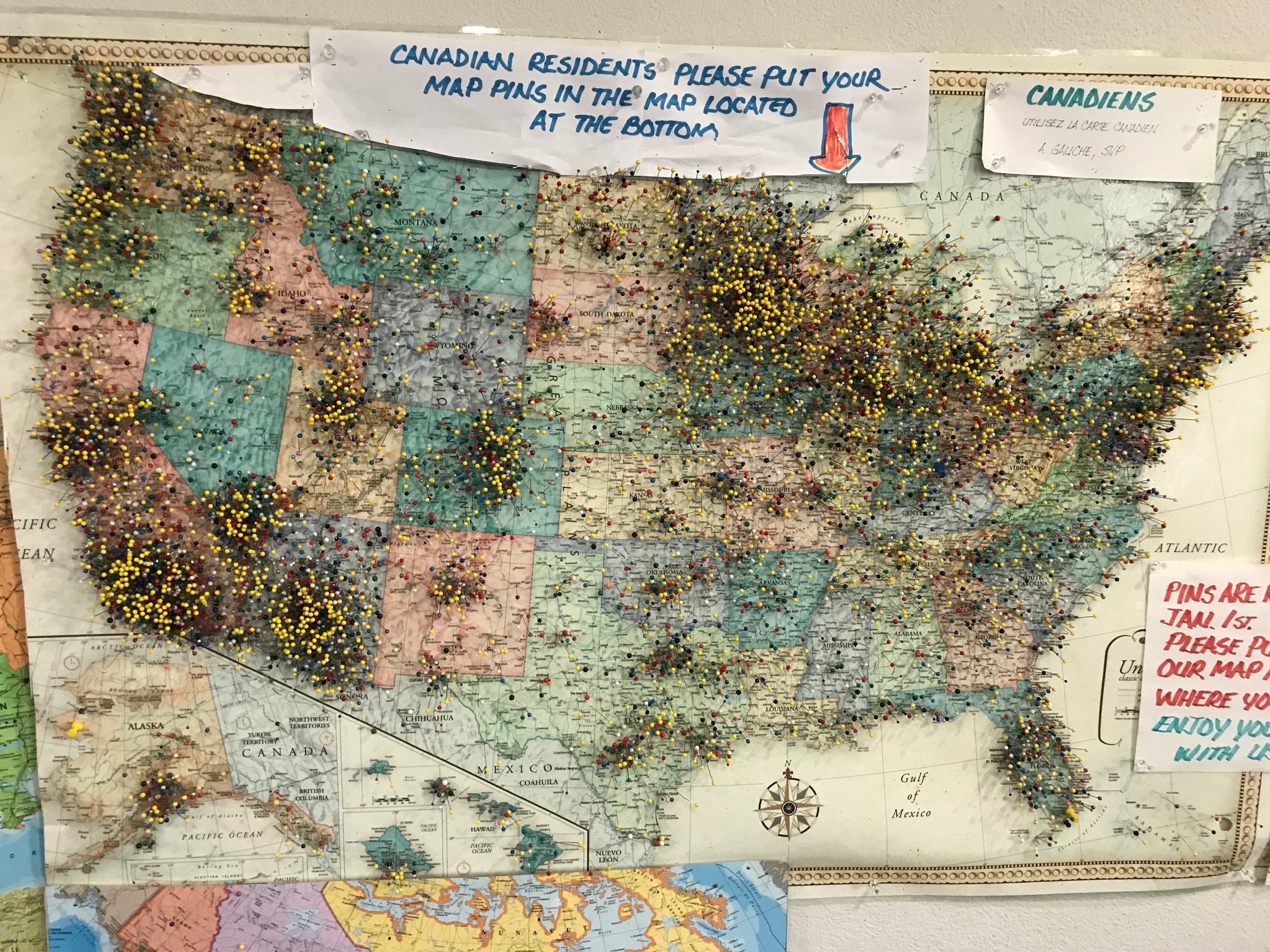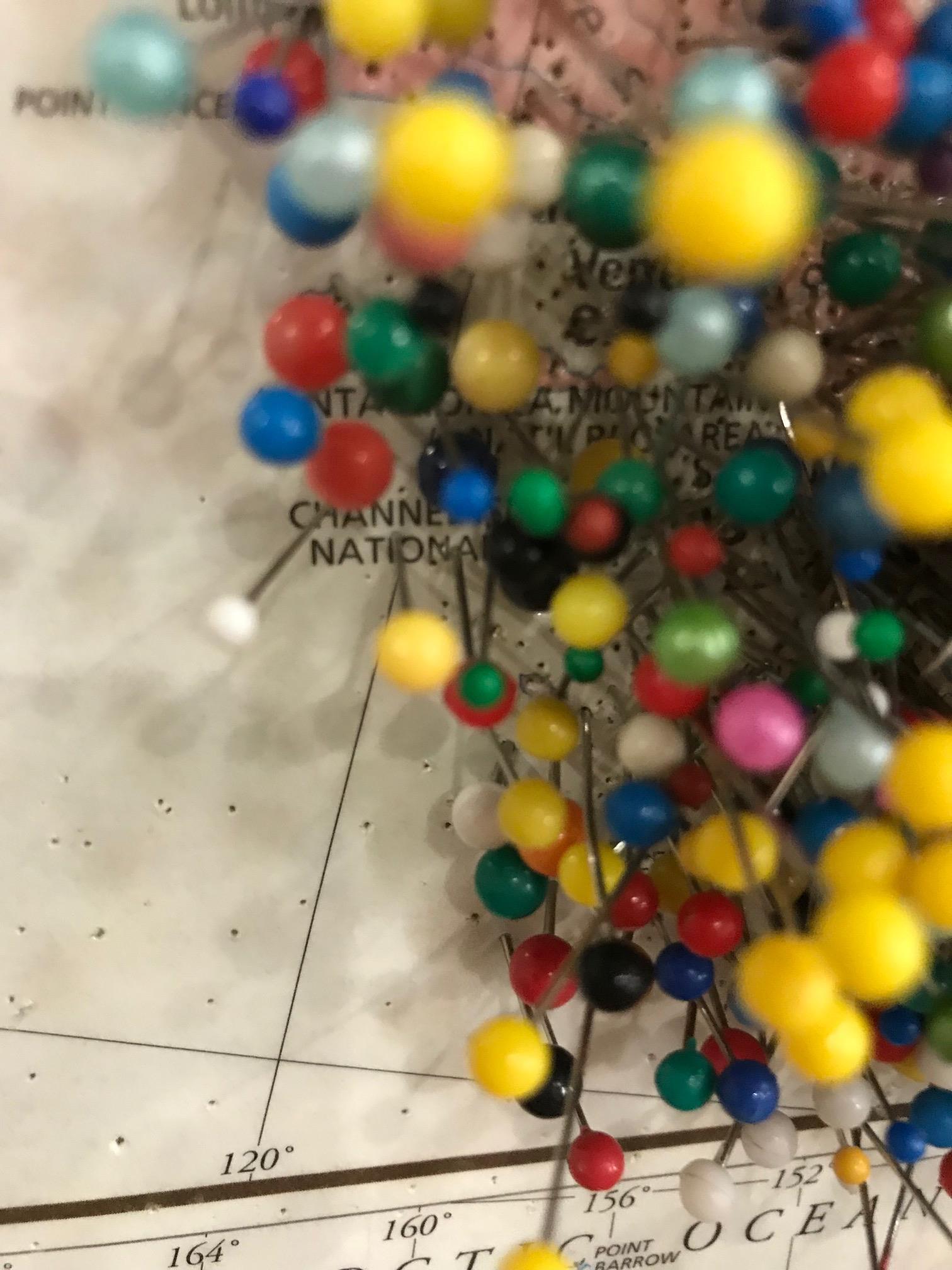 We boarded the bus at 4 p.m. and started making our way to Laughlin, Nevada, which is like a mini Las Vegas with hotels and casinos. We were now driving along the corner of California/Arizona/Nevada. Before we hit the city, we went through the small town of Needles, California, home of Snoopy's brother Spike! I thought it was so cute and funny. I couldn't snap a photo quick enough of the billboard, so I found it on the Chamber of Commerce's website.
In Laughlin, we stayed at the Colorado Belle Hotel. The hotel is in the shape of the ferry and right on the water, it was pretty neat! Once I checked in, I took a stroll of the back along the riverfront, ate some dinner (not the greatest buffet I've ever had, it was okay) and watched some live music before calling it a night.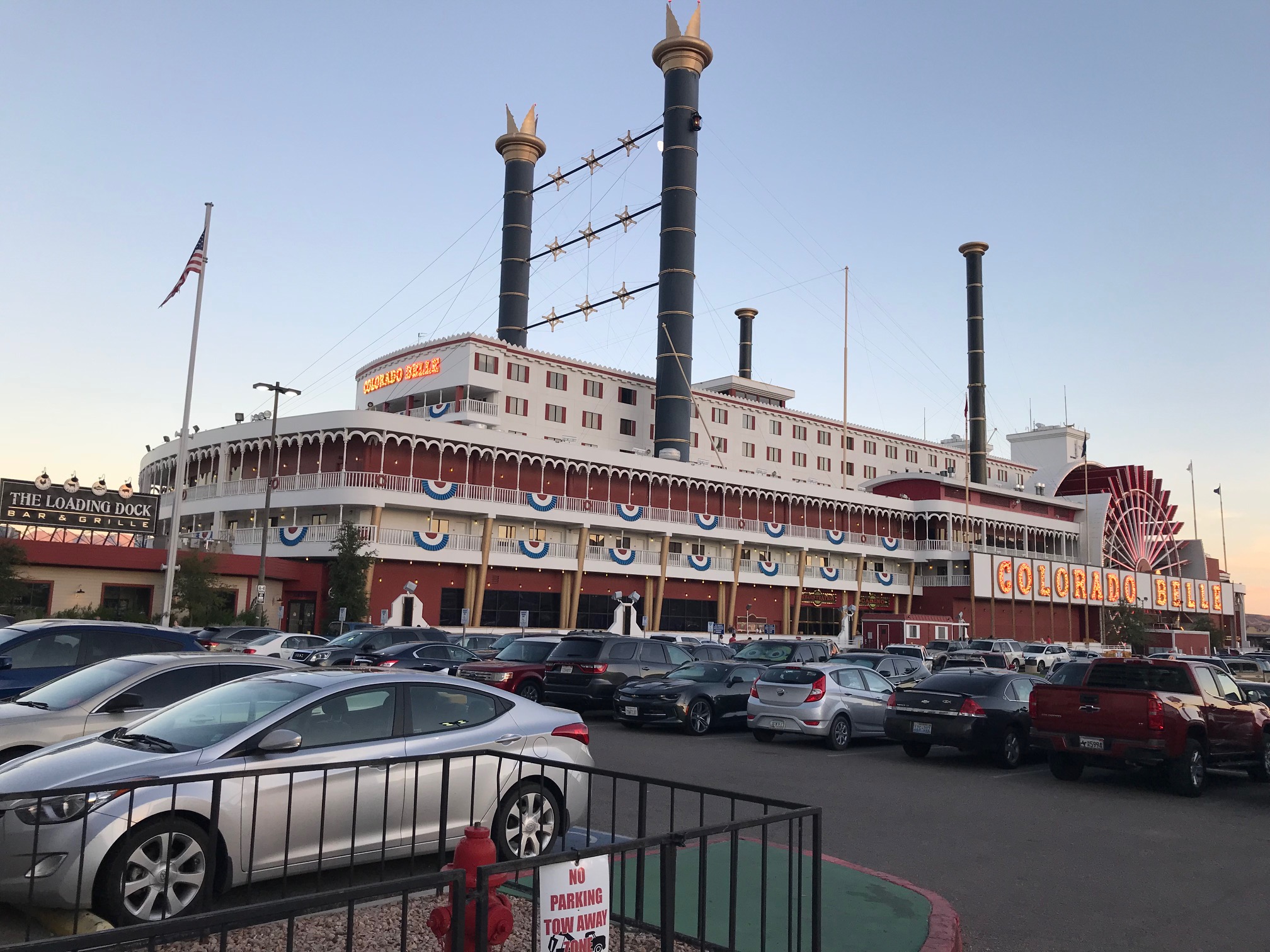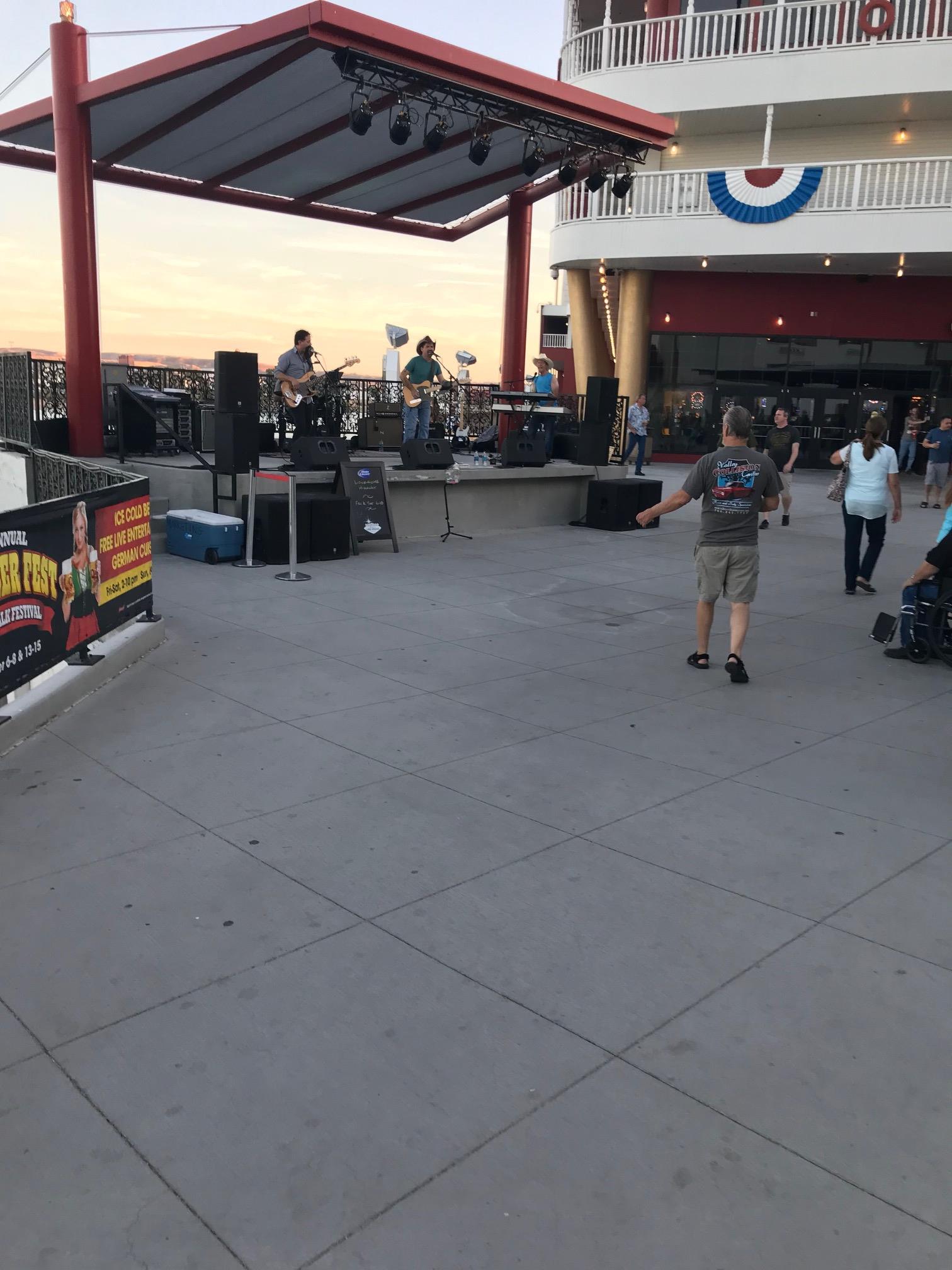 Day 2: Arizona: Grand Canyon, Horseshoe Bend and Antelope Canyon
We boarded the bus at 6 a.m. and headed towards the East End of Grand Canyon National Park. I visited the West End/Skywalk of the Grand Canyon 7 years ago right when I was moving from Minnesota to California, so it was exciting to see another end of it!
You can read some facts about the Grand Canyon I found in this informational stand below. It is also considered one of the 7 Natural Wonders of the World. I still have yet to hike it and go white water rafting.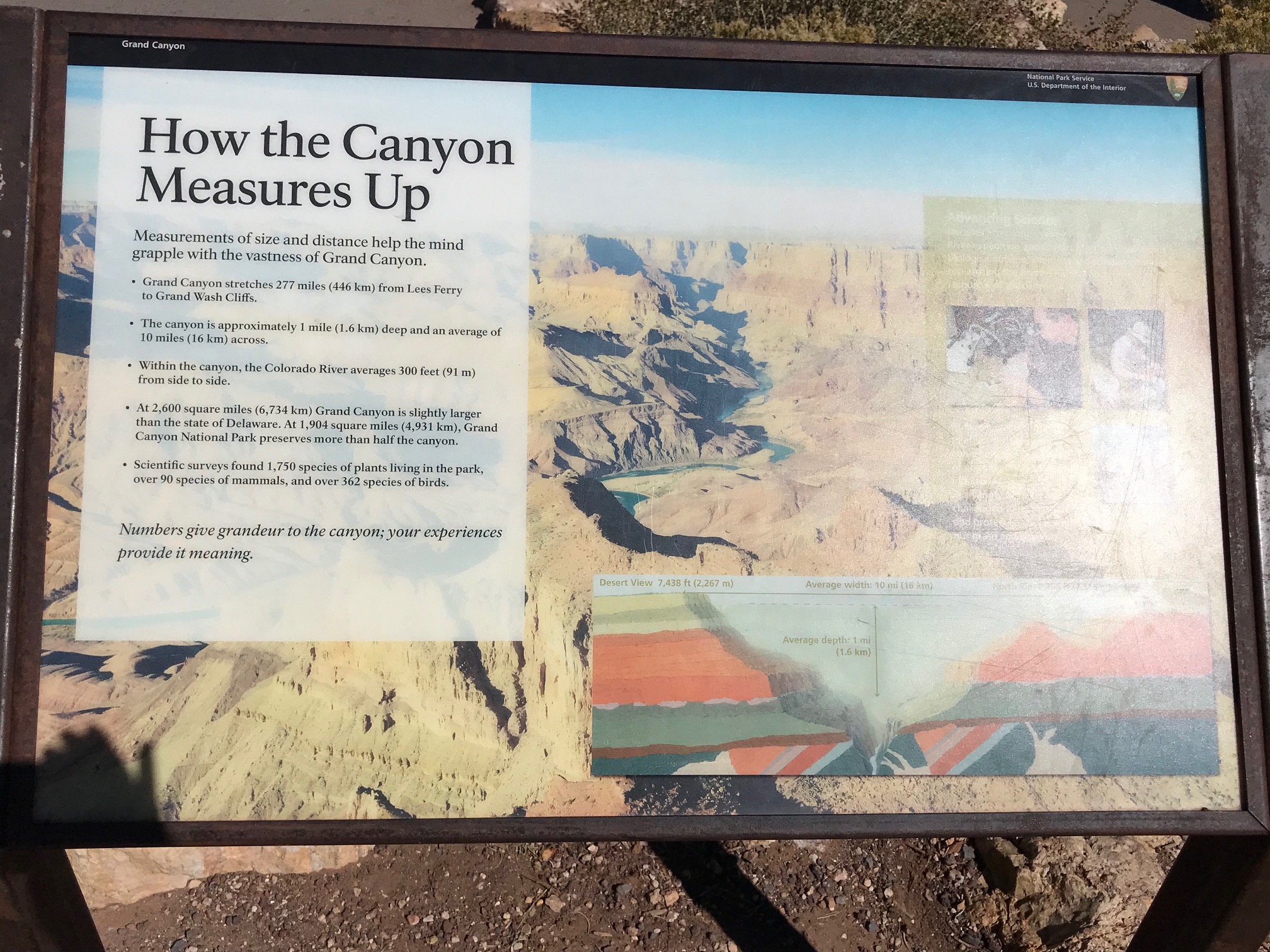 We got to the East End at 10:40 a.m. and started exploring. The scenery is just peaceful and breathtaking. You feel like you are in heaven.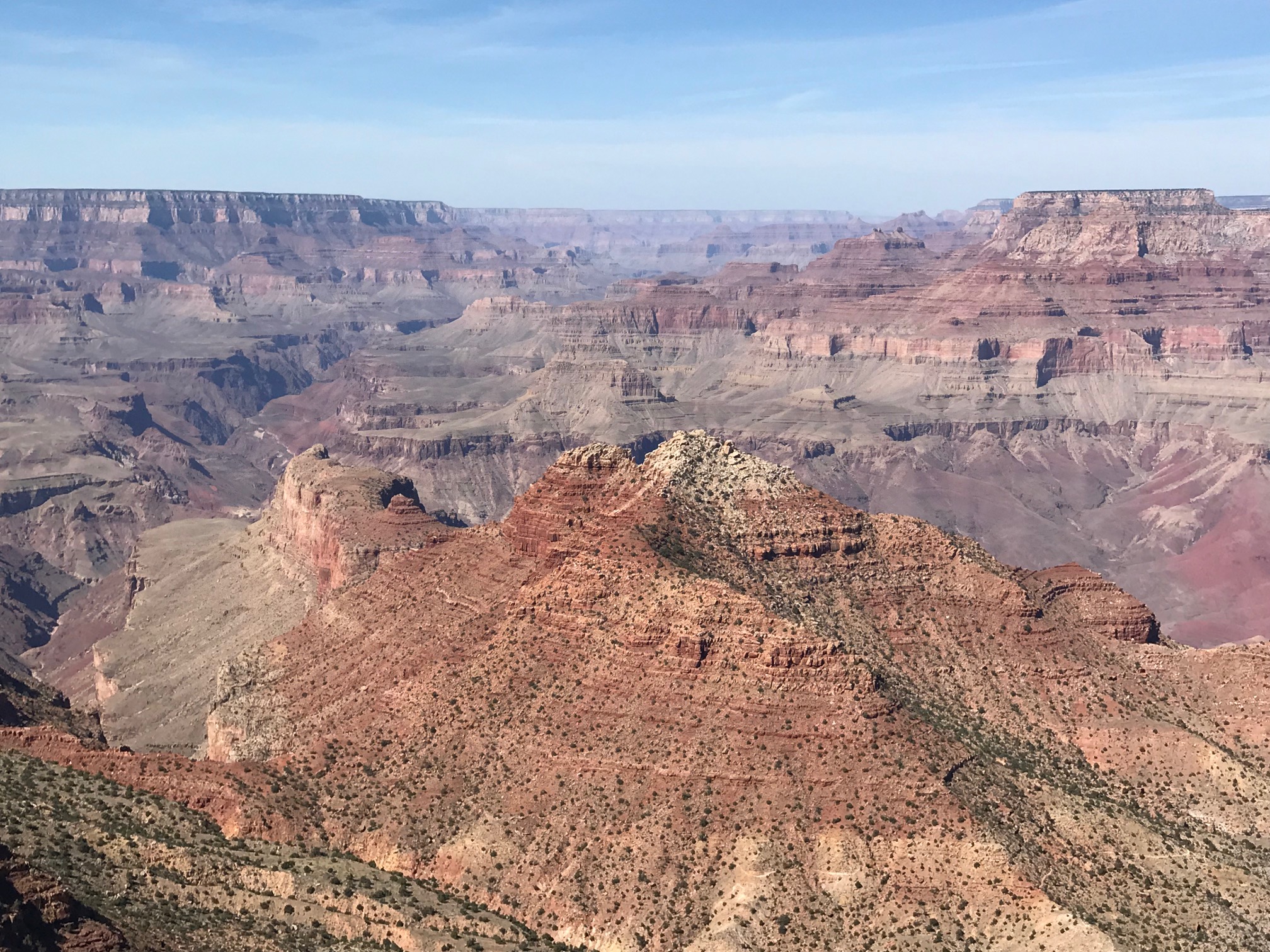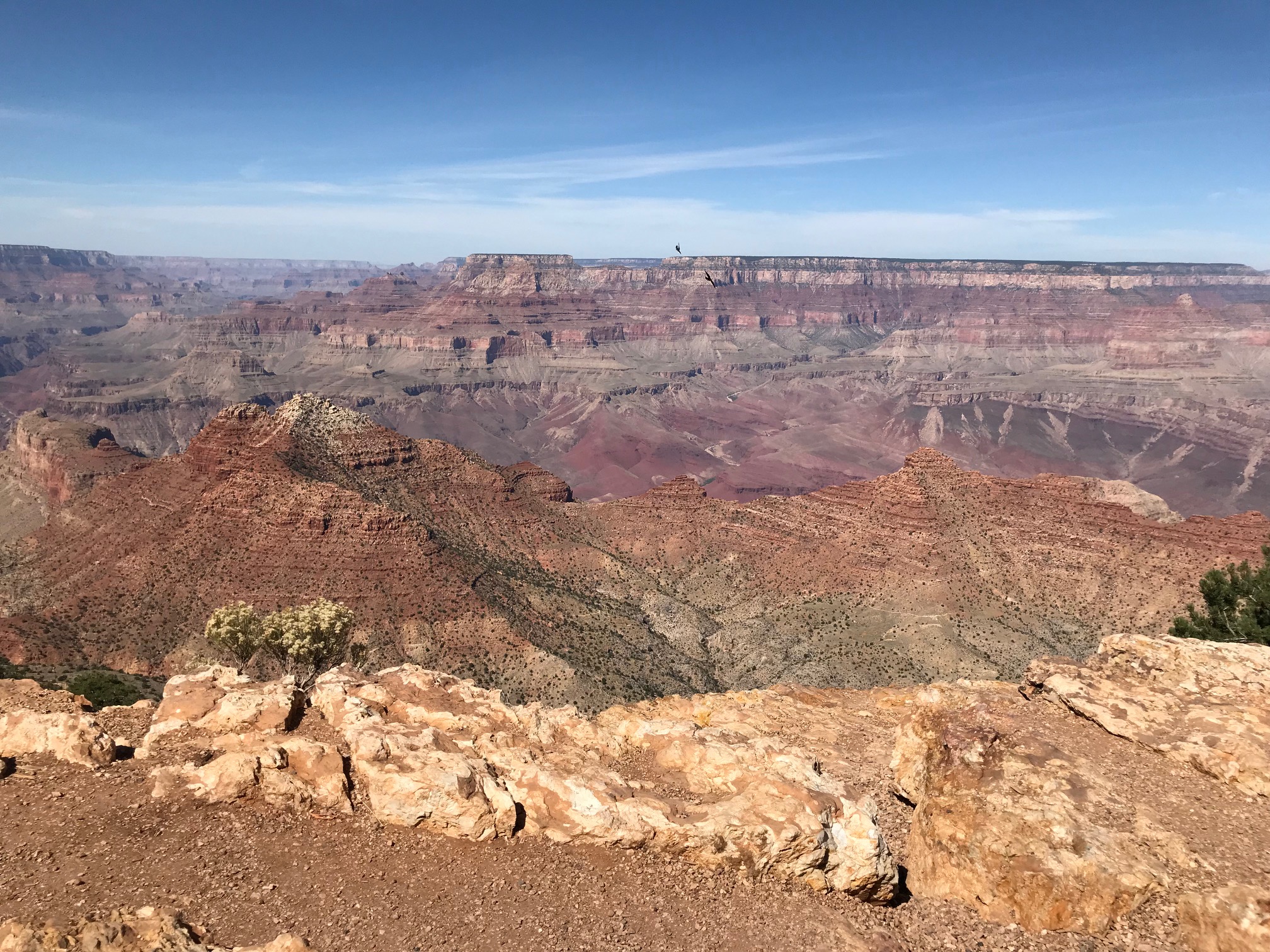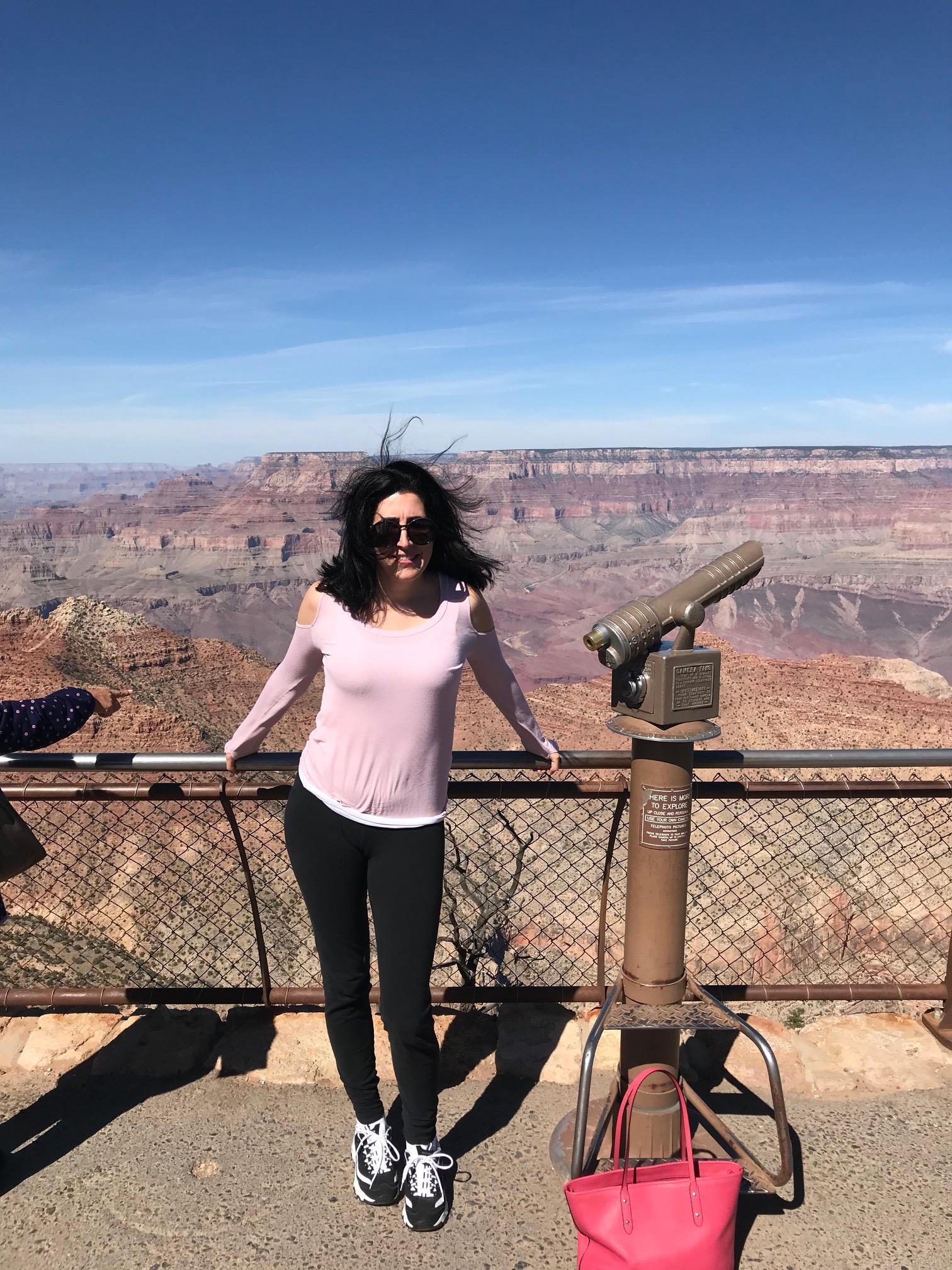 I then headed into the Desert View Tower to a look at the canyon from above. I had to climb 4 flights of stairs to get to the very top. Inside, there were these cool Indian Hieroglyphs painted on the walls.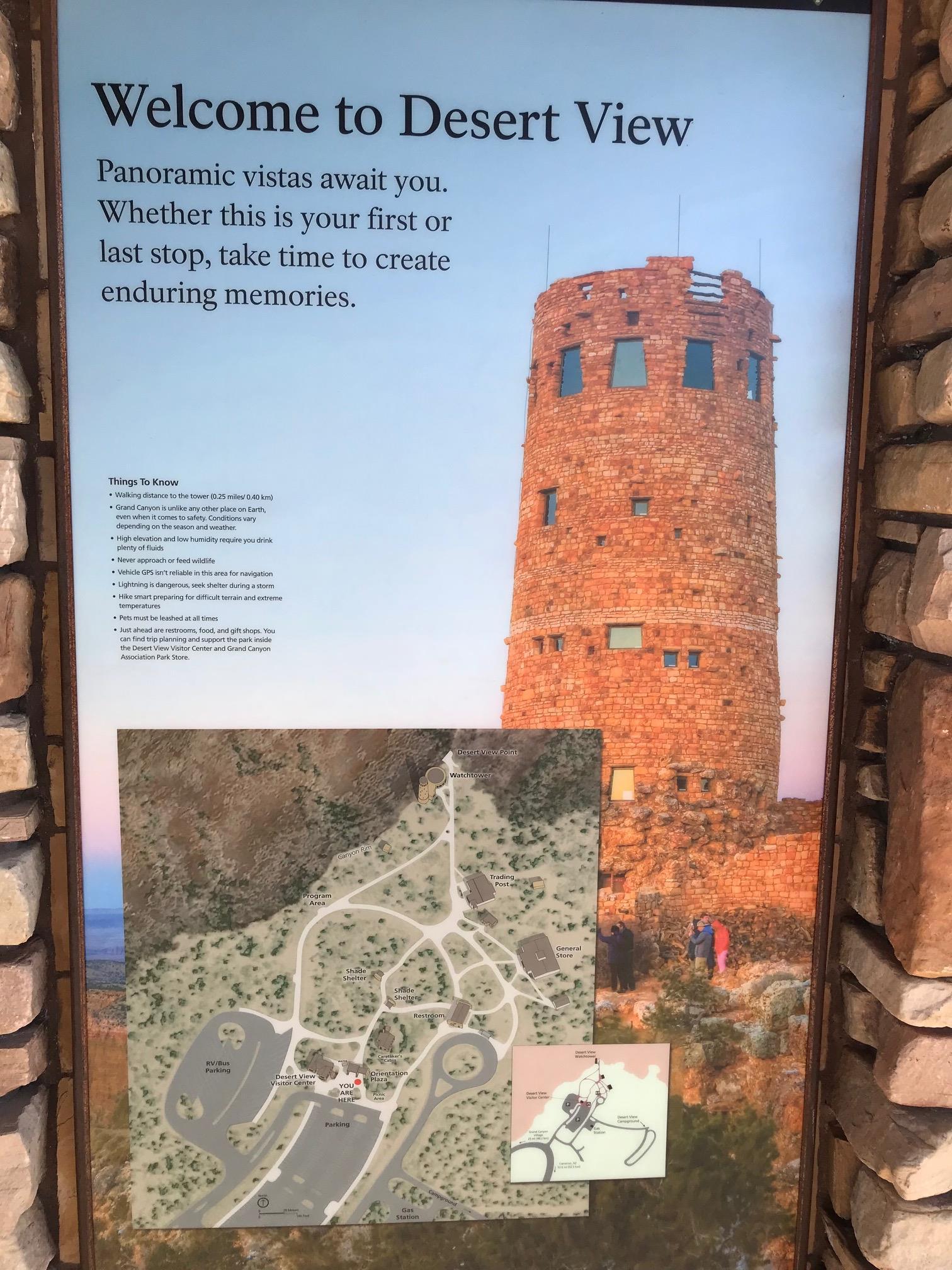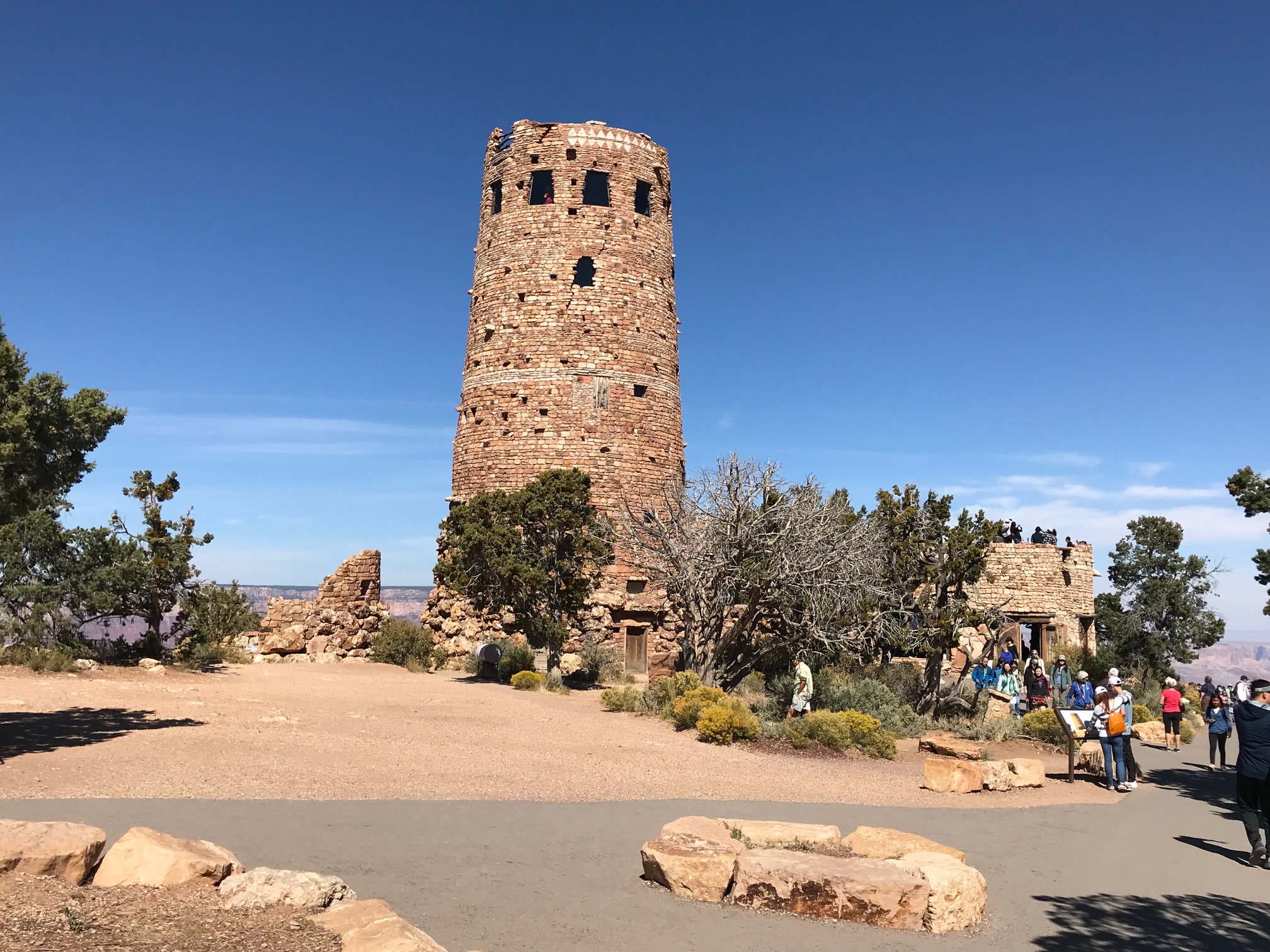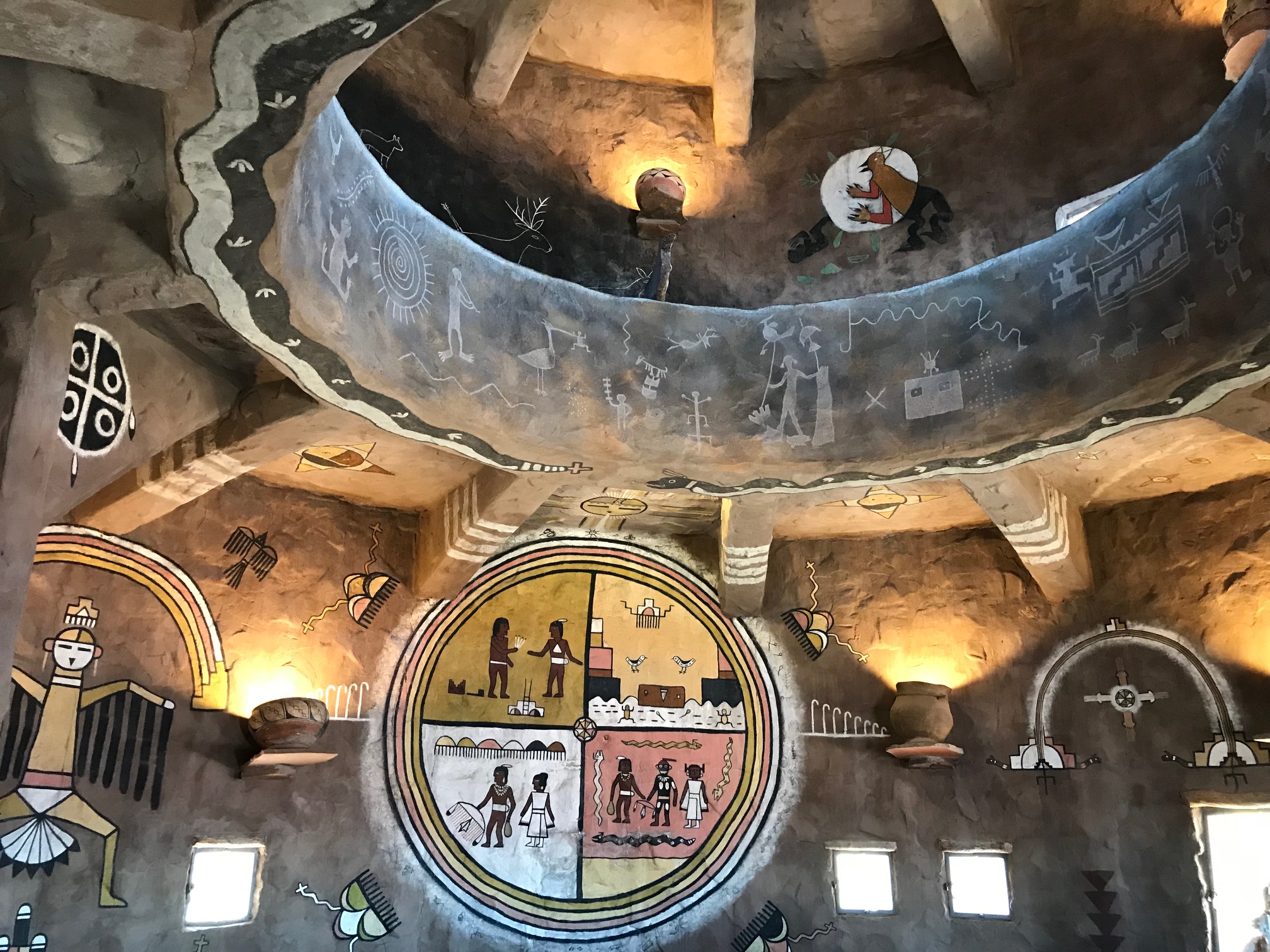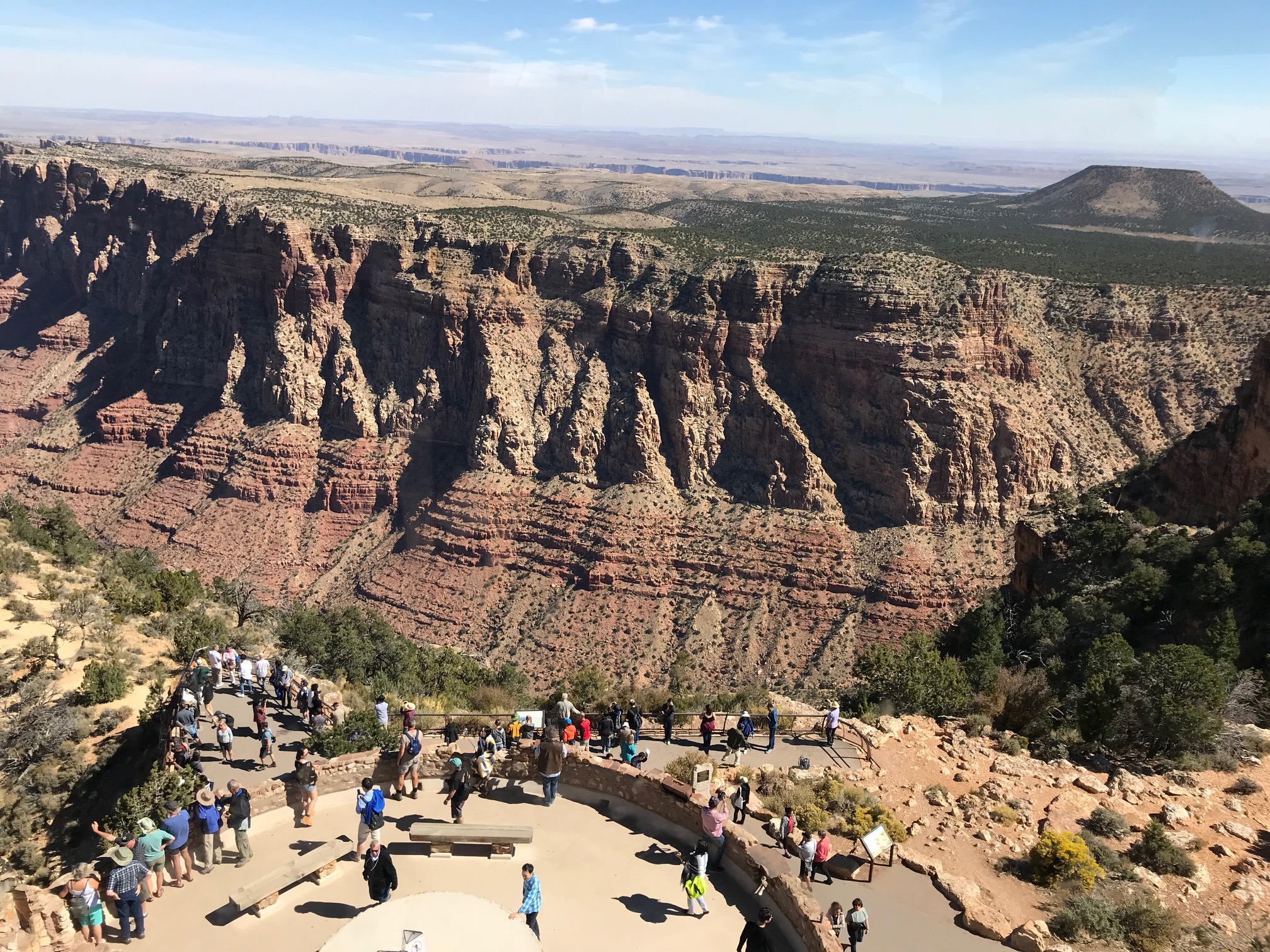 I bought myself a refrigerator magnet and boarded the bus 11:45 a.m. The next stop was Horseshoe Bend, a horseshoe-shaped incised meander of the Colorado River located in Page, Arizona, not too far from the Grand Canyon. The overlook is 4,200 feet above sea level and if you choose to hike it, it's 1.5 miles roundtrip, which is exactly what I did.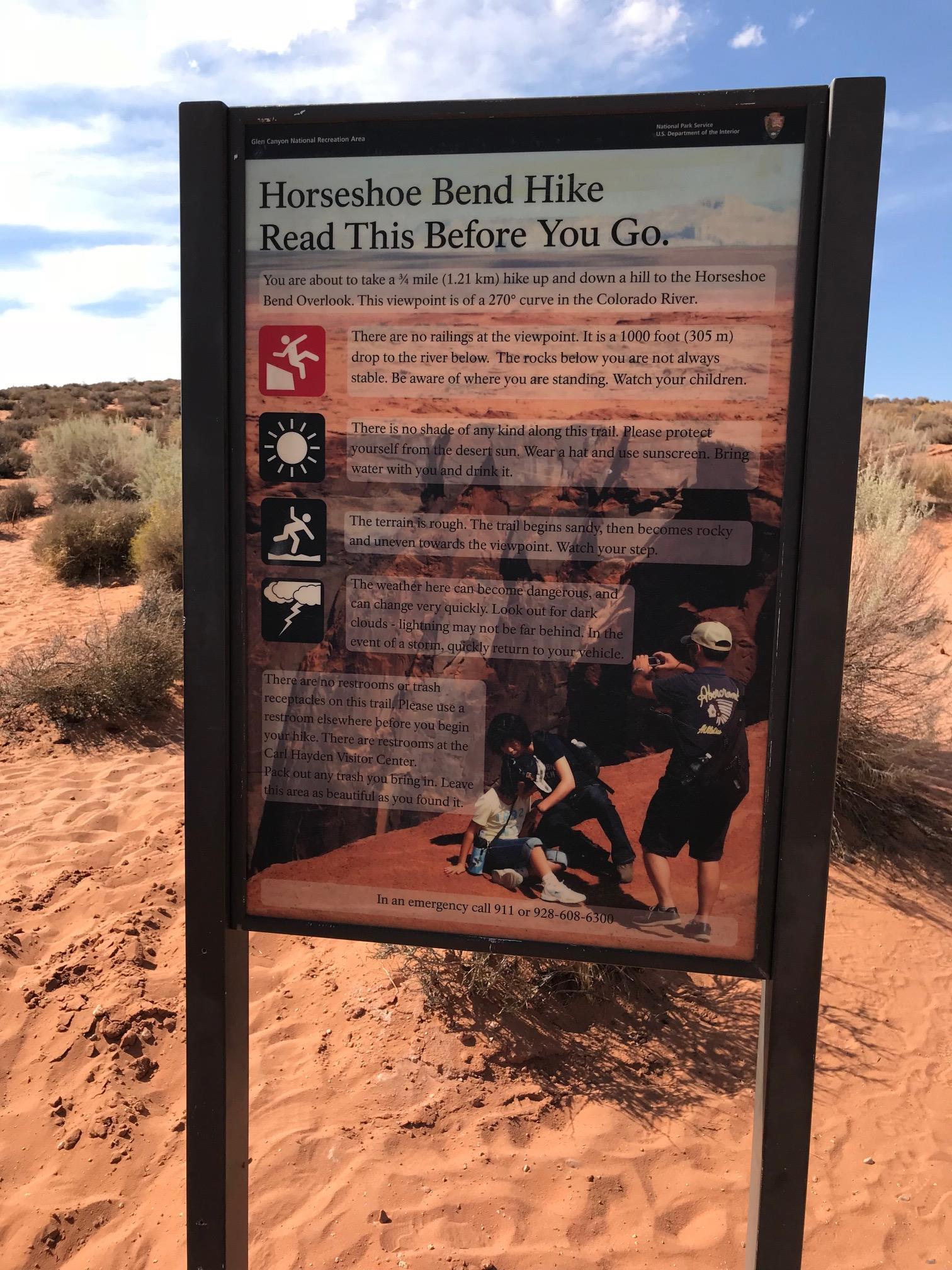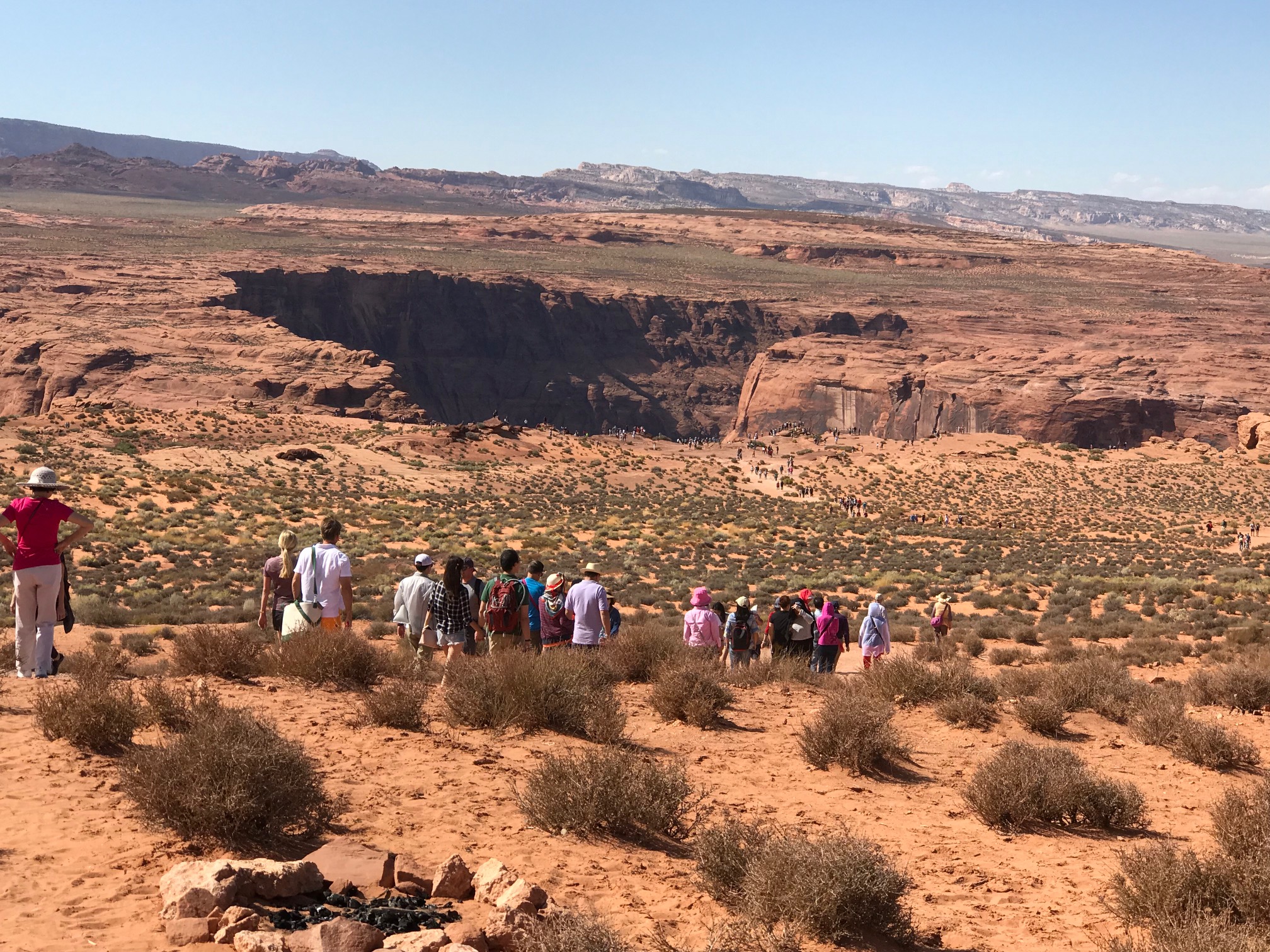 The hike up and down the trail was slightly grueling only because it was 85 degrees out in the middle of no where. Once I got to the bend, I couldn't even go to the edge of the cliff because it was slightly intimidating. It's not like on the East End of the Grand Canyon where there would've been something to slightly catch you if you fell over the edge. This was just a straight shot down! In the end, this is the best photo I got of it.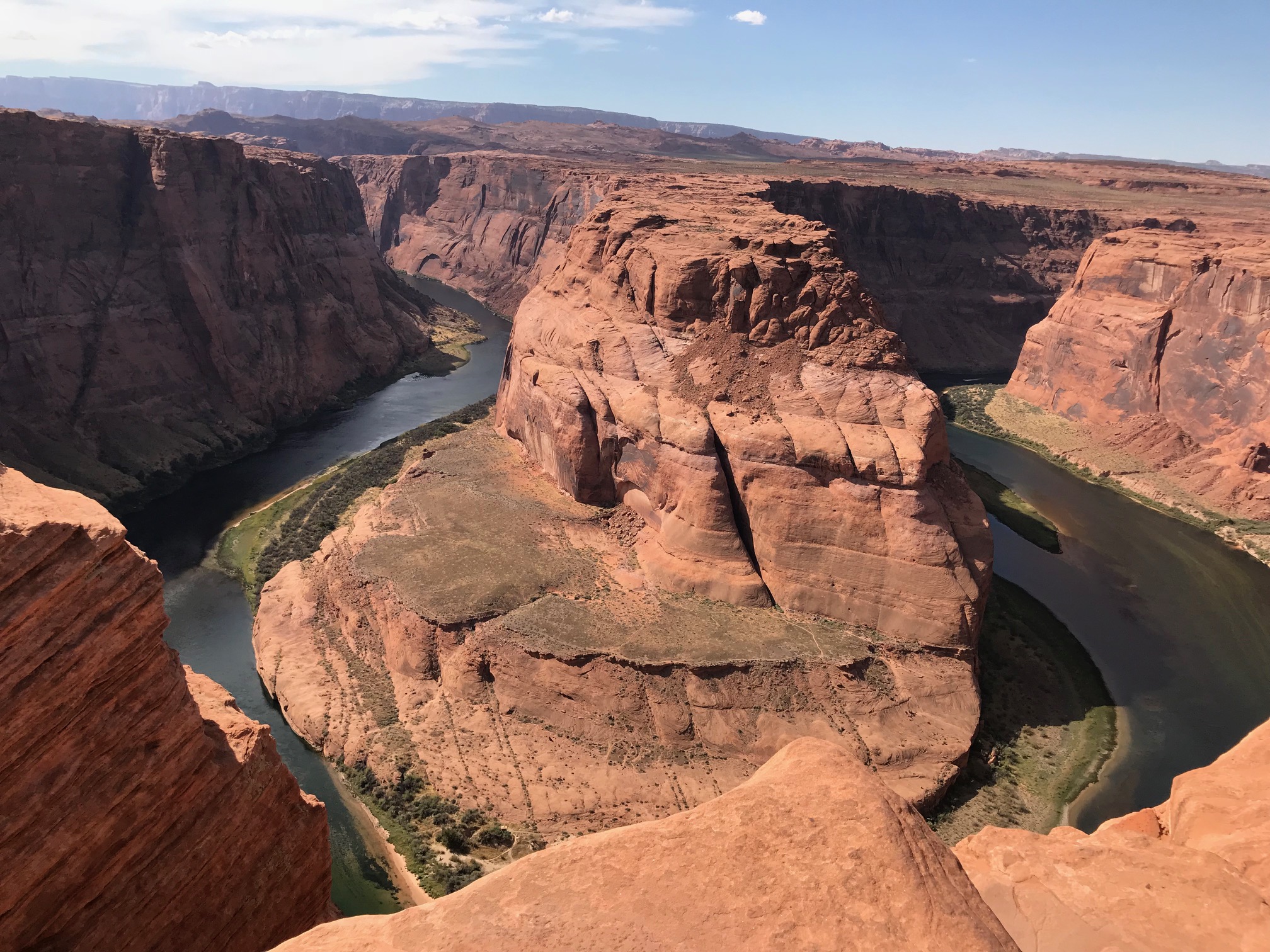 Once back on the bus, we made our way to Antelope Canyon, a slot canyon also located in Page, Arizona. According to Wikipedia, Antelope Canyon was formed by erosion of Navajo Sandstone, primarily due to flash flooding and secondarily due to other sub-aerial processes. It sits at 1,335 feet above sea level.
There are 2 different sections of it, upper and lower. The difference between the two is the upper is all on the surface level while lower has stairs to climb. The upper part is 660 feet long, while the lower is 1,335 feet long. We did the upper jeep tour because it was closer from Horseshoe Bend (about 30 minutes) and the road we would be taking to spend the night in Kanab, Utah.
We got to the jeep tour office at 3:15 p.m. and boarded the jeeps. We took a highway to the desert area and once we got there, there was so much sand that blew, oh my god! I had it in my hair, my mouth, my eyes, it was crazy!
At the canyon, the tour guide was beyond helpful. She told us to turn on the vivid filter on our phones so that the reds could come out more in the photos. She was right, it really helped. See the compare and contrast photos below.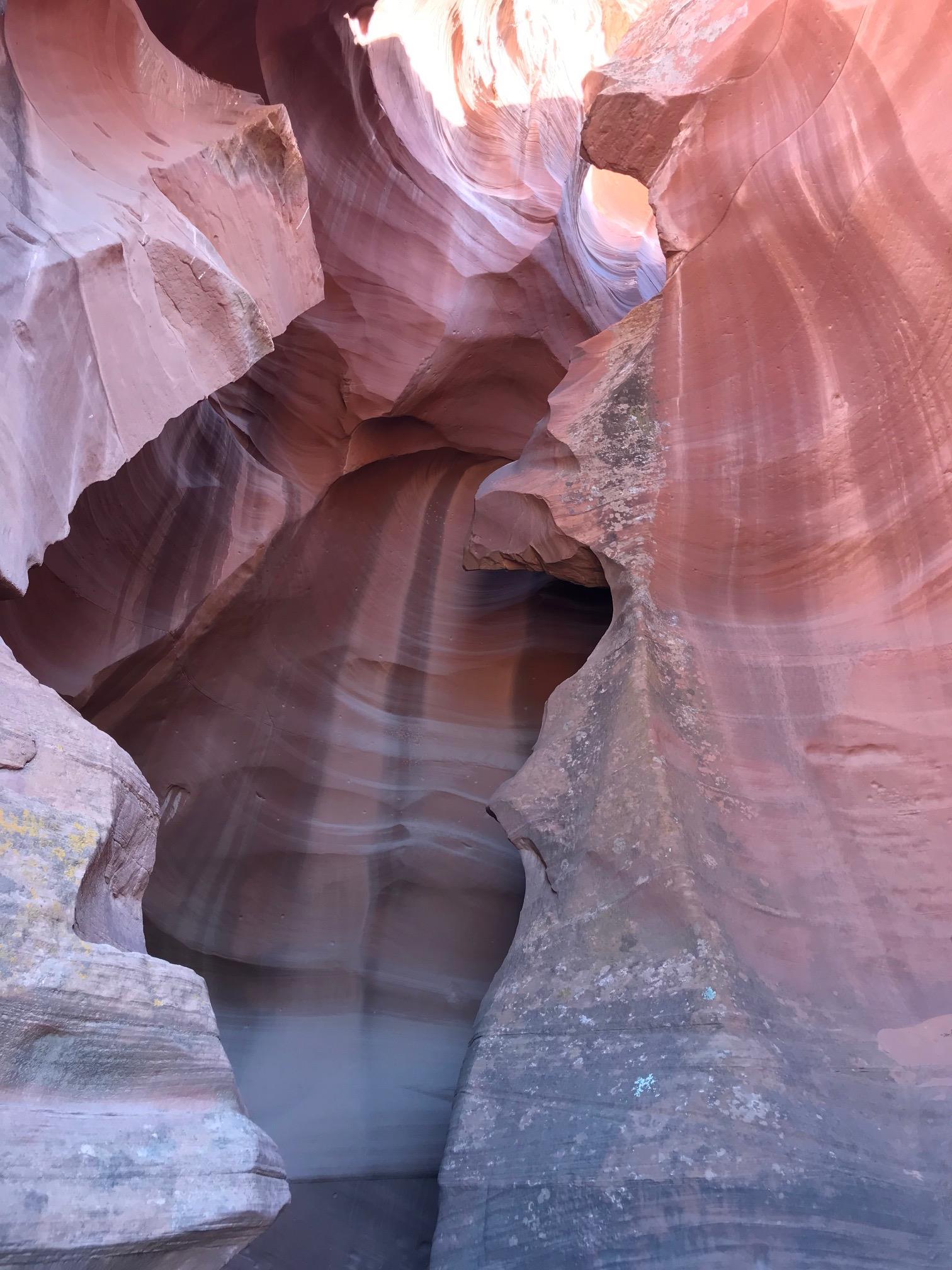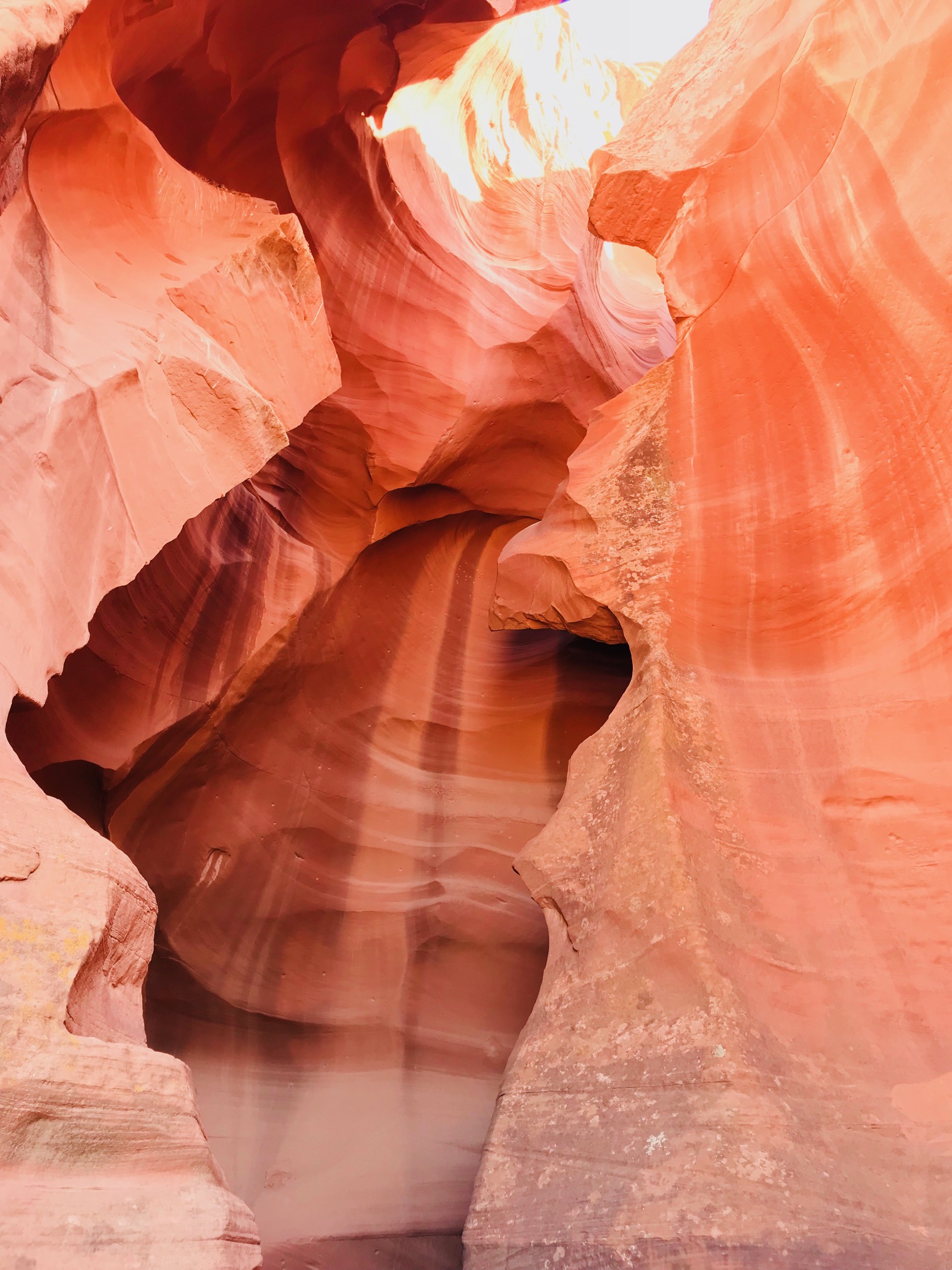 She also helped us with some cool angle shots, like the one below. My iPhone was flat up against a rock surface looking up.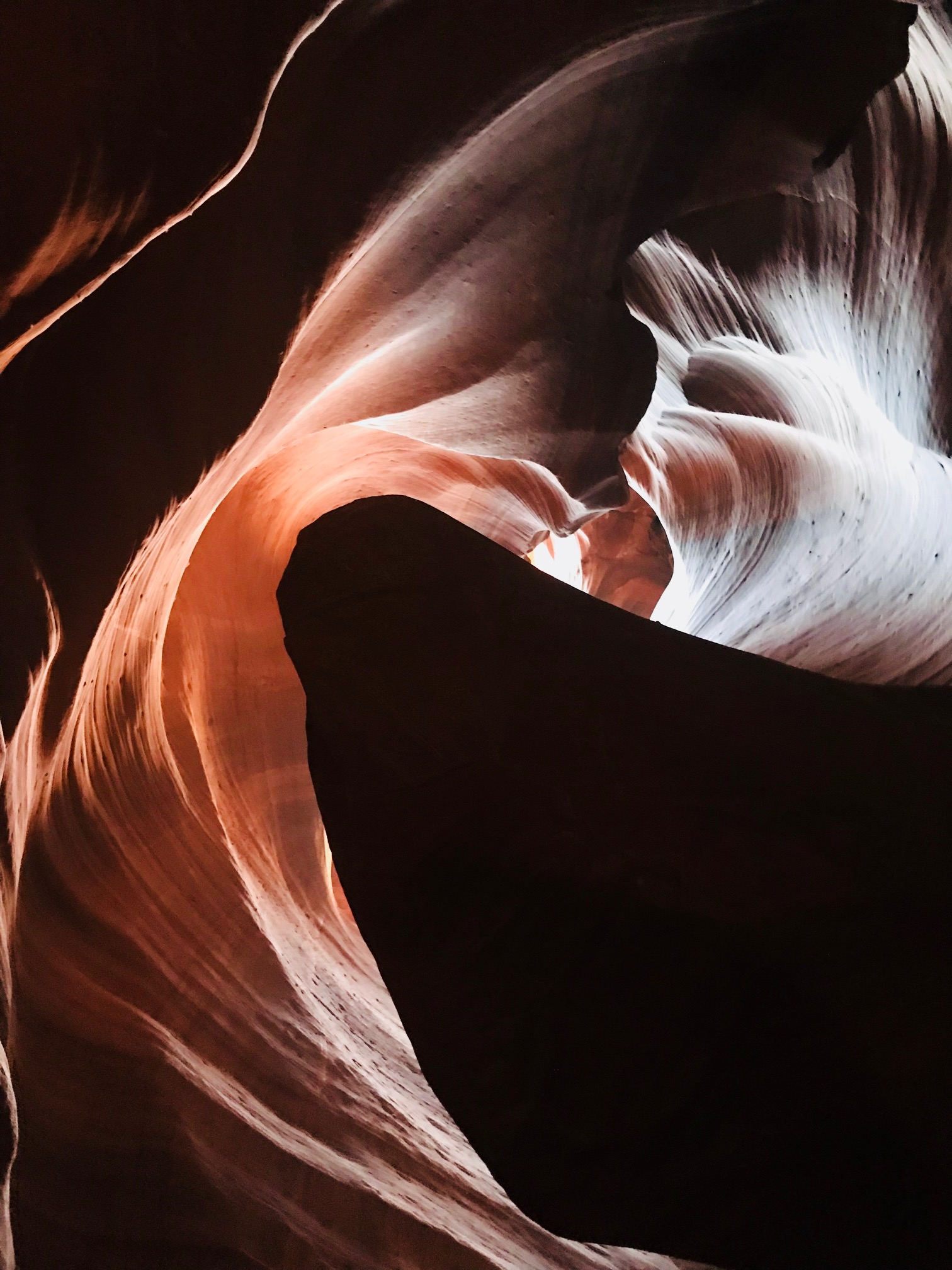 Below are some other cool shots I got.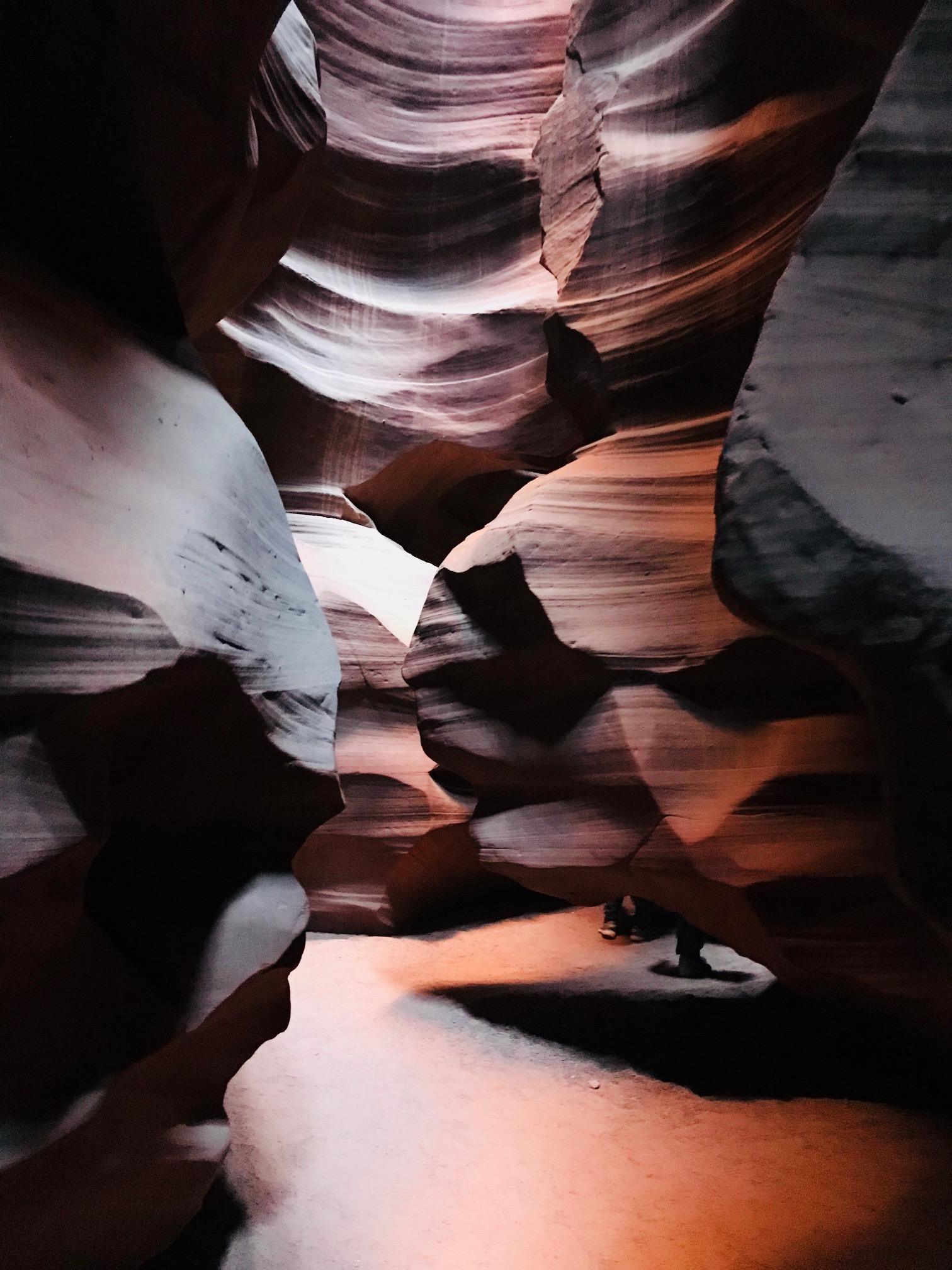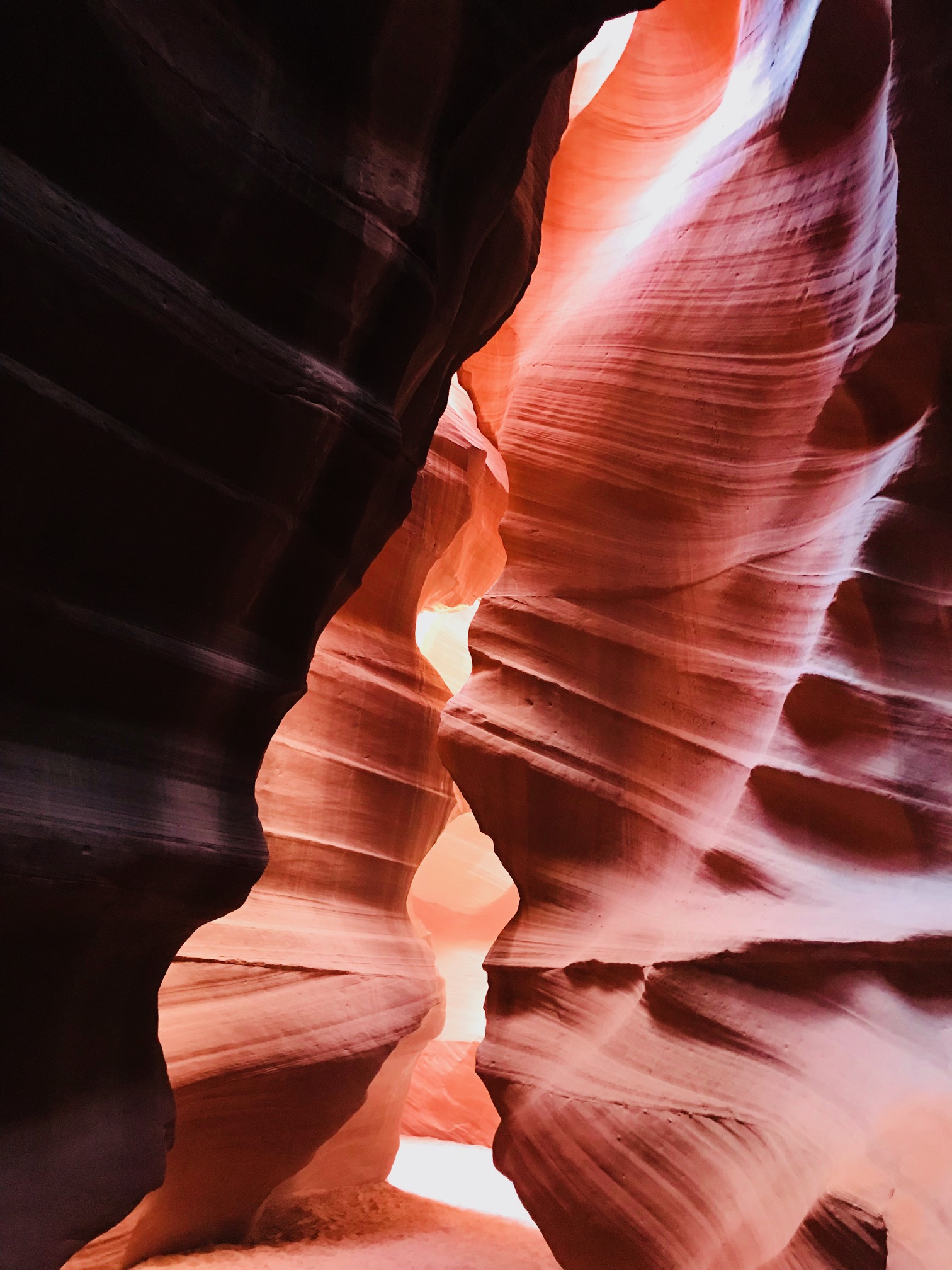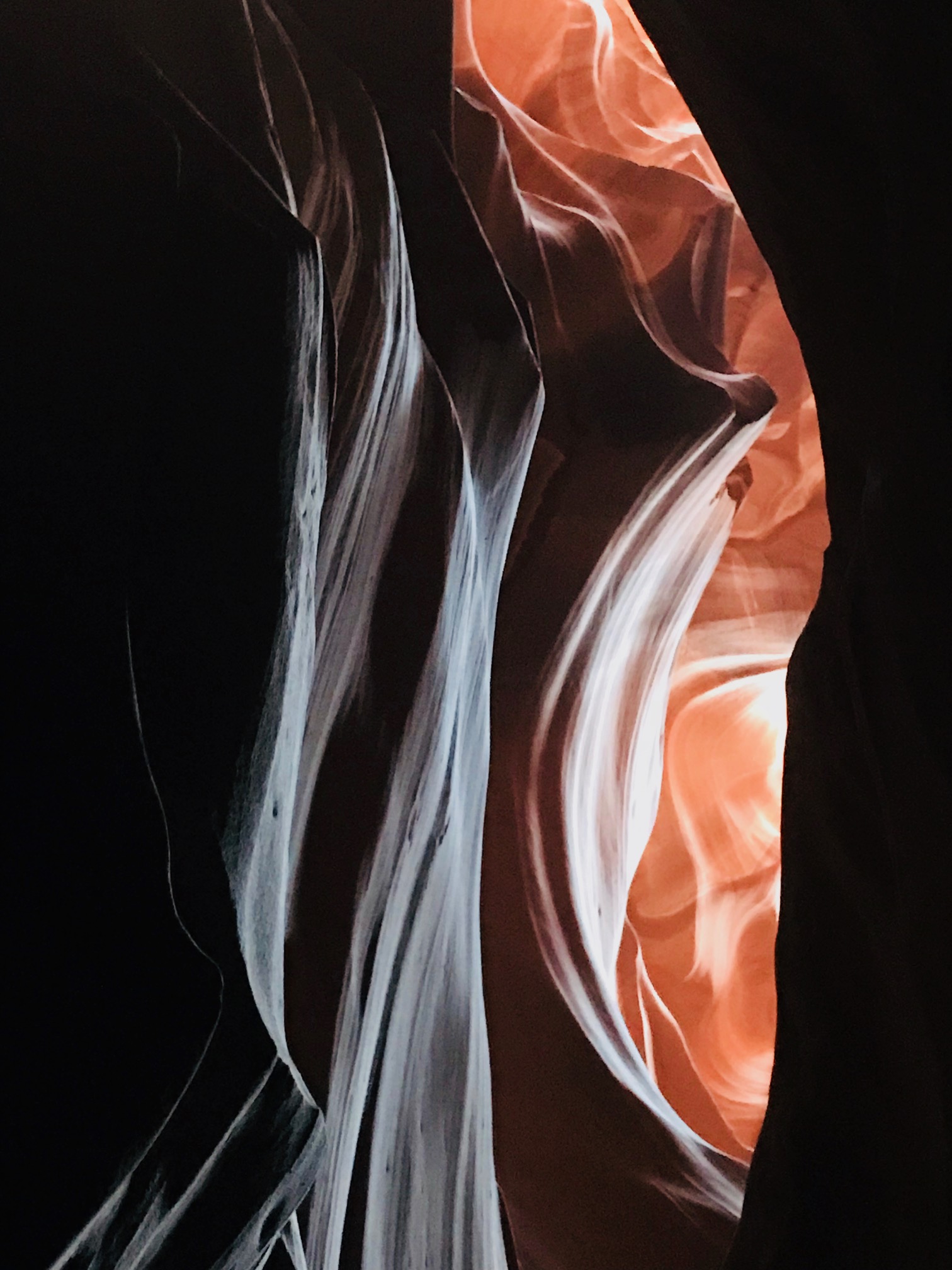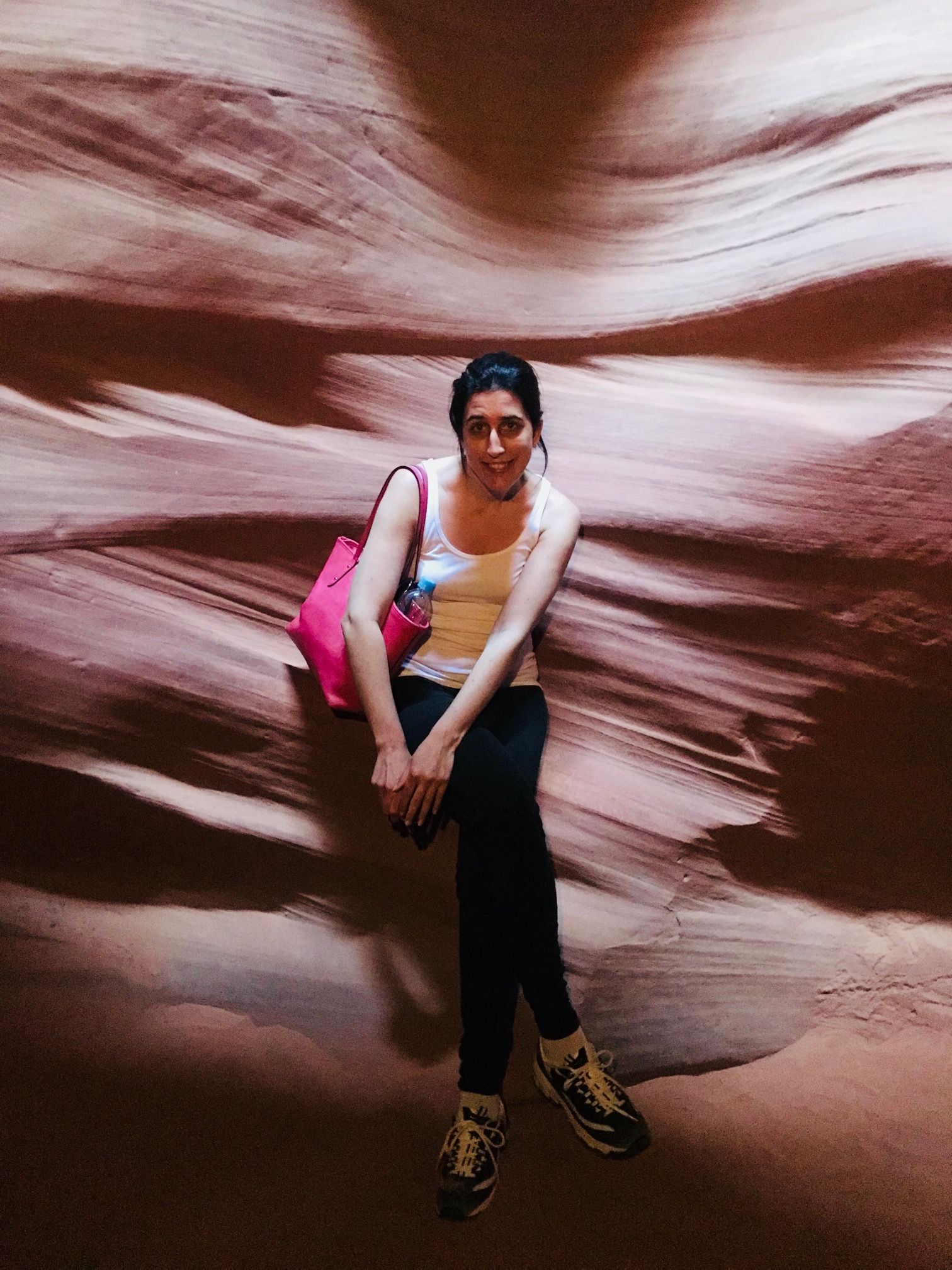 Once on the other side of the canyon, I saw a cute little lizard climbing the rock.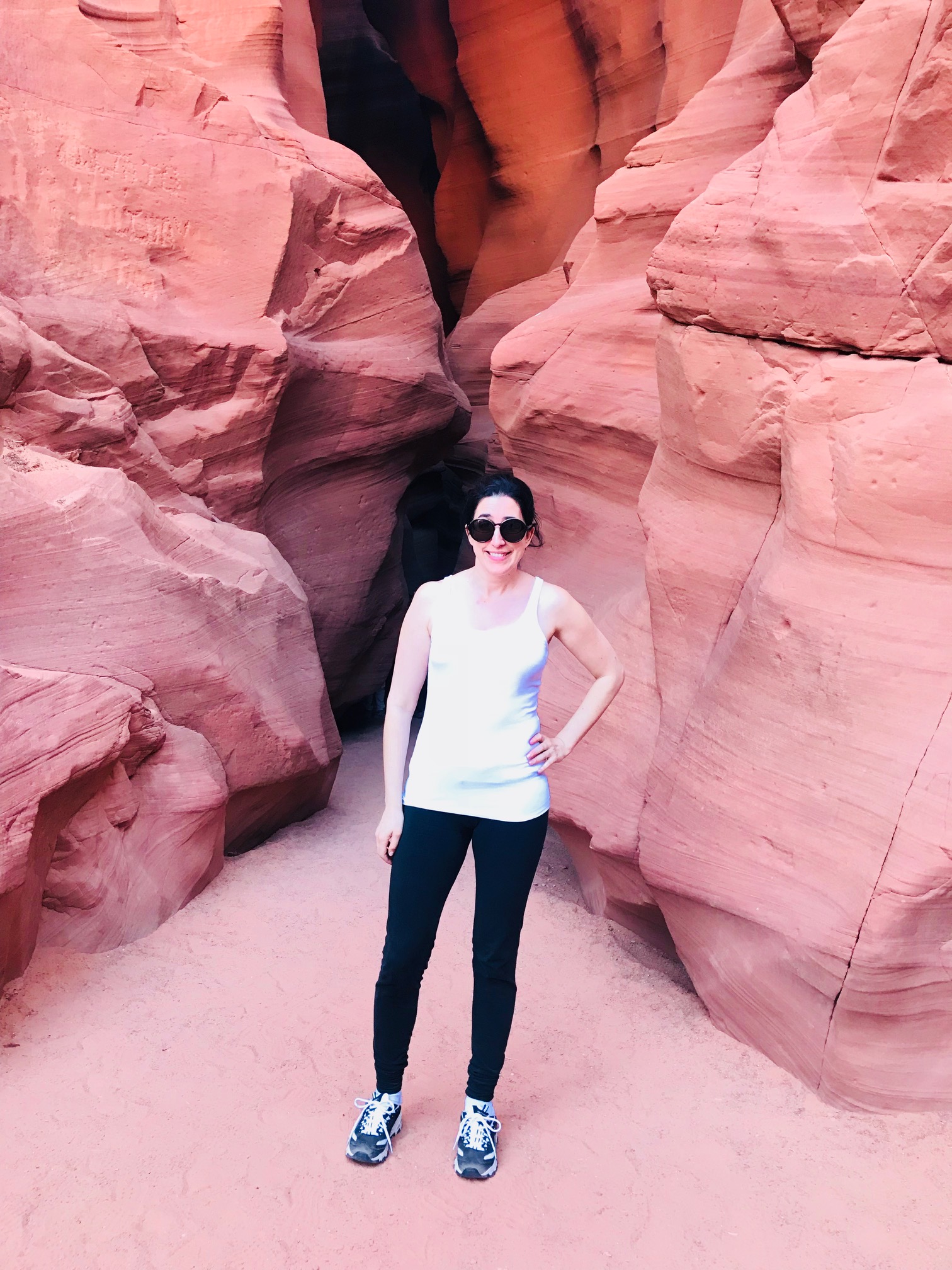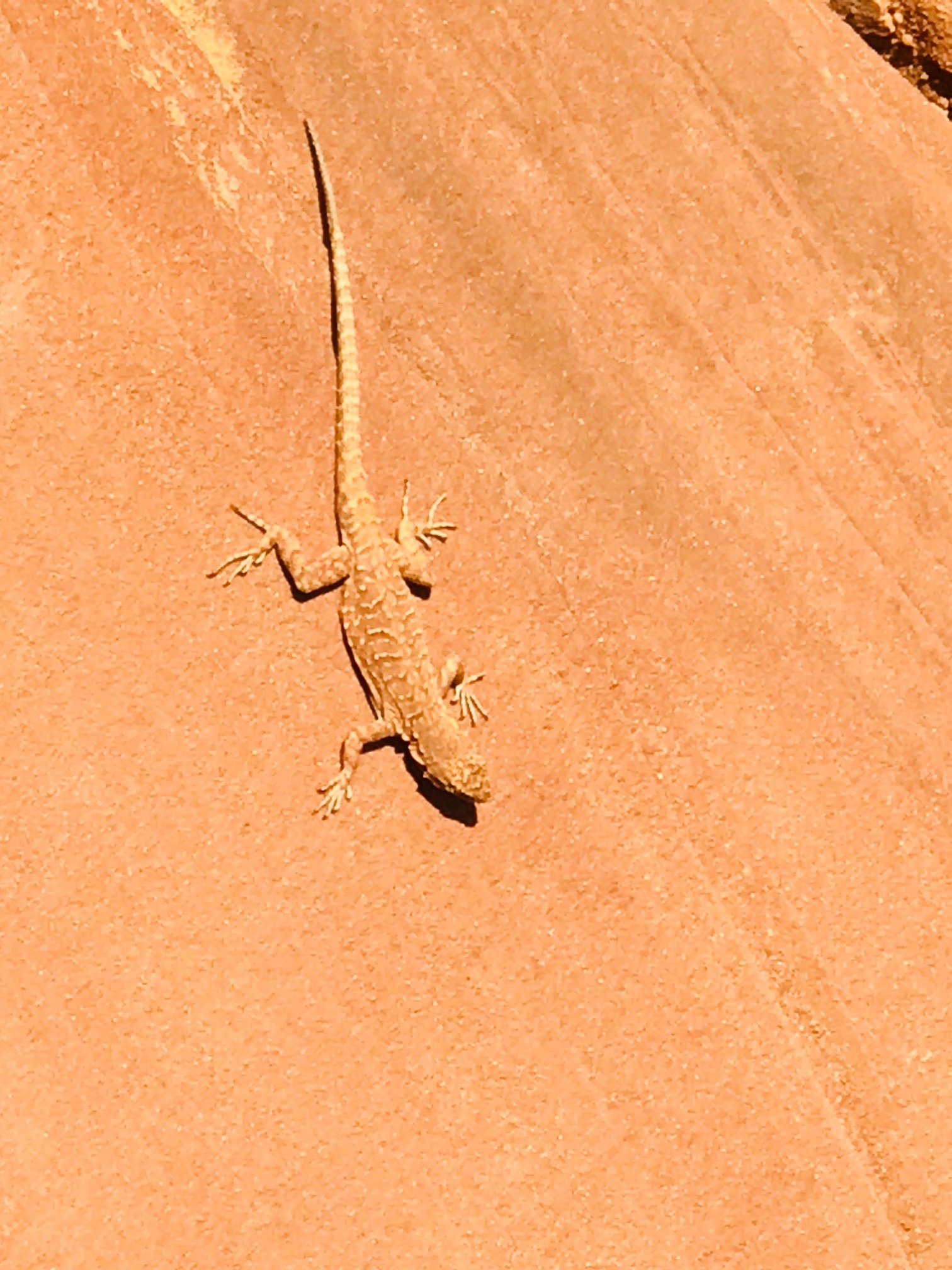 By the time the tour was done, we were full of sand and dirt. Sand also seeps down from the top inside the canyon, so we were desperate for a shower.
On the way to the hotel in Kanab, we drove over the Glen Canyon Dam, the second highest concrete-arch dam in the United States (next to Hoover Dam), and saw some distant views of the Colorado River.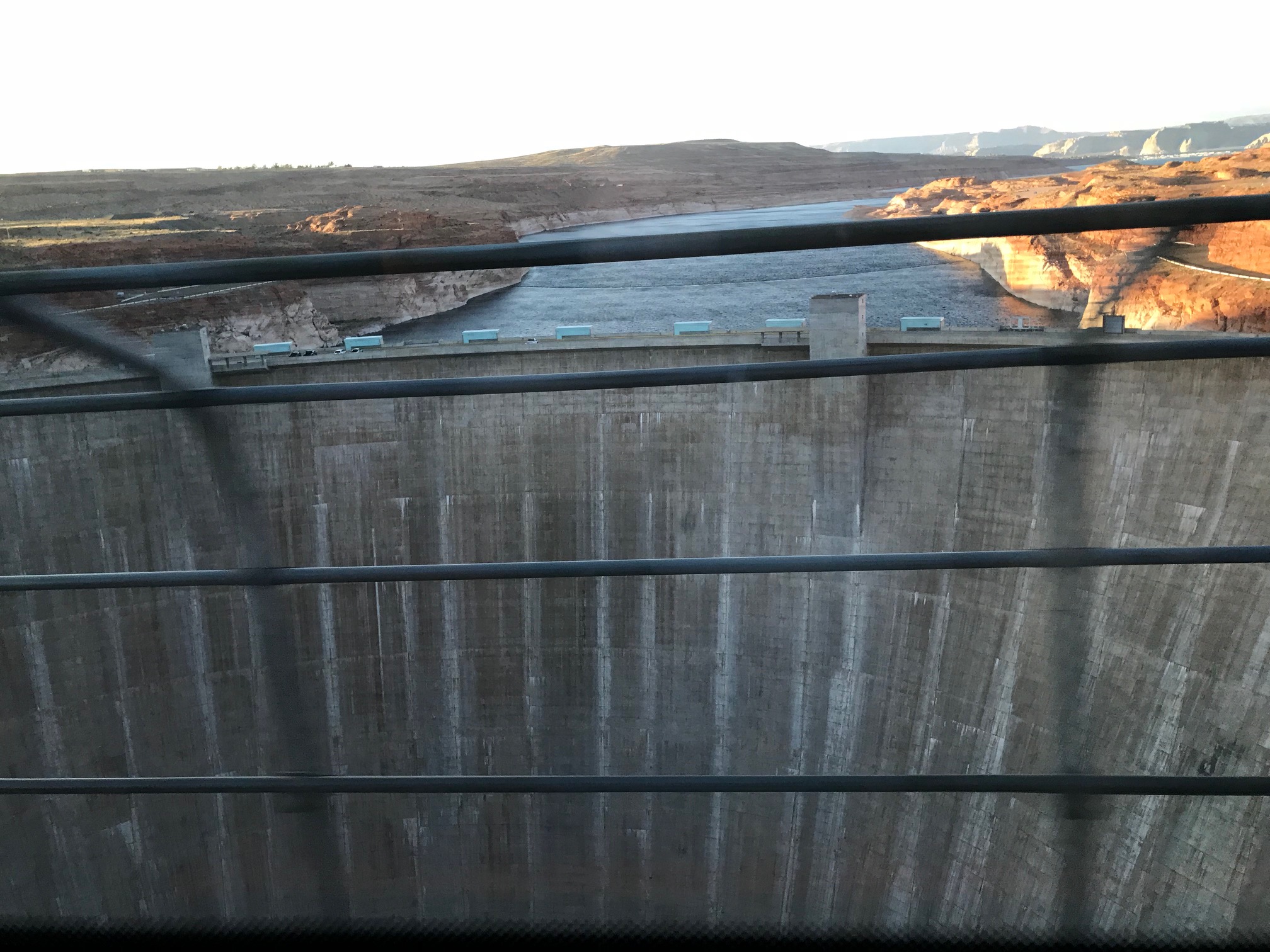 After dinner, we boarded the bus and got to the hotel in Kanab at about 8 p.m. I took a long shower and scrubbed my head and skin like crazy in the shower to get all of the dirt and sand off and crashed a little after 9 p.m.
Day 3: Utah: Bryce Canyon National Park and Zion National Park. Nevada: Las Vegas
This was the day I was looking forward to the most. I have always wanted to see these 2 national parks and I also hadn't been to Vegas in 3 years!
We boarded the bus at 6 a.m. and made our way to Bryce Canyon National Park. According to the website, Hoodoos (odd-shaped pillars of rock left standing from the forces of erosion) can be found on every continent, but Bryce Canyon has the largest collection of hoodoos in the world! The park is also between 8,000 – 9,000 ft above sea level and covers more than 35,000 acres.
We rolled into the park around 8:15 a.m. and hopped out. It was a chilly 47 degrees out, so many of us grabbed our luggage from underneath the bus and added extra layers. I haven't been in similar weather like that since visiting Minneapolis a few years ago. Even to this day, I still prefer cooler weather than warmer weather.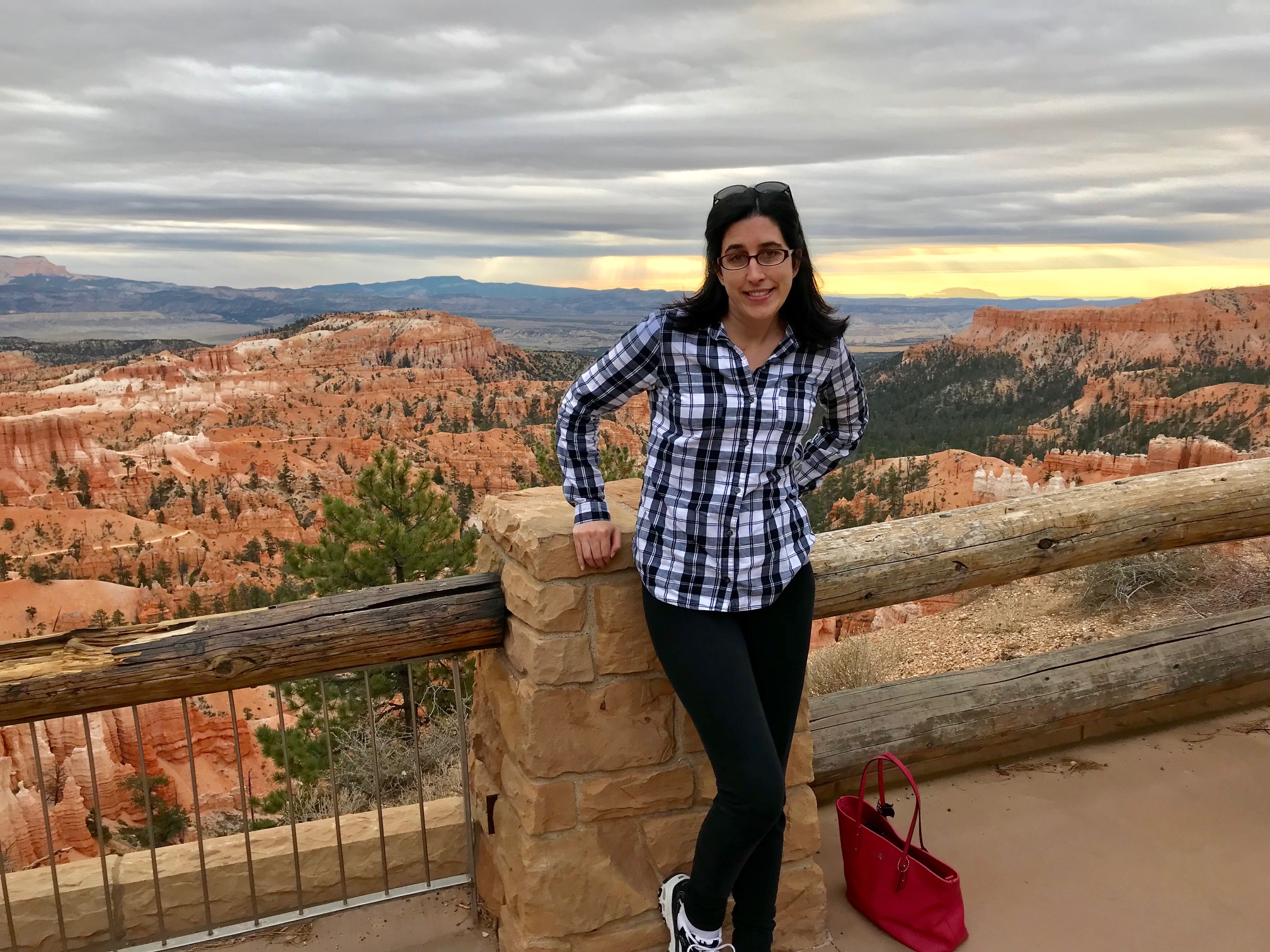 The scenery? Breathtaking. The brisk hike was also a great way to keep warm from the cold air. Remember how the lady at Antelope Canyon told me to turn on the vivid filter on my iPhone to bring out the red in the rocks? That's exactly what I did at this park, you can see the compare and contrast photos below.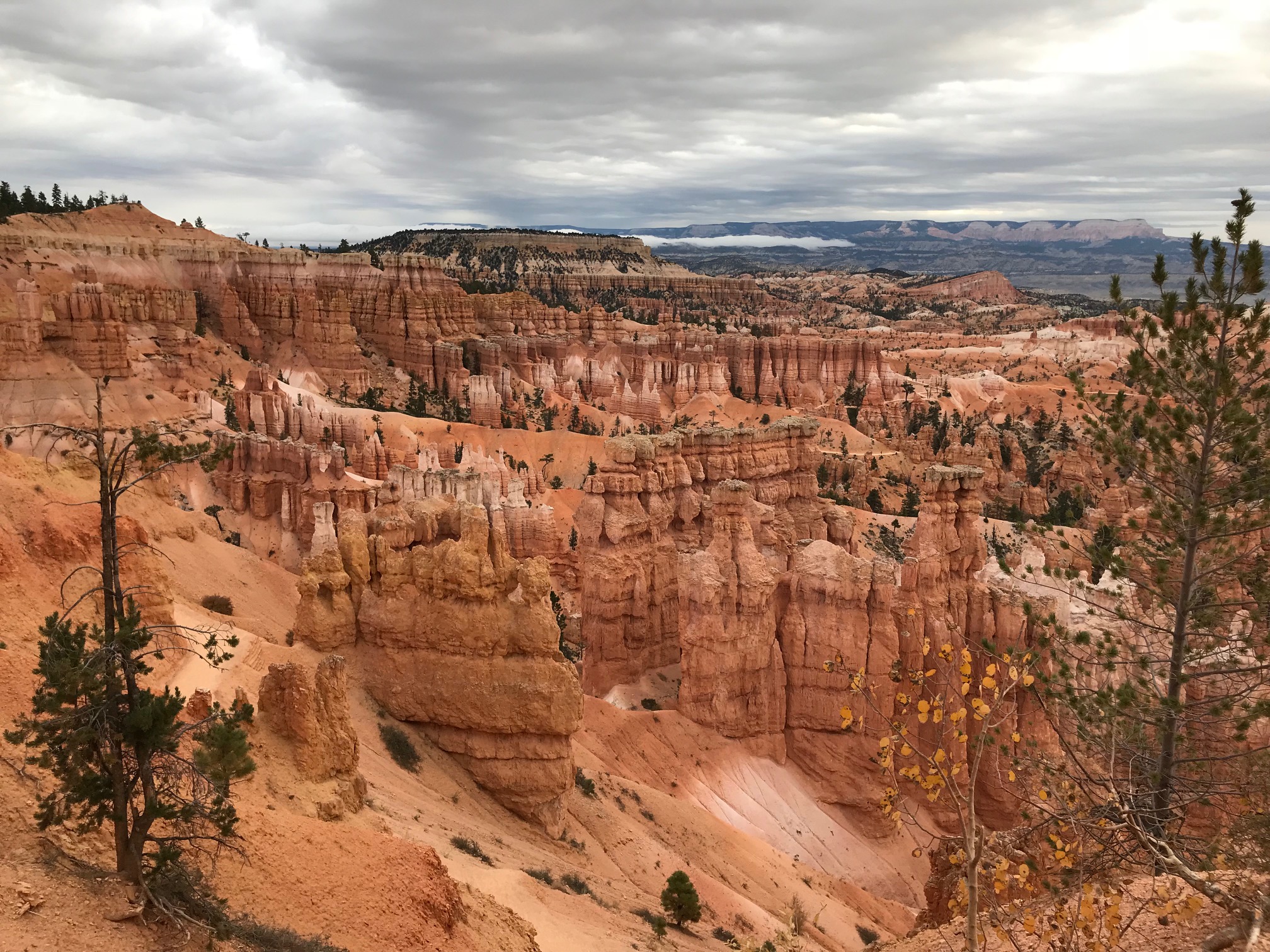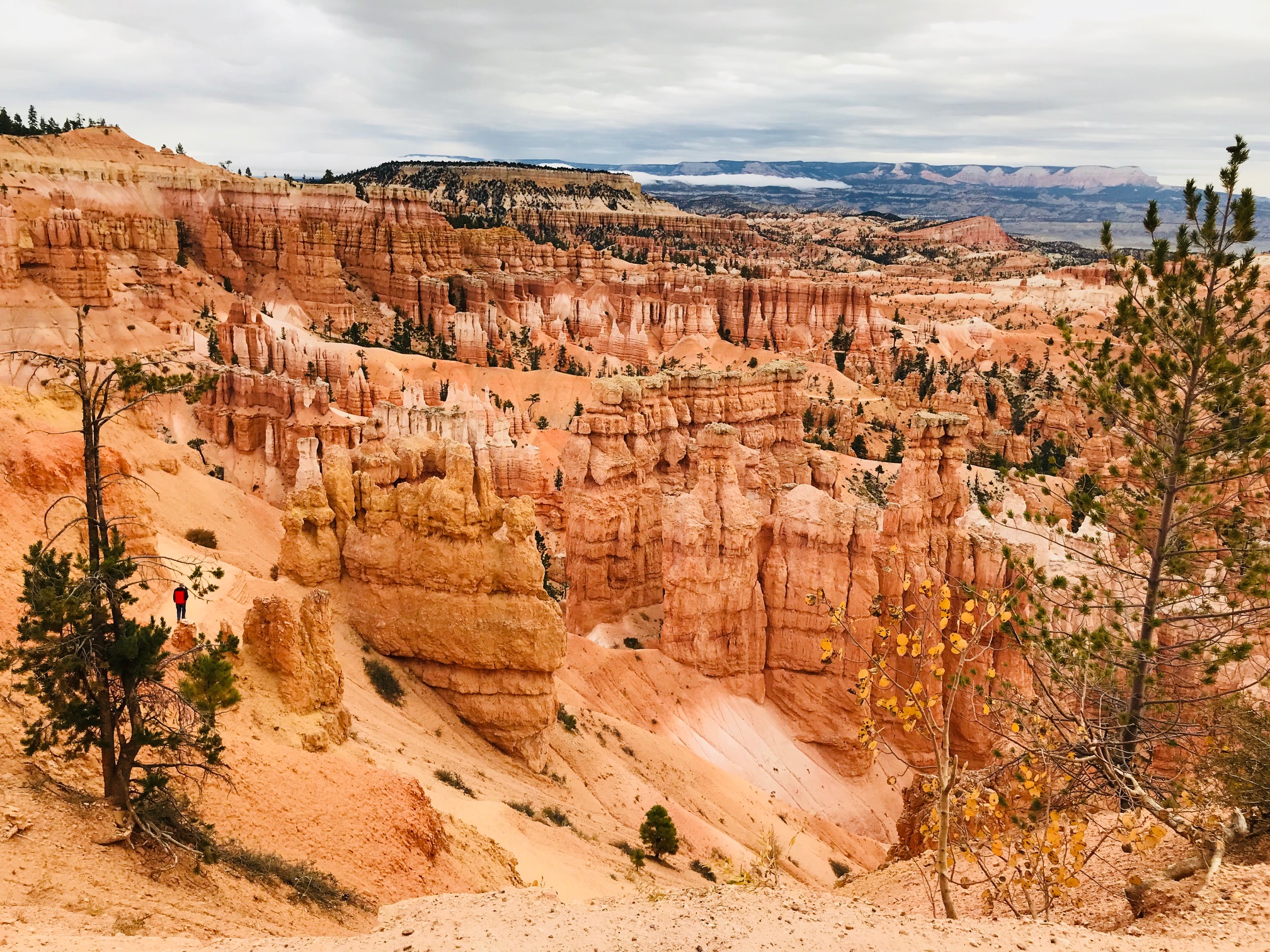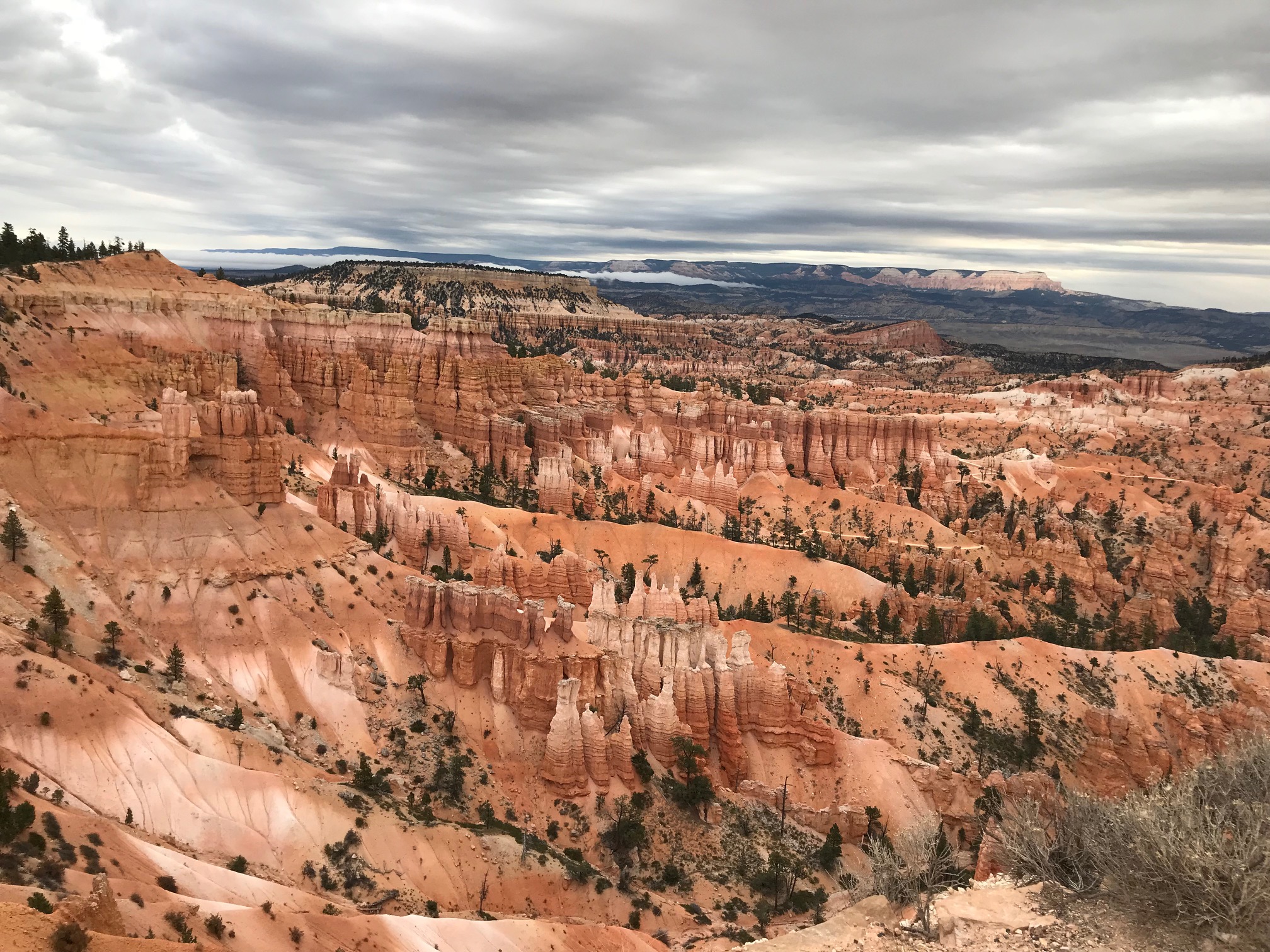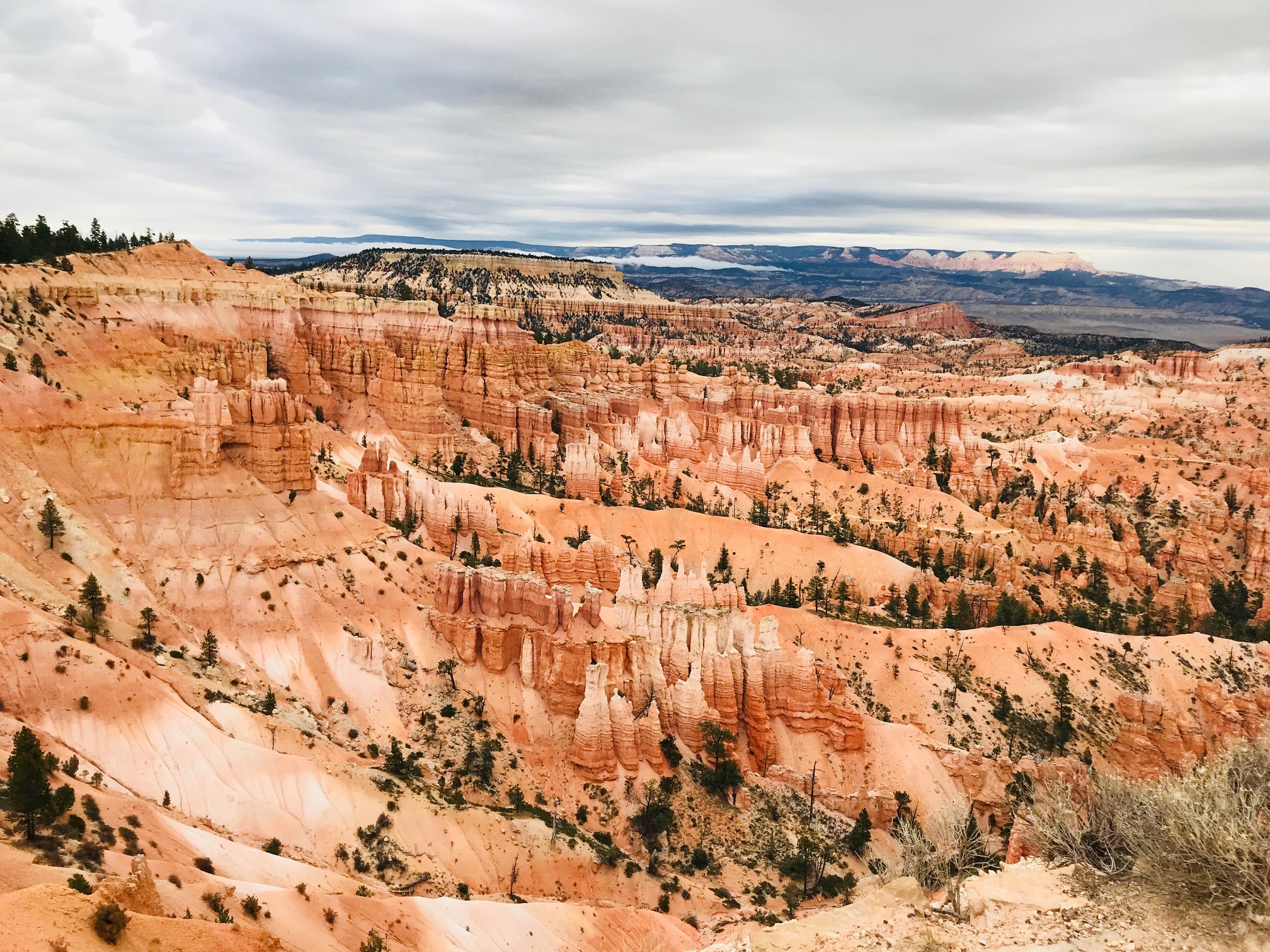 On my brisk hike, there was a sign that directed me to Sunrise Point and Sunset Point. It was still morning, so I headed to Sunrise Point and snapped a photo. I have no filter on this one.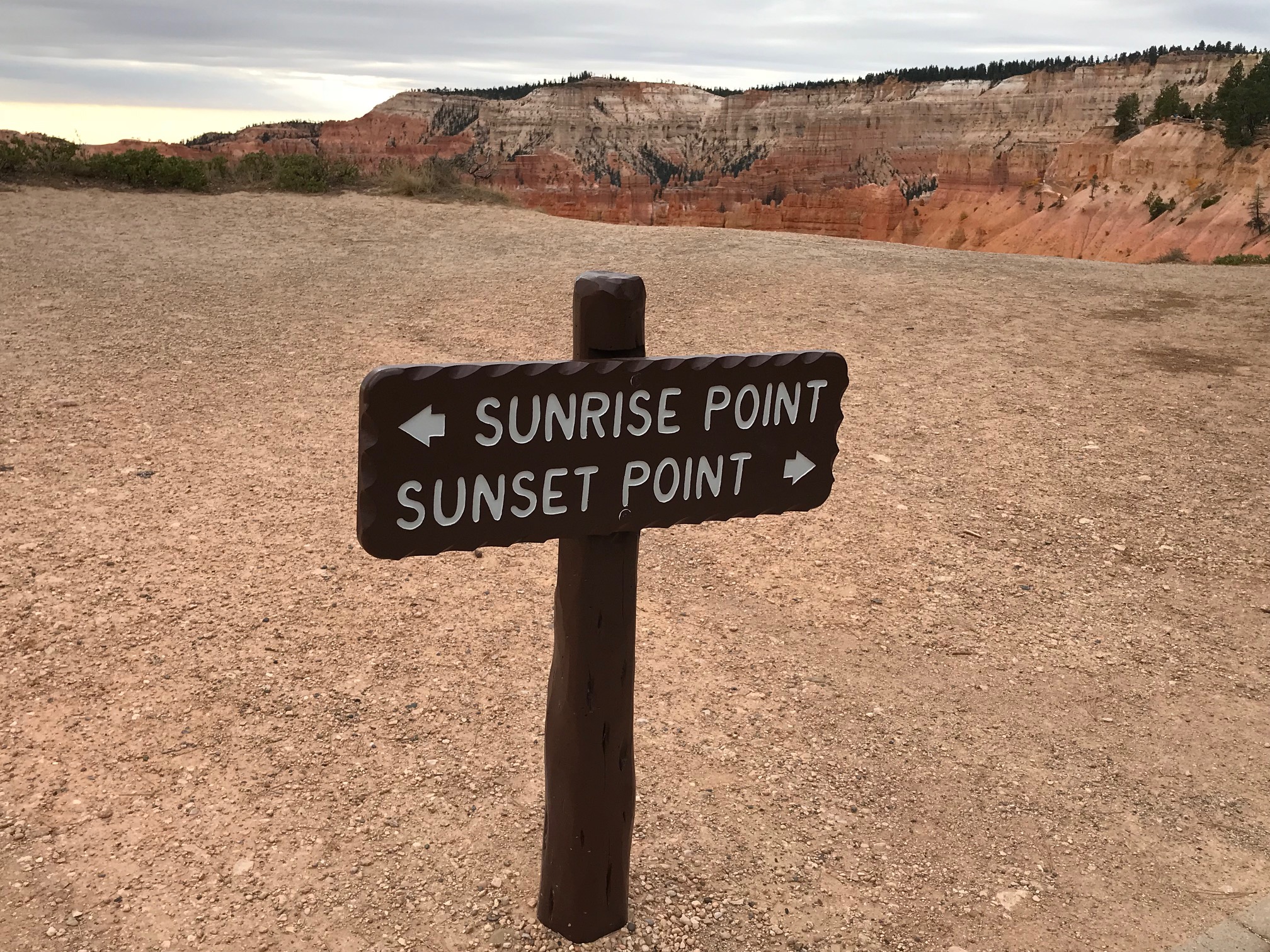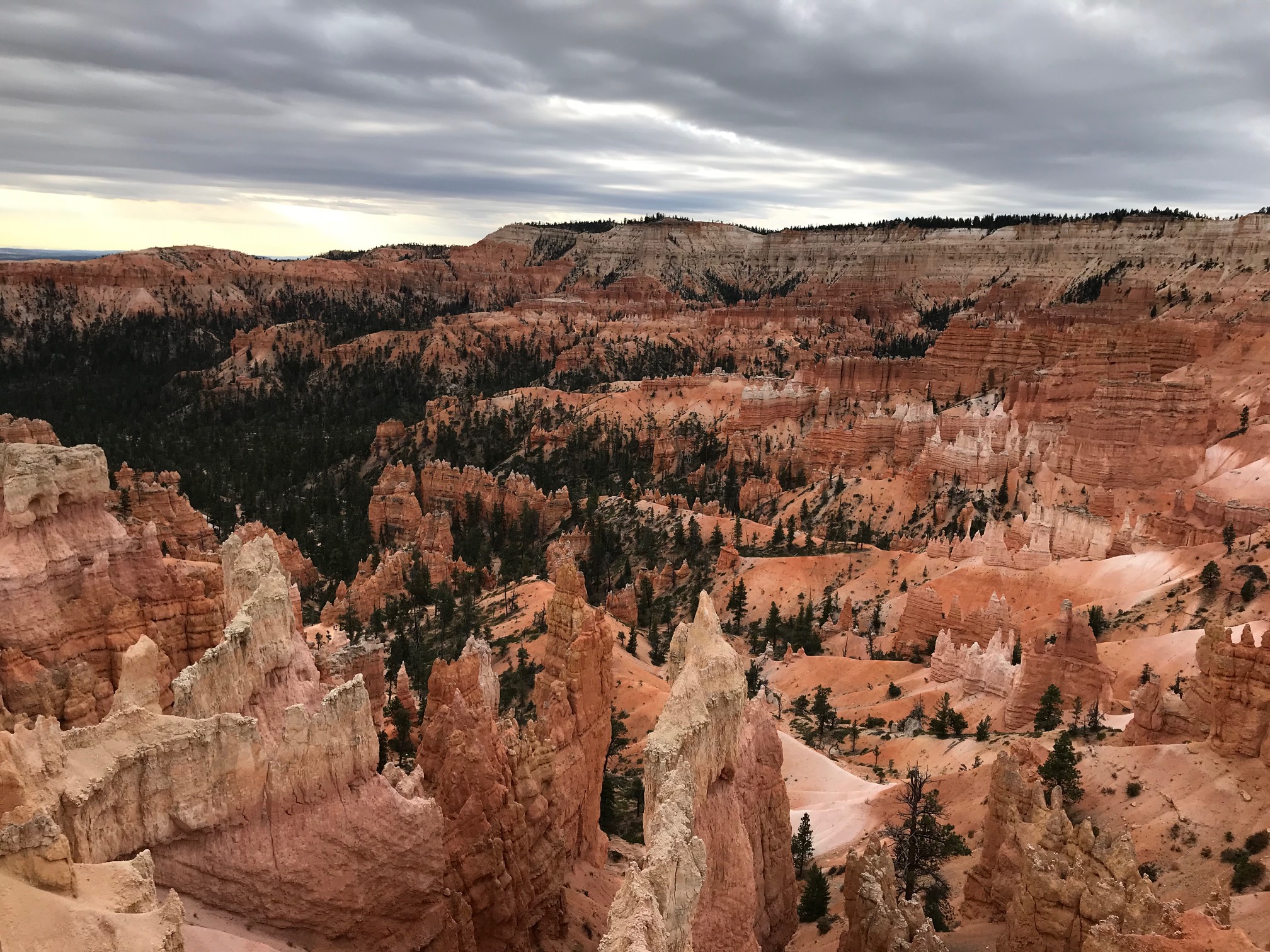 The bus left the park at 9:45 a.m. and started heading towards Zion Canyon National Park, aka Utah's First National Park. On the way, I snapped a photo of an interesting rock formation leaving Bryce Canyon, a scenic photo and fall foliage. I love fall, it's my favorite season.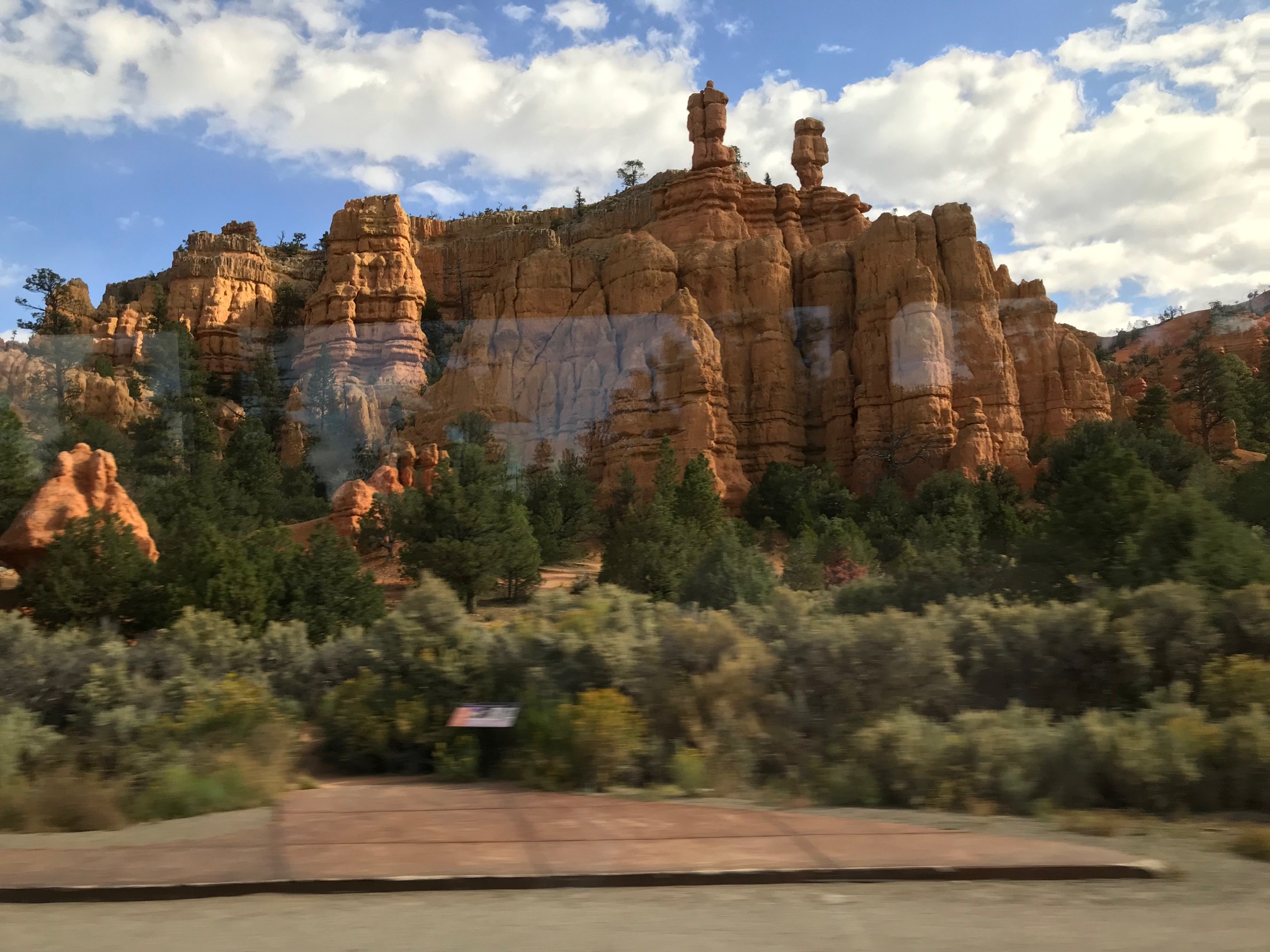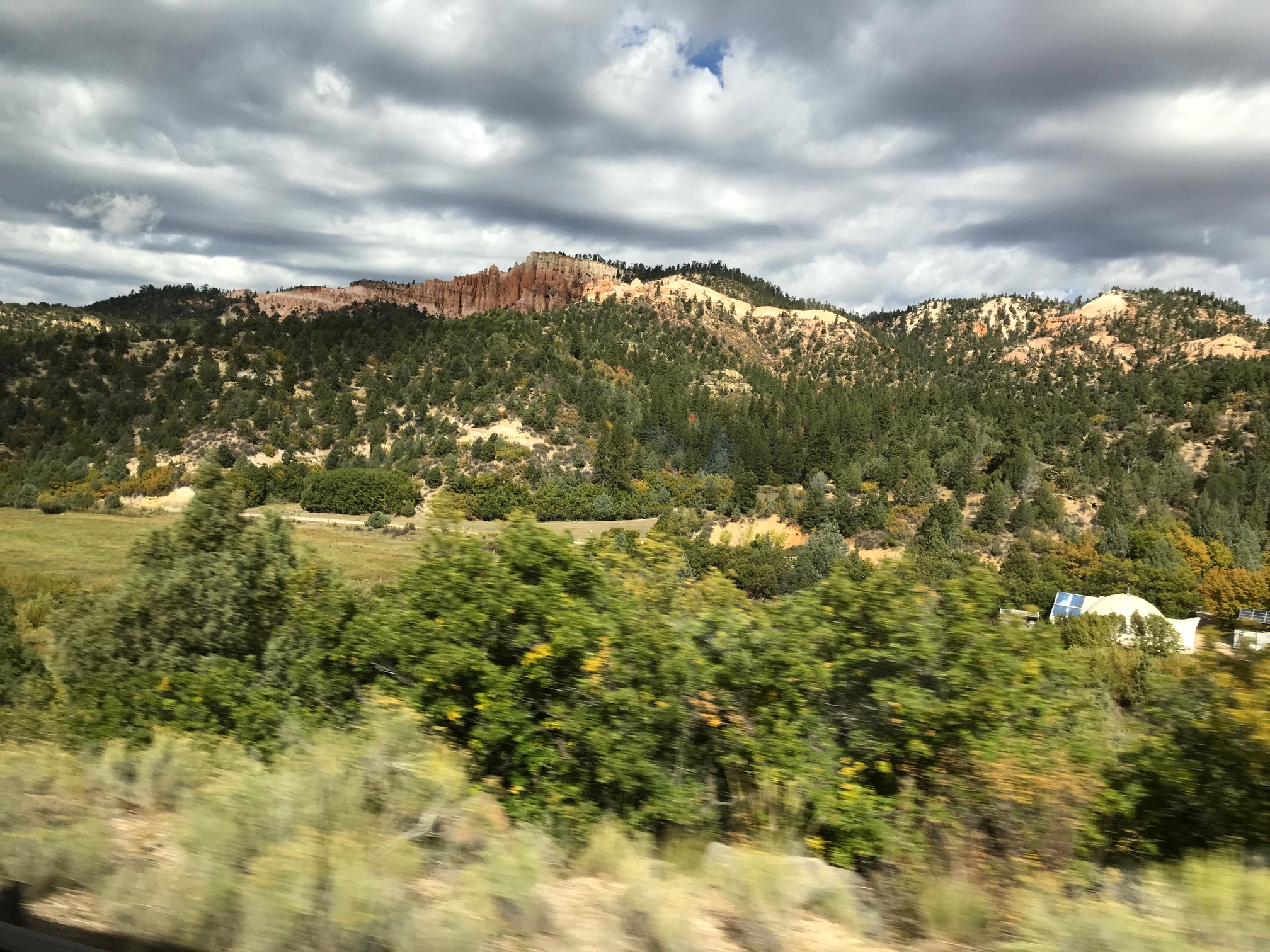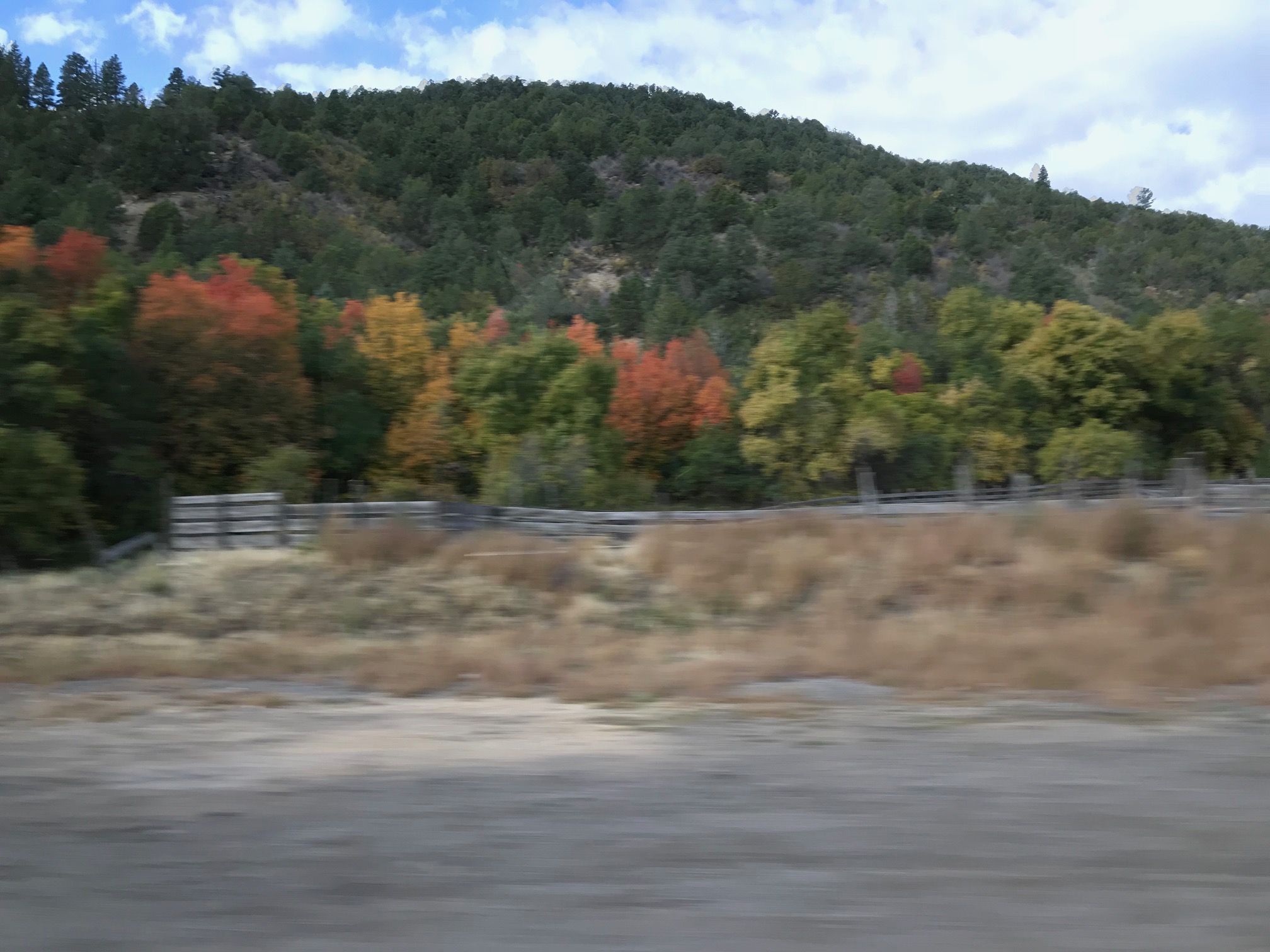 At Zion, the sandstone cliffs have colors of cream, pink and red that "soar up to the sky," according to the website. It couldn't be more true. I thought in Yosemite National Park had cliffs that were high, boy was I wrong! Words and pictures cannot explain how beautiful the scenery was. Elevation is between 3,000 – 8,800 feet above sea level and is 232 square miles. It also has more than 1,000 plant species and 78 species of mammals.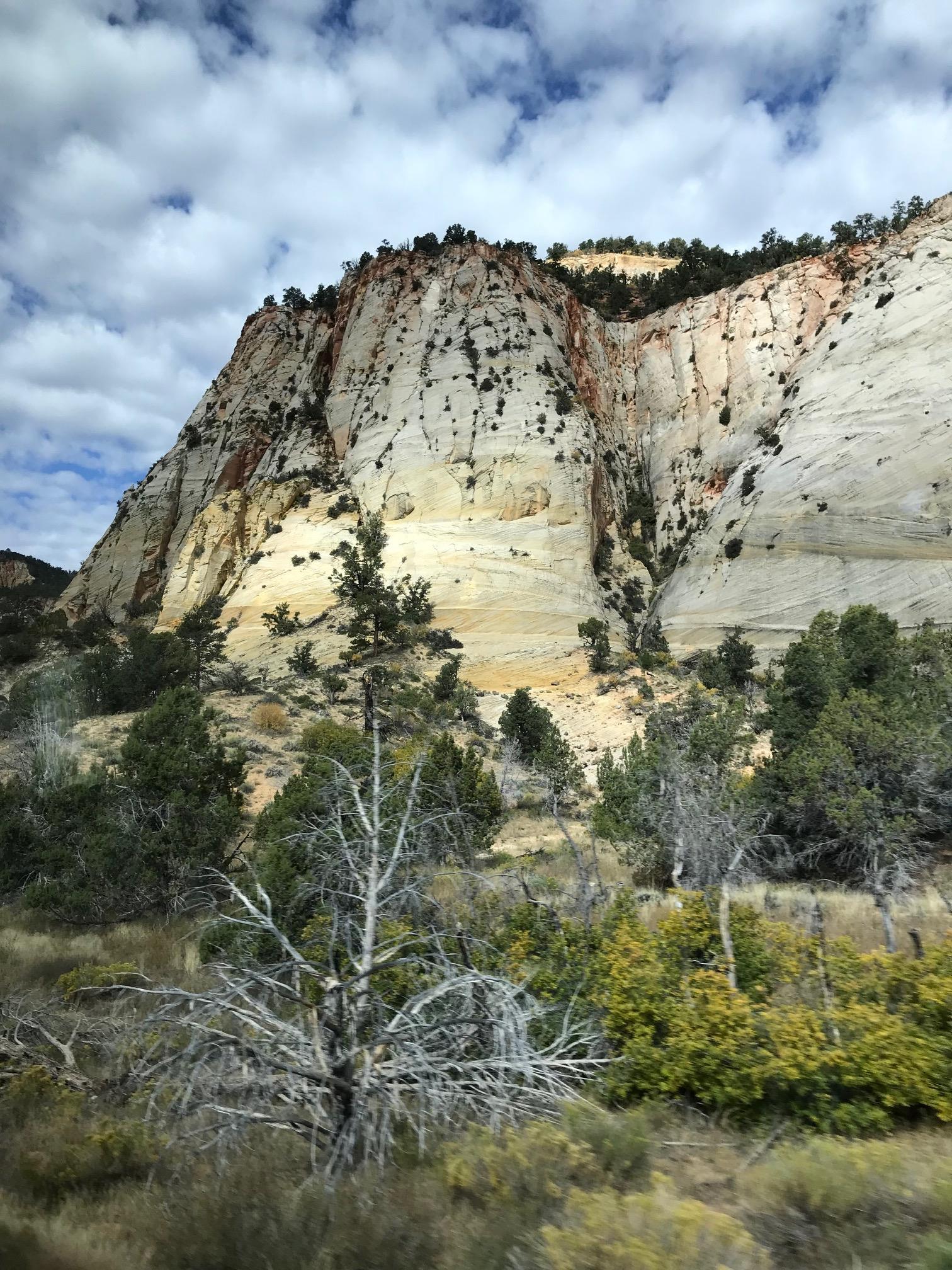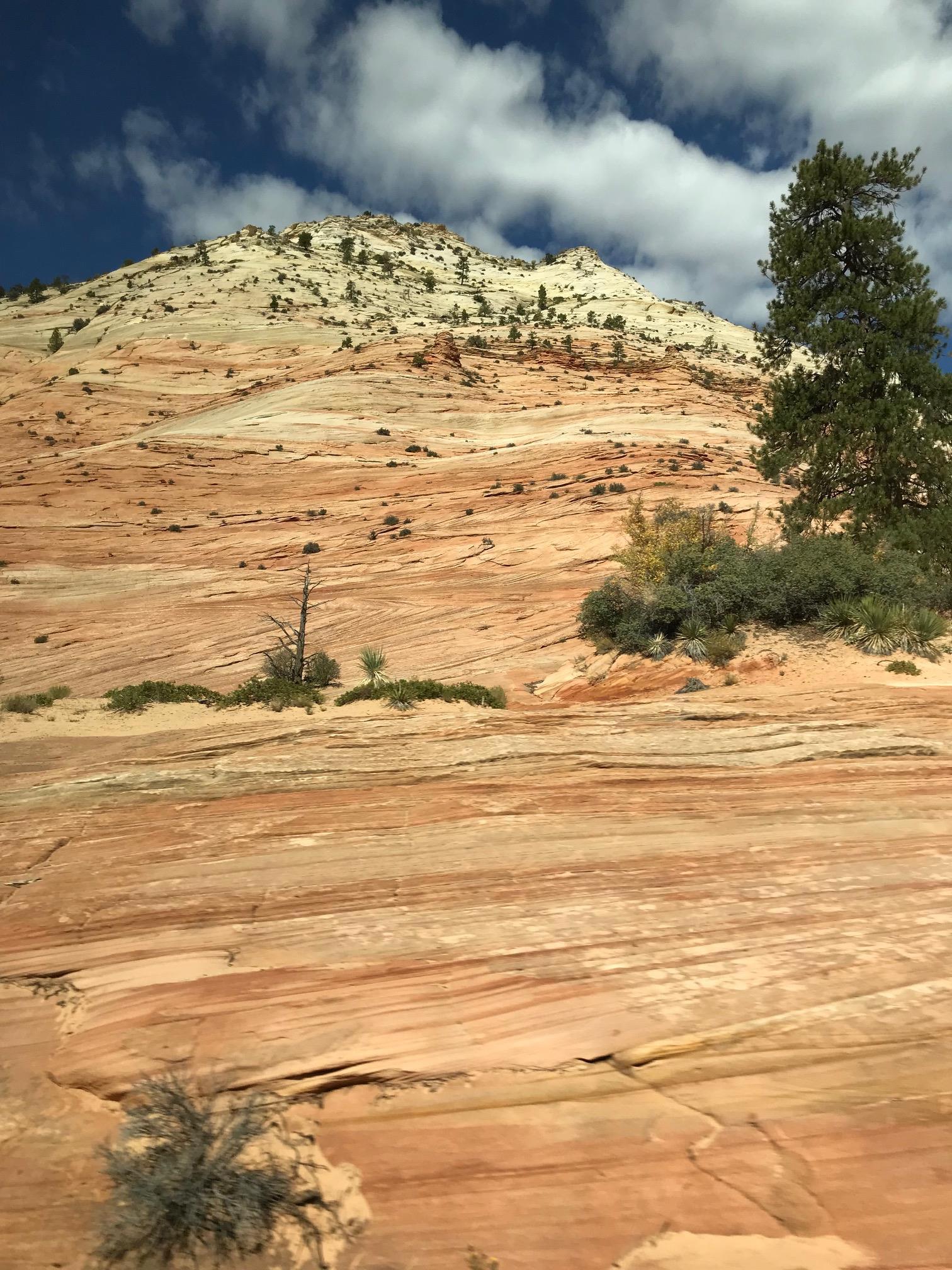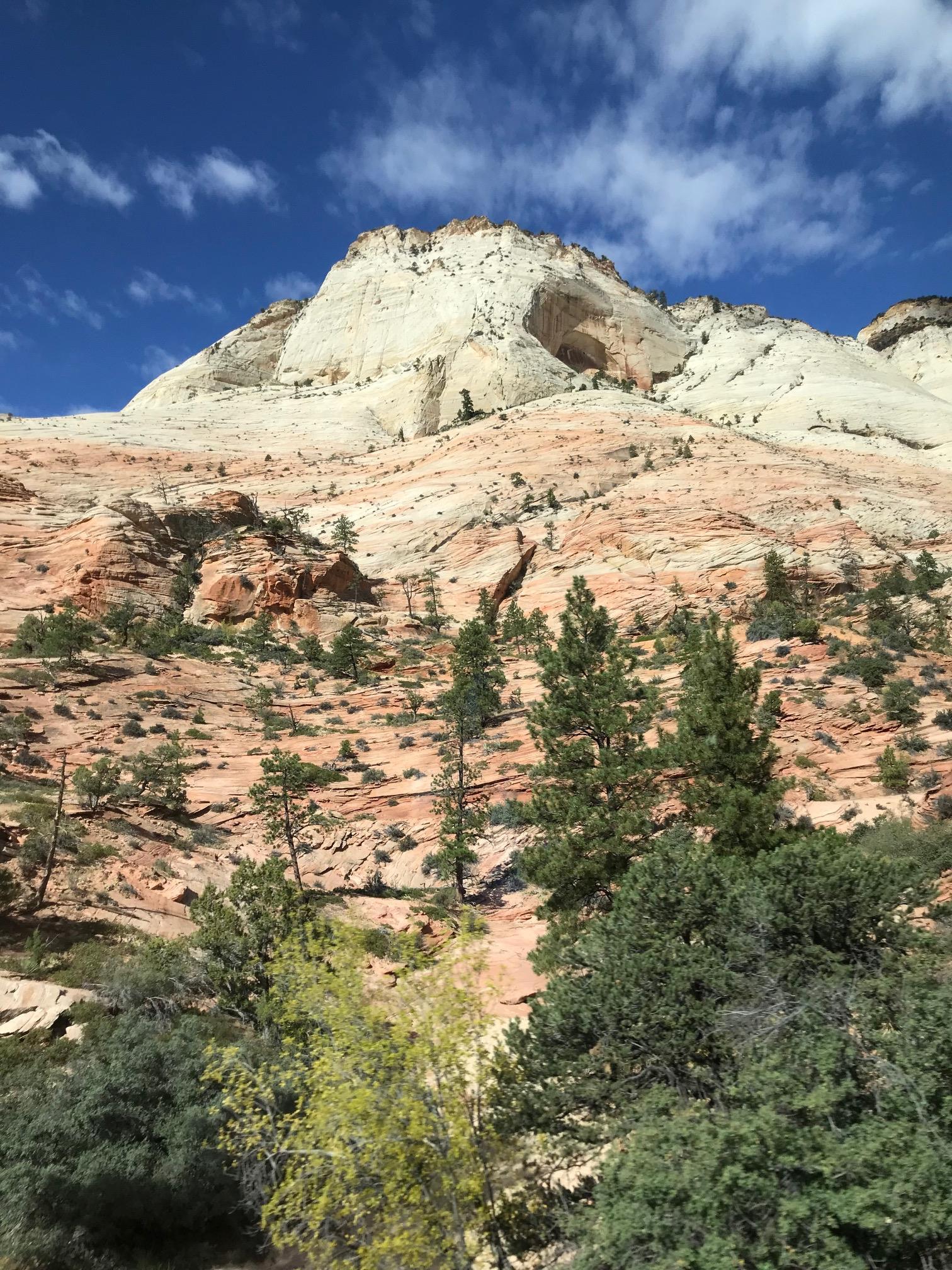 Once the bus got through half of the park, we had to wait awhile to cross a one-way tunnel that stretched about a mile long and goes underneath a large portion of rock. There were a few open windows along the way, but I couldn't snap a photo in time. It was a pretty cool experience and very dark!
We then made our way down a long, winding road to the bottom and all I can say is, wow.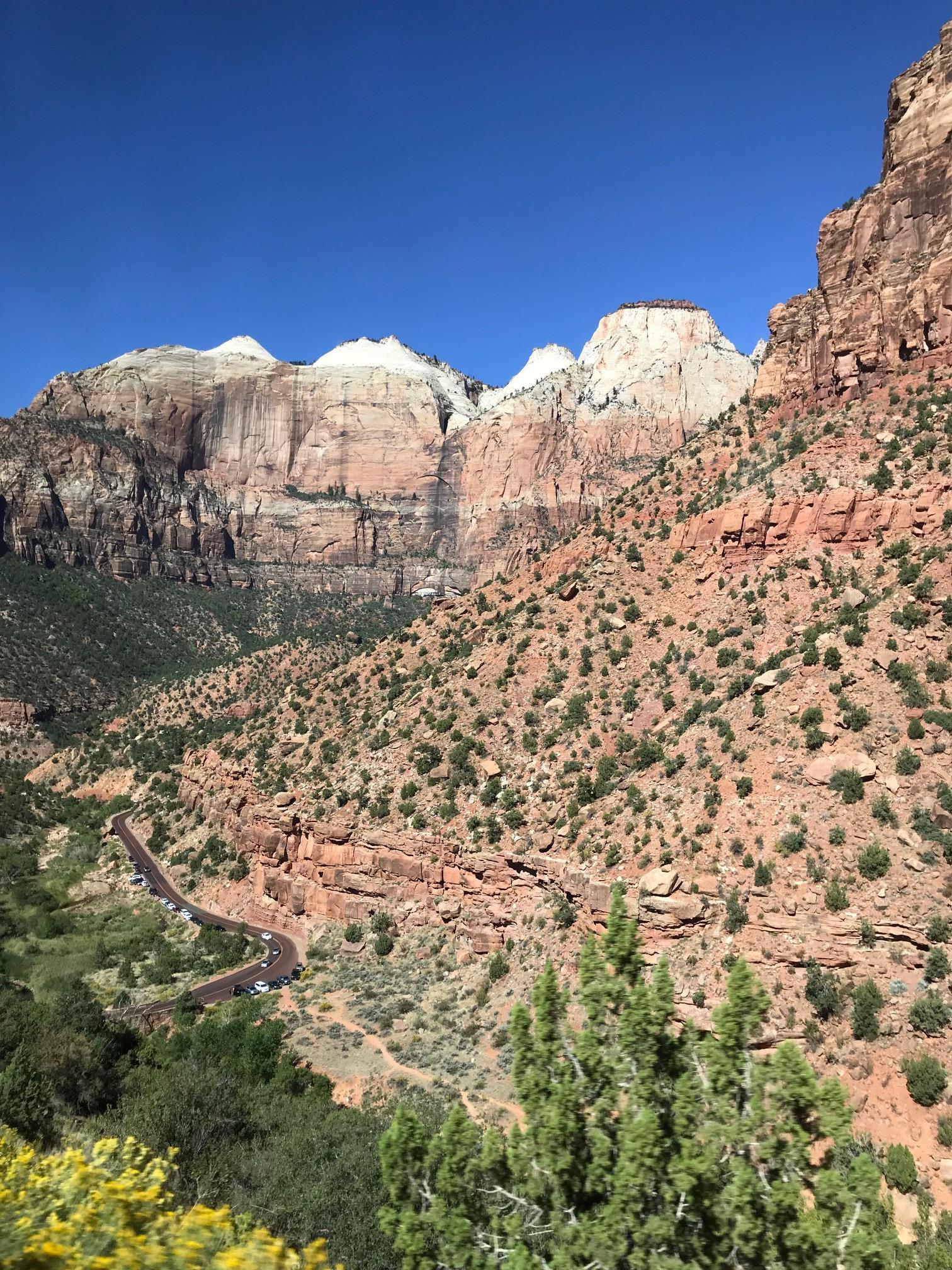 There is also the opportunity to hike The Narrows, where hikers can go along the Virgin River and about 20 – 30 feet wide, or hike Angels Landing, which is more than 1,400 feet above sea level and 5 miles long, so a 4 – 5 hour hike roundtrip. Unfortunately, we did not have time to do any of these activities and only did a full drive through the park with one stop at the museum/shop. I was able to take a photo of the gorge and the Temples and Towers.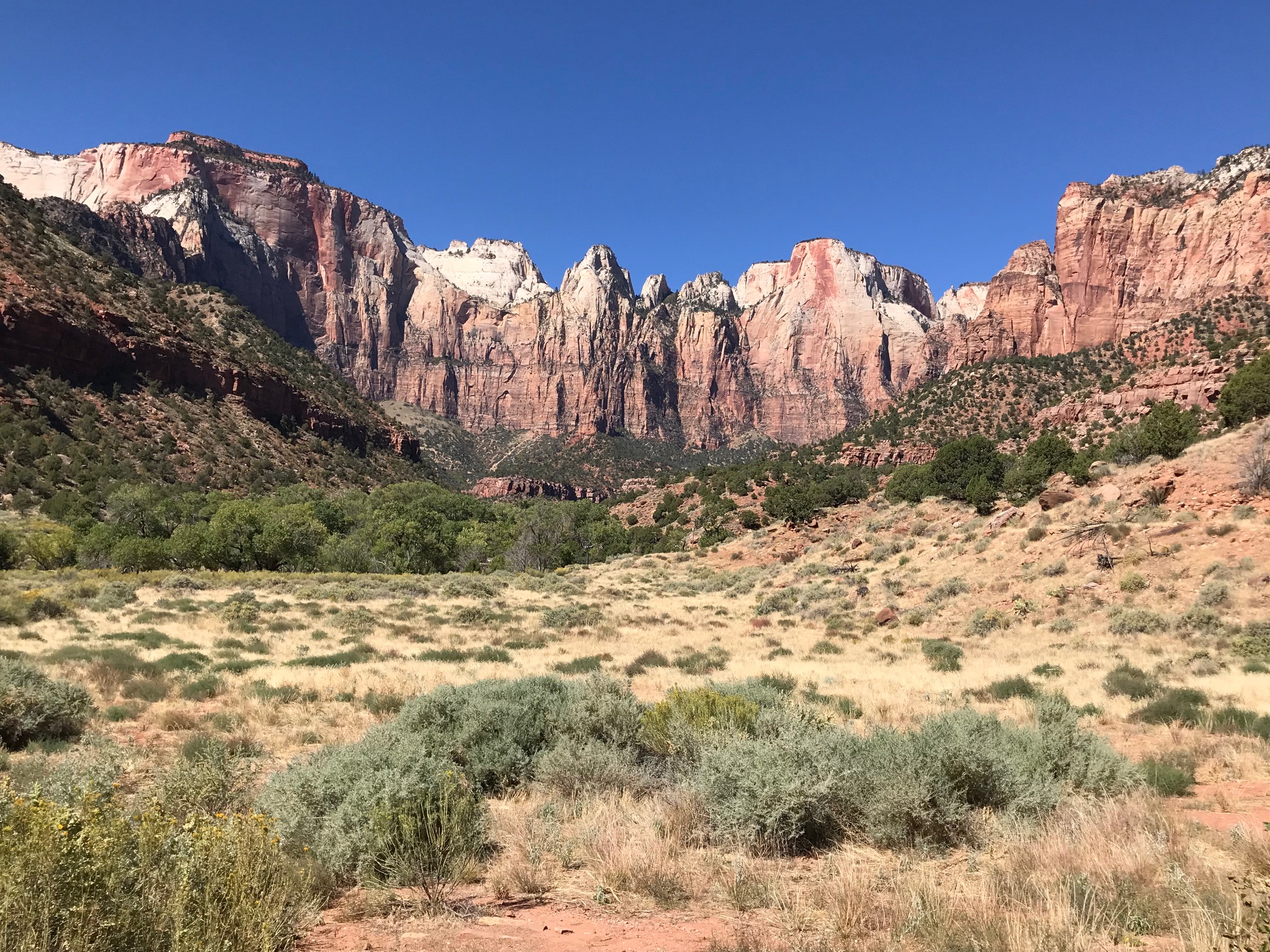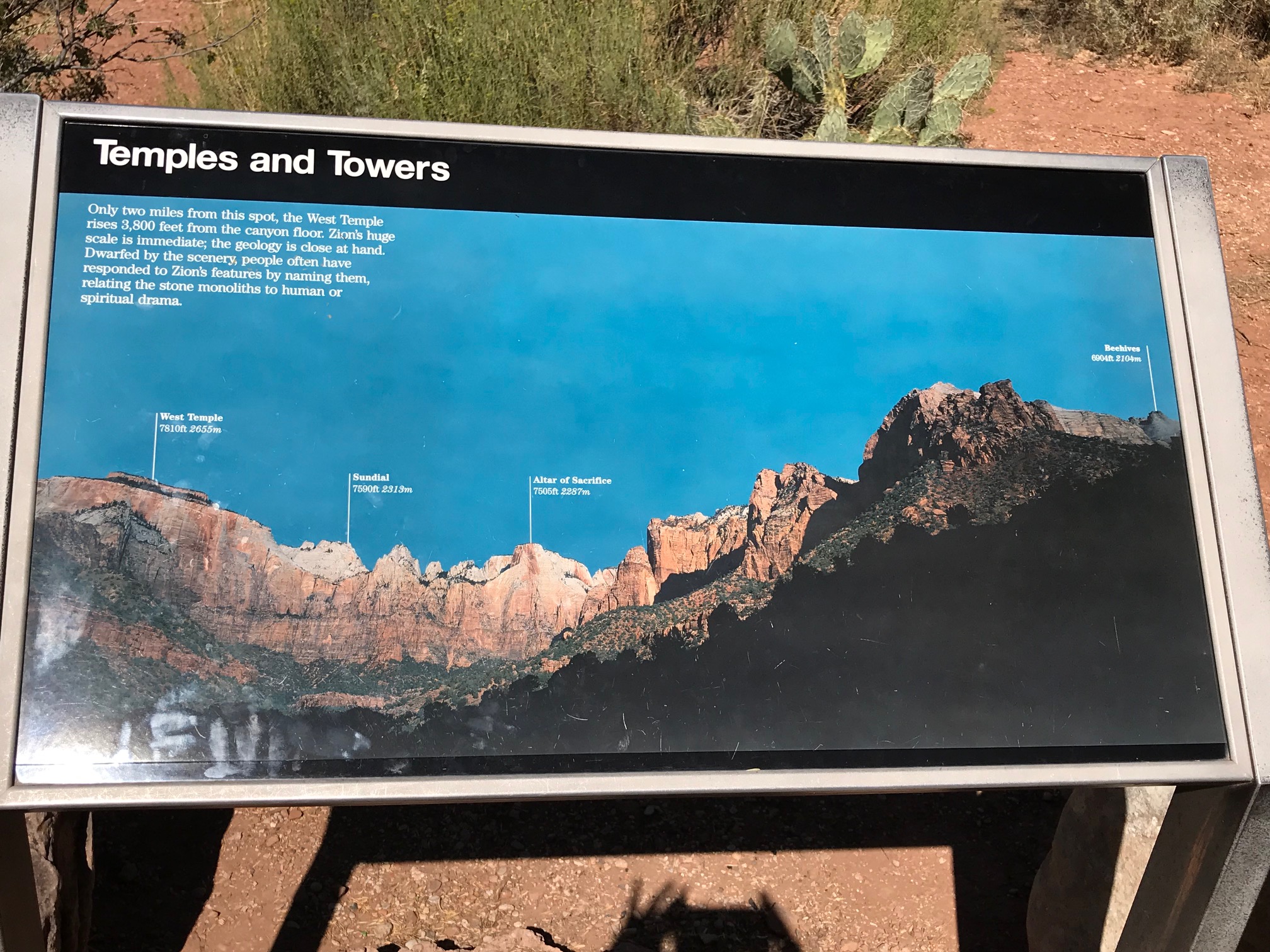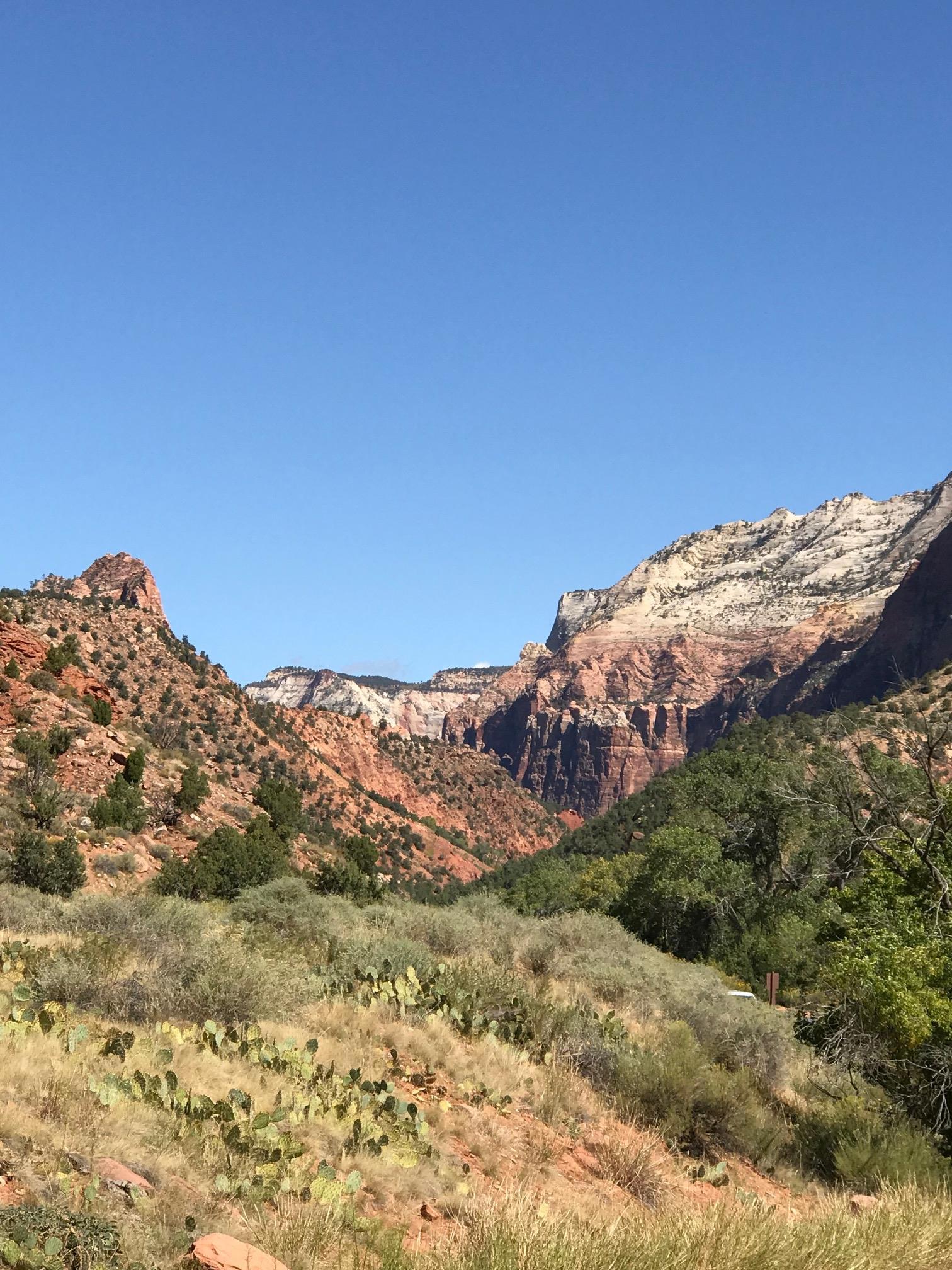 Once out of the park, we stopped in a town called St. George for a quick lunch. We then made our way to Las Vegas at 3:30 p.m. Emotions were obviously high because of the shooting that had happened the night before (see my post "Standing at Ground Zero: Mandalay Bay"), but I was determined to have a good time!
We rolled into Vegas at about 5 p.m. and stayed at Circus Circus Hotel on the north end of the Strip.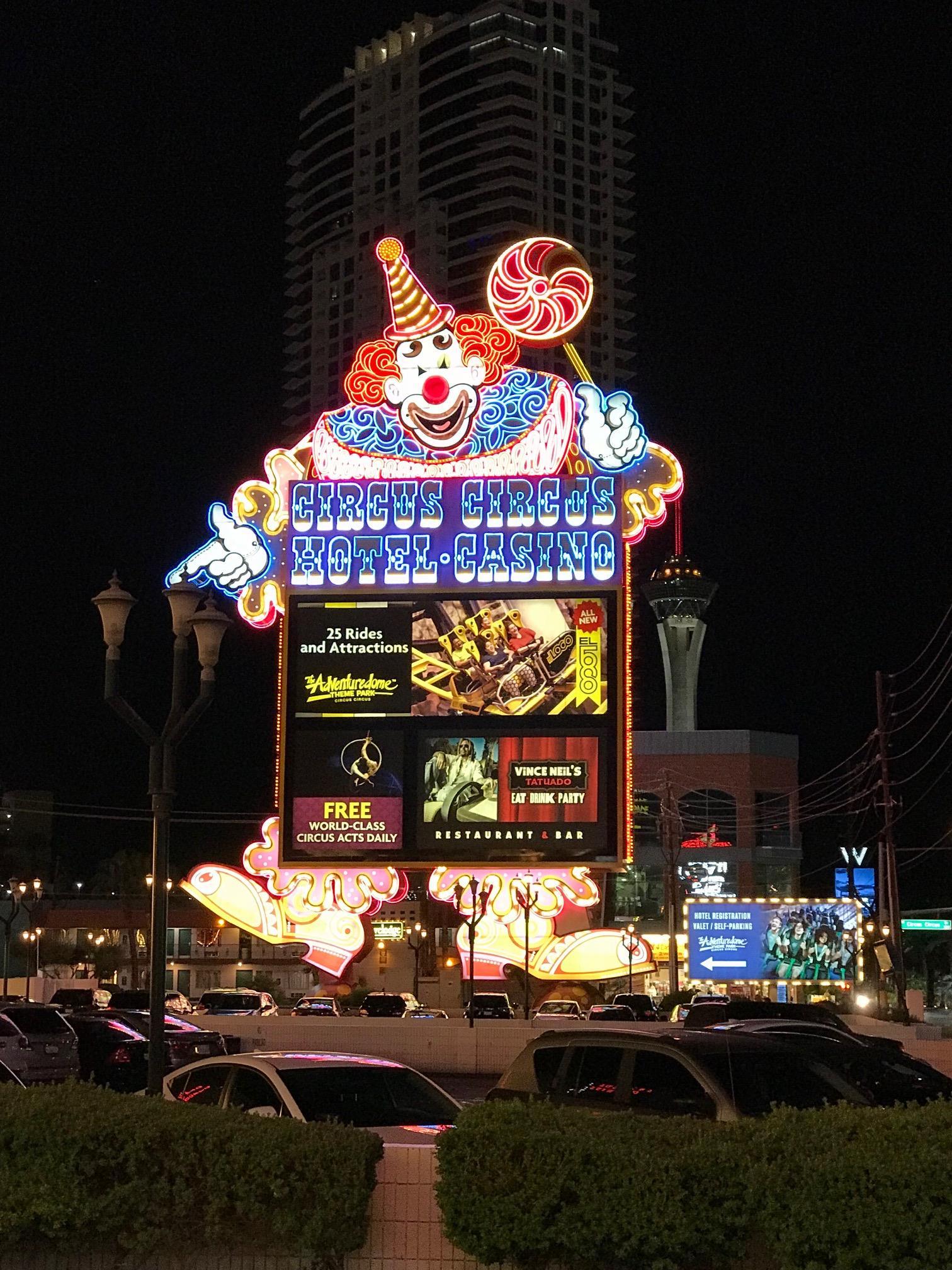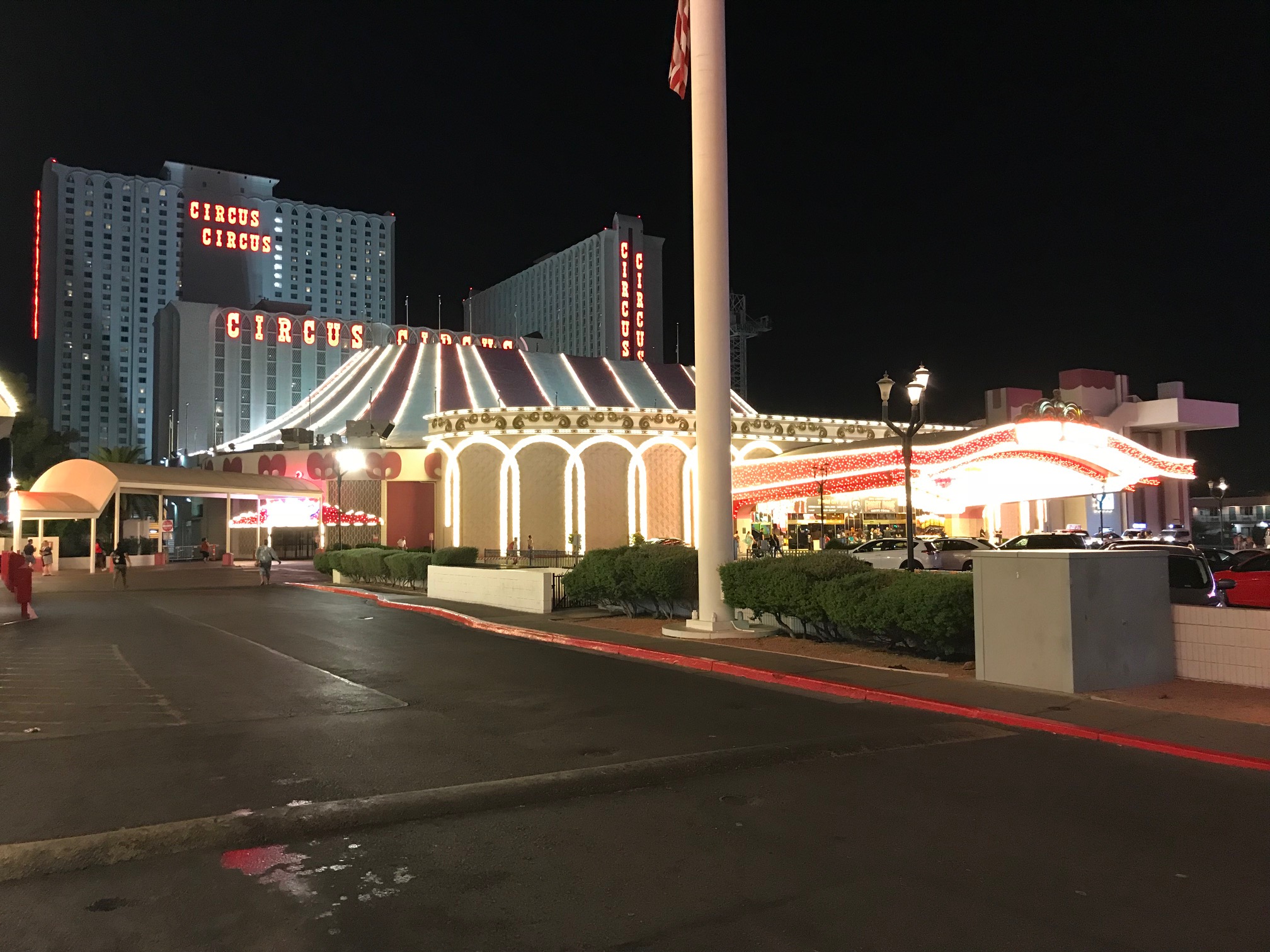 By 6 p.m. I was checked in and got slightly dolled up to go out for a few hours. I just want to warn my readers, I don't have a lot of photos of Vegas only because I have been here a few times before, so I am just highlighting a few things that I did instead.
After I stopped by Mandalay Bay, I had a cab take me over to Caesars Hotel so that I could get some dinner. I was going to do a buffet, but once I saw it was $60 per person, I decided to head over to Searsucker instead. I wasn't too hungry because I had a big lunch earlier, so I got Happy Hour Oysters with pomegranate mignonette ($2/per oyster), a PB&J Old Fashioned with peanut-infused elijah craig small batch, fassionola, strawberry-orange bitters and strawberry ($9), and Fig Toast that had black farmer's cheese and honey ($8). They tasted sooooo good and I loved the mini PB&J bite that was topped on my drink!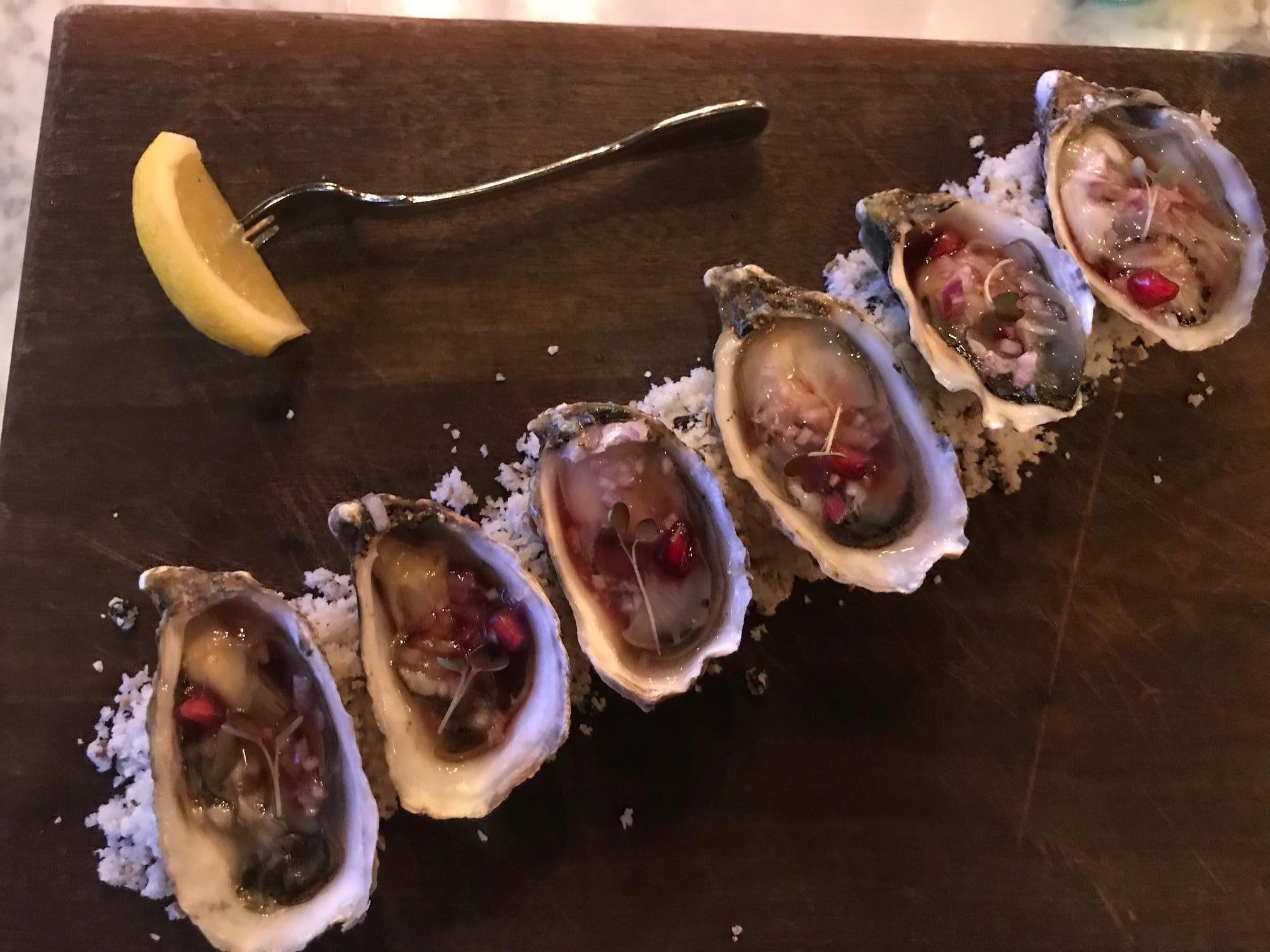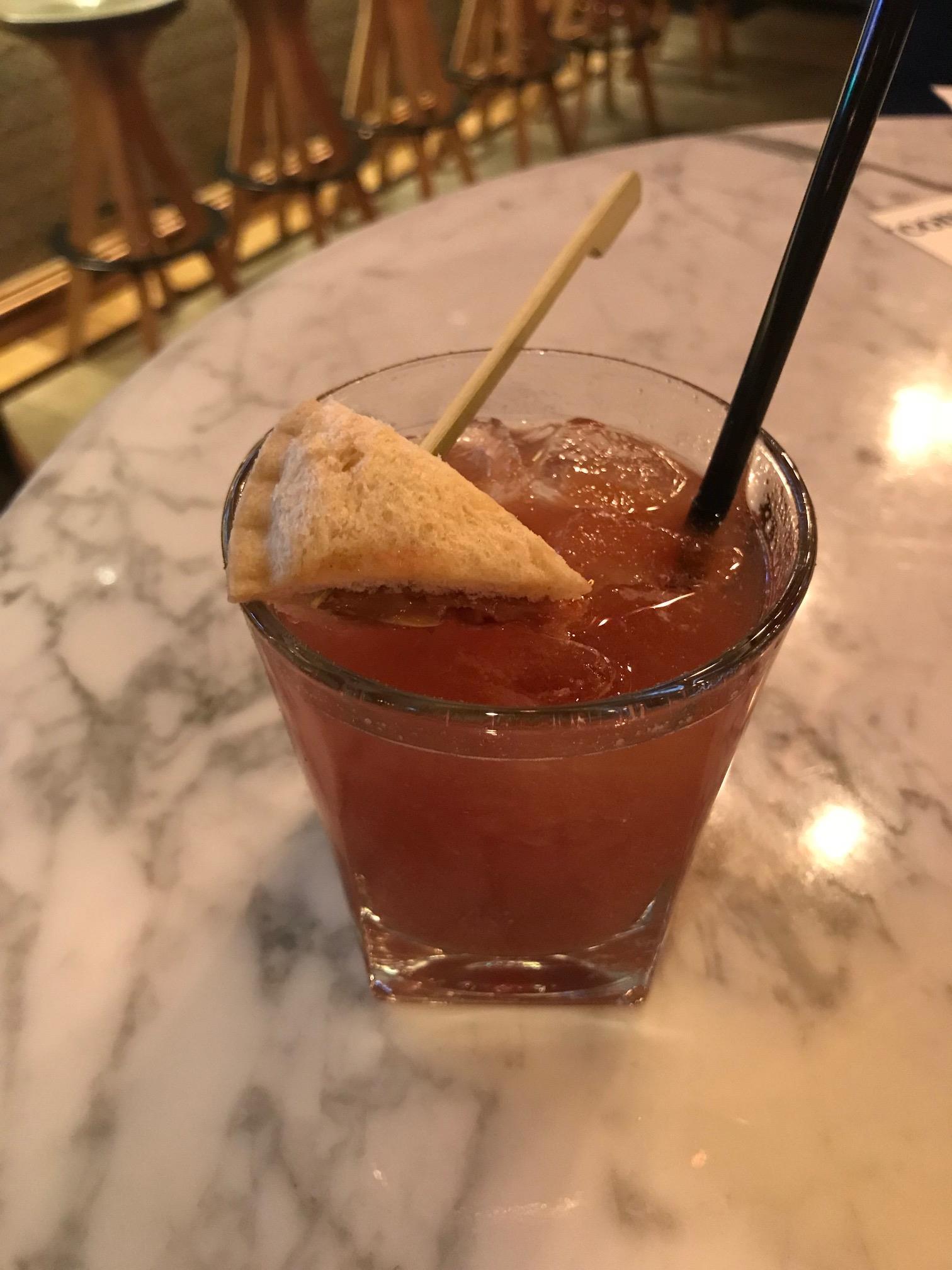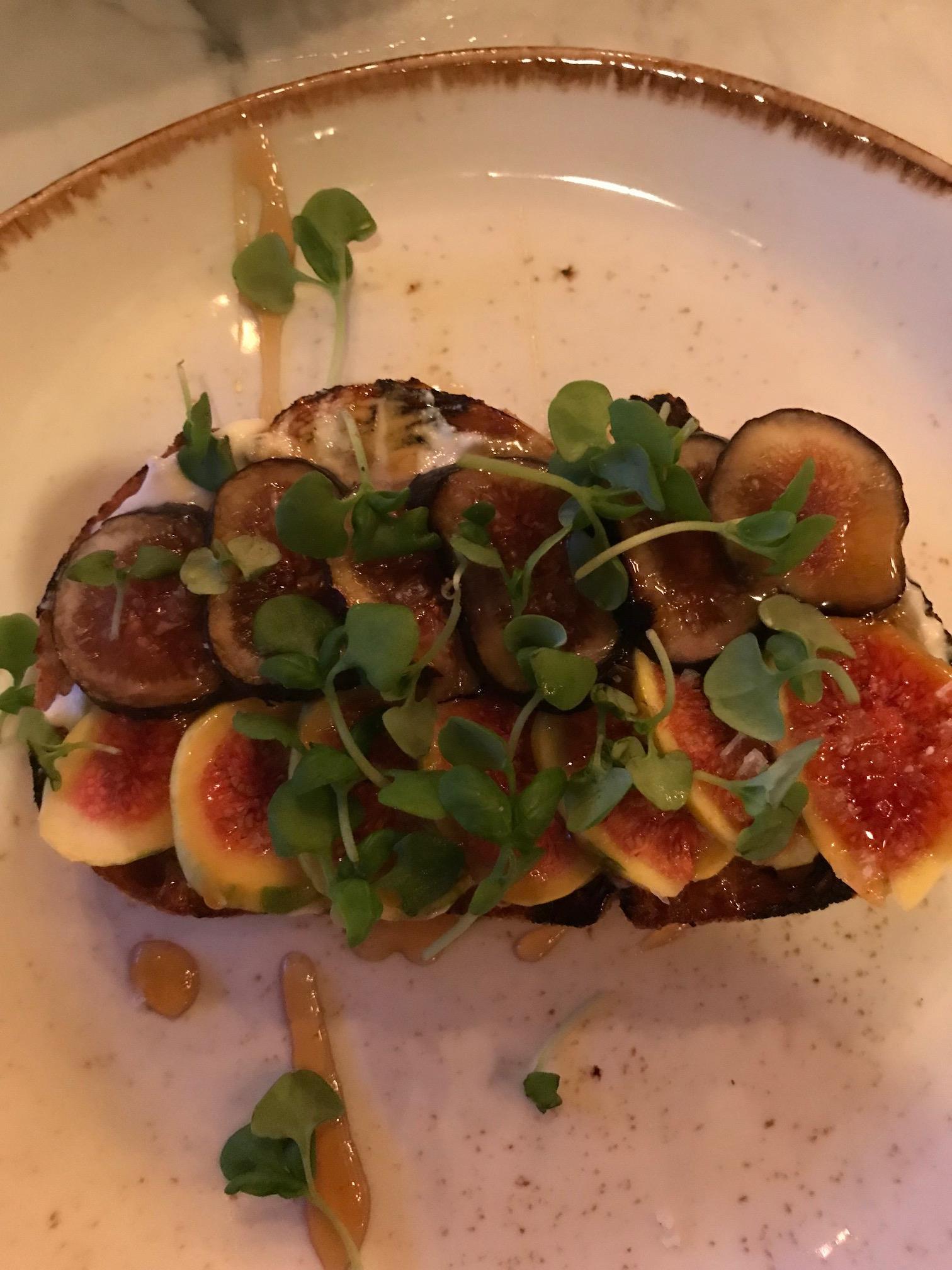 From there I hopped over to the Sugar Factory's Chocolate Lounge for a splurge. You might know them by their infamous Couture Pops and all of the celebrities pictured with them. The lounge used to be in the Paris Hotel, but it moved over to Fashion Show Mall a few years ago. It really is the ultimate place to get your sugar fix.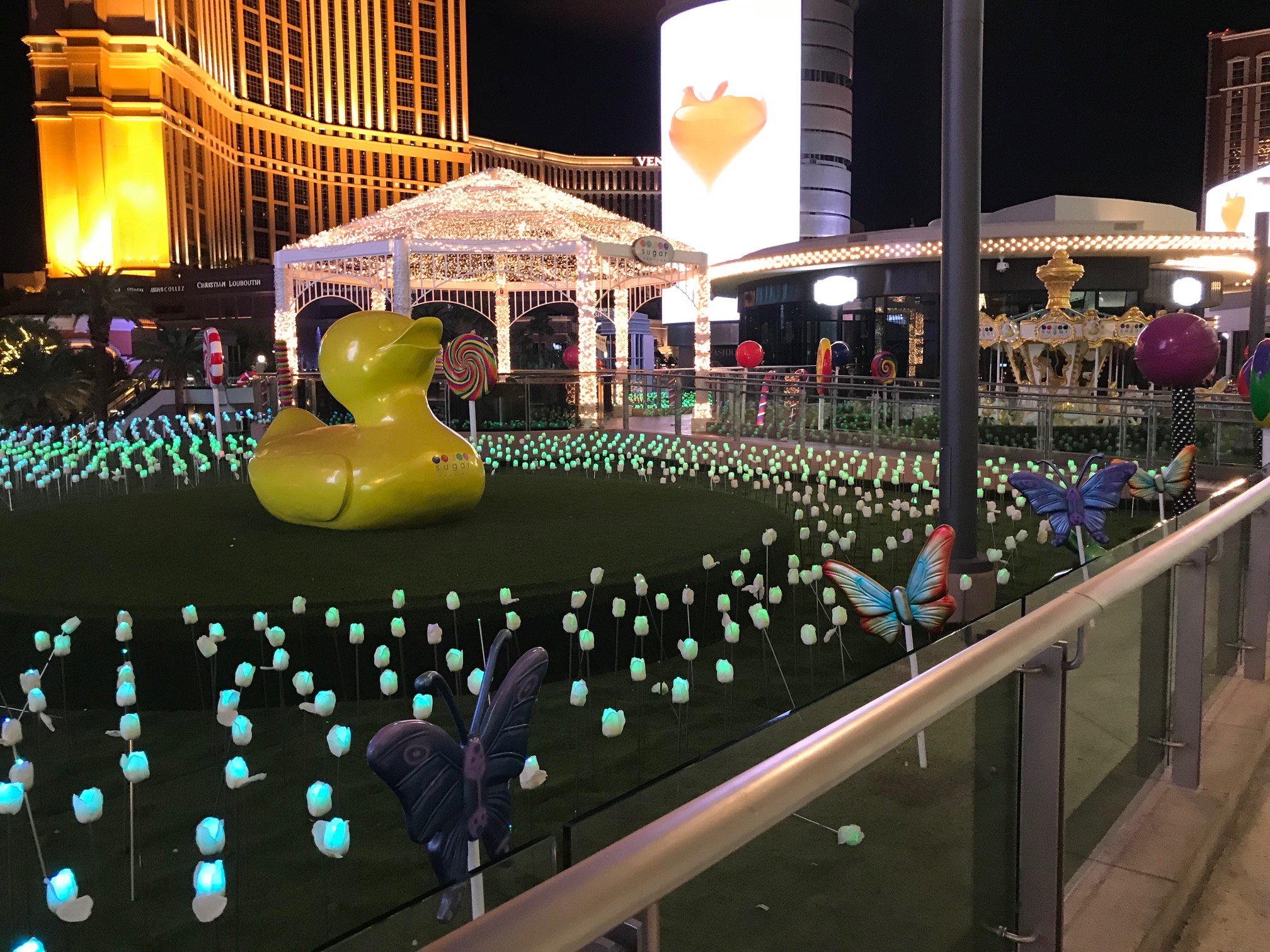 I ended up getting the Banana Foster Ice Cream Sandwich ($11) with White Chocolate Macadamia Nut Cookies with Bananas Foster Ice Cream and garnished with White Chocolate shavings. Heaven!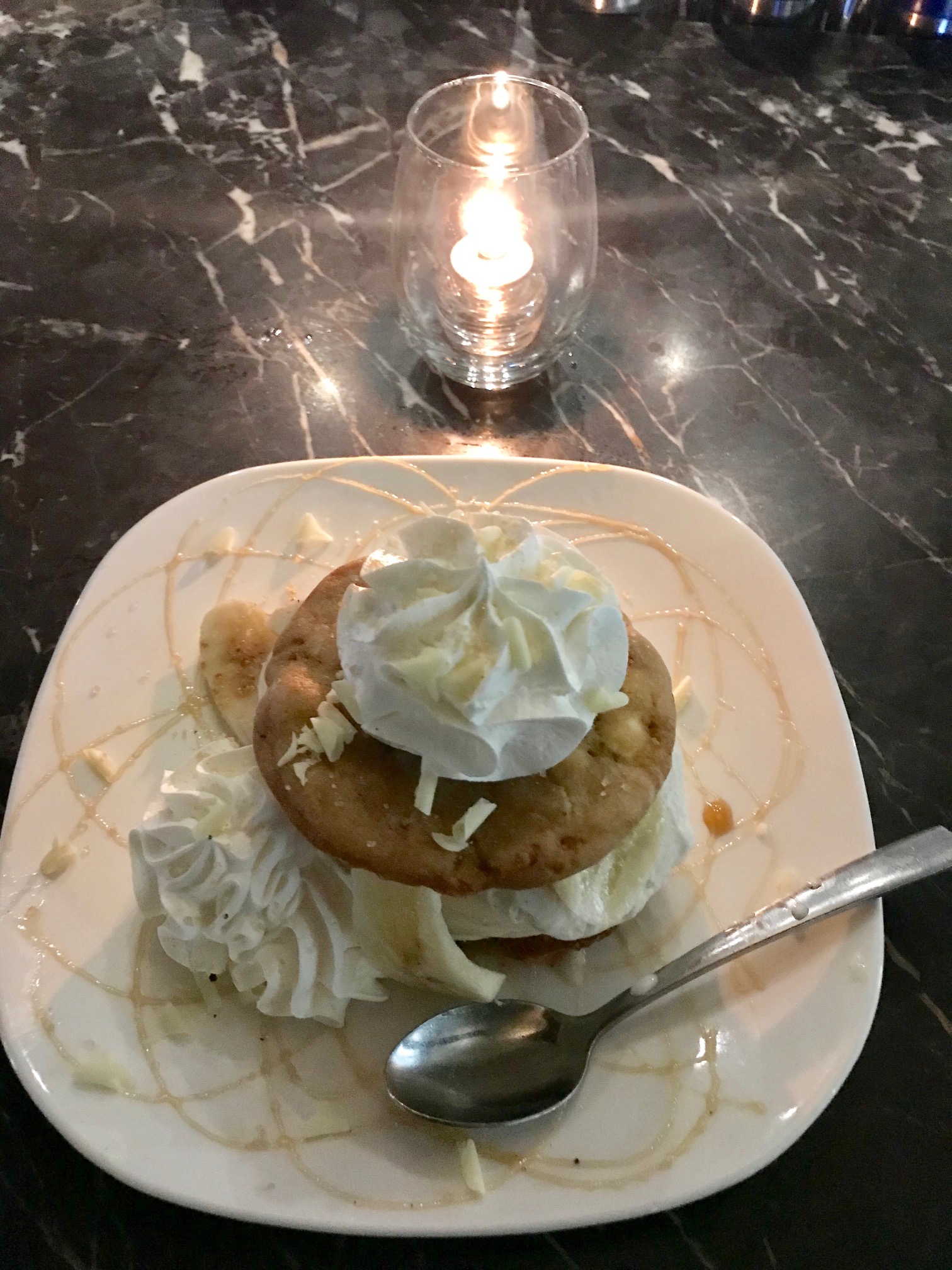 I hit the sack at 10 p.m. Like I said, as much fun and bittersweetness as I was feeling in Vegas that night, I was also exhausted from being on a tour bus for 3 days and getting up at 4:30 a.m.
Day 4: Nevada: Ethel M.'s Chocolate Factory/Botanical Gardens. California: Barstow Outlets
The last day of the trip, we were all happy to sleep in a bit. We boarded the tour bus at 7:30 a.m. and headed over to Henderson, Nevada (right outside Vegas) to visit the Ethel M Chocolate Factory and  devour some sweet goodness. I tried their Pecan Brittle and Dark Chocolate samples.
When I saw the workers in the production line, I immediately thought of the episode in "I Love Lucy," where Lucy and Ethel are scrambling to wrap up the chocolates.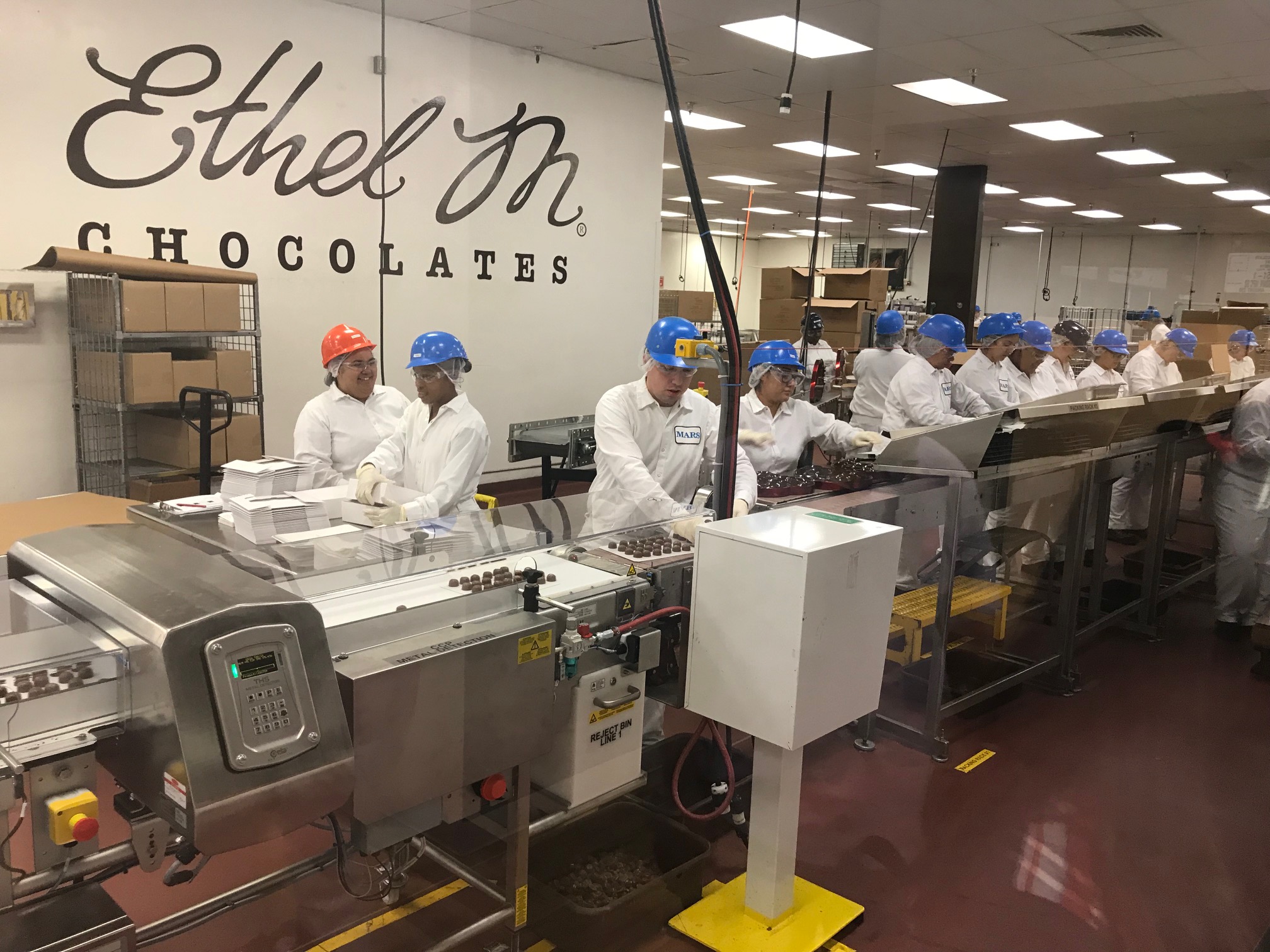 I also had my picture taken with their famous Chocolate Wall.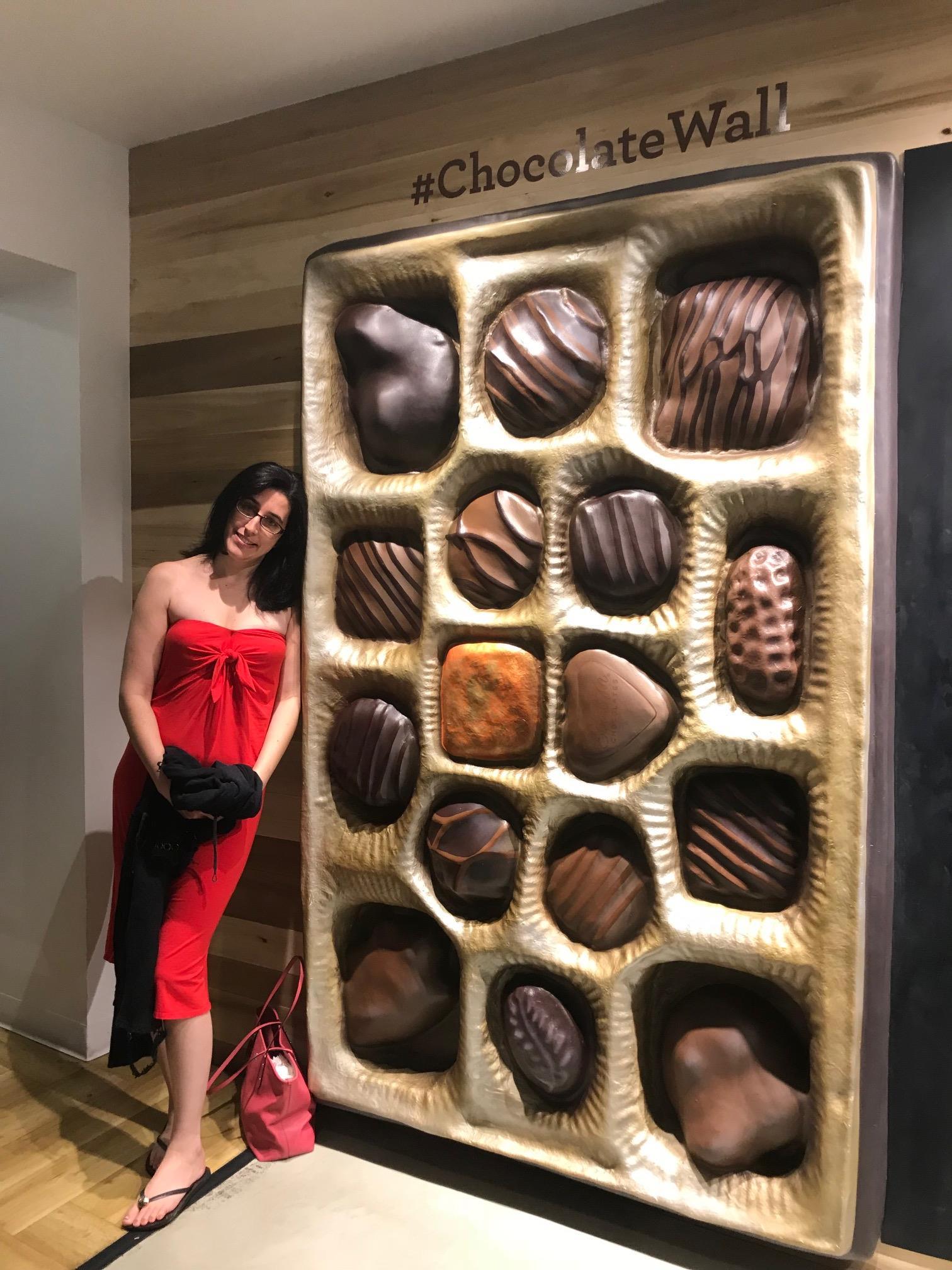 All of us tourists flocked to buy some chocolate inside their store. Ethel's has a variety of yummy chocolates, caramels, brittles, nuts and cremes to purchase.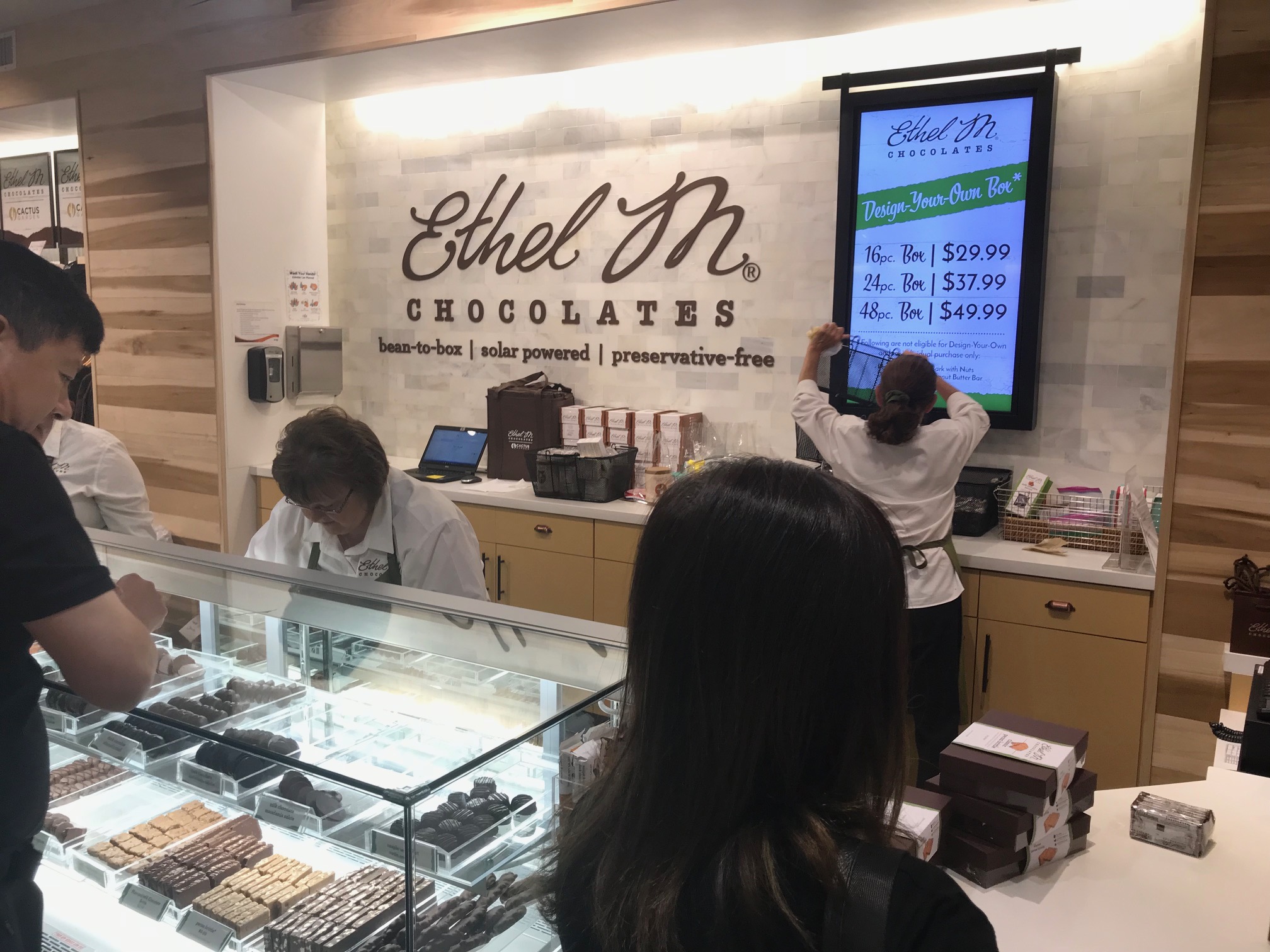 Outside of the factory were the botanical gardens with different types of succulents. I saw a worker decorating them in lights (early Christmas I suppose). You can see the flag is at half mast in one photo to honor the victims of the Vegas shooting.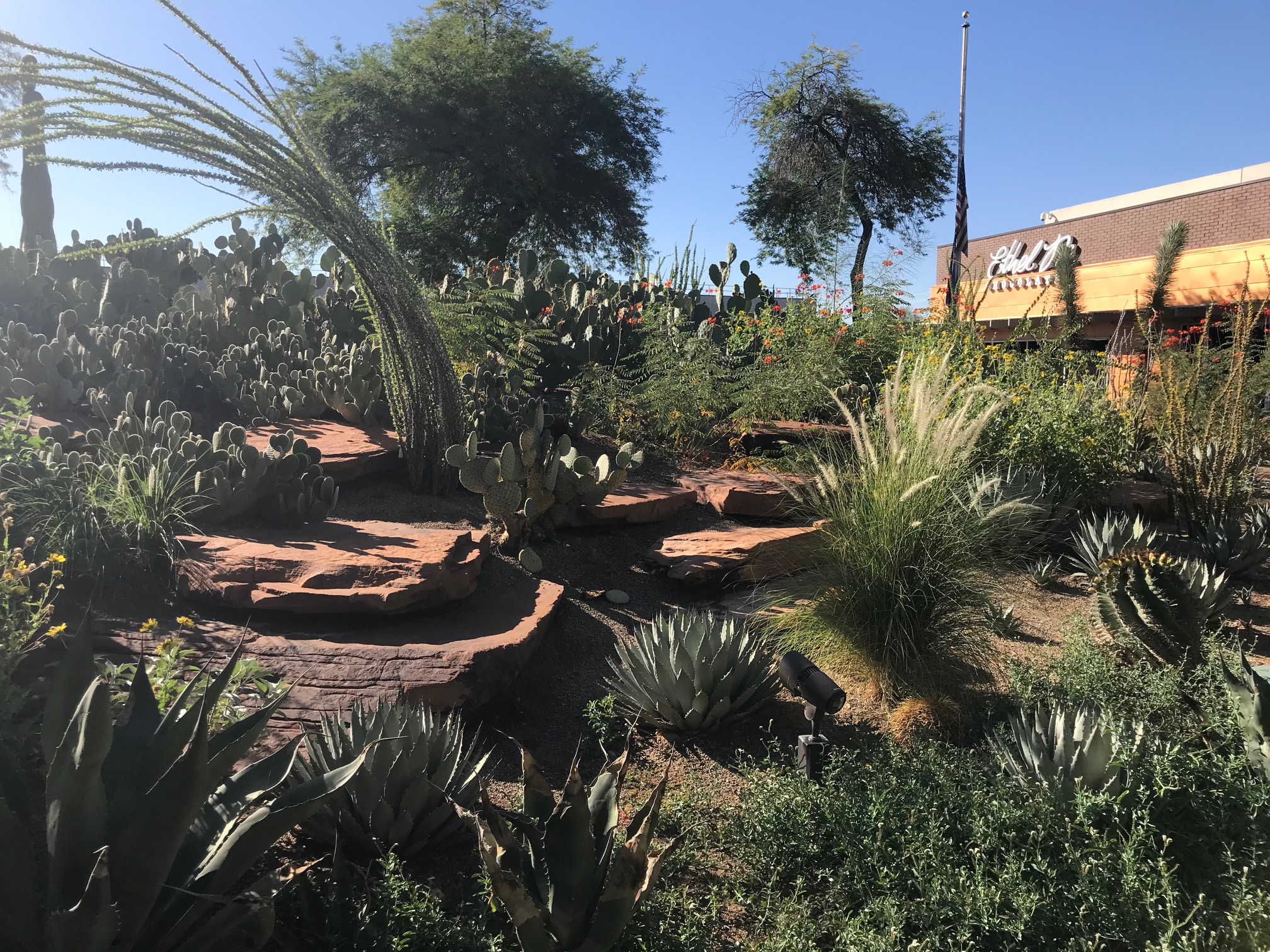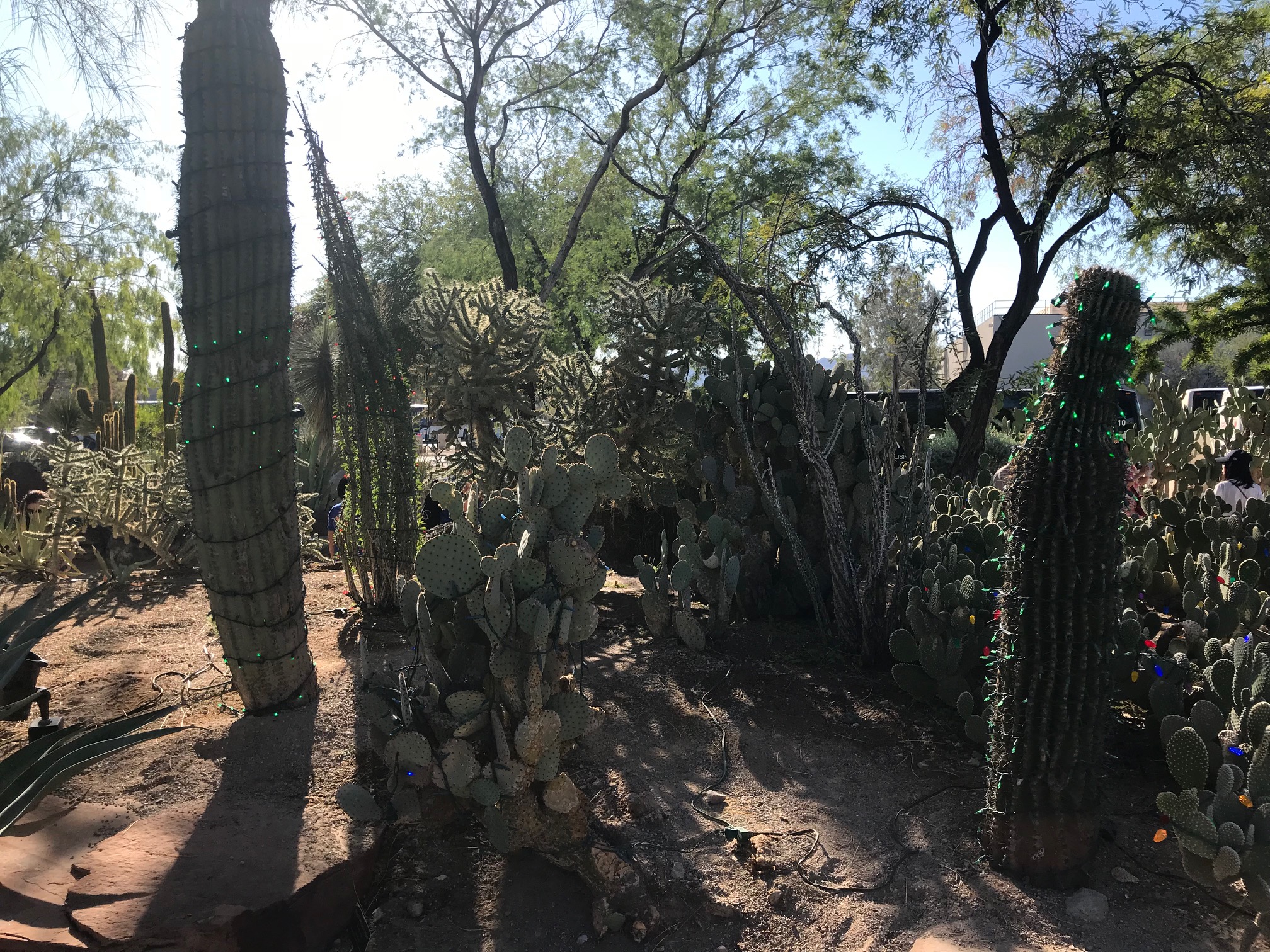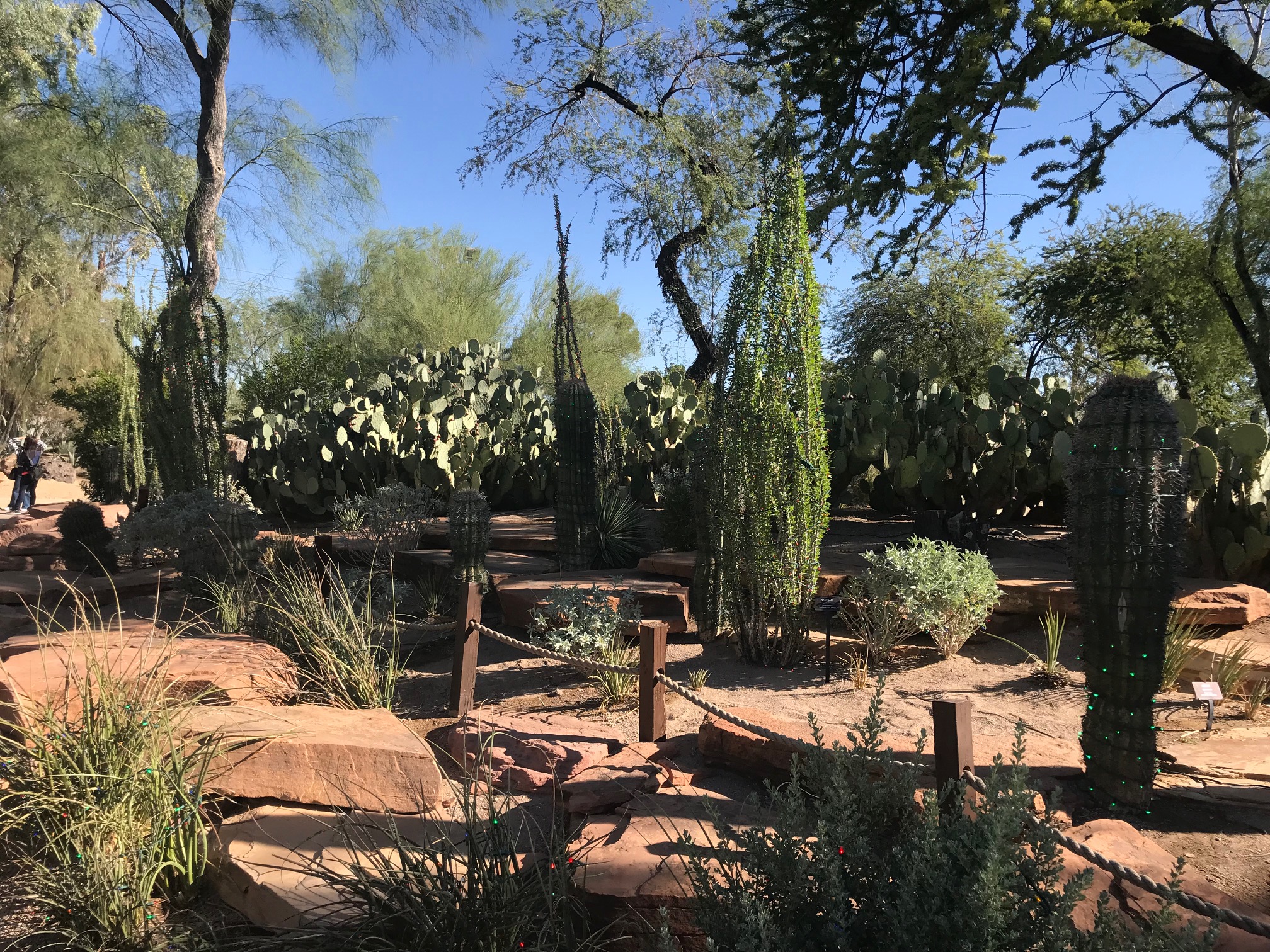 From the chocolate factory, we made our way to the Barstow Outlets for a little shopping. What was nice was because we were on a bus tour, we were also given an additional 10% off of our purchases! I bought myself a couple tops at Banana Republic and a Coach purse and wallet.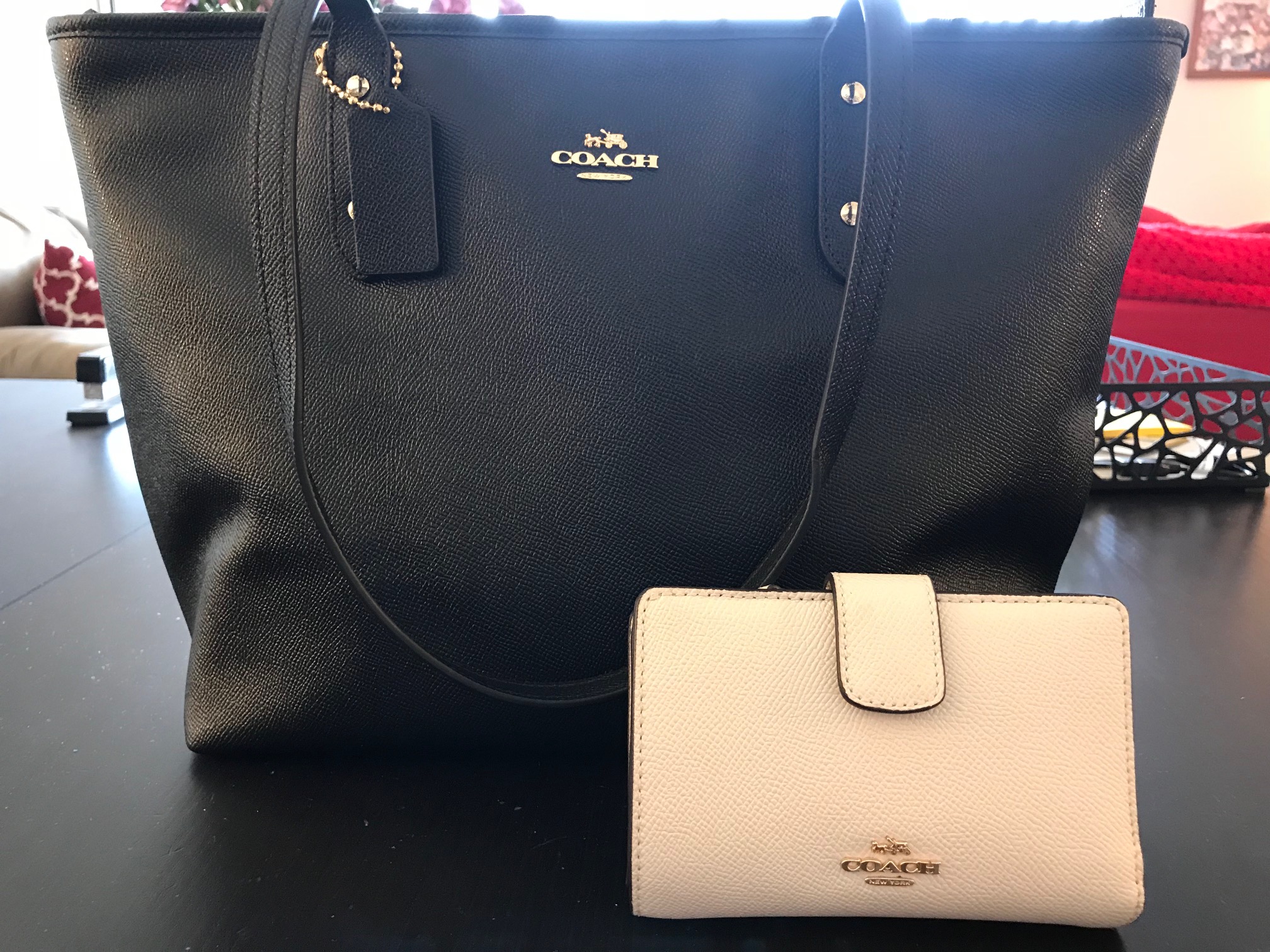 I wanted to end my trip with a bang and a drink, so the only bar I could find was a nearby Chilli's.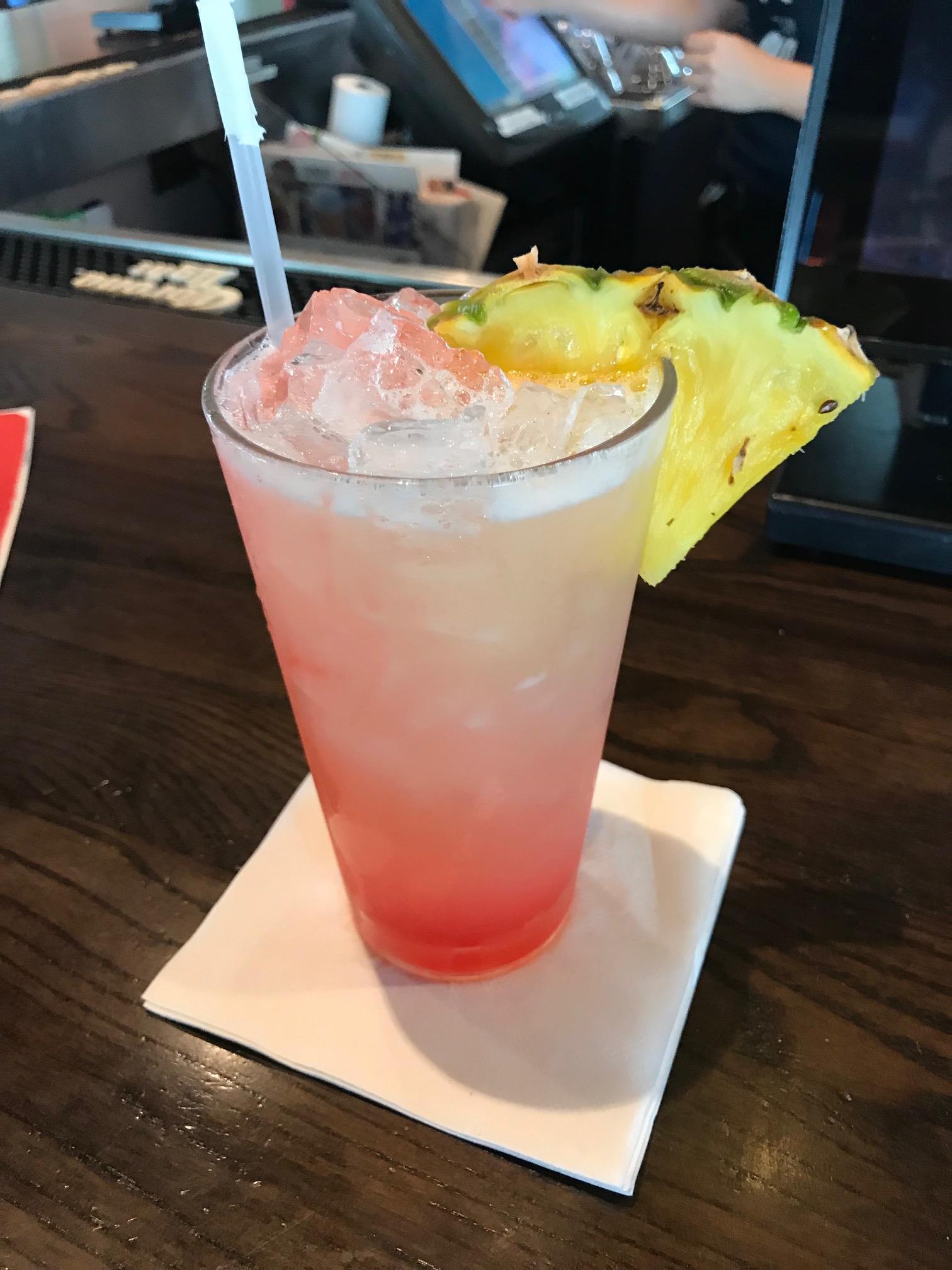 We rolled into LA at 6 p.m. back to the travel office. After I took another bus back to Chinatown, got an Uber to get my car in the Valley and head home, I laid in bed at 9:30 p.m.
I hope you get a chance to experience the great outdoors that are in our amazing country! 🙂 I plan on taking another bus tour to Salt Lake City/Yellowstone National Park/Grand Teton National Park next fall!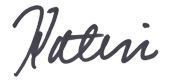 SaveSave
SaveSaveSaveSave
SaveSave
SaveSave
SaveSave
SaveSaveSaveSaveSaveSave
SaveSave
SaveSave
SaveSave
SaveSave
SaveSave
SaveSave
SaveSave
SaveSave
SaveSave
SaveSave
SaveSave
SaveSave
SaveSave
SaveSave
SaveSave
SaveSave